Vale Don "Irish" John Malone
1st June 1938   –  25th October 2019
Wests player number 566 (1958) and Life Member of Wests number 57.
"You are sadly missed but your pain is over
Our love for you is never ending"
 *
 Don was a great Magpies man who played through Wests  "golden era". Although not always an automatic selection in first grade he still played 84 First Grade games from a total of 187 games for the club in a career stretching from 1957 to 1967.
The Early Years and Beyond.
Don's Rugby League career started back in the 1950's with a young Don playing for the Glebe Police Boys.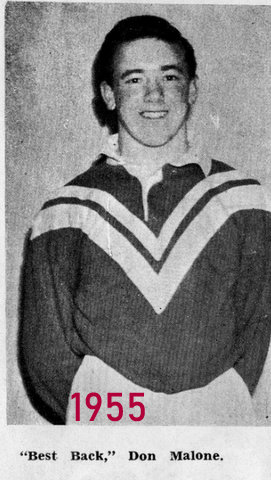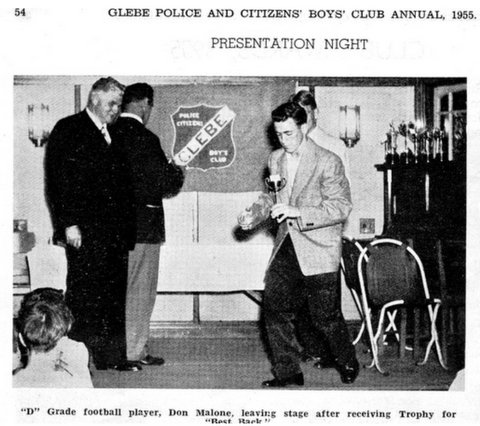 The person standing behind Don is Lew Hoad who was also from Glebe.
In 1957 Don was called up to grade to play for Wests.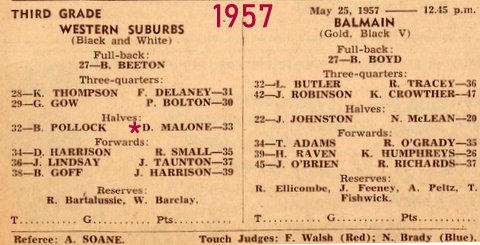 Don's first game in Grade.

Don's first game in Reserve Grade.
Little did Don know at the start of the 1958 season that he at the age of 20 would be playing for Wests in the Grand Final against the Mighty St George.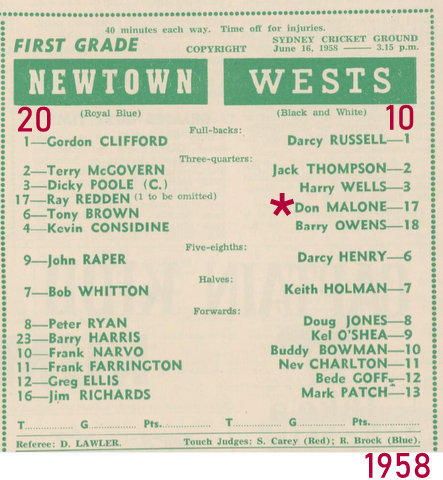 Dons first 1st Grade game playing along side Harry Wells in the centres.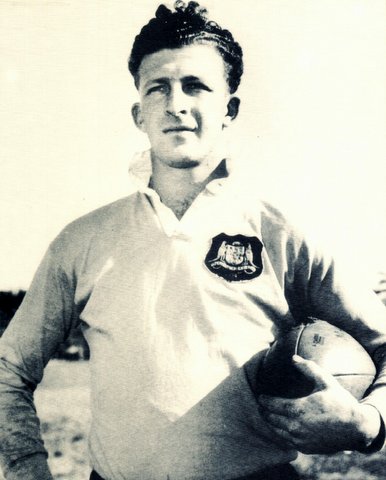 Harry Wells in 1958 proudly wearing his NSW jumper.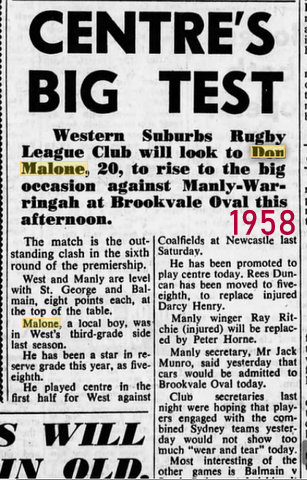 Local boy makes good.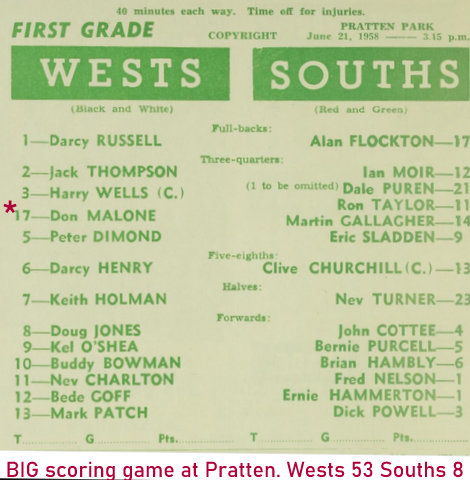 Don's 2nd First Grade game.
And scores his first try in the big time.
Don scored a try in this BIG win over Souths.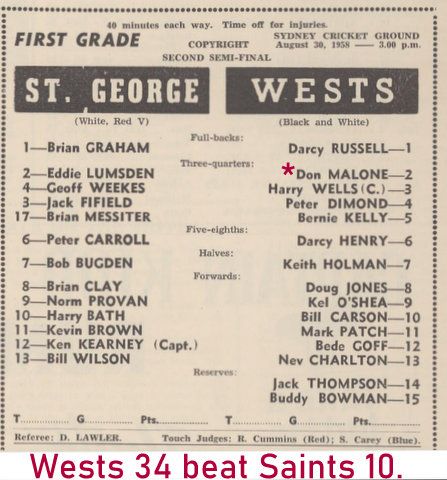 This was the famous Semi where Peter Dimond was switched from centre to five eight.
Some say one game to early.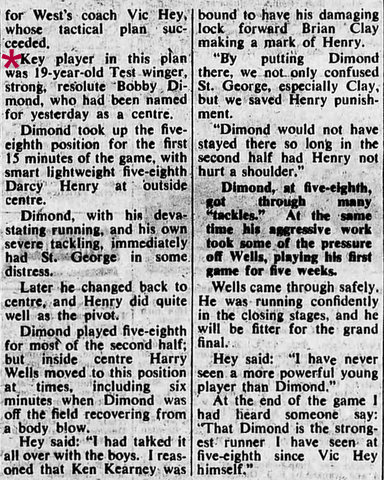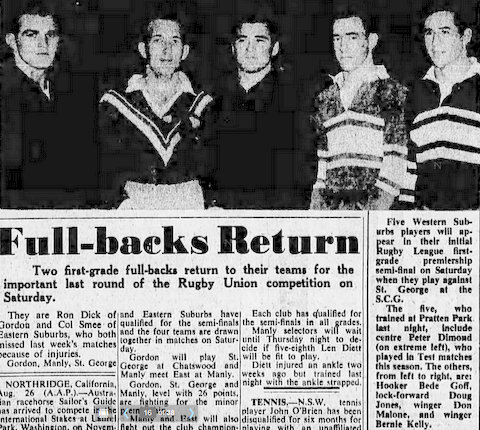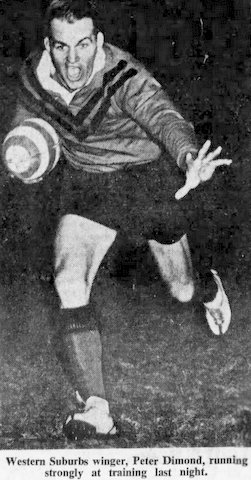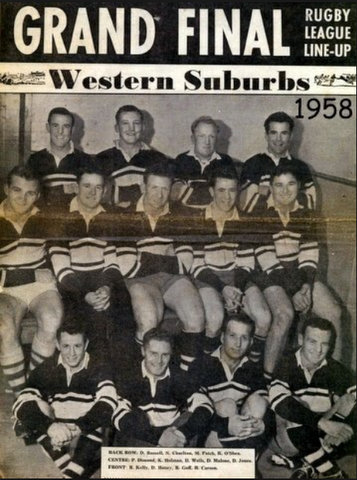 Newspaper photo taken at Pratten Park dressing room ??

Don is second from the right middle row.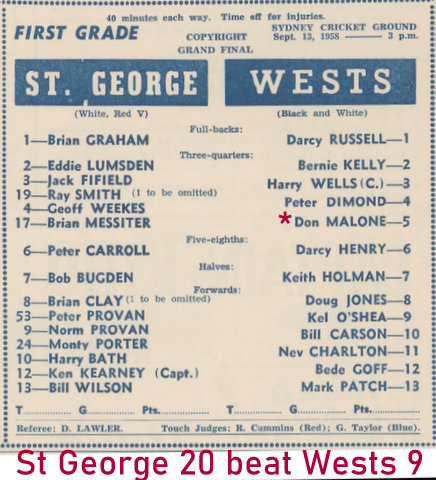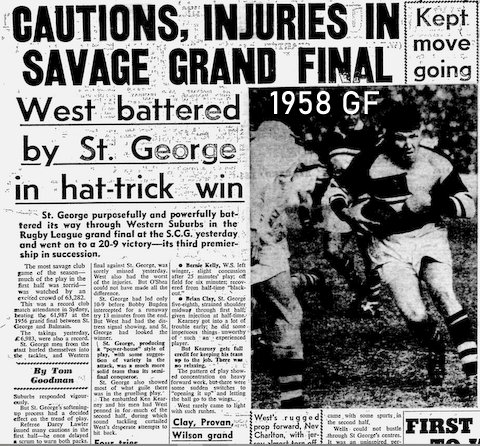 A very tough game…..the St George machine at its best…or worst.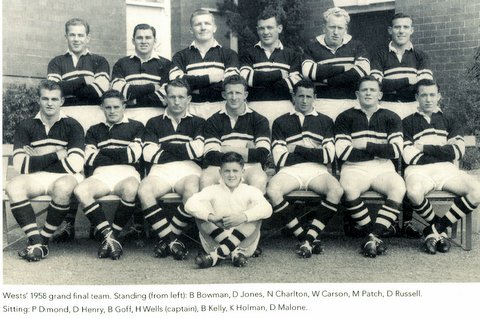 The 1958 Wests Grand Final Team.
1959.
Don played in 3 First Grade games in 1959. One was against the Old Foe at Henson Park before a record crowd of 30,500 spectators.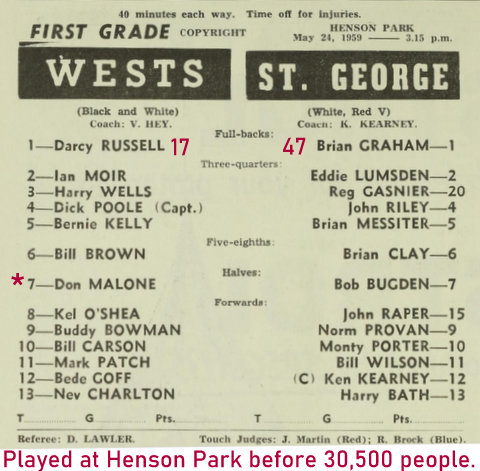 Note: a young player by the name of Reg Gasnier scored 4 tries that day!!
1960.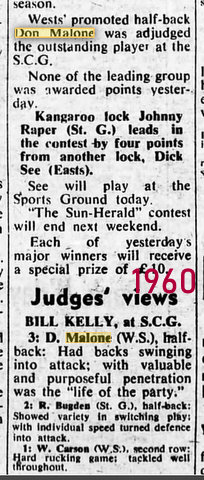 Don played 2 First grade games in 1960.
1961.
In 1961 Don played 4 First Grade games and 14 Reserve grade games.
In the First Grade game against Newtown played at the SCG Don scored 2 tries and won the SMH Man of the Match.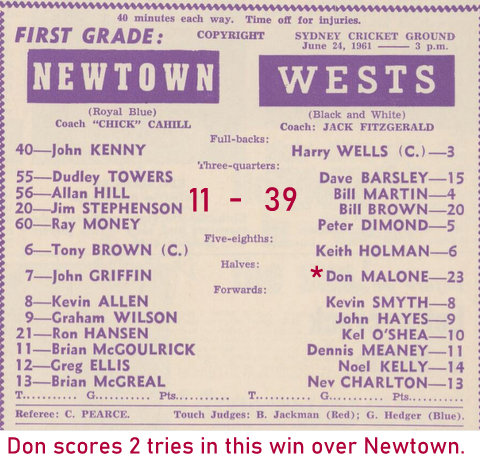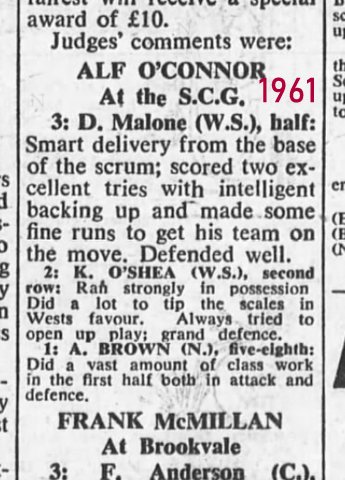 Don played in the Reserve Grade Grand Final which was played at Henson Park one week after the First and Reserve Grade Grand Finals.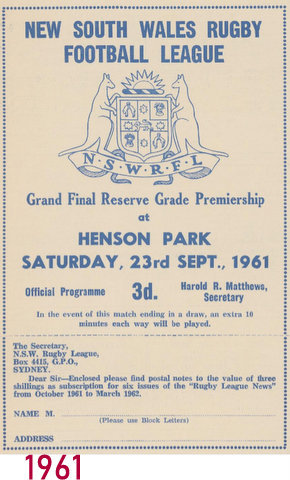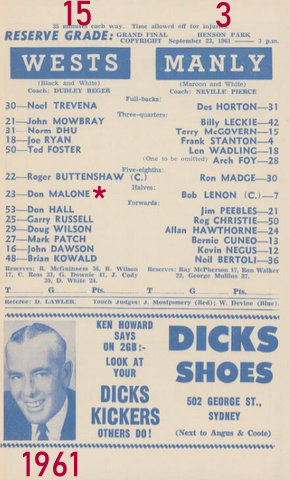 Don scored a try in this Grand Final win.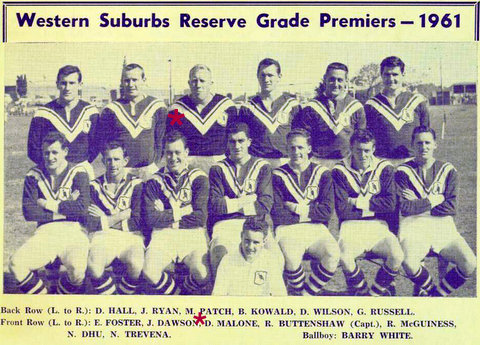 *
1962

was Don's biggest year at Wests .
Don played in all 20 First Grade games.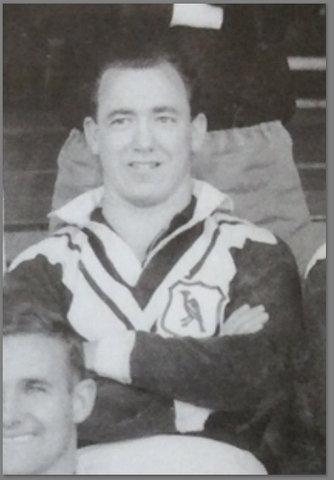 Don at the age of 24 in 1962.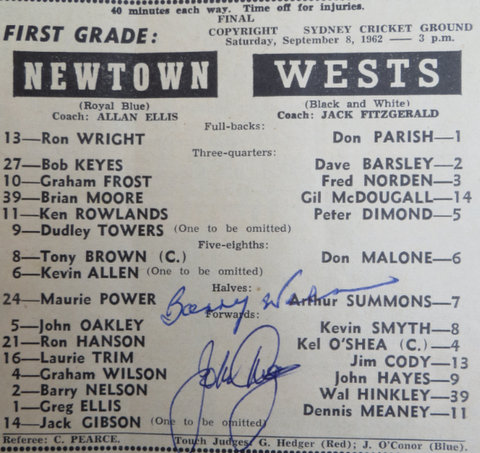 Wests 25 beat Newtown 13.
This win made it possible for Wests to once again play St George in the Grand Final.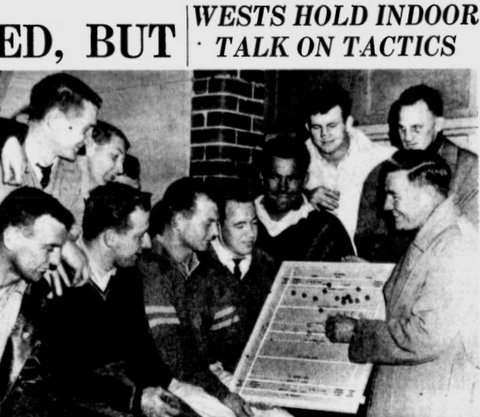 Looks like Don is wearing a tie??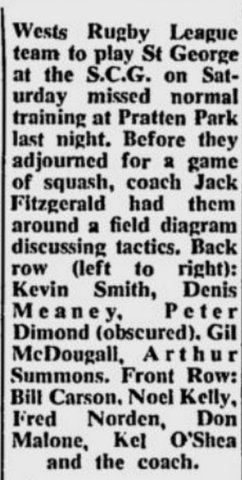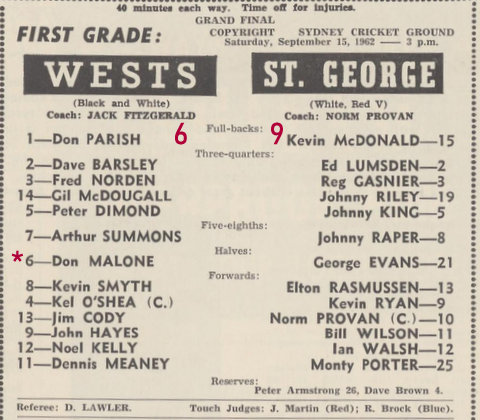 Don at half back.
1963

another great year for Don playing in 18 First Grade games for Wests including the Famous Grand Final.
During the season Wests defeated St George in both rounds of the comp and also in the Major semi.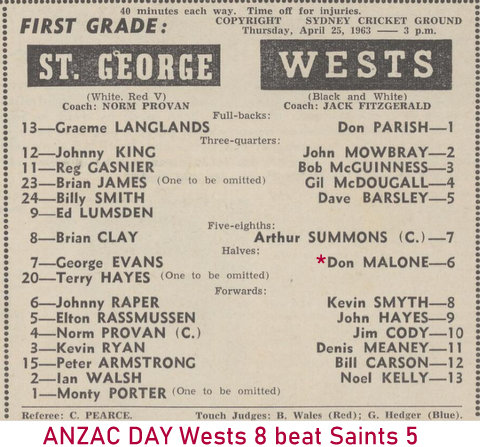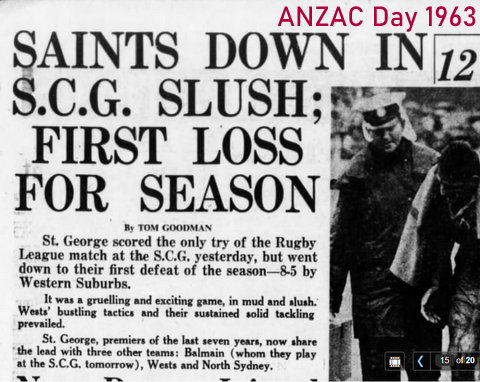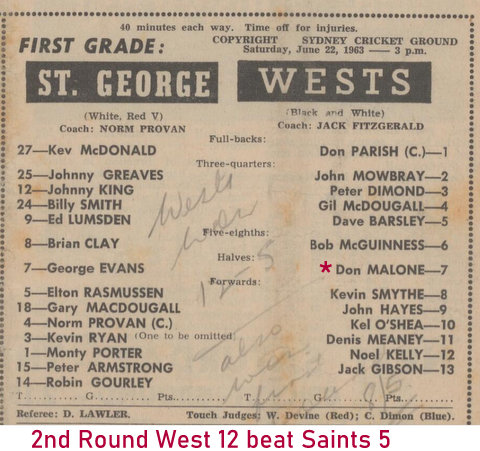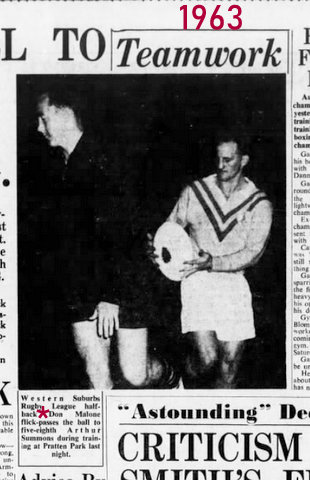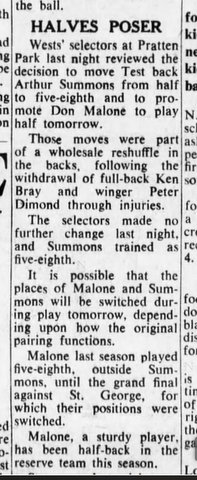 Don played a big part in both wins over St George.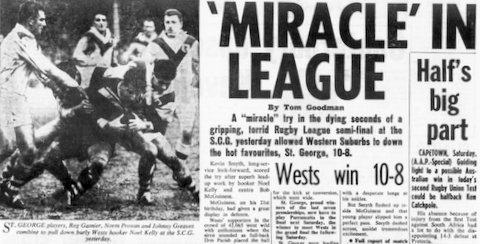 Unfortunately for Don and Wests the MIRACLE came one game to early (again)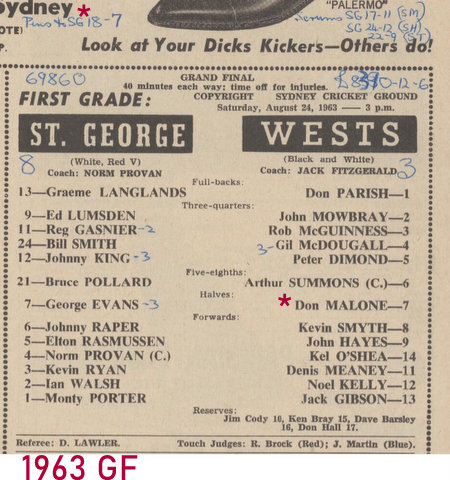 Once again Wests lose to St George.
For Don thats 3 from 3.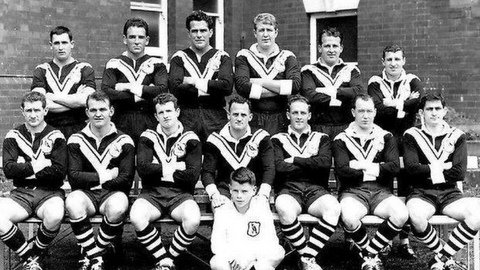 Top L to R. Chow Hayes, Jack Gibson, Kel O'Shea, Denis Meaney, Ned, Jazza.
Bottom L to R. Kevin Smyth, PD, Gil Mc Dougall, Arthur Summons, Podgy Mc Guinness, Irish Malone, Don Parish.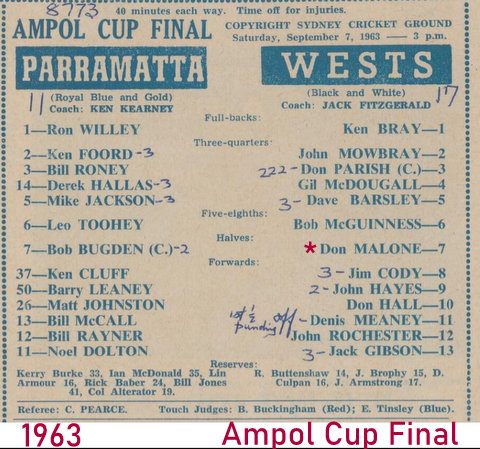 Although Wests won the Ampol Cup.
Don played half back that day.
*
In 1964 Don played 17 First Grade games and 1 State Cup game.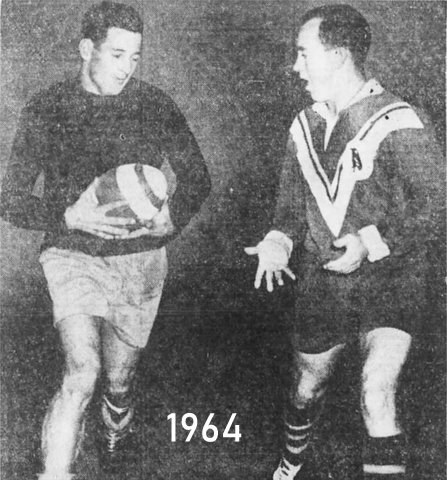 Ron Costello and Don Malone at Pratten Park.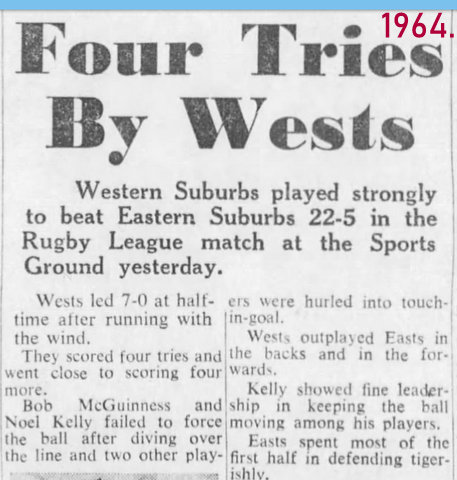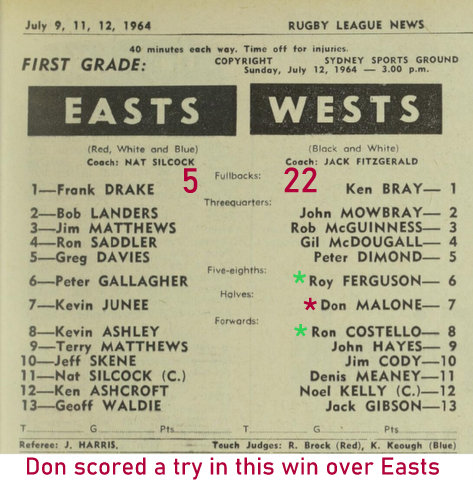 * Roy Ferguson at Five eight.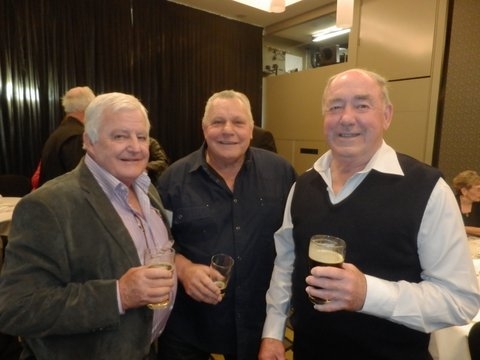 Carl Ross, Roy Ferguson and Don Malone at the Pratten Park Magpies Reunion in 2014.
1965.
In 1965 Don played in 3 First Grade games, 14 Reserve Grade games and 1 State Cup game.
Below team photo taken inside the West's dressing rooms at Pratten Park.
Don is second from the right middle row.
In 1966, Don played in  2 First and 17 Reserve and 1 Third grade game.
At the age of 28 Don hung up his boots and coached Wests Third Grade to a Premiership in 1967.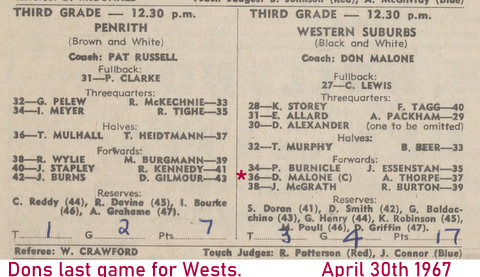 Along the way Don came out of retirement and played in 4 games for his young stars of the future.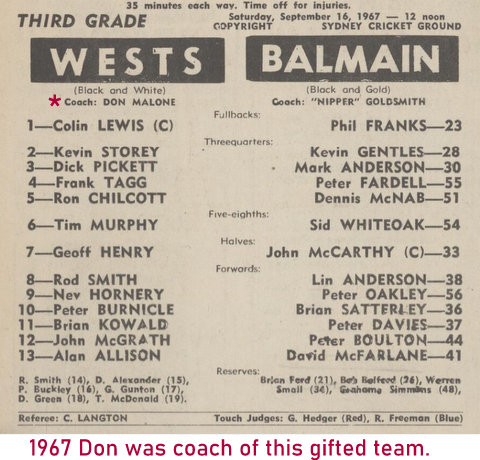 Wests 7 beat Balmain 2.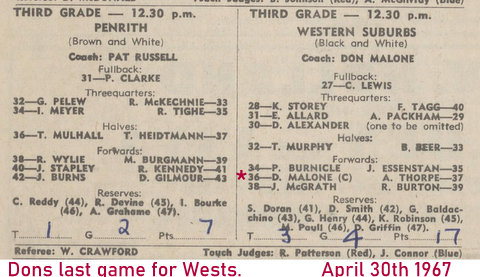 Don coached Third Grade for 3 years 1967 to 1969 then Reserve Grade in 1970.
*
 

*

Below are a few words from Noel 'Ned' Kelly about his team mate and dear friend……

MORNING GENTLEMAN.
We have just lost one of the greatest 'MAGPIES' ever.
IRISH was one of the best blokes I have ever met, be it on or off the footy field.
He was of top quality.
A great MAGGY at all times.
He represented 'WESTS'  with pride and dignity, guts and determination.
Rumour has it 'YOU ONLY PASS THIS WAY BUT ONCE' .
I am proud to have been chosen to be known as a mate of Don 'Irish" Malone.
RIP My friend.
Noel 'Ned' Kelly.
Ned watching Irish and Pat Thomas at training.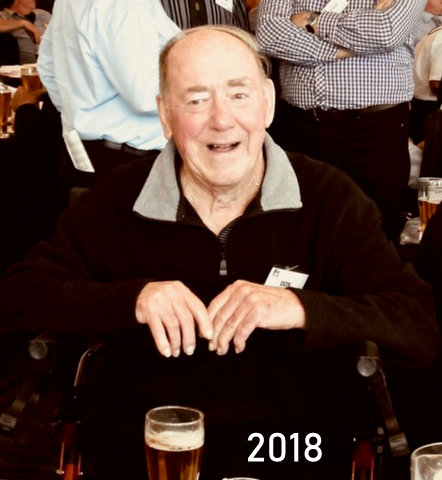 Don at the 2018 Pratten Park Magpies Reunion.
"Think where mans' glory most begins and ends
And say my glory was I had such friends" – Yeats
RIP Don Malone.