A phone call from my old friend Bede Ryan who lives in Young started the search for the next of kin to
Thomas Henry Briggs.



Bedes daughter Dione who lives in Cairns and presently teaching in Townsville told her dad this story .
Dione in the January School Holidays went touring the Sth Island of NZ and as Dione is very fit Athlete went Kayaking and the manager of this resort got in conversation with Dione and when Dione told this guy that Young is her home Town his reply was, " Young is the Town where my Heritage began one of whom TOM BRIGGS my Grandfather was born and grew up and attended School in Young and I still have relatives living there" 
Dione said , he also said Tom Briggs played Rugby League for Western Suburbs after the War.
Hence Dione knew her dad had the connection to Wests and  I had a Library of Books on Rugby League which I consulted and found Tom Briggs name  and I  immediately email you ( Tony) and as they say the rest is history……
Bede we at the Wests Archives and the PPM website are very happy that Dione met Toms grandson in New Zealand.
* Before we get to the Medal presentation a little of Toms Rugby League History.
1938, 1939 and 1940.
Tom played for Young in 1938, 39 and 1940 in a very good Maher Cup team winning the Cup 14 times in 1938, 11 times in 1939 and 4 times in 1940.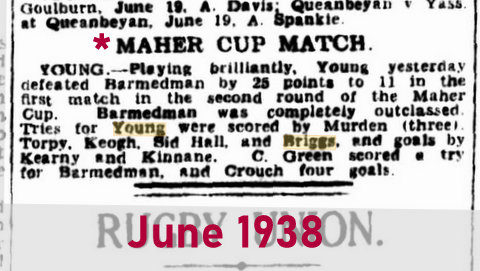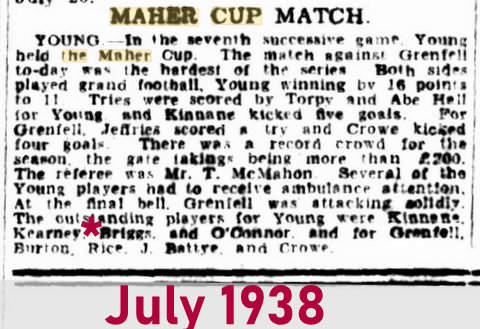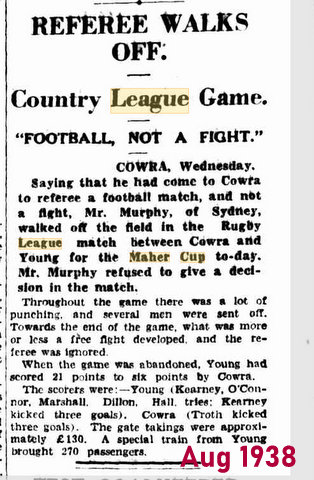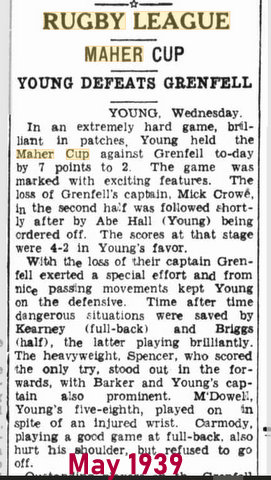 Tom joined the Army in November of 1940 and reached the rank of Sergeant.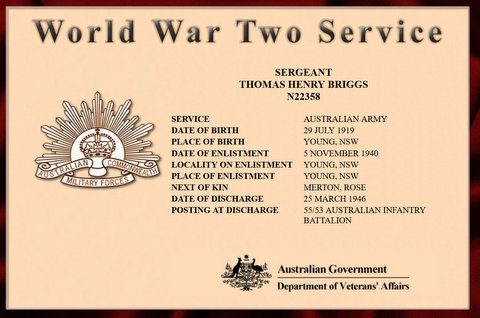 Toms Army service continued until March of 1946.
After Tom left the Army he played at Wests for 2 years 1946 and 1947.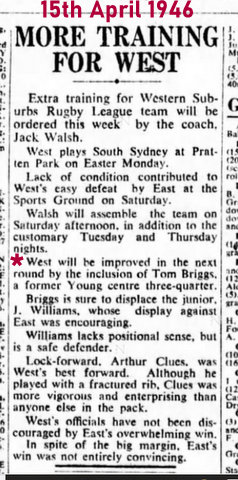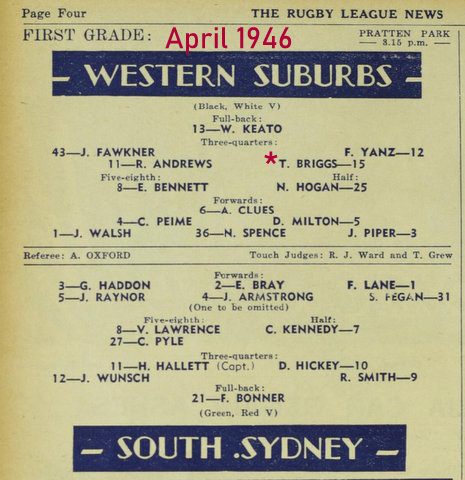 Tom scored a try on debut for Wests.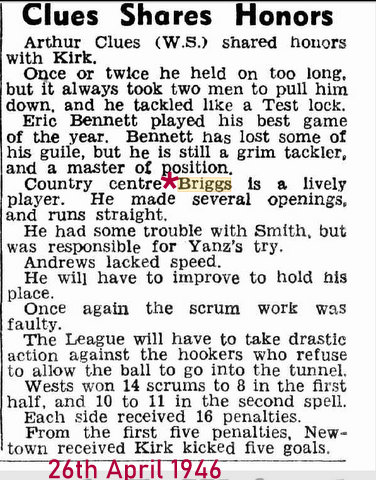 Tom had a bad run of injuries during his Rugby League career . This restricted his First Grade appearances. 
In 1946 Tom played 6 First Grade games and in 1947 Toms tally for all grade was 4 First Grade, 1 Reserve Grade and 12 in 3rd Grade.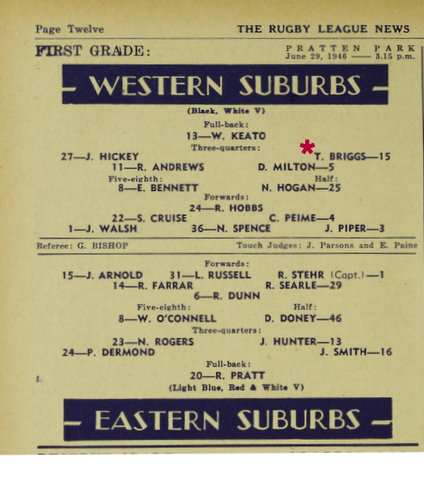 Tom scored a try in this game.
Easts 10 beat Wests 7.
1947.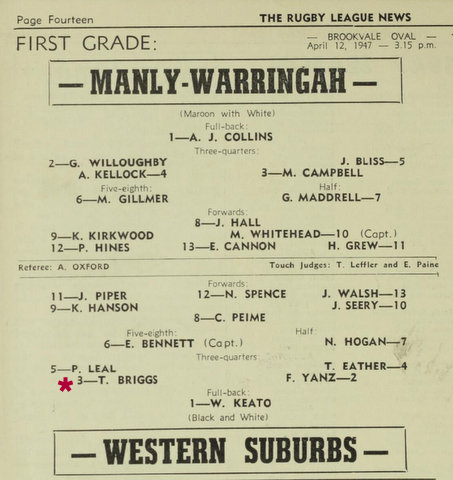 Wests 15 beat Manly 13.
Tom scores a try.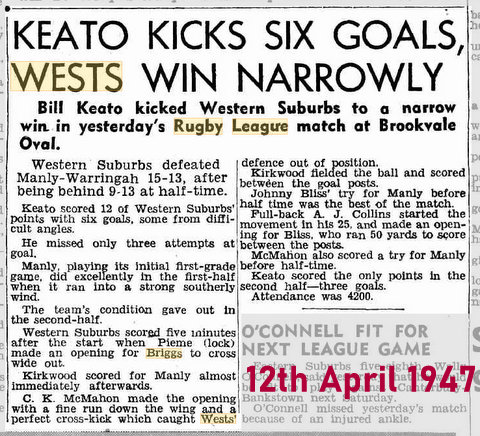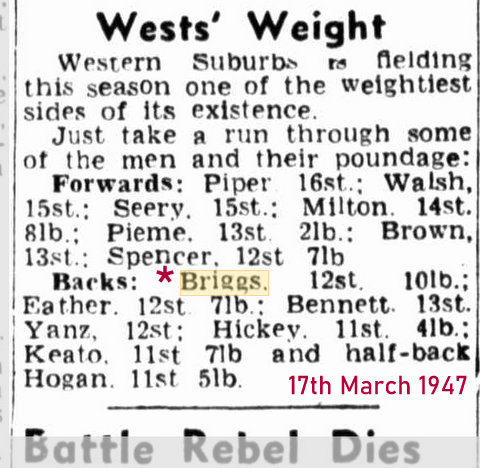 Just an idea of what First Grade players weight in 1947 compared to todays GIANTS.
1948 and 1949.
After 2 years at Wests Tom played the next 2 years at St George.
1948.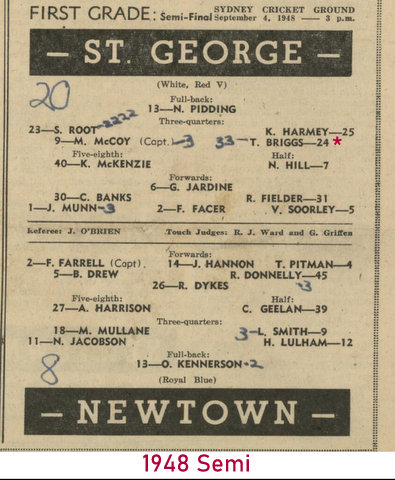 Tom scores 2 tries in the 1948 Semi.
Unfortunately for Tom his injury woes continue at Saints.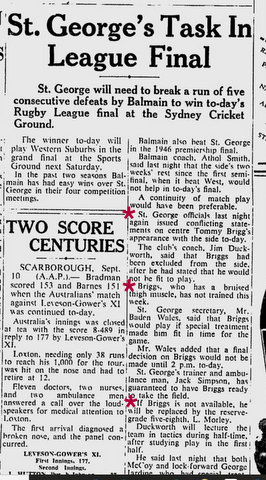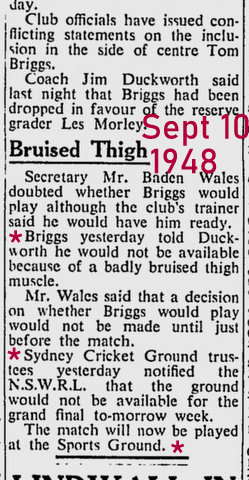 Tom misses the 1948 Final against Balmain.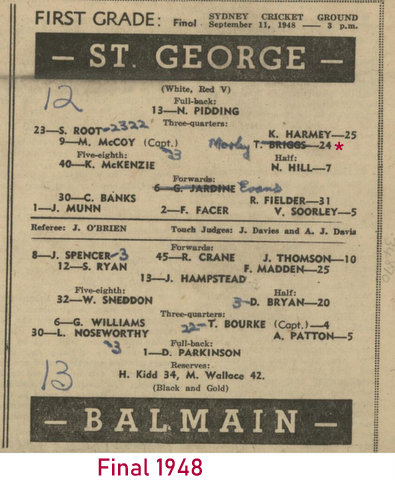 Saints may of won if Tom had played.
1949.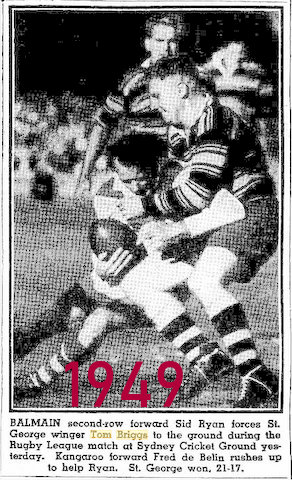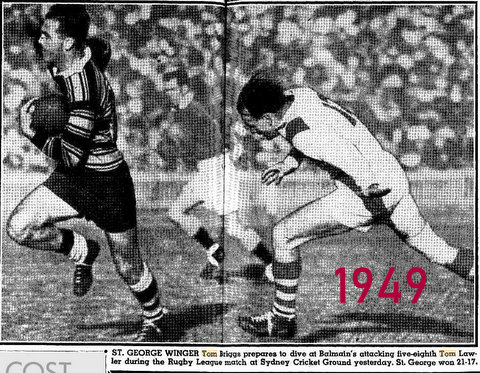 St George won the 1949 comp but due to injury Tom was unable to play in the last few rounds and Finals.
* Tom was now 30 years of age.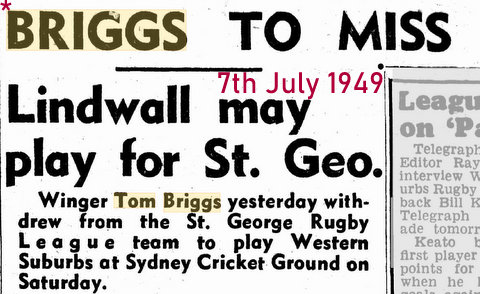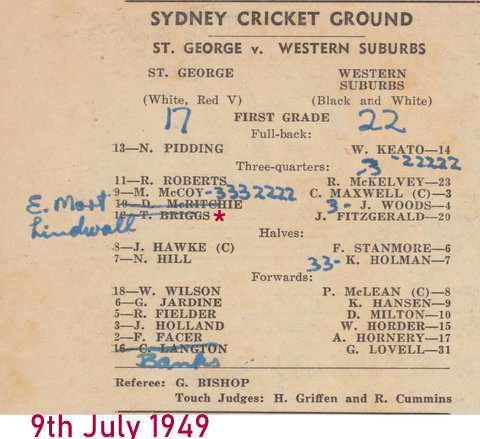 At the end of the 1949 season Tom was awarded the player/ coaching job at Goulburn in Group 8.
1950.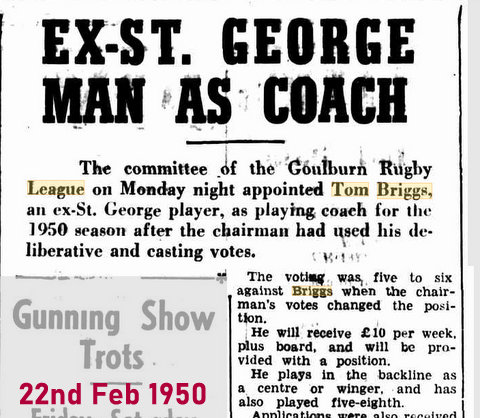 And Wests…..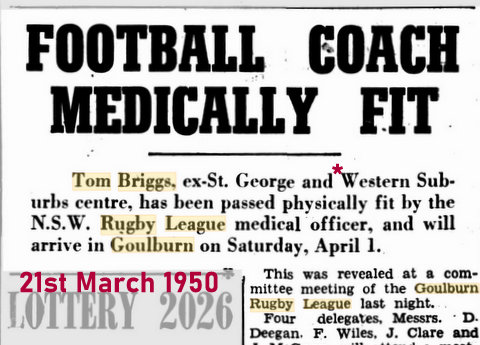 Tom starts his new job at Goulburn.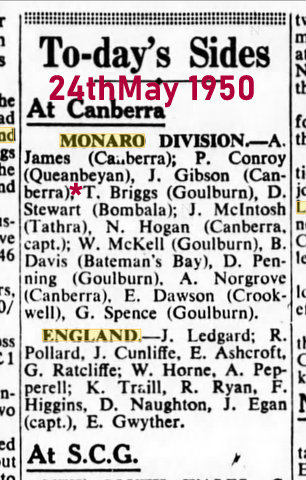 Tom was picked to play for Monaro against the touring English team at Manuka Oval.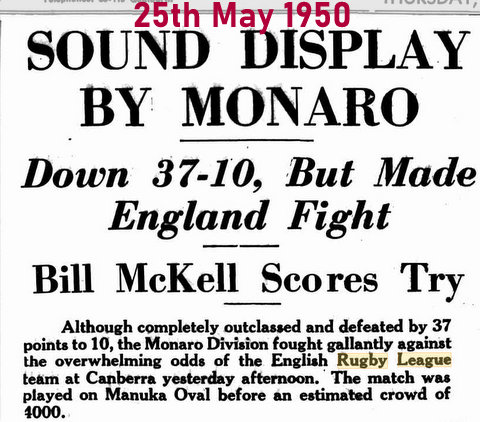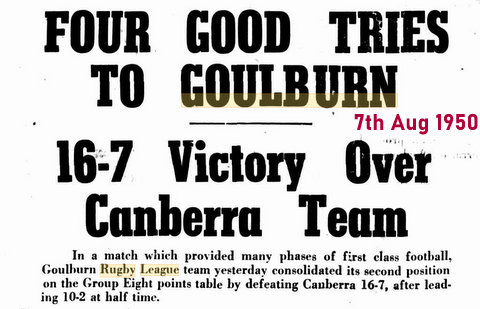 Not sure how Goulburn went in the Semis but 1950 was Toms only year at Goulburn.
1953.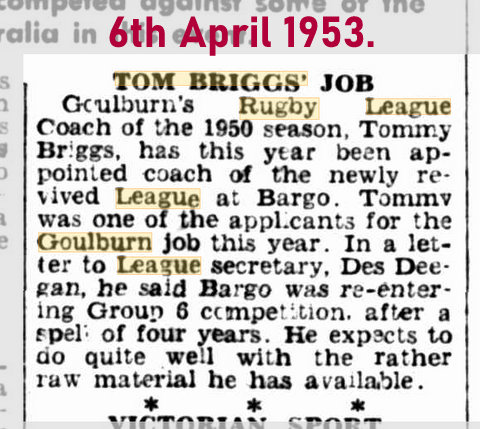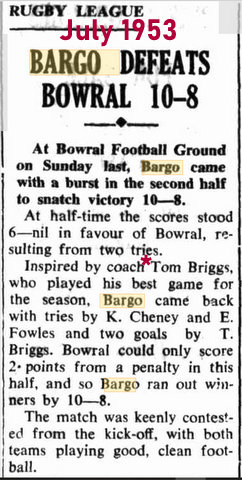 Tom was not only the coach but was still playing at 34 years of age.
Forward to 2019………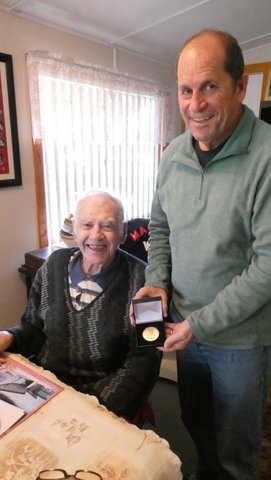 Walter Briggs receiving Toms Medal from Tony Lewis .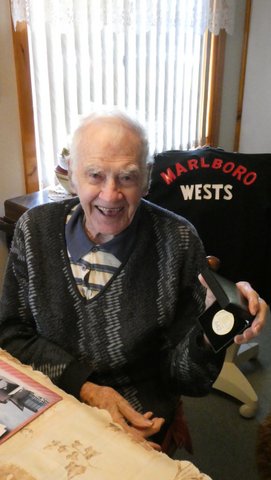 A very delighted and proud Walter Briggs.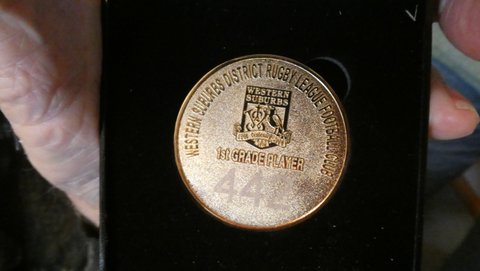 Tom Briggs Medal number 442.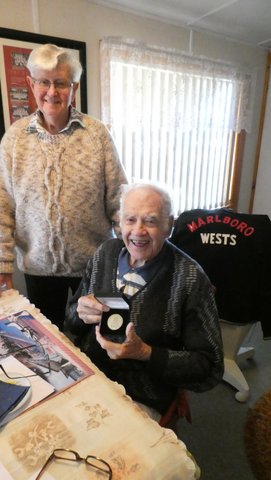 Bede Ryan and Walter Briggs.
Walter is the first cousin of Tom and at 95 years of age still has very strong memories of Tom playing Rugby League back in the 1930's and 1940's.
NOTE: Walter is happy to pass on Toms Medal if there are any closer relatives than he is.
*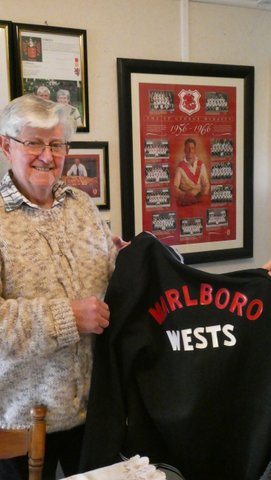 While we were visiting with Walter at Bede and Jan Ryans house Bede showed me his old Wests track suit top from 1962.
Bede went to the old Mick Simmons store and was fitted out with a track suit.
Guess who Wests sponsor was in 1962??
Unfortunately Bede suffered a career ending leg injury in a trial game against Manly.
* NOTE: A few people I would like to thank for making this presentation possible.
They are Dione, Bede Ryan, Neil Bennett from Wests Archives and Neil Pollack from the excellent website about all things Maher Cup http://mahercup.com.au/