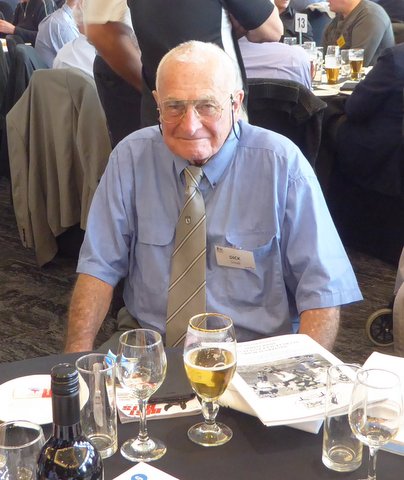 Dick Small at the 2018 PPM reunion.
1957.



Dick Small was graded at Wests in 1957 he played 2 Reserve and 8 Third grade games that year.

1958.
In 1958 Dick was a member of the 1958 President's Cup winning team.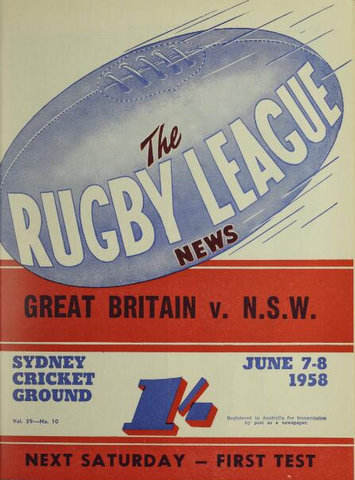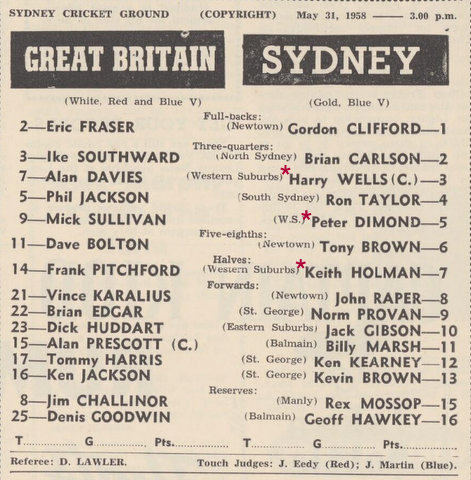 GB 19 beat Syd 10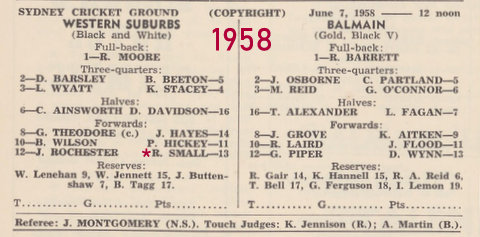 The Semi was played before the Great Britain V N.S.W. game.
Wests 10 beat Balmain 8.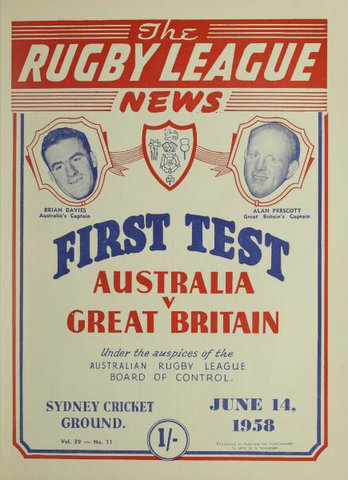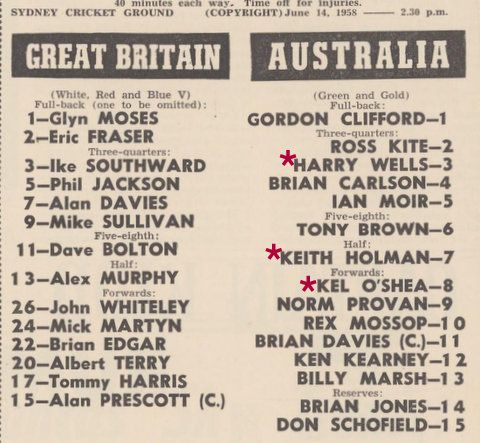 Aust 25 beat G.B 8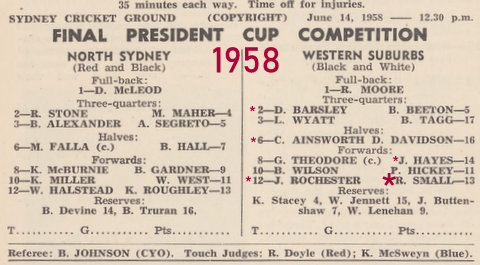 The Final was played on the 14th June at the SCG before the First Test GB v Australia.
Wests 14 beat Norths Sydney 10.
Team photo 1958.
In 2018 the team was honoured at the PPM Reunion on the 60th anniversary.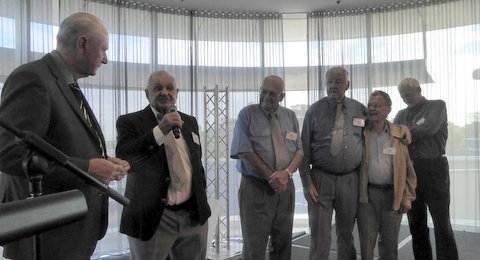 Rick Wayde, Dave, Dick Small, Pat Hickey, John Rochester and John Hayes.
5 of the Grand Final Team at the 2018 PPM reunion.
1959.
Dick went back to grade at Wests and played in 10 Third Grade games that year.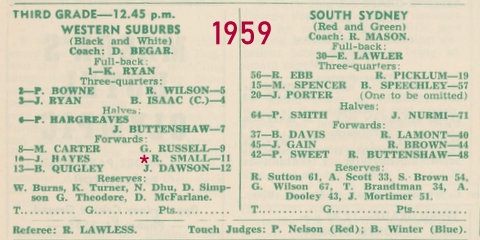 1960, 61 and 1962.
Dick played the next 3 years at Souths 1960, 1961 and 1962.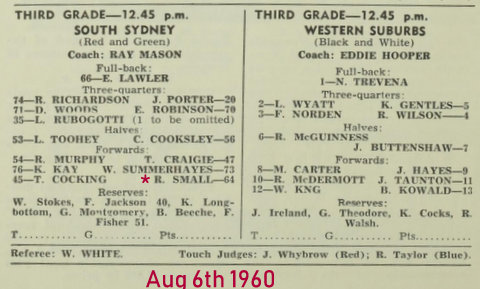 In 1960 Dick played 5 Third Grade games.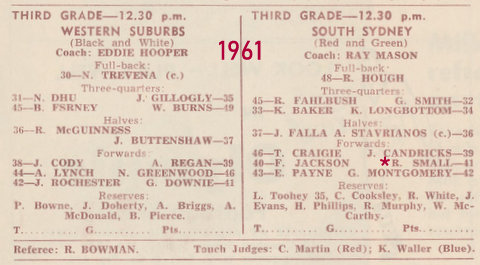 In 1961 Dick played 9 Third Grade games.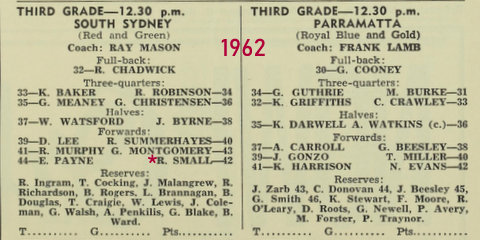 In 1962 Dick played 1 Reserve Grade and 3 Third Grade games.
1963 and 1964.
In 1963 Dick join Penrith and played in the new Second Division Competition for 2 seasons.
In 1963 the Competition was then called The Inter – District Competition.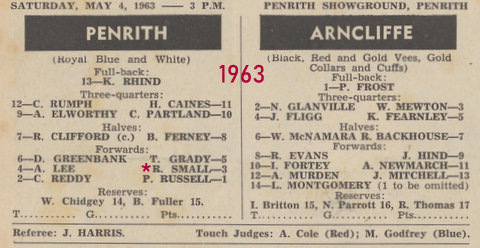 The Penrith and Arncliffe Scots game was played at the old Penrith Showground.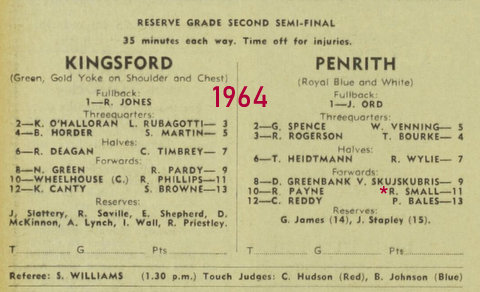 In 1964 Dick was playing in the Penrith Reserve garde team that reached the Semi Final and Final.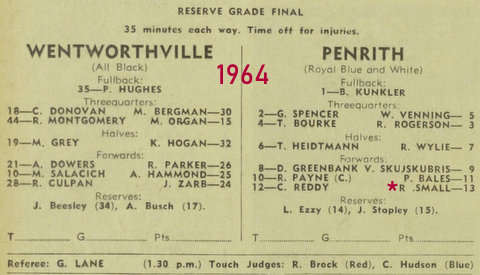 Unfortunately for Dick and his team mates Wenty 12 beat Penrith 9.
Dick at the age of 30 made a comeback and Capitan coached the Ryde – Eastwood Reserve Grade Team.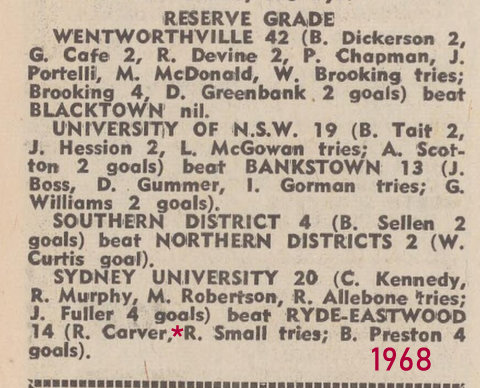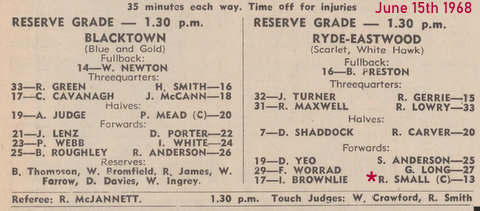 Dick was a regular at our Reunions & had been intending to attend the 2019 function.


Dick at the 2016 PPM reunion.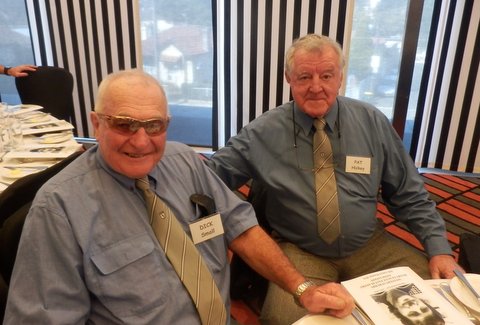 Dick and former team mate Pat Hickey at the 2014 PPM reunion.
Vale Dick Small.
Dick outside the Maroubra Surf Club with his PPM tie on.
NOTE. Thanks to Michael Curin from Souths History for his help with this Vale.