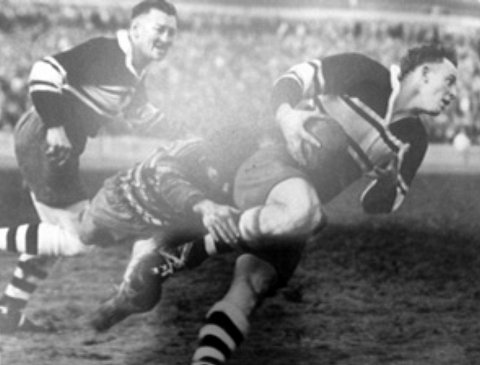 Billy Keato looking for the inside pass from Dick McKelvey.
Rick Wayde and myself travelled to Sussex Inlet on 24TH May to drop in on ex-player Dick McKelvey. We found a spritely 92 year old, full of humour and memories of a golden era for Wests, where he played as a winger from 1945-50.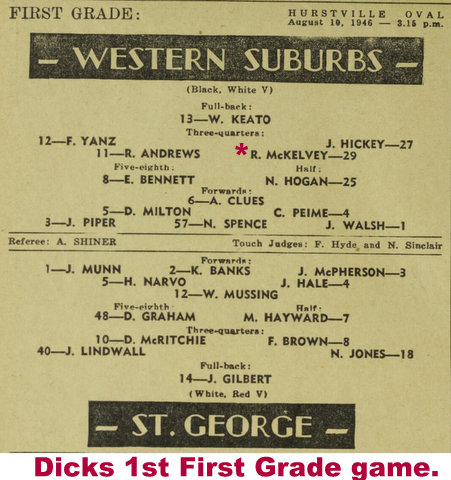 Born in 1927 in Homebush, the world was a different place of course. He remembered the cattle holding yards for the abattoirs and how a man with a flag would stop all traffic on Parramatta Rd to allow the cattle to pass. He attended Homebush Intermediate School (although he said he wagged half the time) but his father (who owned butcher's shops in Homebush) told him, "If you don't take school seriously, leave and become a butcher!" He became a butcher! He played footy early with Homebush Football Club, winning premierships in 1943/44 as a 16/17 year old. He started playing with Wests in 3rd Grade in 1945 as an 18 year old.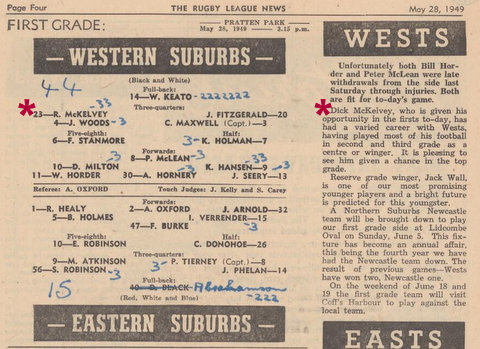 Dick scores 2 tries.
Wests 44 beat Easts 15 at Pratten Park in 1949.
Of course as we talked the names flowed of champions he had played with. For Dick, Col Maxwell was a champion bloke as well as player. Dick said, "He brought me along from the beginning. If I made a mistake he'd tell me and we used to work it out between us." The conversation often came back to Col; you could sense the deep respect Dick held for him.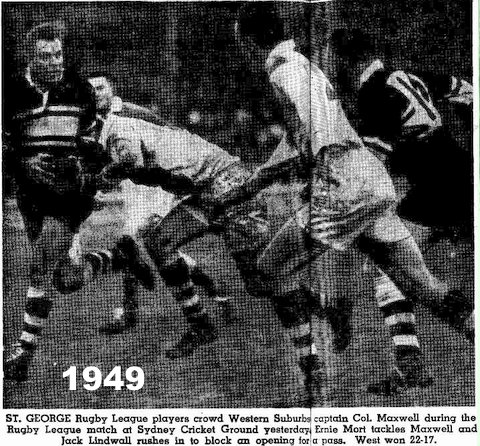 Col Maxwell in 1949.
He also had respect for Don Milton and Leo Trevena. Trevena of course often came up to Firsts when Keith Holman was out, (usually for Rep games) and always was one of the best players on the field. When he transferred to Canterbury he was appointed Captain. Apparently a brother-in-law owned the Thirlmere Pub and he let Don and Leo stay there for free if they played for Thirlmere on Sunday against Picton. When they went on the field half the Picton side were Easts players. They all agreed to say nothing!
One thing Dick remembered well from that era was Secretary Lou Moses' house; "I reckon 20 players lived there, including Keith Holman. Holman, naturally, was one of the standouts for Dick. He remembered him being introduced at training, fresh from Dubbo, and said that he easily outshone all other halves from that era. "His front-on tackling was ferocious."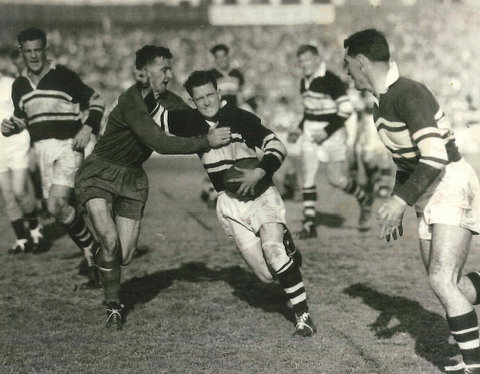 Keith Holman.
The tough forwards he played with included "Duck" Walsh ("Very good with the blokes"), Peter McLean, and the two that Dick called 'monsters', Billy Horder and Kevin Hansen. We asked Dick if he'd been involved in some big punch-ups – "I was a winger; I stayed well clear!!" He agreed the sideline was a good friend. Arthur Clues and "Duck" Walsh didn't mind being in the middle of a good blue, as he recalled. However, Dick did remember a match at Jubilee Oval against St George where for some reason he was marking Herb Narvo (Australian Heavyweight Boxing Champion at the time). "I ran into him and out I went … like a bag…." As Rick noted he took the compulsory eight! The biggest blue he could recall was when a North Sydney half-back (who will remain anonymous) spat into a scrum containing all the tough Wests forwards of that era. For some reason they objected and pandemonium broke loose all over the field. It took a long time for it to finally settle.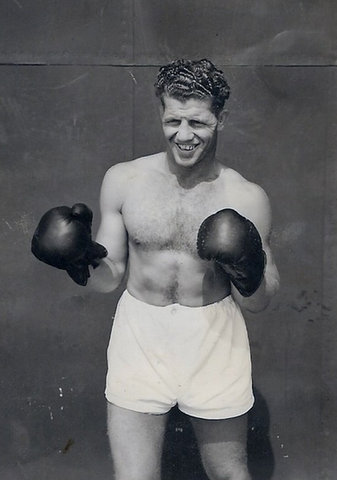 Herb Narvo.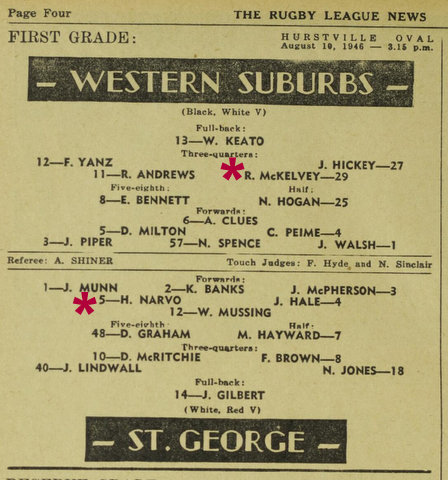 * Note from Tony…The reason why Big Herb was playing on the wing was that he had asked the St George selectors not to change the winning St George pack.
Herb was Capt/Coach in 1946.
The biggest blue he could recall was when a North Sydney half-back (who will remain anonymous) spat into a scrum containing all the tough Wests forwards of that era. For some reason they objected and pandemonium broke loose all over the field. It took a long time for it to finally settle.
We also questioned Dick about the confusion that has occurred over the years in photos with him and Kangaroo five-eighth, Frank Stanmore. Dick said that it did happen and that they did actually look similar but that he was about a 'foot' taller than Frank.
Dick played in the first game at Lidcombe Oval in 1947 when Ashfield Council wouldn't allow Sunday football but it was in 1948 when the Club really came to life. Not only did they win the Premiership but the 2nd's and 3rd's were also very good teams. He recalled the excitement when at the Annual Grace Bros Ball Col Maxwell was announced as the Kangaroo Captain to sustained cheering.
It was also at this time that Dick, surprisingly for a Homebush boy, became a weekend lifesaver as a member of South Narrabeen Surf Club. Lots of members were players with the newly formed Manly-Warringah Club, including a mate, Manly Captain, Max Whitehead, who later became the model for the Chesty Bonds ads. Max used to swim laps of Manly pool with an empty kerosene tin attached to his belt.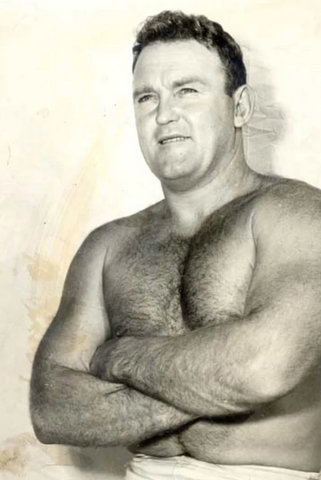 Max Whitehead aka Chesty Bond.
A good mate at that time was good forward, Jack Williams. He went to a dance with him at Ashfield Town Hall and they were having a good time; met a couple of nice girls but suddenly Jack was in a big fight in the back alley. The cops were called, lumbered the pair of them and they were soon in Ashfield Police Station. Dick remembered a rather large Sergeant looking him in the eye. "Get on the bloody train and go straight home or I'll tell your father!" Dick was very good at following instructions; he went straight home! Jack didn't get out. Dick didn't know why but felt it might have had something to do with throwing a punch at the arresting constable!
When asked Wests' best player of that era, of course Holman was regarded as very tough and a top tackler but his answer surprised both Rick and I. He said Billy Keato was very safe and obviously a great goal-kicker and "In my playing time nobody that played with Wests was better than Keato."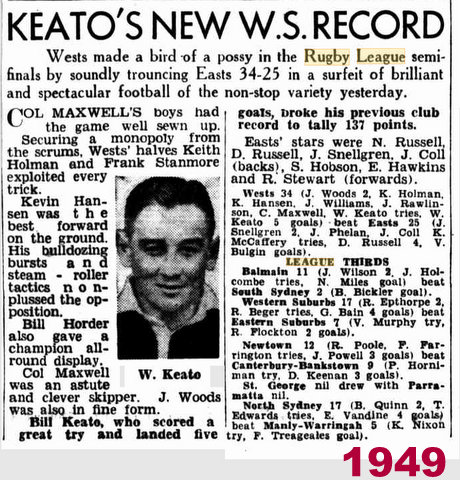 Dick played 12 First Grade games in 1949, including the unlucky semi-final loss to Balmain (which they lost 20-13 in extra time after leading 13-10 with literally seconds to go to full-time). He marked Kangaroo Bob Lulham (of the famous court case where it was revealed he had slept with his mother-in-law who then tried to murder him by poisoning his beer!).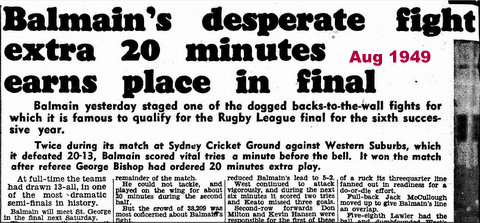 Match report of Semi.
Dick said, "Without blowing my trumpet I reckon I had a pretty good game against him." He was dead right. The Truth wrote, "Lulham, apart from his brilliant try, was strangely overshadowed by McKelvey, Wests' winger, with his effective tackling." Dick also scored a critical try at the SCG against St George earlier in the year, making a blindside run right on the bell to score in the corner as the bell sounded.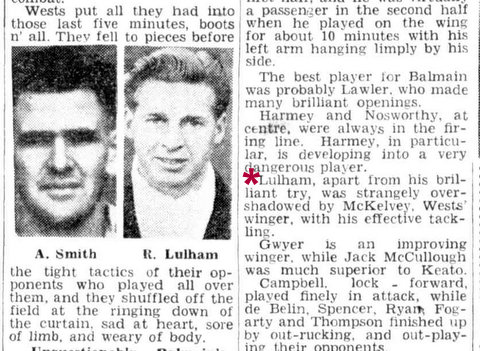 Report from the Truth newspaper.
When he got married he lived with his grandmother in Glebe and, of course, due to residence rules he played with Balmain in the lower grades. Ironically, he used to walk to training with Bob Lulham. They would have been very interesting conversations!
We asked Dick about the biggest changes to game. Rick and I didn't agree with him that the players of the past would find it difficult today. We felt he was under-rating the skill level of those players. Modern training methods would have seen them at present day levels.  "We weren't that professional. We'd train alright but then straight to the pub for a 'few' schooners." "We had to buy our own socks, boots, jerseys. We only played for the kudos of playing for Wests which meant a lot in those days." He misses the sweeping back-line movements "There's a sameness now; five tackles, kick; five tackles kick." The biggest change Dick felt was the certainty of the scrums nowadays. "In the past we didn't know if we'd be defending or attacking from a set scrum." Also today if you try some sort of individualism like a grubber/chip kick you'd be dropped." There were definitely different types of players. "Some like Holman – football was their life – they'd train very hard and stay late – for others……." Dick still marvels that some of the kickers could kick long-range field goals with the ball from that era. They were often heavy, covered in mud and still Billy Keato or George Bain could kick field goals from half-way."
The lack of Reserves was also a big factor. Dick said, "I broke a finger once – they just bandaged it and said go back on! Next week I was playing against St George in a Reserve Grade game at the SCG and one of the St. George players came up to me pre-match and pulled the finger. Whenever he had the ball you can bet I went looking for him!" "If you really hurt yourself they'd just throw on some analgesic balm and water. It would burn like hell – get your mind off the pain and you'd get back out there."
Both Rick and I felt it was an honour to have a long chat with a player from one of the golden eras of Wests. Dick was entertaining, still full of life and the memories brought a lot of laughs. A great day.
Geoff Ibbett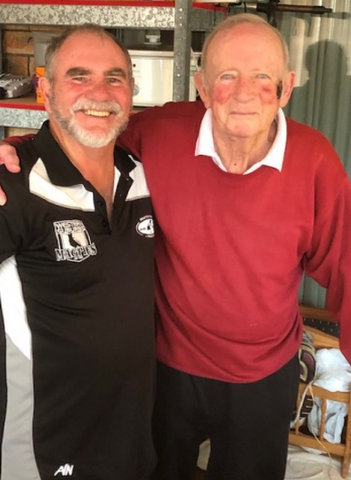 Geoff and Dick.