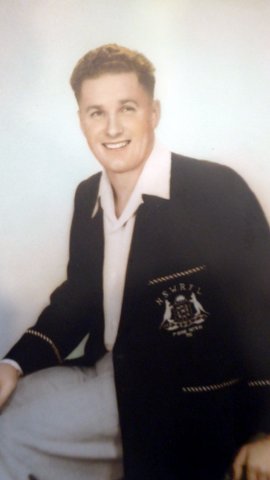 Col Ratcliff wearing with pride his Western Suburbs 1952 Premiership winning blazer.
The story of Col Ratcliff starts way back in 1929, the 23rd of June to be exact….the day Col was born at Temora.

Col left school and moved to West Wyalong from Buddigower to live with his grandmother at age 12 when his father George fell ill with tuberculosis.

Col had two sisters, Joan and Ruby.

Col started his motor mechanic apprenticeship at Alf Aberlines Garage in 1941.
*Note the phone number…easy to remember.
Col had never played any sport up to the age of 18 when a mate Max Norton insisted he play a game of Rugby League against the local High School.
Being big for his age Col played in the front row . A position he will never forget. The year was 1947.
To quote Col "I was pushed backwards every time I took the ball up"
Col loved the game and would go to the local oval and train by himself as well as with his mates. In 1950 Col was picked to play in the West Wyalong Reserve grade team.
By now Col had seen the error of his ways and was playing on the wing. He weighted almost 14 stone….and was fast.
An excellent combination!
 West Wyalong won the Group 9 Reserve grade  comp that year with their new flying winger scoring many tries.
Col and his good mate Max Norton decided that 1951 was the year they would both play Maher Cup for West Wyalong ….and they did.
With Max, Col built a boxing ring out at the West Wyalong tip.
Col said they "belted the crap out of each other"… Max fancied himself as a fighter and in his first Maher Cup game he proved it.
Max Norton KO-ed the Grenfell hooker and was sent off. West Wyalong still won…..just.
If you know the history of the Maher Cup this win was huge…then to win the next game V Junee was brilliant.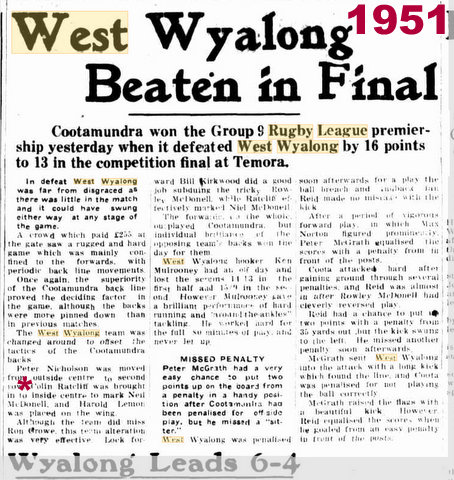 You can't win them all….Coota beat Wests Wyalong in the 1951 Group 9 Final.
The above game is very important in the life and times of Col Ratcliff and Wests Sydney.
Col was told by his Capt/Coach Peter McGrath that he was coming off the wing to mark Neil McDonell in the centers.
The first time he had played in that position.
Col said that Neil Mc Donell was a "big bastard" (don't forget Col was almost 15 stone) so he tackled him every time he looked like getting the ball.
Even though West Wyalong lost the Final Col had a blinder……
On the Monday after the Final Col gets a phone call to say that Tom Moses brother of Lou wanted to meet him.
Tom Moses was at the game and had seen Col play he than  rang his brother in Sydney
and as Col said "the rest is history"
1952.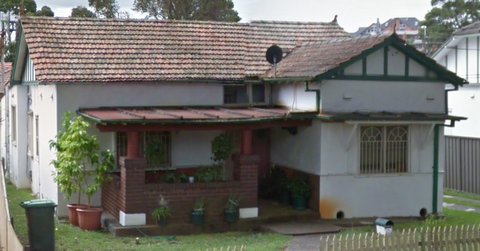 The famous Number 9 Rosa st Croydon.
Col had a meeting with Lou Moses at his home at 9 Rosa St Croydon and Lou agreed to give Col a trial…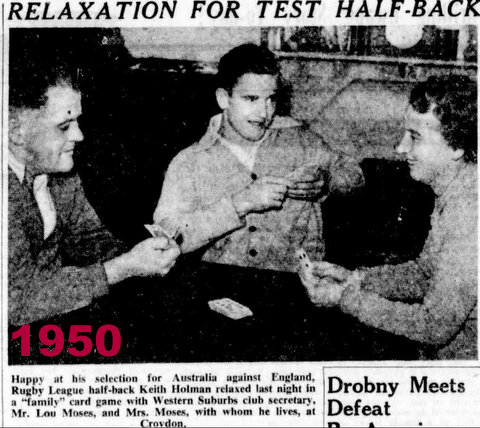 Many Wests players lived from time to time at 9 Rosa st Croydon.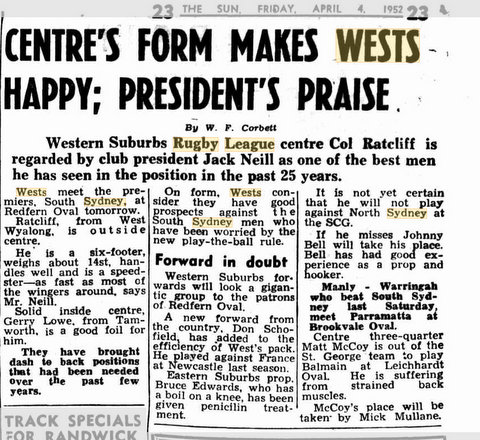 Col plays along side his mate Gerry Lowe.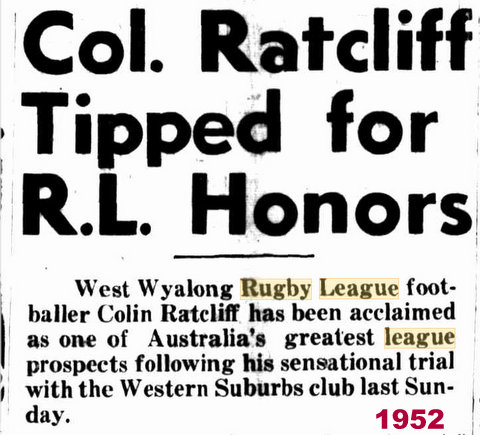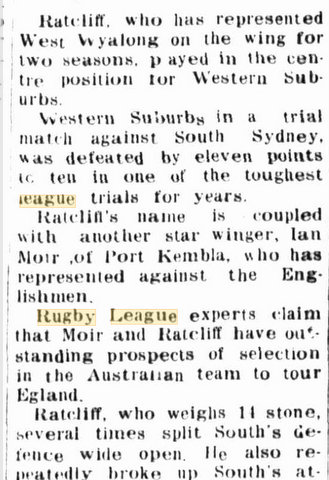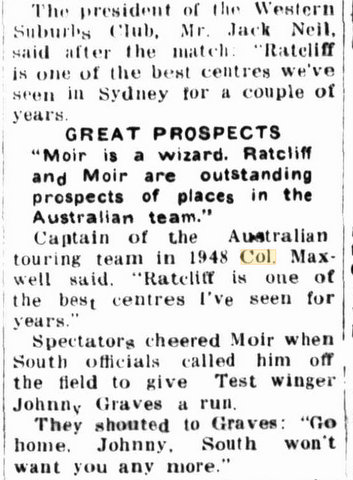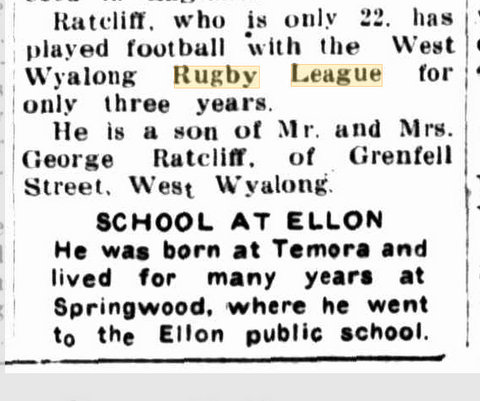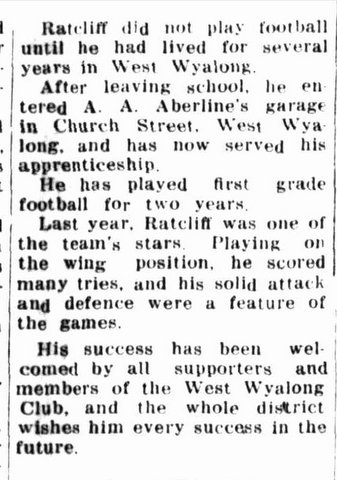 The game and a little of Cols history as reported in the West Wyalong Advocate 6th March 1952.
After this game against Souths in which Col had a brilliant game he was met at the gate of Redfern Oval by Lou Moses and quickly rushed off to the dressing room to be kept away from other interested clubs.

Col met Lou Moses at his home again where they shook hands on a 3 year deal. 150 pounds per season to be paid at the end of the season.
That equals $5500 in today's money.
Col lived with Bill Spooner at 16 Burton St Concord during this time. A reliable source tells me Devi Dines also lived at this address in 1952

Devi Dines and Col Ratcliff at the 2012 Pratten Park Magpies reunion.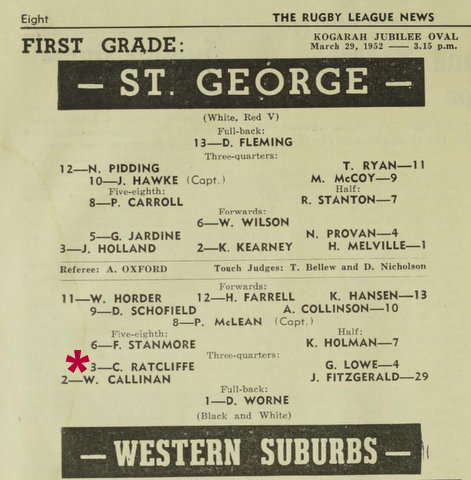 Cols first First Grade game in the 1952 season….Col scored 3 tries on debut and received Man of the Match and 10 pounds.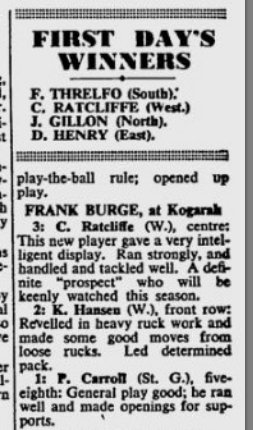 Wests 31 beat St. George 30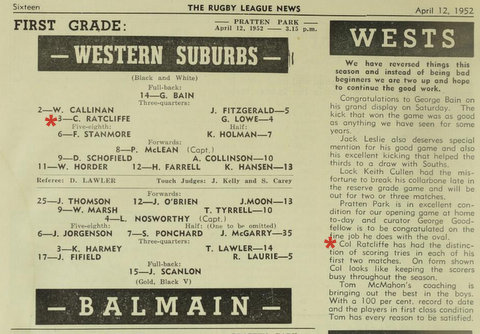 Col playing at his favorite suburban ground Pratten Park.
Wests 23 beat Balmain 14.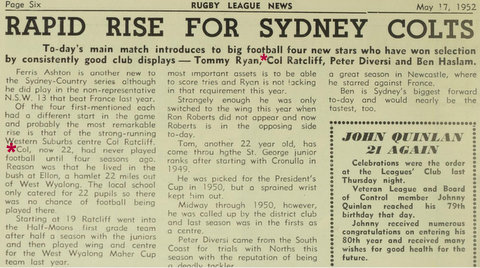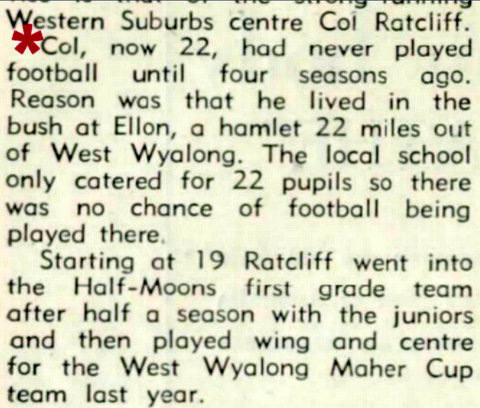 A little of Cols history told back in 1952.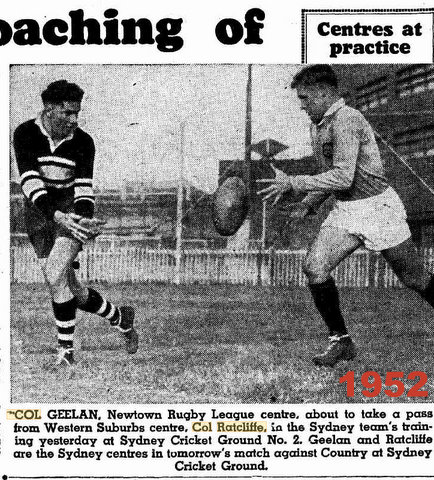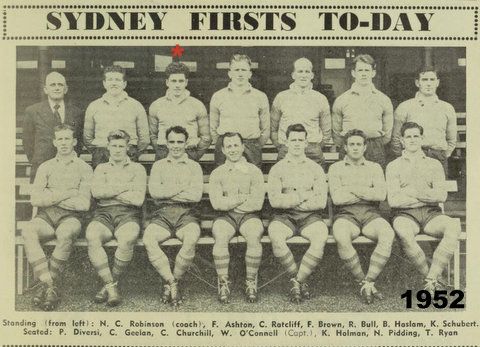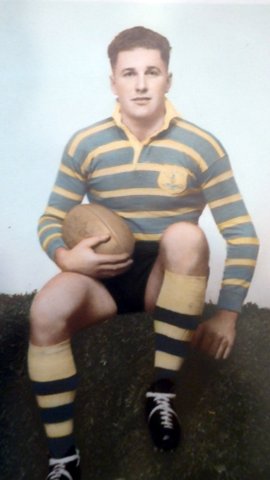 Col proudly wearing his Sydney Firsts jumper.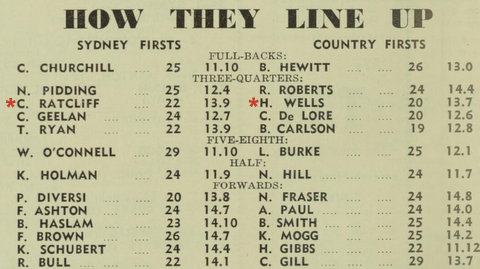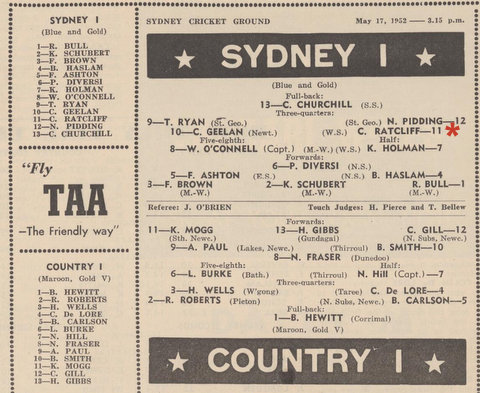 Sydney 23 beat Country 21
Col marked Harry Wells in this game and Col remembers thinking after the game is all I want to do is play in the same side as Harry rather than against him.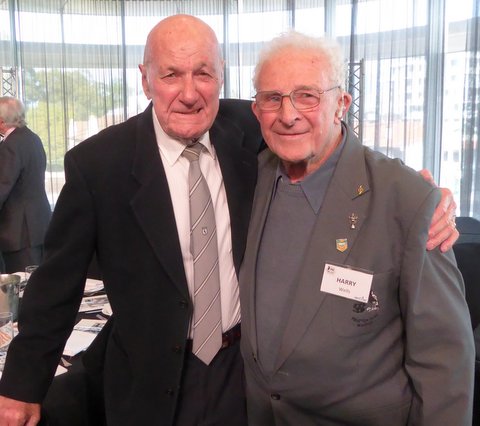 Col and Harry at the 2018 Pratten Park reunion.
*
The 1952 Grand Final.
1952 was a Kangaroo Tour year and both Wests and Souths were missing some top line players .
Wests had Keith Holman and Frank Stanmore on tour and Souths had Clive Churchill, Col Donohoe and Greg Harwick.

During the normal season Wests played 18 games winning 14 losing 3 and 1 draw. With that record Wests won the Minor Premiership.
Tom McMahon was Wests new coach . Captain was Peter McLean.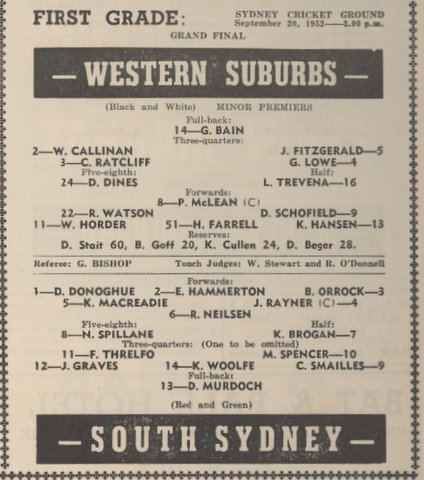 Referee George Bishop called back a Souths try for a forward pass and to this day Souths people say it was not forward
BUT Col was there and he said "it was a very flat pass"
The 1952 Grand Final team.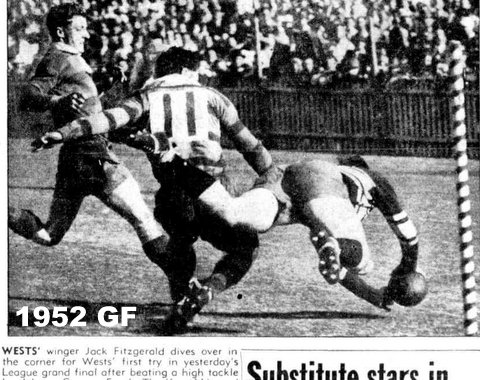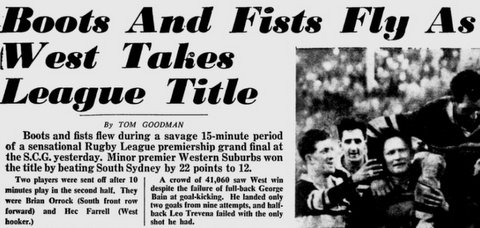 Col remembers Souths scoring a try to make it Souths 12 Wests 10 and while Wests were waiting for the kick
Peter McLean told them if we don't start to play fair dinkum we will lose this game.
That is the PG version of what the Wests Captain Peter McLean said to the Magpies….
To Col after 67 years that was the turning point of the 1952 Grand Final.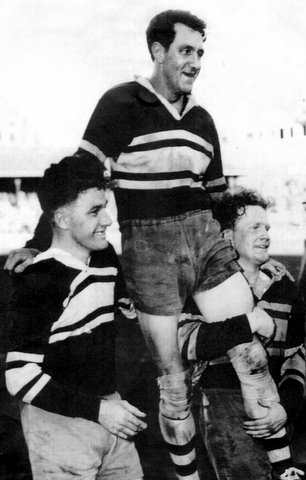 Peter McLean being chaired off by Col (left) and Ron Watson after the 1952 Grand Final win.
To view the Pratten Park Magpies 2012 Reunion and hear Col and Devi Dines being interviewed…
Just click on photo below.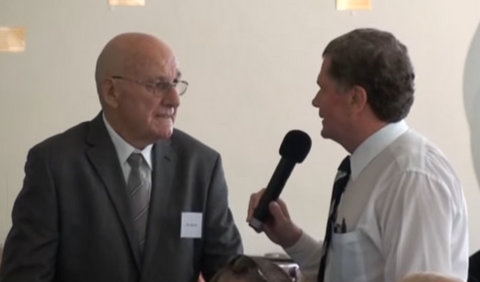 1953.
1953 was a very disappointing year for Wests going from Premiers in 1952 to collecting the Wooden Spoon under new coach Peter McLean.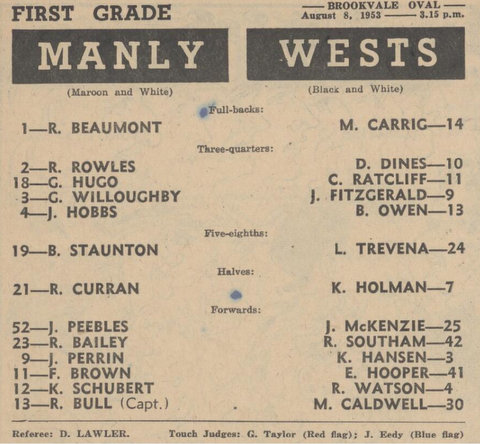 One of the 5 wins for Wests in the 1953 Season.
Wests 28 beat Manly 13.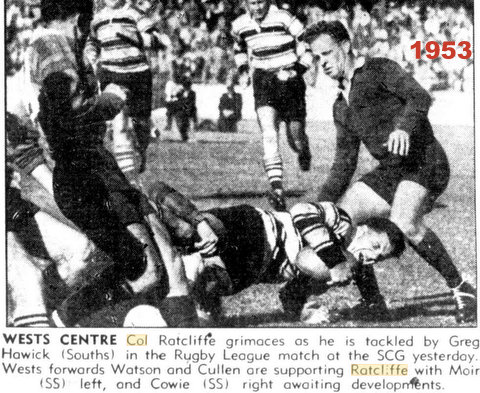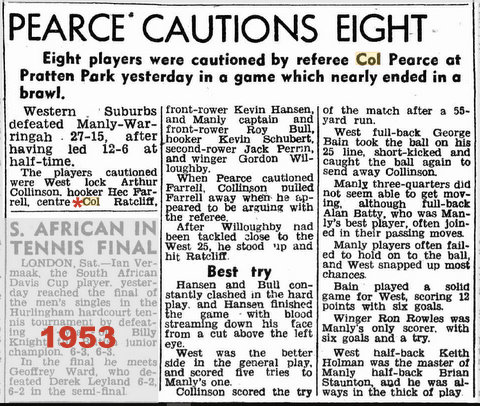 Wests beat Manly in both rounds in 1953.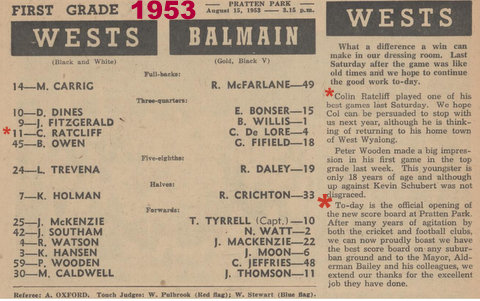 On this day in 1953 the new scoreboard was opened at Pratten Park.
Wests 14 Balmain 15.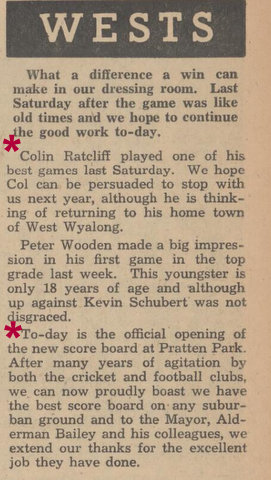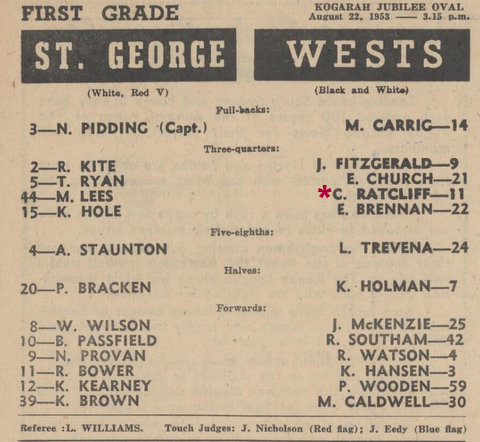 Col's last game for Wests.
Where it all started at Kogarah Jubilee Oval.
Wests 9  St George 19
Between the 1953 season and the 1954 season Col met his future wife Fay who was not keen on coming to the Sydney so Col talked to Lou Moses about his 3rd year at Wests and Lou was very understanding and said it was OK for Col not to return for the 1954 season at Wests.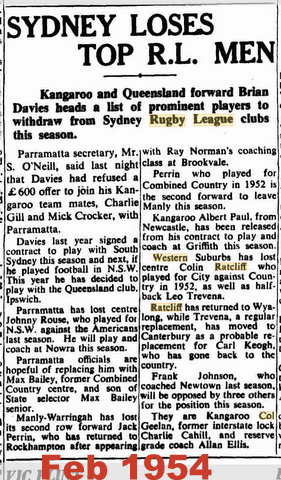 1954 until 1960.
Back to West Wyalong for Col where he played between 1954 – 56 and then spent two seasons at Griffith before returning to West Wyalong for two more years
1959 and 1960.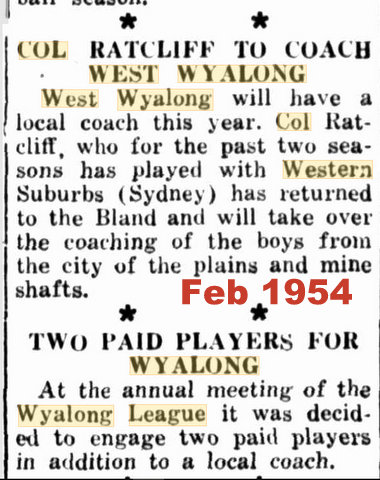 1954 and Col has been appointed as Captain / Coach of West Wyalong.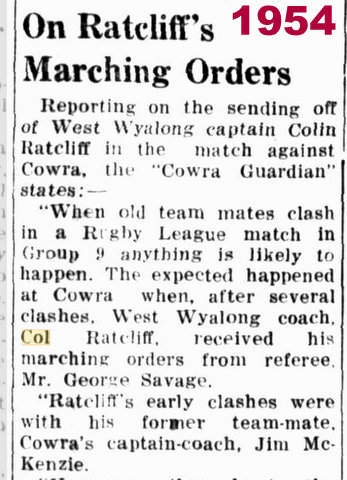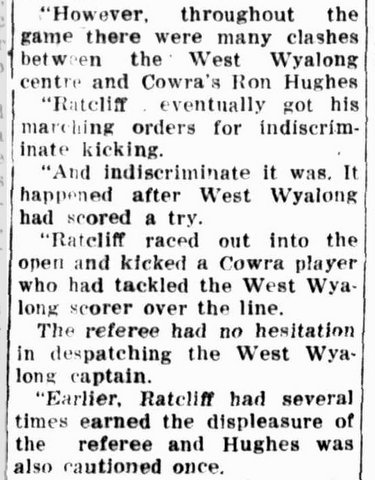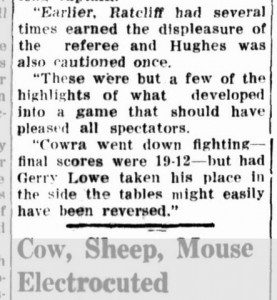 Game report of Col being sent off in the heat of battle against Cowra.
About half way into the season Col approached the committee and told them he was not happy being Capt/coach.
Col just wanted to concentrate on his own game.
Peter Nicholson the team second rower told Col he would be happy to take over. There was no animosity between the players.
1955
One extra game Col played in was against the touring French side on June 1 at Narrandera.
Riverina 29 beat France 27.
*Col scored a try.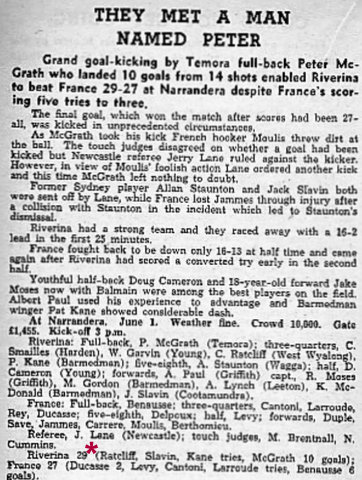 The above game report is from the E.E. Christensen Rugby League Year Book.
Thanks to Steve Dillon.
* NOTE: For some reason in the old days there was always a mention of Gate : then an amount not sure why ??
In this game gate taking was £ 1,455 in todays value it equals $46,383 not bad….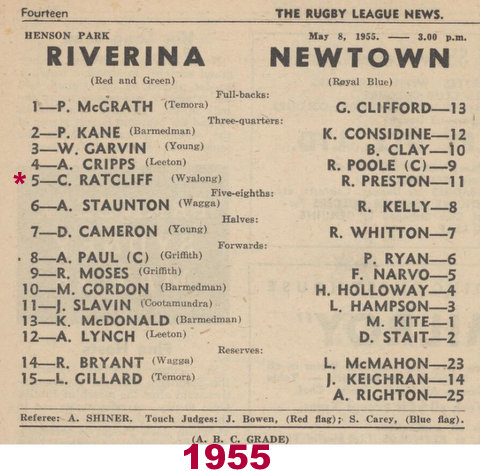 Col returns to Henson Park.
Newtown 24 beat Riverina 16.
1956
1956 was a very big year for West Wyalong and the Maher Cup.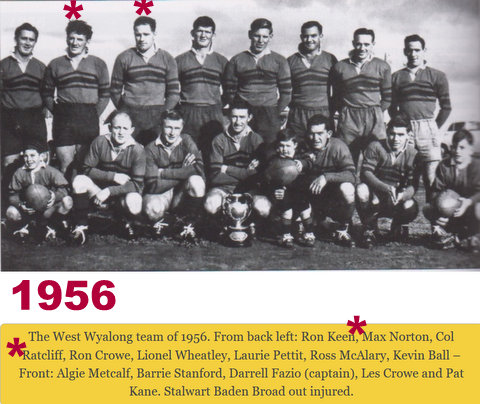 Thats 11 wins before being beaten by Gundagai at the end of the 1956 season.
Col Ratcliff played in all 11 wins.
I would like to thank Neil Pollock for the use of the Maher Cup info.
His excellent website on all things Maher Cup is ….
1957 and 1958.
The Griffith Years.
Col was made an offer he could not refuse (15 quid a game, roughly $100 in todays money) and moved to Griffith to play Rugby League in Group 20.
The Capt/coach was Jack Buddy Bowman.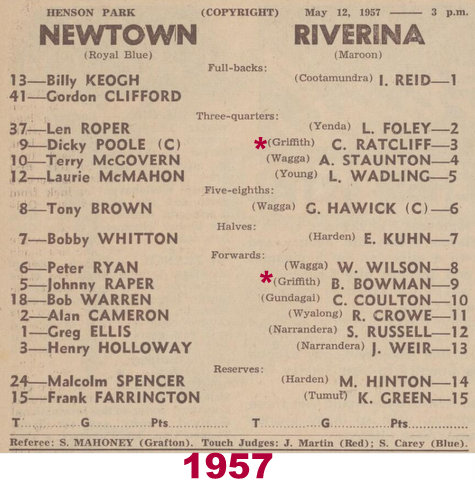 Col came down to the Big Smoke in 1957 to play Sydney Teams.
Newtown 30 beat Riverina 19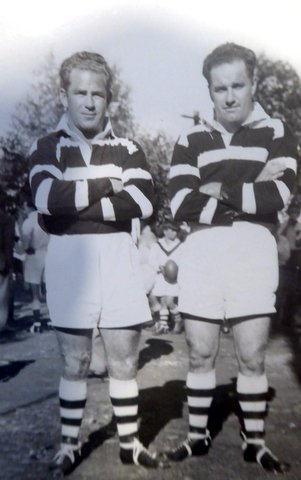 Buddy Bowman and Col Ratcliff.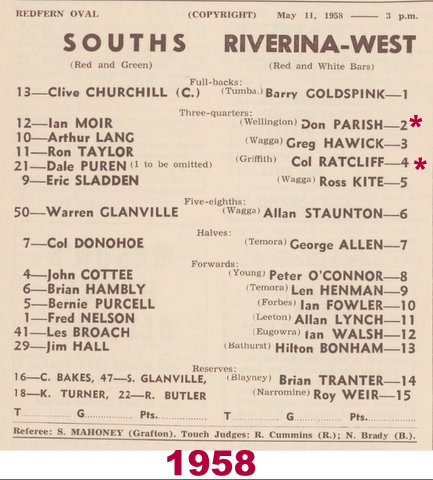 * Don Parish playing at Wellington was picked for this Riverina – Wests team.
In 1958 Col played for Country against City at the SCG.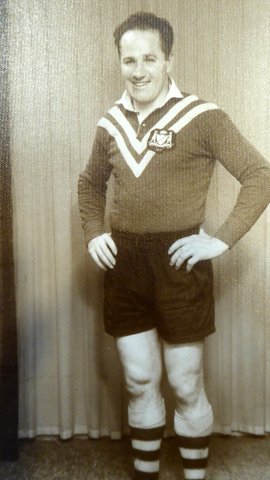 Col in his Country jumper.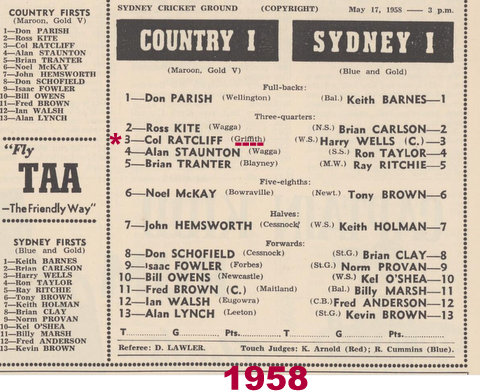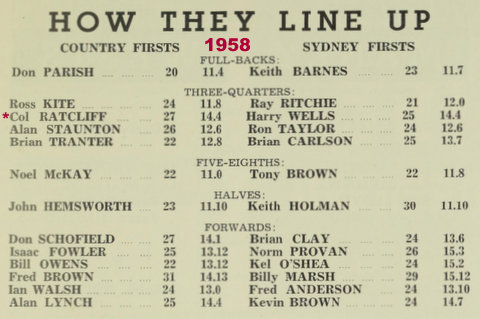 City 55 beat Country 14.
One of the reasons for the big score was that Country center Alan Staunton tore his hamstring when he kicked off to start the match.
Poor Alan had to be carried off the field.
Also in 1958 Col played for Riverina against the touring Great Britain side at Leeton. The Poms won 29- 10.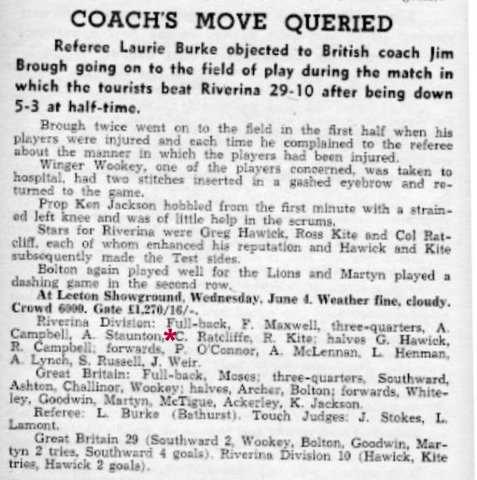 Game report from the E.E. Christensen Rugby League Year Book.
Thanks to Steve Dillon.
The 1958 British Lions Rugby League Tour diary.
Through the eyes of team manager, Tom Mitchell.
Leeton is a long way from Sydney, but rugby league is very much a part of the fabric of life in this Riverina town given the reception we received for our sixth match on tour.
A crowd of 6,000 turned out for the match against Riverina and they would have been well pleased with the local boys, given they led 5-3 at halftime.
But 13 points in five minutes early in the second half put an end to the Riverina Challenge with halfback, David Bolton from Wigan starting our resurgence with a wonderful 50 metre individual try.
We finished 29-10 winners, and I rate it our best game against country opposition.
Riverina five eighth, Greg Hawick has been chosen to play for New South Wales in our last game before the First Test and his punishing defence was a feature of the Leeton encounter.
1959 and 1960.
For Col it was time to return home to West Wyalong and working in his butcher shop and playing Rugby League.
Col was chosen once again to play for Country v Sydney in 1959.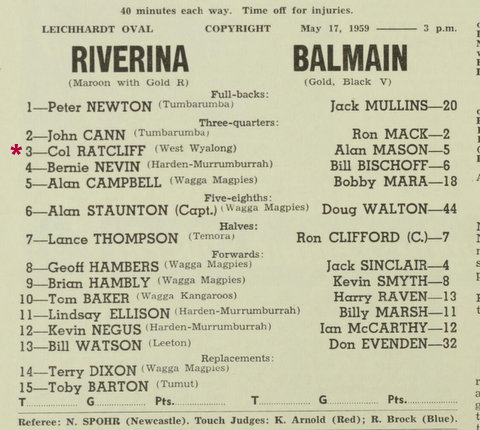 This game was played 1 week before the Country v Sydney game.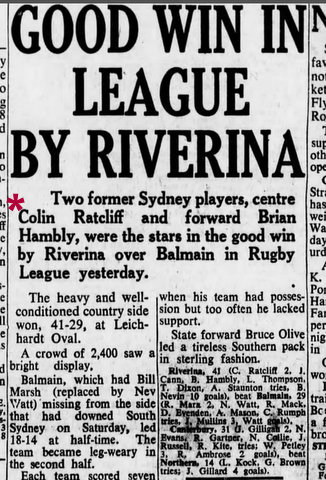 Game report from the SMH.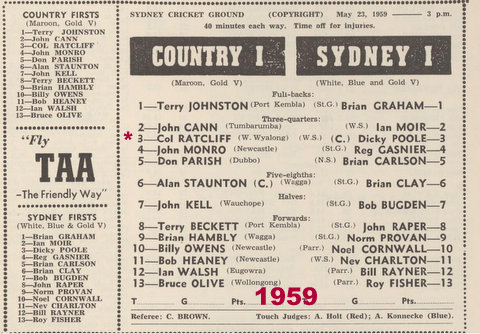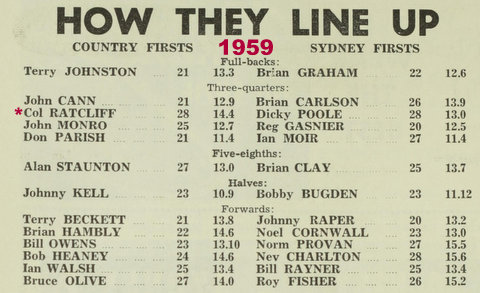 *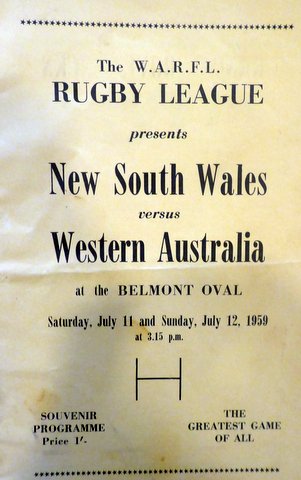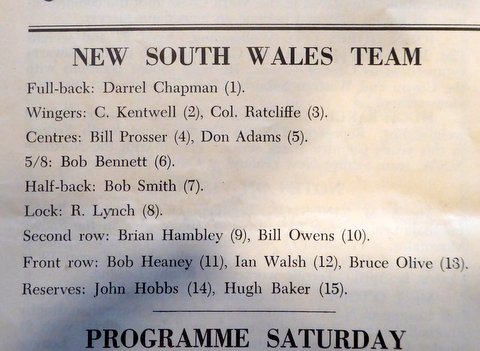 Col also played for NSW Country against Western Australia in Perth.
1960.
Another huge year for West Wyalong in the Maher Cup.
Note: Biggest win for a challenger in Maher Cup history.
The game against Young was Cols last Maher Cup game. He was 31 years of age.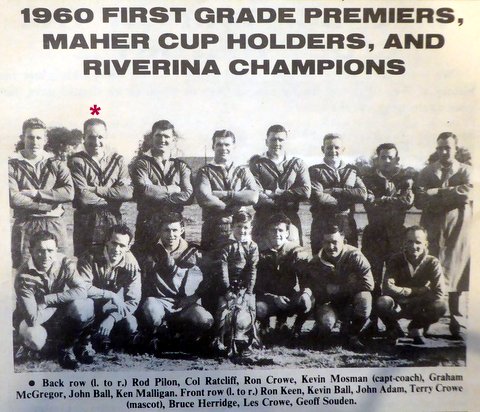 West Wyalong…unbeatable.
Col retired from Rugby League and continued to work in his butcher shop and play in the Col Ratcliff Combo.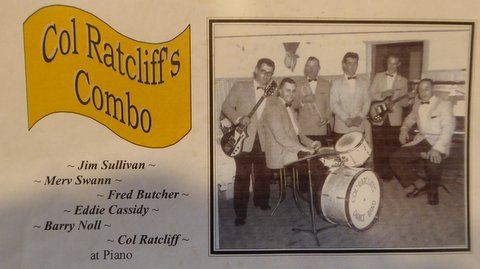 Col and his Combo played from Ivanhoe to Batemans Bay and all in between for many years.
Col was a self taught and gifted pianist.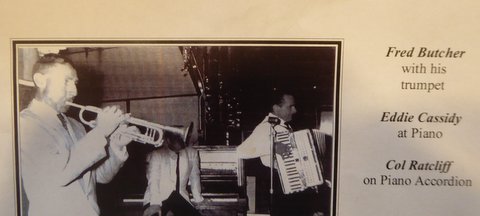 And a very good Piano Accordion player.
1961 and beyond.
Between 1961 and 1979 Col and family continued in the Meat business at Wests Wyalong.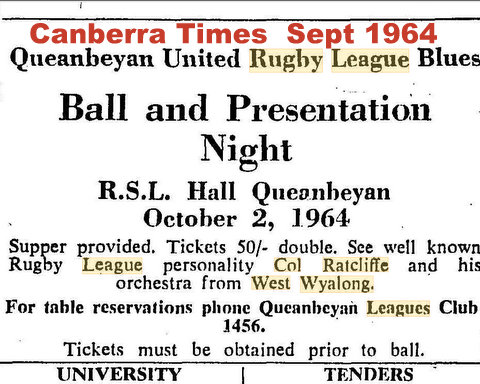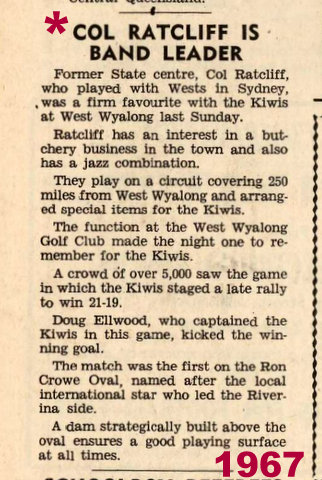 Col also kept the Col Ratcliff Combo alive.
In 1979 Col and his family purchased the Globe Hotel at West Wyalong.
The Globe Hotel West Wyalong.
In 1985 Col move to the Griffith Hotel or to the locals the Griff at Griffith while he leased the Globe Hotel.
He stayed for 5 years.
A few awards that Col has received in recent years are…
West Wyalong Hall of Fame.
Centenary Reunion
Around 500 people from the 50's teams  to the present day unbeaten Mallee Men gathered in West Wyalong on Saturday night June 11 for a spectacular Reunion Ball at the Services Club.
Many games from days gone by were replayed and naturally everyone's performance was somewhat enhanced.
The induction of 13 West Wyalong Rugby League legends into the inaugural Hall of Fame was spectacularly done amid much emotion and even 2 standing ovations. The induction was completed by commencing with our 5 Australian representatives then our 1 NSW rep and followed by the 6 NSW Country/NRL club representatives. Finally our sole committee nominated inductee was honoured amid the greatest emotion and applause.
The greatest acknowledgement was kept for Col Ratcliff, Ron Crowe, John Kelly, Keith Broad, Ron Pilon & Matt Goodwin who were all present on the night.
The full list of the inaugural (2011) members of the West Wyalong Rugby League Hall of Fame is:
Australian Reps.
* Bill Brogan
* Cec Fifield
Bert Williams
Lionel Cooper
Ron Crowe
NSW Rep
Tommy Leggo
NSW Country Rep. + NSWRL/NRL First grade player
Bob Farrar
Bill Bray
* Col Ratcliff
Keith Broad
Ron Pilon
Matt Goodwin
Committee Nominee
John Kelly ASM
* Note: 3 players who played for Wests.
*
Maher Cup Hall of Fame .
*
Group 9 Team of the Century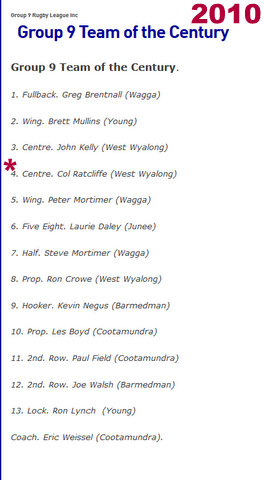 I asked Col six Rugby League questions:
Best Player : Harry Wells.
Hardest Player: Harry Wells.
Favorite ground: SCG
Favorite suburban ground: Pratten Park
Favorite country ground : Griffith and Wagga.
Sporting Hero as a boy: "My Uncle Tom Pearson. Played Aussie Rules and was killed in New Guinea during WW2.
Service record of Thomas James Pearson.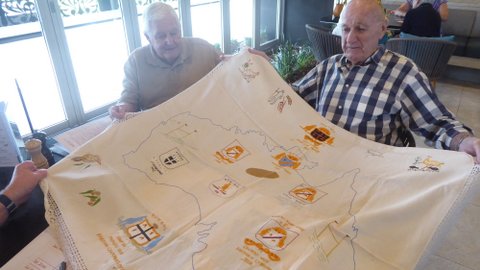 Col showing us a table cloth that was made for Col and his wife Fay.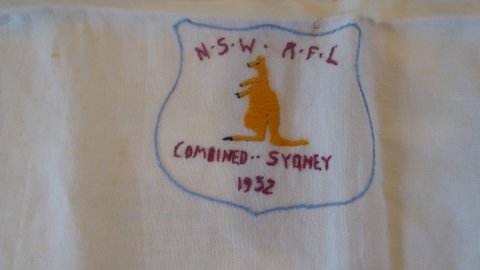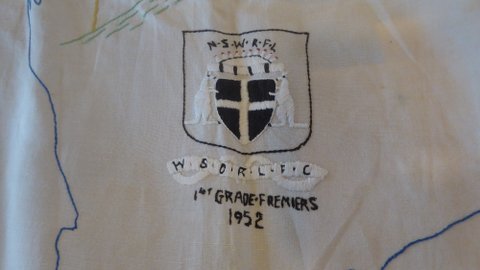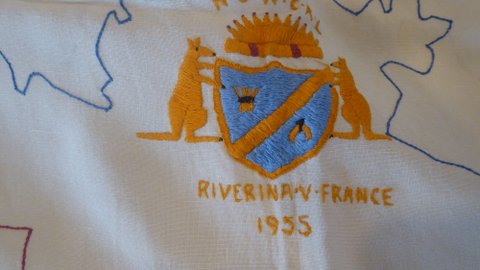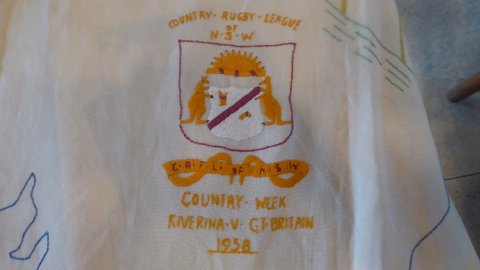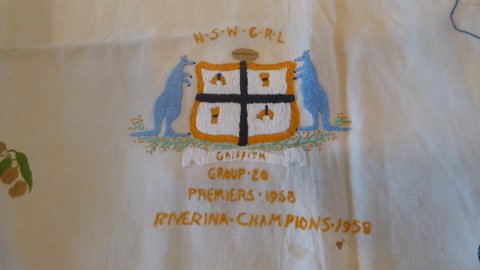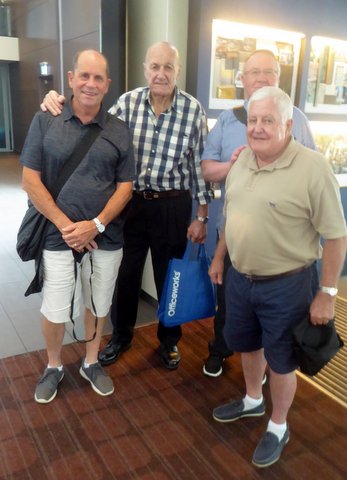 L to R: Myself, Col, Geoff Squires and Carl Ross.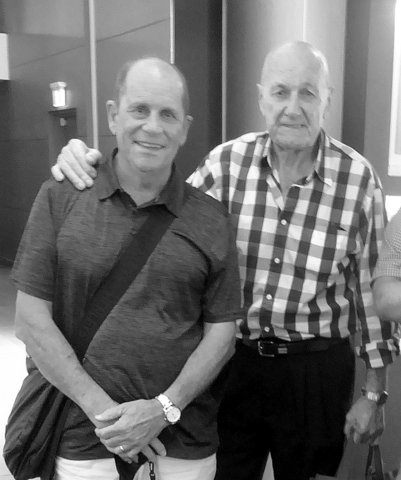 A very proud moment for me.
(I think we go to the same barber)
Thanks very much Col for allowing us to spend some time with you chatting about your Life and Times.
You are a true gentleman (and a bloody good footballer)