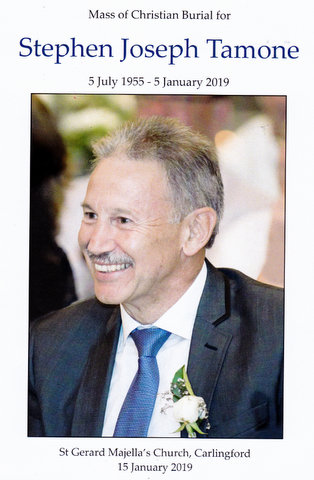 Gentlemen
Nathan Cole has advised me of the sudden death of Pratten Park Magpies member Steve TAMONE.
Steve played for the Magpies in 1977 & 1978 & was a member of the 1977 Under 23's premiership squad.
 The Wests archives players records show Steve playing 5 Under 23's game in 1977 and in 1978 Steve played 1 Reserve Grade game plus 19 Under 23's games.
  Regards
Geoff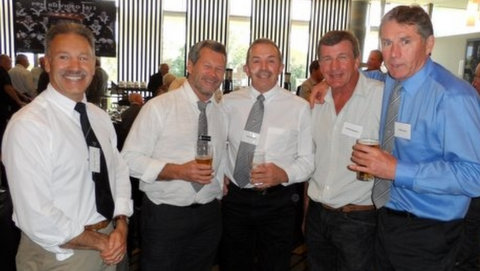 Steve Tamone, Garry Clark, David Kennedy, George Moroko and Wayne Smith.
* Below is the Vale that appears in the Sydney Morning Herald dated 14th January 2019.
It is written by Mr Roy Masters AM.
Vale Steve Tamone: An unsung rugby league role model
No-one writes in the newspaper about former lower-grade footballers who die too young, unless it's a case of "Bert Kelly, 60, who played three reserve grade games for Parramatta in the early 1980s, was yesterday charged with three counts of burglary…"
Understandably, it's the champions – such as Arthur Beetson and Steve Folkes, both former internationals who died of heart attacks while riding their bikes – who receive the publicity.
So, when Steve Tamone, 63, a former lower-grade player with Western Suburbs in the late 70s, died of a suspected heart attack on January 5 after cycling, it needs to be a story with a difference to make it in the media.
Tamone was one of the smallest front-row forwards to play in the Sydney rugby league grade competition. He was a member of the Magpies Under-23 squad which won the major and minor premierships in 1977 and backed up the following year when Wests were beaten in the grand final by Penrith.
His brother-in-law, Warren Boland, who captained Wests first grade team from the wing in 1980, remembers the closing seconds of that 1978 Under-23 game, a moment that symbolised a life of determination cut short: "I was sitting in the MA Noble Stand directly in front when Steve, who was smaller than me, ran into a small gap near the goalposts. He was going to score under the black dot and win the grand final but a Penrith player stopped him, inches short of the line."
Tamone later captained Macquarie University's league team and formed a social touch football club, named after Vince Farrar, the former English front-rower/hooker who played a season for the Sharks in 1974, scoring one try and represented England in one test and Great Britain in another.
Vince, who died in 2017, aged 70, had neither the looks nor the playing statistics to be invited onto the annual "Rugby League New Faces" TV talent show.
He would never have been given a role in a Tina Turner commercial (although Cronulla's Gavin Miller was) but Vince's dogged endurance appealed to Tamone's university mates.
Tamone became a successful project manager, building shopping centres and hospitals in Sydney and on the NSW Central Coast.
His father had died early, so Steve opted to retire aged 60 and take consultancy work, including the project to build a vertical high school at Parramatta.
He also volunteered for the Vincent de Paul Society, visiting the hospitalised.
Yet he needed to do more, particularly as a role model. Of Italian heritage, he followed his father Frank's love of gardening to Emu Plains where men who had been before the courts worked out their community orders on a large market garden.
According to Boland, "A lot of the guys would disappear by morning tea and then, after lunchtime, Steve was one of the few left, planting tomatoes, pulling up carrots.
"It was important for him to demonstrate to anyone who stayed that hard work has its own reward. He could have been earning a couple of grand a day as a project manager."
Boland and Tamone, who had both lived in the same suburb and attended the same school, were Balmain juniors in an era where each Sydney club was restricted to 13 imports. However, the NSWRL's leaders had paved the way for future mergers by pairing clubs, meaning juniors of Wests and Balmain were deemed locals.
So, the future brothers-in-law were pioneers of what became the NRL's Wests Tigers and help explain why the relationship endures.
Tamone married Boland's sister Louise and they had four children. Warren, the former ABC broadcaster, now lives in Brisbane but the two families spent a joyful Christmas together in Sydney.
Steve did complain for a few days about stomach pains, but typical of former footballers, opted to "cycle it out" with his mates.
It was a Saturday morning when he died. Louise spent the day in an adrenaline rush, contacting family, friends, funeral homes …
That night, as she prepared for bed, she collapsed and was rushed to hospital.
Boland says doctors have told the family there is a recognised medical condition named "Broken Heart Syndrome," a circumstance where the heart fills with activity, then drains with grief.
Louise will be well enough to attend the funeral Tuesday at St Gerard Majella Church, Carlingford at 10.30am and the Magpies ex-players will present her with a memorial sash before the service.
In an off-season horribilus for rugby league, Steve's story is an antidote to the regular reports of sexual assault and lurid videos. He brought grace to the game at a time others deliver disgrace.
Roy Masters is a Sports Columnist for The Sydney Morning Herald.