Peter Noel Long.
Wests Players Number # 481.
25th December 1929 – 13th October 2018.
Age 88.
 Peter Long played for Wests between 1948 and 1952.
1948.

Peter Long's first appearance as a Wests player in grade.

Wests were beaten by  Newtown the next week in the Final 31 to 9.
1949.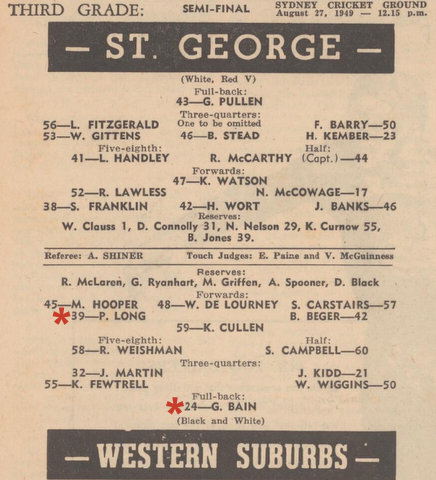 1950.
Below is a combined Reserves and Thirds Team that played at Berry on May 21st 1950.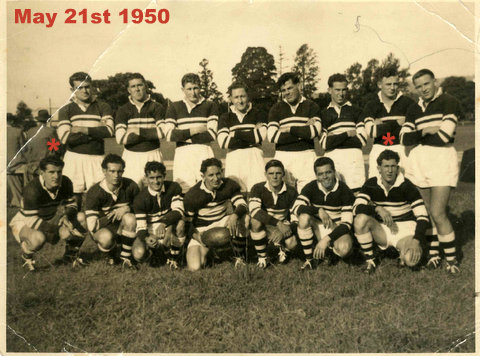 Back row, l to R : V. Williams, D. Beger, E. Hooper, D. Worne, D. Stait,
Smith, R. McKelvey, K. Fewtrell
Front row: * P. Long, W. Hilliard, W. Randall, J. Rawlinson, L. Travena, 
K. Deacon, George Bain.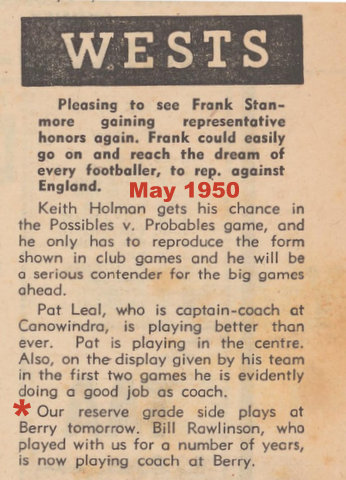 Wests 7 were beaten by St George 12.
1951.
Peters best year at Wests was 1951 when he played 15 First Grade games and scored 4 tries.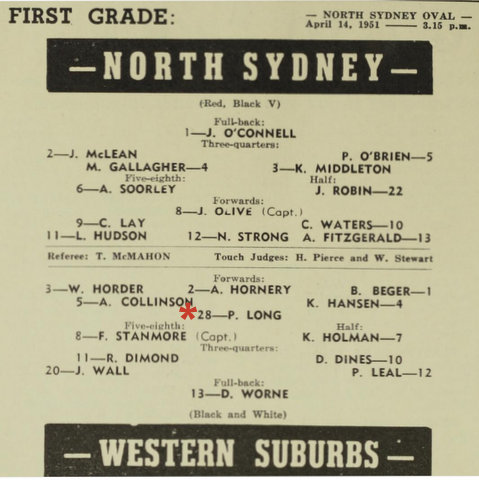 Peters first First Grade game was against North Sydney @ North Sydney Oval.
Wests 19 beat North Sydney 17.
Wests 24 beat Easts 17.
Wests 40 beat Balmain 17.
Peter scores his first try in First Grade.
Game report from the SMH.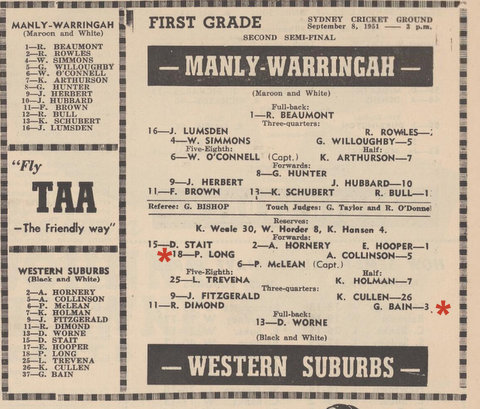 In 1951 Peter played in the First Grade Semi Final against Manly at the SCG.
Unfortunately Wests 9 were just beaten by Manly 37.
1952.
Peter played in 5 Reserve Grade games until he broke his leg playing against Easts at Pratten Park.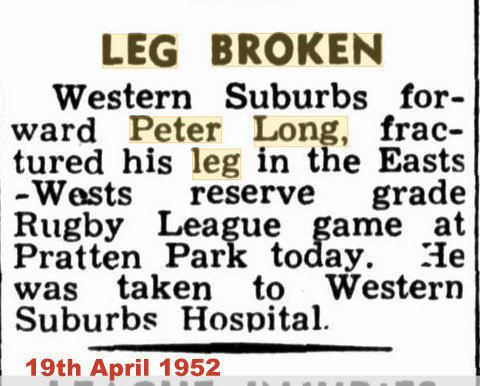 Story from the Sun newspaper.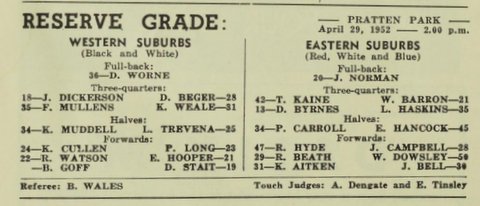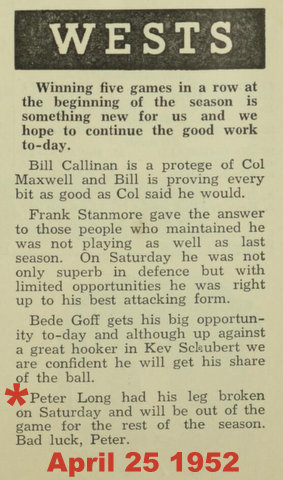 * Peter's full Grade career at Wests is courtesy of Geoff Ibbett from Wests Archives.
        1948 : Reserve Grade X 1 game.
                      Third Grade X 20 games.
           1949 : Reserve Grade X 9 games.
                  Third Grade X 18 games.
             1950 : Reserve Grade X 12 games..
                   Third Grade X 6 games.
1951 : First Grade X 15 games.
                  Reserve Grade X 4 games .
      1952 :  Reserve Grade X 5 games.
Note: All old black and white photos thanks to Wests Archives.