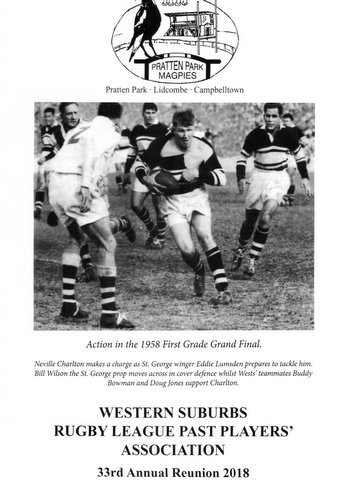 The year was 1958 and Wests had made 3 Grand Finals.
The First Grade Grand Final the Third Grade Grand Final and also the Presidents Cup Final.
60 years later it was time to celebrate and remember that time in Wests' history.
And catch up with Old Mates.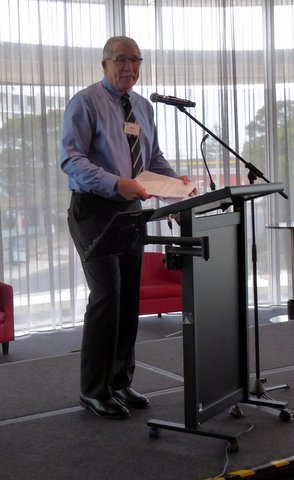 Mick Liubinskas (President)
Mick gave a big welcome to all present and spoke about all things Wests.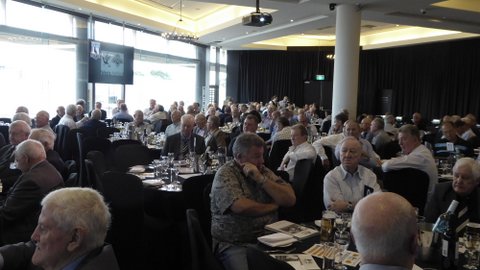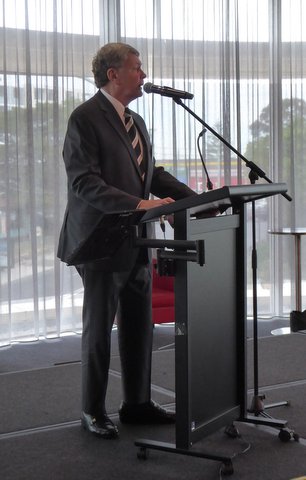 Mike Bailey (Chairman of Wests Ashfield)speaking about the year 1958 and the 3 Grand Final teams.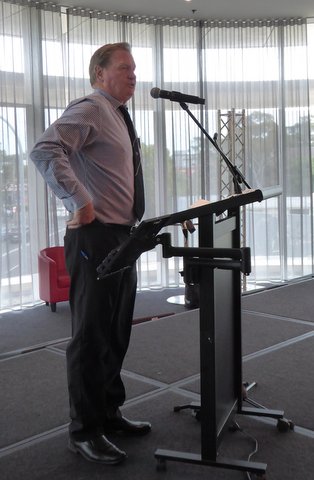 Mick Pinkerton (PPM Committee member)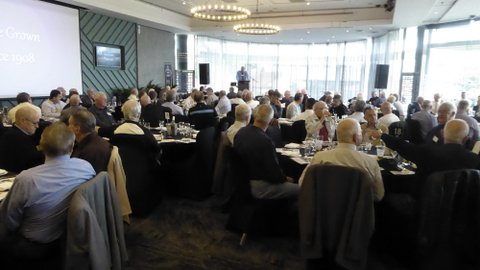 Reminding all about the mates that we had lost over the last 12 months.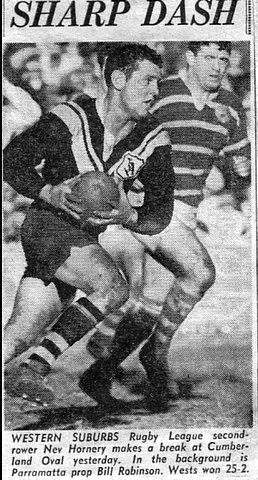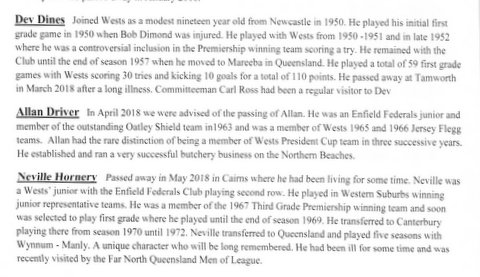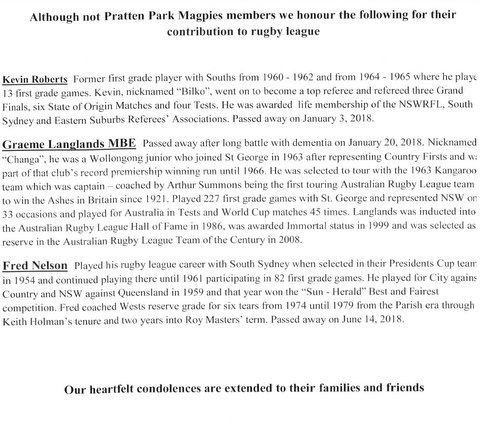 *
Fred Nelson coach of Wests Reserve Grade 1974 – 1979.
*
After the formalities were over it was time to enjoy the day ahead.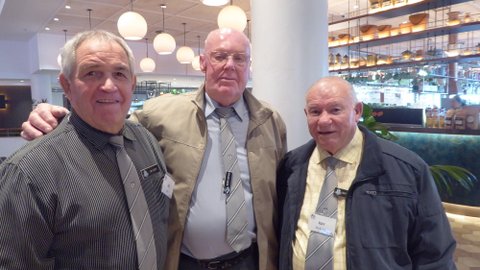 Jim Cody, Barry Bryant and Ray Mc Neilly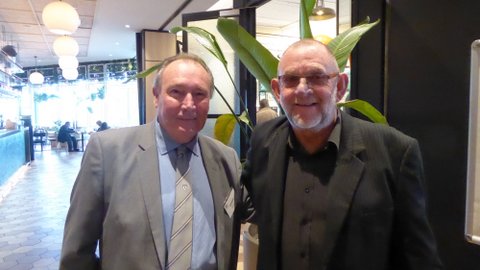 Gary Walsh and Wayne Jenkins.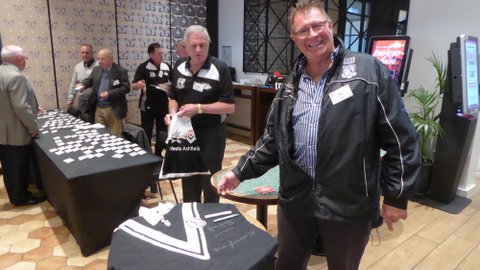 Pat Regan .
Paul Dixon OAM looking to purchase a Wests' item from Steve Reeves OAM.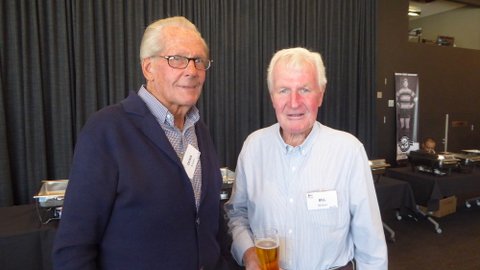 Denis Brown and Bill Wilson.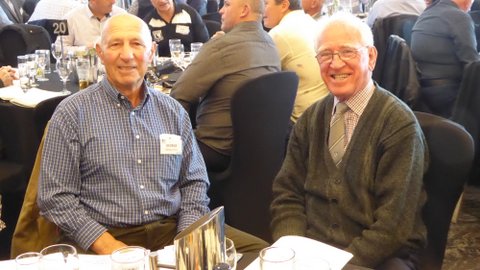 George Baldacchino and Col Lewis.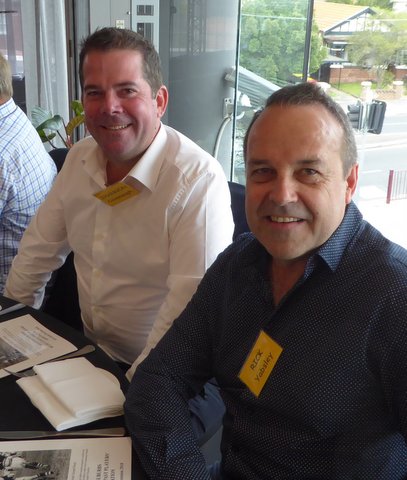 Shannon Cavanagh and Rick Yabsley.
Mick Stone, Graeme Wynn and Rick Wayde.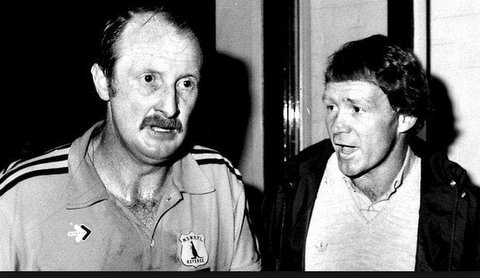 Mick getting some free and helpful advice from a Rugby League Immortal.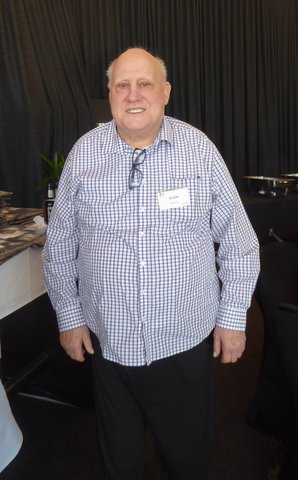 Alan Allison.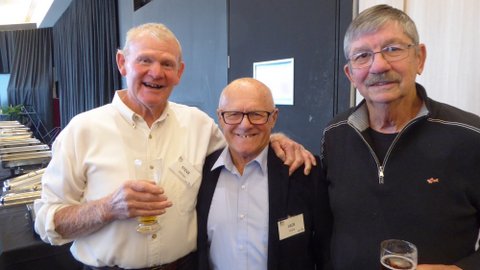 Steve Winter, Nipper Leary and Rod Smith.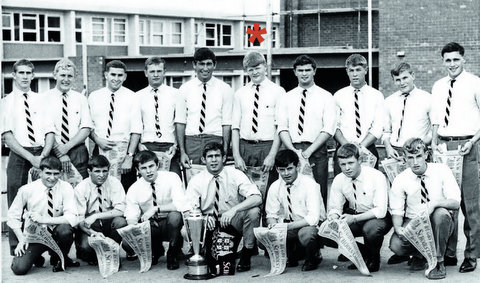 * A young Steve Winter who was a member of the undefeated Tamworth High RL team of 1964.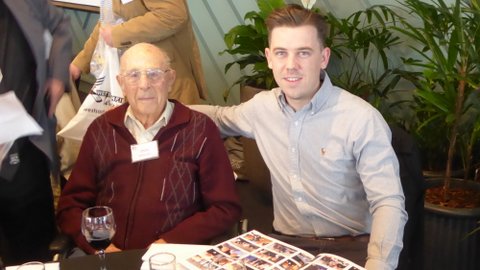 Stan Mildwater (who is 101 this year) and his grandson Paul Mildwater.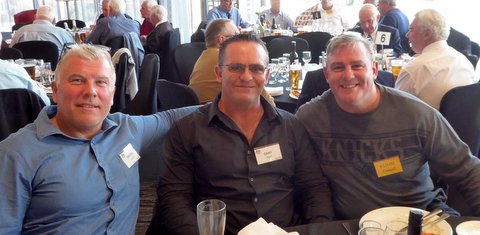 Michael Deane, Gary Piper and Richie Connell.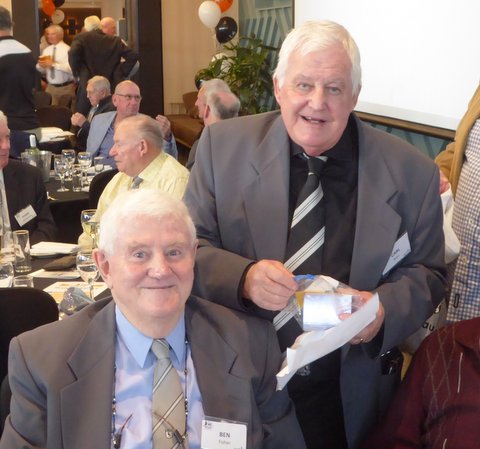 Ben Fisher and Carl Ross.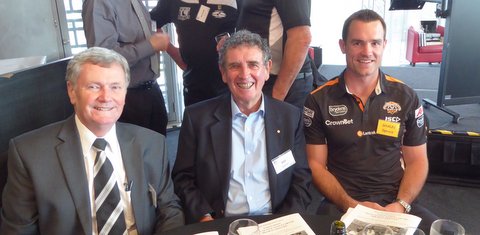 Mike Bailey, Ray Beattie OAM and Shaun Spence.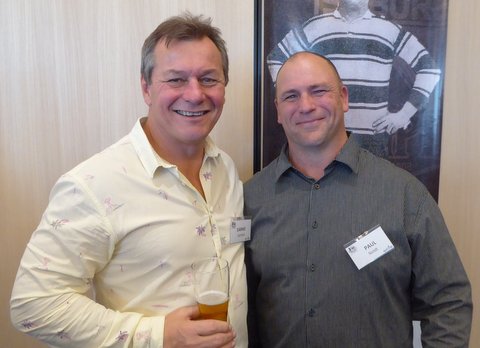 Earnie Garland and Paul Noldt.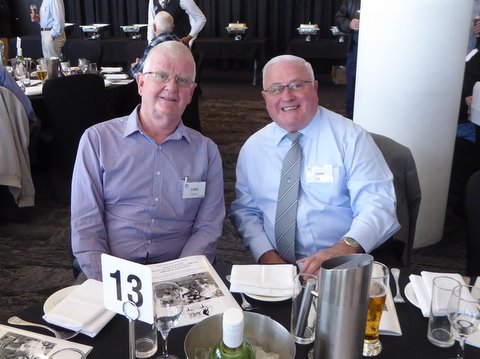 Chris Turner and John C Coates.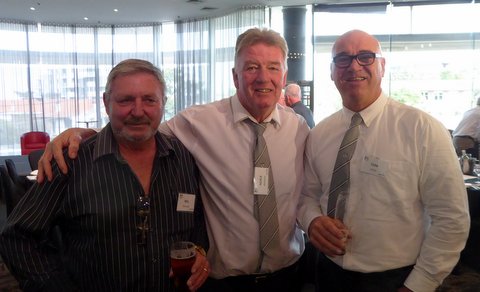 Neil Bennett, Neale McInnes and Tom Arber.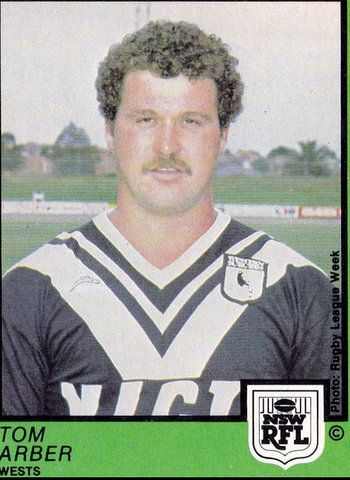 Tom a few years earlier.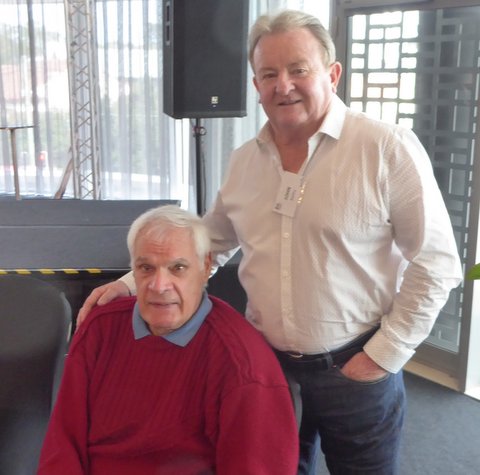 John Greaves and John Bailey.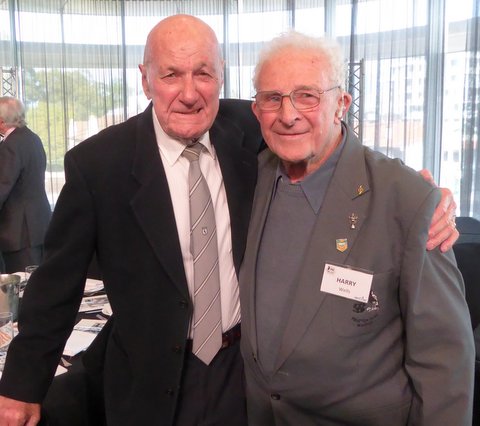 Col Ratcliffe and Harry Wells.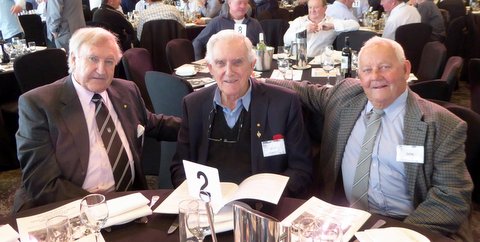 John Brown AO, Alan Davidson AM, MBE and Don Graham.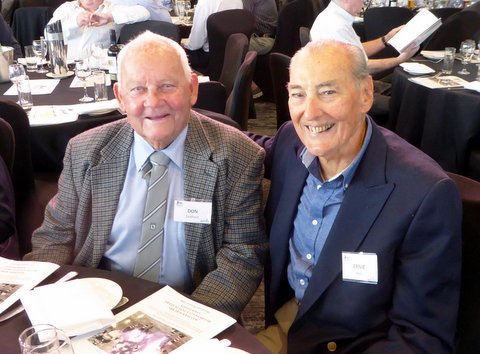 Don Graham and Ernie "Nigger" Hills
Pat Daley and Jack Thompson.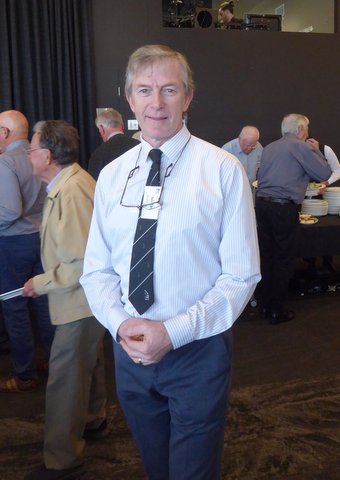 Mark Wallington.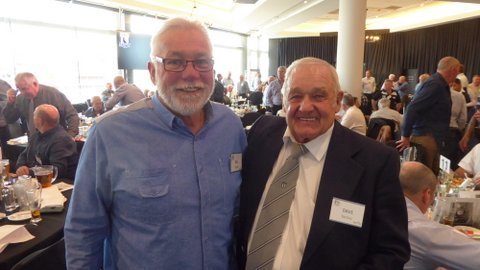 Bill Hillard and Dave Barsley.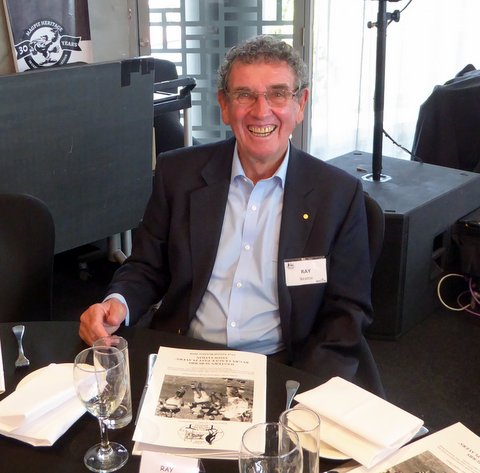 Ray Beattie OAM.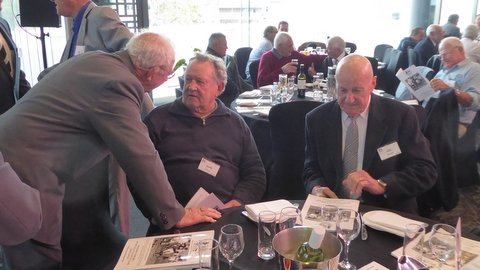 Harry Wells talking to his driver John Elford.
John drove Harry , Dave Barsley and Jack Thompson down from Port Macquarie and back in the same day. Wow!!
It's time once again for the yearly True or False game.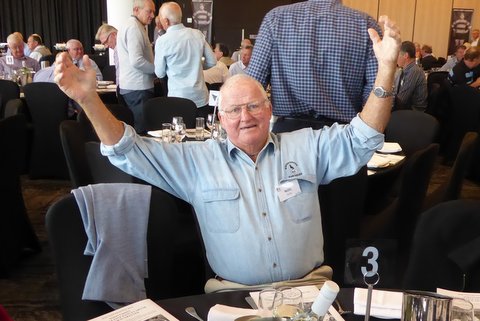 Ned's ready….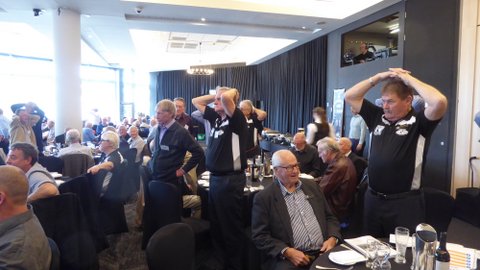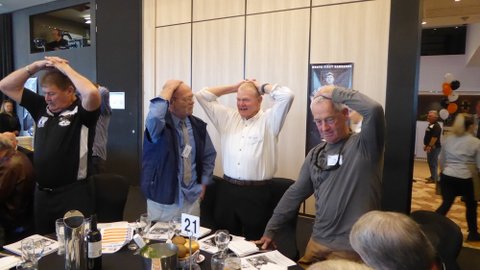 Some of the boys getting into the game.
Looks like Wayne Merry can't make up his mind!!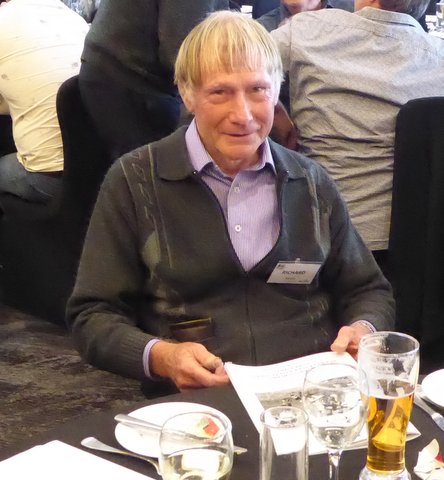 The winner…Richard Keats.
*
Let's go back to 1958 and remember the 3 Wests' teams that made Grand Finals.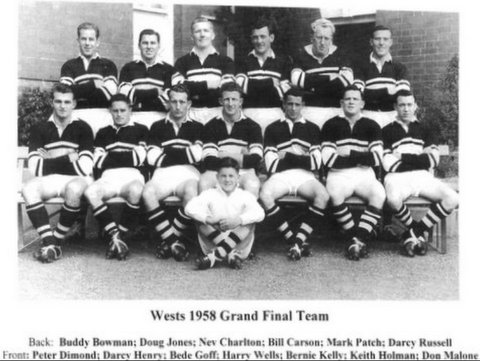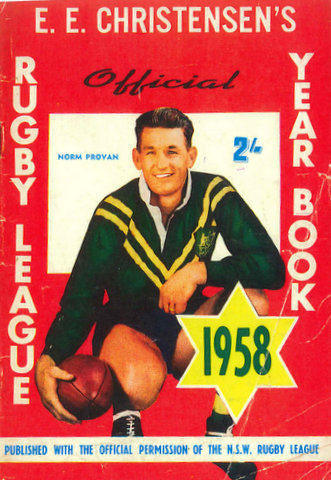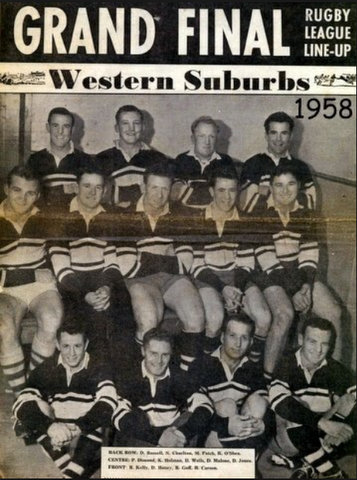 Photo taken in the dressing room of Pratten Park.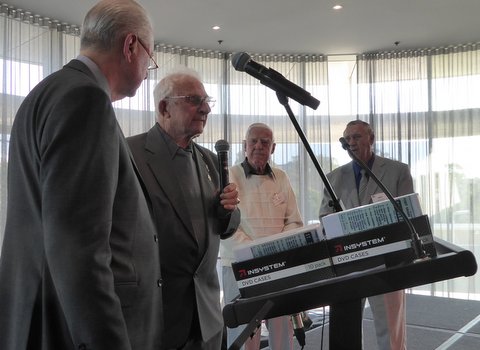 Harry Wells reliving the 1958 Grand Final.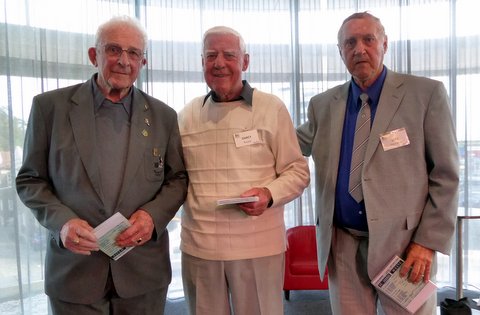 Harry Wells, Darcy Russell and Jack Thompson.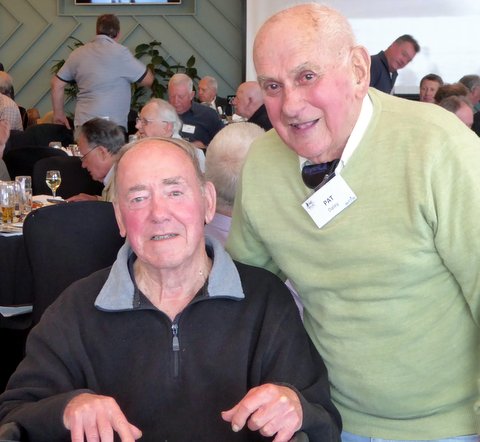 Don Malone and Pat Daley catch up.
Don played on the wing in the 1958 Grand Final side.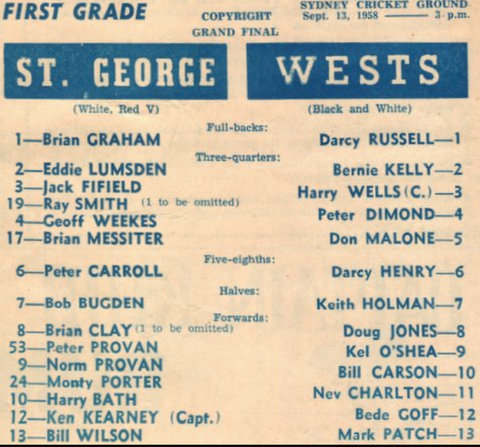 1958 program.
* Kel O'Shea was replaced by Buddy Bowman.
Oh…… St George 20 beat Wests 9.
*
1958 Third Grade Premiership Winners .
Wests 12 beat St George 11.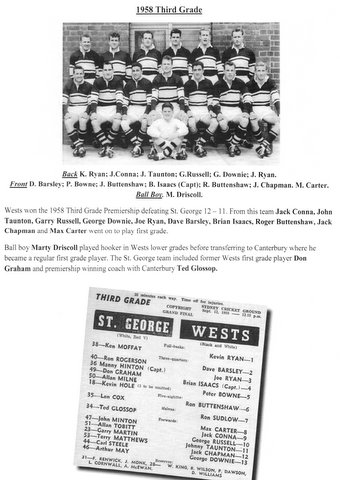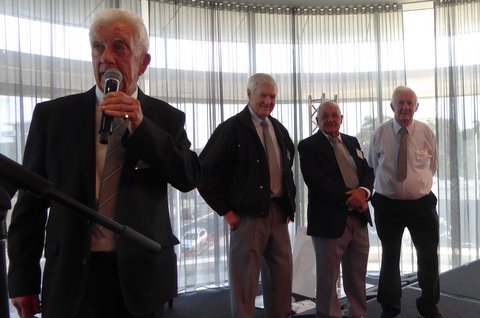 Roger (Ron) Buttenshaw talking about the win against St George.

Roger Buttenshaw, Don Williams, Dave Barsley and George Downie.
*
1958 Presidents Cup Premiers.
Wests 9 beat North Sydney 6.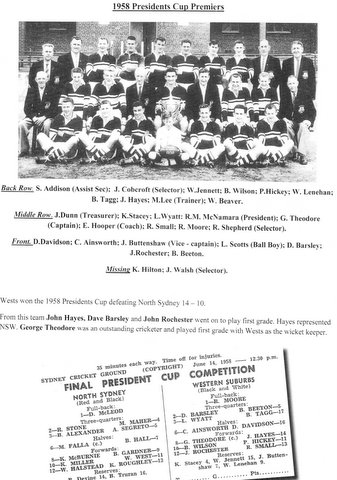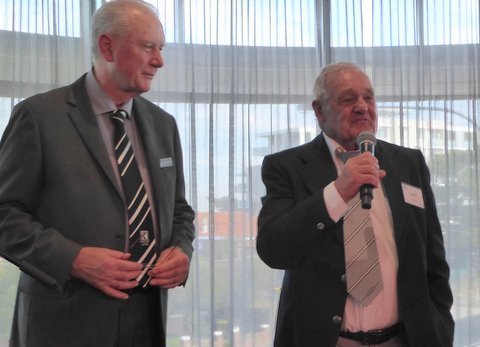 Dave Barsley the flying winger.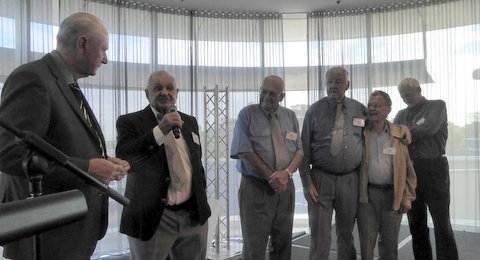 Rick Wayde, Dave, Dick Small, Pat Hickey, John Rochester and John Hayes.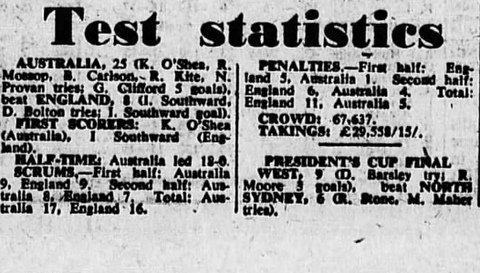 A small snippet of Wests' history.
Wests 9 beat North Sydney 6. Before 67,637 people.
*
 More catching up was happening all over the room.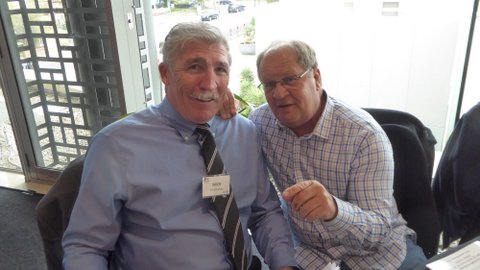 Mick Liubinskas and Tommy Raudonikis OAM.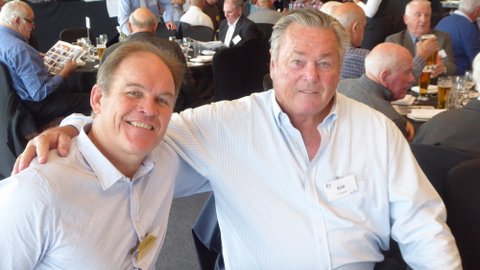 Don McKinnon and Bob Cooper.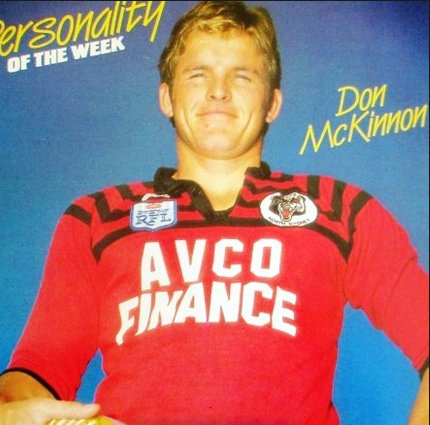 Don in his playing days.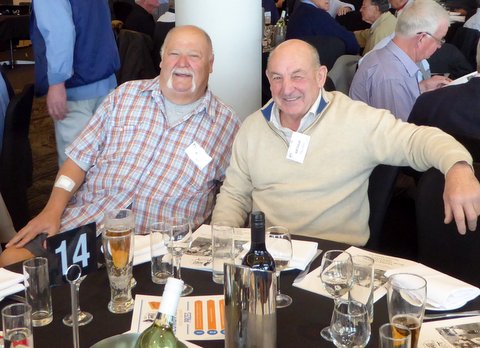 Billy Heyes and Arthur Mountier.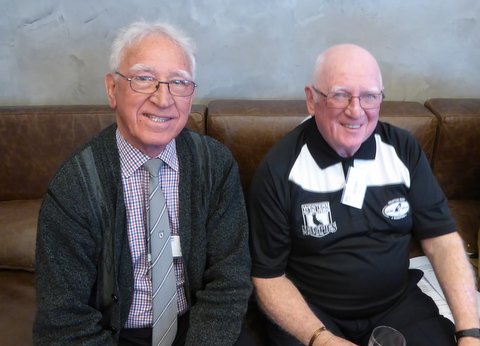 Col Lewis and Geoff Henry.
Mick (was really working the room) and Pat English.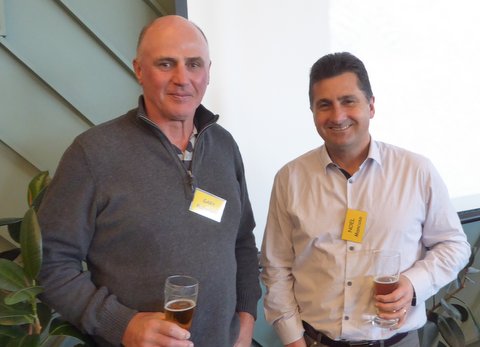 Gary McFarlane and Noel Mancuso.
2 Visitors enjoying the day.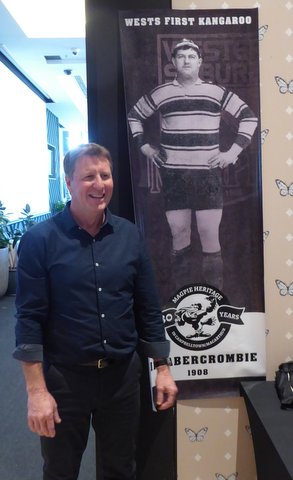 Trevor Cogger and Big George Abercrombie.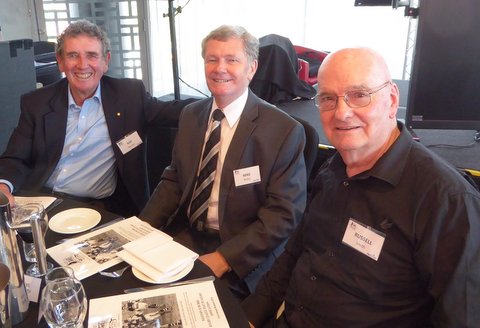 Ray Beattie OAM, Mike Bailey and Russell Smith.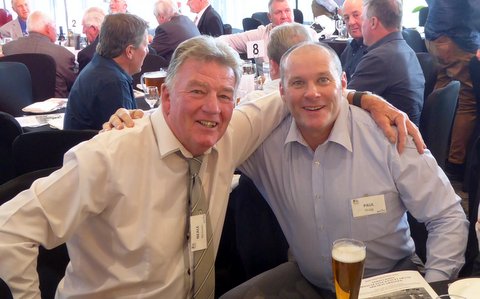 Neale McInnes and Paul Quigg.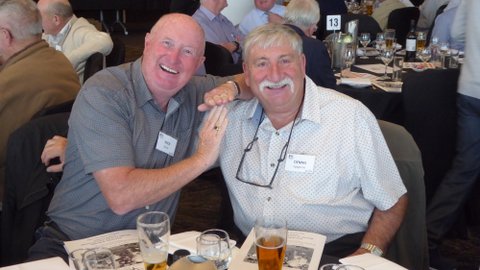 Get them on side ref…….
Mick Stone and Dennis Spagarino.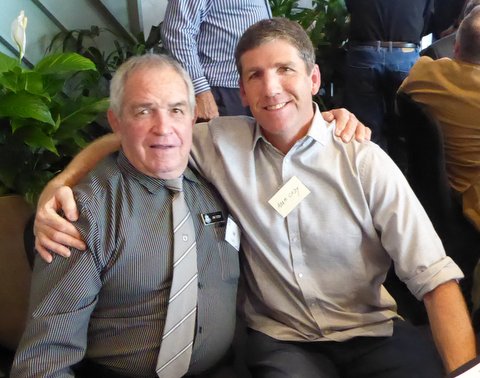 Jim Cody and his son Adam Cody.
All the way from Tamworth.
Jim Leis.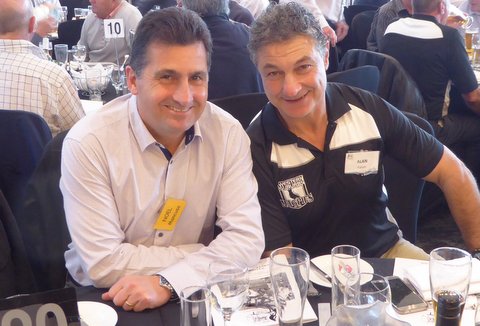 Noel Mancuso and Alan Fallah.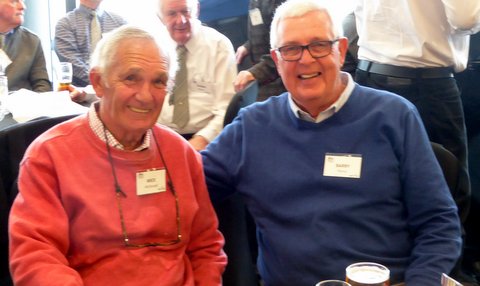 Mick McDonald and Barry Pierce.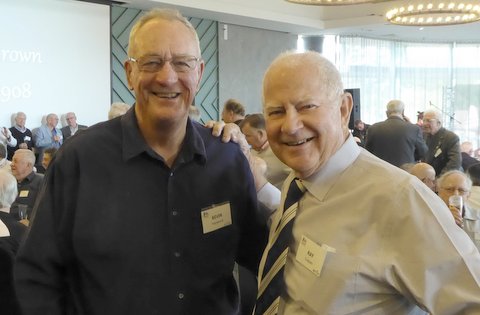 Kevin Hayward and Ray Culpan.
*
Time for the hard hitting interviews with Brian Cook and Rick Wayde.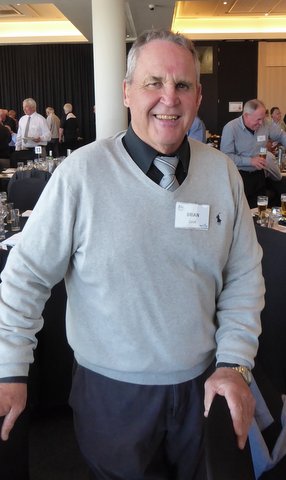 Brian Cook.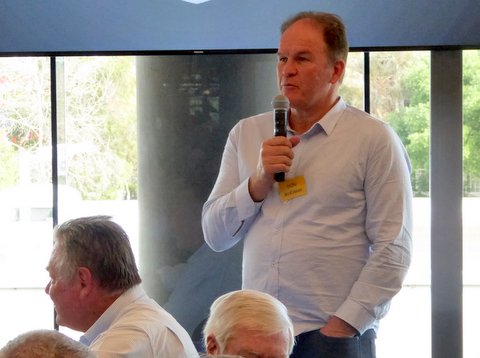 Don McKinnon.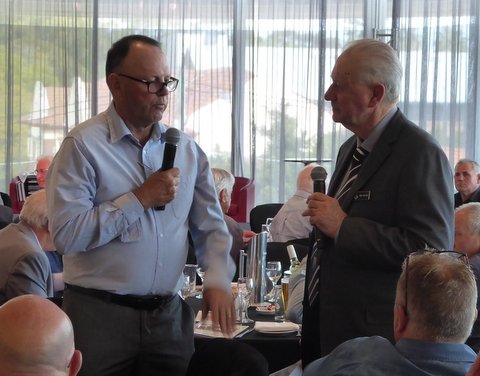 Steve Broughton and Rick Wayde.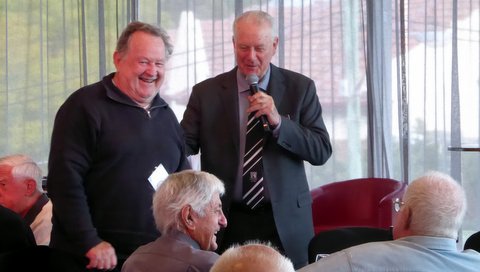 John Elford and Rick.
*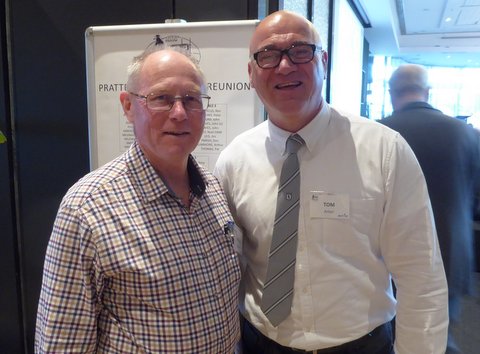 Neville Sinclair and Tom Arber.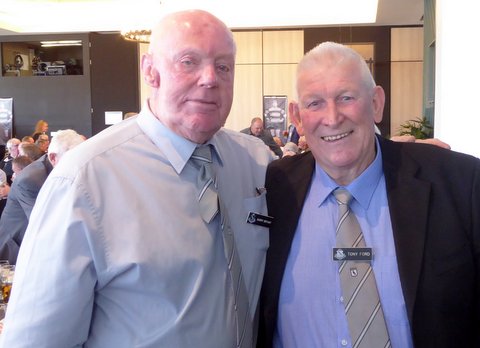 Barry Bryant and Tony Ford.
*
It is lunch time and the food was excellent.
Peter Rowles and Mick Pinkerton.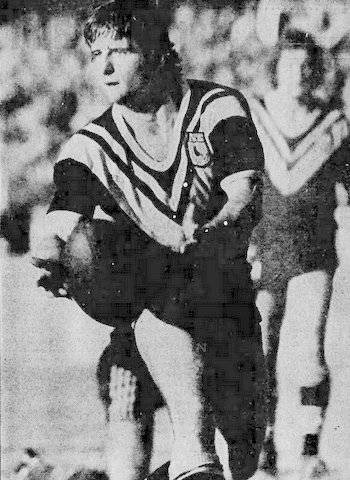 Peter Rowles getting the ball away.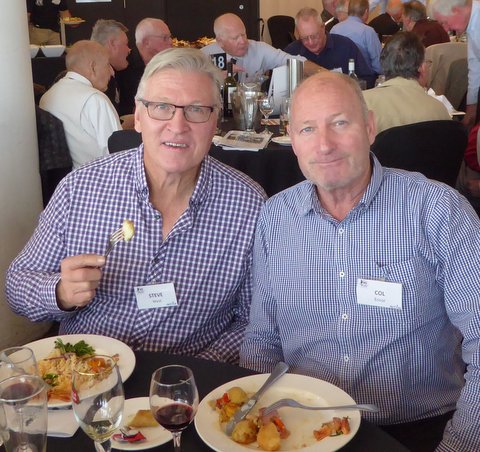 Steve Wests and Col Ensor.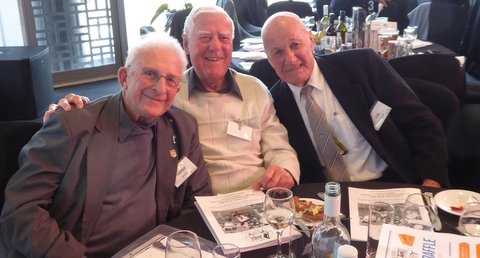 Harry Wells, Darcy Russell and Col Ratcliffe.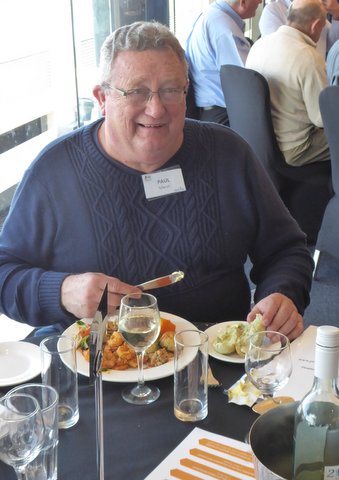 Paul Marsh.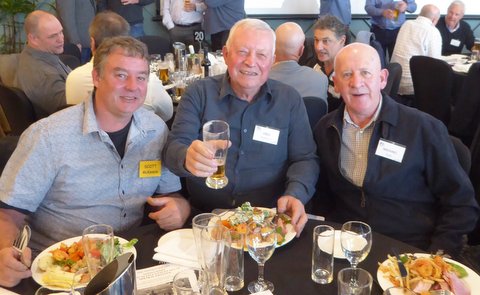 Scott McKenzie, Fred McKenzie and Michael Hyde.
*
Raffle Time.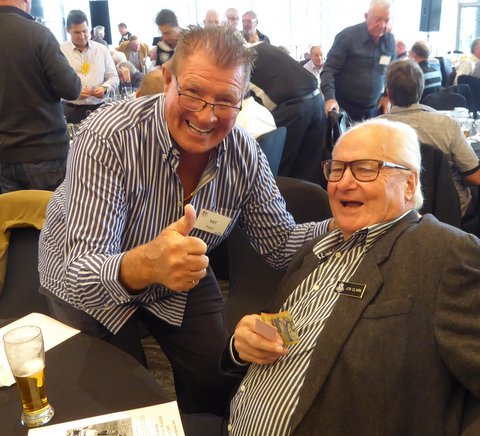 Pat Regan selling  Jon Clark the winning ticket.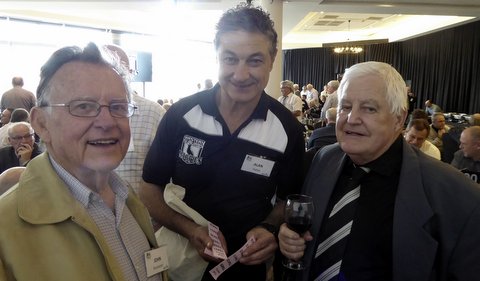 John Rochester, Alan Fallah and Carl Ross. Another winning ticket sold.
Ray Culpan receiving his prize from  Ernie Hills and Mick Liubinskas.
Wayne Simonds and Earnie Garland.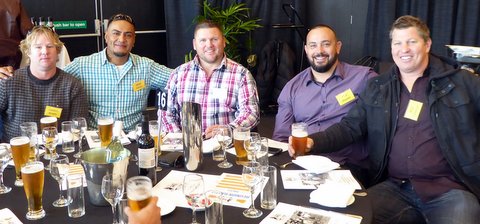 First timers plus Robbie Payne and hopefully not the last time.
Darren Murphy, Semi Hausia, Robbie Payne , Ben Olander and Ben Buttifant.

They all played for Wests' class of  '95  Under 20s.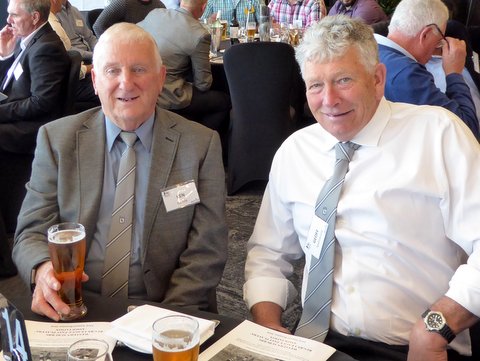 Ken Gentle and Geoff Spotswood.
John Elford and Barry Glasgow.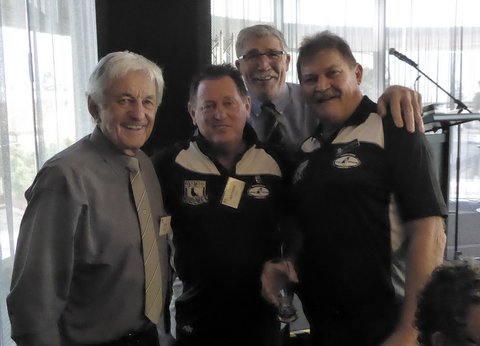 Don Parish, Nathan Cole, Mick Liubinskas and John O'Bryan.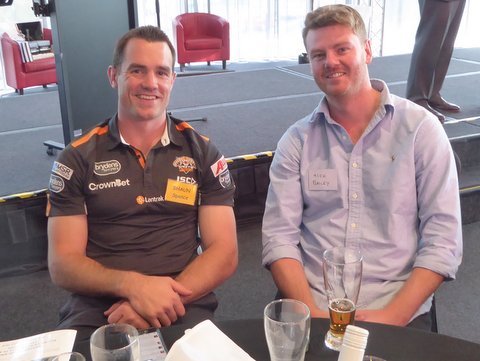 Shaun Spence and Mick Bailey.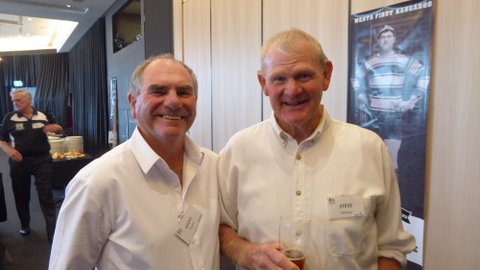 Geoff Ibbett from the Wests' Archives and Steve Winter.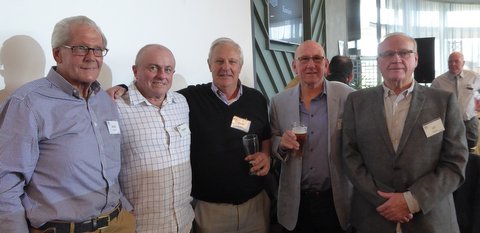 Denis Brown, Robert Sly, John Essenstam, Ron Chilcott and Les Hobbs.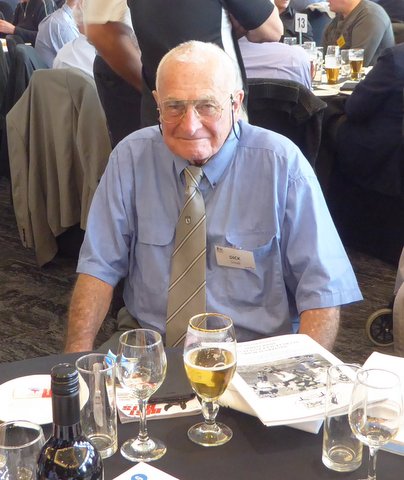 Dick Small.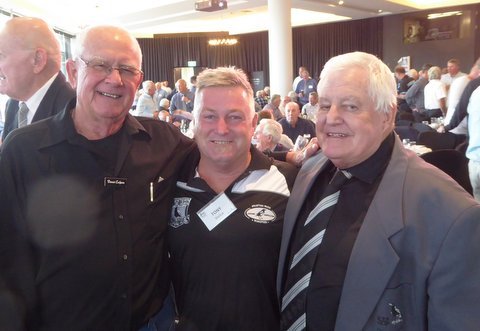 Denis Culpan, Tony Blaikie and Carl Ross.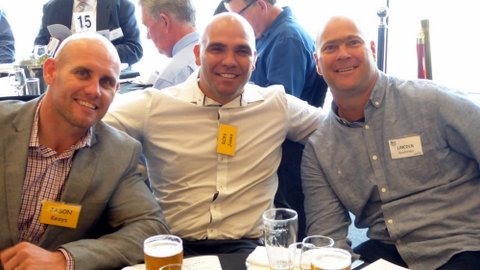 Jason Keays, Ron Jones and Lincoln Raudonikis.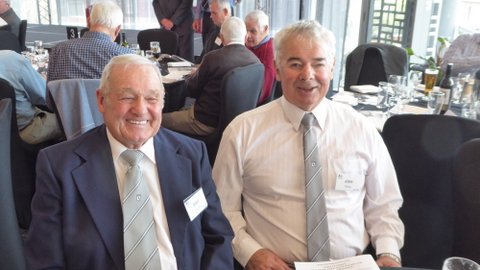 Two Flying wingers Dave Barsley and John Fisher.
*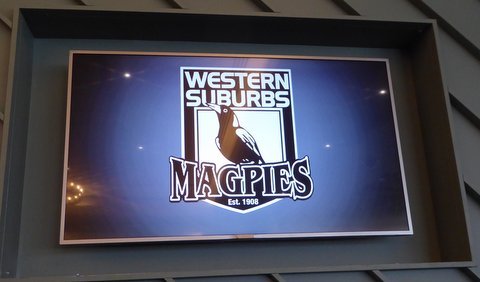 As I walked around the room taking happy snaps the feeling in the room was brilliant.
Plenty of good company, the odd white lie about all things Rugby League.
It was about 5pm when I left and what a day it had been.
A big thank you to the men behind the day, the Pratten Park Magpie's committee.
*
During the day a remarkable thing happened…the Great, great, great grandson of Ernie McFayden  was having lunch in the Garden restaurant saw what was happening came across and introduced himself to Bob Dickinson, Neil Bennett and Geoff Ibbett from the Wests' Archives. Phone numbers, email address were exchanged .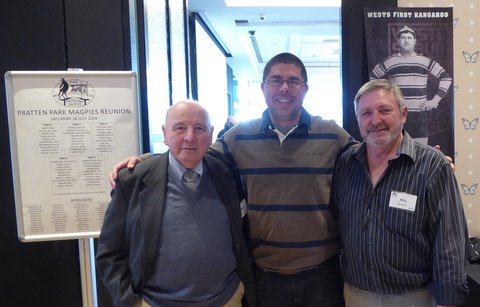 Bob Dickinson, Coner McFayden and Neil Bennett.
I will let Geoff Ibbitt from West's Archives explain the importance of Ernie McFayden to Wests'.

The 1942 Annual Report contains this mention
Retirement of Mr E McFayden
We feel that this report would not be complete without a special mention of Mr E McFayden, our late Secretary. Mr McFayden has been associated with the Rugby League code since its inception. He was a member of the Head Body Committee for 28 years, and during this time he was member of every sub-committee on the Head Body. To Western Suburbs Mr "Ernie" McFayden's name has been a bye-word, as during his 33 year' association with the club he has held every executive position. On his deciding to retire the committee decided to make a presentation to Mr McFayden, and at our Annual Smoko a cheque was presented with the good wishes of the members, players and committee, with the hope he would be with us for many years, and would again have the pleasure of seeing his old club win another premiership. – J L Moses, District Honorary Secretary.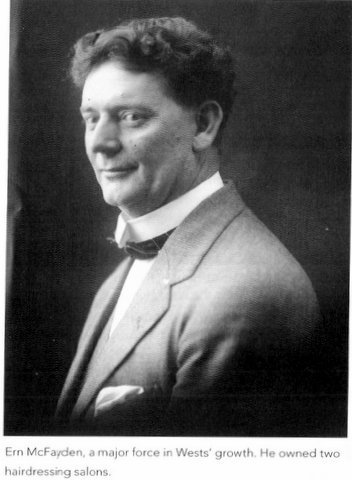 Great photo of Ern McFayden.
I always thought it was Ernie who died soon after retiring but Ernest Edward McFayden actually died in 1952. It was his brother Claude who died earlier - this in the 1947 Annual Report – "Western Suburbs Football lost one of its greatest stalwarts in Claude McFayden, who passed away suddenly during the season. Claude was member of the District Club since its inception. Firstly as a player, then a trainer and then a committeeman. Also, during his association with the club, he had on various occasions acted as coach to our lower grades".
Perhaps Claude's outstanding efforts in the club was as a selector, where he feared neither friend nor foe. He was not only interested in Grade, but took a great interest throughout his life-time in the Juniors. Many players of the past and present can thank Claude McFayden for getting where they did in Rugby League. It could be said of Claude he died in harness, for early on the night of his death he was at Pratten Park coaching the President's Cup side, which ultimately went on to win the President's Cup."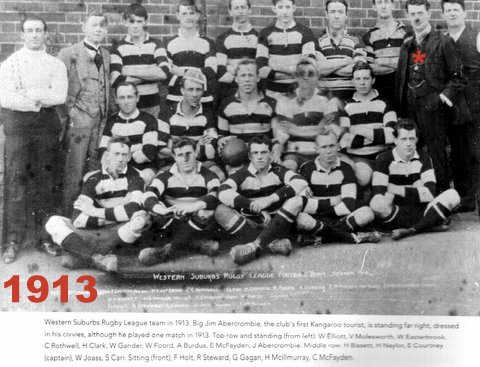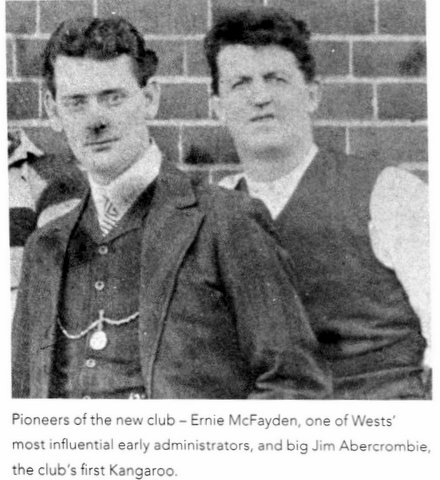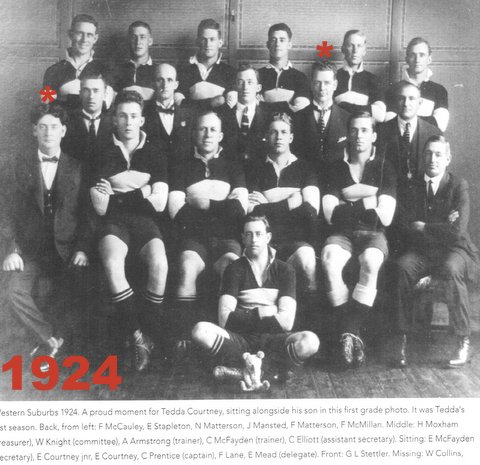 What a couple of brothers!
There's no doubt for me that Ernie's high standing on the NSWRL Committees is the reason Wests survived. I can just see him there arguing against the Easts' toffs and winning.