KEVIN STOREY (MEN OF LEAGUE MEMBER) — A NORTHERN BEACHES MAGPIE

Everyone who has followed rugby league for years will recall the "hype" back
in the 1970's when archrival Clubs ,Western Suburbs "Magpies"
and  Manly Warringah were nicknamed "The Fibros" and "The Silvertails"

 and will recall that there was no love lost in all grade
matches between the Clubs'.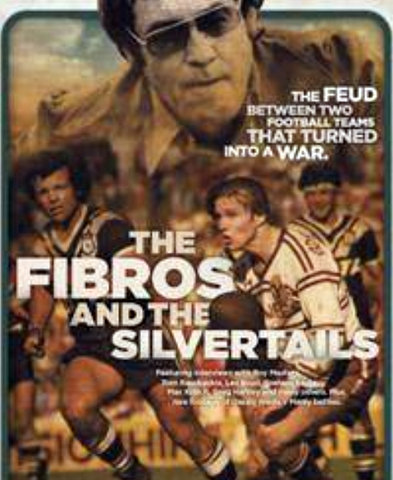 It is quite ironic that a considerable number of
"Magpies" players from that time now live in so-called "Silvertails" area in
the Northern Beaches Suburbs, Sydney.
Northern Sydney Wellbeing Officers Norm Pounder and Ken Vessey had the
pleasure recently to visit one such player Kevin Storey and his charming
wife of 47 years marriage , Sue. Kevin as a youngster grew up in Lilyfield
and honed his skills as a component Winger ,with CYO Clubs Rozelle and
Dulwich Hill before being graded with the Western Suburbs "Magpies"
District RL Club .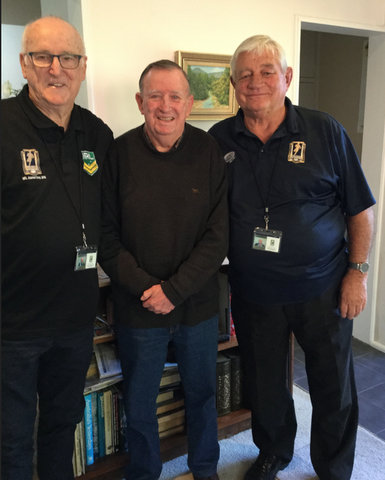 Ken Vessey, Kevin Storey and Norm Pounder.
He enjoyed a successful career at the Magpies, playing 17, 3rd Grade games in 1966.

 13 games in 3rd Grade in 1967. Kevin also played in 6 games Reserve Grade games in 1967.
In 1967 Kevins team won the 3rd Grade Premiership

 which included many skilled players Neville Hornery (recently
deceased), Tim Murphy, Col Lewis, Rod Smith.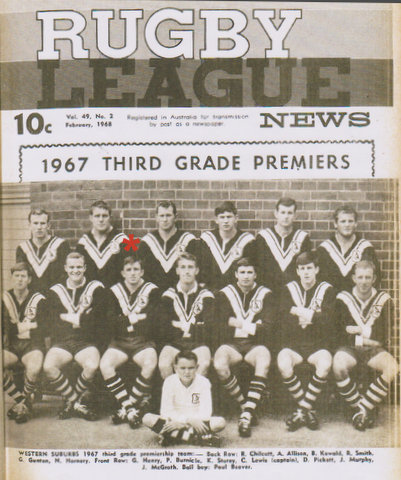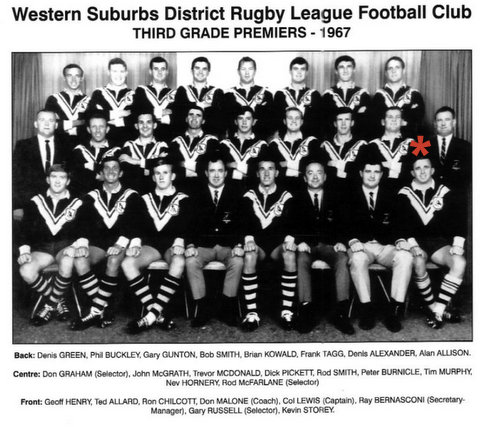 The Full Squad in 1967.
In 1968 Kevin played – 8 games 3rd Grade and 15 games Reserve Grade.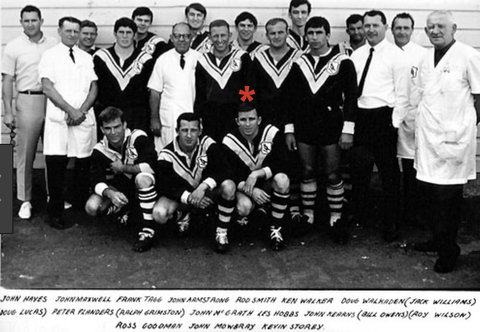 Photo thanks to Billy Owens.
In 1969 he transferred
to the Newtown "Bluebags" District RL Club, where he played 12 games in
3rd Grade before seriously injuring a finger on his left finger that forced
his retirement from playing.
After retiring from playing , Kevin coached teams at the strong
St.Augustine's School for several years . Remaining loyal to his old
"Magpies" today, in the NRL he supports WestsTigers RL Club and he would like
our modern game to get the scrums back to normal.
Today , Kevin enjoys life and is kept busy with his wife Sue , 3  adult
sons and 2  daughters in laws plus 3  grandchildren ( 2 girls and 1

boy) and his ex "Magpies" teammates that live in his area.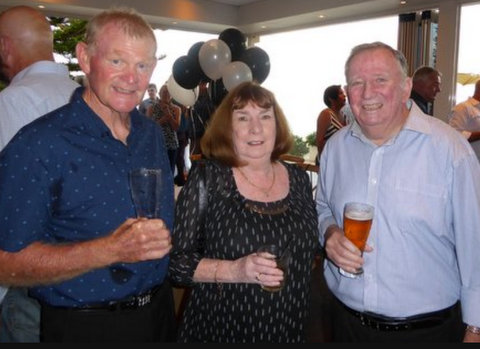 Steve Winter, Sue and Kevin Storey at Noel Kellys 8oth Birthday party.
We presented Kevin with a Men of League polo shirt plus cap as a mark of appreciation for
his long contribution to rugby league and wished him good health. In return
he was most thankful for our wishes, visit and gifts and wished the Men of
League Foundation continued growth and success.
By Ken Vessey,Wellbeing Coordinator Northern Sydney Men of League Committee