Vale Dev Dines

1931 – 2018
Wests player number 474 (1950)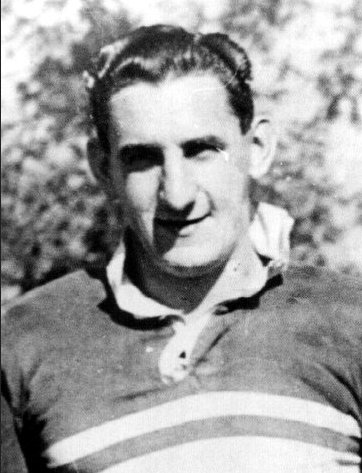 Devitt Whitton 'Dev' Dines was an Australian rugby league player from the 1950s.
Dev Dines was a five-eighth for the Western Suburbs Magpies between 1950-1951, late 1952, 1953-1957. He had transferred to Mareeba, Queensland as a player in 1952 before being sensationally recalled to the Magpies, in a bid to help the club win the 1952 Grand Final as two of their best players, Keith Holman and Frank Stanmore were away on the 1952/53 Kangaroo tour.
Dines scored a try in the 1952 Grand Final side that won the premiership. Dines stayed with the Western Suburbs Magpies for a few more years before retiring.
Dev Dines was a co-founder and Life Member of the Canley Vale Junior Rugby League Football Club.
The above is from Wikipedia.
Dev played for the Magpies from 1950-54 & again in 1957. He played a prominent role in Wests last premiership victory against Souths in 1952 & was one of two surviving players from that team – the other being Col Ratcliff.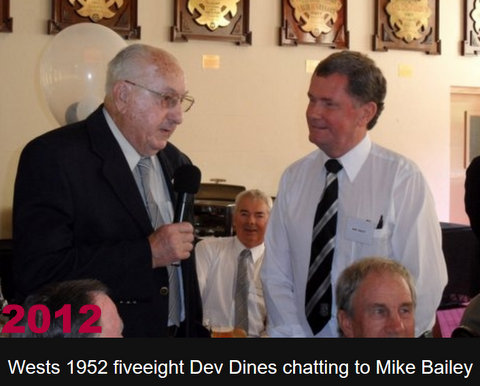 Dev being interviewed at the 2012 PPM reunion at the SCG.
Good mates. Dev and Col.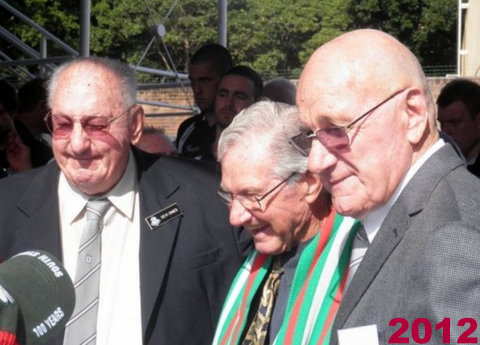 Dev Dines and Col Ratcliff in 2012.
 A little bit of the Dev Dines Rugby League Story. Mostly taken from the SMH.

1950.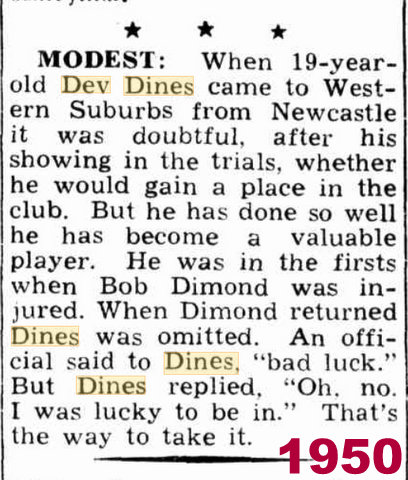 Dev played for North Newcastle.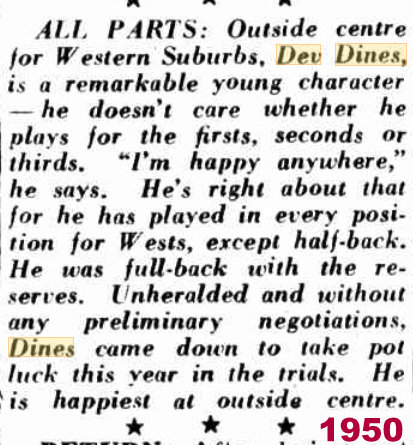 1952.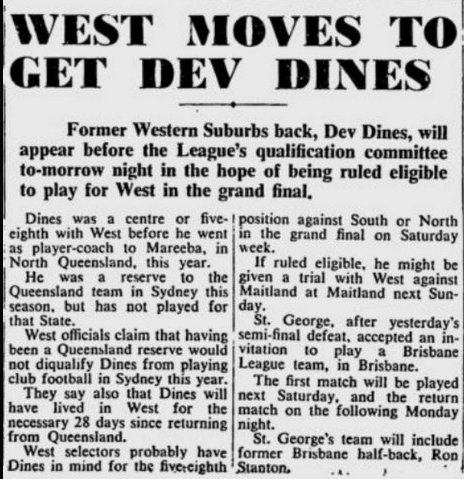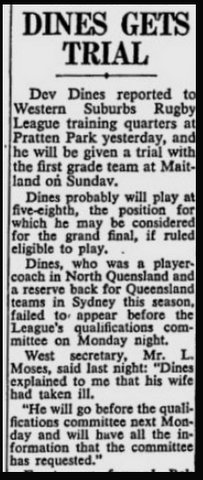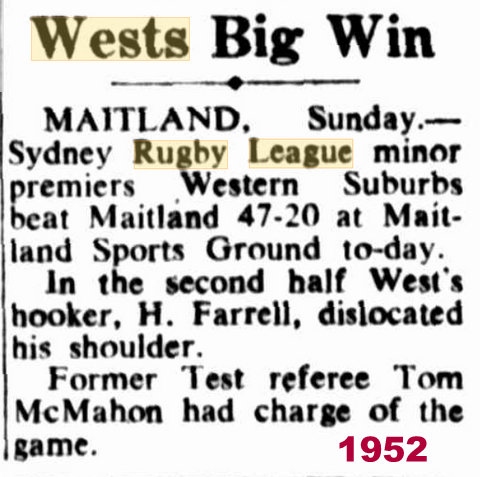 Dev only played this game before Wests picked him for the Grand Final.
All of the above happened the week before the Grand Final.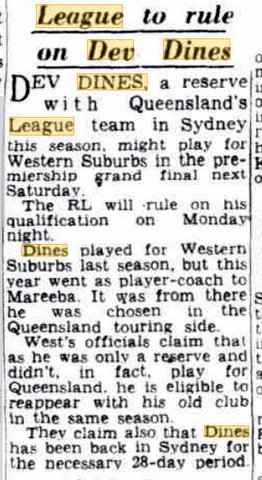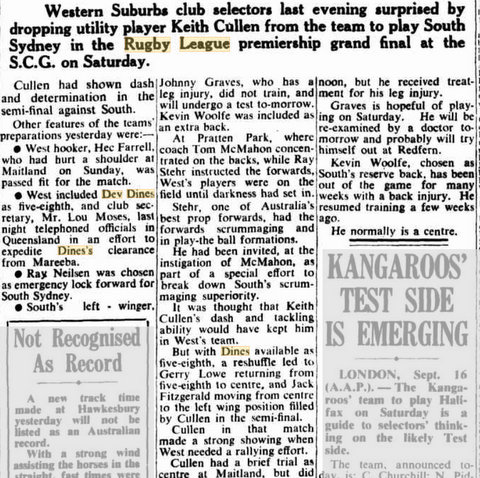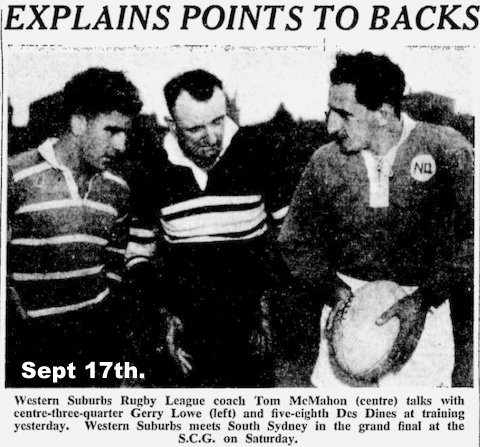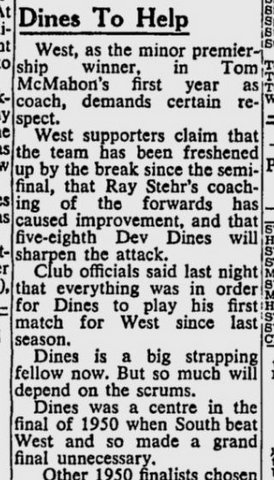 Good news for Dev and Wests.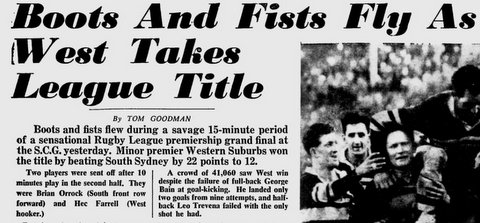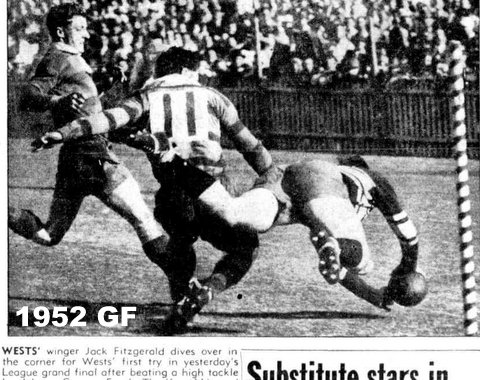 Great photo of Jack Fitzgeralds try.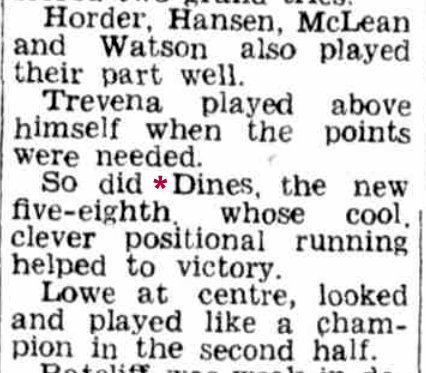 Plus a try…..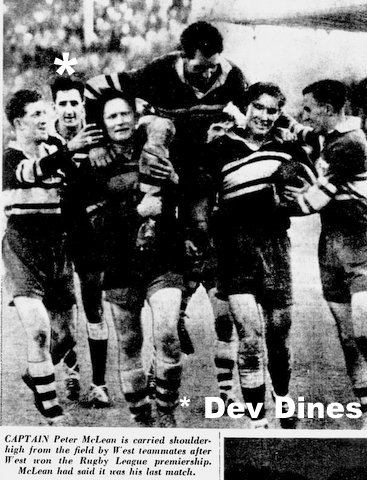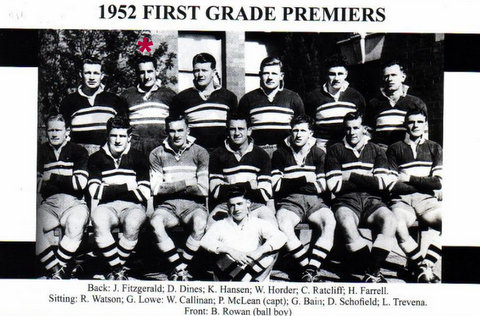 Below: A story from Dev about the 1952 Grand Final.
Taken from the Western Suburbs Magpies website dated 2012.
"We were walking in Ashfield when a car pulled up and it was (former Wests secretary) Lew Moses who told me I had qualify to play in the Grand Final,'' Dines said.
"I thought it was that weekend but Lew said it was the following one, so I travelled to Maitland with the Magpies to play a trial match before the Grand Final as it was 3 weeks between games. Souths beat Wests in the semi-final but because they were minor premiers, they moved into the grand final as was the rules at the time.
"I played five-eighth for the Magpies in the trial at Maitland. A lot of people made it out to be an evil deed but it was a constant thing that had been in use for years as 90 per cent of the blokes lived outside the areas of the teams they played for. I wasn't a stranger as I had played two full seasons with Wests.
"I had to go to NSWRL in Phillip Street to present my case and Souths agreed to let me play. The Grand Final was played at a torrid pace with plenty of biff and knuckle.
"We were down 12-10 with 10 minutes to go and we scored four converted tries to win 22-12. Our full-back George Bain kicked 2 goals from 10 shots that day and he was the leading points scorer for the year.
"I knew we had a pretty good chance of winning when about 10 minutes to go, some of the Souths boys said to their captain/coach Jack Rayner that 'we can't let these bastards put it over us'. Jack turned around and said he was stuffed. When he said that, I knew we would win."
Dines will be one of more than 200 former Western Suburbs players attending the annual Magpies reunion on Sunday.
Western Suburbs 22 (Tries: Schofield 2, Fitzgerald, Dines, Bain, McLean. Goals: Bain 2.)
d South Sydney 12 (Tries: Smailes, Macreadie. Goals: Graves 3.)
Western Suburbs:
George Bain, Bill Callinan, Col Ratcliff, Gerry Lowe, Jack Fitzgerald, Dev Dines, Leo Trevena, Kevin Hansen, Hec Farrell, Wiliam Horder, Don Schofield, Ron Watson, Peter McLean (c), Coach: Tom McMahon
South Sydney:
Don Murdoch, John Graves, Malcolm Spencer, Frank Threlfo, Cec Smailes Norm Spillane, Ken Brogan, Denis Donoghue, Ernie Hammerton, Bryan Orrock, Ken Macreadie, Jack Rayner (captain/coach), Ray Neilson.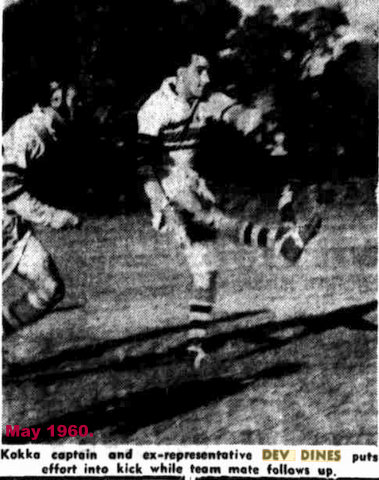 Dev playing in the 1960's.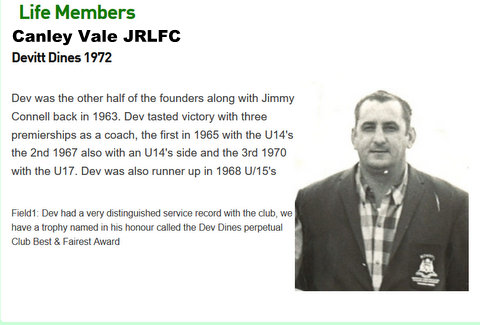 Life Membership of Canley Vale JRLFC.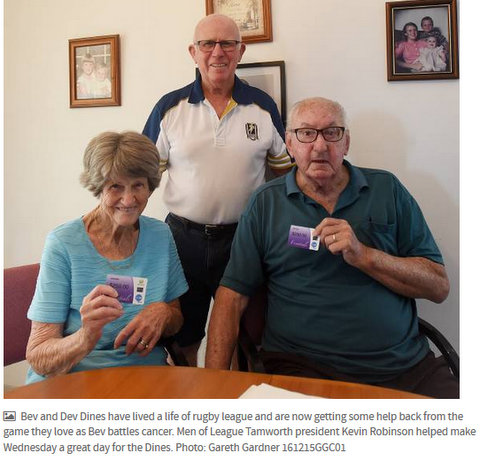 Bev and Dev in 2015.
Dev had been living in the Tamworth area & enjoyed a visit from Carl last year.
Here is Dev's full Wests playing record.
59 First Grade, 17 Reserve Grade = 76 games total, 30 tries, 14 goals = 118 points
(First Grade 26 tries, 10 goals = 98 points)
Thanks to Geoff Ibbett at Wests Archives for this information.

Go The Mighty Magpies.