Magpies Welcome Back VICTA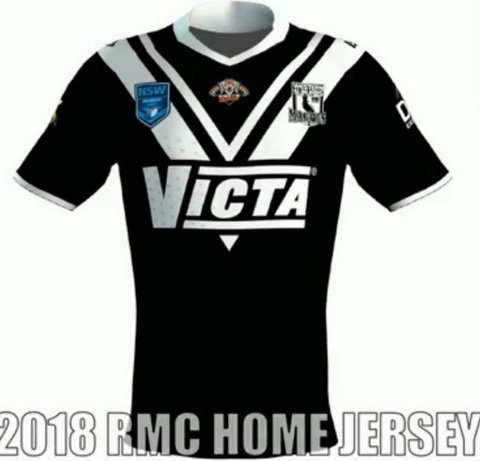 At a time when the Wests Magpies involvement, status and purpose in Rugby League have taken massive steps forward, more good news, in fact unbelievable news, has given us all something special to look forward to for the 2018 season.
Victa, the Sponsor that was such a big part of the Wests Magpies from 1978 to 1982, arguably some of the Clubs most historical times, is back on board as one of our major sponsors. Victa will be displayed on the top-back of the ISP jersey and the front of the RMC / SGB / HM jerseys as well as training, polo and hoodies.
Apart from providing opportunity to the Club to develop the young players of the Macarthur region and further enhance our facilities through financial support, the historical value brings with it a feeling of great spirit that was etched many years ago in one of sport's most successful and known partnerships.
We at the Magpies are absolutely rapt in the reunion and look forward to working with Victa to give both organisations as much opportunity as possible to continue to provide for the community and supporters.
This is what Roy Masters had to say recently about the renewal of the iconic partnership…….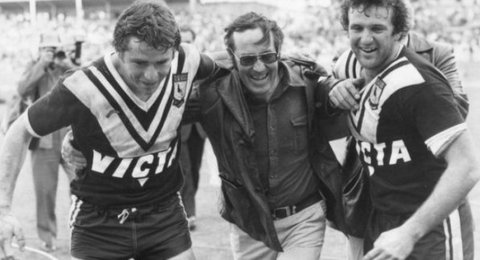 Wayne Smith Roy Masters and Ron Giteau at the SCG.
"Seeing Victa on the Wests jumper is like walking into a room and detecting the scent of the perfume of an old girlfriend you have not seen for 30 years. It evokes memories many of us, particularly Tom Raudonikis, will say were the best years of our football lives.
Tommy Raudonikis.
The football was exciting, the mateship enduring. Even the controversies stirred the emotions. It was a period when we really felt alive and proud, particularly when Victa came on as a sponsor.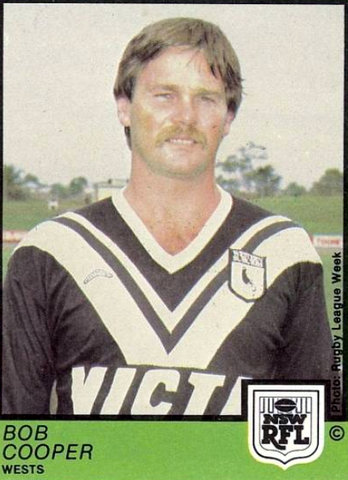 Victa put on a party for us in their nearby factory. White table cloths and filet mignon. Bob Cooper didn't know how good the steak was and smothered it in tomato sauce. It was the first time any of us had seen kiwi fruit. The VICTA management seemed proud to be associated with us, despite the controversies we created in the newspapers. Only one senior Victa man, who lived on Sydney's north shore seemed a bit concerned after a particularly violent game at Brookvale, which we won.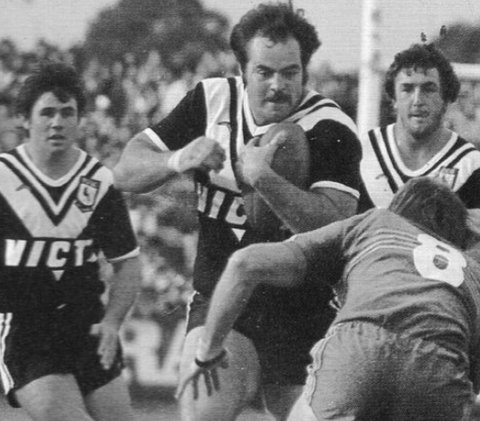 Bruce Gibbs at Brookvale Oval.
I said, "You will have sold a lot of motor mowers today". He replied, "But not over here". I then pointed out Silvertails didn't buy mowers. They had their lawns cut by professional gardeners. He seemed happy after that.
The Victa – Magpies partnership continued for years and defined one of the most memorable periods of rugby league. We are all delighted it has been resurrected.
Wests Magpies are proud to have VICTA back as a Sponsor for 2018. 
A few more random Victa photos.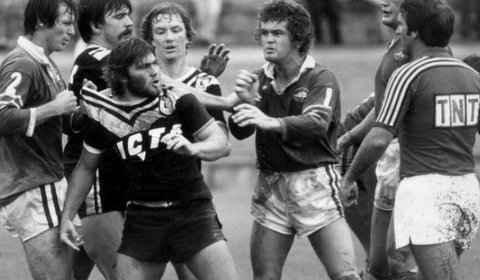 Terry Lamb in the thick of it.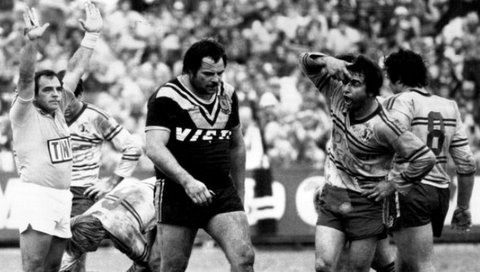 Hollywood showing Bruce Gibbs the way to the showers at Brookvale Oval.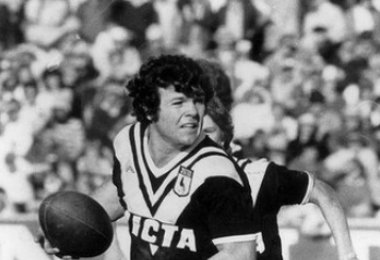 Baby Faced Les Boyd.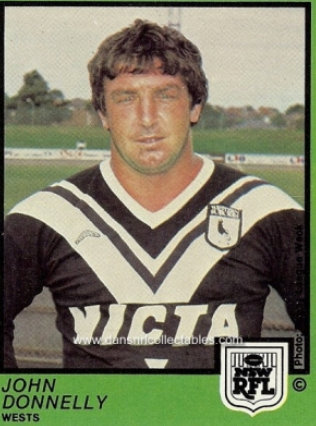 Dallas.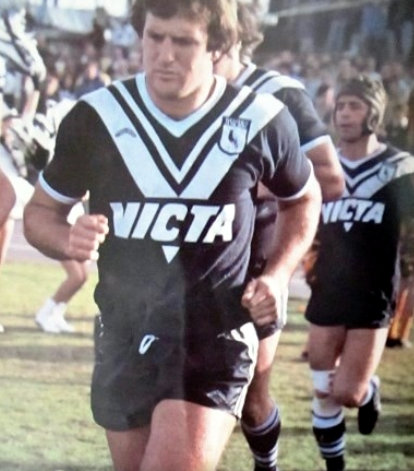 Ron Giteau running onto Liddy Oval.
Note: whos in the headgear???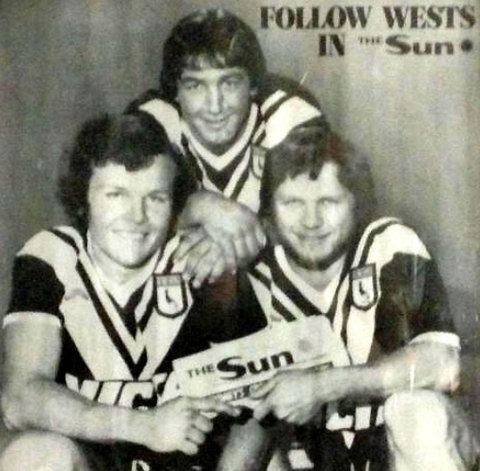 The Sun * is long gone but Wests and Victa live on.