Vale Wayne 'Lobby' Loder
4th December 1954 – 24th December 2017.

Lobby proudly wearing his Enfield Feds shirt.
It is with great sadness that we advise of the passing of Wayne Loder affectionately known as Lobby aged 63.
Devoted husband of Janet, wonderful father of Brett, Dean and Lee (daughter in law) and Scott and Anna (partner)
Grandfather to beautiful Isla and loving brother to Greg, Sharon and Kieran.
Wayne grew up in Hurlstone Park ( a short bike ride from Pratten Park) and attended De La Salle Brothers Collage Ashfield.
After leaving school Wayne completed an electrical apprenticeship and then under took an electrical career with the NSW Department of Public Works and later with Bankstown Council.
During the 1970's Wayne played the majority of his football with Enfield Federals after his initial season in 1969 with Croydon Park and a season with Bankstown Sports in 1972.
Wayne represented Canterbury – Bankstown in 1972 in Jersey Flegg.
And Wests in Presidents Cup in 1974.
As a player Wayne played in premiership winning A, B, and C grade sides between 1973 to 1977 for Enfield Feds.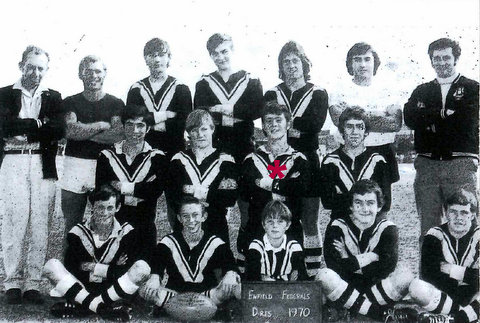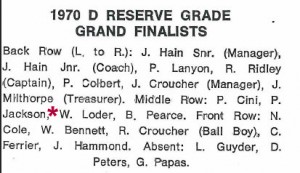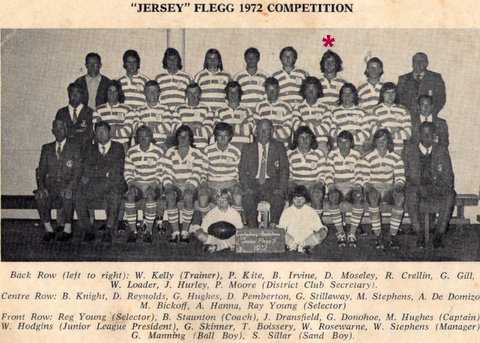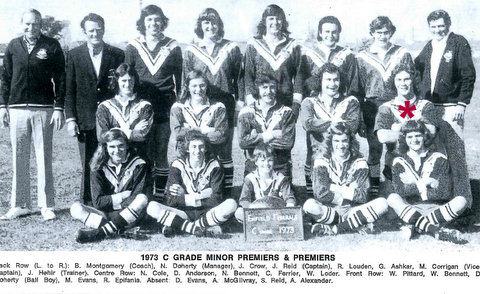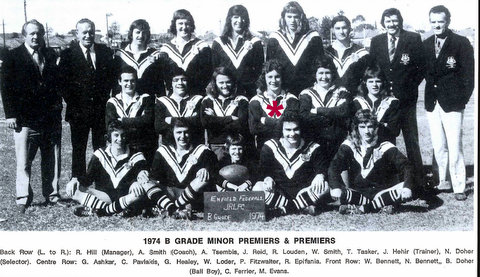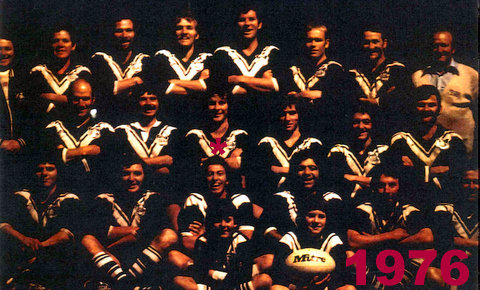 Enfield Feds 1976 A grade Team. Runners up.

Wayne's connection with Enfield Feds club continued as a coach and most recently serving on the committee of the Enfield Feds past players and supporters.
Early in 2017 Wayne was diagnosed with esophageal cancer and battled hard against the disease. The severe chemotherapy and radiation treatment took an enormous toll on his body. Wayne was hospitalized 5 times the most recent being 20 Dec 2017. Despite some glimmers of hope it was not to be.
Wayne passed away on the 24th Dec 2017.
Over 300 people farewelled Wayne at a service in the Mary Mother of Mercy Chapel Catholic Crematorium Rookwood and later at the Twin Willows Hotel Bass Hill.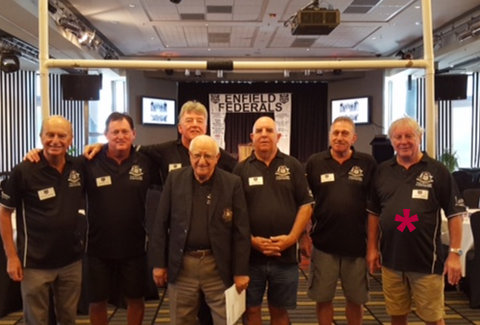 Lobby far right with some his mates from Enfield Feds.
Many of Wayne's mates from Enfield Feds and the Pratten Park Magpies were in attendance. It was fitting that the Pratten Park Magpies Memorial sash draped over Wayne's coffin which states.
"Think where mans' glory most begins and ends
And say my glory was I had such friends" – Yeats.
This typified Wayne 'Lobby' Loder our Mate who had many friends and maintained those friendships through out his life.