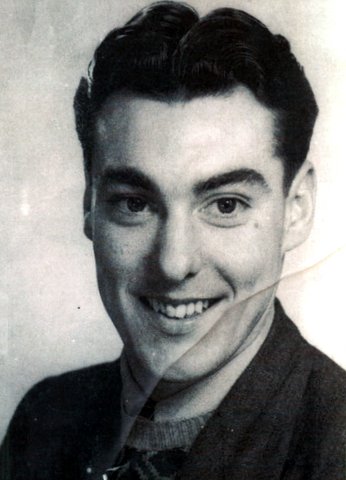 Photo of Mr Ernest Fraser Hills taken in 1950.
Last year I was looking through some old football programs getting ready to interview Harry Wells when I noticed the name Ernie Hills playing on the wing for Wests.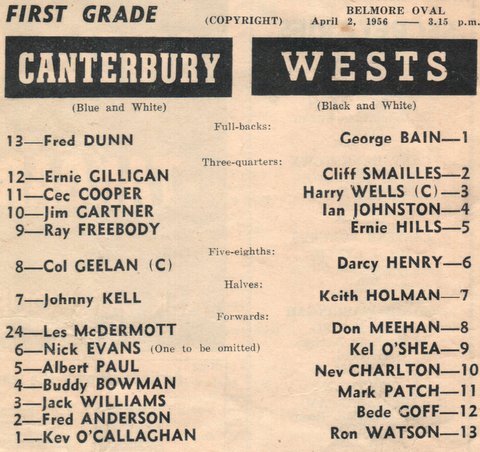 A few firsts in this game. Ernie Hills, Darcy Henry, Ian Johnston,
Don Meehan, Kel O'Shea, Mark Patch, Cliff Smailes and Harry Wells were all playing their first First Grade game for Wests.
Note: Wests 29 beat Canterbury 10 and Ernie scored a try.
Only being a boy in 1956-1957 I did some research about Ernie Hills and what follows is the
Amazing Life of Mr Ernest Fraser Hills.

Ernie was born on the 3 -3 -1930 on the kitchen table in the small town of Manurewa, New Zealand during the Great Depression.
Manurewa is now a suburb of Auckland back then as the photo above shows in was a quiet country town.
In 1948 Ernie won the Junior Sprint Championship of New Zealand and wanting to represent New Zealand in the 1950 Empire Games headed off to Sydney, Australia to learn to run faster.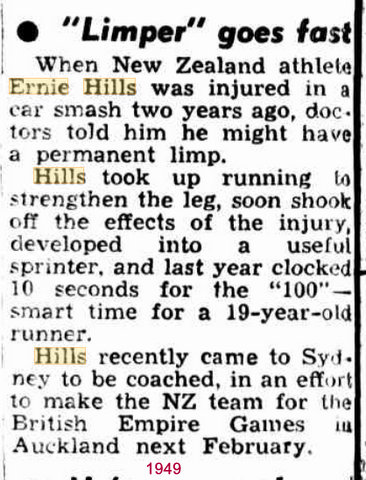 Newspaper story about Ernie Hills.
The Adventure was about to start.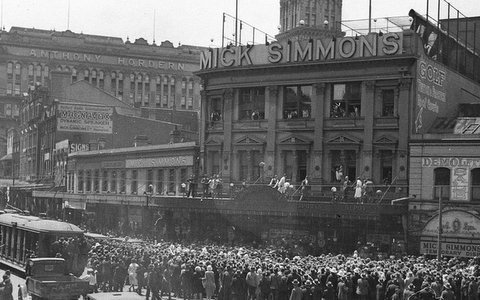 Mick Simmons Store in George St Sydney.
Ernie went looking for some new running shoes at Mick Simmons and by luck met Frank Banner who asked Ernie to join his running group at Rushcutters Bay.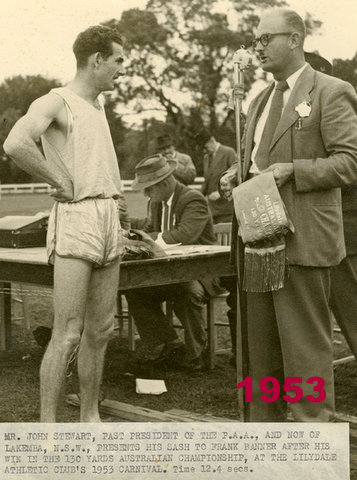 Frank Banner in 1953 winning the 130 yards Australian Championship.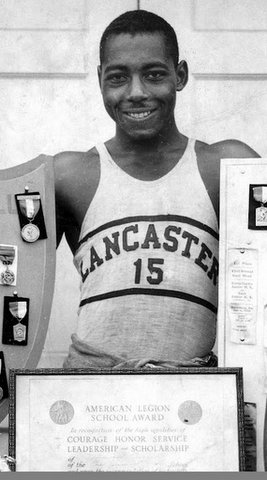 Barney Ewell.

Ernie ran with and against Barney Ewell who at the time was the fastest man on earth.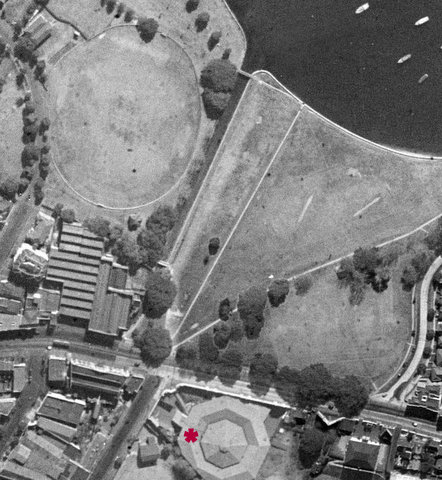 Top left Rushcutters Bay Oval.
* Note: The old Sydney Stadium.

When Ernie arrived at Rushcutters Bay Oval there were a few other good runners in Frank's stable. One being a very young Marlene Mathews.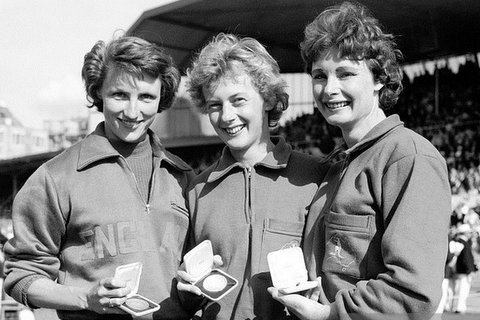 Heather Armitage (GB) Betty Cuthbert and Marlene Mathews at the 1958 Cardiff Empire Games.
Marlene is showing her Gold Medal.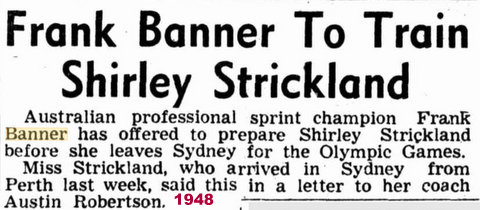 Ernie trained under the watchful eye of Frank and was asked if he would like to turn pro. 
Ernie returned to New Zealand to try out for the New Zealand team for the Auckland Empire Games. Having won the trial races Ernie was all set to be picked for the NZ Empire Games  team.
Ernie received a letter from Frank who told him if he ran in the Empire games he would never get a decent mark in pro running. After thinking about it Ernie wrote back to Frank and decided to turn pro. There was a huge amount of money to be made running professionally in Australia. BIG money.

Unfortunately Ernie never ran for NZ.

Ernie returns to run in Australia with Frank Banner and is picked to play Rugby Union for Victoria v QLD at the MCG.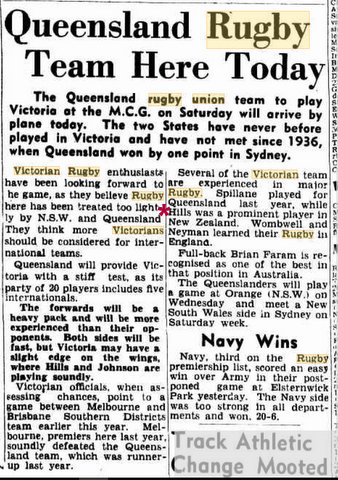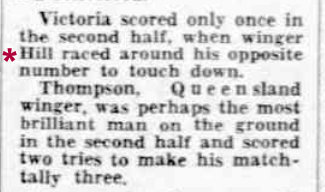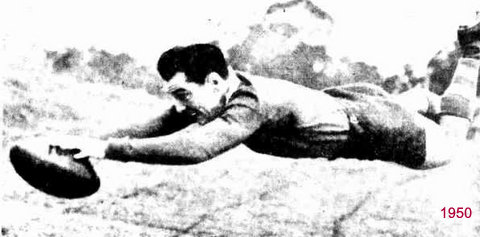 Try time for Ernie.
Ernie played for the Melbourne team in the local comp.
Ernie Hills makes the headlines.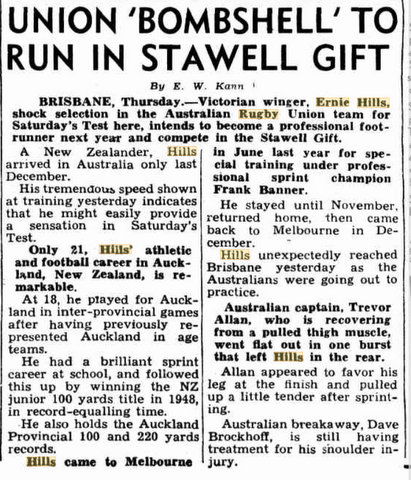 Plenty of information about Ernie in this newspaper story above.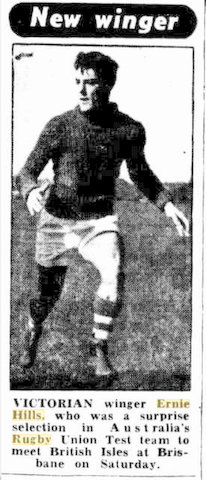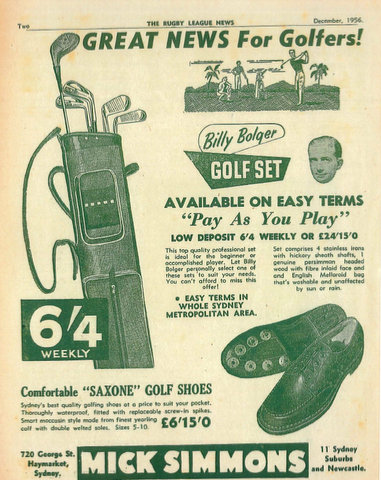 Ernie always used "Saxone"Golf Shoes.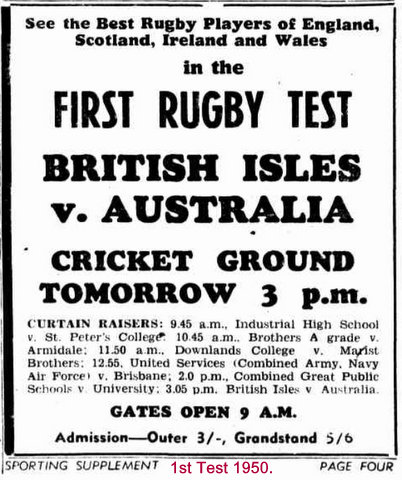 Lewis Jones the "Welsh Wizard" was the difference between the two teams. Lewis scored 16 of Britain's 19 points.
Lewis Jones.
Onto Sydney and the Second Test at the SCG.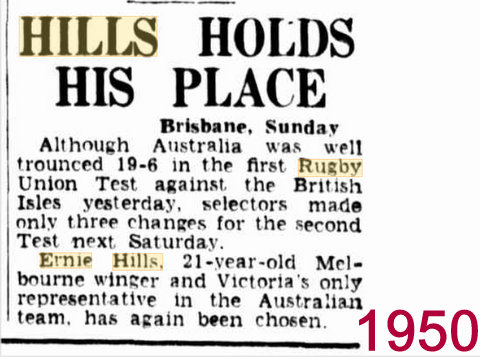 Although the papers use the word Trounced one must remember that this British Touring team was possibly the best ever to tour Australia.
Below plenty of stories about this young Flying Winger from Victoria.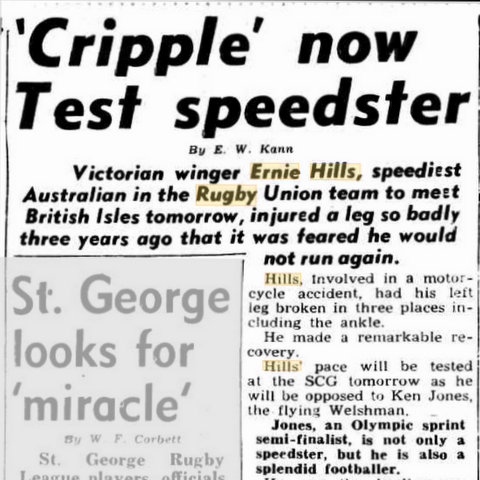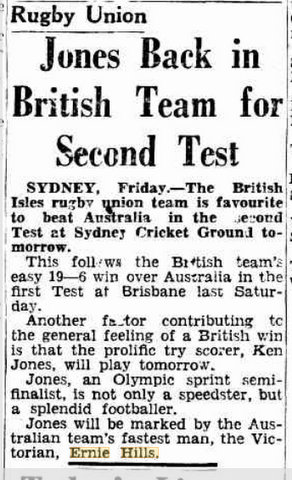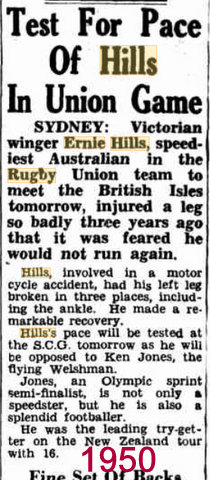 Ernie bottom left of team photo.
During this Test series the English League scouts were very busy.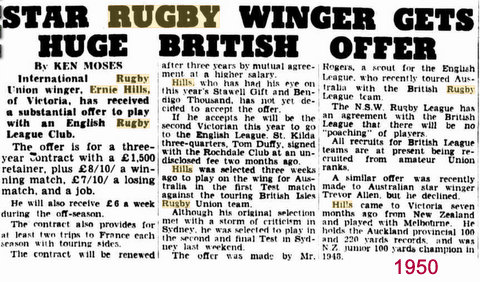 Ernie told me this was one of his biggest regrets …..what could have happened if he had taken that boat trip ???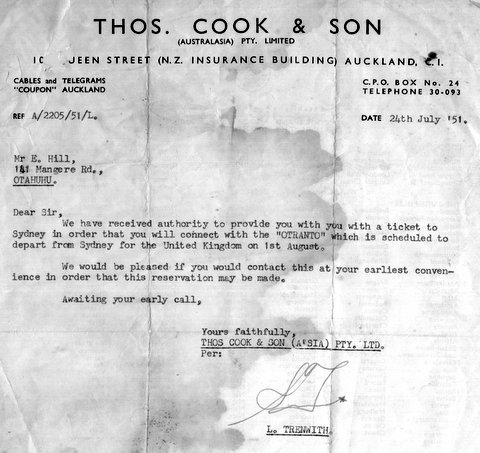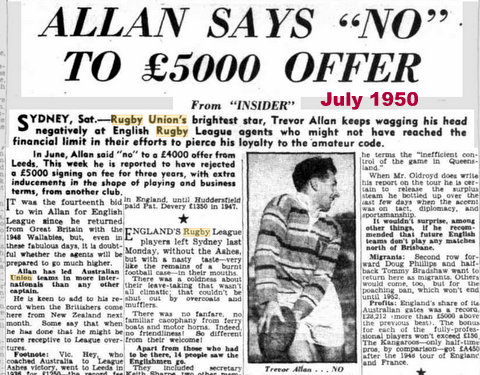 Trevor Allan really said "YES" as had Rex Mossop from this team.

Ernie received a letter from his brother Jack saying that he was joining the NZ Army and going to Korea.
Ernie decided to join his brother Jack.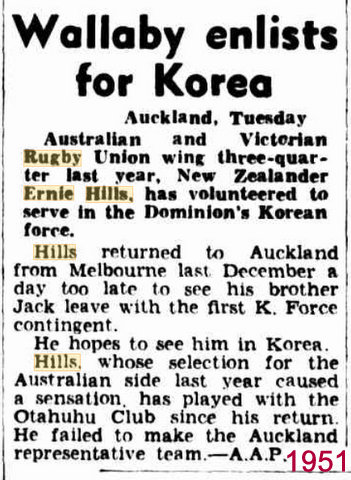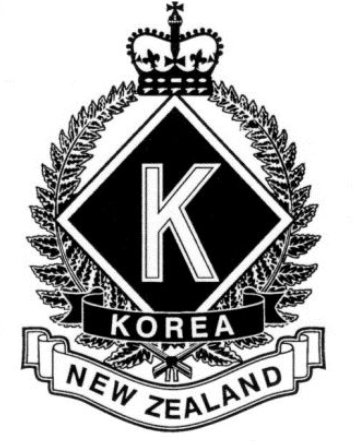 Ernie joined his brother in Korea and spent the next 3 years with the famous Kayforce.
In the Artillery section.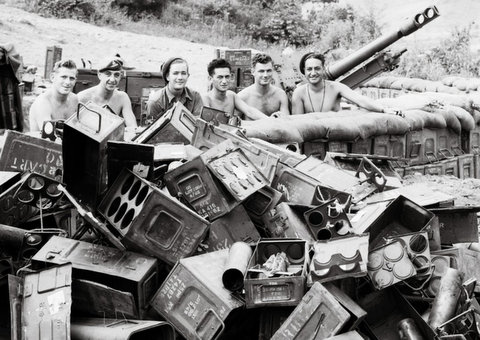 Kiwi gunners.
During this time the Japanese Government was keen for a Goodwill Rugby Union Tour of their country and as luck would have it they picked the  NZ Army to supply the players.
Ernie was one of the lucky soldiers to be picked. They played 2 Tests against Japan and many other games as they toured the whole of the country.
NZ in the dark jumpers before the 1st Test V Japan at Tokyo.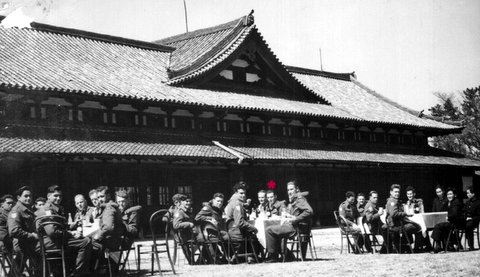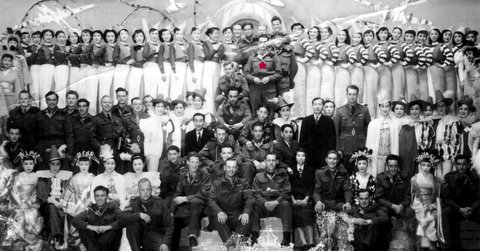 It was not all about playing Rugby…..
*

Ernie.
The football fields were littered with raw sewage and Ernie had both legs badly infected and spent time in hospital.
Ernie on right almost lost his leg.
1956 and 1957 The Rugby League Years.
The story on how Ernie ended up playing for Wests is wonderful….." I was was living with my in laws at Strathfield and working in the city and one day while I was getting the bus home I read in the newspaper that Wests were paying good money to footballers."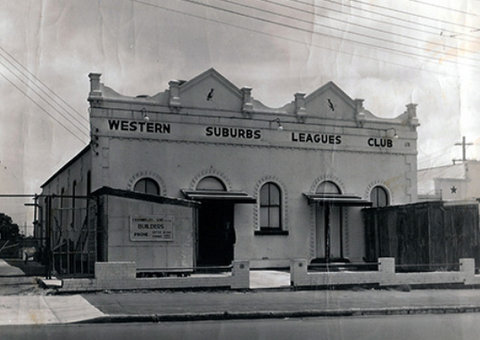 "At that time the bus stopped outside the Old Wests club so I got off walked over to the club knocked on the door and Lou Moses answered the door and said".  "Son what do you want?"….I told Lou that I had read about Wests looking for players Lou said "What have you done….? "I told him and he said come on in. Sitting at a large table were Ron Watson, Mark Patch, Kel O'Shea, Darcy Russell, Ian Johnston just to name a few. Lou asked Ron Watson to look after me and he did. They were a super group of men every one of them".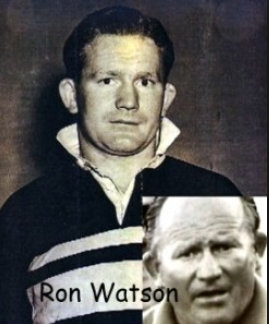 Ron Watson.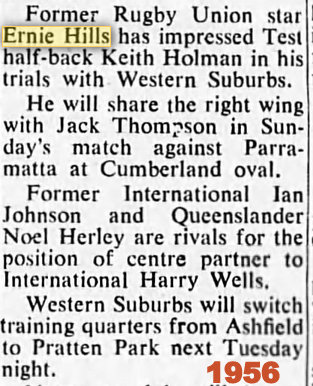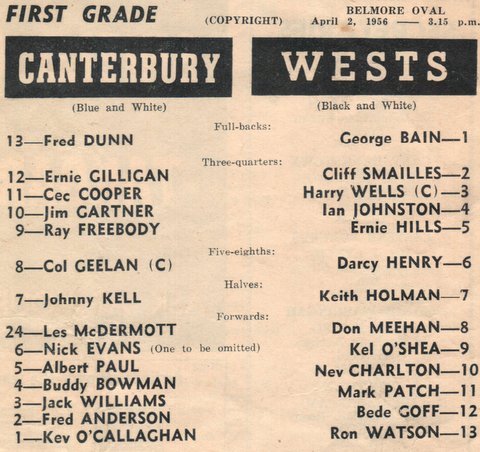 Ernie Hills playing his first First grade game for Wests.
 Note: Wests 29 beat Canterbury 10 and Ernie scored a try.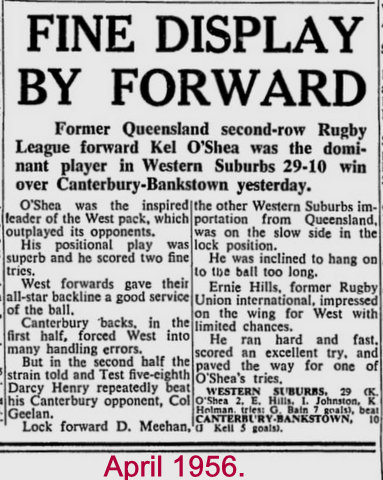 Game report from the SMH.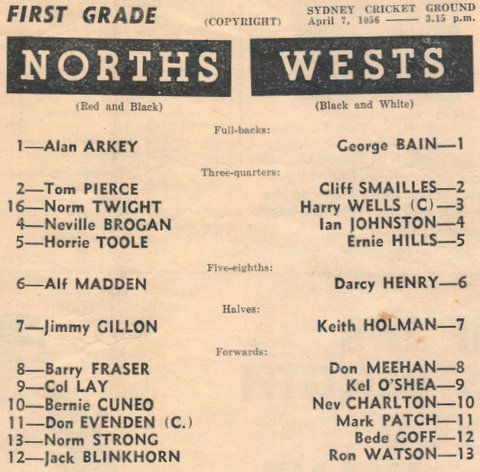 6 years since the Second Rugby Test and Ernie's first game at the SCG playing Rugby League.
Wests 10 beat Norths 9.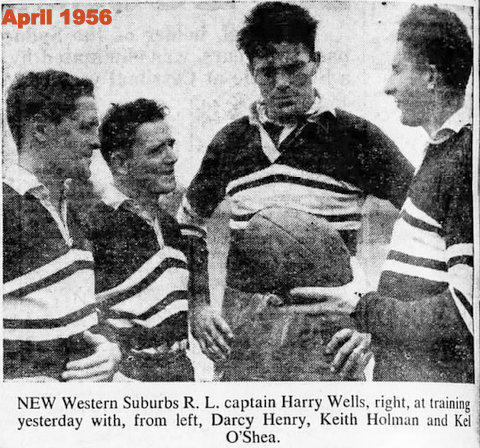 Some of the players Ernie played with ever week.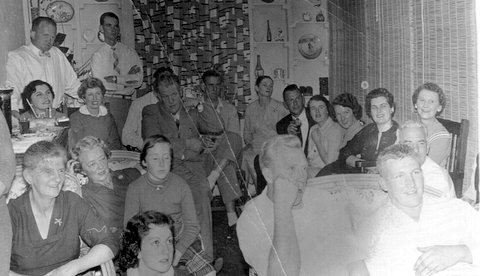 Photo taken by Ernie at a Wests player's party.
L-R  Ron Watson (standing with bowtie) , Lou Moses (sitting scratching neck) Mark Patch and Nev Charlton at front right.
Ernie scored 3 tries in this game.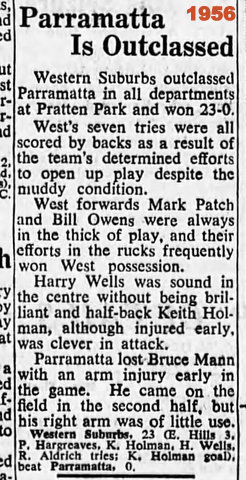 Game report from the SMH.
In 1956 Wests played Newtown in a playoff game for fourth.
Wests 10 beat Newtown 5.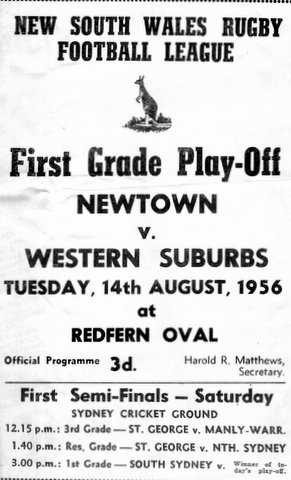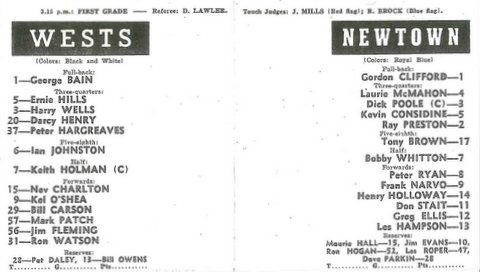 Very rare program thanks to Neil Bennett of the Wests Archives.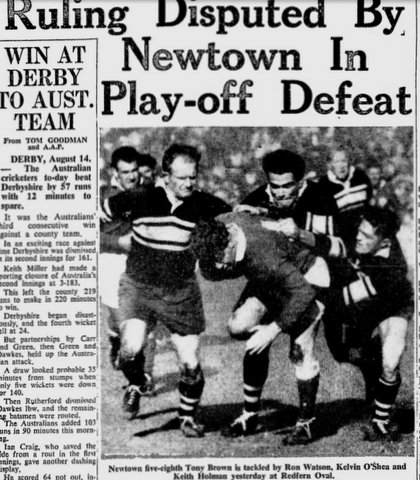 Not everybody was happy with Wests win.

Latter that week Wests played Souths at the SCG in the Semi Final…not a good result for Wests.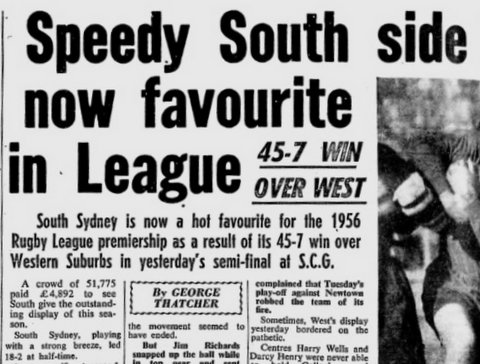 Game report from the SMH.
It was a good year for Ernie, He played in 14 First Grade games and scored 8 tries in his debut year of Rugby League.
See below a few images from 1956.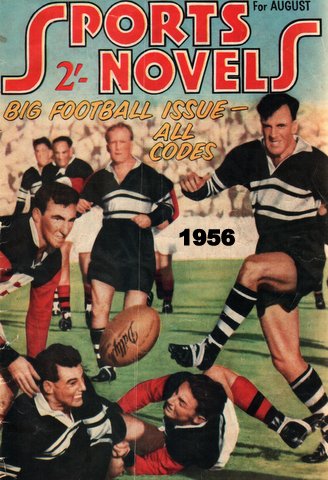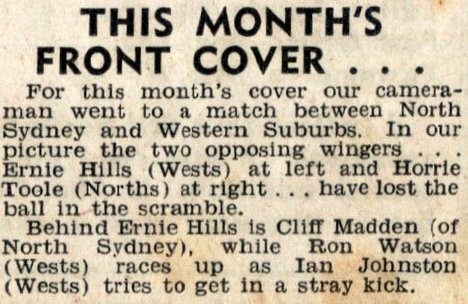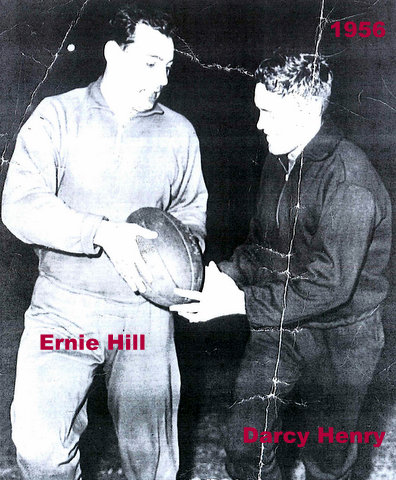 Training at Pratten Park.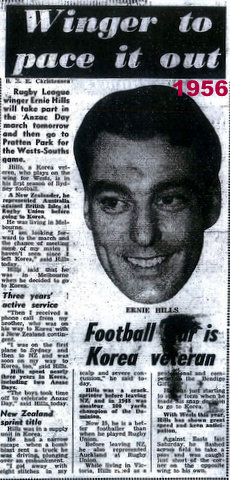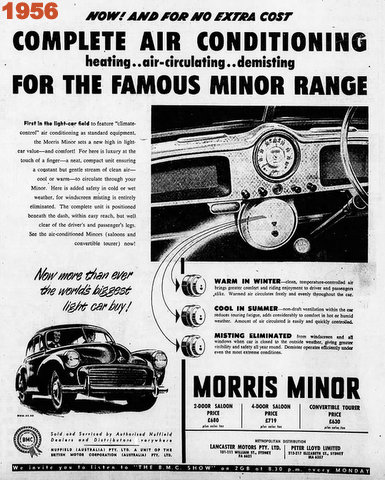 Who said there was no air conditioning in cars back in the day……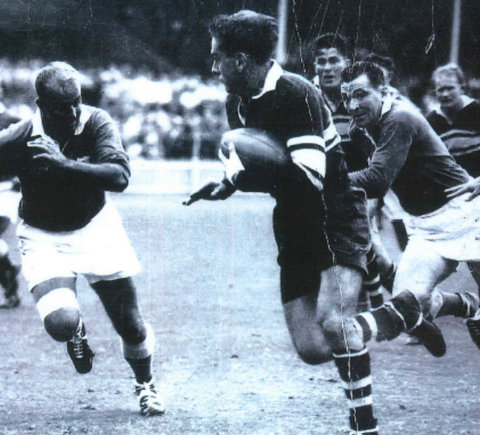 Ernie on the fly…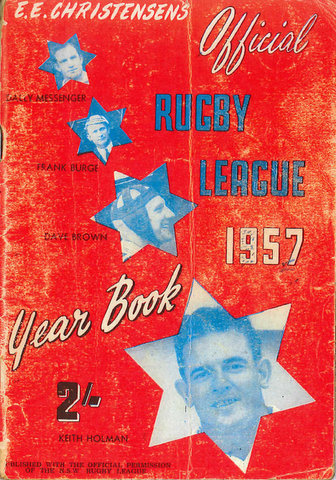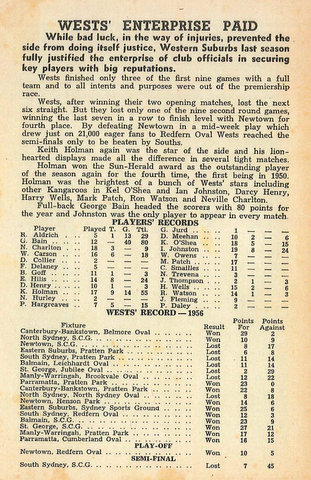 The 1957 E.E. Christensen's Official Year Book had the stats for the 1956 season.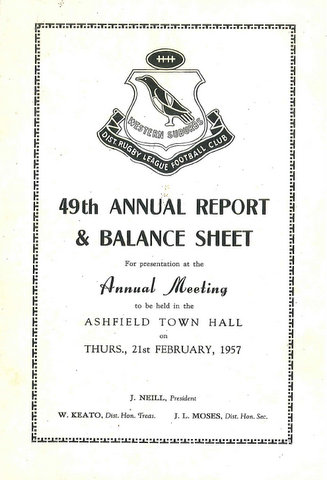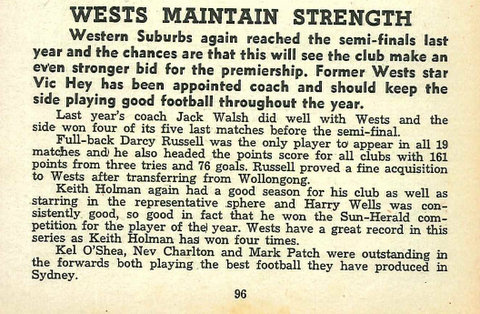 1957.
1957 was the second and last year for Ernie at Wests .
Ernie told me of the 3 games he will never forget from 1957.

The first one was played at Redfern Oval on the 30th June.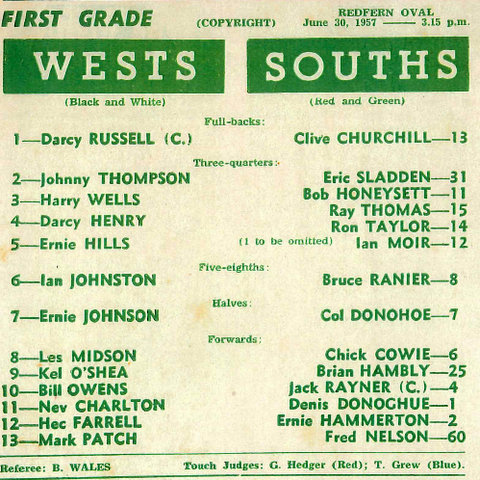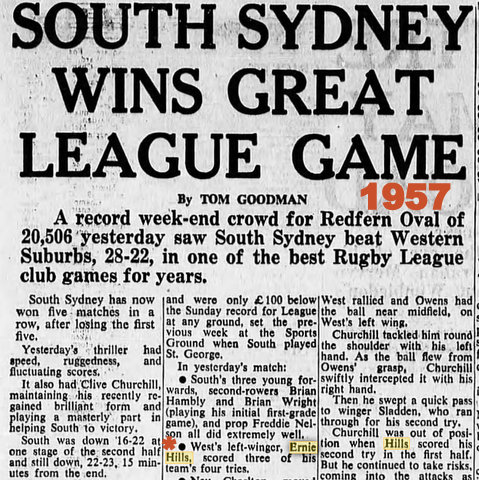 He remembers playing at Redfern Oval with over twenty  thousand people at the ground and by Ernie's estimate another two thousand on top of car roofs parked in the park next to Redfern Oval.
Unfortunately Wests 22 were beaten by Souths 28.
By the way Ernie did score 3 tries.
*
The next game was the highly controversial First Semi against Souths.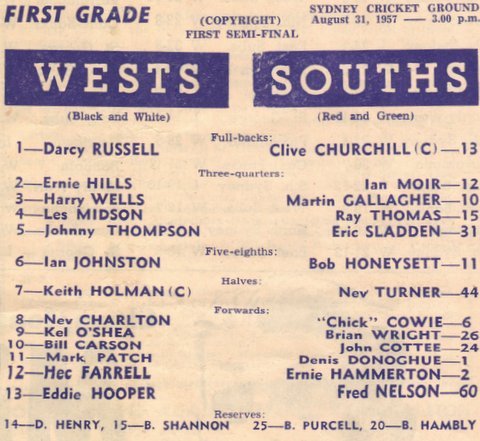 Note: I have just been told that Bob Honeysett died on Monday the 4th of December 2017. Vale Bob.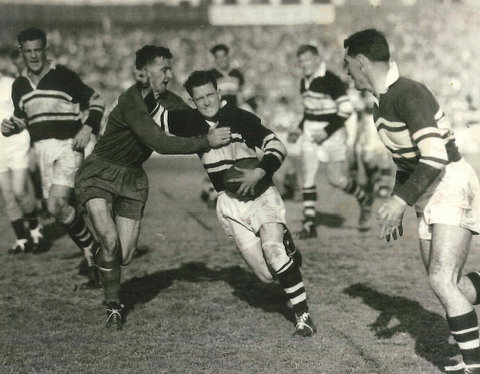 L-R Bill Carson, Bob Honeysett, Keith Holman, Nev Charlton and Ernie Hills.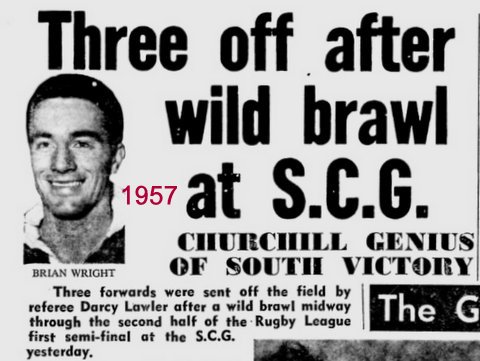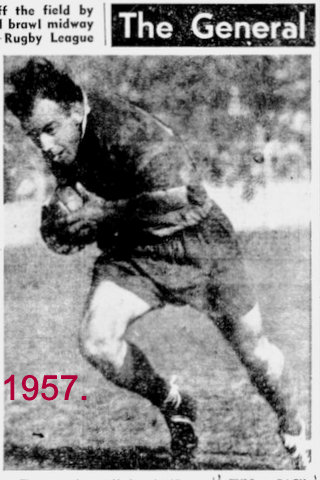 The Little Master Clive Churchill.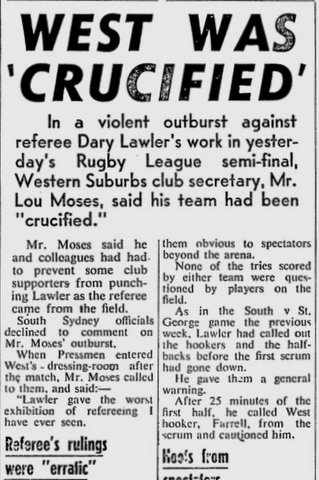 Lou Moses was not happy.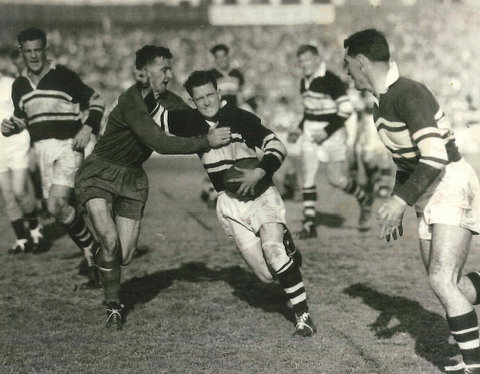 Keith Holman trying to pass the ball to Ernie Hills during the Semi Final at the SCG.
*

This game also marked the end of Ernie's Rugby League career in Sydney.
Ernie Hill's official Wests players card. Short but sweet.
Only played First Grade and scored 20 tries in his 2 years at Wests.
*
The third game that Ernie remembers was the end of year game up at Brisbane. Wests played a combined Brisbane team at Lang Park.
This was the first time that Rugby League was played at Lang Park.
The story told to me was that Wests were a bit rusty on the day of the match and at half time were told by the Brisbane officials to "Get fair dinkum….
Which they did.
E.Hills scored his last try for Wests.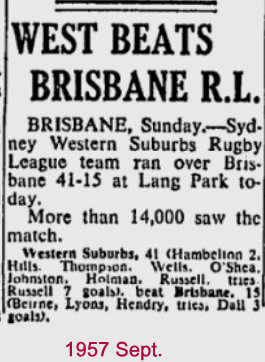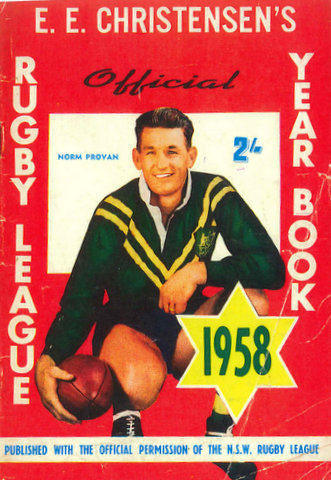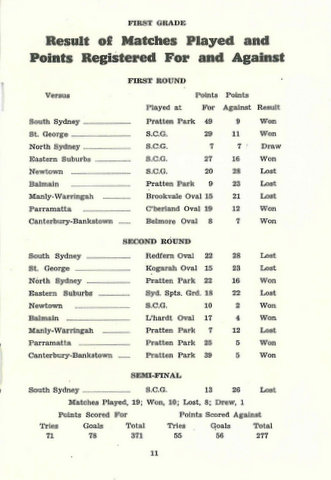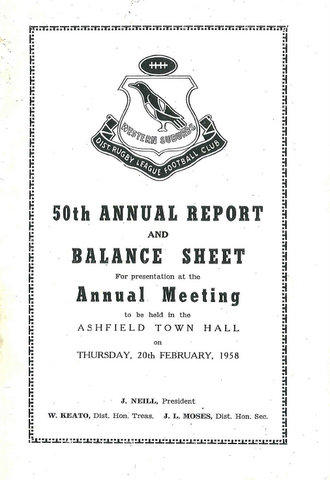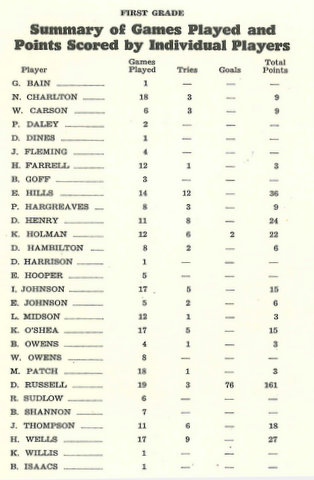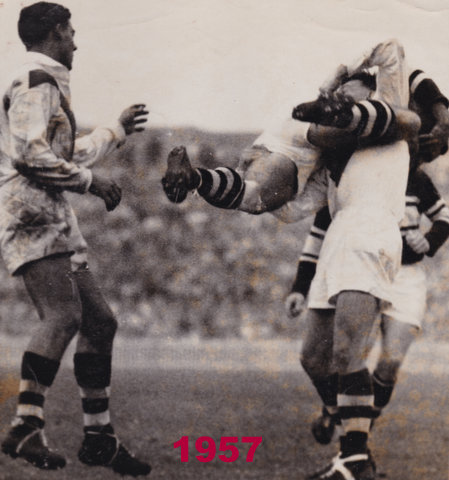 Interesting photo supplied by Steven Lalich.
L-R Les Hardy (in his only First Grade game for Saints) Ernie in the air being helped on his way by Ross Kite (ex Arncliffe Scots Boy)

*
Ernie gave footie and running away to concentrate on business which he did with great success.
*
It was time unfortunately to say good bye to Ernie but before that I had to ask a few important questions….
Favorite grounds….of course Pratten Park and the SCG.
Best player. Ian Johnson. Wonderful center who gave me plenty of good ball. Also a great bloke.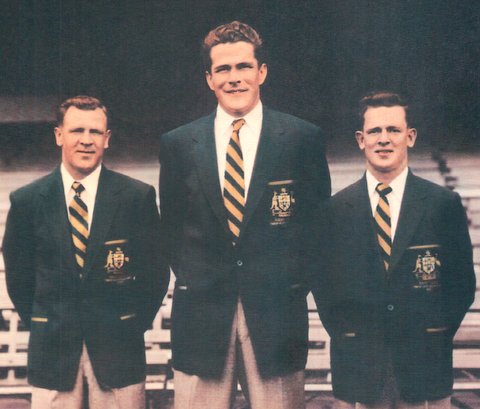 Left to Right, Ian Johnson, Kel O"Shea and Keith Holman.
Hardest winger to face. Tommy Ryan from St George. Very hard man but a clean player.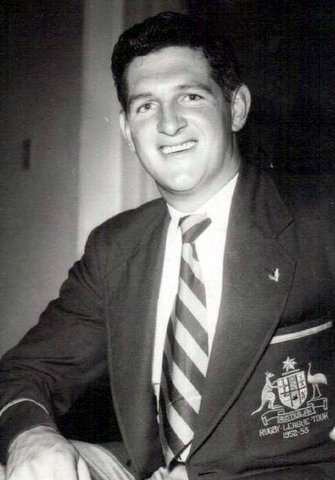 Tommy Ryan.
Below a few more photos of Tommy Ryan.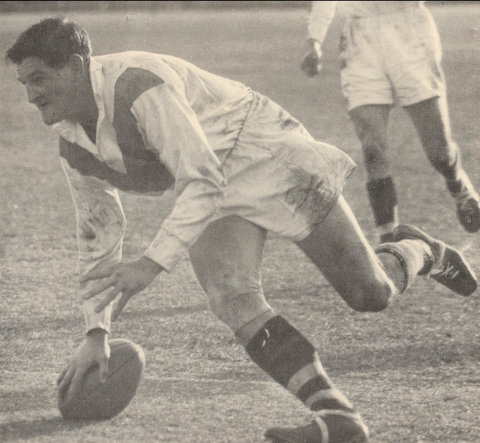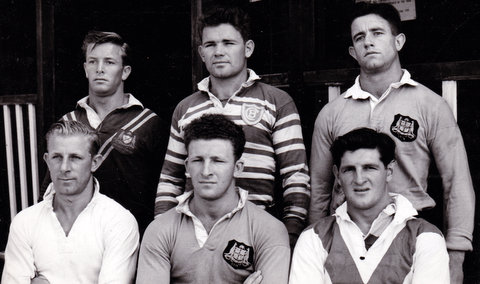 1952 Kangaroos.
Back row: Denis Donohoe, Ron Willey, Ken McCaffery
Front row: Des McGovern, Harry Wells, Tommy Ryan.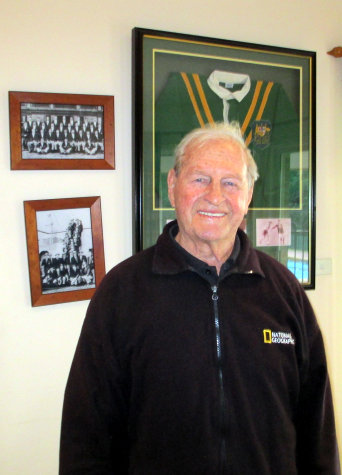 Tommy in 2014 with his Australian jumper in the background.
Thanks to Steven Lalich for allowing me to show these photos from his personal collection.
Any football heroes from your youth….Bob Scott the All Black fullback who Ernie played an All Black trial with in 1948.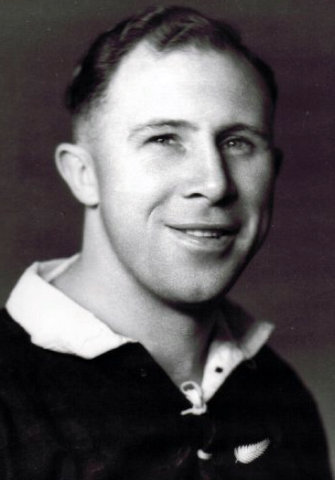 Bob Scott.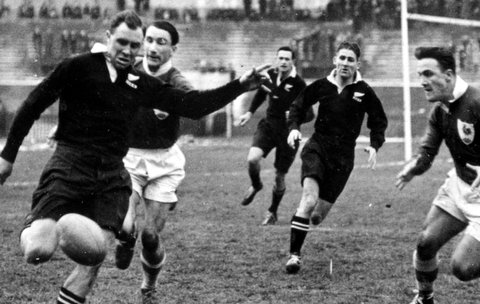 Bob Scott playing against the French.
Any regrets…..a few but thanks to Wests Ernie made enough money to buy land and a home for which he is forever gratefull.
*
For this interview I had some esteemed company, Carl Ross and Noel Kelly.
They were a great help…… yes helping drink Nigger's beer.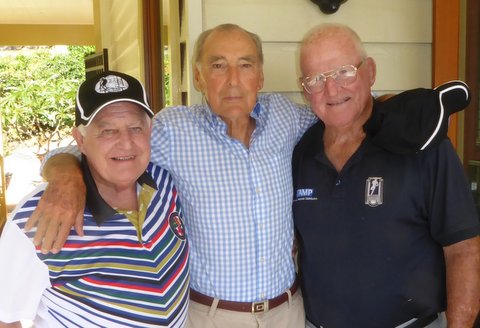 Carl Ross, Ernie Hills and Noel Kelly.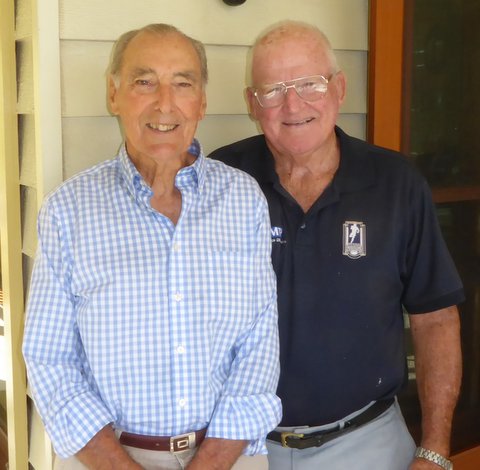 Ernie Hills and Noel Kelly.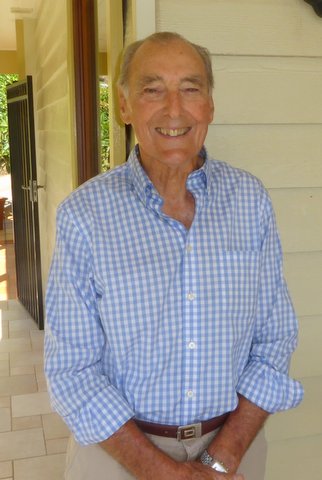 Photo of Mr Ernest Fraser Hills taken in 2017.
Thanks Nigger very much for telling me only a small part of your Amazing Life.