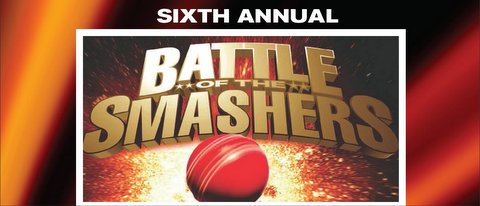 It was a brilliant day at beautiful Pratten Park, the home of the Western Suburbs Cricket Club.
I arrived at Pratten Park early and was lucky enough to see some of the behind the scenes work that goes on before the Battle of the Smashers started.
The day is all about raising money for VOTSA.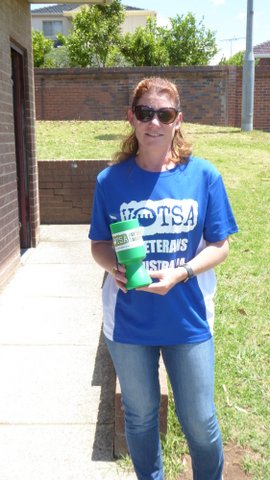 VOTSA volunteer Brooke Ellis.

Which stands for Veterans Off The Streets Australia.
Please click onto link to read all about their work on their brilliant website https://www.votsa.org.au/
Also make sure you return to read this exciting story about the "sound of leather onto willow"…..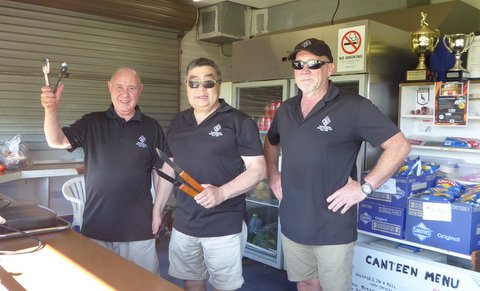 The canteen men. Tony Andreacchio, Peter Cheung and Mark Norris.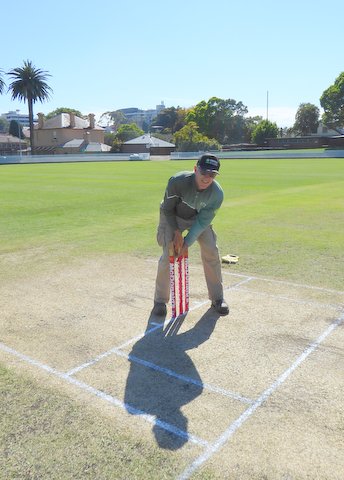 David Jebb head groundsman of Pratten Park putting the final touches to the wicket.
Always doing the 'extra yard' for the Magpies. Thanks David.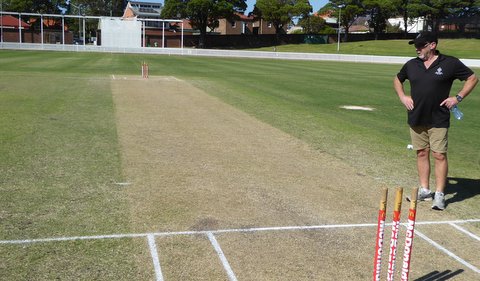 Mark Norris running his trained eyes over the wicket.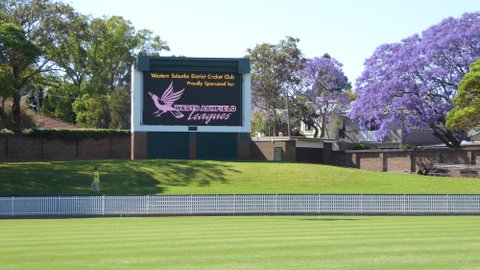 The scoreboard with the beautiful Jacaranda tree in full bloom.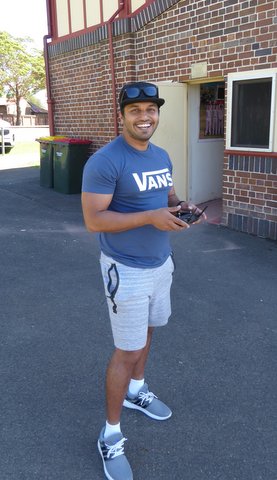 I met The Drone guy.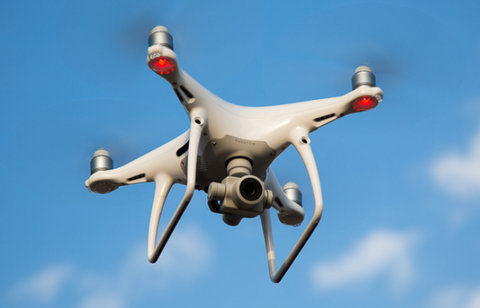 The Drone.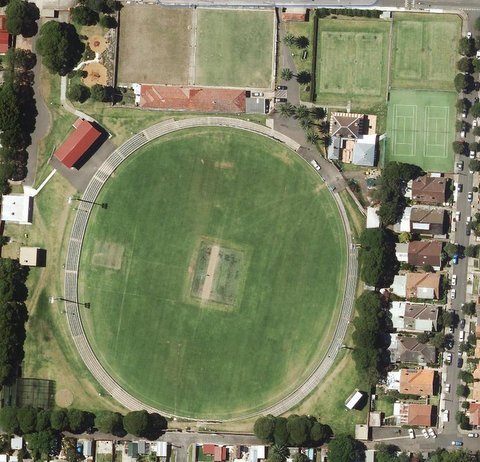 View from the Drone.
Fascinating stuff…..But back to the cricket…..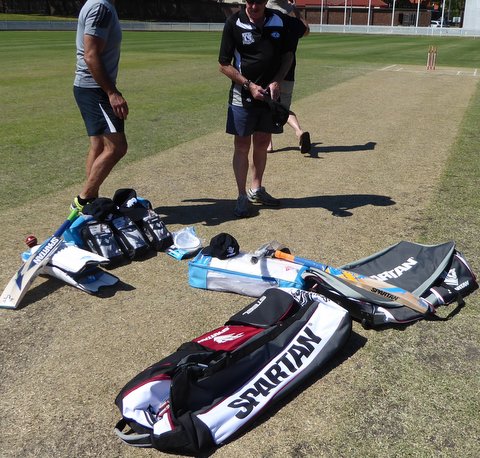 All the cricket gear was donated by Spartan. Well over a grand worth of brand new cricket gear.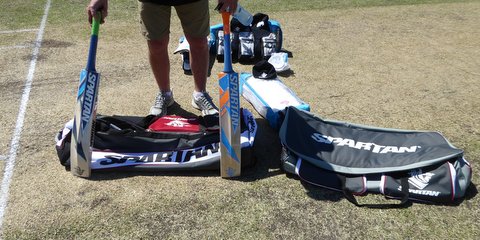 Thank you Spartan and Norman Kochannek for bring it along.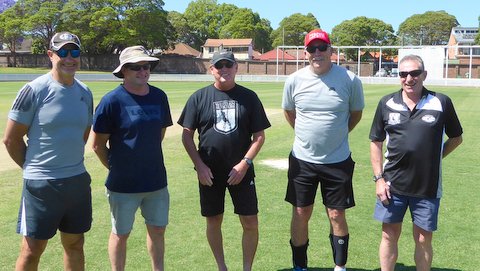 Alan Fallah, Terry Donnellan, Nathan Cole, Capt Mick Liubinskas and Wayne Bennett.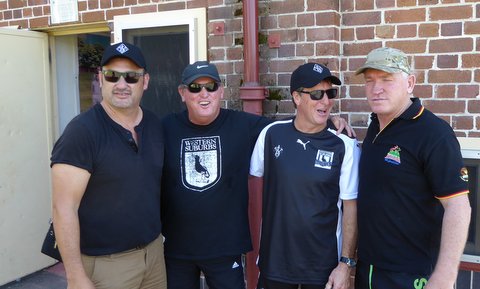 Jason Williams, Nathan Cole, Trev Cogger and Capt Gary Jack.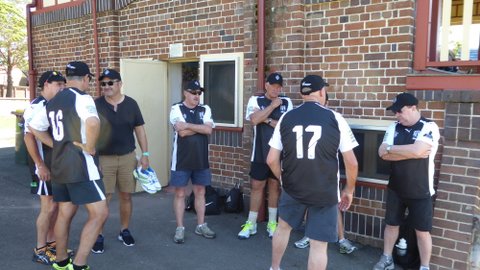 The Wests team getting ready for the game.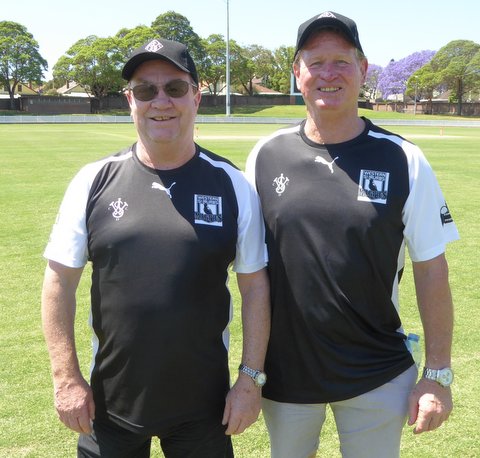 Alan Neil and Mick Pinkerton.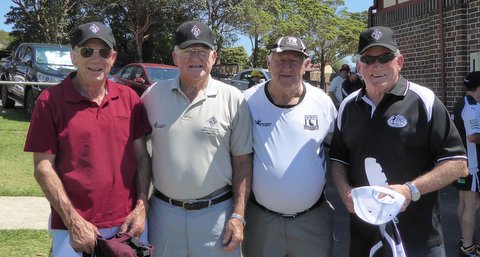 Wests coaching staff arrive from the Northern Peninsula of Sydney.
Tim Murphy, Noel Kelly Head Coach, ???, Barry Glasgow.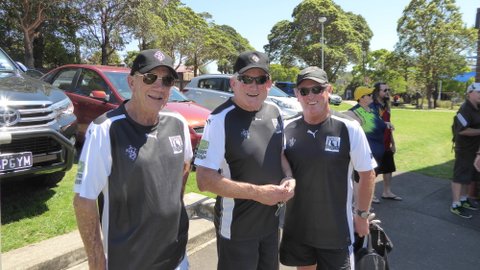 A quick change into their Wests cricket strip.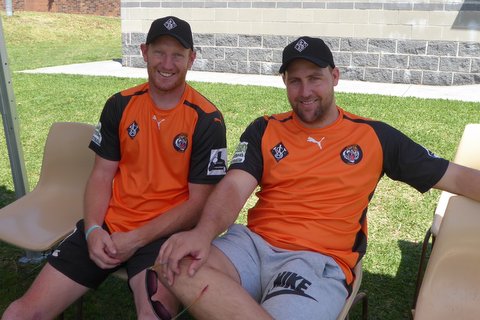 Two of the Balmain boys Matt Ryan and Jarrod Farlowe seem not at all worried about what is about to happen.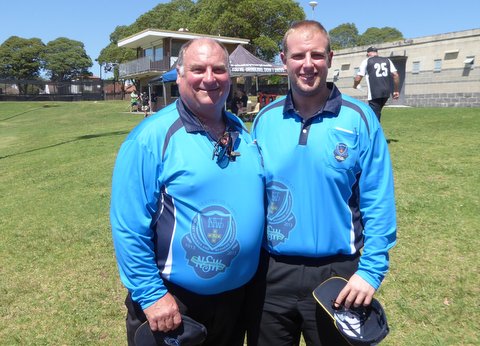 Steve Starks and his son Michael were the umpires for both games and they donated their fees to VOTSA.
Thanks gents.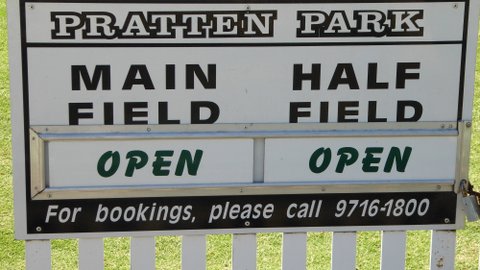 The sign says it all.
Game on.
Below official Team photos.

Note: Chap with the hat far left….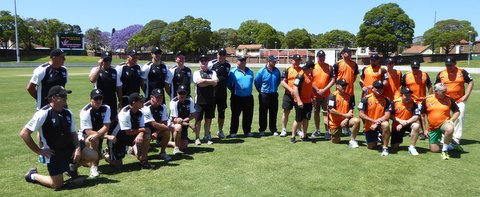 The day was a little warm but the Wests and Balmain boys were up to the challenge.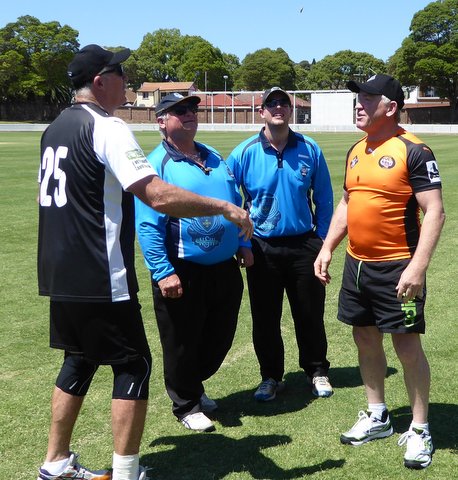 The official toss.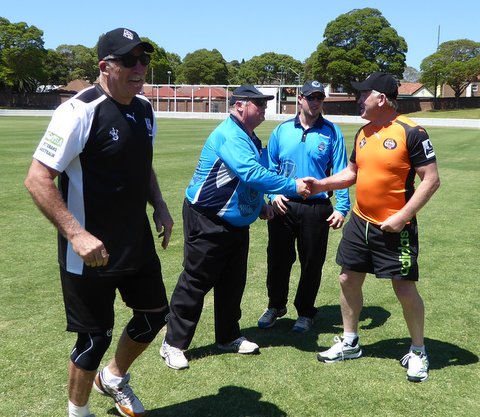 Wests win Capt Mick Liubinskas send Balmain in. Great move Mick !!!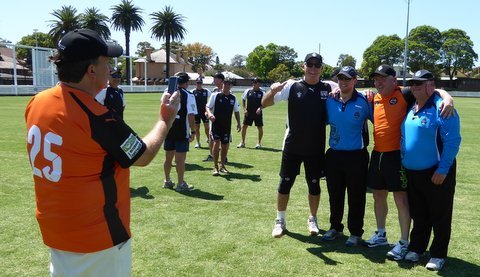 Norman Kochanner photographer extraordinaire……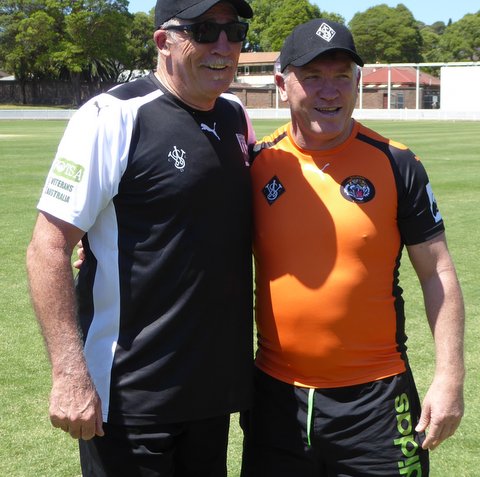 Capt Liubinskas and Capt Jack.
Note: both of these Captains could of played for either team.
Mick played for Wests R.L. 1974 – 78 then Balmain 1979. Garry played at Wests 1981 then Balmain 1982 – 1995.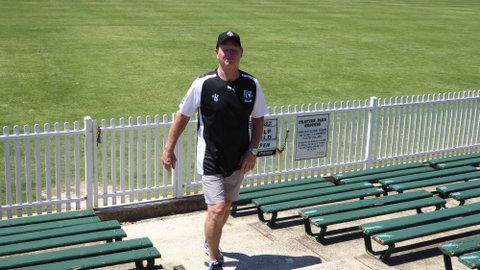 One of the first of many causalities Mick Pinkerton . Very badly torn hamstring.
 At last the first drinks break after 10 overs….actually it was after 9 overs. I think the umps needed a break from calling No Balls.
After drinks it was more splendid fielding and bowling from Wests.  Only 10 overs to Go.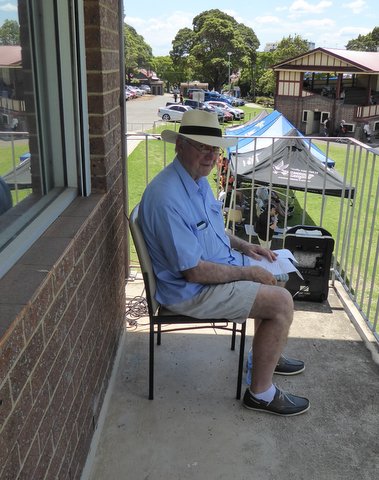 Ground announcer Rick Wayde.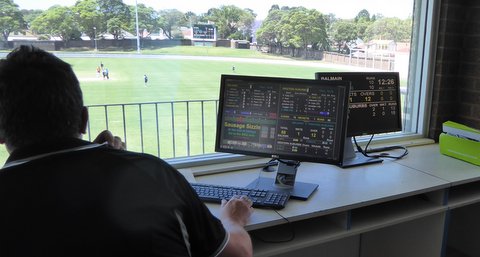 The official scorers view of the match.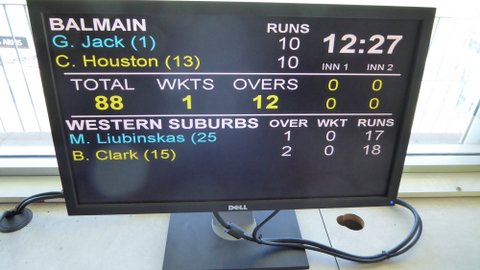 Its not looking to good…….for Wests.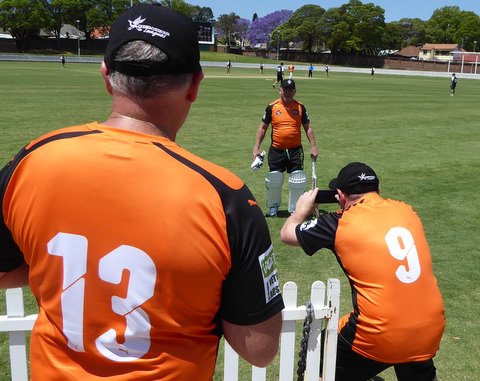 Capt Jack receives a hero's welcome from his team mates.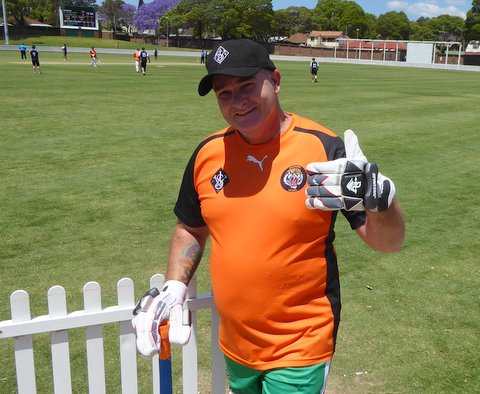 Winners are grinners…and Wests have yet to bat.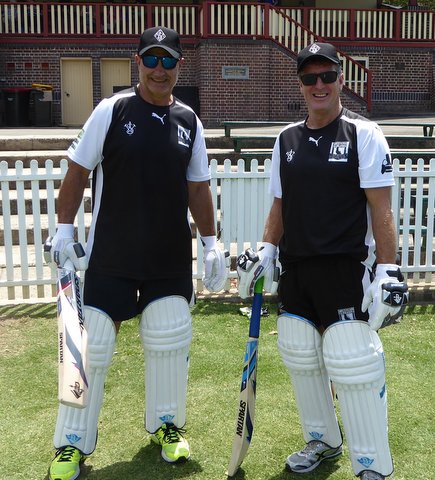 Wests openers Alan Fallah and Trevor Cogger.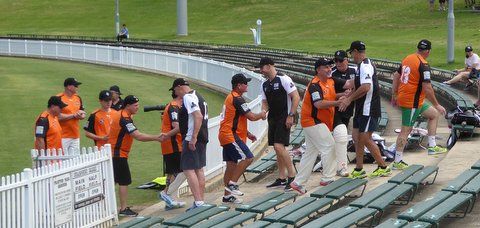 Wests and Balmain players shake hands after a interesting game of 20 20 cricket.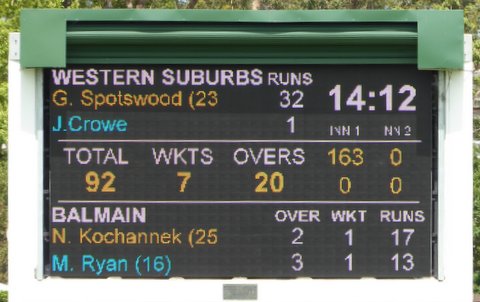 The Scoreboard never lies (except maybe the clock on the Lidcombe Oval scoreboard)
Balmain after 20 overs 163 Wests after 20 overs 92.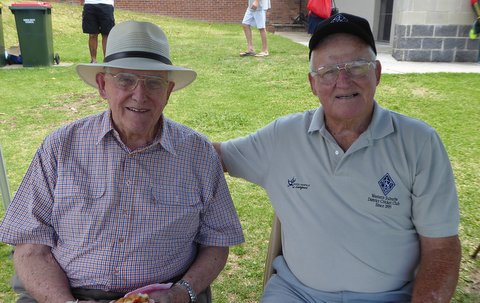 Alan Davidson and Non playing coach Noel Kelly.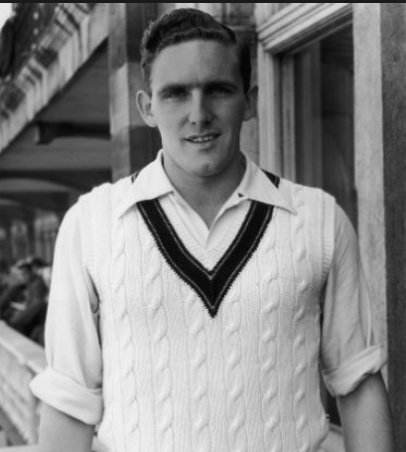 Davo in his playing days.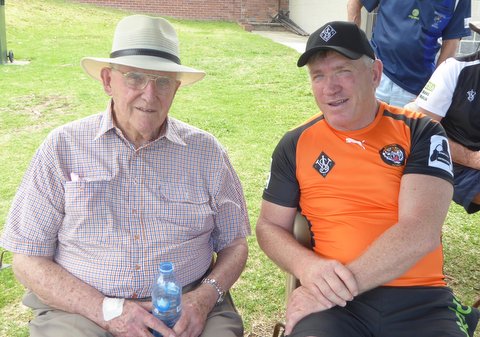 Alan Davidson with winning Captain Garry Jack.
Alan was heard to say "Rugby league was the winner today…..
 Unfortunately all good games come to an end …..and this one as well.
*               *
Now it was time for the BIG BATTLE of the SMASHERS Game.
A few of the Stars started to arrive early at Pratten Park….maybe to get a few ideas from the Wests v Balmain game ???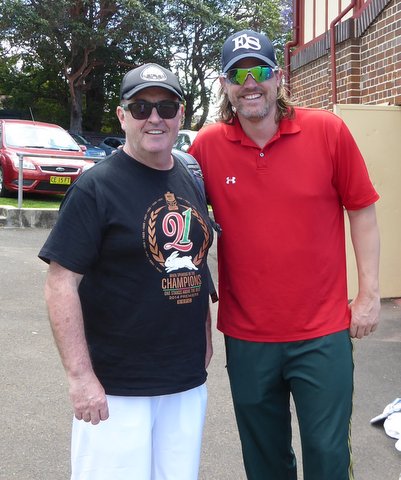 Left Chris Smith from radio station 2GB and Captain of the Australian side Nathan Bracken.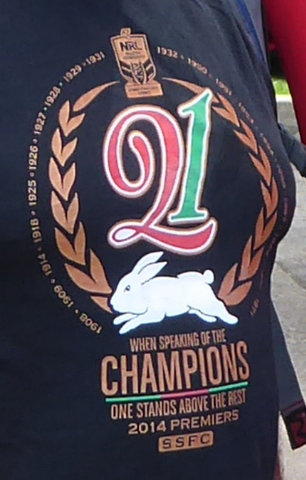 Close up of Chris Smiths T shirt.  Wests and Souths have played many Rugby League games at Pratten Park since 1912.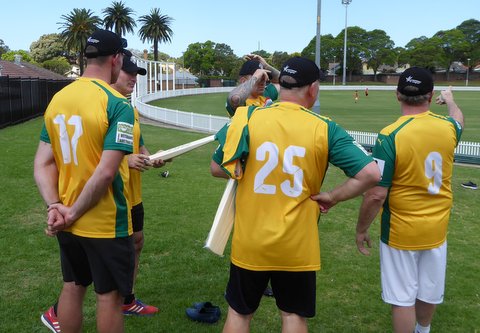 The Australian team checking out Pratten Park and signing cricket bats.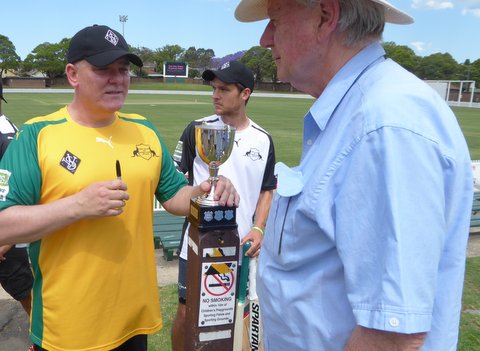 Daniel Lane and Rick Wayde.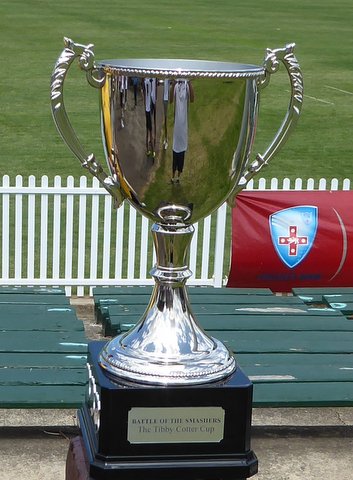 The Tibby Cotter Cup.
Who is Tibby Cotter I hear you ask??? Well please read on….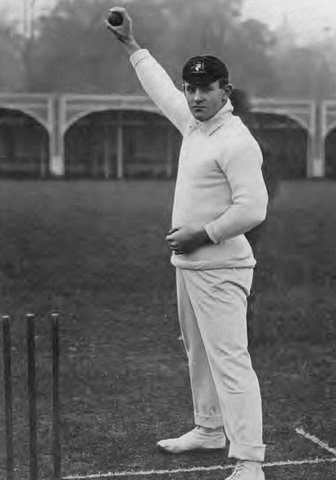 Albert Tibby Cotter.
Tibby Cotter
Trooper Albert Cotter (1883–1917)
Albert Cotter established his cricketing ability at school in Sydney and by 18 was playing for New South Wales. When he was 20 he was selected to bowl for Australia. In a nine-year international career he played in 21 Tests, taking 89 wickets for an average of 28.64 runs.
Cotter's bowling caused outrage in the British newspapers when he first toured England with the Australian Test Team in 1905. A fast bowler with an intimidating style, he faced the grand old man of English cricket, W.G. Grace, in his first match. He bowled a full toss, striking the batsman on the chest. Grace spooned the next ball then walked off in disgust. At one point the England captain demanded that Cotter stop bowling at the body.
Cotter joined the AIF in April 1915, aged 31. The enlistment of a former sporting champion was seen as powerful publicity for the AIF recruiting campaign.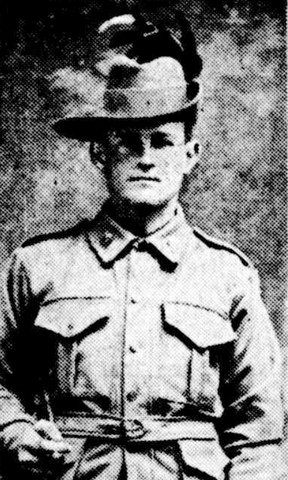 Tibby in the uniform of the Australian Light Horse.
Despite having no great riding ability, he was accepted into the 1st Australian Light Horse Regiment; he took a late part in the Gallipoli campaign. Later he transferred to the 12th Light Horse and was commended for his "fine work under heavy fire" during the second battle of Gaza. The official history remarked: "he behaved in action as a man without fear". He declined promotion.
On 31 October 1917 the 4th Light Horse Brigade, of which the 12th Regiment was part, captured Beersheba by a brilliant cavalry-style charge. Cotter was there as a stretcher-bearer. At the end of the charge, as troops dismounted to engage the enemy, a Turk shot Cotter dead at close range.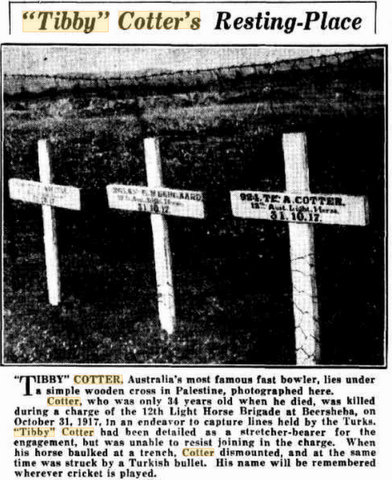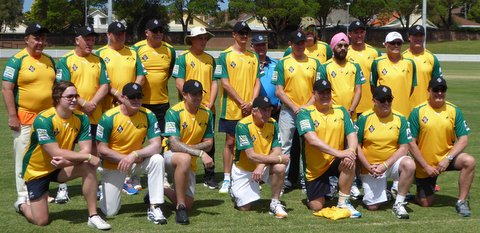 Aussie Team.
Kiwi Team.

Both Teams.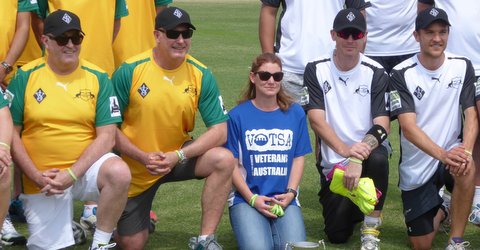 Brooke Ellis, Director and Company Secretary of VOTSA.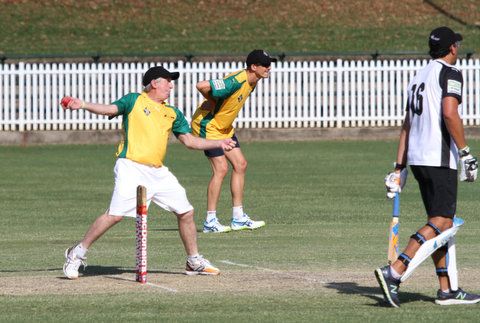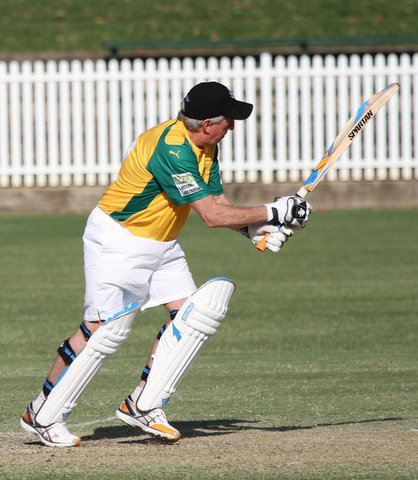 Steve Mortimer in action. Bat and Ball.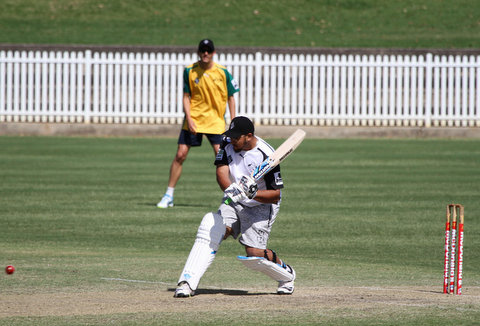 ???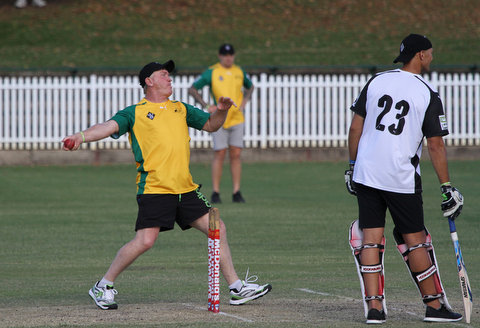 Garry Jack bowls the last over before drinks.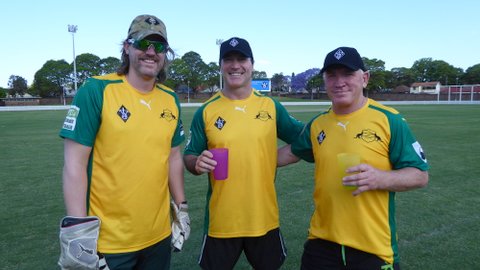 Nathan Bracken, Bradly Clyde and Garry Jack during the drinks break.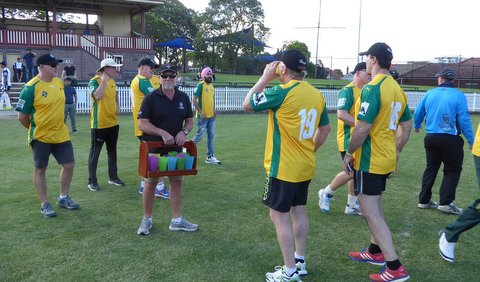 Mark Norris (with drinks) still going strong.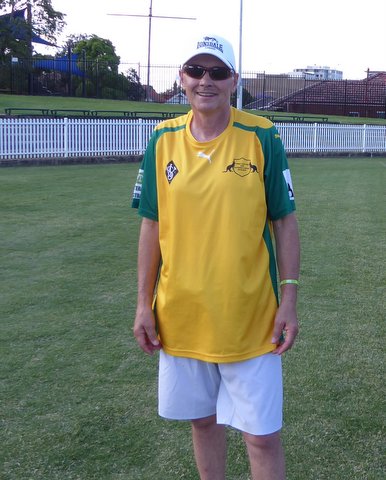 Hall of Fame boxer Troy Walters. Also a very good cricketer.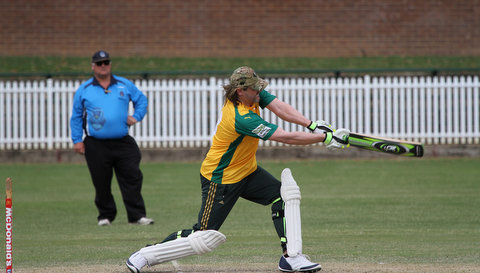 Nathan Bracken.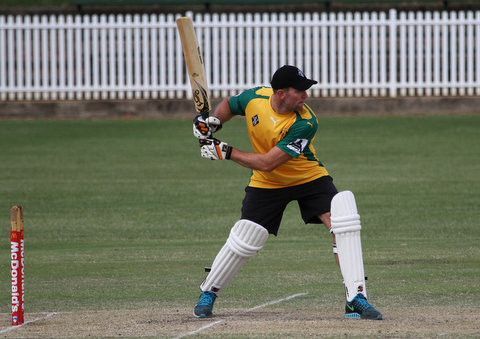 Pat Richards.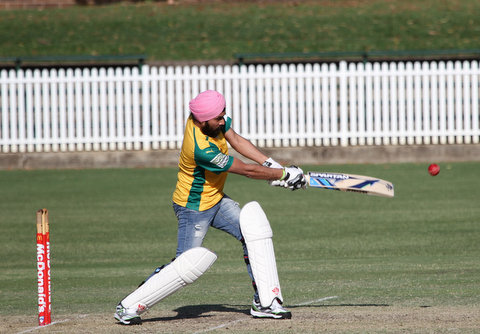 ???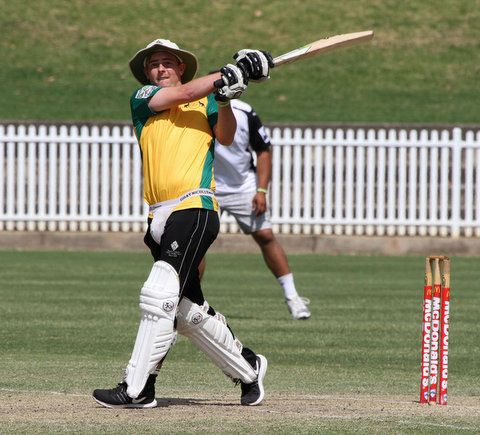 ??? Big Hit into the crowd.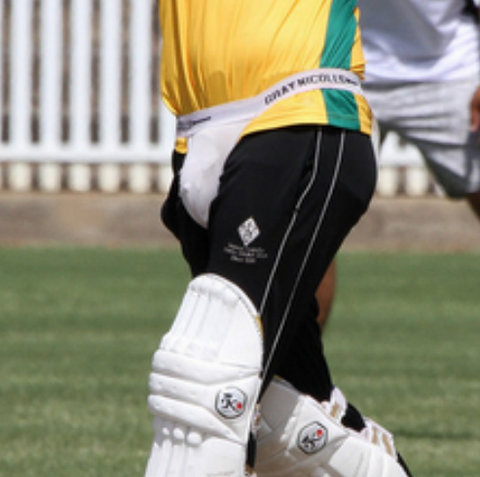 Maybe a first for Pratten Park ???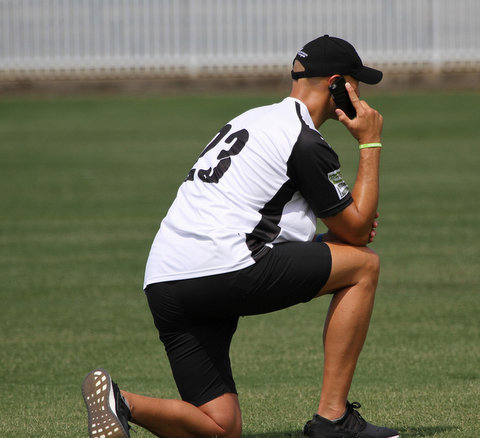 ??? ringing up Fox Sports with the news.
During the afternoon Brooke Ellis from VOTSA was every where collecting monies for VOTSA.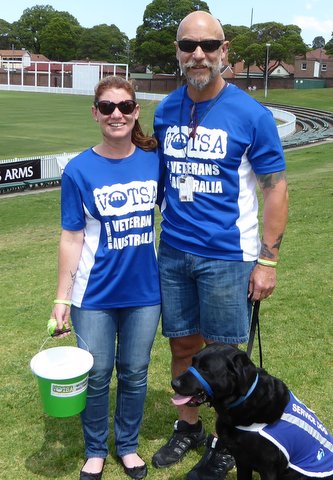 VOTSA volunteers, Brooke, Ken and his Service Dog. 
If you would like to donate to this wonderful charity please click onto the link below.
*
The Aussies beat New Zealand to win the Tibby Cotter Cup .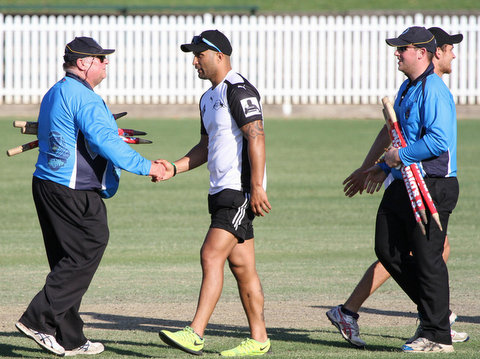 The end of a very long day for Umps Steve and Michael Starks.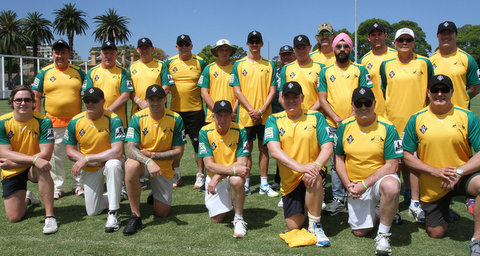 The victorious Aussie Team.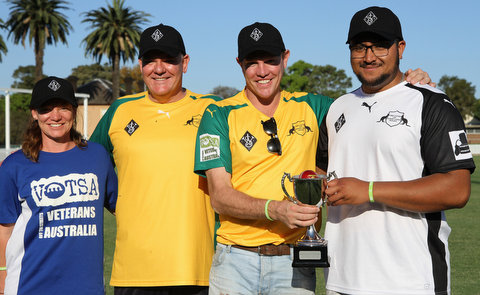 Brooke Ellis, Daniel Lane, ??? and ???.
Australia is now the official 2017 Tibby Cotter Cup holders.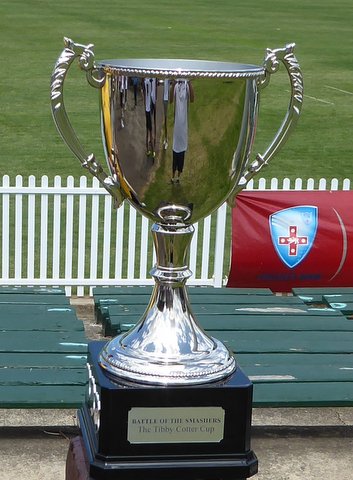 Thanks to all the sponsors who made a $5000 donation to VOTSA.
Hope to see you next year.
Note: Thanks to Peter Cheug for the use of his photos. Also Peter makes a great coffee!!!