Stan Mildwater our oldest player turns 100.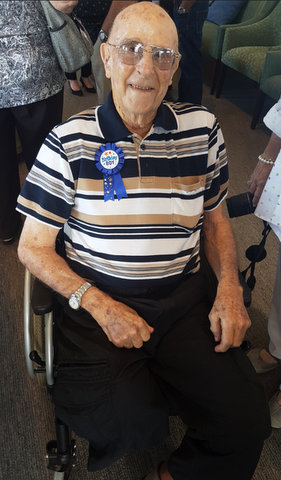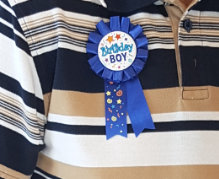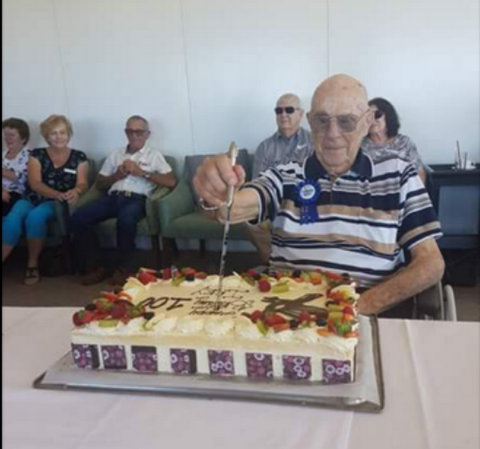 It was a great day at Breakfast Point attended by a big big family and lots of friends .
Stan was in fine form , and still sharp as a tack , he loves a glass of wine.
Mike Bailey delivered a great speech on behalf of Wests . See below.



It's truly an honour to be here today and to have an opportunity to salute Stan  or "Ikey" – on this very important occasion.
 With me are two men who, like him, are former players with Wests Magpies: the Chairman of that football club, Mick Liubinskas, and Carl Ross, and I am Mike Bailey, the Chairman of Wests Ashfield Leagues Club.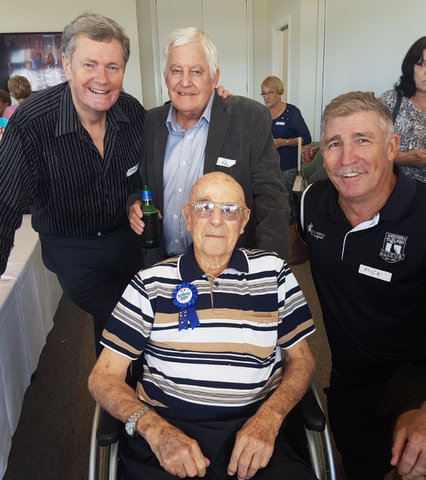 Mike Bailey, Carl Ross, Ikey and Mick Liubinskas.
We are delighted to be joining with so many members of his family and his friends for this gathering, which has been 100 years in the making.
It's also great to see our Magpie logo adorning what looks like a delicious cake decorated with fruit and sitting on the central table.
We are here to celebrate and also to thank Stan for the very positive and continuing support which he has shown to the Magpies.
Looking back through pictures of our recent reunions, it's been great to see him there through birthdays like his 95th, 96th, 97th and so on – and we trust that we will have him with us again for this year's gathering in July.
His persistence in coming, despite the problems that we all face as we are getting older is a testimony to a very special spirit that is so strong within Stan.
 In fact, I recall the words of an old friend of mine who became a great friend after I met at Disneyland on an overseas trip in 1974.
She was 66 and I was 24 at the time, but as the years passed I would call her as she passed birthdays like her 80th and 85th and so on and she would say: "I'm glad I made it but getting old is not for sissies".
 Advancing years have shown me that she knew what she was talking about – but those years have not diminished the enthusiasm within Stan – and that's something which is common to many of our former Magpie players and to those who have supported them.  And it's the reason why our reunions bring together so many people who also are keeping alive that enthusiasm.
 I should express our gratitude to his grandson, Paul who is here today for his great support of his grandfather because he has brought him along each year.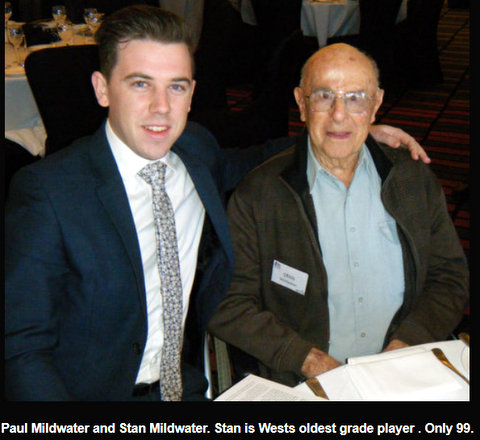 Photo taken at 2016 PPM reunion.
 It can be taxing to do that, but it's good to see that the great spirit of commitment which has been so strongly demonstrated by Stan apparently being passed to others in the family.  Thank you, Paul.
May I say that the word "commitment" is one which no longer seems to be a quality that is as valued or as common was perhaps it was in past years.
For example, people these days don't seem to remain in their jobs for periods as long as they did in the past; many are not committed to their partners for as was the case in years gone by; or to a particular religion – but that commitment is strong in regard to the spirit within Magpie ranks, and especially within the man who we are honouring today.
Stan has shown it through his continuing – his persistent – involvement with the Magpies and his obvious determination to be with us to enjoy reflections on old times, especially his time with the team through the final years of the 1930s when he was part of a premiership winning combination in lower grades.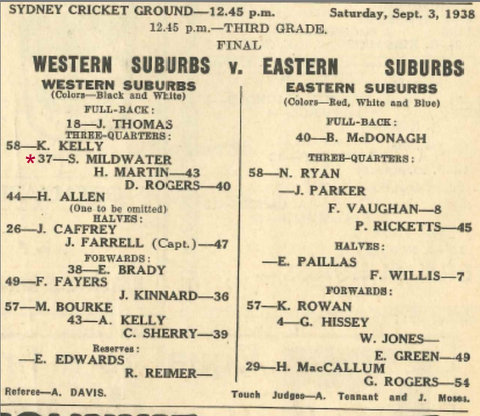 Wests 10 beat Easts 4.
Regardless of grade, a premiership win is much sought after but not achieved by every player.
But, that spirit of commitment is something that's alive in the ranks of the Magpies, who also respect the additional success that Stan was able to achieve with teams in the country at Bathurst and especially at Wellington.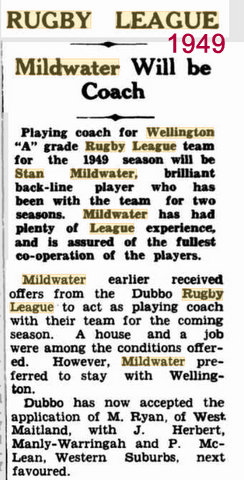 Of course, I must add that many football followers do tend to be people who seem strongly committed, at least to the team that they support.
While maybe some young children can consider changing at times because of deciding that, perhaps, they like the colours of one team more than another, the passion is entrenched in older years as it is for us.
Our colours are black and white, and we are proud Magpies – and very pleased to be able to salute Stan for his past efforts on the field as much as for the fact that he is still with us, and is able to join us in our own celebrations.
My wife has often said that one of the most important attributes in life is one that is related to that spirit of commitment.
She says that to be there – to just simply keep turning up – is most important, and women tend to analyse these things better than blokes like me.
Stan does that – he turns up and remains committed to our ranks.
I am sure that all of us here today want him to keep on doing that – especially at the gatherings for our beloved Magpies.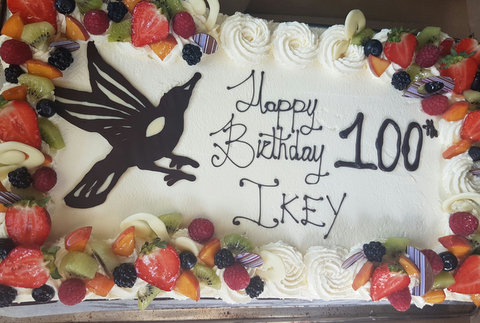 100 years in the baking.
*
Wests Annual Reports from the Wests Archives show that Ikey played for Wests between 1938 and 1940.
1938   Ikey played 1 game in Reserve Grade and 14 games and scored 3 tries in Third Grade including the 1938 Final.
1939  Ikey played 6 games in Reserve Grade and 2 Third Grade games scoring 1 try.
1940  Ikey played 7 Reserve Grade games and kicked 7 goals and 1 Third Grade game.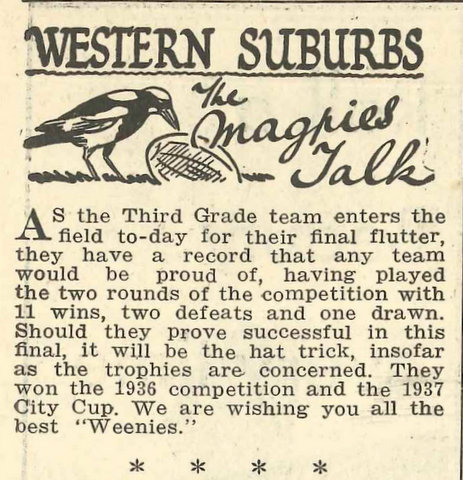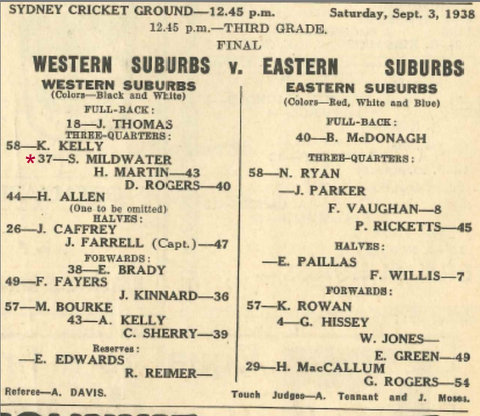 Wests 10 beat Easts 4.
A big thank you to Rick Wayde from Wests Archives for the above images and information about Ikey Mildwater.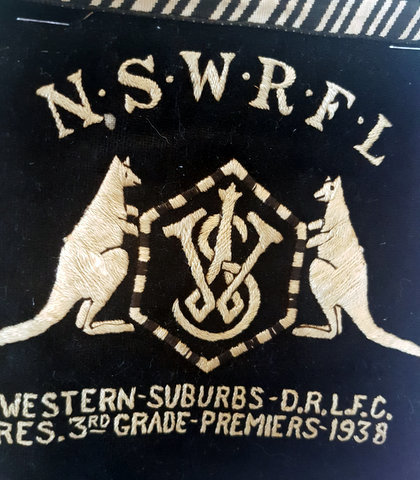 Ikey's blazer patch from 1938.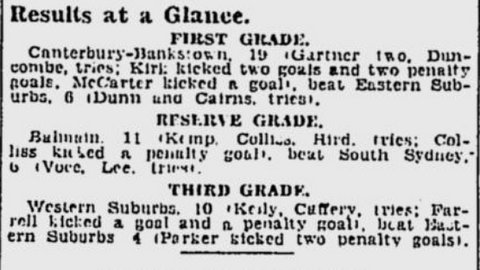 Results for the 1938 Rugby League season.
Taken from the 1938 SMH.
To Ikey from all of us at the Pratten Park Magpies congratulations and we look forward to seeing you at the 2017 PPM reunion.
Which is being held on
Saturday 22nd of July 2017.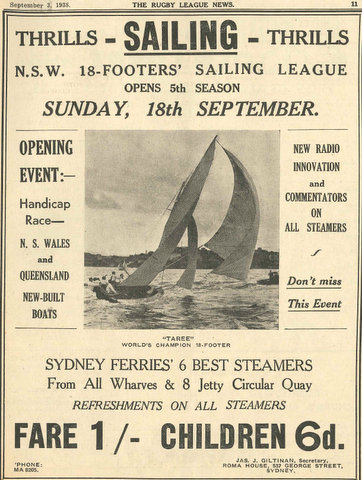 18 Footers Sailing on Sydney Harbour was HUGE in 1938 when Ikey was only 21.