Vale Trevor Reardon.
12th October 1954 – 8th March 2017.
Sadly after a long fight against cancer Trev lost his toughest battle on Wednesday the 8th of March 2017.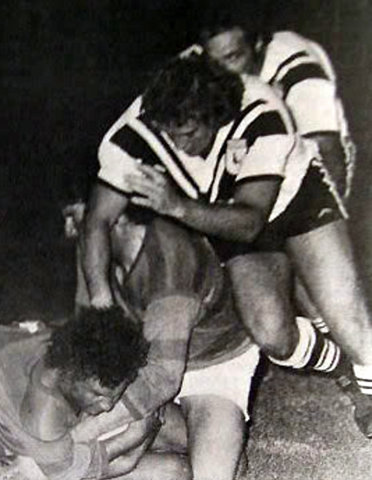 Trevor in action playing for Wests in 1975.


Trevor Reardon played for Wests in First Grade in 1975 then 1978-79.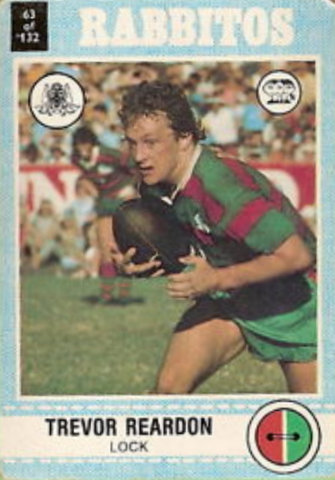 Trevor also played two years at Souths Sydney 1976-1977.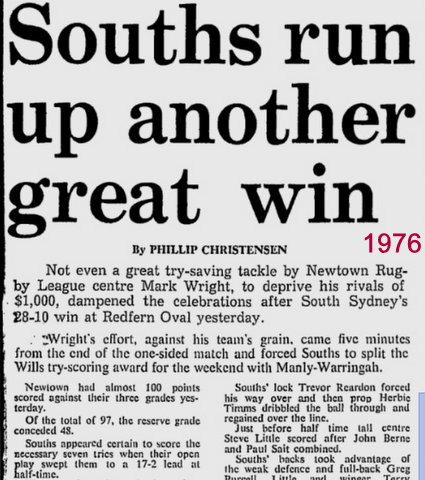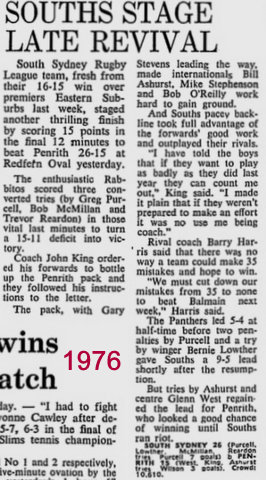 A couple of newspaper stories about Trevor scoring tries for Souths.
Below is a little section of Trevor's Rugby League times courtesy of Rick Wayde..
TREVOR REARDON
TREVOR REARDON WAS A 'BERALA BEAR', RISING THROUGH THE JUNIORS TO PLAY JERSEY FLEGG AT WESTERN SUBURBS IN 1972, WITH THE LIKES OF RON GITEAU, JIM MYERS, MICK LIUBINSKAS, STEVE RIGNEY AND STEVE MACKENZIE [WHO WENT ON TO PLAY AT WOY WOY AND PARRAMATTA].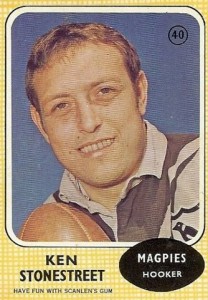 THEY ALL MOVED-ON TO WESTS UNDER 23'S IN 1973, TO BE COACHED BY KEN 'NEBO' STONESTREET.
THE 'MAGPIE HERITAGE NIGHT' IS ON NEXT FRIDAY, WITH A THEME OF "HOME GROWN"…AND THAT WAS CERTAINLY THE CASE FOR TREVOR AND HIS EARLY 70's TEAMMATES AT THE MAGPIES. PLENTY OF LOCAL TALENT.
BESIDES THOSE ALREADY MENTIONED, TREVOR WAS ALSO COMPETING WITH LOCAL PRODUCTS LIKE STEVE BLYTH, TERRY ROSE, PETER YOUNG, PAT HUNDY AND CO. TO TRY AND CRACK FIRST GRADE….AND PLENTY MORE WHO ARE HERE TODAY: JOHN PURCELL, 'SPIDER' WALSH, GEOFF SMITH…
NOTE: Photo below was taken at the Pratten Park Magpies Reunion in 2015.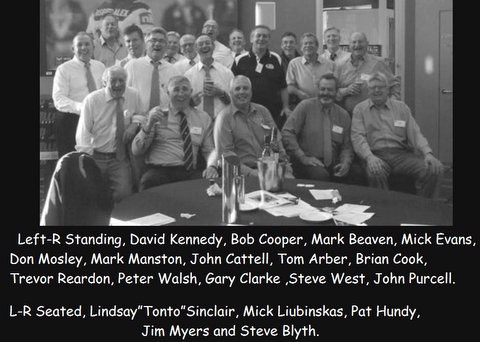 TREV SHOWED HIS VERSATILITY BY EVEN HAVING A SHOT ON THE WING.
"WING COULDN'T BE THAT HARD, COULD IT??"
HE DEBUTED IN FIRST GRADE DURING 1975, IN A SUCCESSFUL MAGPIE TEAM, COACHED BY DON PARISH.
AN OPPORTUNITY PRESENTED ITSELF AT SOUTH SYDNEY…AND TREVOR TOOK IT, PLAYING IN 39 FIRST GRADE GAMES THERE DURING 1976 AND 1977.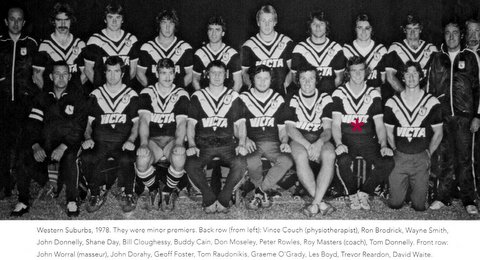 TREVOR RETURNED TO WESTS IN 1978 AND MADE 12 FIRST GRADE APPEARANCES IN ROY MASTER'S SIDE THAT WON THE MINOR PREMIERSHIP.
ROY REMEMBERS TREV. AS "A REALLY GOOD BLOKE…AND VERY TOUGH". AS YOU KNOW, TOUGHNESS WAS VERY IMPORTANT TO ROY.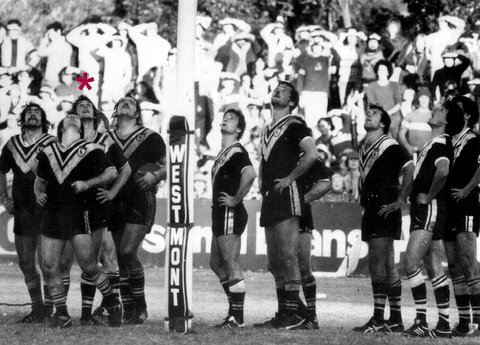 The Famous photo of the Wests players watching Mick Cronin miss the winning goal at Lidcombe.
Trevor is under Red Star.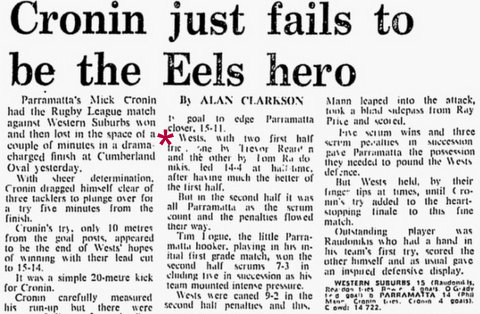 *Trevor scores a winning try.
TREVOR REARDON'S TOUGHNESS WAS NEVER QUESTIONED…
NOR HIS COURAGE, DEMONSTRATED TO THE 'Nth DEGREE' DURING HIS ILLNESS.
TREVOR PLAYED HIS FOOTBALL WITH PLENTY OF SKILL AND I VIVIDLY RECALL HIS COMBINATION WITH PROP BRUCE GIBBS…'SLOTH' IS HERE TODAY. COMING OFF ONE OF SLOTH's PASSES TO BURST INTO THE OPEN.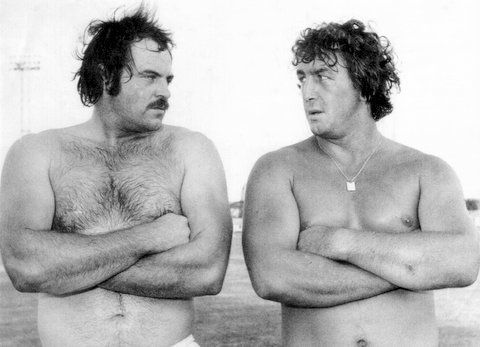 Bruce Gibbs and Dallas.
I WAS PART OF GARY JAEGER's MOB ON THE HILL AT LIDCOMBE [OR ELSEWHERE], WITH ALAN MAIR, MARK NORRIS, JOHN AND BOB HOARE, etc.
CURRENT WESTS' CRICKET PRESIDENT, DAVE GILBERT, WAS A BIG FAN OF TREVOR'S…AND, IN THE PAST COUPLE OF DAYS, DAVE SENT AROUND A 'PHOTO OF TREVOR [PLAYING WITH SOUTHS] CONFRONTING MANLY'S TERRY RANDALL. TREVOR IS EVADING RANDALL'S RIGHT…ONLY FOR IT TO LAND FLUSH ON GEORGE PIGGINS' FACE.
See below.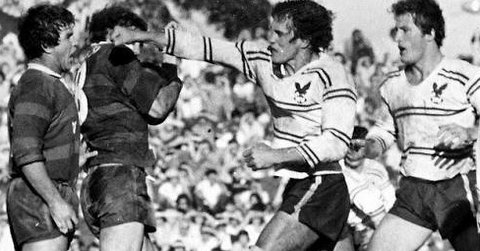 Nice move Trev.
DESPITE THAT, GEORGE PIGGINS tells me, HE ENJOYED PLAYING WITH TREVOR.
DARRELL BAMPTON WAS IN WOLLONGONG WHEN TREV. PLAYED AT SOUTHS, BUT CAUGHT UP WITH HIM THROUGH MUTUAL FRIEND, SHANE DAY. 'NO. 9' [AS DARRELL CALLS HIMSELF] HAS FOND MEMORIES OF TREVOR AND ASKED ME TO PASS ON HIS BEST WISHES TO JILL, FAMILY AND EVERYONE HERE TODAY.
ANOTHER RABBITOH TEAMMATE, GARY WRIGHT, RECALLED [IN ANOTHER EXAMPLE OF HOW TREVOR WAS 'FEARLESS'] THAT TREV. ONCE TOLD HARRY EDEN THAT,  "HARRY HAD A MILLION DOLLAR BODY….BUT….A '2 CENTS' HEAD" ….. FORTUNATELY FOR TREV., EDEN HAD A BEER IN EACH HAND [AT THE TIME]….AND SIMPLY WALKED AWAY.
KEN STEWART RECALLED THAT, AFTER A FEW BEERS AT SOUTHS, TREVOR WOULD LAUNCH INTO :
"HEY NOW, YOU BETTER LISTEN TO ME, EVERYONE OF YOU…." AND THE SOUTHS PLAYERS WOULD RESPOND:       "hunnnhhh"                      [THE START OF ROY ORBISON's 'WORKING FOR THE MAN']
'JOE COOL' [JOHN DORAHY] ALSO SAID IT HAPPENED AT WESTS.
ON THE SUBJECT OF DRINKING, APPARENTLY TREVOR's DAD [RAY] WOULD DROP INTO THE RAILWAY HOTEL AT LIDCOMBE, CALLING OUT "TREVOR" IN A TONE THAT IMPLIED THAT RAY WAS ONLY CALLING BY TO COLLECT HIM….BUT OFTEN, THEY WERE BOTH THERE TILL STUMPS.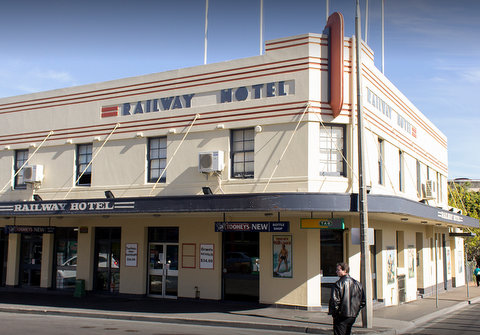 TREVOR DIDN'T PUT AS MANY HOURS IN AT 'THE RAILWAY' AS SOME…A QUIET TYPE OF GUY HE WAS HAPPY TO BE HOME WITH THE FAMILY.
AS FAR AS NICKNAMES GO……..ORIGINALLY, TREVOR WAS CALLED 'WIMPY' [AFTER THE 'POPEYE' COMIC STRIP CHARACTER]….BECAUSE OF HIS LOVE FOR 'HAMBURGERS'.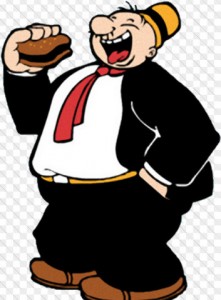 LATER IT BACAME…'FATARSE'….CAN WE SAY THAT HERE???   TOO LATE!!        [THE WALLS ARE STURDY ENOUGH].
THE KING OF THE NICKNAMES, 'DALLAS' [JOHN DONNELLY] GAVE HIM THE NAME AFTER TREVOR TRIED-ON A PAIR OF SHORTS THAT WERE WAY TOO SMALL. THE NAME STUCK…AND TREVOR DIDN'T SEEM TO OBJECT.
OVER THE PAST 3 YEARS, HIS TEAMMATES' RESPECT  WAS OBVIOUS, WITH THE FREQUENT GATHERINGS AT 'THE RAILWAY'…AND THE EQUALLY FAMOUS 'SHEEP DIP INN'……  TREVOR NEVER COMPLAINED ABOUT HIS ILLNESS, HAD PLENTY OF STORIES TO SHARE…AND WAS ALWAYS LAUGHING.
TREVOR REARDON's ON-FIELD QUALITIES WERE REFLECTED WHERE IT REALLY COUNTS…IN REAL LIFE…AN INSPIRATION TO HIS FAMILY…AND HIS MATES.
MICK LIUBINSKAS SUMS IT UP FOR EVERYONE, "HE WAS A HARD NOSED, NO NONSENSE PLAYER; A GREAT TACKLER…AND TOUGH AS ALL HELL. WE ALL LOVED PLAYING WITH HIM AND HE WAS A TEAM MATE TILL THE END".
GOD SPEED, TREVOR REARDON
Trev was also part of the The Fibros Vs the Silver Tails  era.
The Famous Battle of Lidcombe Oval 1978 style.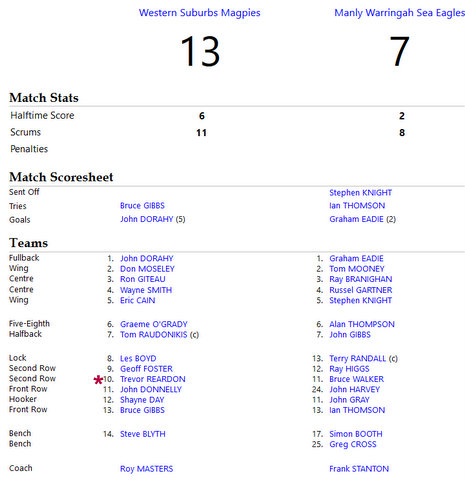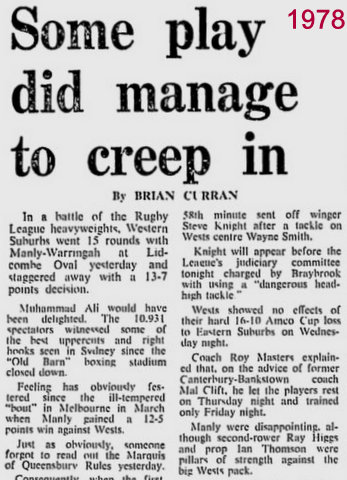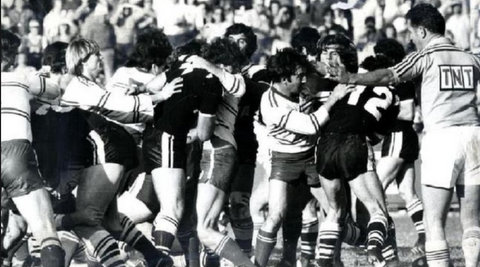 I know Fatarse is in there somewhere.
Vale Trevor Reardon you will be missed.