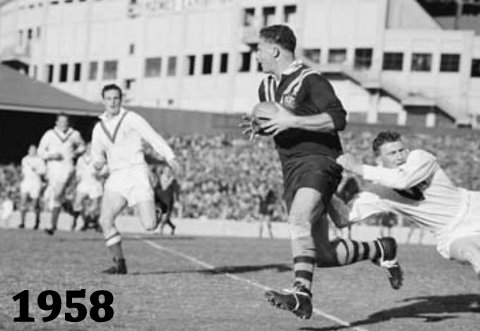 Harry Wells in full flight playing against the Poms at the SCG in 1958.
I had the great pleasure and honor to talk to Harry Wells at Port Macquarie Bowling Club in early 2017 about his long Rugby League career and how it shaped his very interesting life.
A little bit about Harry's name change….it should of been Harry Wills but this is what happened….
           Born Harry Wills, Harry came from a family of boxers.
Both his father and grandfather fought under the same name 'Dealer' Wills and Harry displayed many of the skills from the ring in his career as a centre.
"I was born Harry Wills – I played all my junior football until I was 18 as Harry Wills,"
"My grandfather went to Melbourne to fight for a championships and he was going under the name of 'Dealer Wills' and he won the title and the Melbourne paper came out with the headline 'Dealer Wells wins the title' – they made a mistake."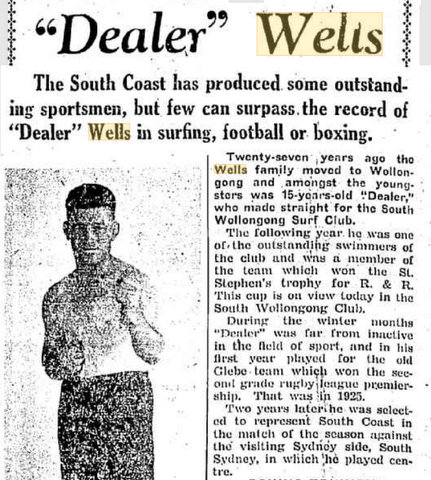 Harry's dad was a very good boxer he fought Ron Richards at Brisbane Stadium in May of 1933.
Note: after 15 rounds the points went to a very lucky Ron Richards.
Ron Richards wrote in his book that Dealer Wells was the only boxer he would not fight again.
To quote Richards "the harder I hit Dealer the harder he hit me back"
Harry told me that his dad (Harry) fought five x 15 round fights in one week. Which is still a record. One pound per round.
Ron Richards.
"My Grandfather just let it go and didn't correct it and he finished up ending his career as 'Dealer' Wells and my father did the same – he became 'Dealer' Wells.
"I had a talent scout take me to South Sydney at 18 – in 1951 – he knew my father as 'Dealer' Wells, so he introduced me to the club with that name, but I put my name down as Harry Wills for the trials."
"They sent me off to the grandstand to wait until my name was called and after about two or three games I was asked when I was playing.  My recruiter went and asked "when does young Harry Wells play?" And they looked up the names and said there's no Harry Wells… He looked at the book and said you've got his name wrong its Harry Wells not Harry Wills – and from then on that was how it was."
Harry was a very talent footballer as a young lad and toured Queensland in 1946 with the NSW State school boy team. In 1948 Harry's team Wollongong Tech under 17's went thought the season undefeated Harry was vice captain and then in 1949 Harry played under 18's with Wollongong Tech as Captain and once again they won the comp.
In 1950 4 talent scouts from Manly came to Wollongong to look for players and they did not approach Harry at all.
A few years later when Harry was playing for Australia one of the talent scouts said "Harry how did we miss you???"
Harry came to Sydney as a 18 year old to play with South Sydney.
Harry even played in the 1951 Grand Final on the wing against Manly.

1951.
 Harry had a mixed season with Souths one week playing for NSW then back to Reserve Grade with Souths!!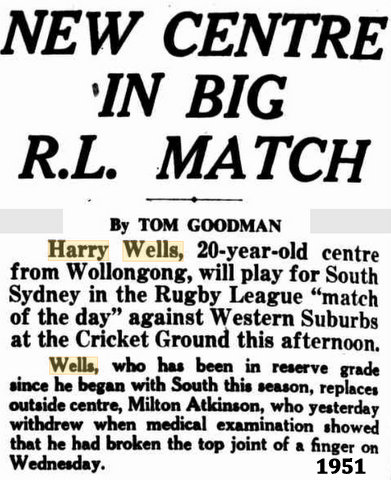 Harry's first First Grade game in Sydney.
Souths 8 beat Wests 6.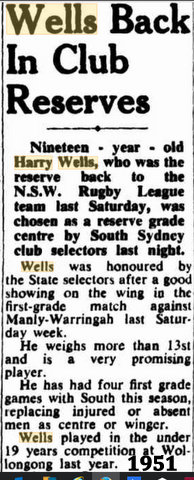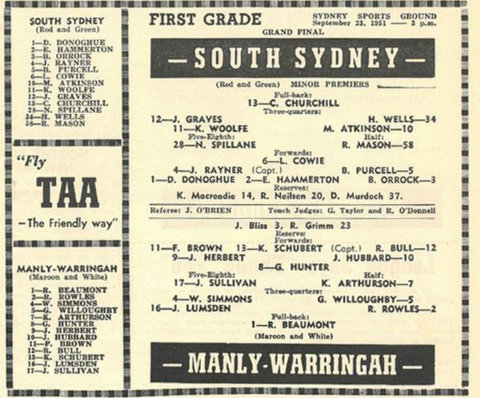 Souths 42 beat Manly 14.
Harry scored a try.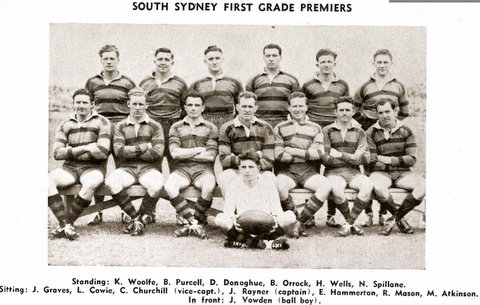 Photo taken just before they ran onto the SCG.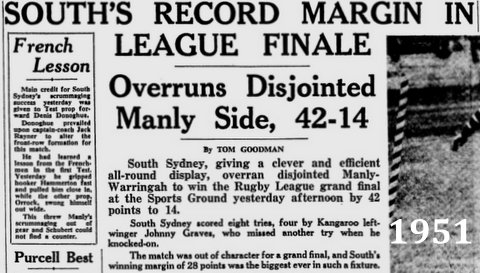 Harry is second from the left middle row. (with the hair)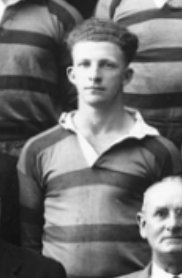 Harry Wells.
Thanks to Brad Ryder, South Sydney's Club Historian for this photo of Harry.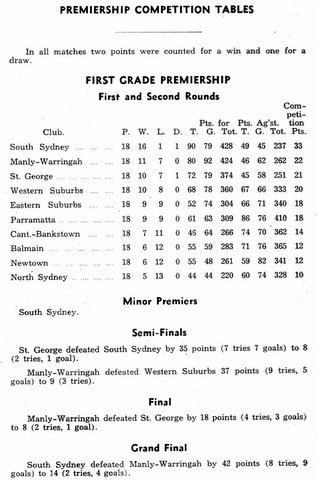 Thanks to Terry Williams at the NRL Museum for this info and Team photo.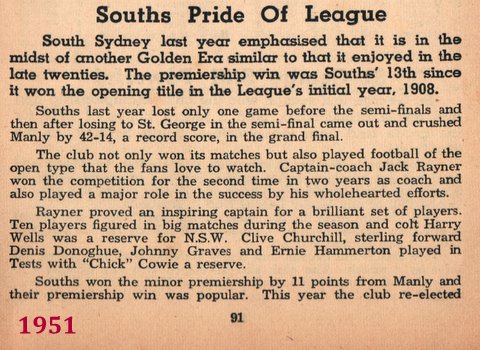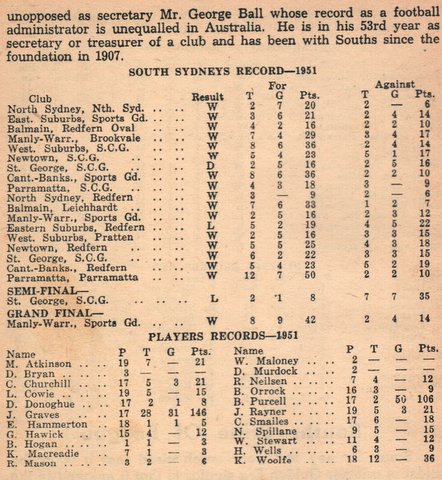 Harry's player number for Souths is 404. 
During the 1951 season (his only year at Souths) Harry played 6 First Grade games scoring 3 tries
and 10 Reserve Grade games scoring 3 tries and 1 goal.
Thanks to Souths Historian Brad Ryder for this info.

1952.
At the start of 1952 Harry returns to play with Souths but before the season starts he is told that his chances of playing in First Grade are very slim and that it would be hard for him to be picked for rep football from there.
Taking the tip Harry returns to Wollongong and as they say the rest is history.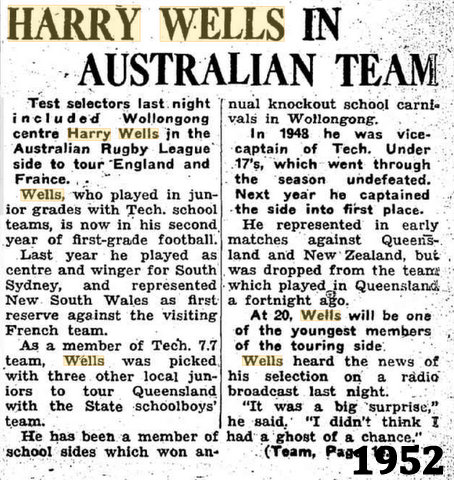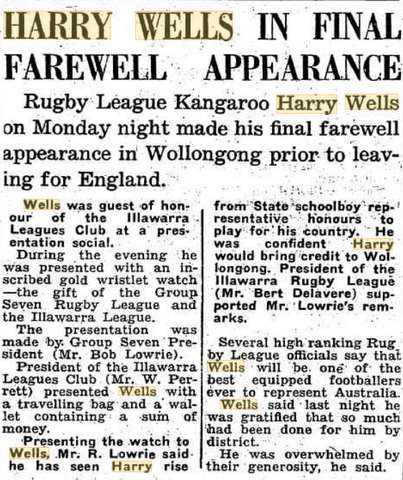 In 1952 the Kangaroos sailed by boat to England and were away for 8 months. Australia played 40 games on that 1952/53 tour.

Harry was not a good sailor and lost a lot of weight during the voyage.
3 Stone going over and 3 Stone coming back.

Harry played his first Test match for Australia against Great Britain on the 4th Oct 1952 unfortunately Australia lost 19 – 6.
Then onto France where Harry played his first Test against France on January the 11th 1953. Score France 5 Australia 0.
1953.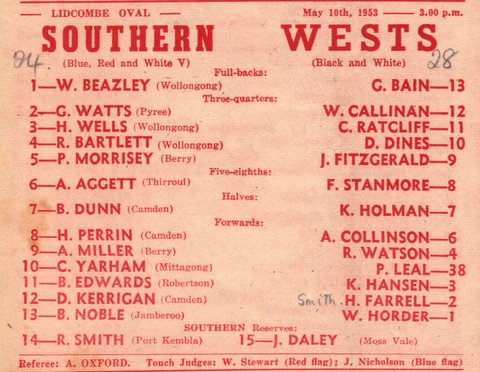 Long before Harry signed for Wests he played this game at Lidcombe Oval.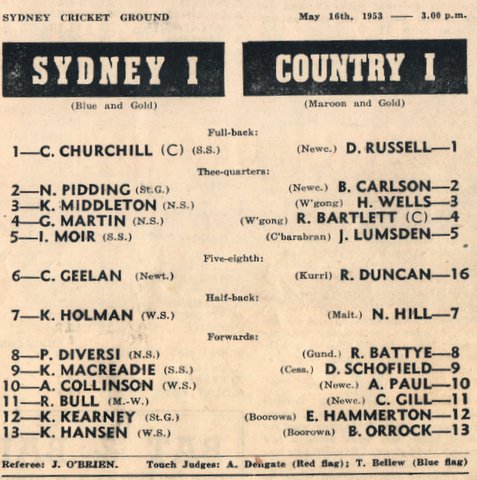 A week later Harry is playing for Country against Sydney.
Score: Country 28 Sydney 27.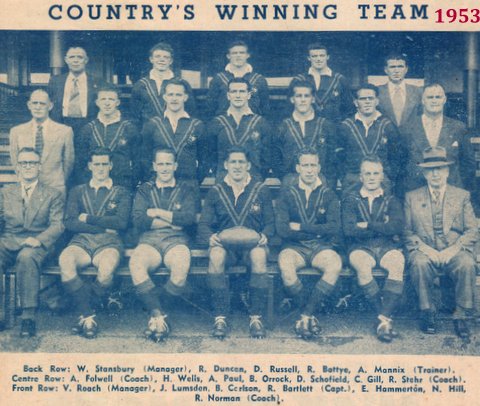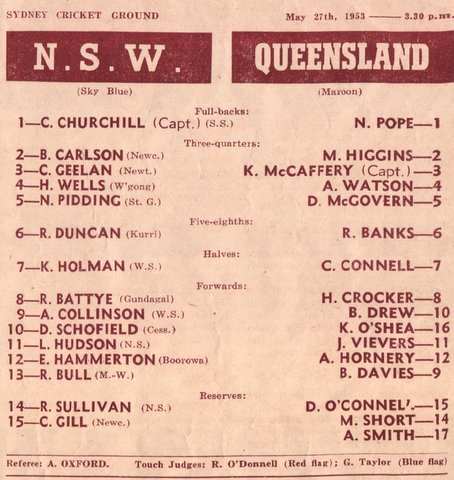 NSW 26 – QLD 15.
Harry played in all 4 games v Queensland the series was 2 games each.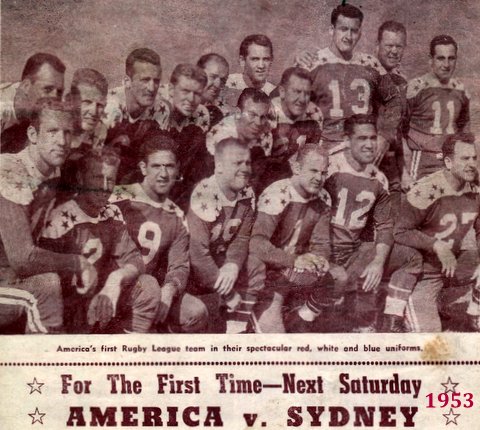 The Yanks are coming……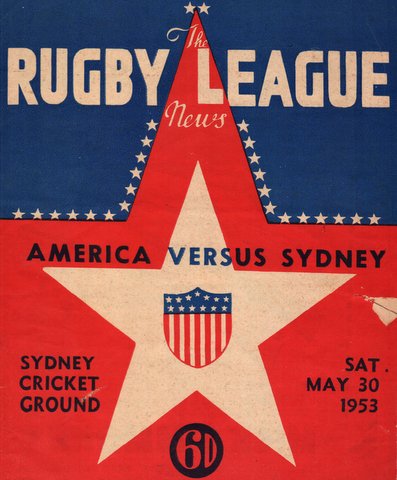 Before a huge crowd of 65,453 Sydney beat USA 52 – 25.
Harry played 3 games against the American All Stars. Twice for NSW and once for a combined Country side.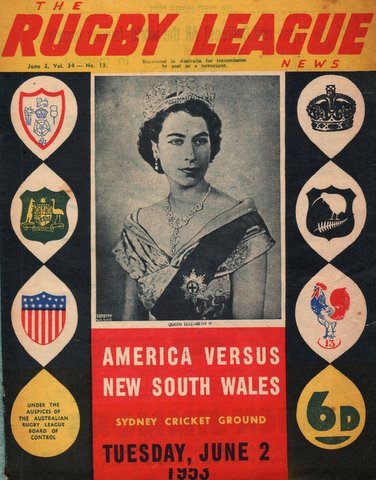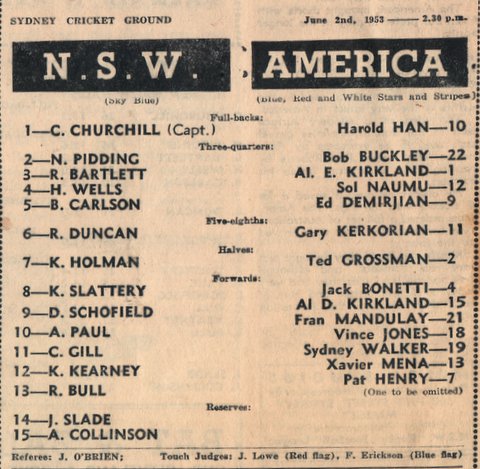 Al.E. Kirkland playing in the number 1 jumper for America also played the 1956 season for Parramatta.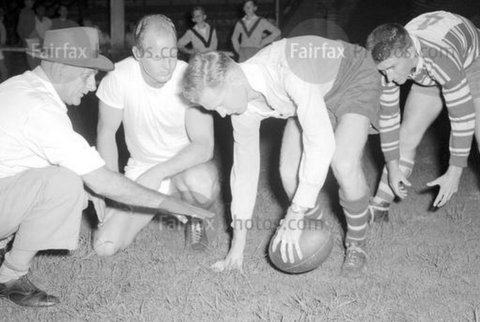 Al Kirkland learning to play the ball 1953.
Final score NSW 62 All Stars 41 before 32,554 spectators.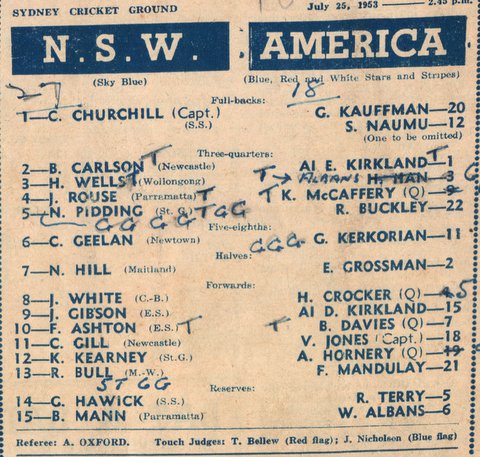 NSW 27 USA 18.
Note: a few ring-ins in USA Team.
At 21 years of age Harry won the South Coast Sports Star of 1953 and the Sporting Life Award 1953.
Also in 1953 Harry toured New Zealand with the Australian team and played in all 3 Tests.
Australia lost the series 2 to 1. Harry scored 2 tries in the last Test. Australia 18 beat NZ 16.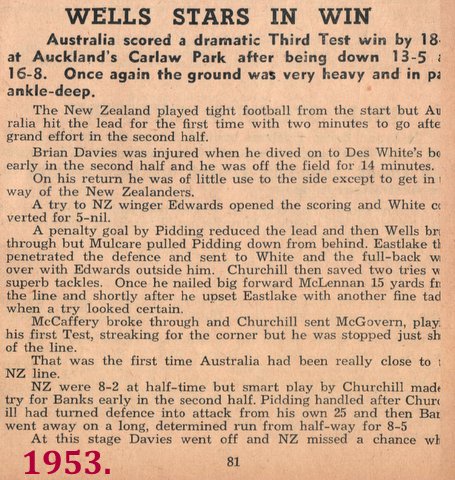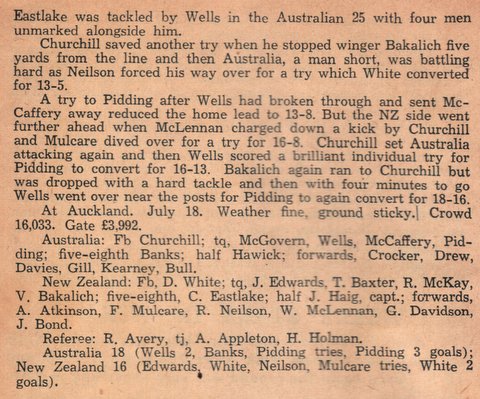 Mean while back in Sydney life goes on. See below.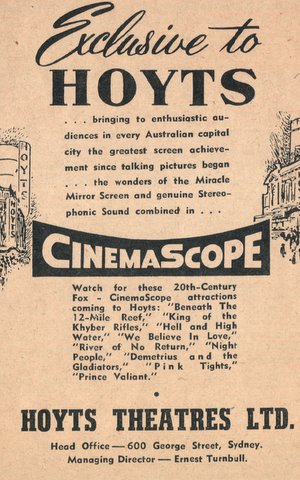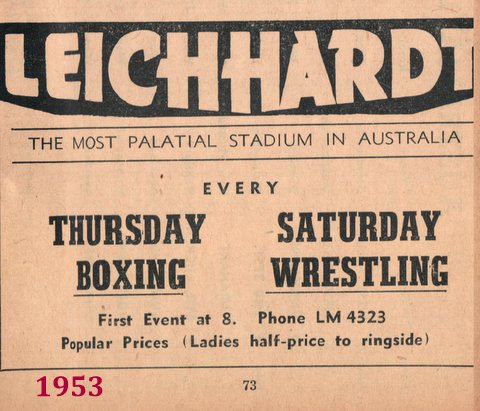 1954.
1954 and Harry is still playing for Wollongong and Country and NSW and Australia 1954 was another big year for Harry.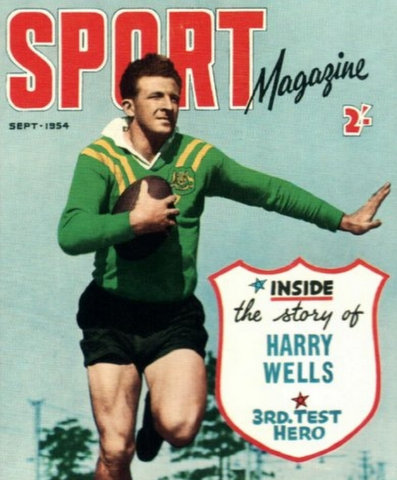 It was not always smooth sailing for Harry.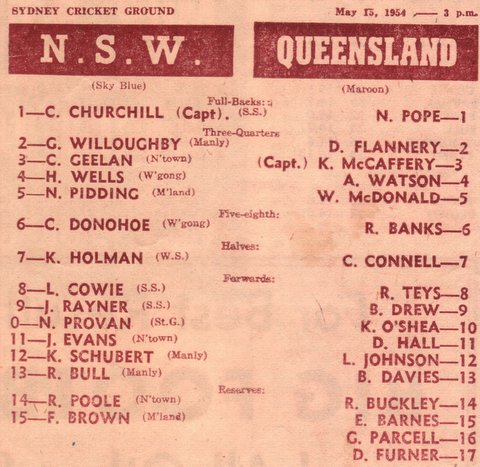 NSW 26 beat Qld 23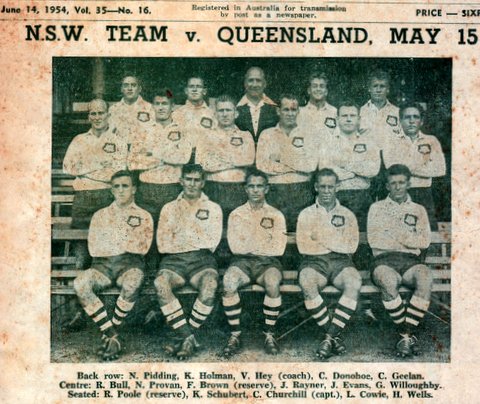 Winning NSW Team.
Harry played in the first 2 games of this 4 game series. NSW beat Qld in all 4 games.
The Great Britain team toured in 1954 with Harry being involved in the Famous abandoned match NSW V GB at the SCG.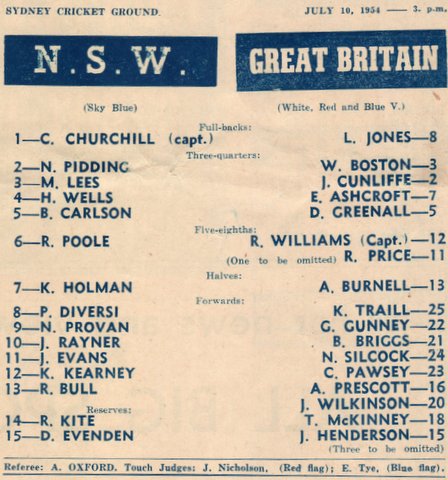 What a game.
I asked Harry how bad was it? "Blood and guts,fists,elbows,stiff arms……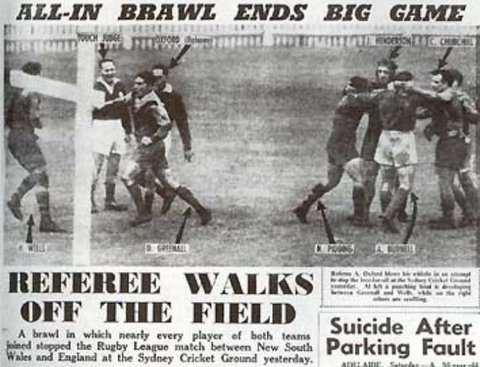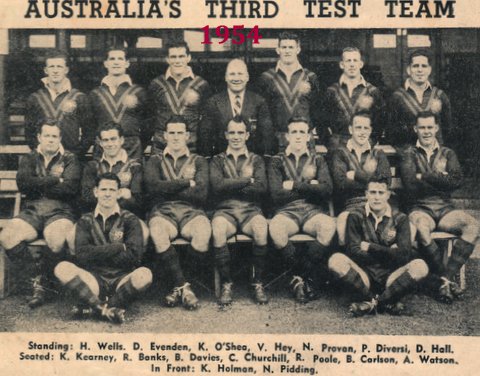 Team photo.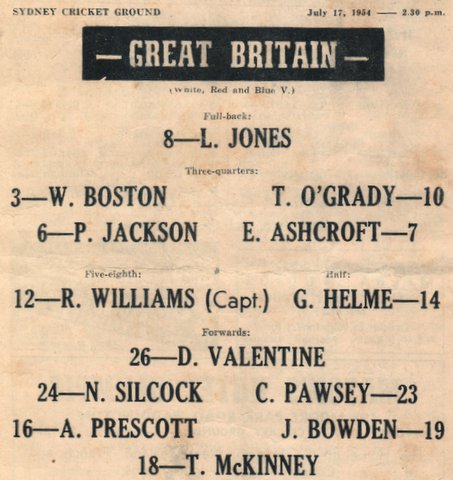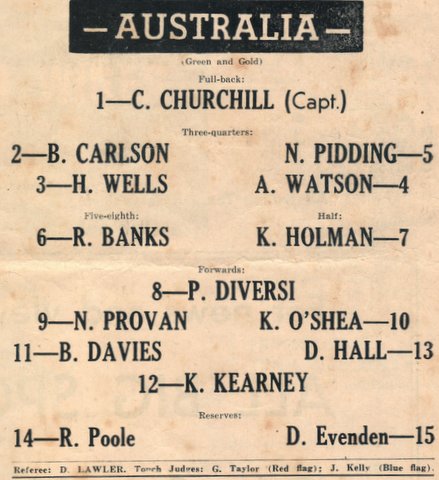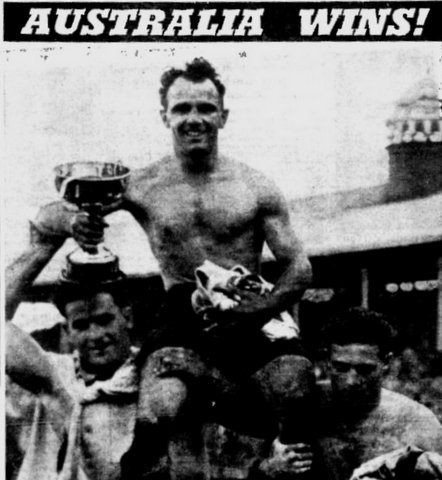 Brian Davies, Clive Churchill and Noel Pidding.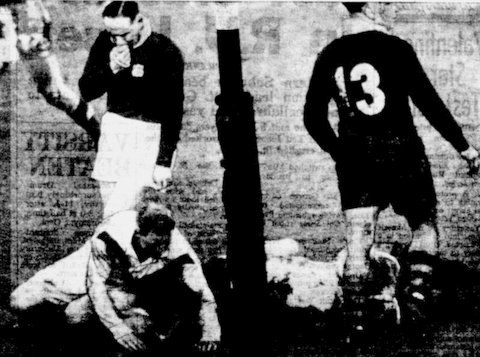 Not very clear….but its a match winning try.
The Third Test win gave Australia the Ashes.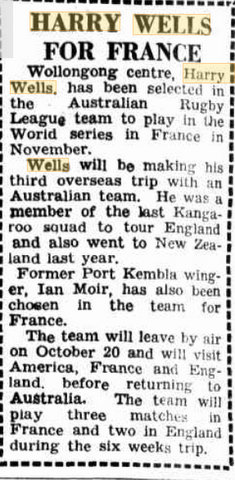 The 1954 World Cup.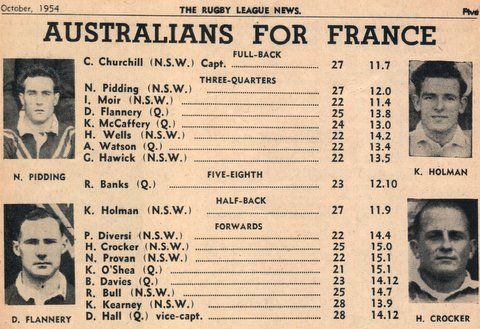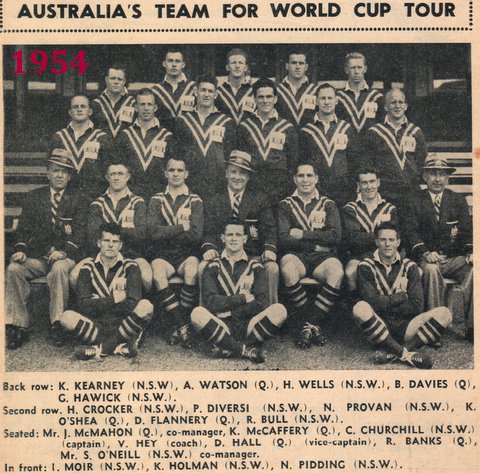 How much would this team  be worth on today's market ??
Unfortunately Australia only won one game and England 16 beat France 12 in the final.
1955.
For Harry it was back to life on the water front at Wollongong and playing for his local club.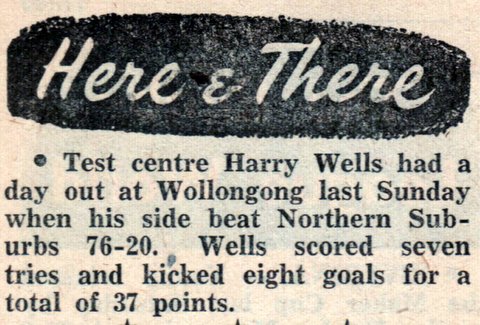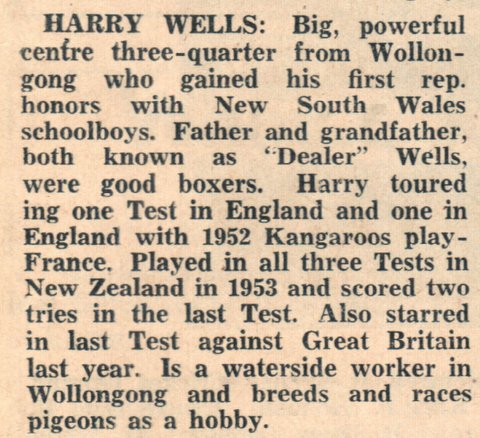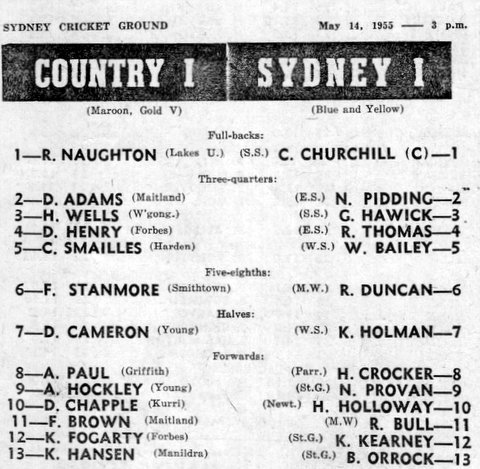 A few Wests players in the Country side, Harry of course, Darcy Henry, Frank Stanmore, Cliff Smailles and Kevin Hansen.  
Sydney 31 beat Country 18.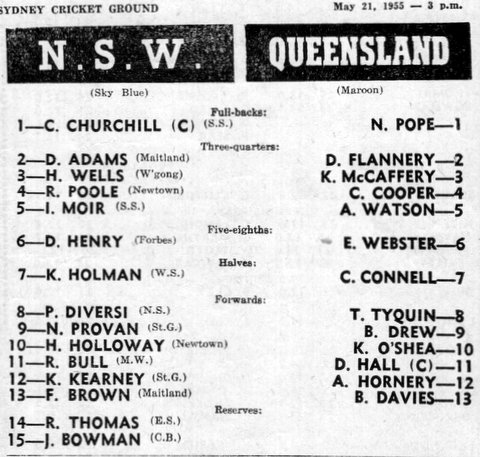 NSW 17 beat Qld 15.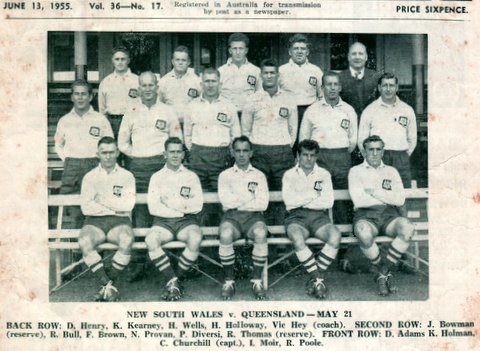 NSW played the French twice in 1955.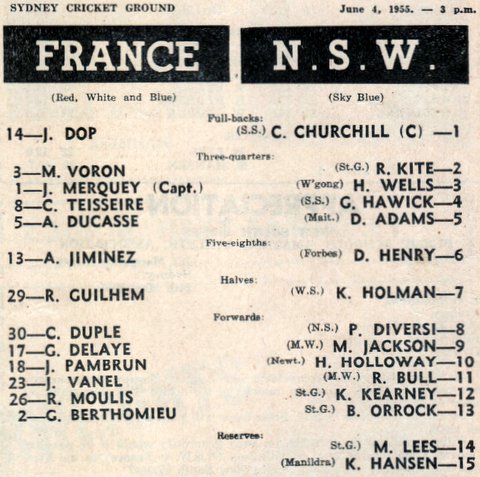 NSW 29 beat France 24.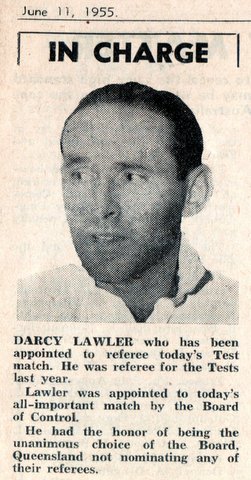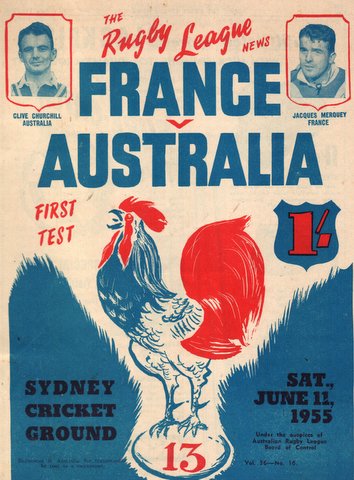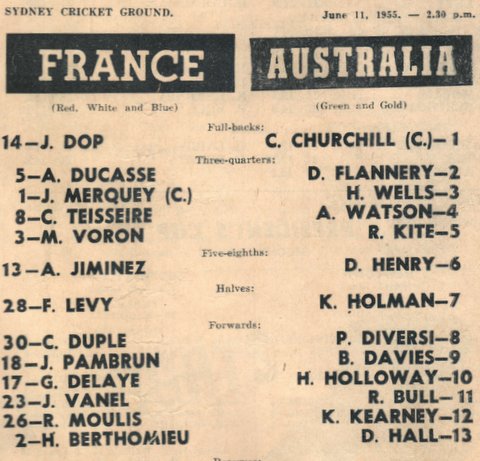 Australia 20 beat France 8.
Harry scored a try.
France won the Test series 2 Tests to 1.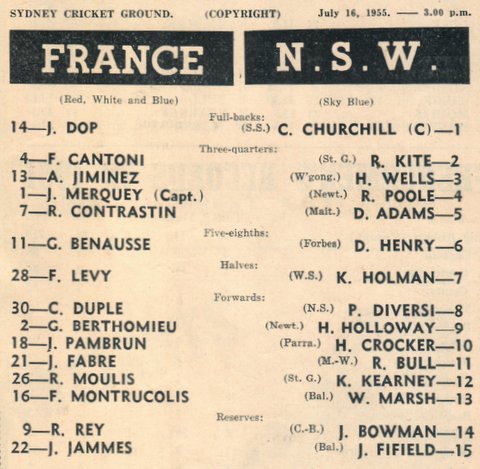 NSW 37 beat France 23.
1956.
Harry Wells comes to play for Wests.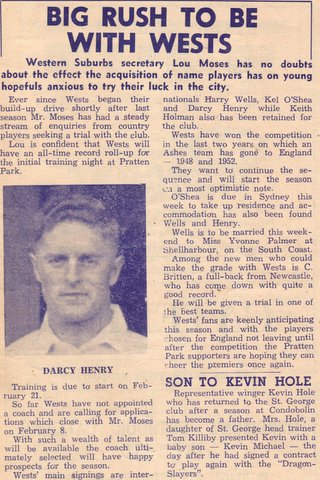 Harry joins Wests and gets married. Lou Moses offered Harry 1000 pounds per season for 3 years.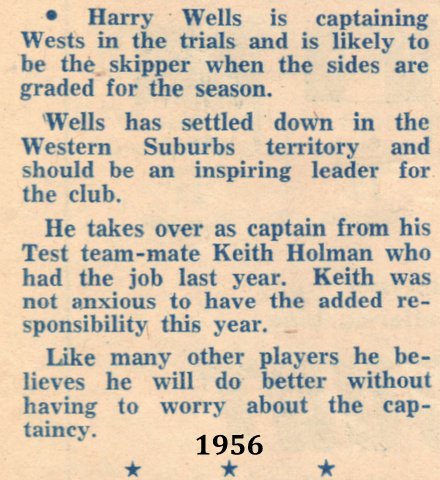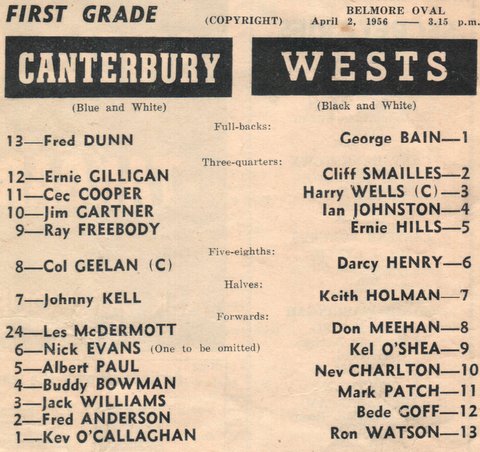 Harry's first First grade game with Wests.
Wests 29 beat Canterbury 10.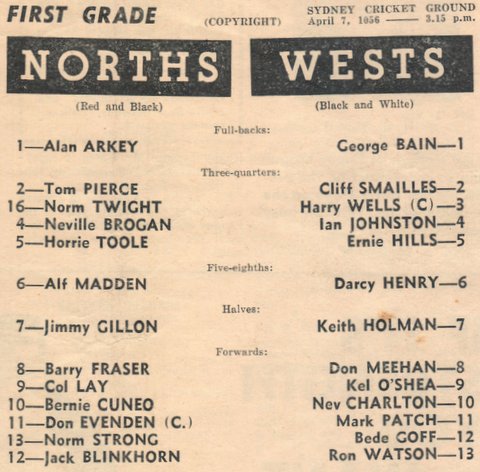 Harry's first First grade game at the S.C.G.
Wests 10 beat Canterbury 8.
A great start for Harry and the "Millionaires Team".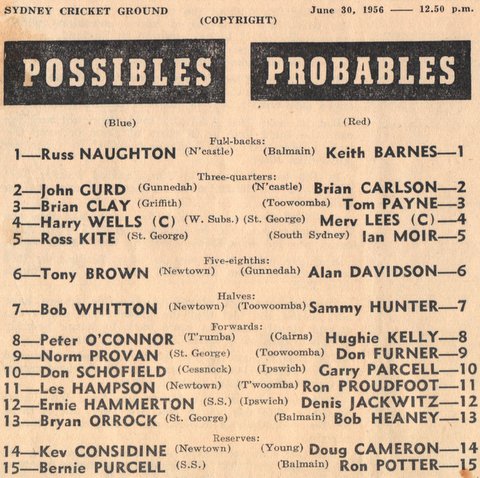 Trial game for the 1956-57 Kangaroo Tour.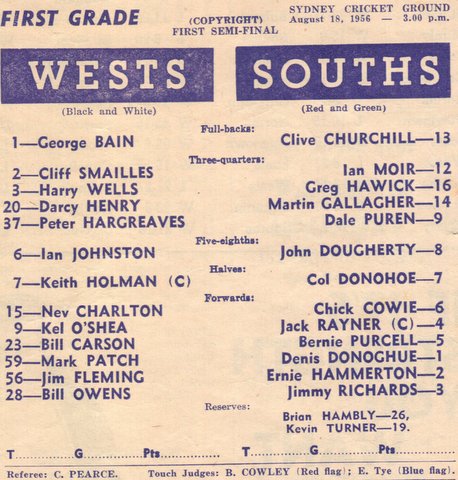 Wests 7 Souths 45. Ouch!!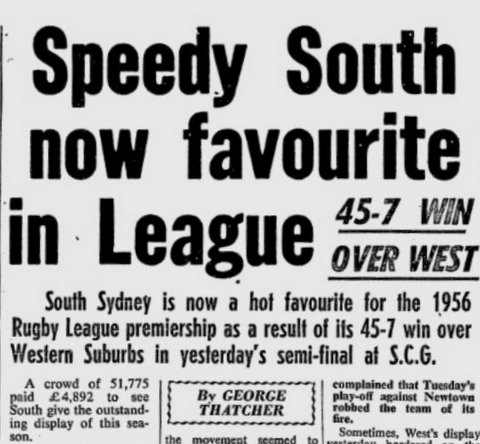 The sad Story of the game.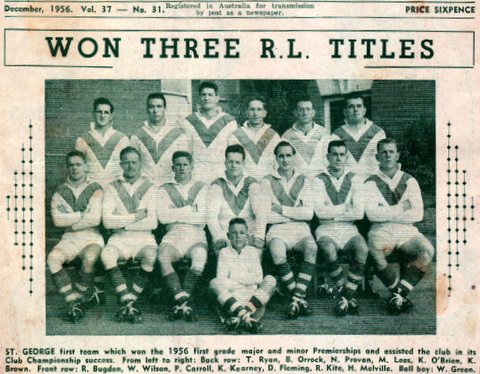 This was the start of the Famous St George era 1956 – 1966.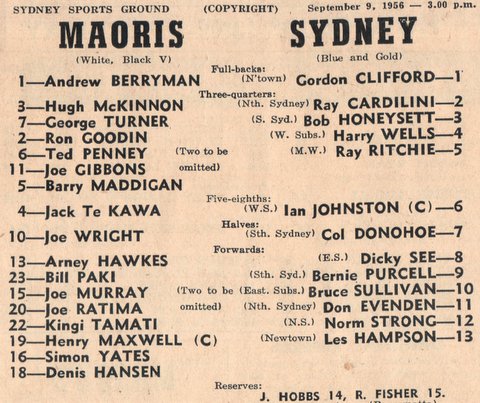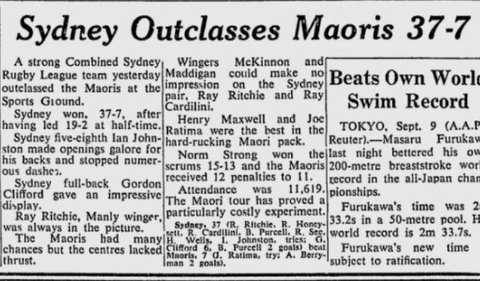 Harry scored a try but unfortunately missed out on the Kangaroo Tour.
1957.
Harry's second year at Wests. And the World Cup is coming to Town.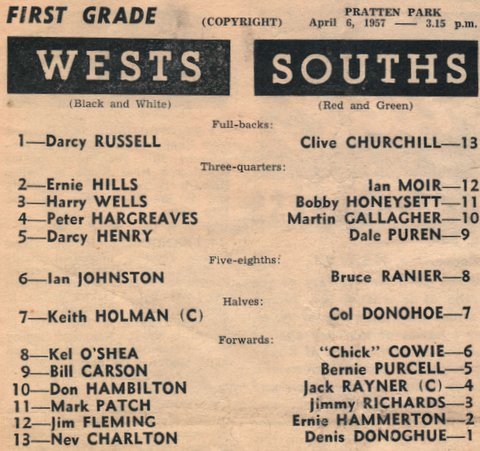 First game of the 57 season and a BIG win to the Magpies. Wests 49 Souths 9

Wests have a new fullback from The South coast. Darcy Russell. Darcy kicked 11 from 12 on that day.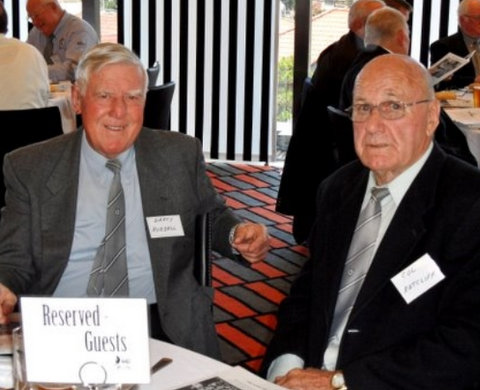 Darcy and Col Ratcliff at a recent Pratten Park Reunion.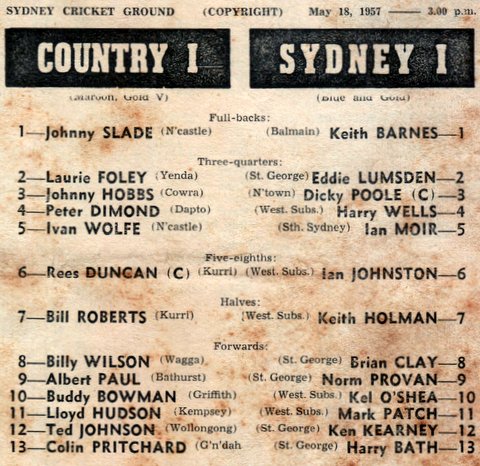 First rep game of the 1957 season.
Note: Peter Dimond playing against Harry.
Country  2 V Sydney 53.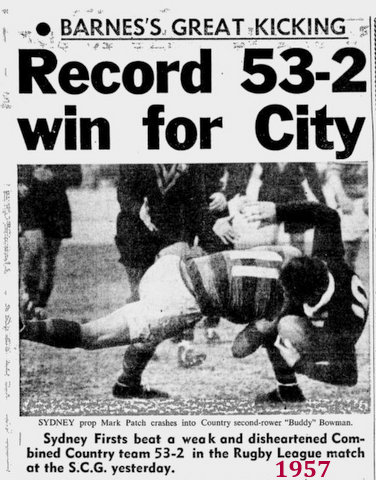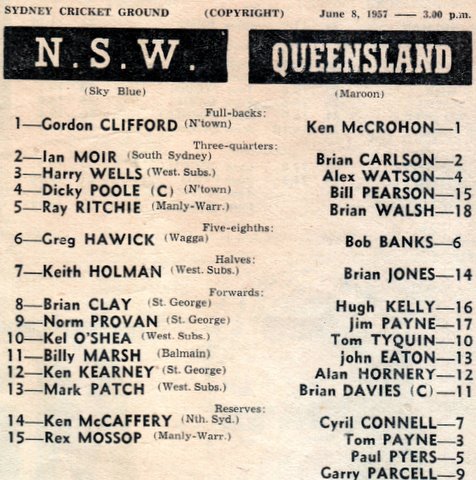 NSW 45 beat Queensland 12.
Harry is playing injury free and is in top form ready for selection in the Australian World Cup squad.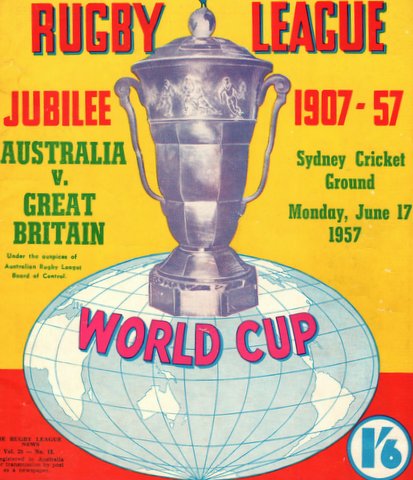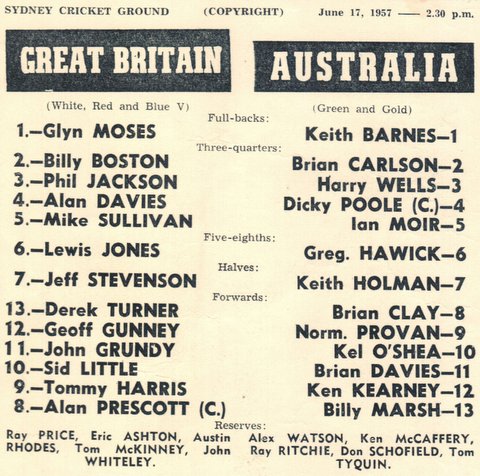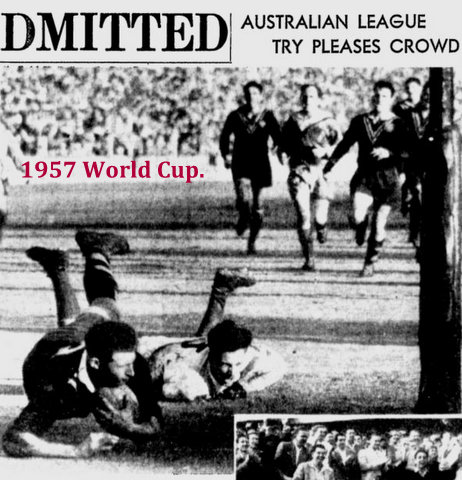 Harry scores a try V Great Britain at the SCG.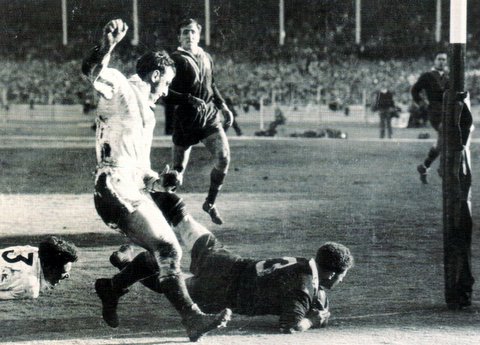 Same try different angle.
Australia 31 beat GB 6.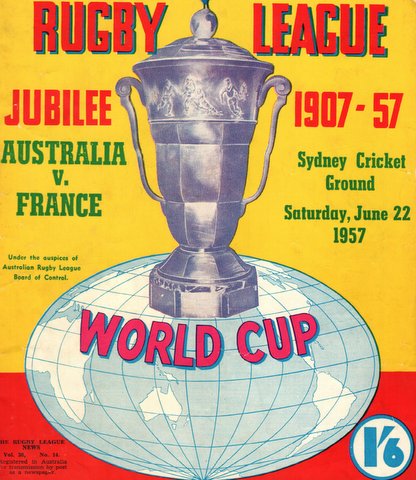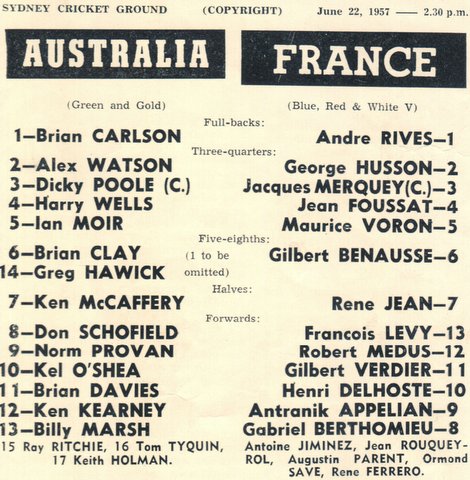 Australia 26 beat France 9.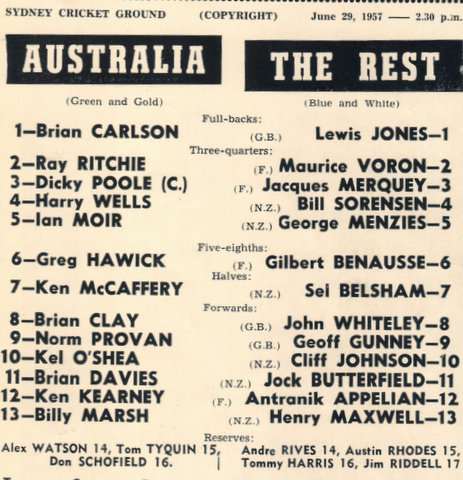 Because Australia had won all of its games there was no World Cup Final instead a Australia v The Rest was held.
Australia 20 beat The Rest 11.
(Thanks Steve Dillon for this hard to find scoreline.)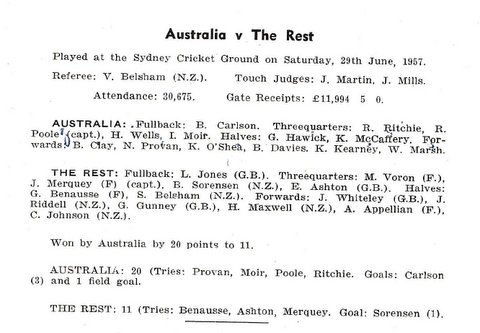 Thanks to Terry Williams @ the NRL museum for this info from the NSWRL Annual Report 1957.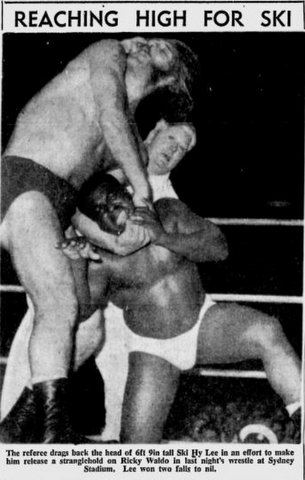 Mean while at the Sydney Stadium Ski Hy Lee beat Ricky Waldo.
I think there was a bigger crowd at the Old Tin Shed than the SCG!!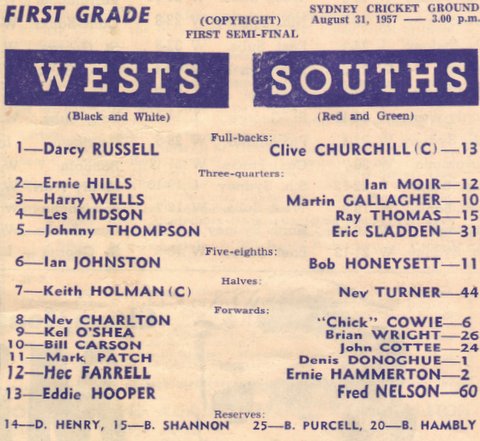 Wests finished 4th in 1957 and played Souths in the first semi final.
Wests 13 Souths 26.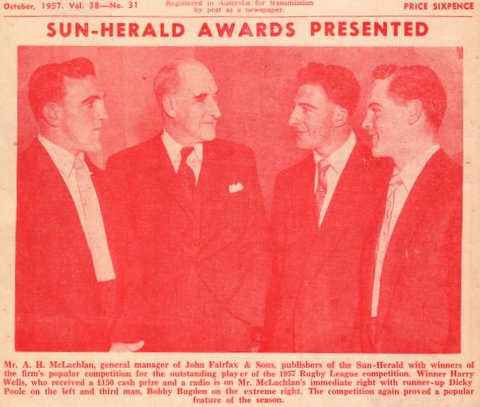 Harry finished off the year with winning the Sun – Herald most out standing Rugby League player of 1957.
1958.
A New Year and little did Harry and the boys from Western Suburbs know they would be playing against the Mighty St George juggernaut in the 1958 Grand Final.
Harry is now Wests full time captain under new coach Vic Hay.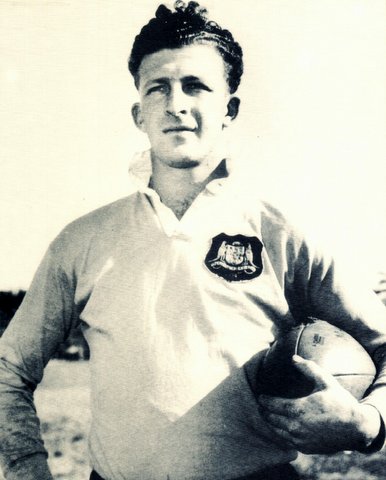 Harry in his NSW jumper.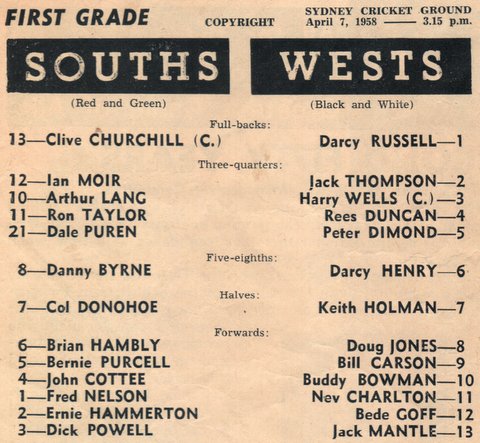 First game of the year at the SCG 1958.
Wests 24 beat Souths 16.
Harry scored a try.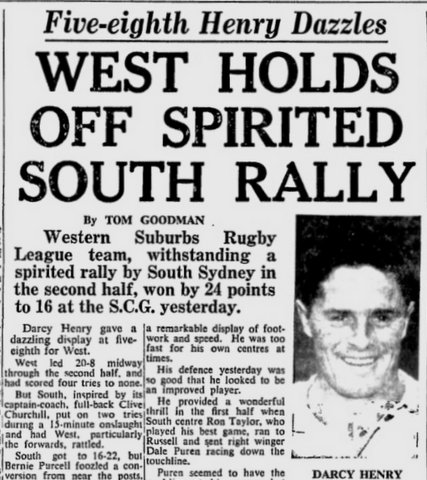 Story from the SMH.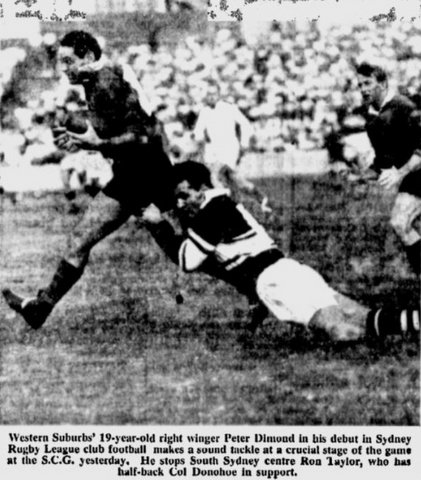 Young player from the South Coast shows promise.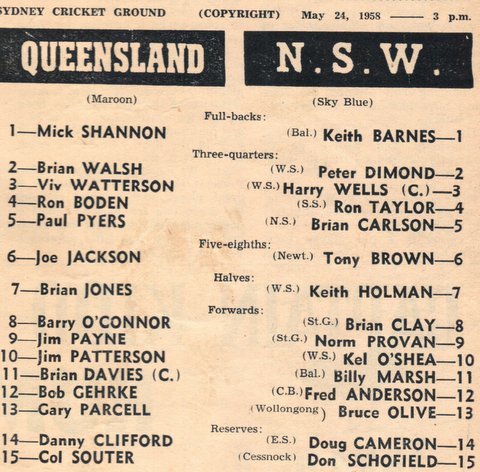 NSW 25 beat QLD 14.
In 1958 there were 3 inter-state games . NSW won 2 of the 3.
In 1958 the Great Britain team toured and Harry was chosen to be Captain for NSW v GB.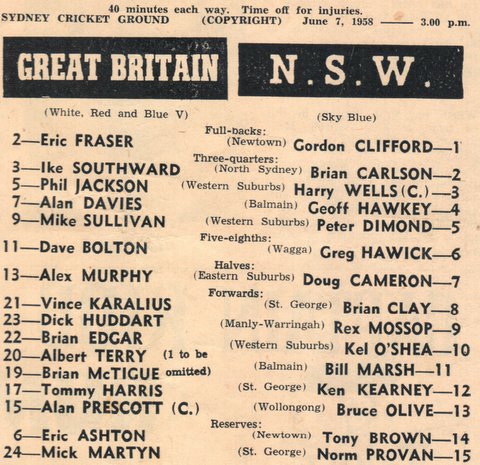 NSW 10 lost to GB 19.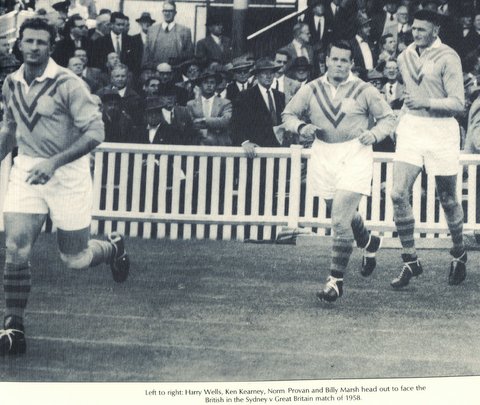 Harry as Captain proudly leads Sydney onto the SCG. Ken Kearney and Norm Provan follow.
Australia won the first Test 25 to 8 but that was the only Test win in the 1958 series.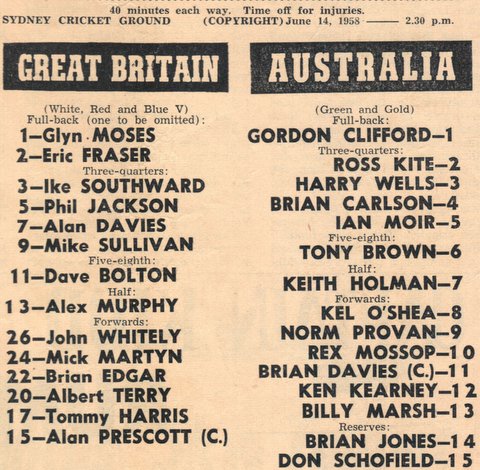 Great win at the SCG.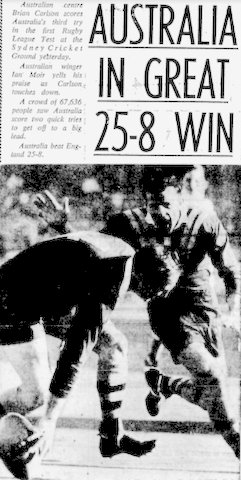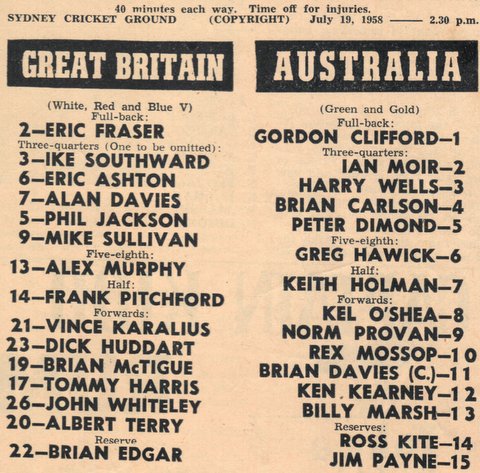 GB 40 beat Australia 17.
Harry said they were just to good on the day.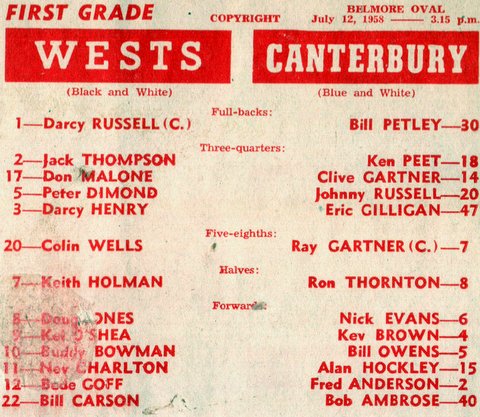 Harrys brother Colin Wells played for Wests in the 1956 – 57. As far as Harry remembers they did not play together. Pity.
At the end of the season Wests were second to St George in the Sydney comp . Saints had lost only 2 games all season.
Wests lost 6.
Vic Hey swapped Peter Dimond with Darcy Henry at five eight to try and upset Saints.
It worked.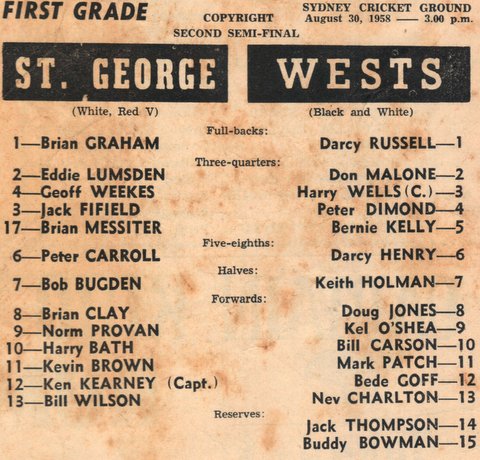 Wests 34 beat St George 10.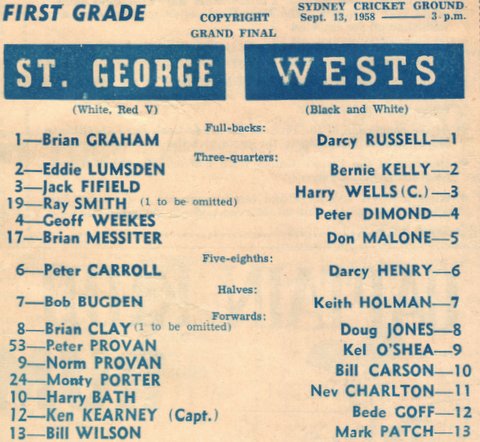 The 1958 Grand Final. Harry was confidant that Wests could end the run of Saints winning Grand Finals.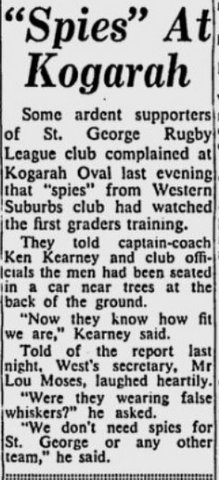 A good story……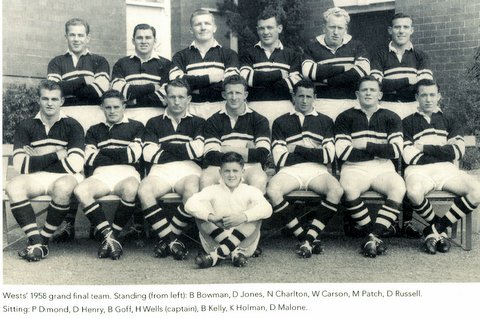 The Team.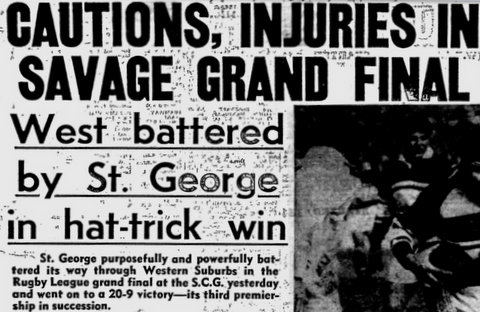 The Result. St George 20 Wests 9.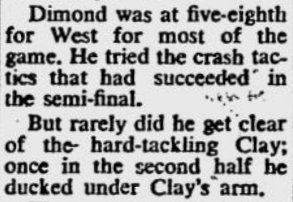 As history tells us the Dimond switch should of been done only for the Grand Final.
There were no tours at the end of the 1958 season.
1959.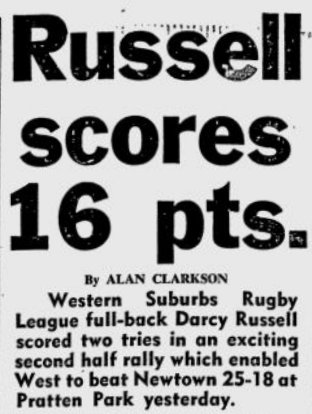 This was Harry's first game of the 1959 season due to a shoulder injury. Harry scored his first try for 1959 in this game.
Unfortunately for Harry the injury stopped him from playing at his best and the selectors agreed.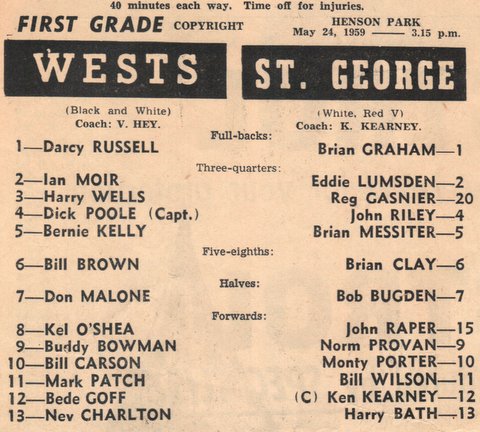 The famous game Wests V St George at Henson Park over 30 thousand fans at the game.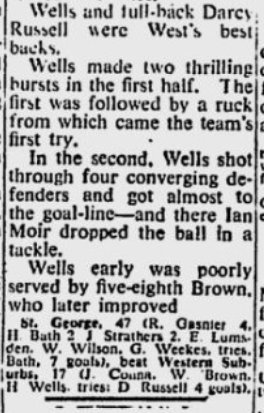 This game was played the day after the Sydney v Country game.
And Harry being Harry he played a blinder.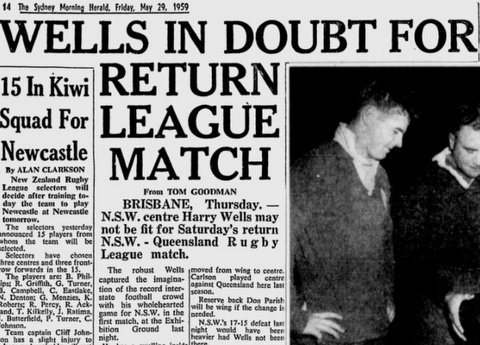 Don't worry Harry played and scored a great try. As did Reg.
When the real rep games came along Harry was picked to play in the centers with a young center by the name of Reg Gasnier.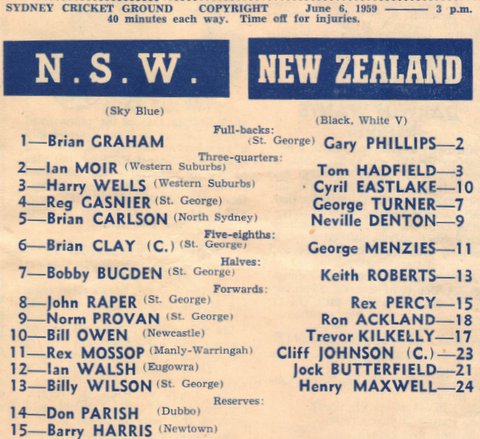 Another first Harry and Reg against a New Zealand team.
NSW 22 New Zealand 23.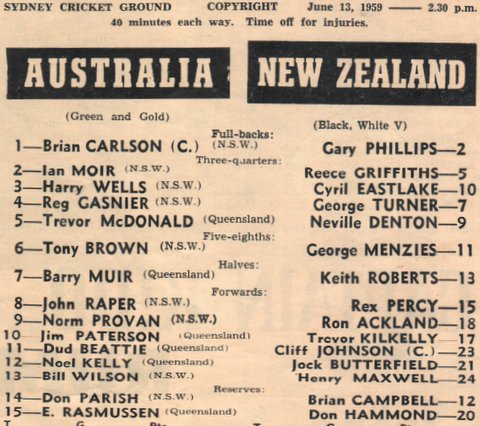 Harry and Reg playing for Australia. The start of a great friendship both on and off the field.
Score Australia 9 – NZ 8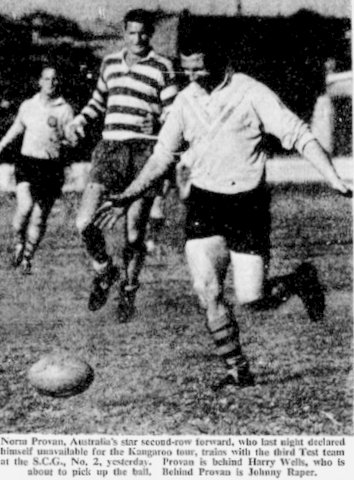 Australia lost the 3rd and final Test NZ 28 – Australia 12. Reg Gasnier scored 2 tries in the losing side.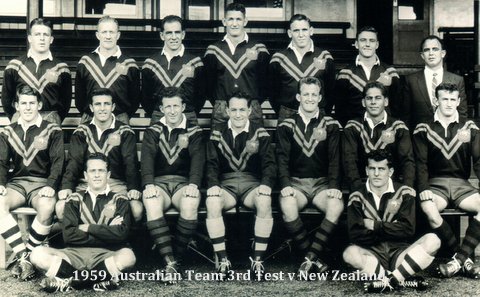 1959 Australian Team 3rd Test  V New Zealand.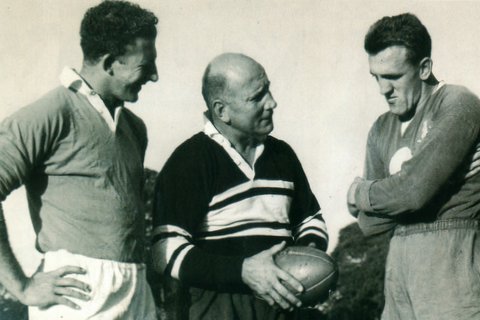 Vic Hey talks to Harry and Dick Poole before the semi final.
Wests finished second (again) to St George in the regular season. Wests played St George in the Second Semi Final.
Score: Saints 35 – Wests 25.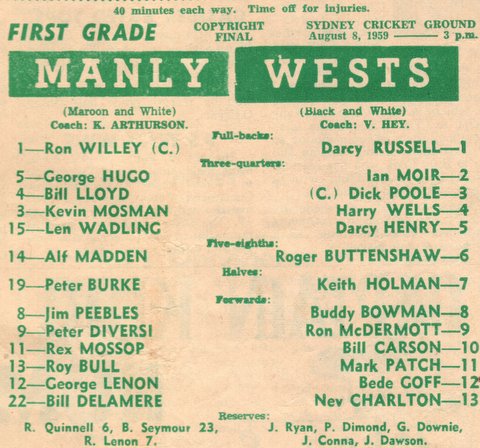 The next week Wests were just beaten by Manly 14 – Wests 13.
The regular season was over for Wests and Harry but the Kangaroo touring team was soon to be picked.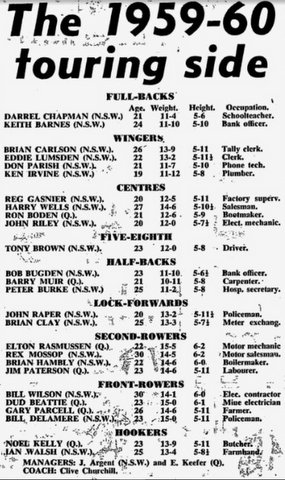 Harry makes his second Kangaroo Tour to Great Britain, France and Italy…yes I said Italy!!
Harry said the wage for a married player was….8 quid a week…….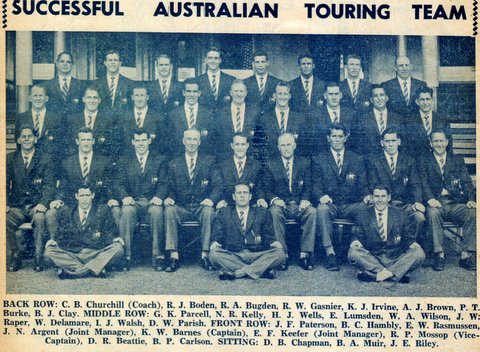 The complete Touring Team.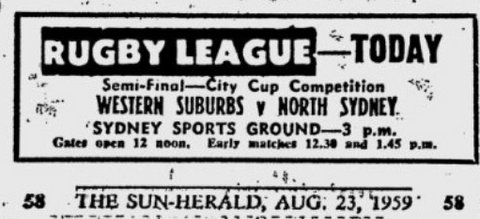 Mean while Wests play Norths in the City Cup. West 15 were beaten by Norths 22.
On September 5th at the SCG St George 26 minus their Stars beat Norths 22 to win the City Cup.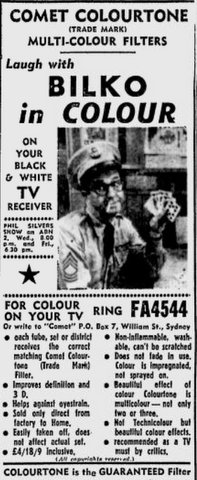 At the same time color TV was about to be made available to all.
A little bit about the 1959/60 Kangaroo Tour.
No story about Harry Wells should leave out the 1959/1960 Kangaroo Tour.
I have included a few photos and stories from the newspapers of the day.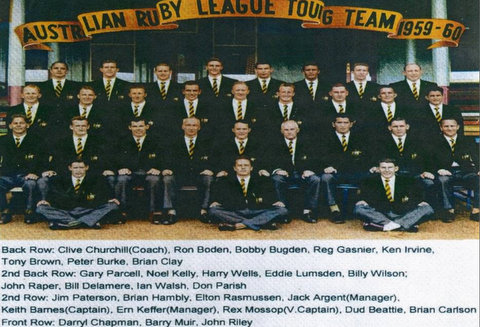 Color photo of the Touring Team.
I think one of the main things to happen in this Kangaroo Tour was the pairing of Reg Gasiner and Harry Wells in the centers.
Harry was 7 years older that Reg and looked after him on the field and of course sent him away for many tries not only in Test matches but also non Test games.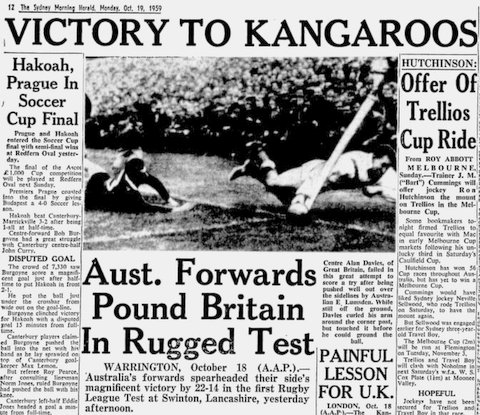 Australia won the First Test and should of won the Second at Leeds.
Both Harry and Reg had a field day with Reg scoring 3 tries and Harry 1.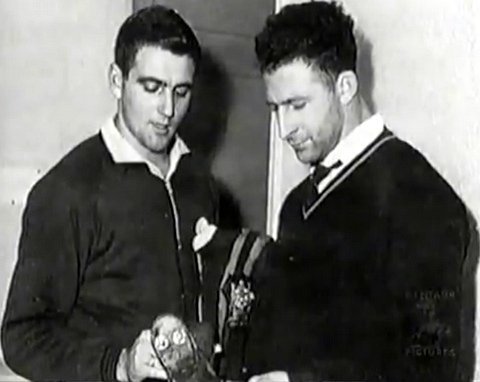 The legend had started.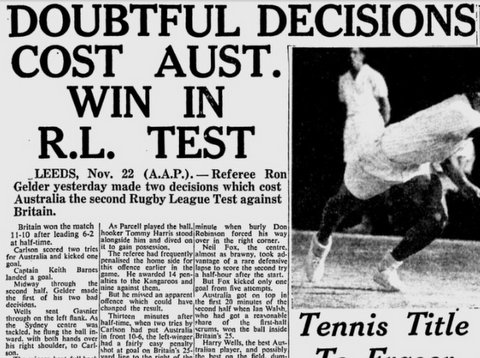 Harry told me that Australia was robbed in the second Test that was played at Leeds .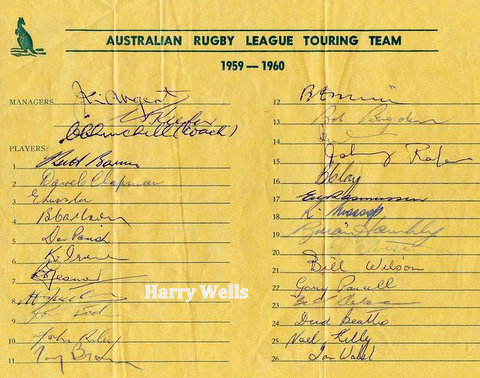 Players sign on sheet.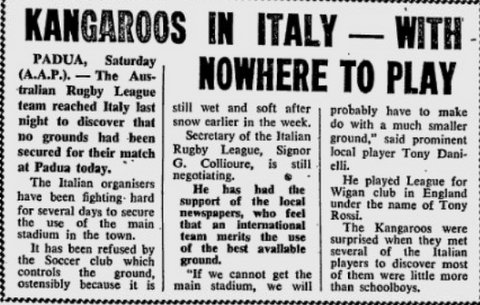 The first and last time the Kangaroos toured Italy!!
If you would like to read the FULL Tour report please feel free to click on this link below.
1960.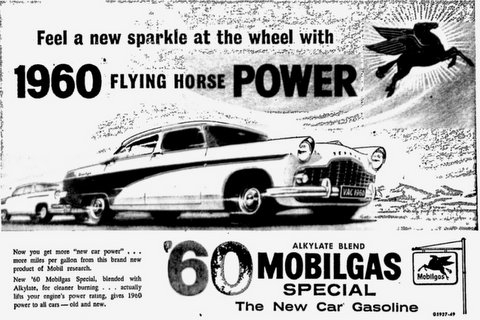 The new decade begins and Harry is back at Wests after a grueling Kangaroo Tour.
Wests have a new coach Dudley Beger. Wests win the first 4 games.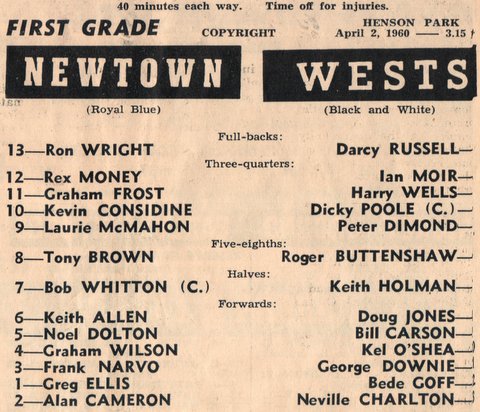 The first game in 1960 Wests 20 beat Newtown 17.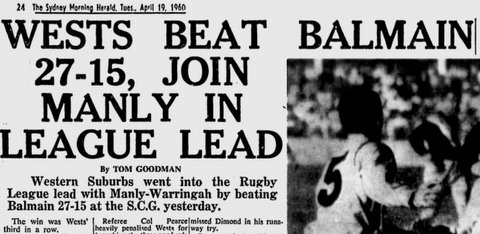 Wests play their first game at the SCG for 1960.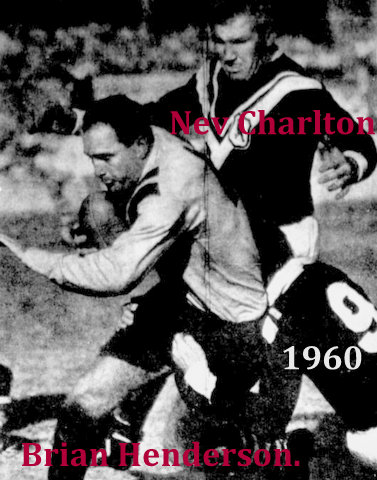 Some of the action from this game.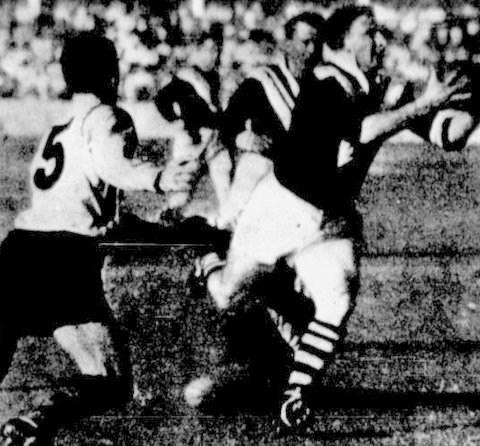 Harry on the run at the SCG.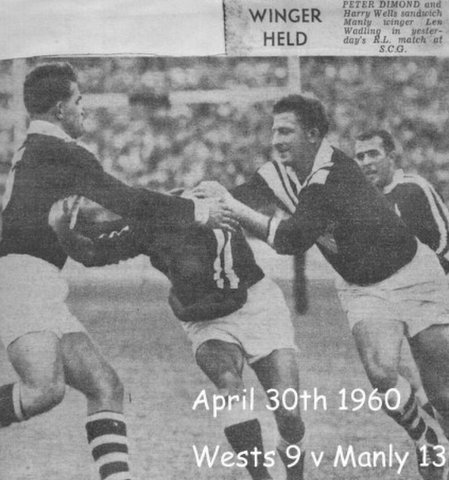 Harry in the thick of things with Peter Dimond.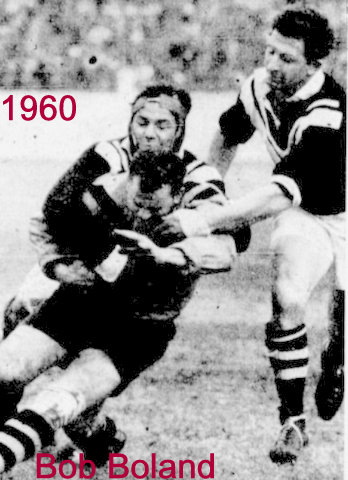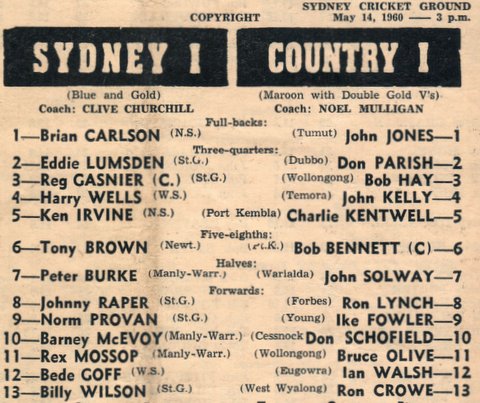 Sydney 20 beat Country 2.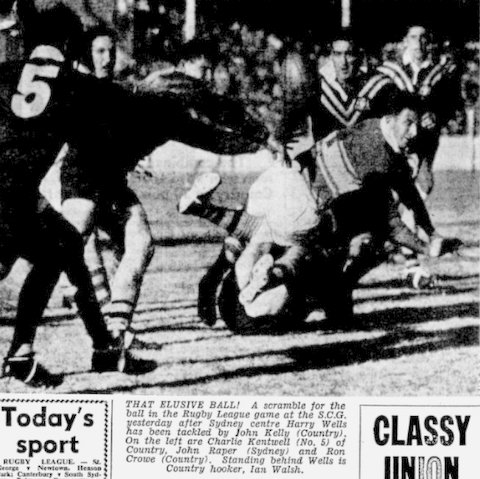 This was Harry's last game playing for either Country or Sydney. It all started way back in 1952.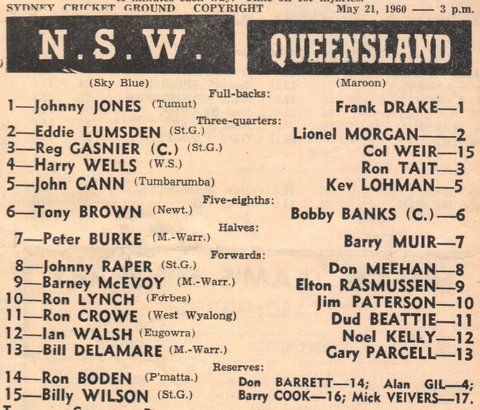 There were 4 games played in the NSW v QLD series in 1960.
NSW won 2 games and QLD won 2.
Harry played his last game for NSW on the 26th June 1960 at Lang Park before a crowd of almost 30,000 people.
NSW 33 beat QLD 14.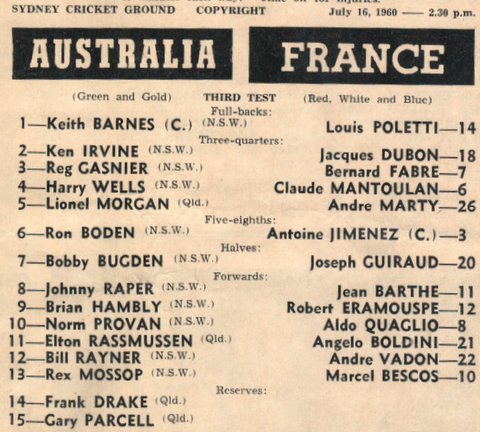 Australia and Harry played France in 3 Test matches.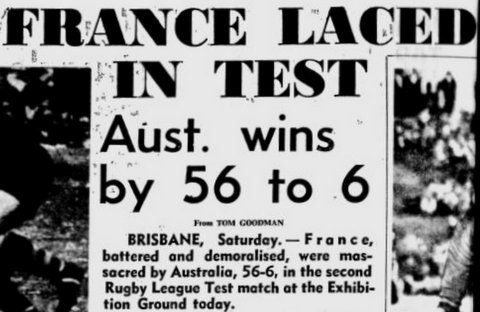 It was a drawn series with the first Test being a 8 all draw and Australia winning the second Test and losing the third Test.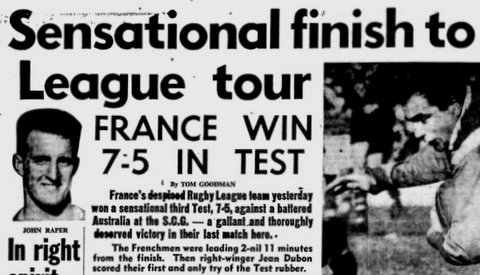 The last Test for Harry on home soil.
At the end of the Sydney season Wests had finished equal 2nd with Easts, Balmain and Canterbury . Wests had to play in two playoff games.
 Easts, Wests, Balmain and Canterbury all finished in equal second place. On the Tuesday following the final round, the four teams played in a double header. The winners would play each other to determine second and third place, while the losers would play off for the fourth place in the finals. This resulted in Wests finishing second, Easts third, Canterbury fourth and Balmain was relegated to fifth place.
Wests 28 beat Balmain 10 then Wests 18 beat Easts 7 in the play offs.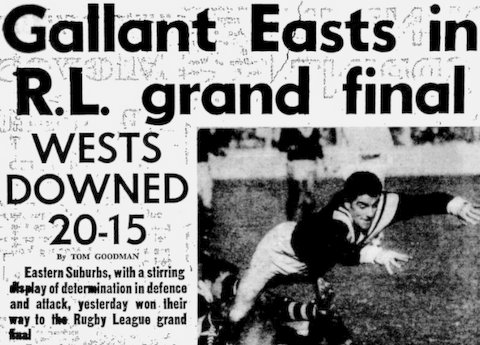 Roger Buttenshaw diving for the ball.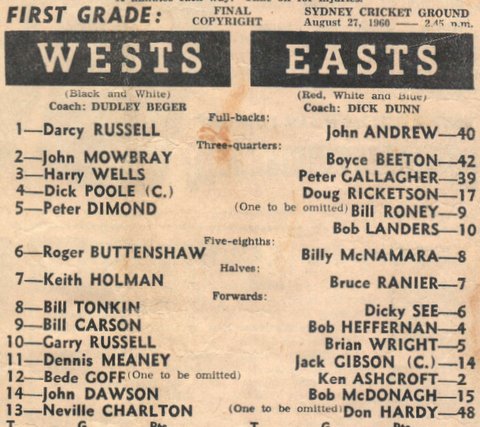 The last game for Wests in 1960. Wests 15 Easts 20.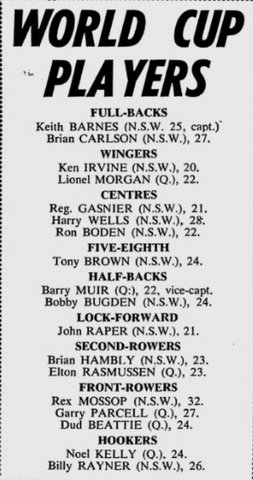 Harry's last World Cup.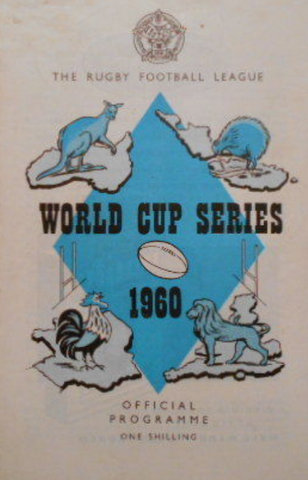 At the age of 28 Harry was the oldest centre by far to go away on this World Cup campaign.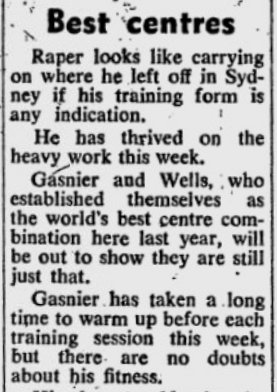 The Harry and Reg story continues.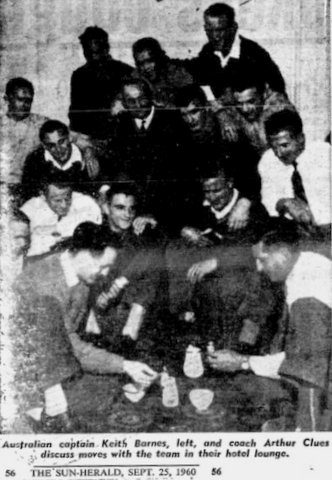 Harry in the white shirt right hand side.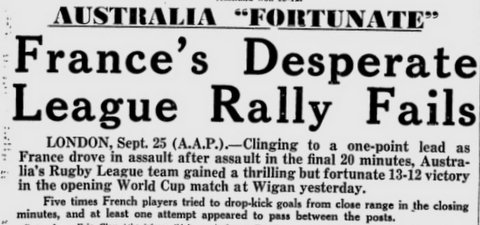 First game of the World Cup .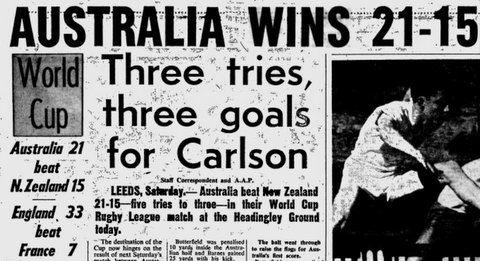 Second game against the Kiwis. Harry scores a try.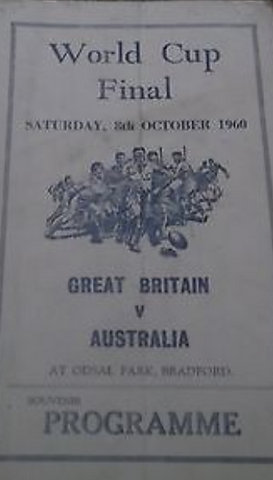 It was called the Final but Great Britain had already won the trophy.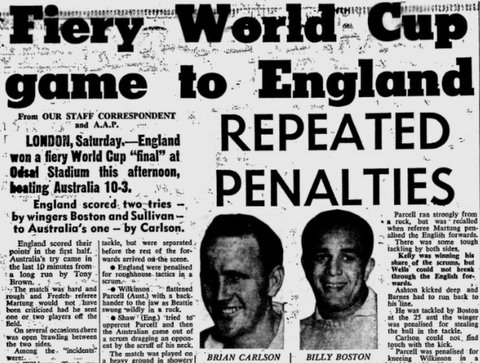 Harry's last game playing for Australia.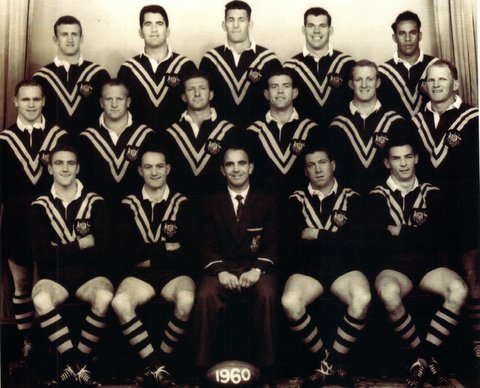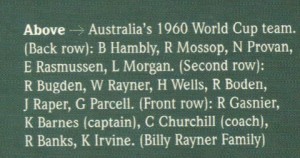 Harry said his knee was hurt badly at a training session during this tour.
1961.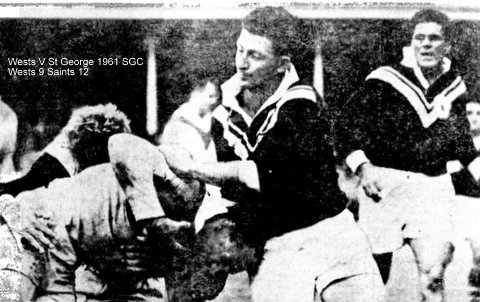 Harry at the age of 29 in his last season at Wests.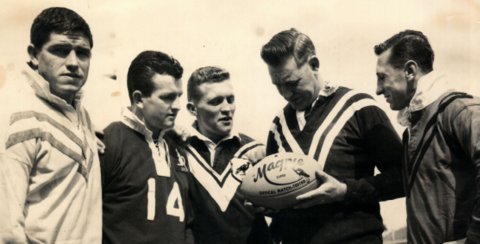 Wests have a new coach Jack Fitzgerald.
Left to Right. Jim Cody, Gil MacDougall, Ken Bray , Jack and Mowy.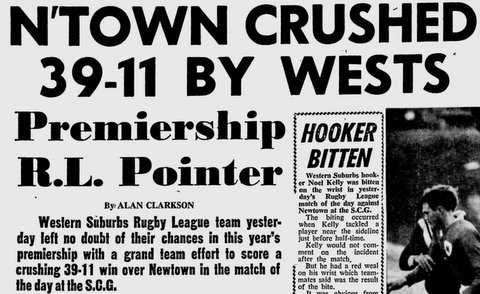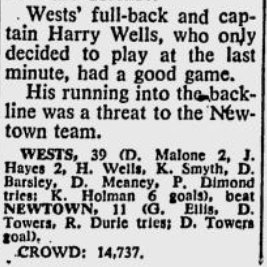 Harry played in 13 games during the regular season many as the new Wests fullback .

Harry was chosen to play for City Seconds and then picked for NSW. Unfortunately Harry had to pull out of the first two games but returned for the last two interstate games. The series was drawn 2 games each.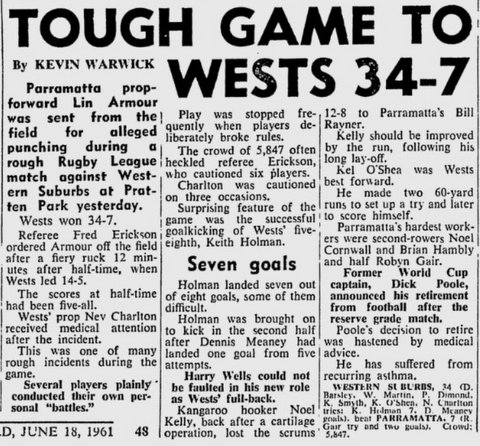 Wests with Harry as captain and fullback continue to win and come second again behind St George at the end of season 1961, only on for and against. They both finished with 15 wins each.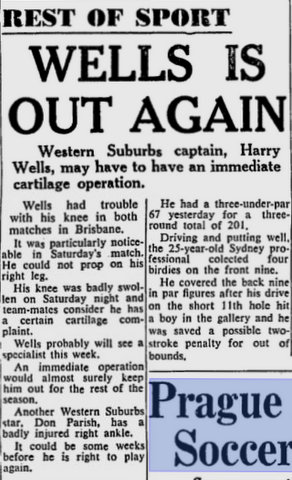 Carrying a lot of injuries Harry did not make it to the end of season games.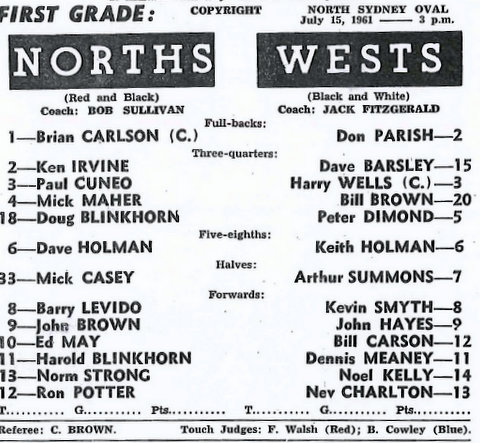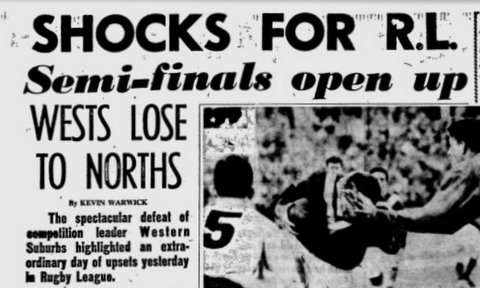 We think this was Harry's last game at Wests. Before his serious knee injury during the interstate game.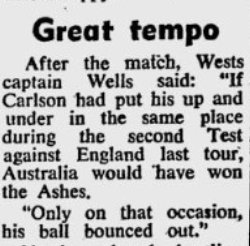 Harry has the last say…..
1962.
After 6 seasons with Wests Harry is offered a lot of money, 15 thousand pounds for 3 years to move back to his old club from 1951 Souths.
Harry being Harry said "My knee is shot and I could not play up to 100% so I told Souths NO…..
A few statistics about Harry 6 years at Wests . This info was supplied from the Wests Archives. Thanks to Neil Bennett.
Harry never played Reserve or Third grade at Wests his season by season info is below.
1956 – 15 games 2 tries..
1957 – 17 games 9 tries.
1958 – 11 games 5 tries.
1959 – 13 games 5 tries.
1960 – 16 games 5 tries.
1961 – 13 games 6 tries.
1963,64,65.
Harry and his beautiful wife Yvonne enjoying life.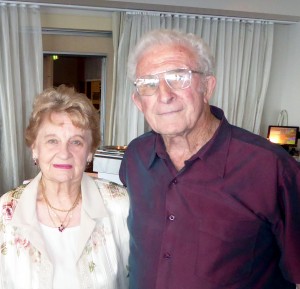 Harry and Yvonne at Noel Kelly's 80th Birthday Party 2016.
1966.
Harry gets a call from Phil Jackson who is the coach of Goulburn Workers in Group 8.
"Harry how about playing for us???" and Harry did .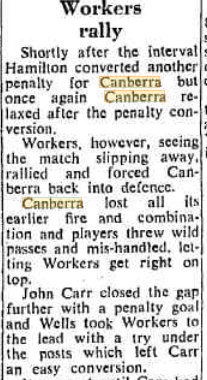 Harry at the age of 34 still scoring tries under the posts.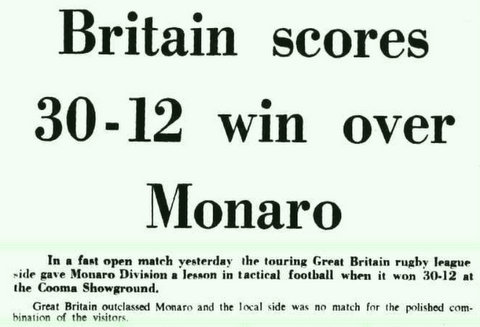 During his time at Goulburn Workers Harry played for Monaro against Great Brittan. His last rep game.
During Harry's very long Rugby League career he played a large number of rep games for Country, Sydney aka City, NSW and Australia.
Harry Wells first represented for New South Wales in 1952 and toured with the Kangaroos that same year playing in two Tests and twelve minor matches.
Harry played against New Zealand in 1953 and 1959; Great Britain in 1954 and 1958; and France in 1955 and 1960. He was selected and played in three World Cup campaigns in 1954, 1957 and 1960. Harry made a second Kangaroo tour in 1959–60 playing in all six Tests and seventeen tour matches, scoring eleven tour tries.
All up Harry made 29 Test appearances.
1967 and 1968.

Harry receives an offer to be Capt/Coach of Young the famous Cherry Pickers.
Harry had 4 things that he wanted his young team ( 3 players were only 16 years of age) to remember.
1. Pass the ball correctly. 2. Catch the ball correctly. 3. Tackle low and 4. Move up.
Young made the semis in 1967 see below for 1968….
In 1968 Harry and his young team win the Zone 2 competition.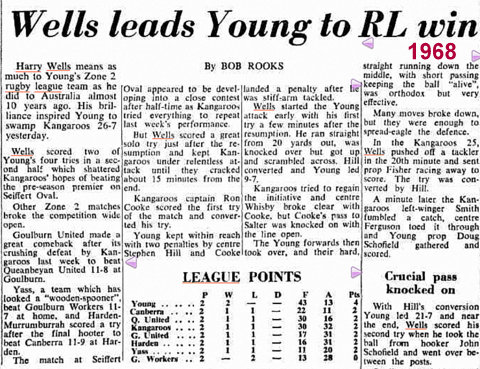 Harry scores 2 tries in this HUGE upset by Young.
Harry played five eight during his 2 years at Young.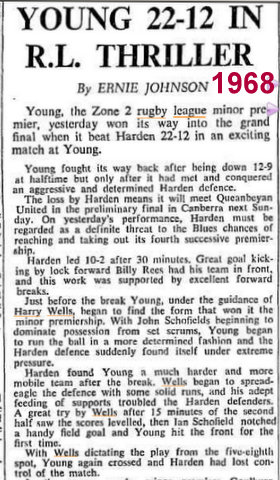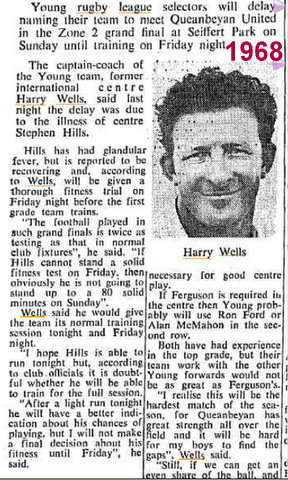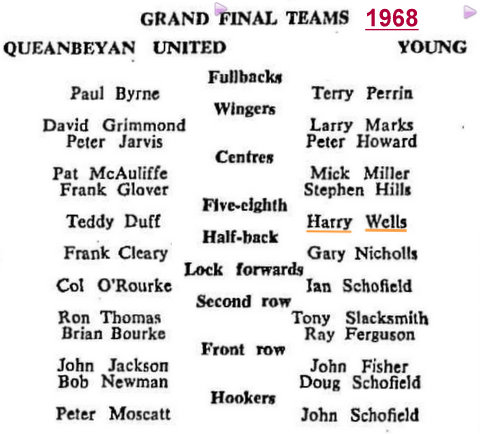 The Grand Final Teams.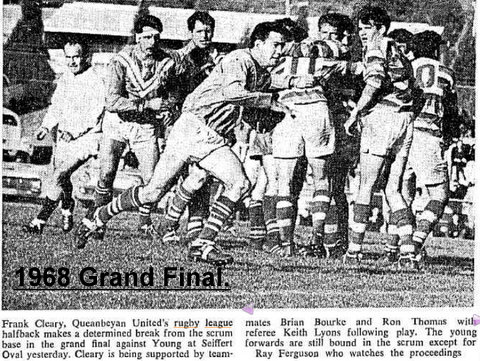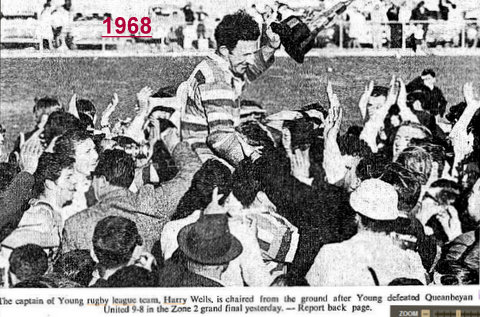 A very proud moment for Harry Wells.
Harry was told by Phil Jackson that Young had no chance of winning, Queanbeyan had invested over $400,000. in the team.
Foot note: During Harry's two years at Young Harry drove from his home in Goulburn to Young at least 3 times a week during the football season.
That equals 40 trips for the two years x by 358 kms per trip Total = 14320 kms or 8950 miles.
No wonder Harry was held in such high esteem at Young.
In fact Harry told me they bought him a new car after his old one died.
1969.
With the promise of a life in the tropics Harry was lured away from Young to lovely Longreach QLD to be the Towns new Capt/Coach. Harry's job was to teach school kids how to play Rugby League.
The Longreach team made the semis but were beaten by only 3 points.

1970 and 1971 and 1972.
At the age of 38 Harry arrives at Port Macquarie to play footie as the new Capt/Coach for the Port Macquarie Sharks.
In Harry's first year with the Sharks they were beaten in the Group 3 Grand Final.
In 1972 Harry's dickie knee finally collapses completely and Harry's long and distinguish career comes to an end.
Harry is 40 years of age and who knows how many times he has laced up his footie boots to play the game he loves.
Harry in retirement!!
His love of birds is well known and at its peak Harry had over 700 birds to look after. Today its down to only 100 birds.
Awards, Awards and more Awards.
Its hard to know where to start with Harry's awards. There a few to say the least all very well deserved.
In 2000 Harry Wells was awarded the Australian Sports Medal for his contribution to Australia's international standing in rugby league.[7] The following year he received the Centenary Medal, also for services to sport.[8] In September 2004 he was named at centre in the Western Suburbs Magpies team of the century.[9] In 2007 Wells was inducted into the Australian Rugby League Hall of Fame.[10] Also that year he was selected by a panel of experts at centre in an Australian 'Team of the 50s'.[11]
In February 2008, Wells was named in the list of Australia's 100 Greatest Players (1908–2007) which was commissioned by the NRL and ARL to celebrate the code's centenary year in Australia.[12][13]
On 21 July 2011, Wells was named at centre in the Illawarra Rugby League Team of the Century, as the league was celebrating its centenary in this year.[14]
In October 2016, he was inducted as an Athlete Member in the Sport Australia Hall of Fame. [15]
Wests Team of the Century.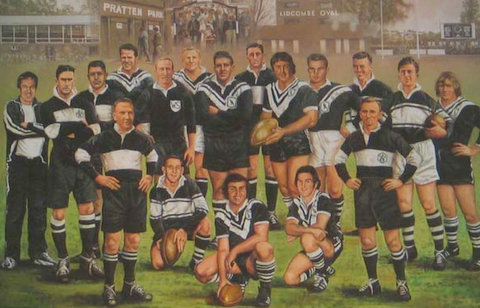 Fullback – Frank McMillan
Wingers – Peter Dimond, Alan Ridley
Centres – Harry Wells, Cliff Pearce
Five Eight – Vic Hey
Halfback – Keith Holman
Lock – Les Boyd
2nd Row – Kel O'Shea, Arthur Clues
Front Row – John Donnelly, Ed "Tedda" Courtney
Hooker – Noel Kelly (Captain)
Reserves – Tom Raudonikis, John Dorahy, Neville Charlton, Bill Carson
Coach – Roy Masters.
This painting proudly hangs in the main lobby of Wests Ashfield.
Illawarra Team of the Century.
POSITION    PLAYER    CLUB   
Fullback    Graeme Langlands    Wollongong
Winger    Ian Moir    Port Kembla
Centre    Harry Wells Jnr    Wollongong
Centre    Paul McGregor    Dapto/Steelers
Winger    Rod Wishart    Steelers
Five-Eighth    Bob Fulton    Western Suburbs
Half-back    Trent Barrett    Steelers
Lock    Noel Mulligan    Port Kembla/Collegians
Second Row    Ron Costello    Collegians/Port Kembla
Second Row    Craig Fitzgibbon    Dapto/Steelers
Front Row    Steve Roach    Western Suburbs
Hooker    Kevin Schubert    Wollongong
Front Row    Craig Young    Thirroul/Corrimal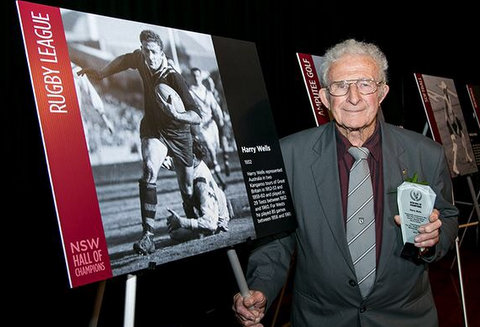 NSW Hall of Champions 2016.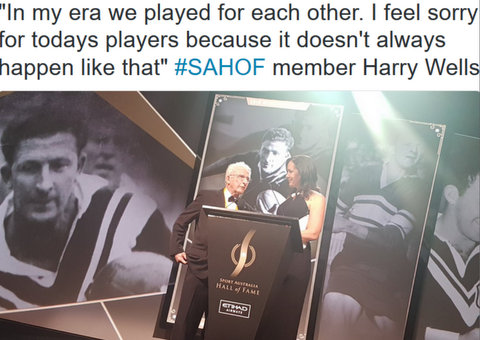 Harry Wells was Inducted into The Sport Australia Hall of Fame on Thursday 13 October, 2016 as an Athlete Member for the sport of Rugby League.
Harry Wells played 29 tests for Australia in a career that saw the dashing centre play for NSW, South Sydney and the Western Suburbs club teams in addition to representation at three World Cups for the Kangaroos. He played in the 1951 Sydney premiership winning side with South Sydney.
Born Harry Wills, Wells came from a family of boxers.  Both his father and grandfather fought under the same name 'Dealer' Wills and Harry displayed many of the skills from the ring in his career as a centre.
Originally form Wollongong, Wells made his debut for South Sydney in 1951, playing on the wing in Souths premiership win over Manly in his first season.
In 1952 he returned home to Wollongong, however he still made his state and national representative debuts, playing for NSW and the Kangaroos in the first of 29 test appearances. Wells represented Australia in eight World Cup matches across three World Cup campaigns in 1954, 1957 and 1960. He formed a strong combination with Sport Australia Hall of Fame legend and member Reg Gasnier – with the duo playing 12 tests together.
It wasn't until 1956 that Wells returned to the Sydney premiership, this time with the Western Suburbs club.
The club was dubbed 'the Millionaires" as they lured a string of high profile players in an effort to win the premiership. He played 85 games for the 'Magpies' from 1956 to 1961 where he scored 32 tries and captained the club in the 1958 grand final loss to St George. Three further seasons at West's preceded a return to the country before retiring in 1972 at the age of 40.
He was named at centre in the Western Suburbs and West Tigers Team of the Century and in 2007 he was inducted into the Australian Rugby League Hall of Fame.
Harry today 2017.
Harry is very involved with the Men of League and is the patron of the Pratten Park Magpies.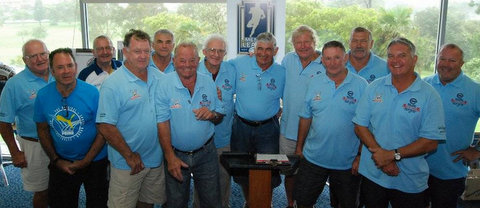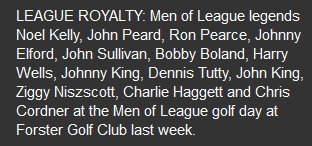 A few Old Magpies at a recent MOL function.
L to R. Peter Walsh, John Baker, Harry, John Elford, Jim Leis and Nathan Cole.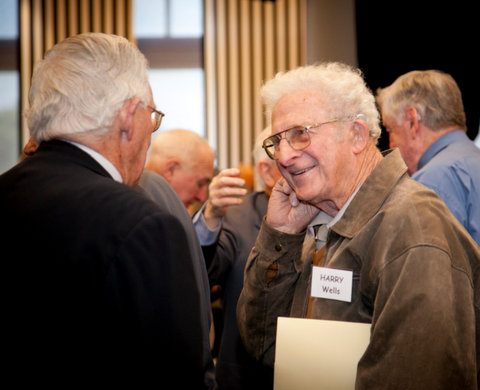 Harry talking to Alan Davidson at a PPM reunion.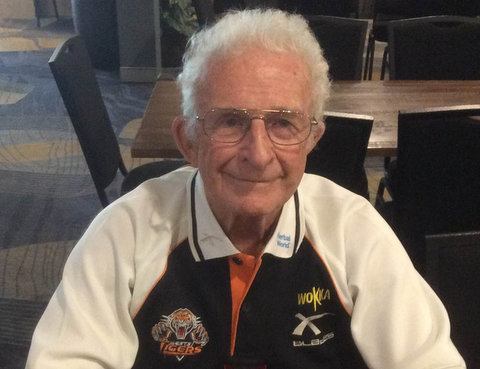 Harry Wells 2017.
Thanks very much Harry for giving up your time to have a chat with me. It was an honor to talk to a true gentleman.
I hope everyone enjoyed reading the story as much as I did writing it.
Almost forgot Best players..Reg Gasnier, Clive Churchill and Ian Moir in that order.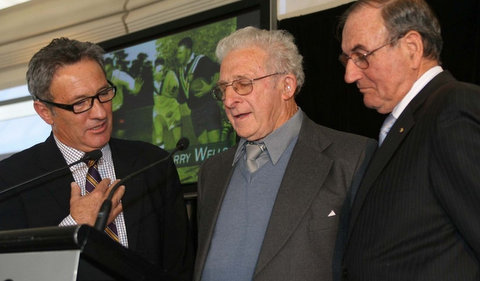 Ken Sutcliffe talking to Harry and his Mate Reg Gasnier in 2015.
Thanks H.