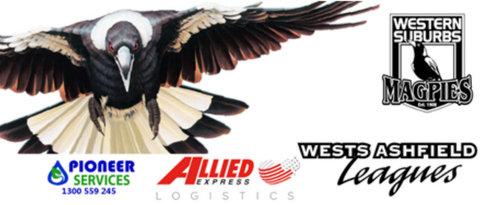 2016 Player Awards
With the regular season coming to a close, we held our Annual Presentation Night at Wests Leagues Campbelltown.
It was a pleasure to have all four teams together for the announcement of the 2016 Western Suburbs Magpies Club Awards.
Along with the recipients of the Awards, the Club would like to also publicly acknowledge the continued efforts of the many sponsors, players, volunteers & staff that help us get through the demands of a full season of the greatest game on earth, rugby league.
Without their assistance and the support of our members and fans, our season results would have been very different.
Below are the Winners for 2016.
| | |
| --- | --- |
| 2016 – Noel Kelly Award 'Club Champion' | Brendan Waters – Ron Massey Cup |
| | |
| --- | --- |
| 2016 – Pratten Park Magpies Club Person of the Year Award | Nathan Waters – Head Coach & Past Player |
| | |
| --- | --- |
| 2016 – WSM Fanatics Player of the Year | David Harris – Ron Massey Cup |
| | |
| --- | --- |
| 2016 – Bill Carson Most Consistent Player Award (Snr Level) | Jim Laulilii – Ron Massey Cup |
| | |
| --- | --- |
| 2016 – Alan Ridley Award for Most Tries | Jai Doolan – Sydney Shield & Ron Massey Cup (Wests Tigers NYC) |
| | |
| --- | --- |
| 2016 – Tom Raudonikis Most Courageous Player Award (RMC) | Inno Inosesio – Ron Massey Cup |
| | |
| --- | --- |
| 2016 – Wests Ashfield Leagues Best & Fairest Award (RMC) | David Harris – Ron Massey Cup |
| | |
| --- | --- |
| 2016 – Tom Raudonikis Most Courageous Player Award (SS) | Kelsey Coakes – Sydney Shield |
| | |
| --- | --- |
| 2016 – Wests Ashfield Leagues Best & Fairest Award (SS) | Blake Cavallaro – Sydney Shield & Ron Massey Cup |
| | |
| --- | --- |
| 2016 – Wests Campbelltown Leagues Most Consistent Player Award (Jnr Level) | Lekendrick Masoe – S.G Ball |
| | |
| --- | --- |
| 2016 – Jack Ashley & Ken Stonestreet Rising Star Award (Jnr Level) | Tyrone Harding – Harold Matthews |
| | |
| --- | --- |
| 2016 – John 'Dallas' Donnelly Most Courageous Player Award (S.G Ball) | |
| | |
| --- | --- |
| 2016 – Wests Ashfield Leagues Best & Fairest Award (S.G Ball) | |
| | |
| --- | --- |
| 2016 – John Skandalis Most Courageous Player Award (Harold Matthews) | Felix Smith – Harold Matthews |
| | |
| --- | --- |
| 2016 – Wests Ashfield Leagues Best & Fairest Award (Harold Matthews) | Rua Ngati – Harold Matthews |
| | |
| --- | --- |
| | |