Vale Jim "Sammy" DIXON
1955 – 2016
Dear All,
Sadly after a tough and long fight with cancer he passed away last night.  He was 61 years old and is survived by two school aged children.  Jimmy was raising his kids by himself, with the help of his sister Laureen, who is a nun (yep I know Jimmy Dixons sister is a nun).  From what I understand, Laureen is going to step aside from her religious duties and raise the children.
Jimmy was certainly a character – most of the people on this list who knew him would know of his passion for Rugby League as a player and spectator.
As a player he was MAD.  He had a couple of years playing lower grades for Wests in the 70's, graduating from the mighty Five Dock RSL Club.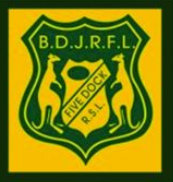 His attitude to winning was such that the legendary Tommy Raudonikis once told him that if he had 12 blokes in a team with Jimmy's will to win then they would never lose a game.  One game I can recall had the tough as teak Cronulla Second Rower Steve Kneen making a comeback to football though reserve grade and so Tommy told Jim at training on the Thursday night that if he could upset Kneen and put him off his game then Wests had a great chance of winning – so the first time Kneen took the ball up Jim hit him high and hard.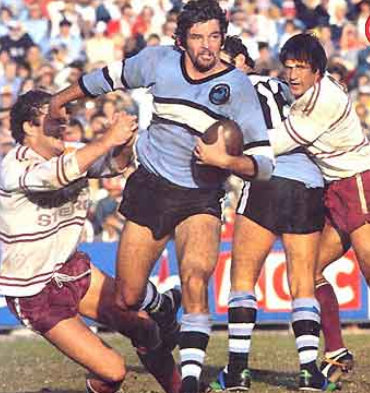 Steve Kneen.
HUGE mistake – every time Jim took off from dummy half after that Kneen drove him so hard into the ground that the worms under Lidcombe Oval were in fear of their lives.  But Wests won and Jimmy argued it was worth the pain.
As a fan of the Wests Magpies there was none more loyal.
He did some dumb things over his life but I doubt there is anyone reading this note who hasn't done the same.  In the end all he wanted was for his children to grow up to be fine people – they too had faced some pretty serious challenges before Jimmy won the right to raise them himself.  With his sister's guidance I am sure his wish will be fulfilled.
So just about know, in another calmer and nicer place, I am sure Jim has caught up with Dallas Donnelly and they are settling down to watch yet another replay of the might Western Suburbs team of 1978 as they roared to a minor premiership – and along the way I know the 2005 Grand Final will be replayed on a regular basis..
Vale Jimmy Dixon – you did your best.
Nimbus.
Jim played hooker for Wests, from Junior Reps. to Grade.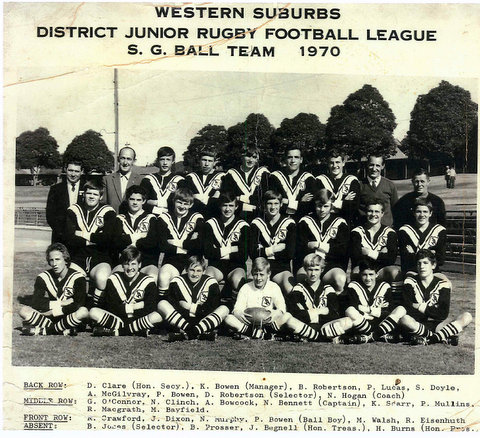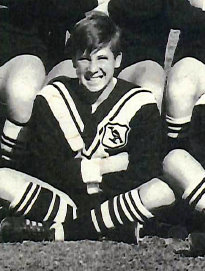 Sammy Dixon.
He played six Under 23's games and two Reserve Grade matches in 1976.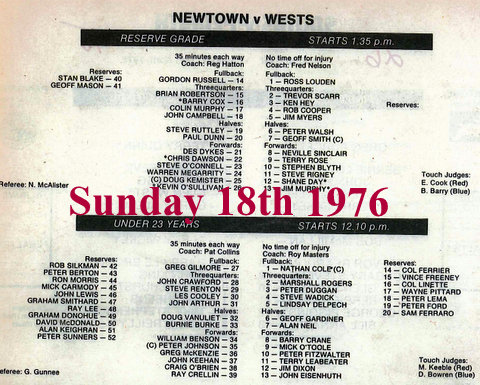 St. Patrick's Catholic Church Summer Hill was packed this morning, with
a wide group of people, from politicians to footballers, who illustrated
just how much Jim was loved. While he was a tough "give it to 'em" style
of footballer, Jim, off field, was always cheery and extremely generous
of his time and energies.
Below is a copy of the Order Of Service from this mornings Funeral.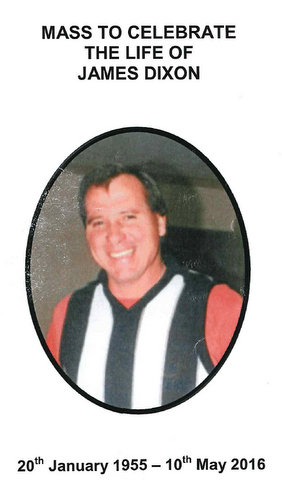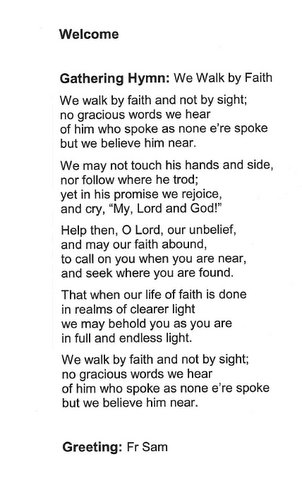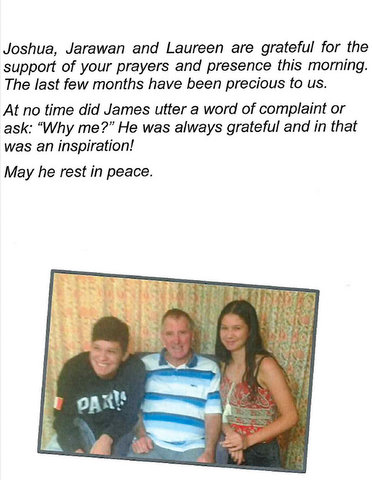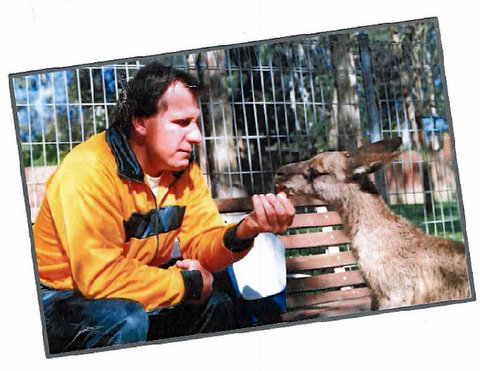 His sister Laureen is a nun, and she and her fellow Sisters of Charity,
will continue to take care of the children.
Josh is doing the HSC and Jarawan is in Year 11.
Jim did an outstanding job as a single parent. They are wonderful kids,
both very able sports people.
Old team mates such as Kerry Morrison, Lindsay Delpech, Kevin Bryson
and Mick Liubinskas were in attendance, along with representatives of
Wests Magpies, Wests Tigers and Wests Ashfield Leagues.

A  simple man, who loved life and the people in it.
James Dixon.
He will be missed.