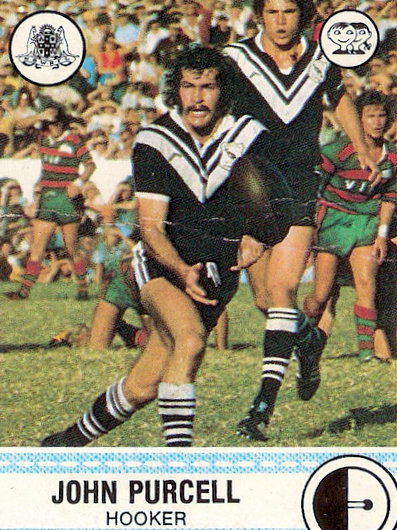 John on the run 1975.
John Purcell was born in May of 1952 which makes John the youngest Ex-Wests player (and closest to my age ) that I have had the pleasure to interview. I met John at his home which is not far from Wenty Leagues Club in November 2015.
He was surprised that I had wanted to interview him.
Every Wests player has a story to tell and I am very happy that John allowed me to tell his.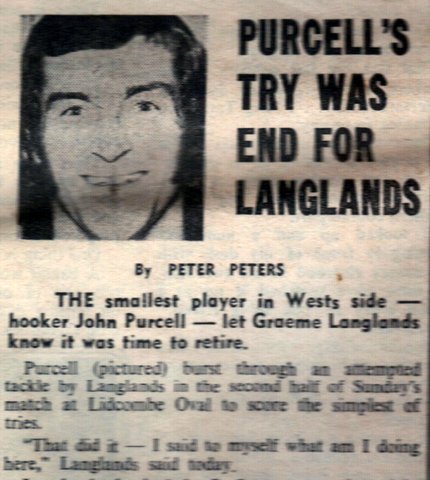 The story above is a point in fact.
The year was 1976 and  Graeme Langlands had lasted 6 rounds into the 1976 season well after the famous White Boot Grand Final v Easts of 75.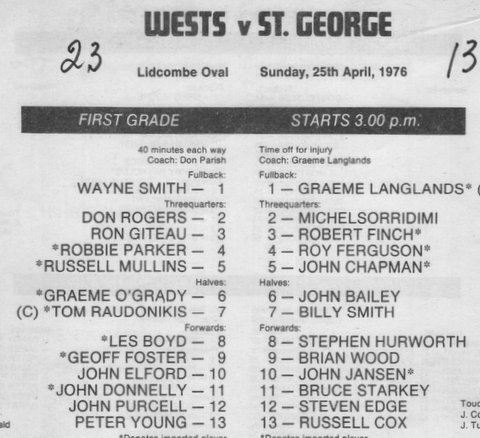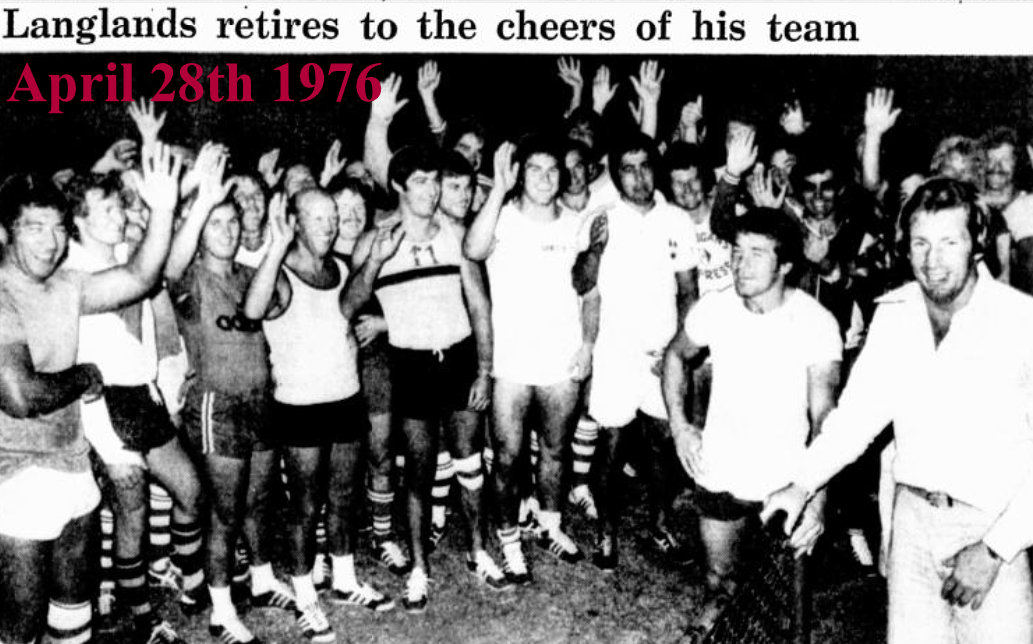 Wests played St George at Lidcombe…John scored a great try…the rest is History.
John Purcell's story begins.
John started playing Rugby League at a young age, so young in fact that the team was picked on weight.
The Marist Brothers Lidcombe 4st 7 lb team was John's first team.
After leaving MB Lidcombe John attended Marist Brothers Auburn for his High School years.
For the next 3 years John played for MBHS Auburn both during the week against other schools and on the weekend against local sides.
During this time John was picked to play for Wests in the S.G.Ball comp.
John left school in 1967 and played the next 3 years for Enfield Federals.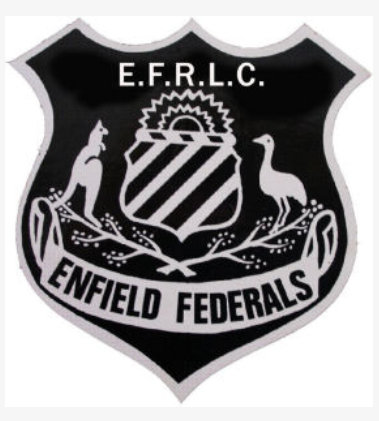 During these 3 years John and the Feds won 3 comps and John played and Captained Wests Jersey Flegg Team.
1971.
           John was only 18 at the start of the 1971 season when he was graded to play third grade for Wests.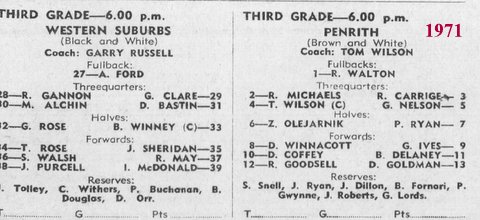 John's first game for Wests.
John  broke both collarbones and missed a lot of the 1971 season.
 John played in 9 games and scored 2 tries.
1972.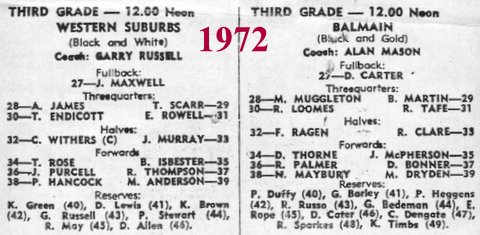 John played 18 games in Third Grade.
1973.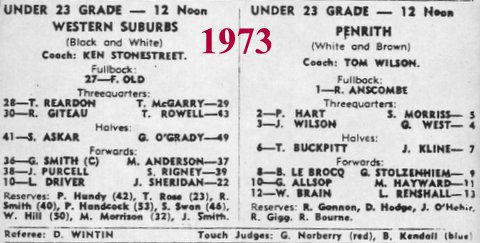 1973 was the first year of the new Under 23 Grade.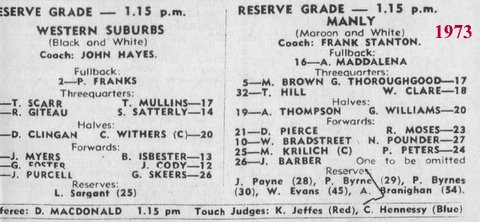 John's first game in Wests Reserve grade.
Jim Cody and Geoff Foster a couple of good forwards helping John on the day.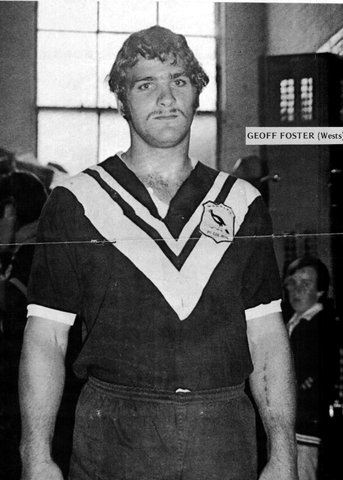 Geoff Foster.
John played 4 game in Reserve grade and 18 games in the new Under 23 comp scoring 3 tries.
During 1973 John also played for his employer the Housing Commission in the Sydney Business Houses comp held at the Domain in Sydney.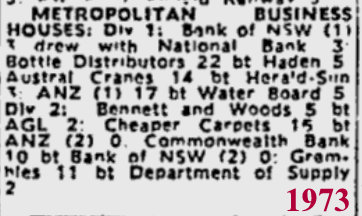 A NSW team was picked to play QLD in a game held at Lang Park before the 1973 NSW V QLD and John was the hooker.
NSW won of course.
One good story John told me was the time he busted his finger playing Fullback on Friday for the Housing Commission. John had not told Wests about playing in this game. Thanks to Wests trainer Doug Lucas and a sharp pair of scissors and a lot of pain the problem was fixed before John ran on to play on the weekend for Wests.
1974.
1974 was the first year since 1963 that Wests had made the semis.

 John was a major reason for Wests success in 1974.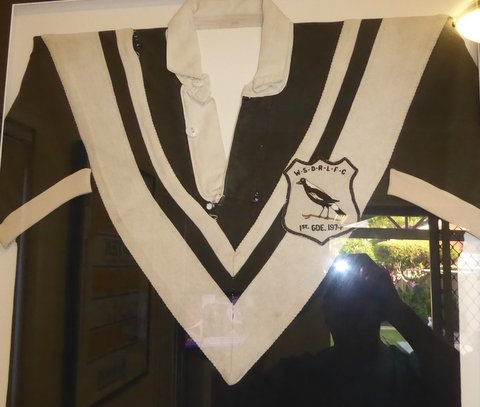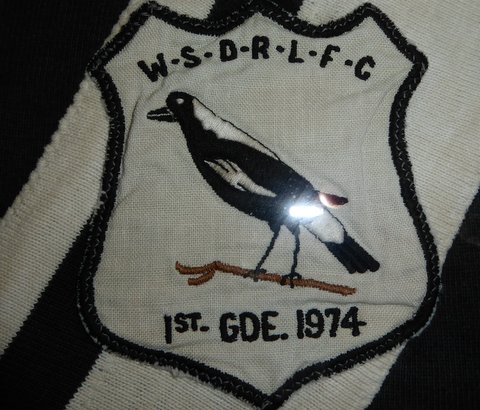 John's first First Grade Jumper has pride of place in John's home.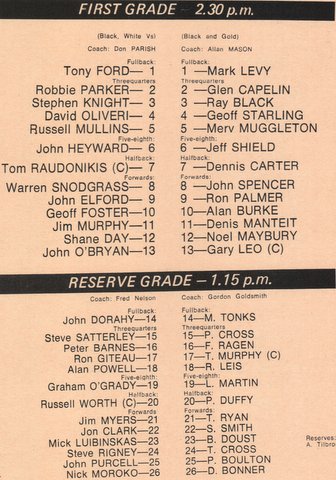 The first round of the 1974 season and John is playing his first First grade game.

What a score line.
NOTE: John was to play Reserve grade when the program was printed BUT played in First grade on the day.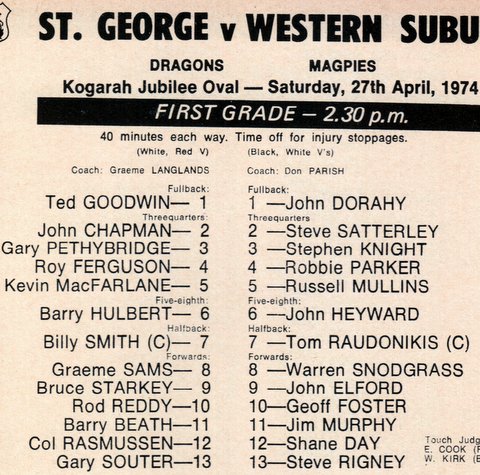 John not in program but as per the next weeks program he has scored a try. (which he did)
 Mistakes made in Rugby League Programs were common and it still happens.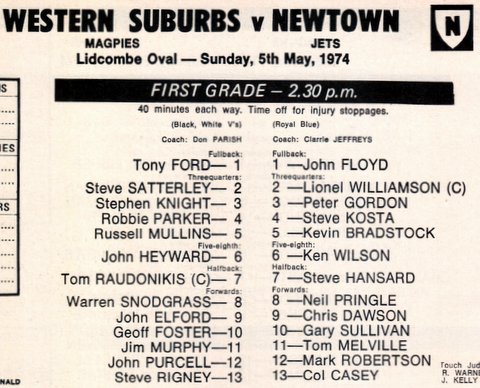 First time John's name appeared in the Official program as the First Grade hooker for Wests.
At the age of 21 John was up against some very good hookers and old hard head props.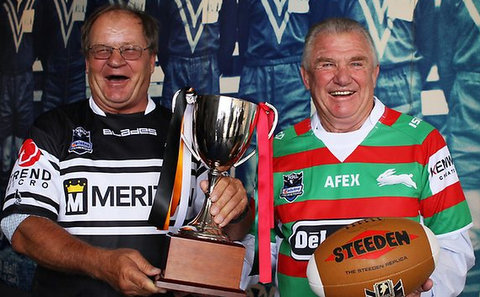 George Piggins being one of them.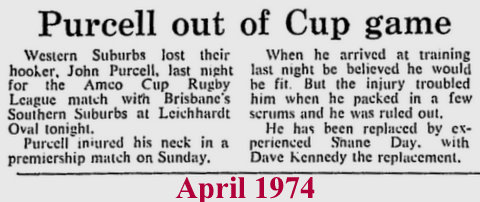 It was not all clear sailing for John in 1974.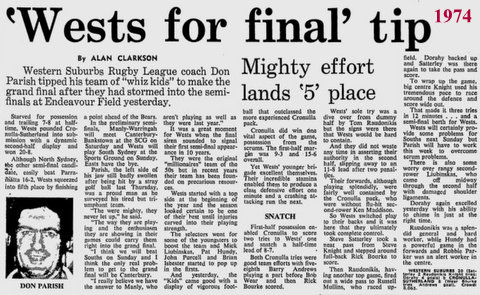 A good win at the right time. Wests finish 5th.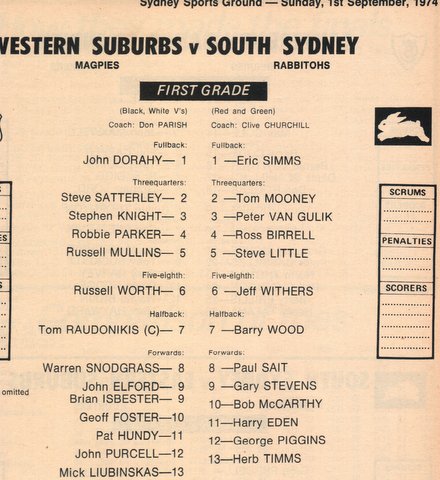 The first of the semis Wests 24 beat Souths 2.

How Wests made it to the Semis.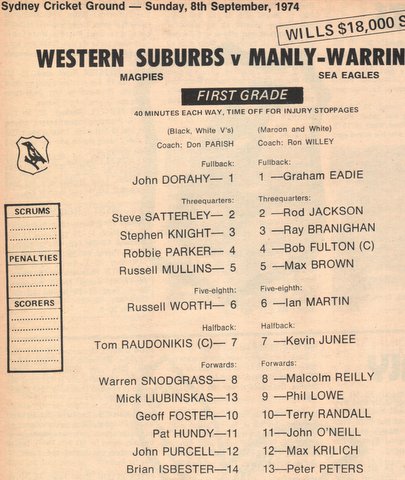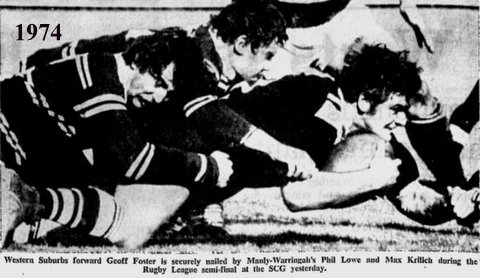 Geoff Foster scores a try against Manly.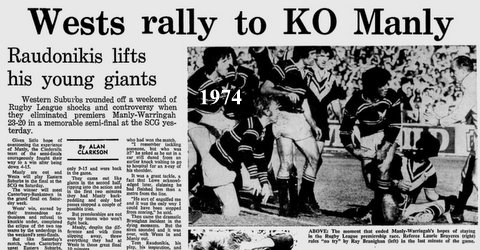 Wests 23 beat Manly 20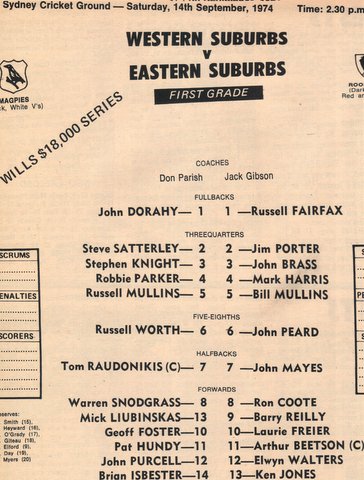 The great run comes to an end Wests 2 V Easts 25.
Beaten by a better side on the day.
John told me that he had very bad bronchitis and Pat Hundy could not straighten his arm.
(Not excuses just two reasons.)
John's record for 1974 was 23 First Grade games 1 try and  3 Reserve Grade games 1 try.
1975.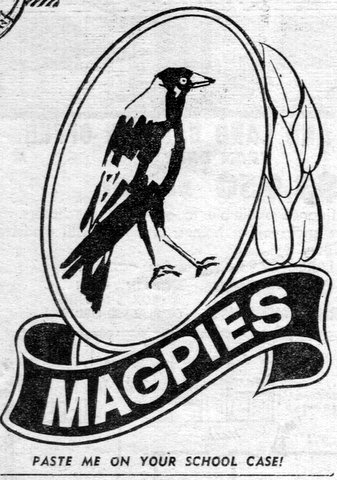 Newspaper promotion 1975 style.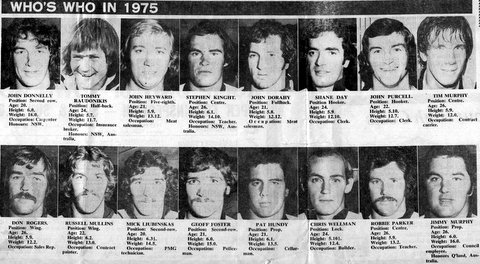 What a fine body of Magpies.
1975 to Wests fans was the year of playoffs.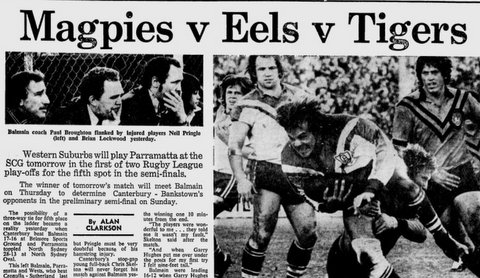 Due to a point being taken off Wests there was a three way playoff for the 5 th spot.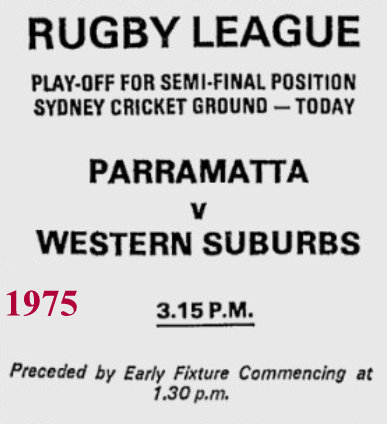 Playoff game was played on Tuesday 26th August 1975.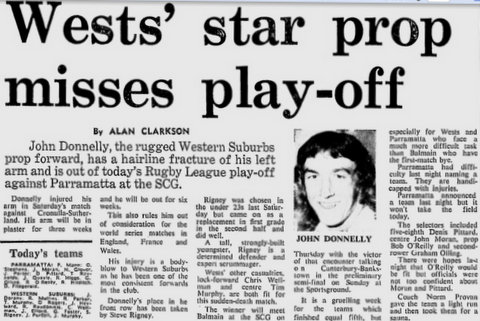 Dallas was missed on the day. Wests 13 V Parramatta 18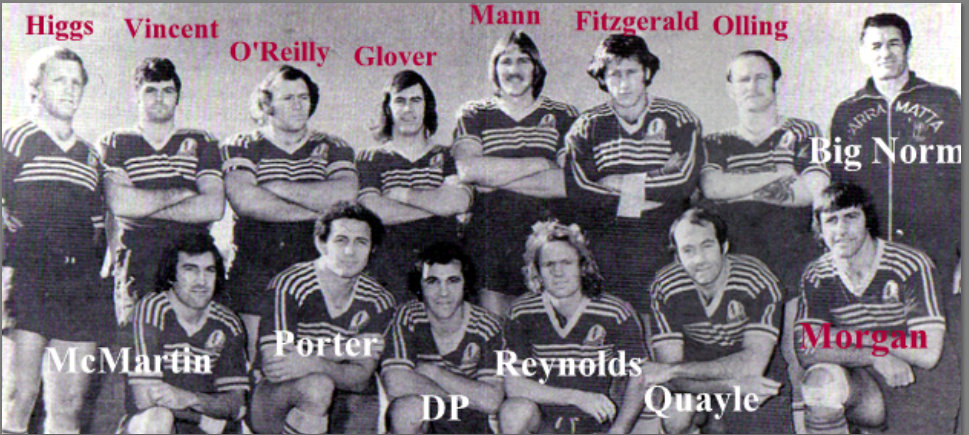 Parramatta went on to beat Balmain then Canterbury before losing to Manly 22-12.
Just for the record Easts 38 flogged St George Zip in the Grand Final.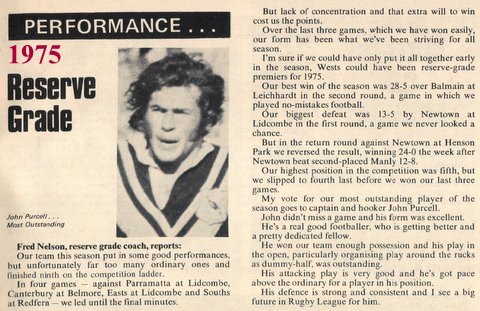 Very good write up by Fred Nelson on John's season.
John played 4 First Grade games scoring 1 try and 21 Reserve Grade games scoring 3 tries.
1976.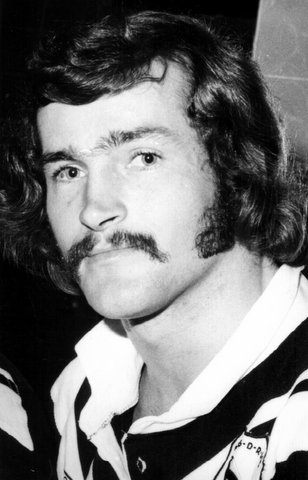 John looking all class !
John scored 4 tries in first grade in 1976 which maybe a record for a Wests First Grade hooker.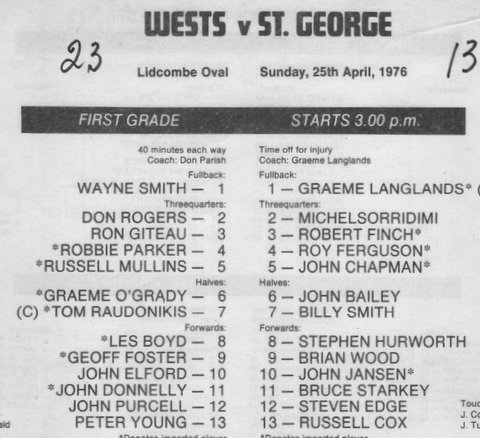 First try.
This is the famous last game of Graeme Langlands.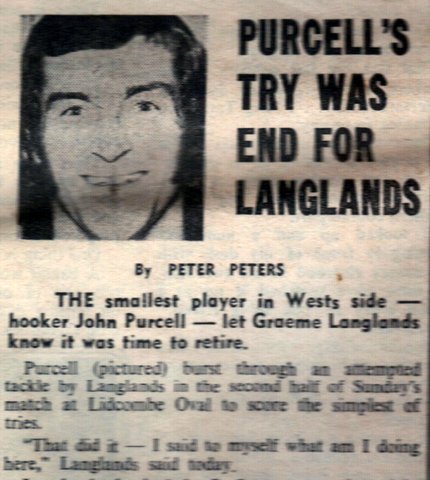 It was all John's fault.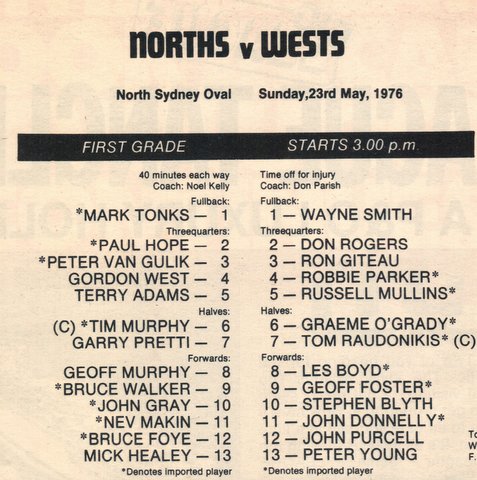 Second try. Wests 41 beat Norths 12
John scored his third try V Manly and his fourth against St George in the second round.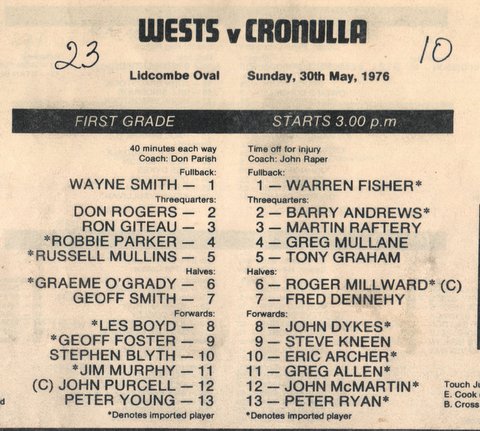 A very proud moment for John .
John was chosen to Captain Wests First Grade.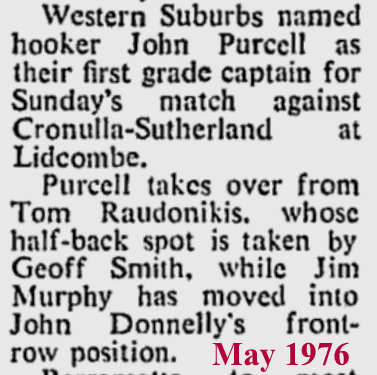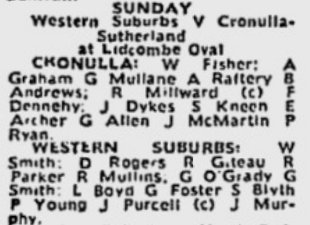 Wests 23 beat Cronulla – Sutherland 10.
John played in 19 First Grade games scoring 4 tries and 1 Reserve Grade game.
1977.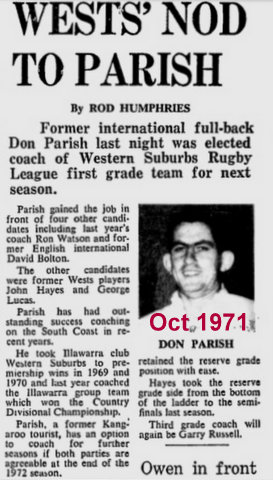 After 5 years as Wests coach Don Parish left the Magpies and headed further west to Penrith.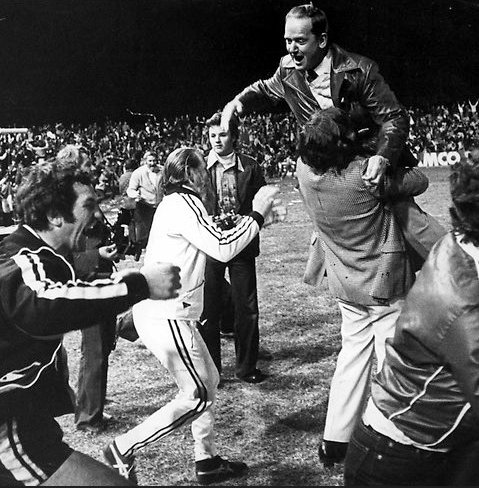 Wests new coach was Keith "Yappy" Holman.
Keith had already coached Wests way back in 1954-55. Yappy was Capt/Coach for those 2 years.
1977 for Wests was all about winning the Amco Cup.
(Spoiler alert) Which Wests did.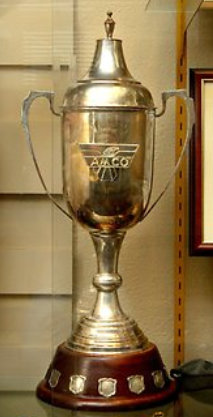 The Amco Cup.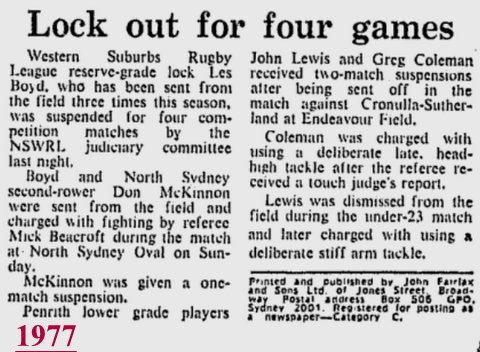 Les missed the Amco Cup Final.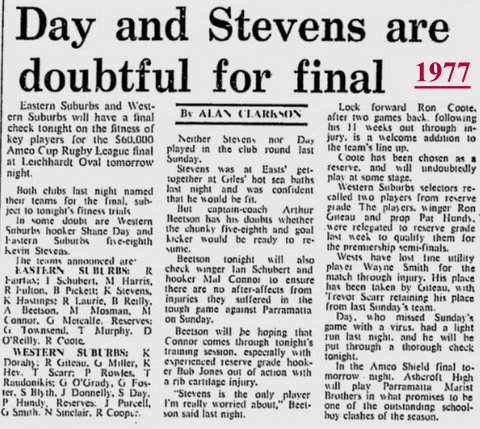 John told me that he only found out he was playing in the game shortly before the match.
Bad news is Shane Day out with a virus.  Good news is John Purcell plays.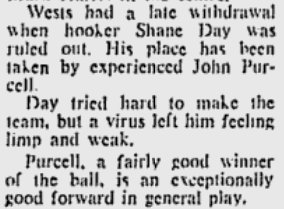 Wests win the Amco Cup.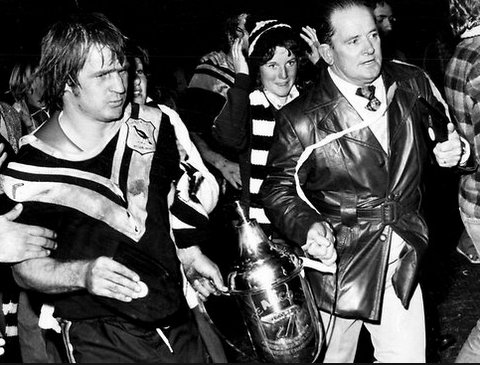 Two great Wests half backs holding the Amco Cup.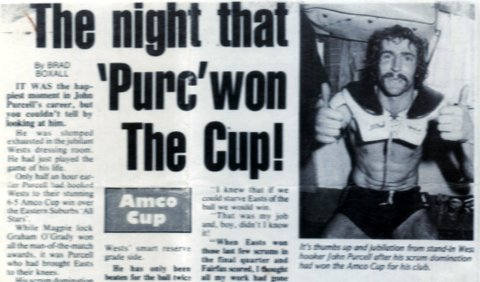 The headlines say it all.

I recently watched the 1977 Amco Cup again . Not only did Purc win a lot of scums, the first 4 in fact.
His tackling and dummy half play greatly helped Wests win.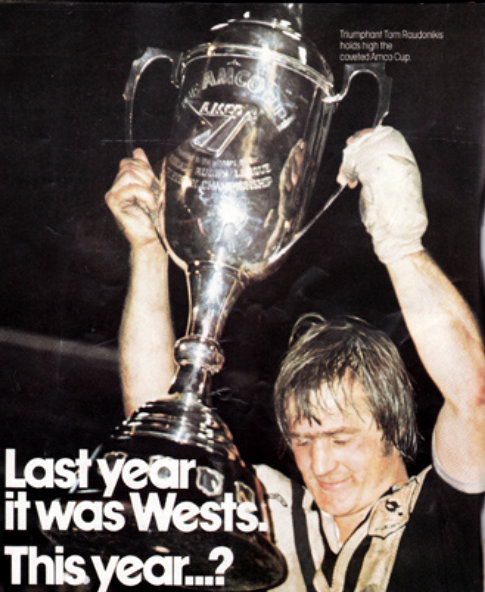 Tommy holding up the Amco Cup 1977.
1978.
A new First Grade coach was chosen from the Under 23's winning Team of 1977.
Thats the new coach far right wearing the very red shirt. Roy Masters.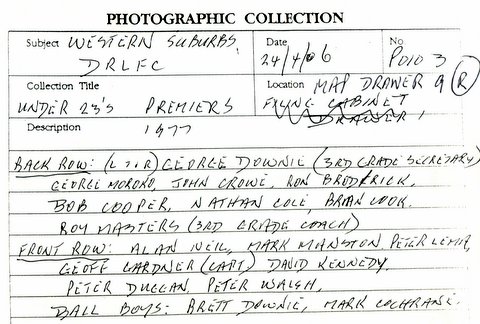 Just for the record the complete list of players who won the 1977 Under 23's Comp.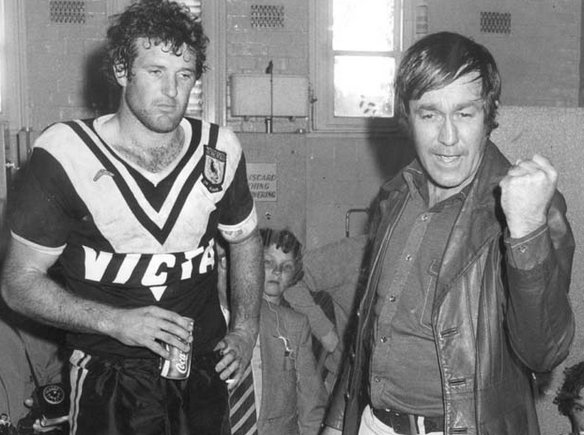 Roy Masters revving up the boys.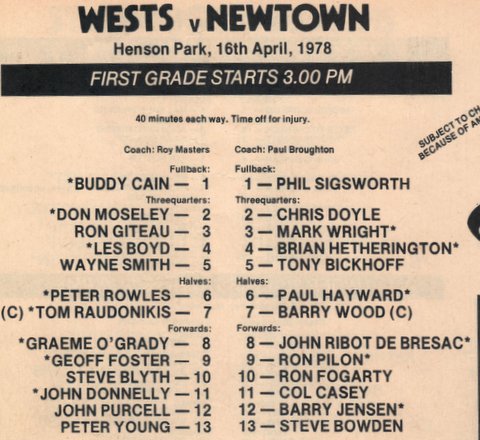 John scored his last try for Wests in this win over Newtown. Wests 25 Jets 7.
Note: Les Boyd playing in the centres.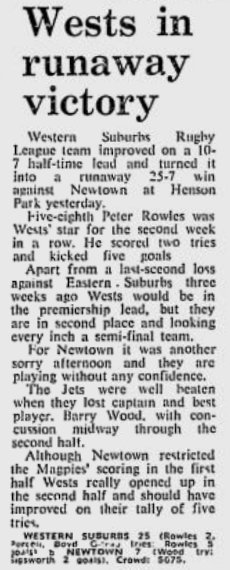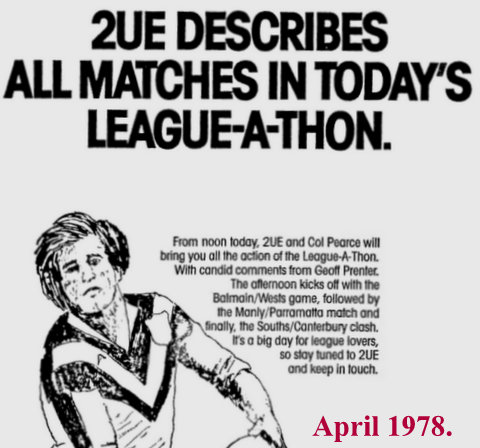 1978 the year of League-A-Thon's.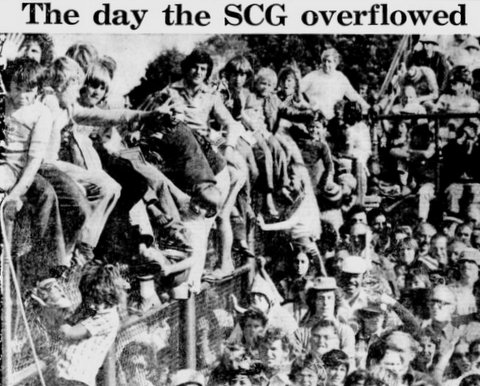 The crowds loved it.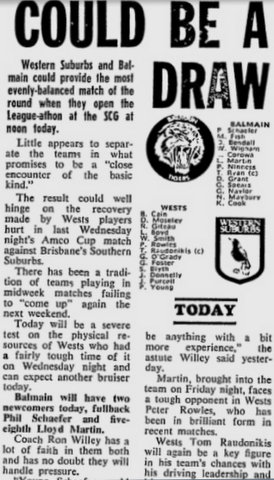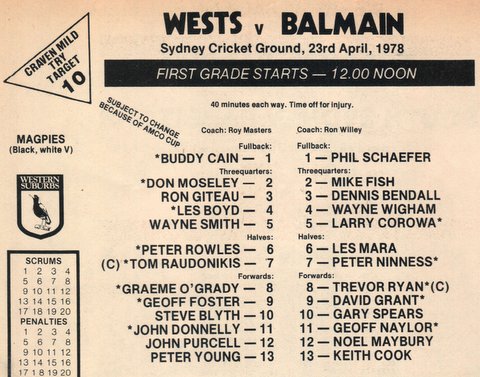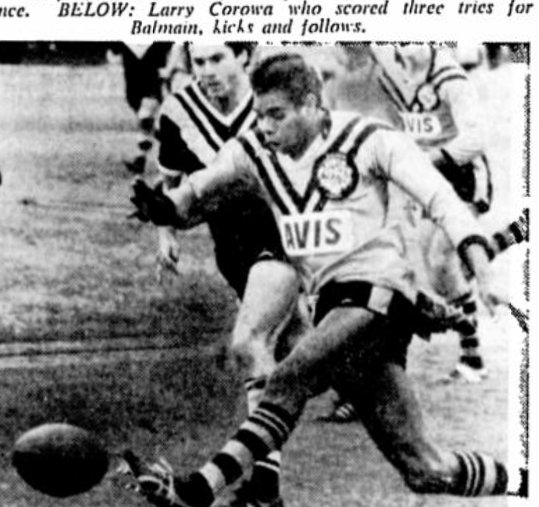 The Black Flash loved it.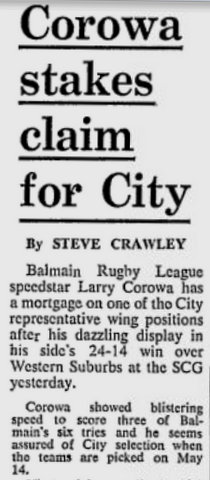 But not Wests.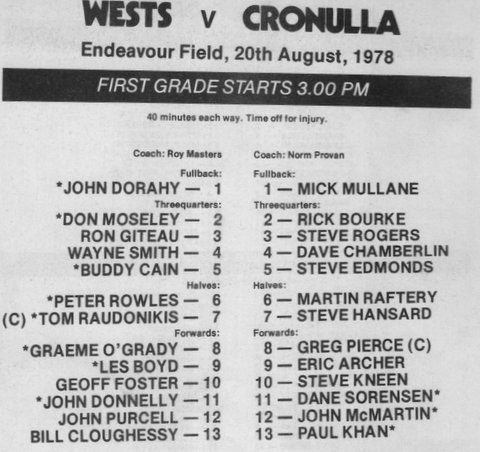 This was the game where John broke his hand on Steve Roger's head.
Unfortunately for John it was the last game before the Famous Semi Finals.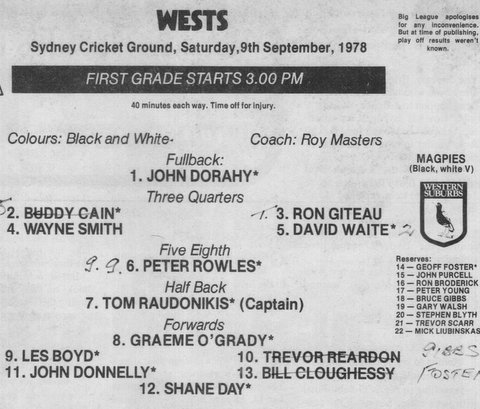 It was a sad end to the season for Wests and John Purcell.
Wests 7 were beaten by Manly 14.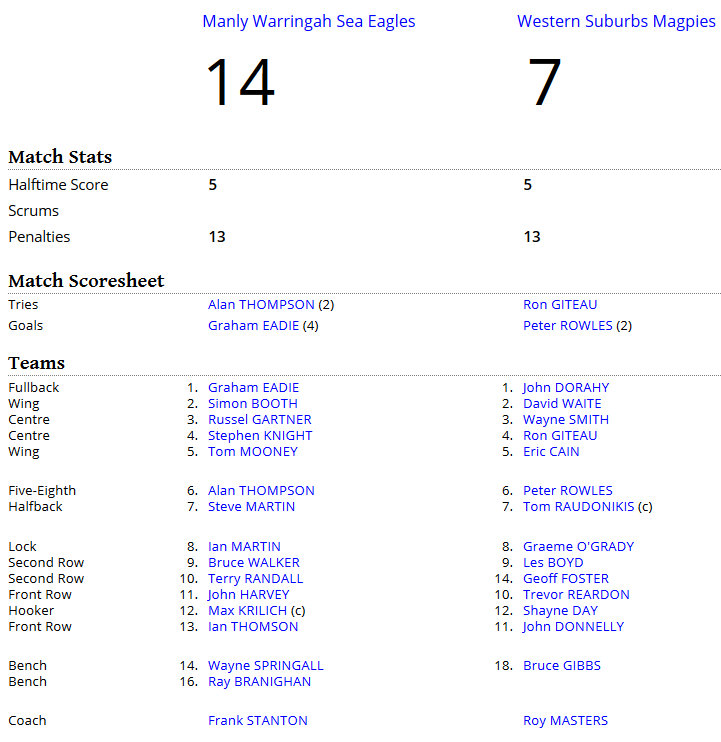 There is a brilliant DVD about the 1978 season called "The Fibros and the Silvertails".
It's a must see for all Wests supporters.
John played 9 First grade games scoring 1 try and 10 games in Reserve grade.
1979.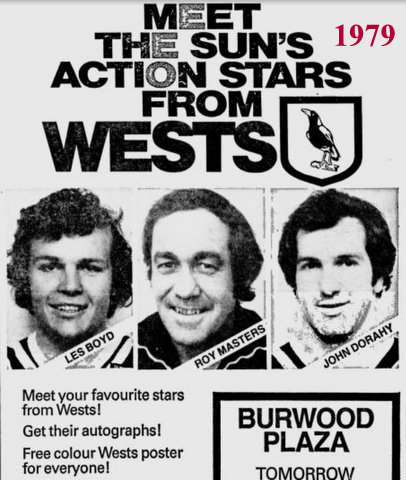 At the end of the 1978 season Shane Day retired from Rugby League which in theory made John Purcell the numero uno  hooker at Wests. John asked for $10,000 but was offered $7,000 then he found out that Wests had signed Jack Jefferies from St George and Country hooker  Ray Brown.
Seeing the writing on the wall when John was offered the job of Captain/ Coach of Yass Magpies he took it.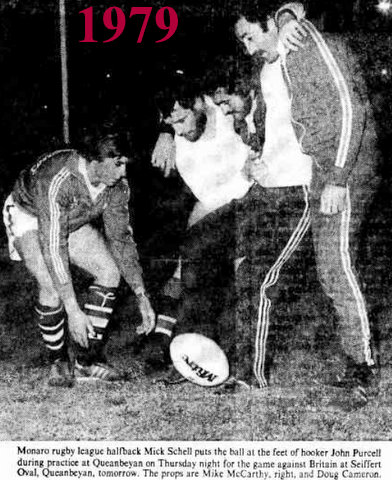 To quote John " Tony it was not the best decision I have ever made"
Yass with a very limited talent pool finished just outside the top 5.
After one big loss John decided to extend training . As John and a couple of the players were doing a extra lap of Walker Park the other players were driving away to the pub in their cars and bikes.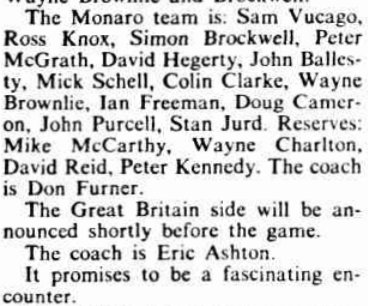 John was chosen as hooker for the Monaro team to play the touring Great Britain side.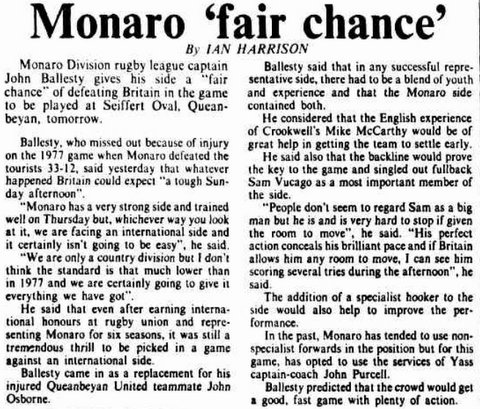 All sounds good before the game.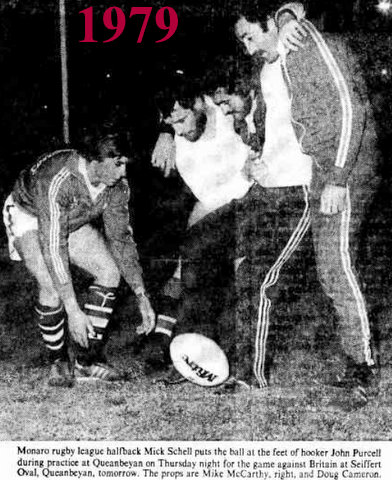 Practice makes perfect. Maybe they should of been practicing their boxing skills.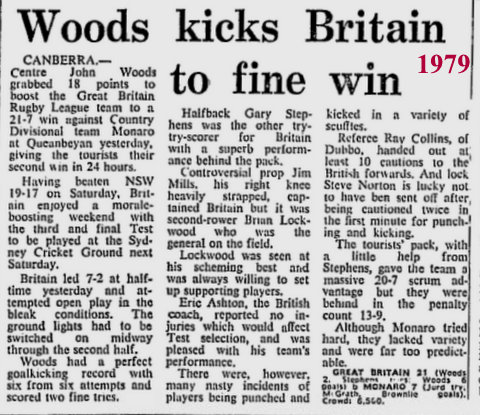 Game report from the Canberra Times.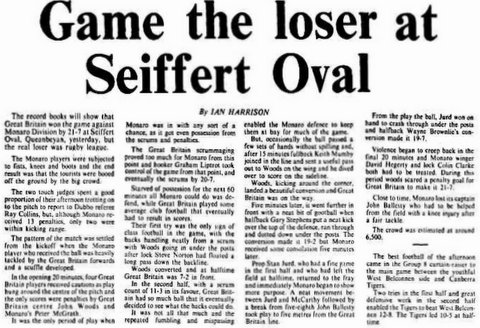 The Pommies went mad they just bashed everything that moved.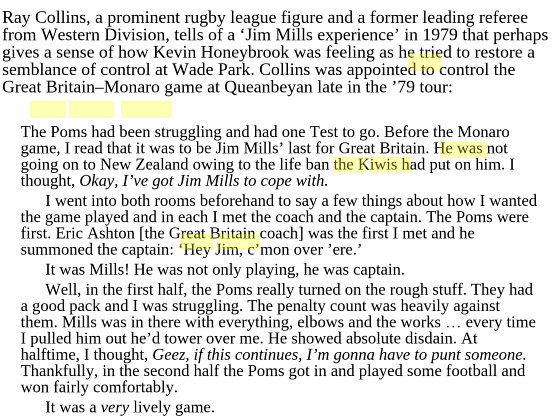 To make matters worse John received the grand sum of $10 for match payment and is still waiting for his petrol money for driving between Yass and Queanbeyan for training.
The Monaro officials also took his jumper and shorts and wanted his socks as well.

After a long year at Yass John decided to hang up his boots.
1980.
John had the complete year away from football.
1981.
After the year off John was missing the game of Rugby League and his mates so he played a few trial games back with Wests.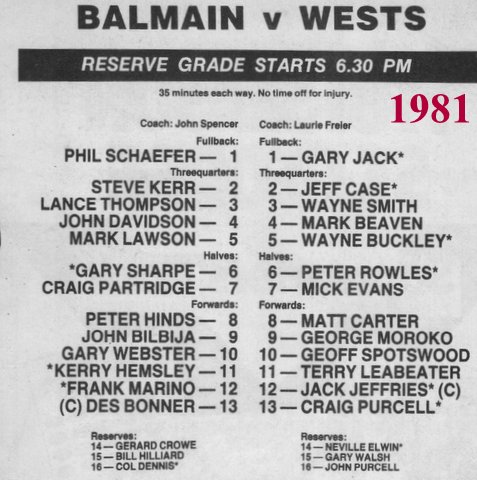 John was a reserve but got a run in the second half of this game.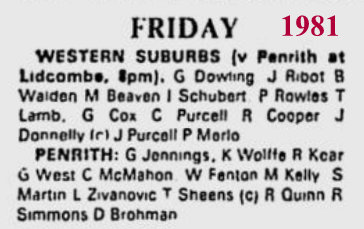 John playing back in First grade.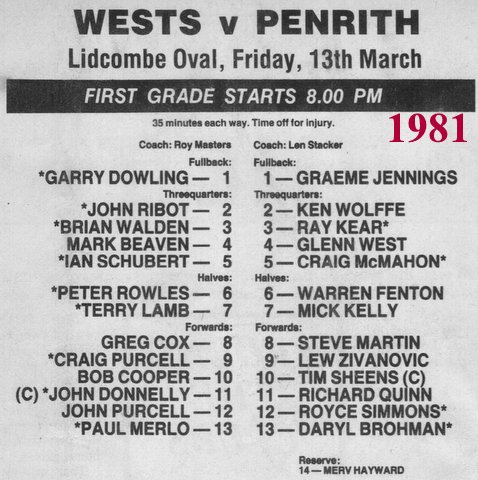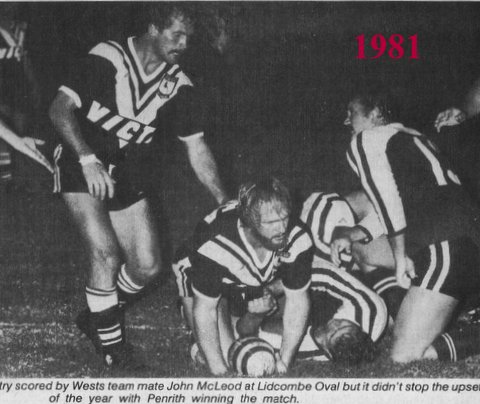 Maybe the last time John was seen in a Wests jumper.
That's John far left.
Another John was also making a comeback in 1981….but not his last.
When the list of graded players was posted John noticed that he was reserve for Reserve grade.
After talking to Wests officials he decided to take up an offer to play for Ryde Eastwood in the Metropolitan Cup.
Just for the record John was offered $1000 sign on and $600 a win if playing in First Grade from Wests.
Ryde – Eastwood offer was $3500 plus match fees.
A couple of ex First grade players that played for Ryde – Eastwood in 1981 were Tony Quirk and Garry Stewart.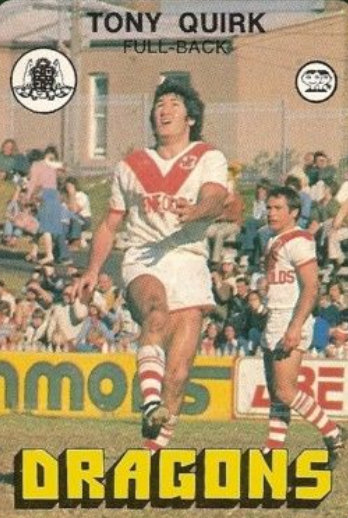 Tony Quirk playing for St George.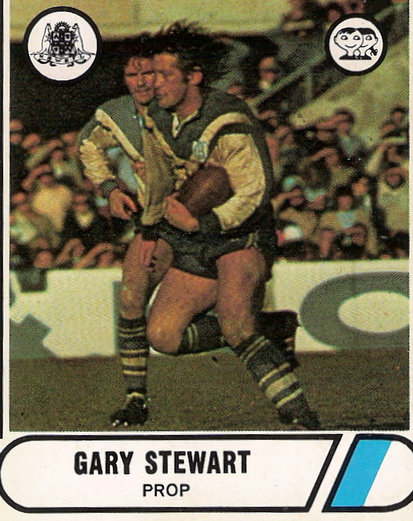 Gary Stewart playing for the Bulldogs.
After the 1981 season with Ryde – Eastwood at the age of 29 and carrying a few injuries John decided to retire from Rugby League completely.
Johns game tally at Wests thanks to the Wests Archives is below.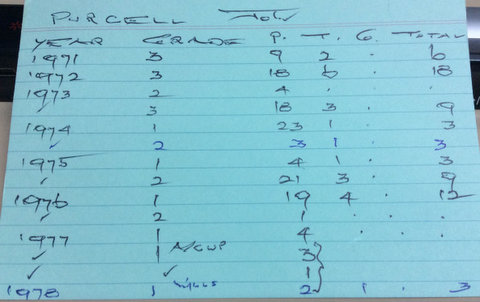 John loved playing at Lidcombe Oval and he named it his favourite ground.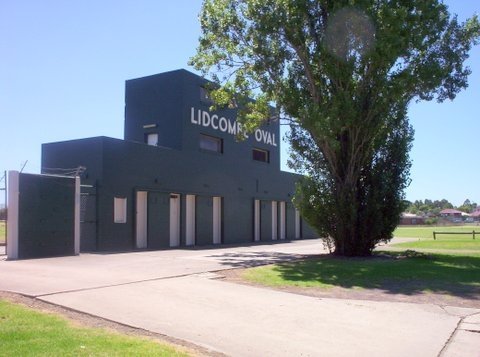 When I asked John who was the biggest influence in his Rugby League career  he said his dad Jack Purcell.
" Dad would keep stats about how many scrums I won, tackles made and missed and how many penalties I gave away in the scrums. Dad would always compare my game with Shane Days. He was a great help to me in my Rugby League career" 
While on the subject of people helping John one person stood out as well as John's dad and that was Ken Stonestreet. Nebo was John's coach in 1973.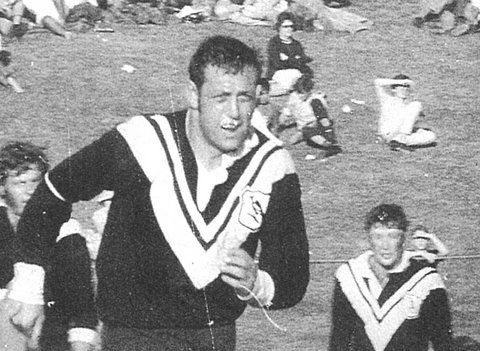 Ken Stonestreet playing for Wests.
I had to ask John a few questions about his time at Wests and Rugby League.
Best Player ever.
Johnny Raper.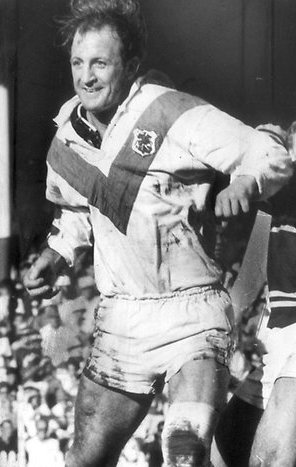 As a child John remembers JR tackling Peter Dimond at the SSG and PD not getting up.
Best Player you played with or against.
Tommy Raudonikis.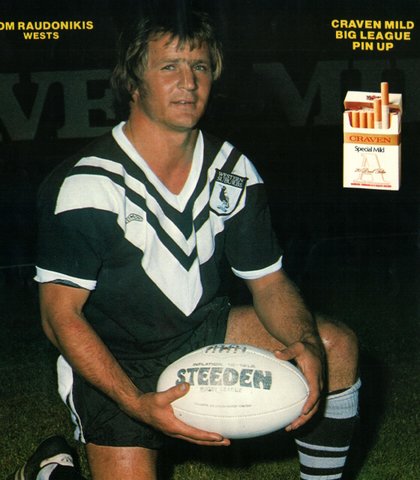 Other players John mentioned were.
Artie Beetson.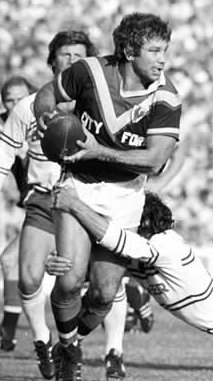 Max Kilrich and Terry Randall.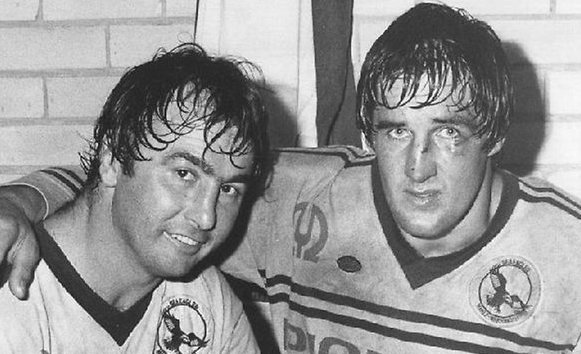 "Terry Randell was as hard as a brick wall"
Terry Randall and Big Bill Hamilton in the back ground.
Best coach.
Roy Masters.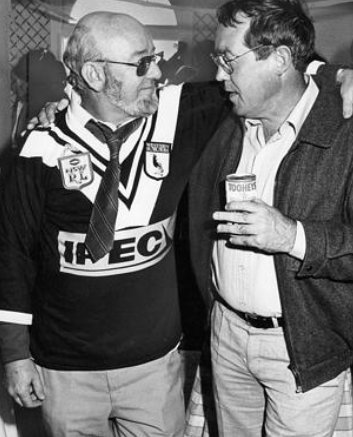 Tom Keneally and Roy Masters.
Hardest player to tackle.
Bob Fulton.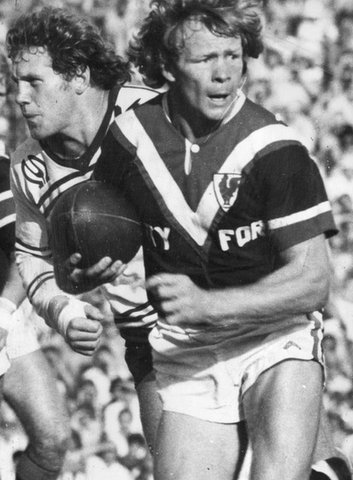 Bob Fulton playing for Easts.
Toughest Hooker.
George Piggins.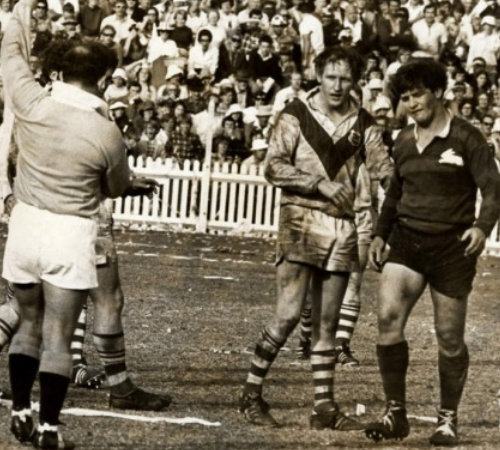 George Piggins chatting with the ref 1971.
Favorite front row combination.
Dallas and Pat Hundy.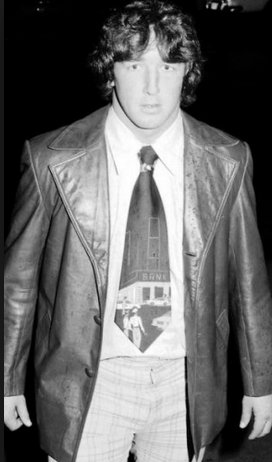 Dallas either going to Church or Phillip St. (again)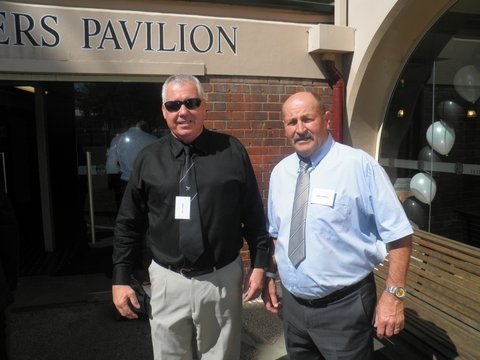 Pat Hundy and John at the 2012 Pratten Park reunion.
John now works at Manildra Flour and looks back at his Rugby League career as very happy times.
Having played with and against so many great players John feels he was "just lucky" .
John from someone who watched you play for Wests for most of your career there is a lot more than luck involved.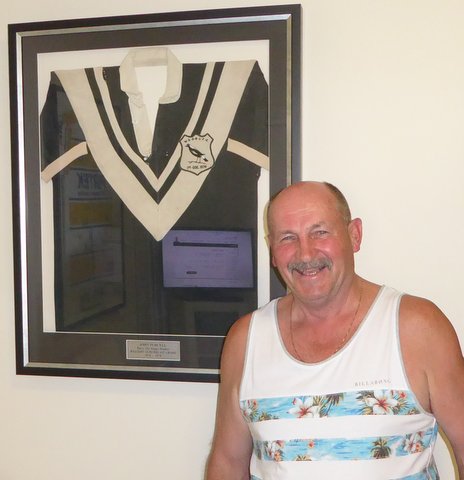 John standing in front of his first First Grade jumper. 2015.