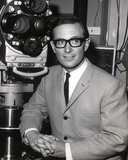 No not this Brian Henderson.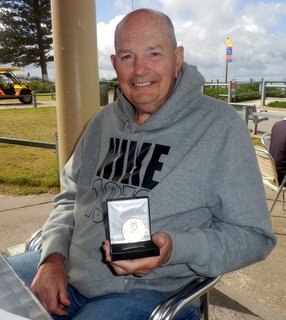 This Brian"Hendo" Henderson.
Brian receiving his Wests Special Medal for playing one or more First Grade games for Wests.
Each player who played one First grade game has been given a number depending when they played that first First Grade game for Wests .
Brian's number is 598.
The year was 1962 and the players either side of him are Gil Mac Dougall (597) and Bob Mc Guiness (599).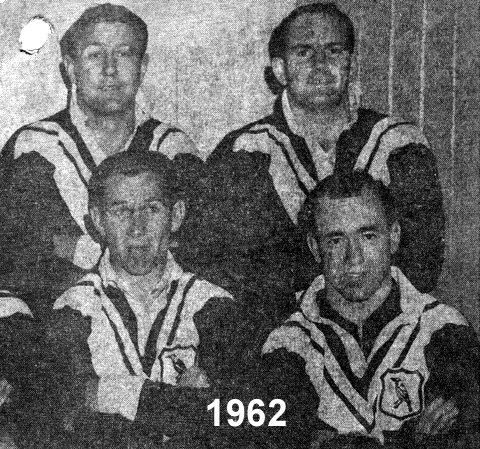 Top  Denis Meaney and Hendo. Bottom Kevin Smyth and Don Malone.
In total Hendo played two years at Wests 1962 and 63.
1962 Hendo played 14 First Grade games scoring one try.
1963 Hendo played 1 First Grade games and 11 Reserve Grade games.
I spoke to Hendo on the 26th August 2015 about his Rugby League career.
I  spent a very pleasant 2 hours chatting to Hendo at the North Cronulla Surf Club Cafe and discovered a player who had played along side and against some of the best players of all time.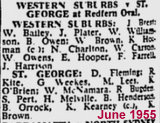 Possibly Hendo's first First Grade game with St George.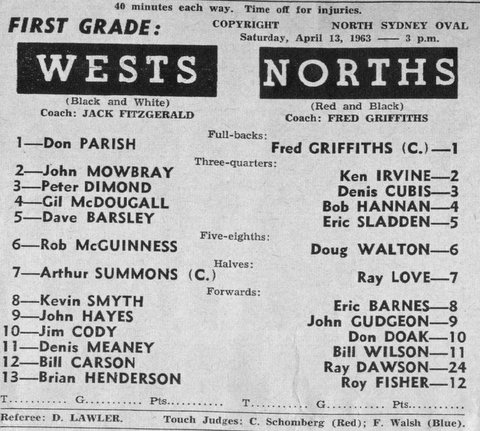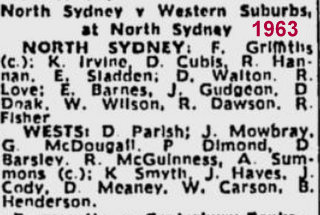 The last First Grade game Hendo played for Wests.
Lets go back to the start of Hendo's footie career.
Hendo was born in 1936.
And as a youngster played Rugby League for the Sutherland "Gravediggers" JRLC starting in C grade in 1952.
             Hendo's other love as a lad was  Crounlla Surf Club where Hendo was a life saver.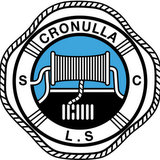 The famous club badge.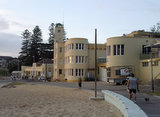 Cronulla Surf Club 2015.
In 1954 at the age of 18 Hendo played in the St George Presidents Cup team.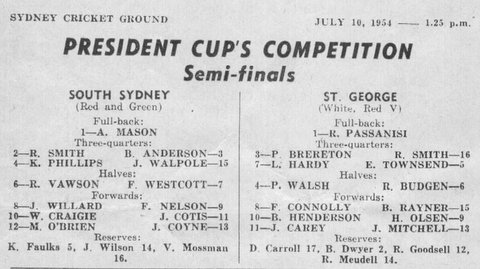 Hendo played in the curtain raiser for this famous abandoned match between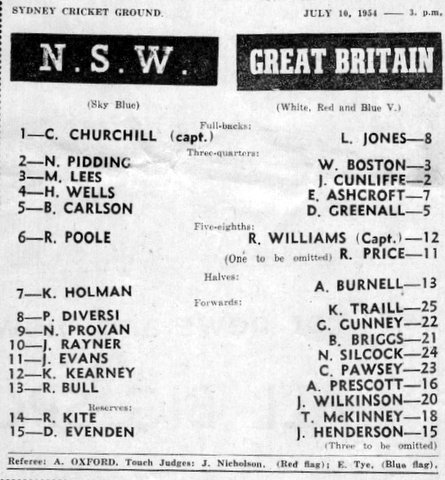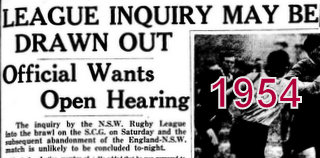 Great Britain and NSW.
After playing in the President Cup the players were shown to their seats in front of the old M.A.Noble
stand. Before they could get settled the game had been abandon by referee Aub Oxford.
Also in 1954 Hendo played at least one Third Grade game.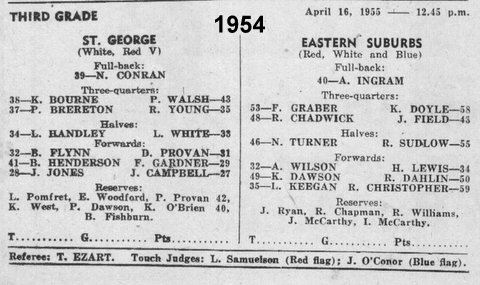 Hendo in number 41.
1955.
In 1955 Hendo had a stellar year playing in the Presidents Cup, Third Grade, Reserve Grade and First Grade for
the mighty St George.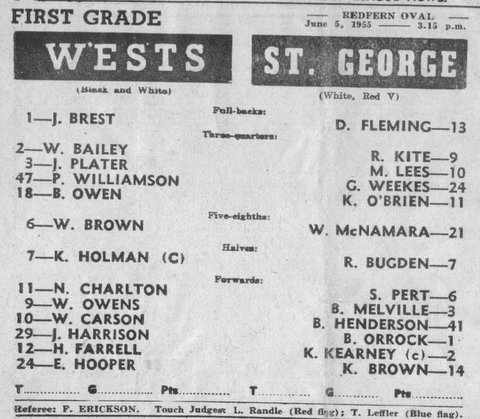 Hendos first First Grade game still wearing number 41.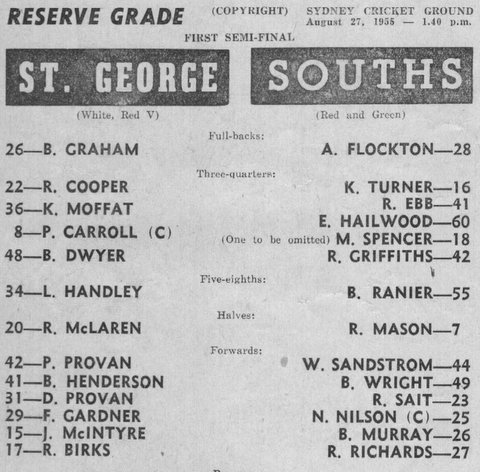 Hendo in the Reserve grade semi final playing along side fellow "Gravediggers"
Peter and Don Provan.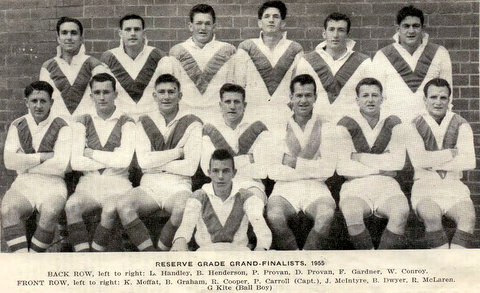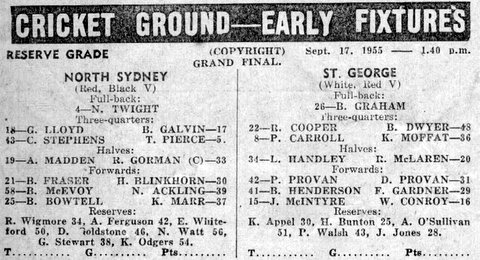 Hendo played in the losing Reserve Grade Grand Final side .
Saints 2 lost to North Sydney 9.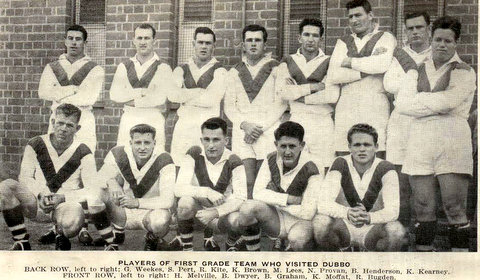 The 1955 end of season trip to Dubbo.
Hendo told me the story that St George fans who had traveled to Dubbo to watch the game bought all of the Doubles tickets and with the help of the St George players they won the money and shouted the players free beer after the game.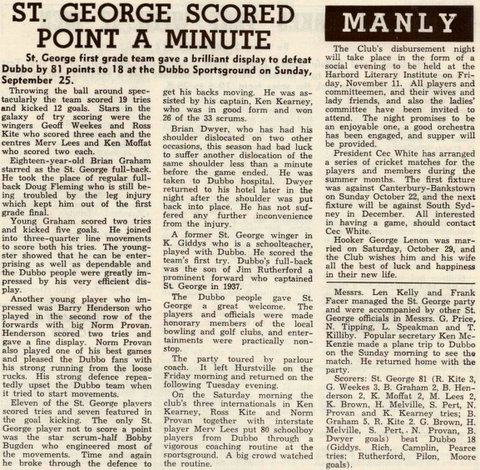 Thanks to Rick from the unofficial St George Archives for this information.
*At the end of the 1955 season Hendo was awarded the Most Improved Footballer Trophy.
(which he still has)
1956.
In 1956 unfortunately for Hendo's football career he was chosen for National Service.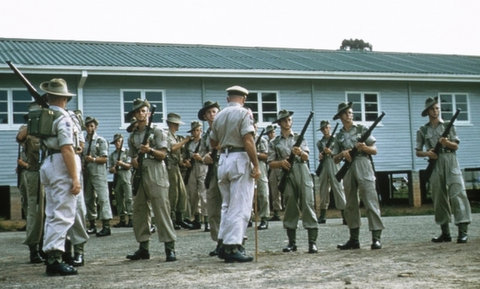 Rule 303.
After playing a few Reserve Grade games Hendo was on his way to join the Army.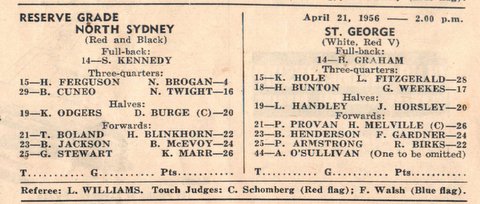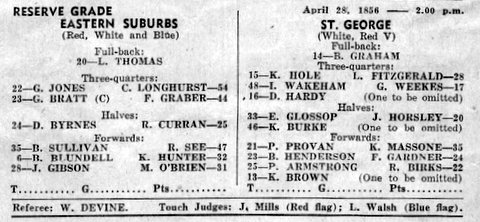 Hendos last game in 1956.
1957.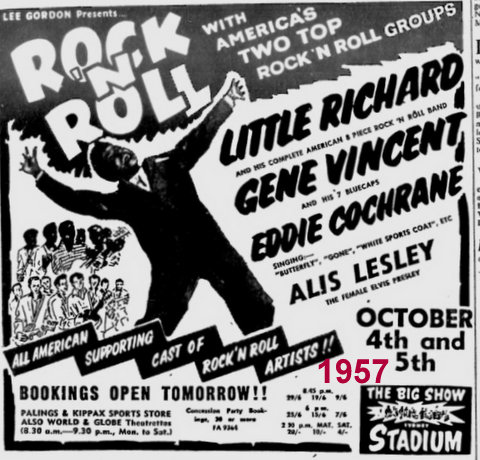 There was music in the air and Hendo was back full time with St George playing 6 First Grade games in a year when Saints First Grade squad was white hot.
Hendo also suffered a serious knee injury and this kept him out of a lot of games in 1957.
Saints only lost 3 games in 1957.
They beat Manly in the Grand Final 31-9.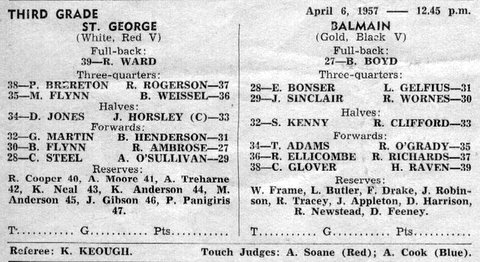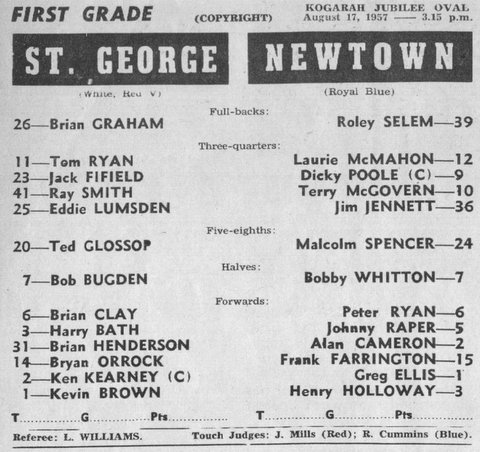 Hendo back into First Grade.
St George 16 beat the Bluebags 10.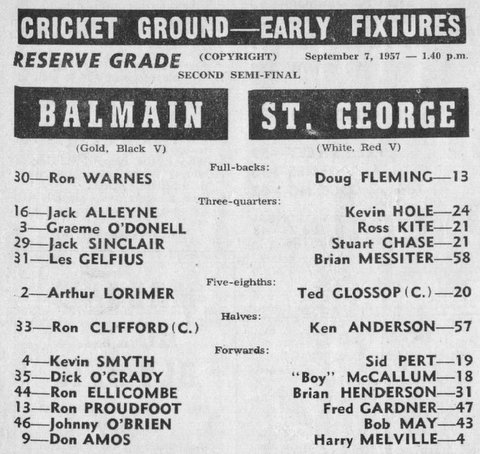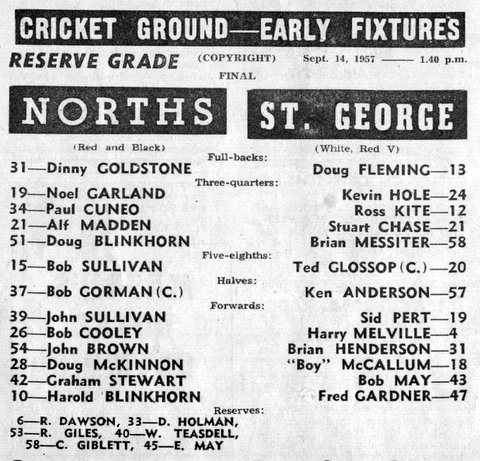 1958.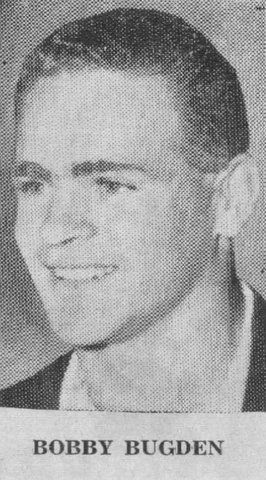 One of Hendos mates from the Sutherland Gravediggers.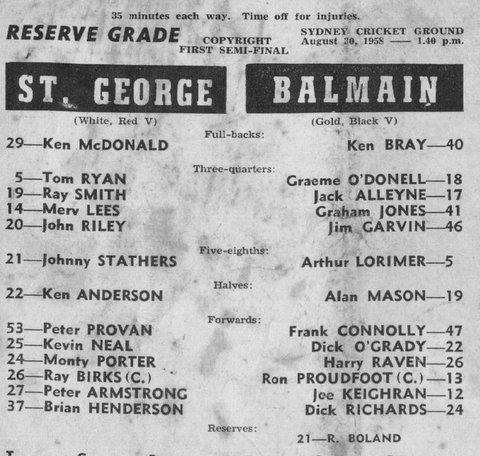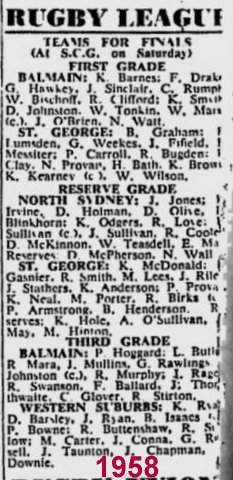 Hendo played in the Reserve Grade Final v North Sydney.

Hendo playing in the St George Reserve Grade Grand Final Team.
Note: A few good players in First Grade keeping Hendo out of First Grade.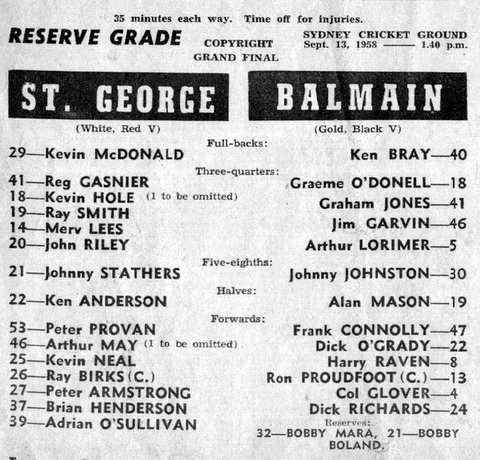 Saints 10 lost to Balmain 20.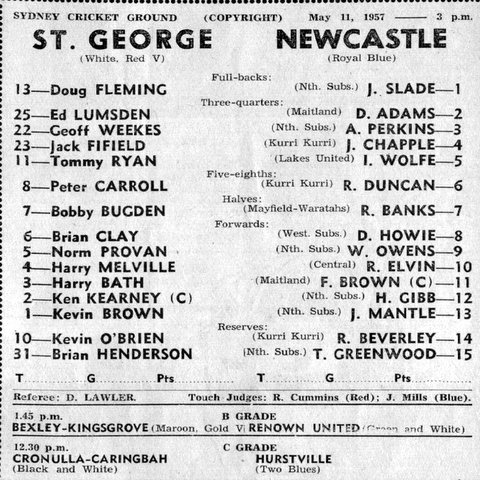 Hendo and his mate Kevin O'Brien played the second half of this game.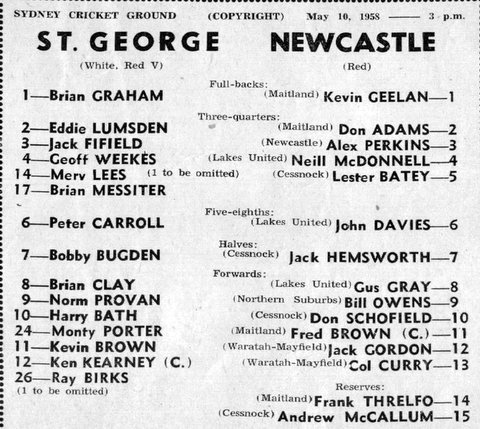 In May of this year St George played Newcastle in what was called the State Cup.
After the match Norm "Latchem" Robinson from Balmain approached Hendo and said " if ever you want to leave this mob please come and see me first….at the time Norm was the Australian coach.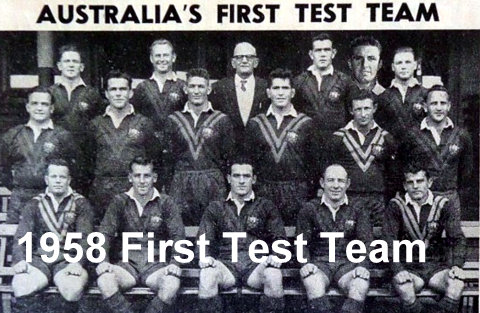 Norm "Latchem" Robinson middle back row.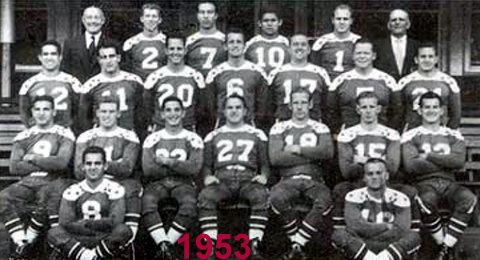 The 1953 American All Stars "Latchem" Robinson top right was the coach.
1959.
Hendo could only see his time at Saints as a lower grader at best. So he rang "Latchem" Robinson and said he would like to play for Balmain. Not as easy as today because you had to live in the area that you played in.
A very big decision had to be made and Hendo decided to sit out the 1959 season and then play for the Tigers in 1960. To make matters worst at the start of the 1960 season the League cancelled the residential rule.
1960.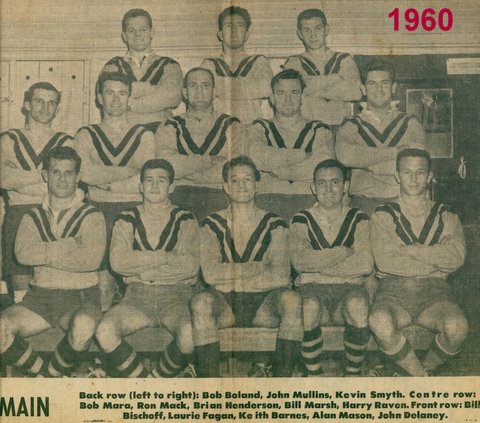 Balmains coach in 1960 was John O'Toole.
John had coached Balmain in 1958 and '59.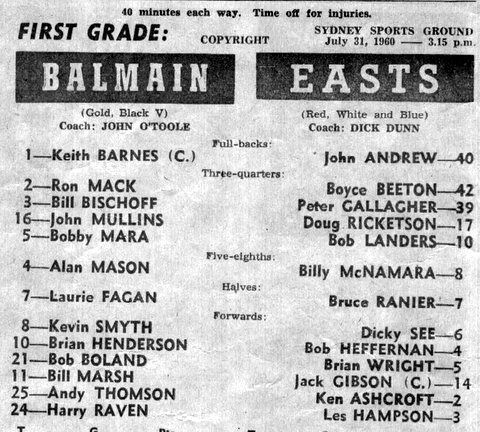 Balmain 8 defeated Easts 5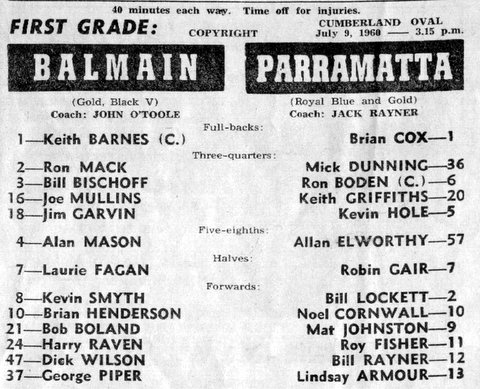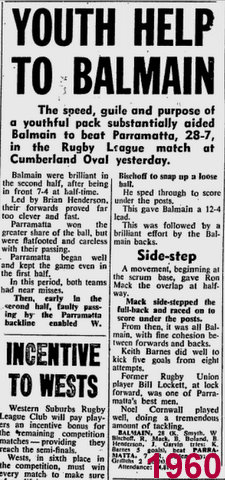 Hendo gets a good write up and scores a try for the Tigers.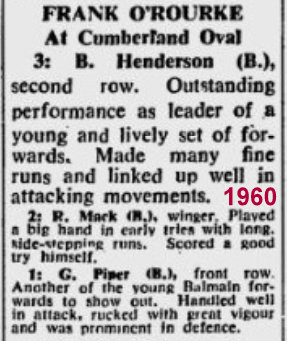 Plus the SMH points.
Due to a weird set up there were a few playoff games played in the 1960 to work out who finished 4th.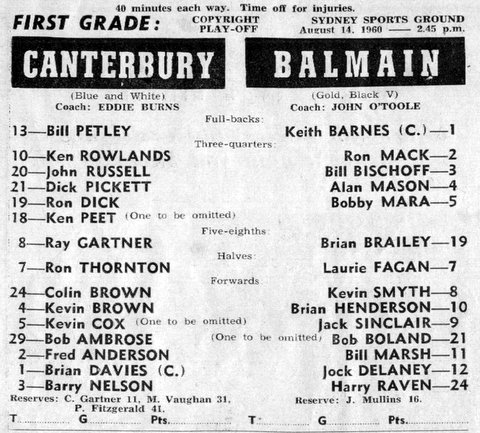 Canterbury 18 defeated Balmain 7.
Just for the record the Final 4 in 1960 was St George, Wests, Easts and the Berries.

One of the players that Hendo remembers from his days at the Tigers.
"Bill would take the ball up all day…hard as hell"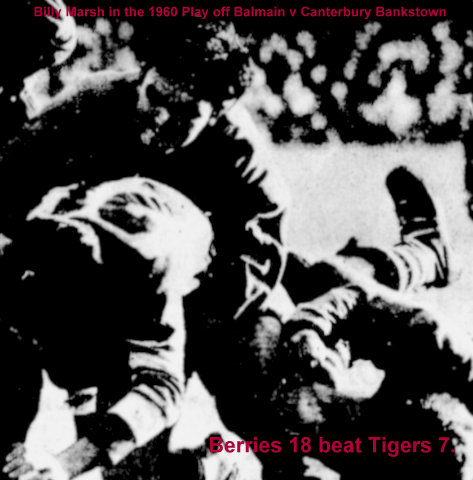 The Tigers finished 5th in 1960.
A new coach for the Balmain Team is on his way.
1961.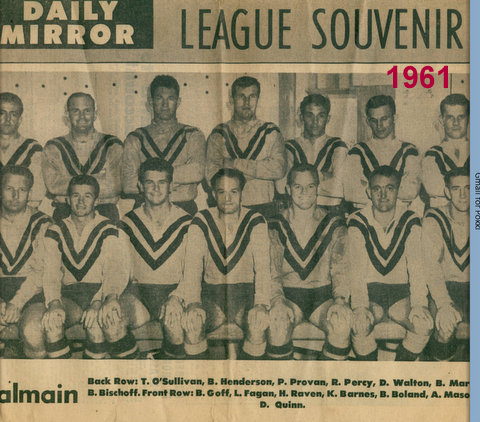 The 1961 side has 2 ex Saints players in its ranks Hendo and Peter Provan.
The new coach for Balmain was one of Hendo's ex St George team mates Harry Bath.
Unfortunately for Hendo both he and Harry had crossed swords back in the day and Harry had not forgotten.
I will let Hendo tell the story " In a game at the SCG Harry told me what a great job I was doing with tackling the opposition forwards….I said in not so many words "Maybe you could help Harry…" this is of course the PG version of what was said.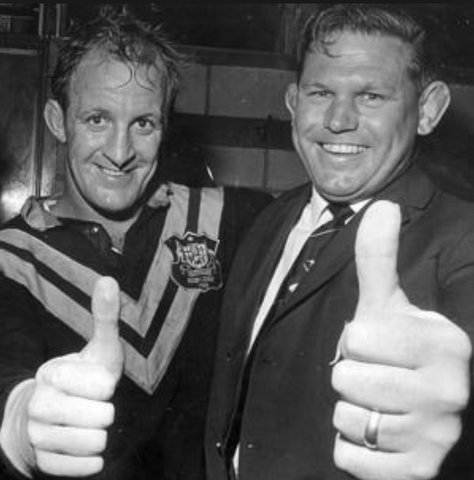 Johnny Raper and Harry Bath.
Come forward to 1961 and Hendo received the award in a game for his great forward play (see below) but to quote Hendo " Harry said to me when I was running off the field you are not my type of player to which Hendo answered back "Your are not my type of coach….Hendo did not play another First Grade games for Balmain again.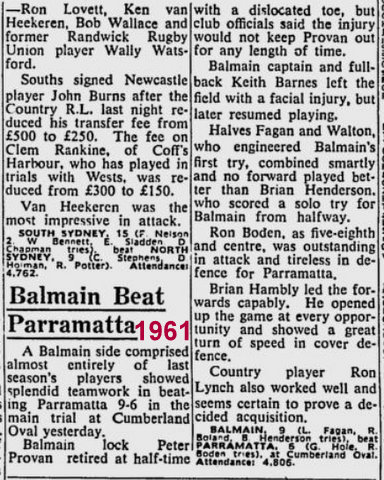 If you read the write up no forward played better than Brian Henderson who scored a solo try for Balmain from halfway .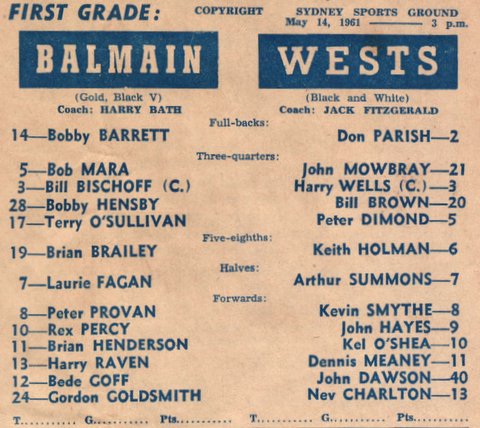 One of the few games Hendo played in First Grade in 1961.
Balmain 2 V Wests 25.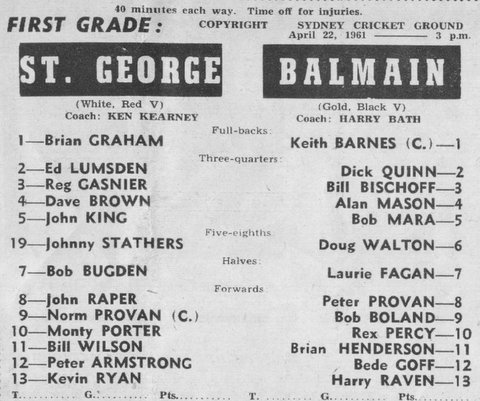 Once again the Mighty St George side  23  defeated Balmain 12.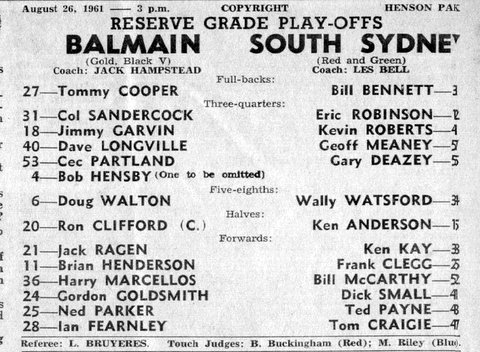 For some reason Hendo once again is involved in another play off series.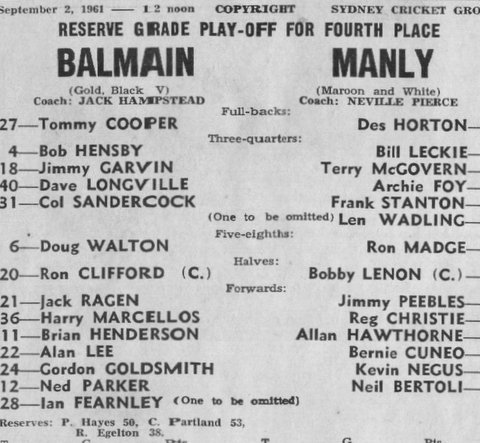 As far as I know this was Hendos last game for the Tigers.
Footnote: Wests won the Reserve Grade comp beating Manly 15-3.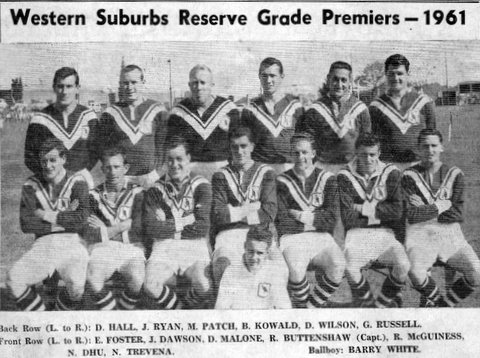 The winning Wests team.
1962.
Before the 1962 season Hendo was on Patrol at Cronulla Beach he at the time was the Vice President of Crounlla Surf Club when he was approached by Bill Beaver's son who told Hendo that dad would like you to ring him.  Hendo rang Bill Beaver and Bill  told him to come to the old Wests Leagues club at Ashfield this Sunday. Hendo arrived and was shown to the Directors Room.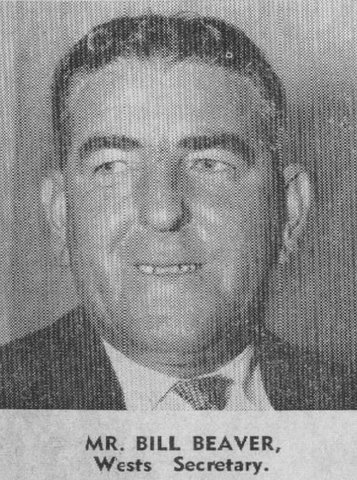 What happened next I will leave up to Hendo to tell.
" Beaver told me that Wests were interested in me and that I should pack down  against Eddie Hooper. After a few seconds of this Eddie was left shaking his head….
                                      And Hendo had a new club to play for in 1962.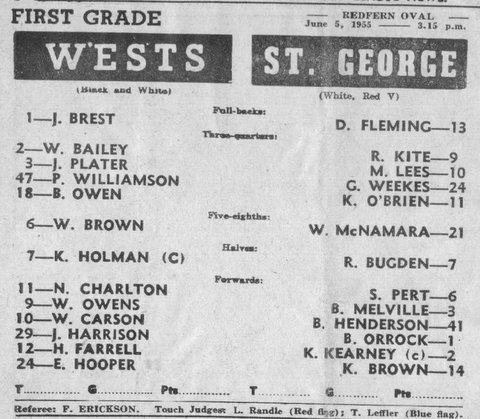 Little did Eddie Hooper know he had already met Hendo back in 1955.

Wests held their early training at Ashfield Park and Hendo met Dealer Wells who questioned Hendos reasons for playing with this "Mob of bastards…….this was Hendos introduction to the Wests knockabout style of humor…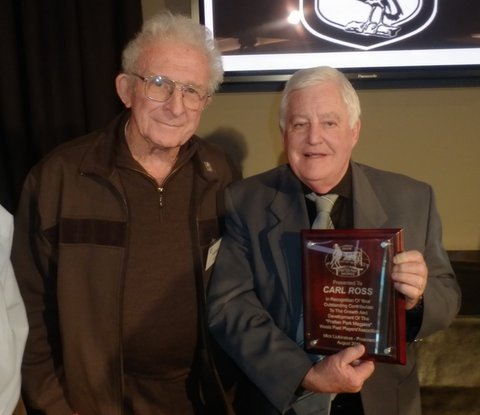 Recent photo of Dealer and another old team mate of Hendos Carl Ross.
Photo taken at the 2015 Pratten Park Magpies Reunion.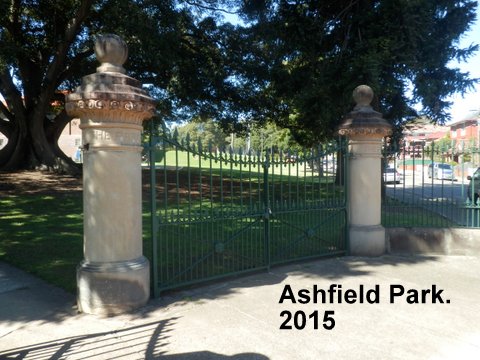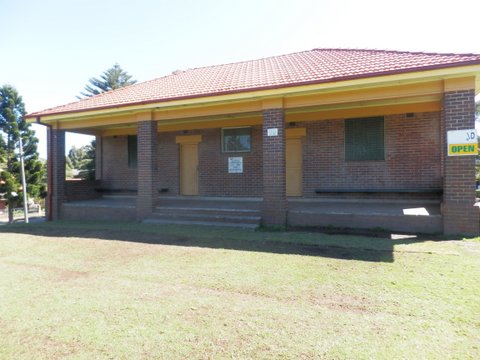 Dressing Rooms.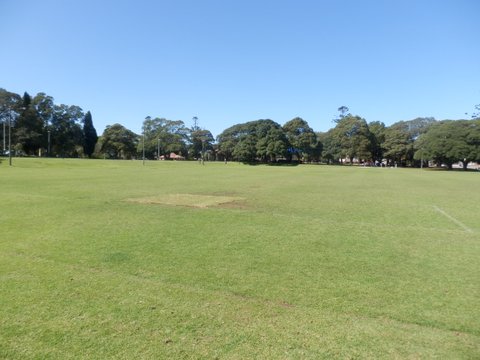 The Famous almost flat playing fields of Ashfield Park.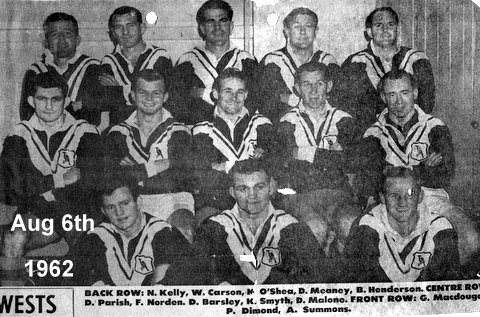 Wests 1962 Team.

Story in a preseason program.
Wests played St George in a preseason game at Lidcombe Oval.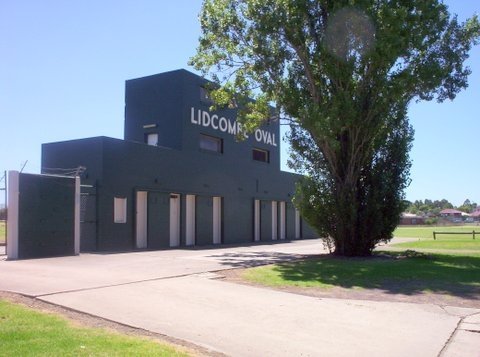 The entrance to Lidcombe Oval.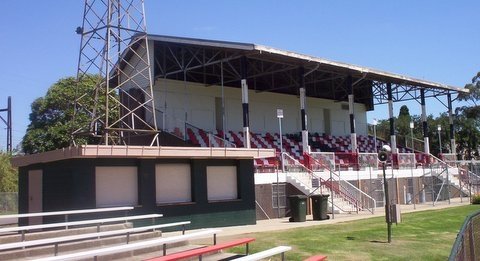 The Lidcombe Oval grandstand.
Hendo thinks this was his first game playing in the famous Black and White jumper.

Hendo in his new colours.
Wests later played in the Final of 1962 Preseason Cup against Canterbury at the SSG.
The Berries 14 beat Wests 10.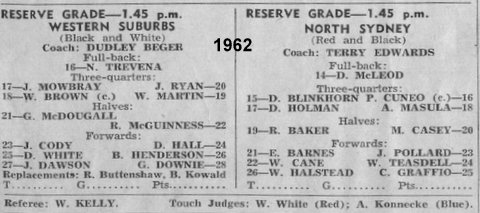 I think Hendos first game at Wests  April 7th @ Pratten Park.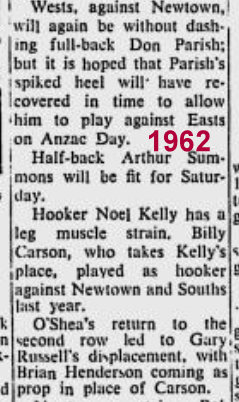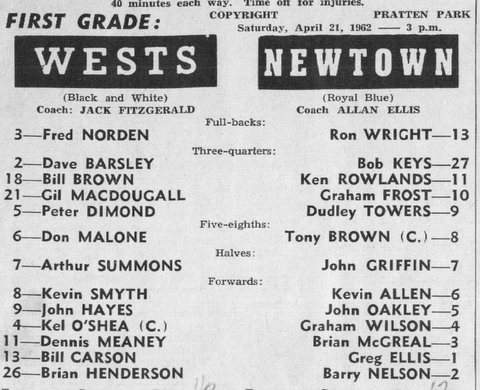 Hendos first First Grade game for Wests.
Wests 16 beat Newtown 12.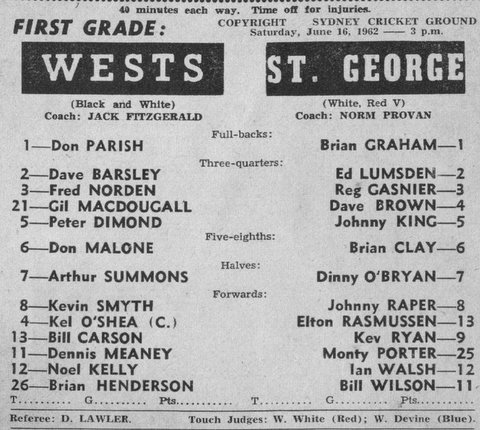 Wests 12 V Saints 20.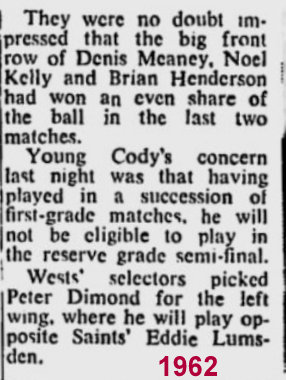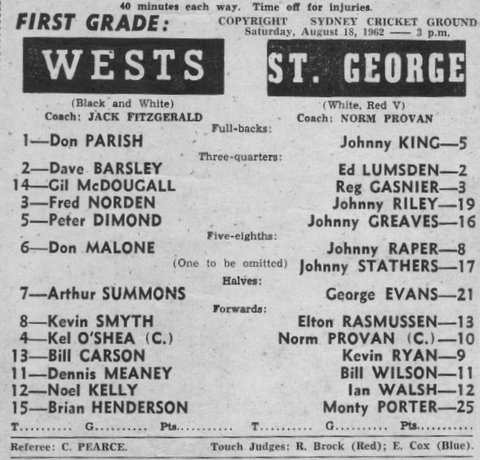 Last round before the Semis. Wests 10 Saints 18. Crowd 35,000 @ the SCG.
(Hendos number is getting smaller.)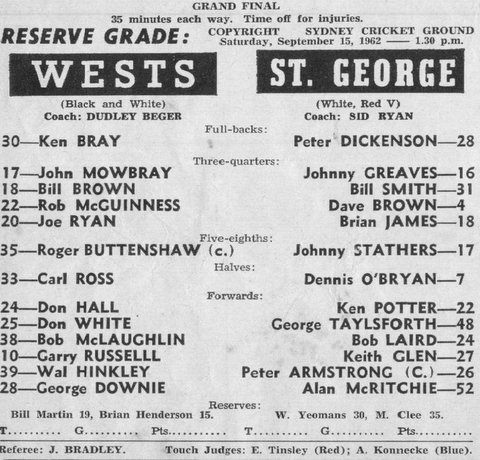 Although Hendo is listed as a reserve he was in the run on team on the day.
Hendo who had not played for 4 weeks received a phone call to play in the Grand Final due to a very bad flu that had swept through the entire Wests squad.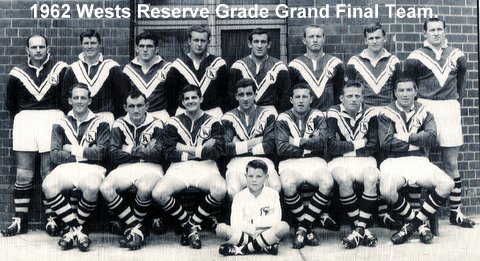 Wests 0 were defeated by St George 19.
Hendo top left.
1963.
                      The 1963 season for Hendo was ruined by a broken foot that took most of the season to heal.
                                                                             Hendo spent a long time in Reserve Grade trying to get it right.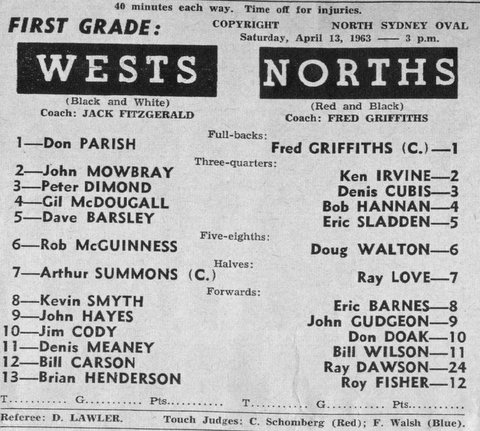 The only First grade game that Hendo played for Wests in 1963.
Wests 6 lost to Norths 16.
Hendo played in 11 Reserve Grade games in 1963.
Not bad when you consider who was playing in Wests Firsts.

The 1963 season came to an end and Hendo who was carrying a few injuries and was now 27 years of age decided to give football away.
Hendo had played Grade footie for 10 years and with 3 clubs.
Outside of Rugby League Hendo was married with kids, Vice President of Cronulla Surf Club and Secretary of the Printers Union.
Too quote Hendo "the time was right"
I almost forgot…..Best player. "Reg Gasiner played with him, played against him."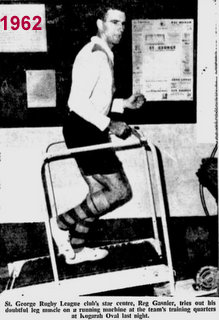 Reg in his early days.
Hardest player he faced .
There are a few  "Noel Kelly, Kevin Ryan, Ron Crowe and Billy Marsh".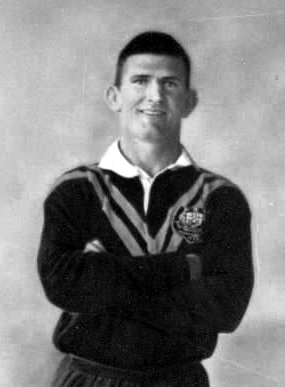 Ron "Dookie" Crowe.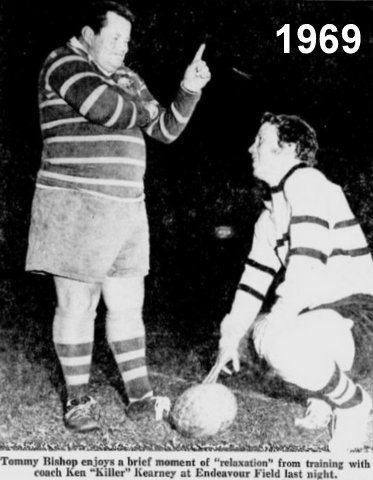 "Killer" chatting to Tommy Bishop in 1969.
Best coach Ken Kearney.
"Killer was a brilliant but hard coach you did what you were told or else. I was a great fan of Killer, he taught me a good deal about being a forward."
Favorite Ground  the S.C.G.
Rare photo of all 4 grounds.
From the top: Sydney Showground, SCG, SCG number 2 and Sydney Sports Ground.
In 2012 Hendo was chosen in the Sutherland Team of the Century.
Fullback: Johnny Metcalfe
Winger: Brian Messiter
Winger: Bernie De Witt (see below)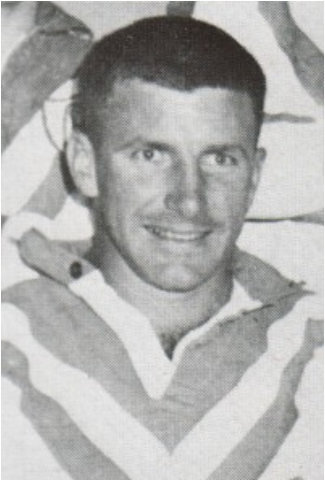 Centre: Steve Rogers
Centre: Paul Taylor
Five Eight: Graeme Sams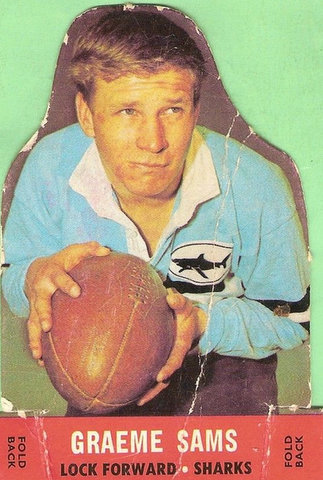 Halfback: Bob Bugden
Lock: Peter Provan
Second Row: Norm Provan
Second Row: Steve Kneen
Front Row: Henry Holloway (below playing for Newtown v Wests 1956)
Thats Henry with the Hipster hair cut.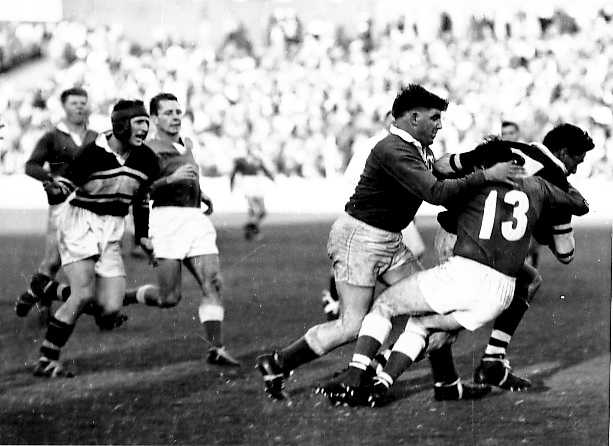 Left -right Frank Navo,Bill Owens, Bill Baily, Henry Holloway and Kel O'Shea being tackled.
Front Row: Len Kelly
Hooker: Col Rasmussen
Reserves: George Taylforth, Brian Henderson, Les Boyle & Luke Stuart
Coach: Noel Hollingdale (below playing in the 1940 Final for Easts)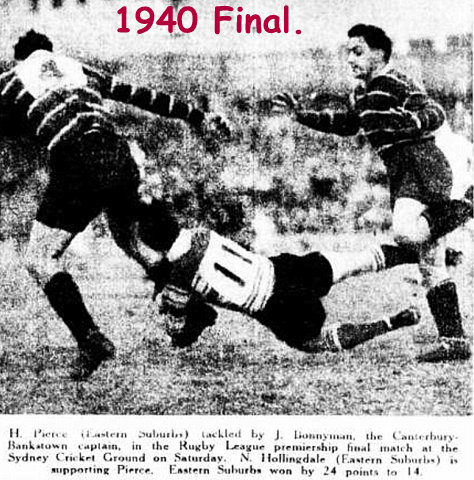 This is a very good Team taken from only one junior club.
There are a few people I would like to thank for making this story possible.
The Boys from the unofficial St George Archives. Steve, Rick and Steven.
Rick Wayde for letting me use the Wests Archives (and lunch).
And a very special thank you to Brian "Hendo" Henderson for letting me interrogate him over coffee.
Hendo it was a real pleasure to go down memory lane with you.