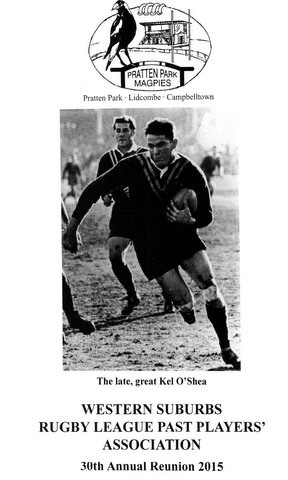 Once again the Pratten Park  Magpies Committee presented a brilliant day
Close to 190 ex -Wests players and officials enjoyed a wonderful day at Wests Ashfield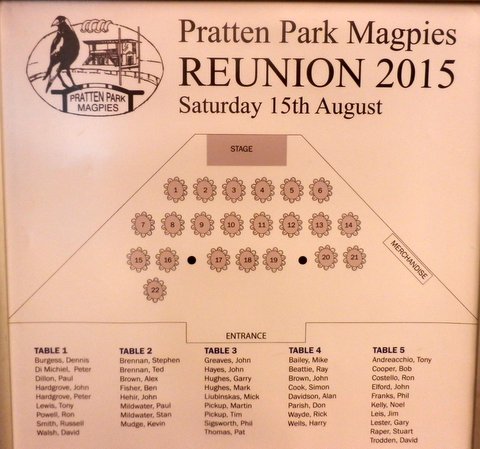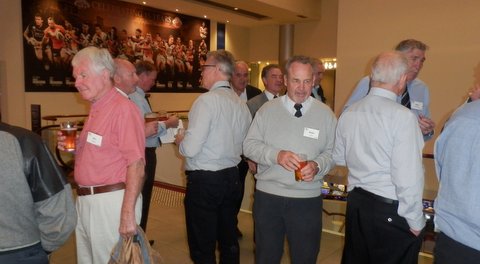 Some of the players meeting before the function begins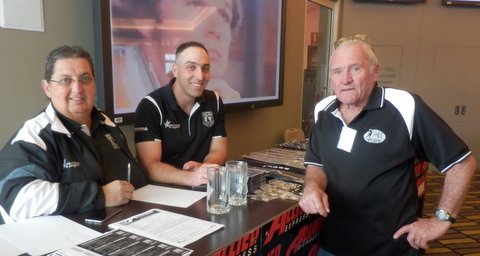 Tony Purchiaroni , Con Spanos chatting to Ken Bray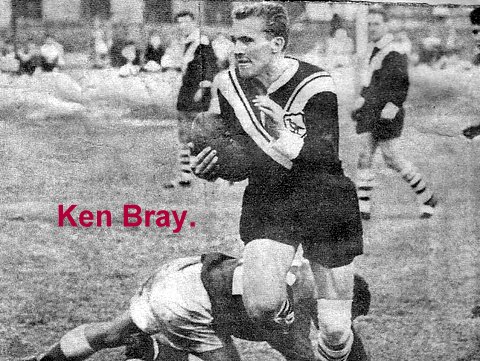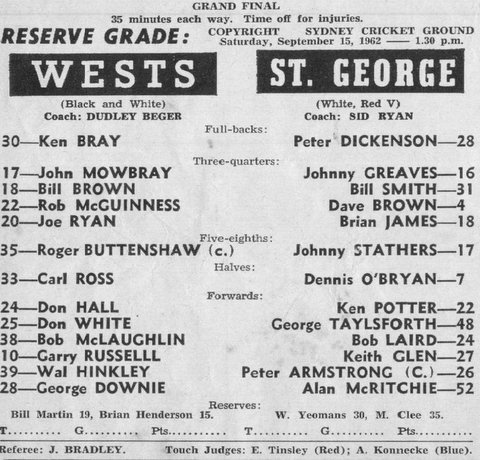 Ken playing full back in the 1962 Grand Final
(Wests lost 19-0)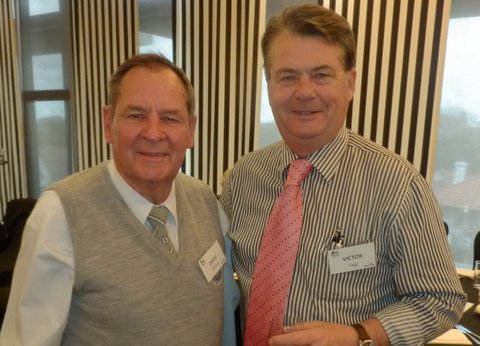 Doug Gannon and Victor Tagg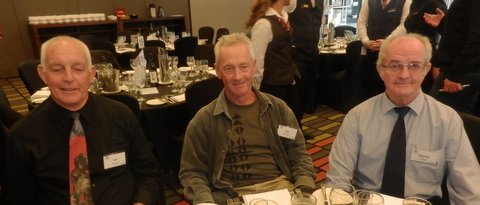 Les Burke, Ted McCabe and Wayne Kirby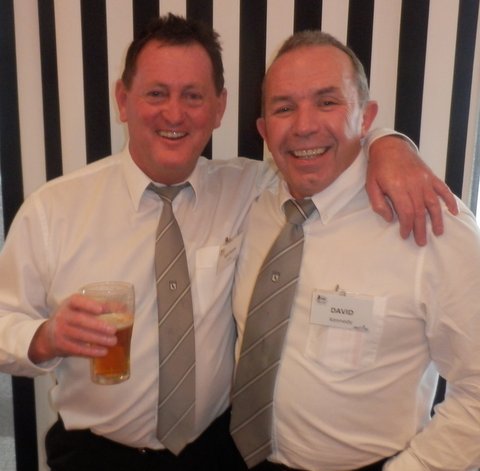 Nathan Cole and David Kennedy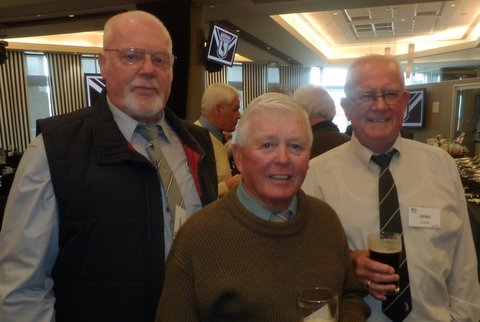 Barry Bryant, Pat Thomas and Denis Culpan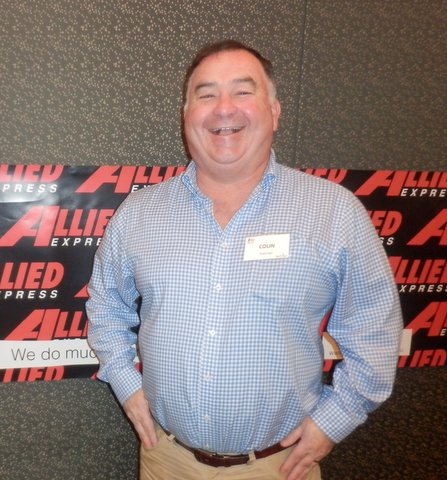 A very happy Colin Ferrier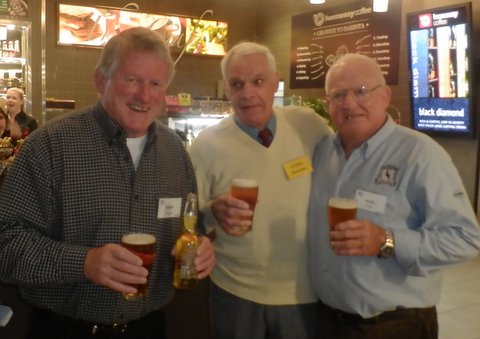 Barry Glasgow, John Greaves and Noel Kelly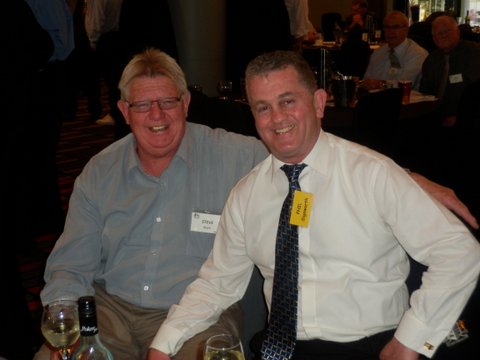 Steve Blyth and Phil Sigsworth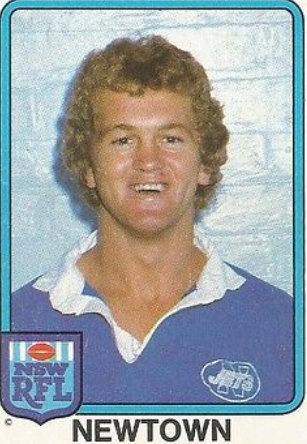 Phil Sigsworth playing for Newtown in 1981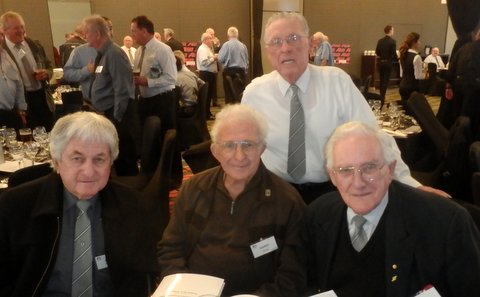 Don Parish, Harry Wells, Alan Davidson with Noel Trevena standing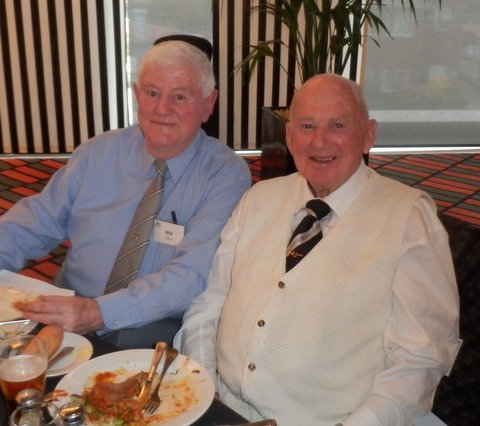 Ben Fisher and Alex Brown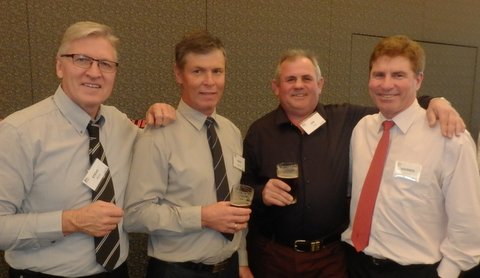 Steve West, Mark Bevan, Jim Leis and Warren Boland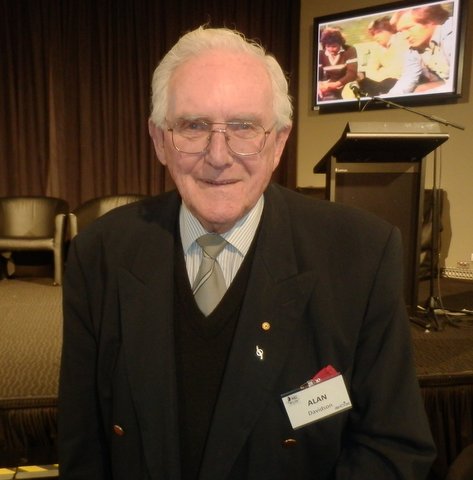 Alan Davidson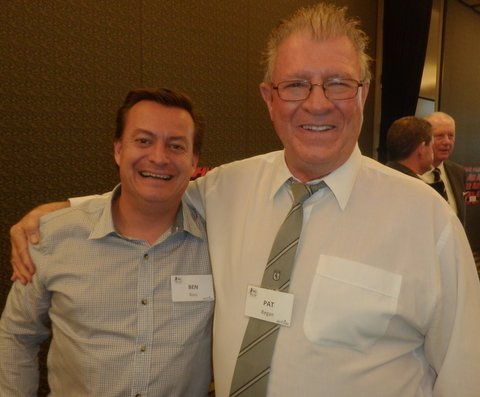 Ben Ross and Pat Regan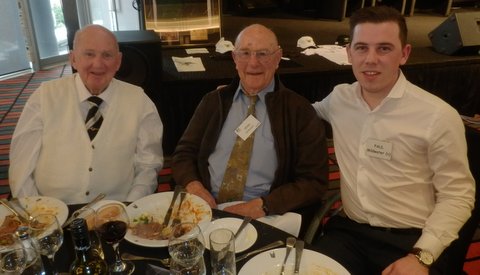 Alex Brown, Wests oldest (98) living player Stan Mildwater and Grandson Paul Mildwater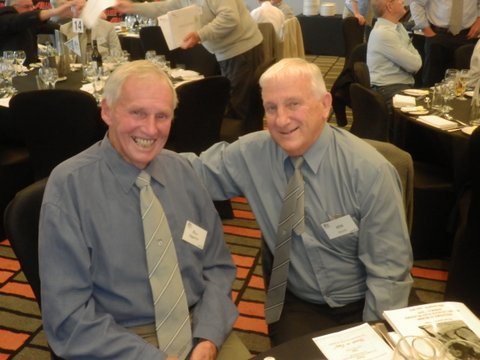 Bill Martin and Ken Gentle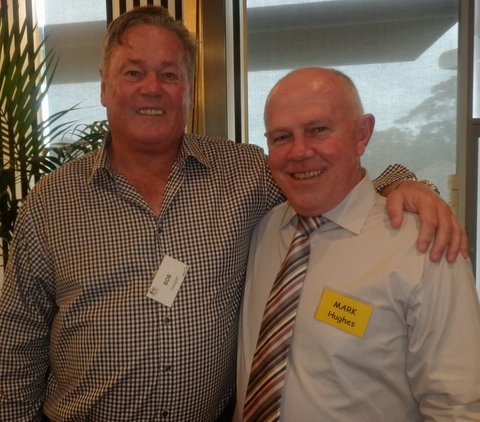 Bob Cooper and Mark Hughes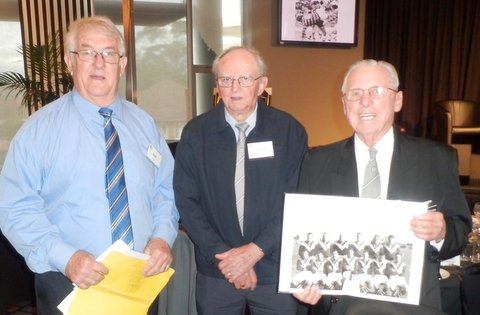 Don Hall, Norm Dhu and Noel Trevena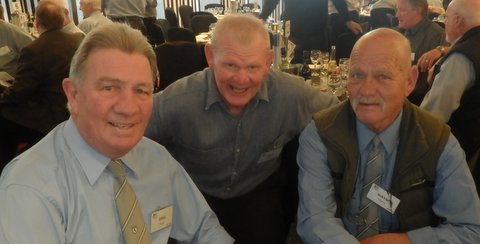 Greg Rose, Steve Winter and Wayne Merry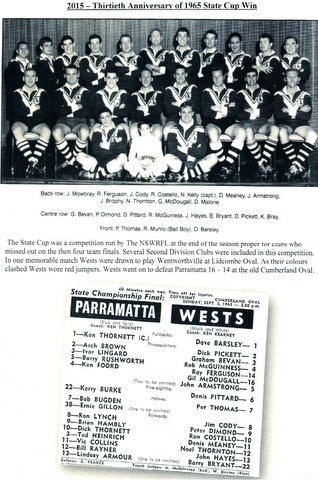 Believe it or not its 50 years since this great win
Playing in the second row that day was Ron Costello
Two South Coast boys Harry Wells and Ron Costello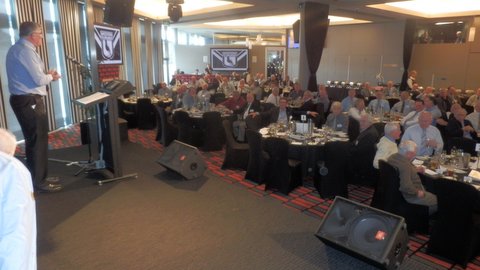 Mick Liubinskas addressing the large crowd about the presenting of two awards to
Carl Ross and John Chow Hayes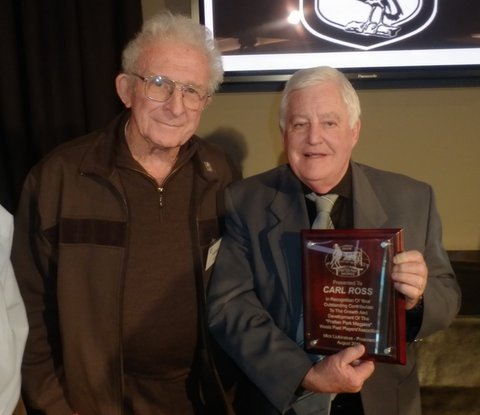 Harry Wells presenting Carl Ross with his award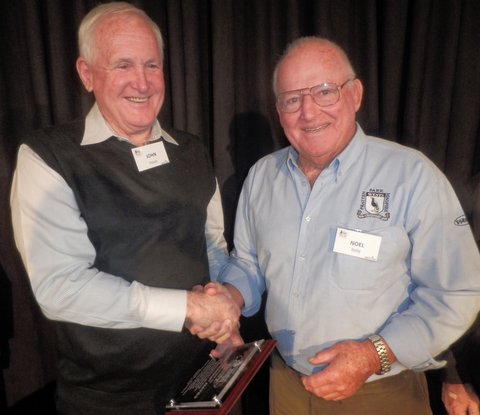 Noel Kelly presenting John Hayes with his award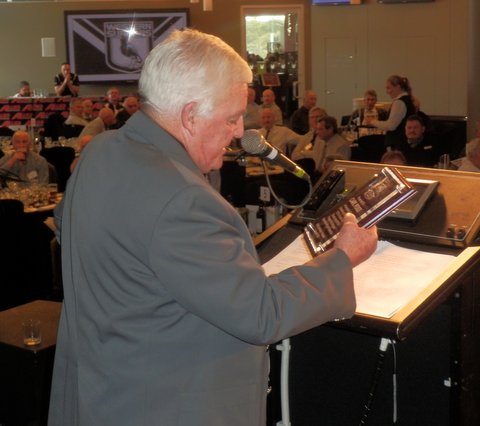 Carl Ross talking about his surprise with receiving his award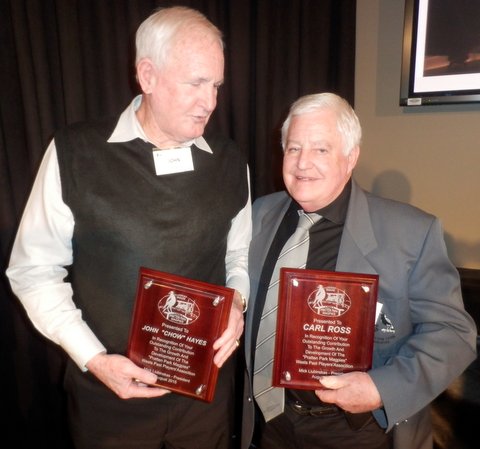 Chow Hayes and Carl Ross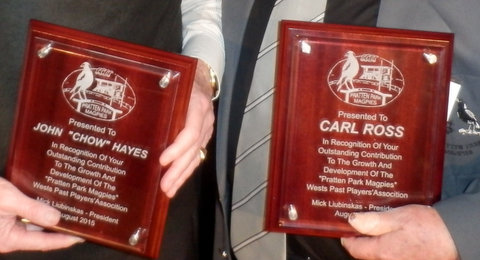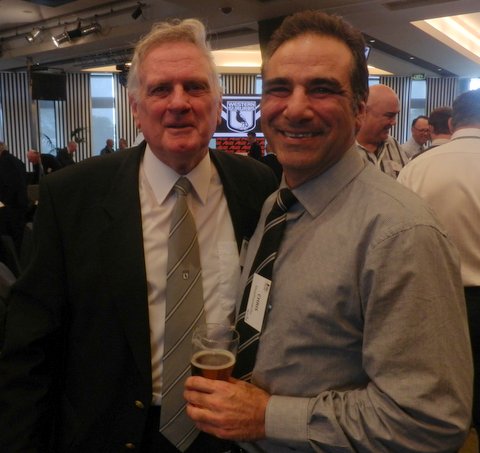 John Wiles and Chris Stephandellis
Chris played for Wests between 1985 and 87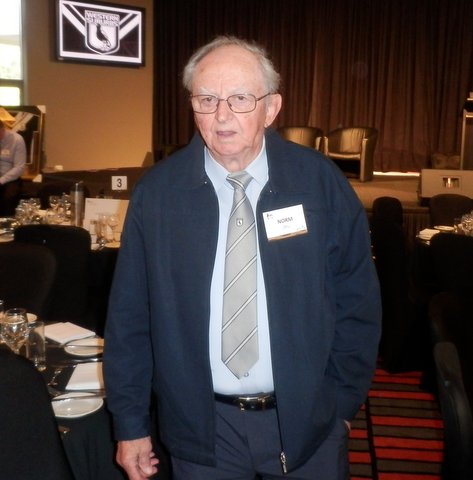 Norm Dhu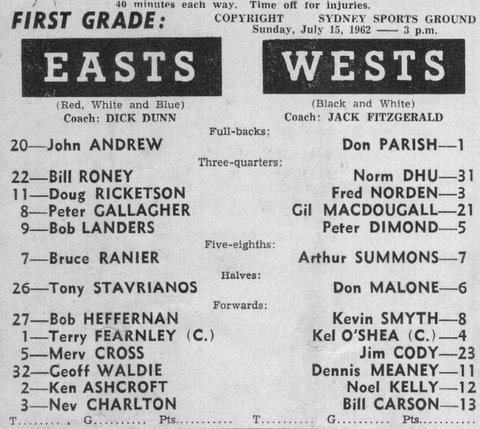 Norms first First grade game way back in 1962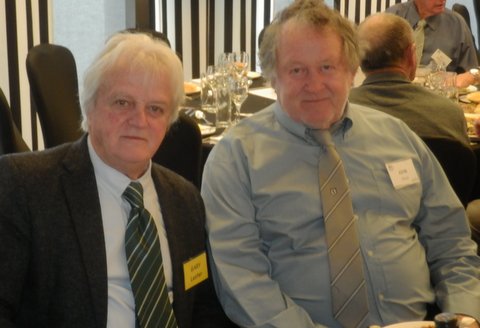 Gary Lester and John Elford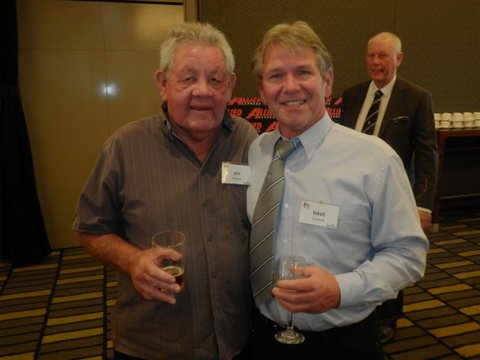 Jeff Nielsen and Dave Cornall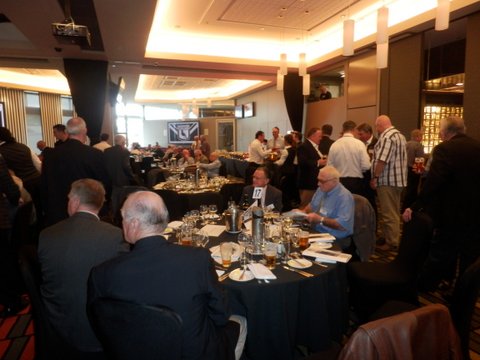 Its time for Heads or Tails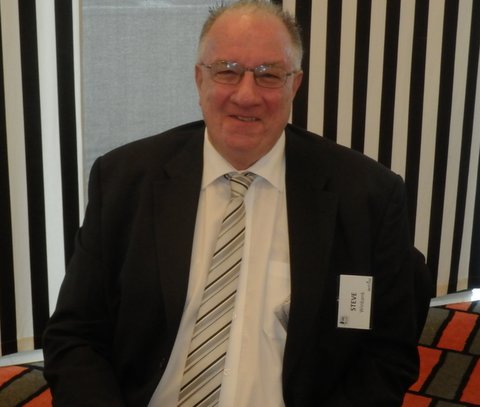 The winner is….Steve Winbank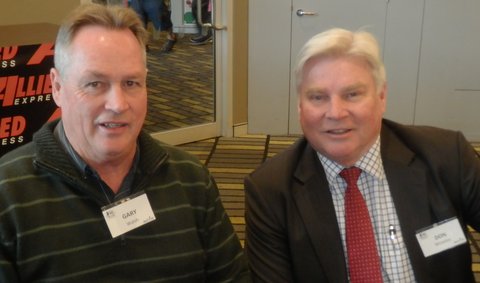 Garry Walsh and Don Moseley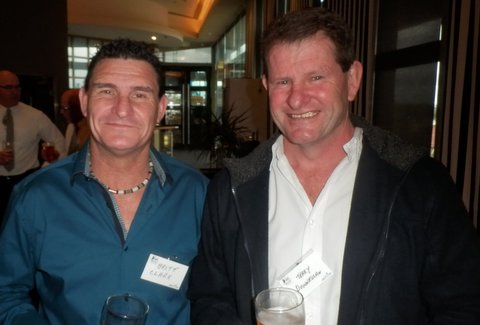 Brett Clark and Terry Donnellan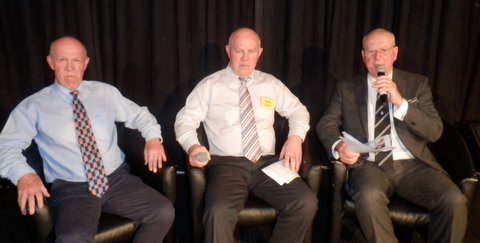 Special Guests Garry and Mark Hughes chatting to Rick Wayde
All three Hughes brothers followed Wests when they were kids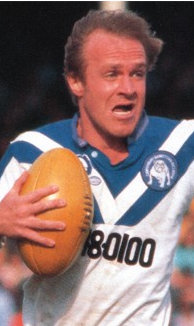 Garry Hughes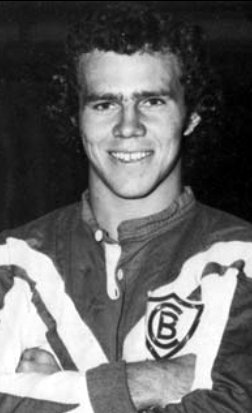 Mark Hughes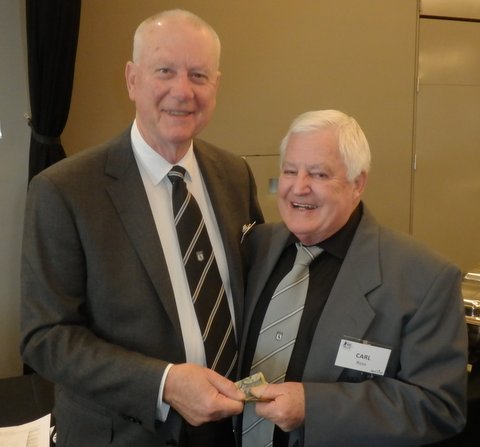 Carl Ross wins the bet with Rick Wayde
The bet was that Garry and Mark would not mention the Mortimer Brothers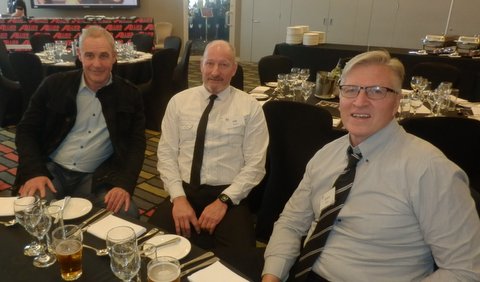 Wayne Wigham, Col Ensor and Steve West
Peter Ford and Neil Bennett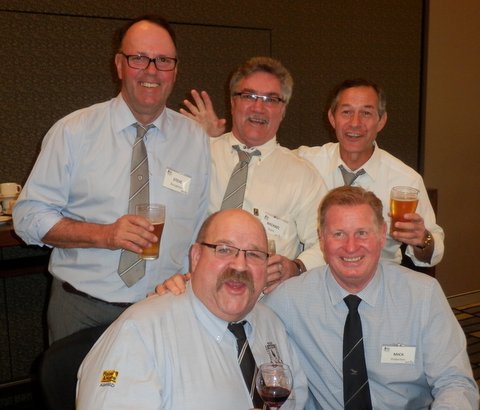 The Boys having a ball
Steve Broughton, Michael Evans, John Cattell
Bruce Clark and Mick Pinkerton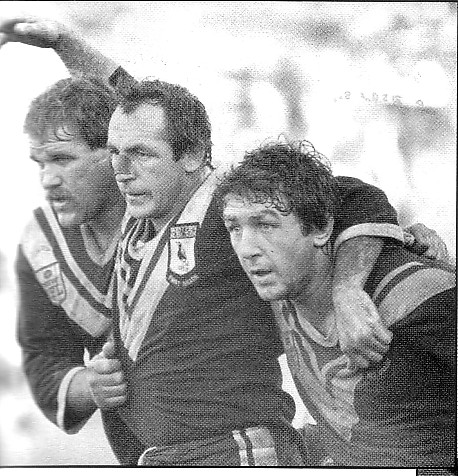 Bruce getting ready for Battle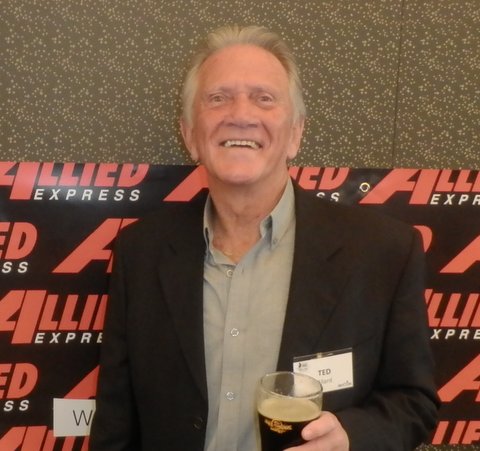 Ted Allard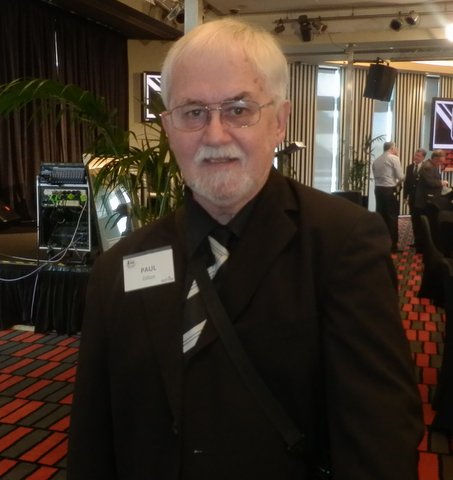 Paul Dillon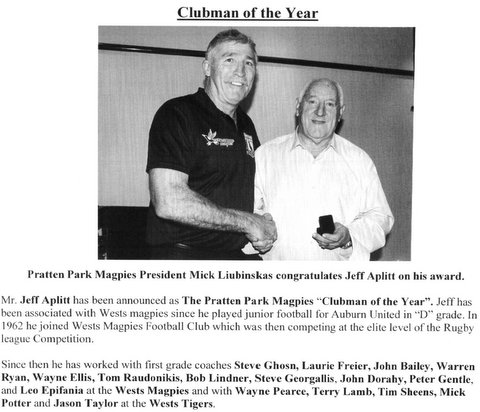 Story from 2015 program about Jeff Aplitt receiving his Clubman of the Year award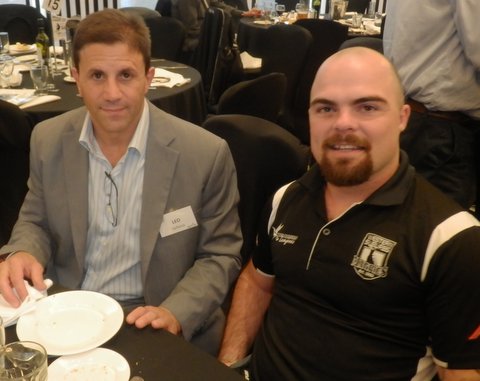 Leo Epifania and Captain of Wests Ron Massey team Shannon Gallant
Obituaries.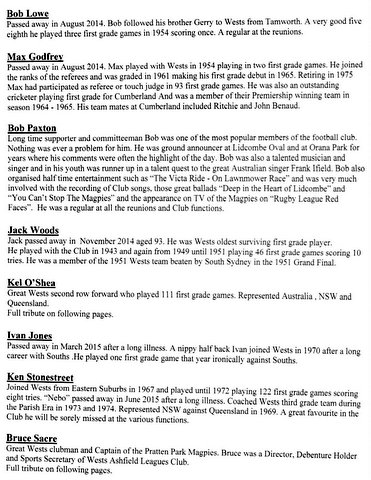 Our heartfelt sympathies are extended to their families and friends.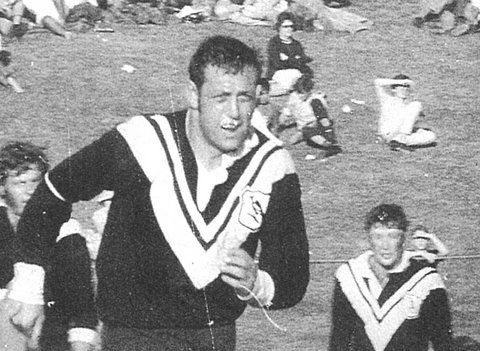 Ken Stonestreet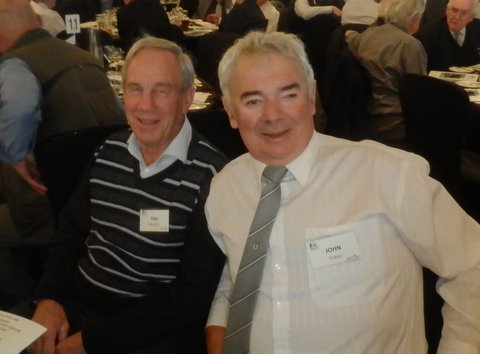 Two of Nebos team mates Tim Murphy and John Fisher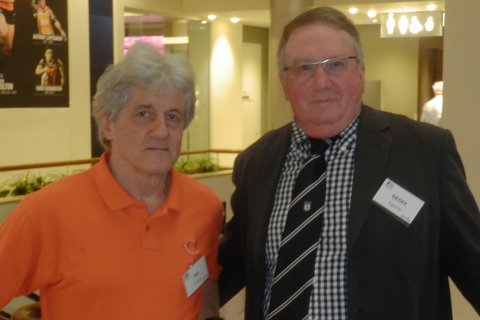 Tim Pickup and Geoff Squires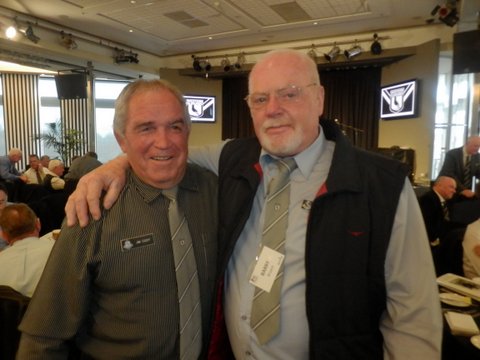 Jim Cody and Barry Bryant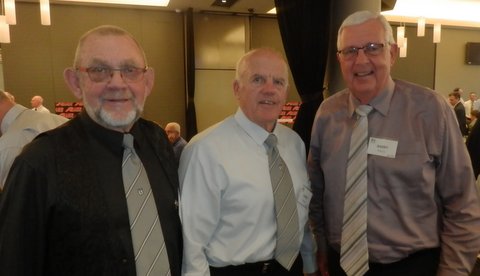 Wayne Jenkins, Laszlo Parcsi and Barry Pierce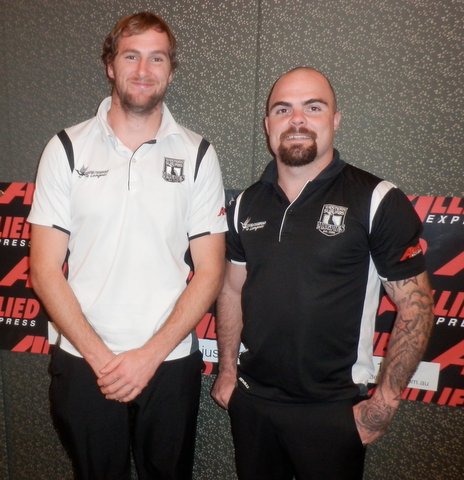 Tom Morrison and Shannon Gallant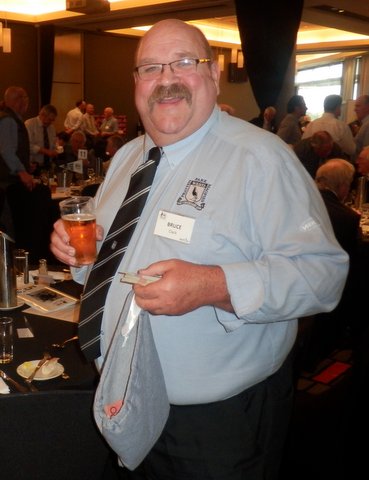 Bruce Clark selling raffle tickets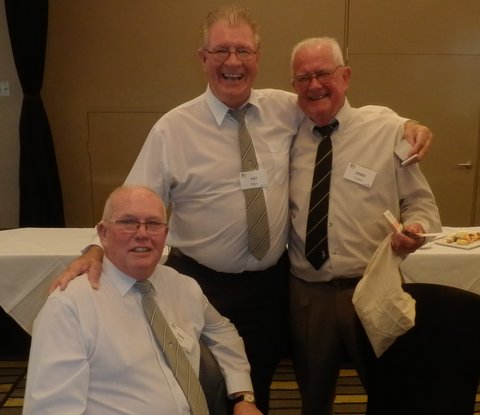 Paul Dixon (seated) being swamped by two ticket sellers Pat Regan and Denis Culpan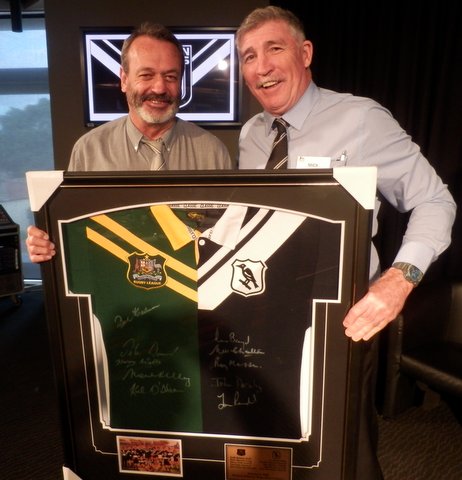 Jim Myers collects the first prize from Mick Liubinskas
(Maybe next year Paul)
Allan Fallah taking Happy Snaps with old team mates
Unfortunately the day was over and it was time to say good bye to old mates
Thanks again to the Pratten Park Magpies committee for holding a brilliant day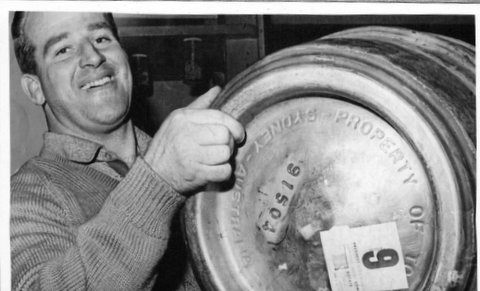 Ned bringing in extra kegs for the Mini reunion after the official reunion
The official part of the day was over BUT in true Magpie fashion the Boys from Western Suburbs adjourned to the Wests Ashfield Sports bar to continue there talk on days gone bye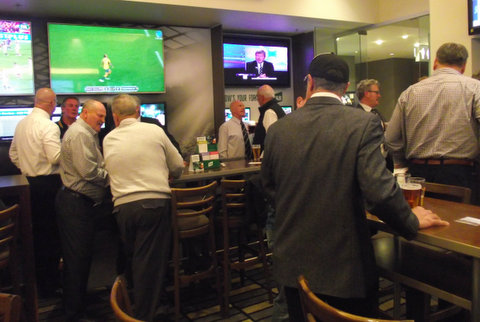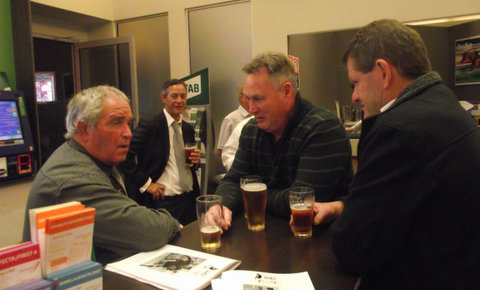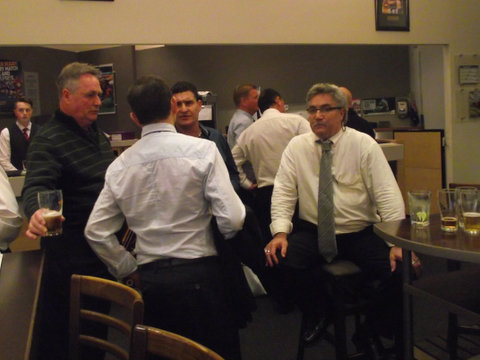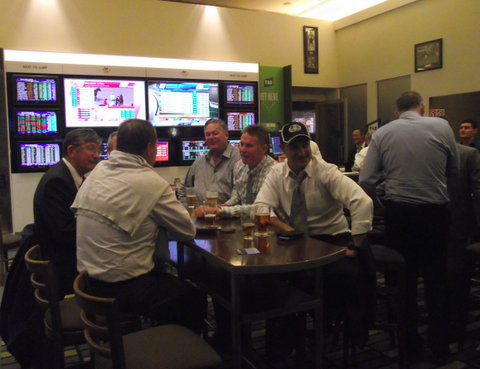 Catching up with mates…that's what its all about
Speaking of mates all but 3 of these PPM members are Wests Juniors
Can you name the ring ins??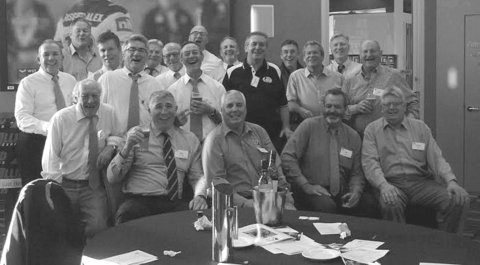 Left-R Standing, David Kennedy, Bob Cooper, Mark Beaven, Mick Evans, Don Mosley, Mark Manston, John Cattell,            Tom Arber, Brian Cook, Trevor Reardon, Peter Walsh, Gary Clarke ,Steve West, John Purcell.
                        L-R Seated, Lindsay"Tonto"Sinclair, Mick Liubinskas, Pat Hundy, Jim Myers and Steve Blyth.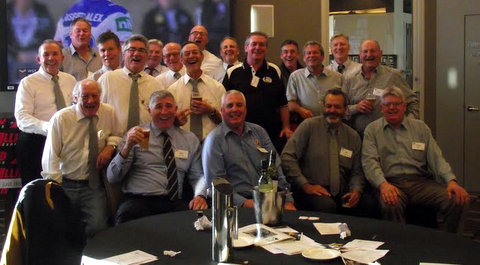 We can do a lot of things at PPM.info BUT we need you to join up and get along next year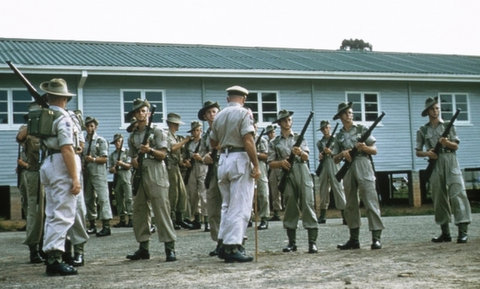 The Army was called in to send the Boys home
If you are eligible please join the Pratten Park Magpies and see YOU next year