Stephen Oliver Knight born 24th July 1948 @ Manly, Sydney.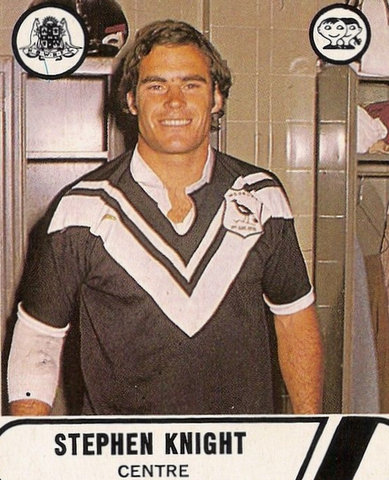 Rugby Union
Knight's rugby union career was with the Manly club in Sydney. He represented for the Wallabies on 6 occasions between 1969 and 1971, once against Scotland and five times against South Africa.[1] Knight's international debut was against South Africa on the Wallabies' 1969 tour and he met them again during the tumultuous Springbok tour of 1971 tour that resulted in a groundswell of anti-apartheid expression by Australian demonstrators. He earned a 7th international rugby union cap as a member of a Presidents XV against England in 1970.[1]
Rugby League
Knight switched to rugby league in 1972, joining the Western Suburbs Magpies.[2] He was selected to represent Australia at rugby league for the 1972 World Cup and played in two pool games against Great Britain and New Zealand. His international rugby league debut against Great Britain saw him become Australia's 465th Kangaroo and 36th dual code rugby international behind Hawthorne and Brass and preceding Geoff Richardson. Knight finished his club career with the Manly Sea Eagles[2] and was a member of the 1978 premiership side that drew the Grand Final against the Cronulla Sharks and won the replay which had to be played just three days later due the upcoming 1978 Kangaroo tour.
Steve Knight graduated from Sydney Teachers College in 1972 with a diploma in physical education.
The above info is from Wikipedia the free encyclopedia.
Now read the full story………..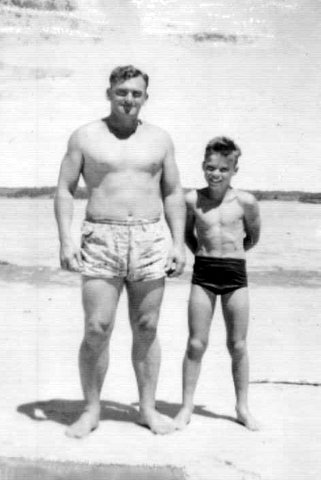 Steve Knight and his dad Ollie Knight.
Steve played Rugby League as a young boy first with his school Dee Why primary.
His weekends were spent playing for Junior Rugby League club Narraweena Hawks.
In 1960 as a 11 year old Steve was captain of the Manly Warringah under 12 Rugby League team that played Lithgow at Lithgow because of his size Steve played in the front row.
Manly beat Lithgow.
Steve played Rugby League for Narraweena Hawks until he went to Manly High at the age of 16.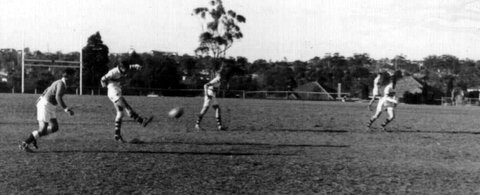 Steve kicking ball playing for Manly High v Crows Nest High Rugby Union
(Steve tells me he kicked this goal from almost half way.)
Manly High was a Rugby Union school and this fact shaped Steve's future.
In 1966 Manly High with Steve as captain won the Waratah Shield beating Hurlstone Agricultural High.
Steve was picked to play for the CHS in 1966 and they defeated GPS.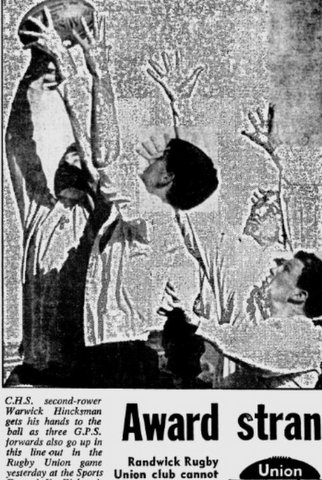 A game that Steve remembers with great pride.
Steve played breakaway for this game.
Being a member of Manly Beach Surf club Steve knew a lot of clubbies who played Rugby Union for the Manly Rugby Union club.They talked Steve into playing lower grades for Manly and over time Steve progressed to play first grade for Manly R.U. in 1967.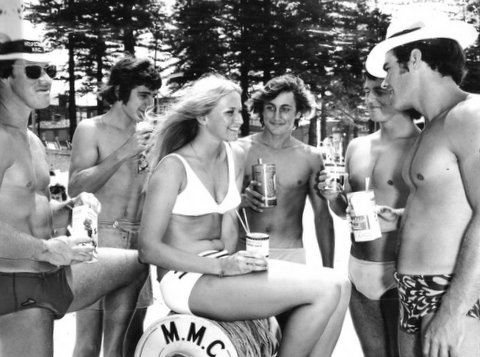 Steve (far right) hard at work as a life guard on Manly Beach.
Thats Robbie Parker far left.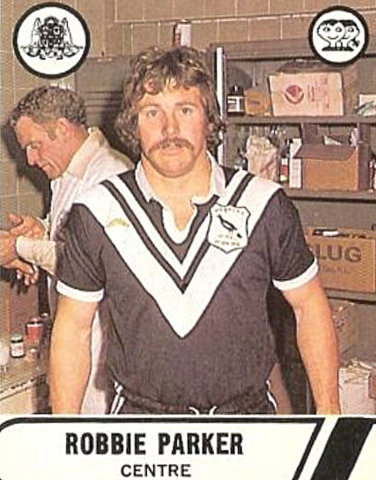 Robbie Parker many years later playing for Wests.
The Rugby Union Years 1966 – 1971.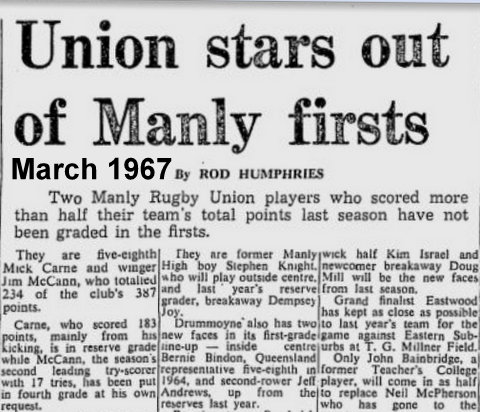 First mention of Steve Knight playing for the Manly Rugby Union Club.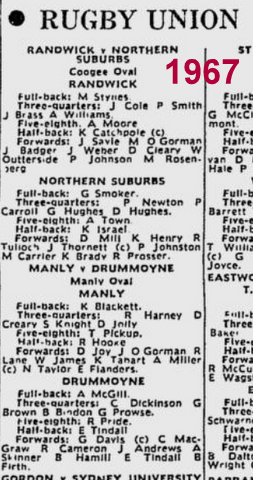 Tim Pickup playing five eight with Steve in the centres.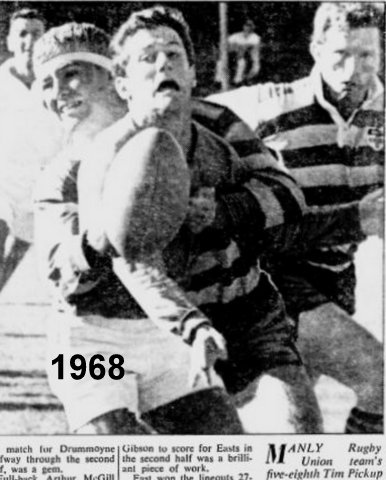 Tim Pickup getting the ball away.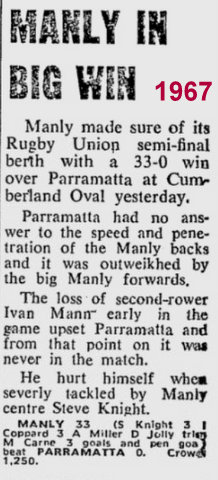 Great win by Manly .
Steve scores 3 tries.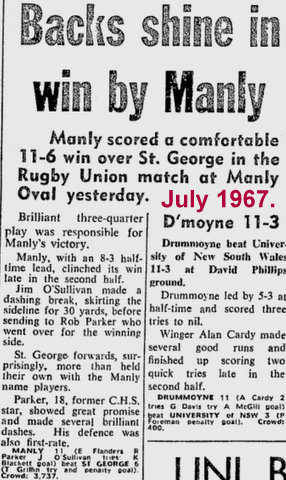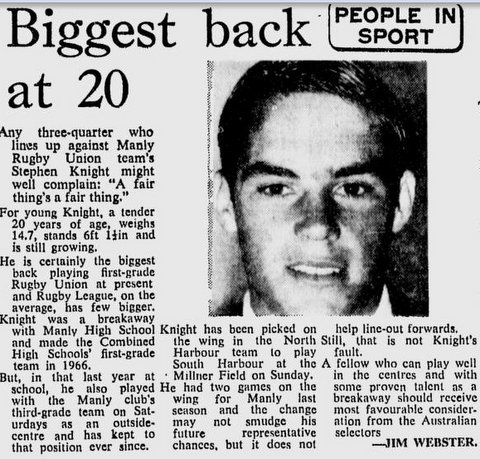 Good story on Steve from Jim Webster.
In 1968 Manly played Sydney Uni in the Grand Final.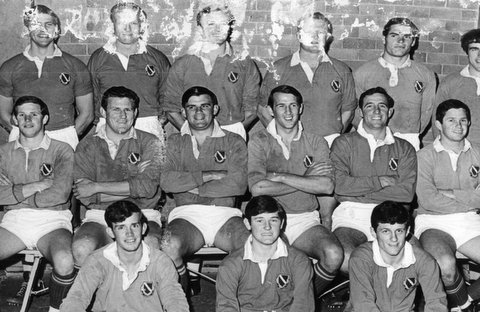 Manly R.U. 1968 G.F. team. Steve is 2nd from right back row.
Manly were beaten by Syd Uni 22-6 and also played in the 1971 Grand Final which they lost to a red hot Randwick team 21-3
At the end of the 1968 season Steve was unlucky to miss the tour of Ireland and Scotland.
In 1969 Steve was chosen to tour with the Wallabies to South Africa.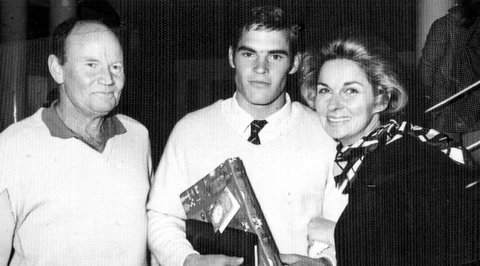 Steve congratulated by his godparents Sid and Maureen Duval.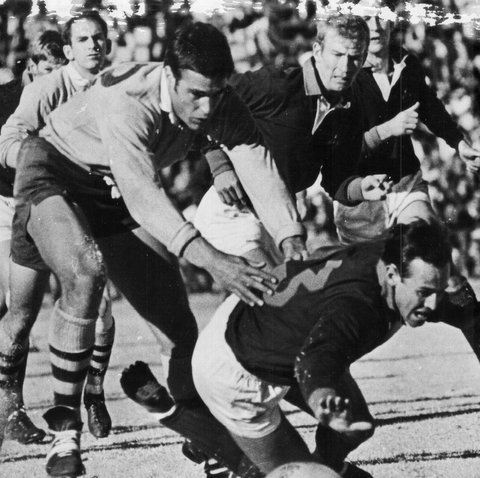 Steve Knight playing for the Wallabies in 1969.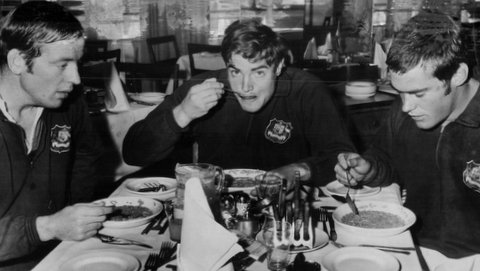 Hugh Rose, John Cole and Steve Knight enjoy a meal.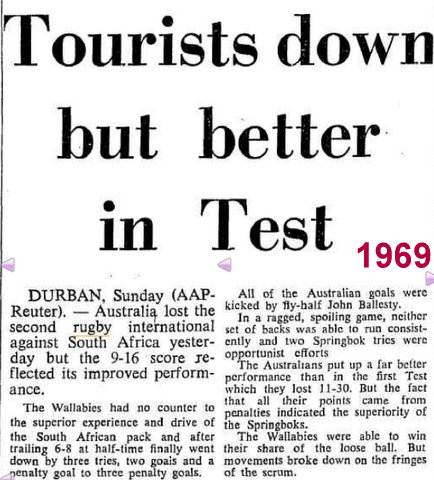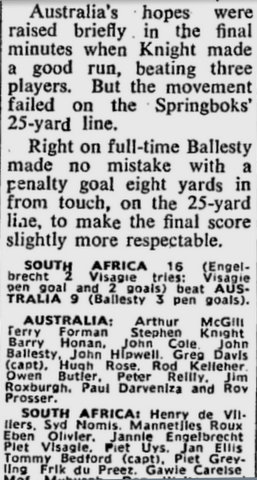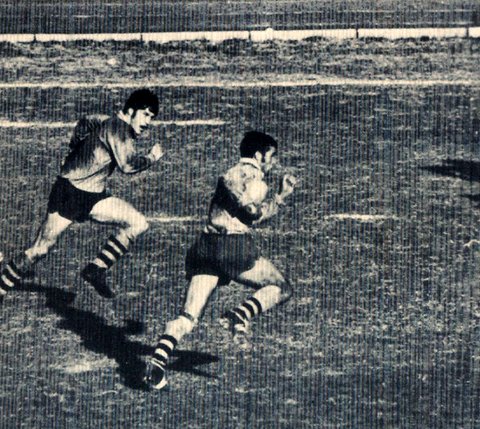 Steve makes a break…..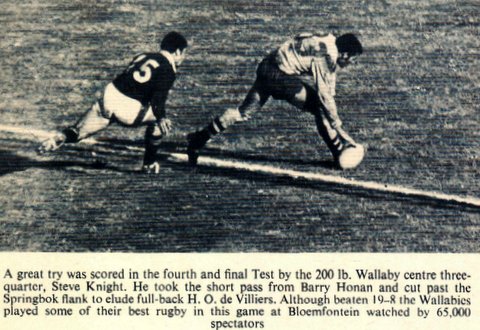 Steve scores a try in the last Test in 1969.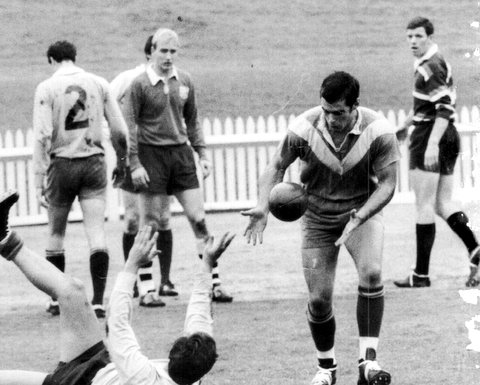 Wallabies at training in 1969. Steve about to receive the ball.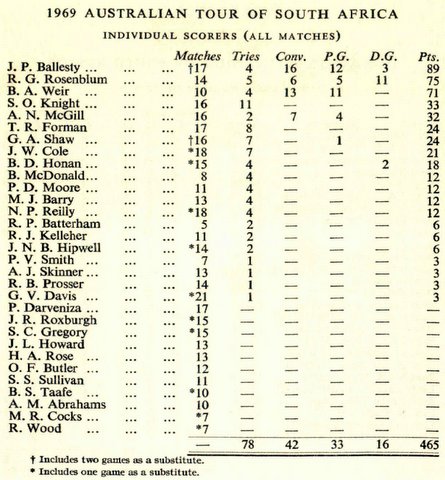 Steve played in 16 matches and scored 11 tries.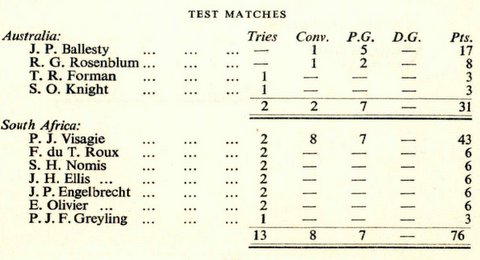 S.O. scored 1 try in the 2 Test Matches.
Australia were beaten in all 4 Tests V South Africa.
Steve played in the 2nd Test S.A. 18 Aust 9 and the 4th Test S.A. 19 Aust 8
Steve has very fond memories of this 3 month tour.
One of the toughest men he ever met Greg Davis was the captain of the team .
The  players received $12 a week for stamps etc and a orange at half time was the total payment for the honor of playing for Australia.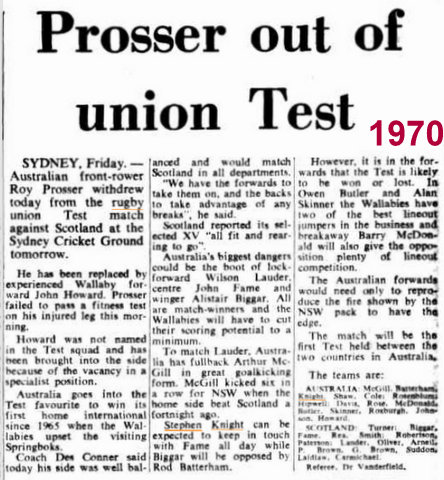 Steve plays against Scotland at the SCG.

Two Tests were played on this day one League and one Union.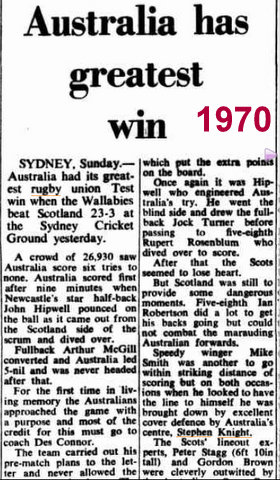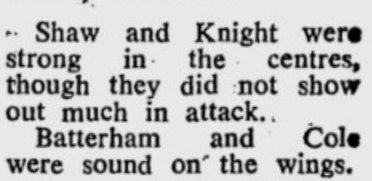 Good and bad news for Geoff and Steve.
During this time Steve spent 3 years attending Sydney Teaches Collage. 1970-1972.
In 1971 Steve played in all 3 Test matches against the touring South African side.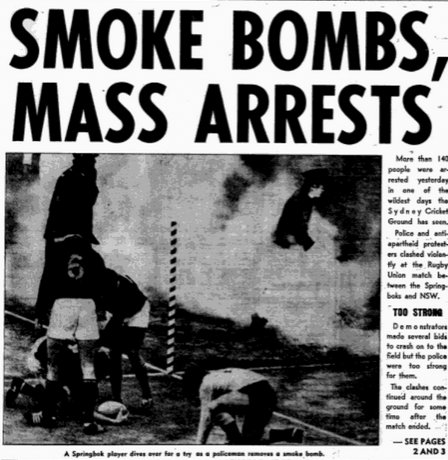 Photo taken at the Sydney V South Africa game @ SCG 1971.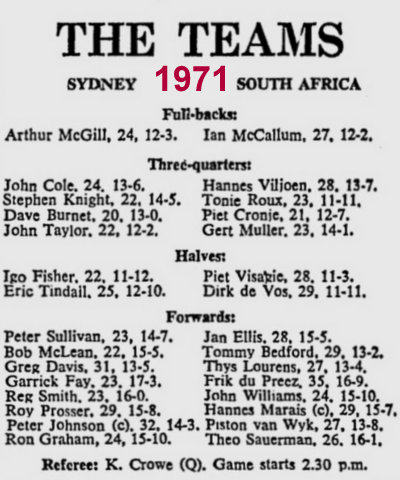 South Africa beat a very young Sydney team 21-12.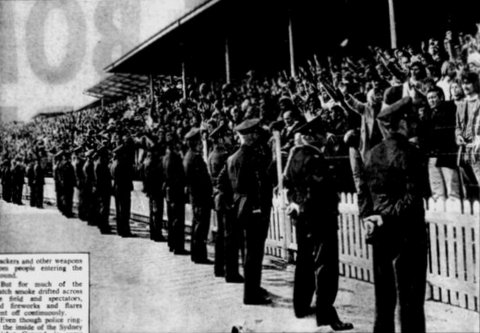 Steve told me that the Australian teams was more affected than the S.A. team.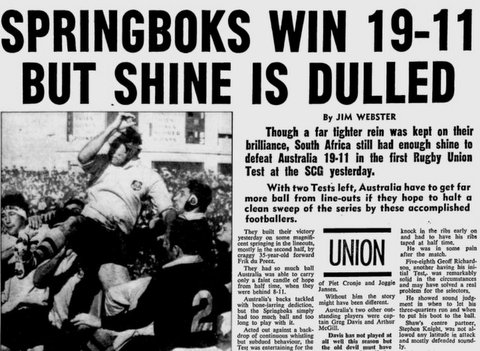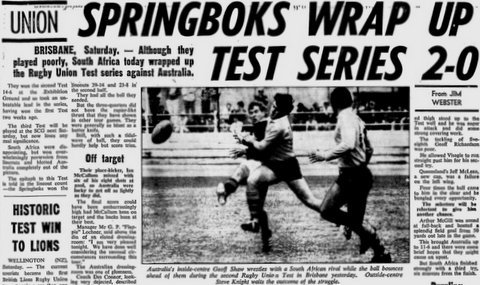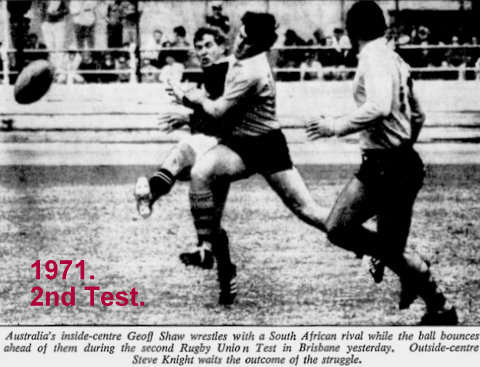 The Springboks were a better team.
After the very conversational South African Rugby Tour it was back to Club Rugby.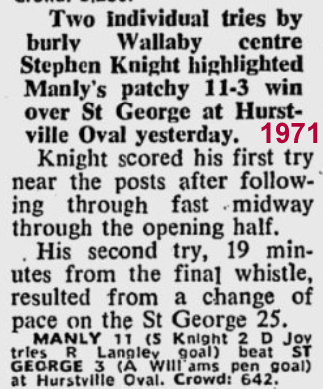 Record small crowd??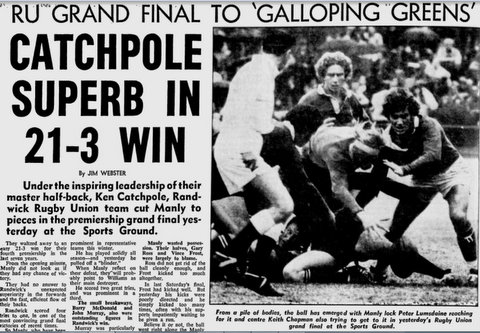 Manly went down to a Randwick side full of Rugby Internationals.
But wait there's MORE……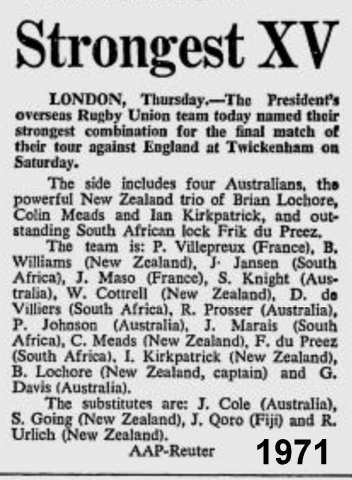 Steve was picked to play for the Presidents XV against England at Twickenham.
The game was played to celebrate 100 years of English Rugby.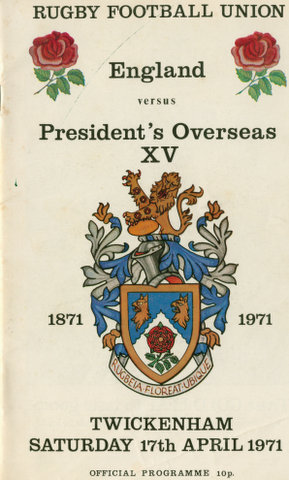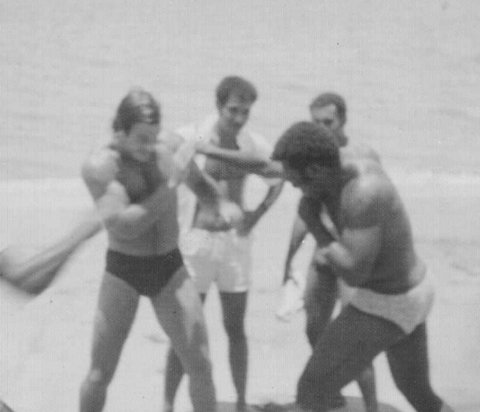 Steve visited Fuji on the way home .
Team mate Joe Qoto and Steve sparring on the beach.
This short tour of England was held in April of 1971.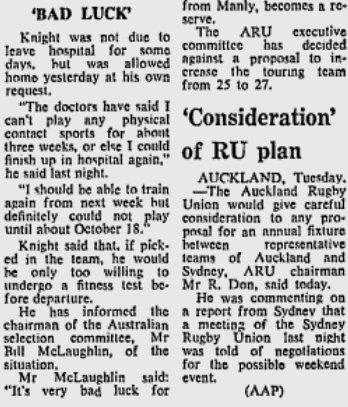 Sad news for Steve…he failed to play in the final trials and missed out on the Wallabies tour of France.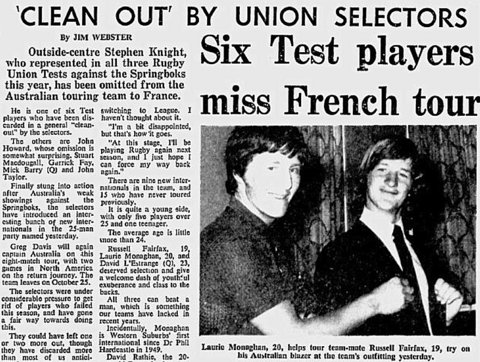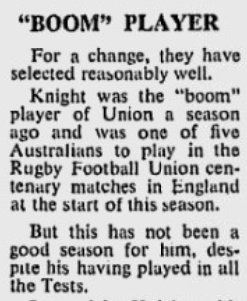 This was the main reason that Steve decided to switch to Rugby League and after meeting  at Manly surf club with Billy Beaver and Billy Brown he signed a contract to play with Wests.
Foot note: Back in 1969 after coming home from the South African tour Steve was approached by Souths to switch codes. Steve felt he owed Rugby Union so declined the offer. Even though his step brother Richie Powell had played at Souths.
Steve had no idea that Don Parish was to be the new Wests coach for the 1972 season.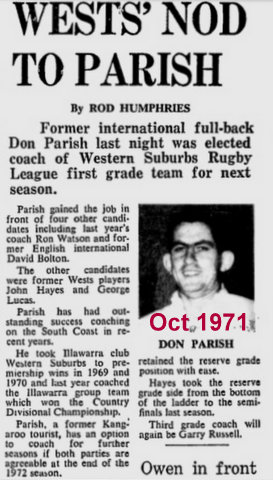 Don Parish was a good choice for Steve's coach in his first year in League.
The Rugby League Years 1972-1979.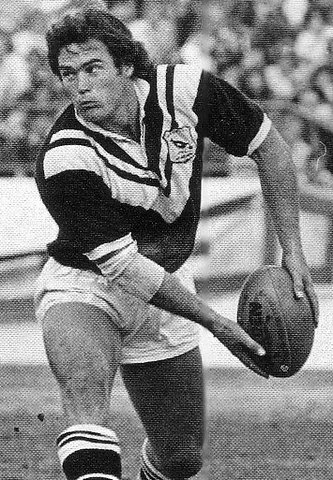 Stephen Knight in a Wests jumper 1975.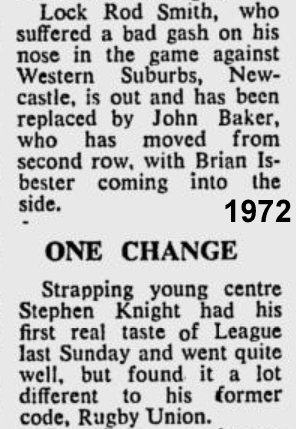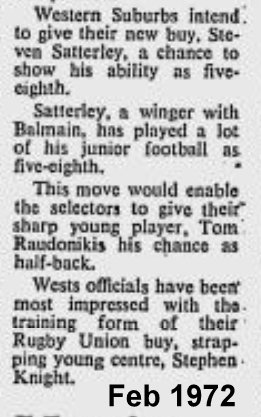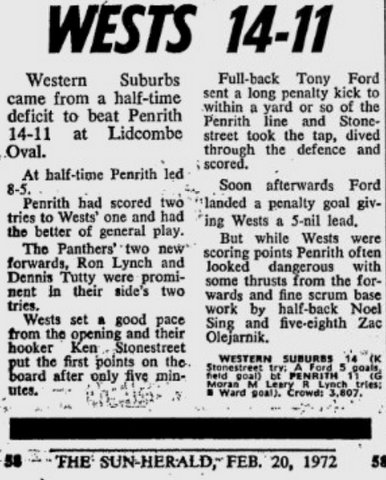 Pre season game Wests V Penrith.

Not a good start for Steve or Wests in 1972.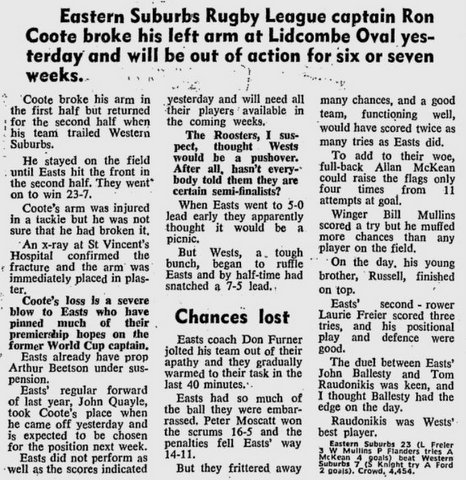 Wests lost BUT Steve scores his first try for Wests.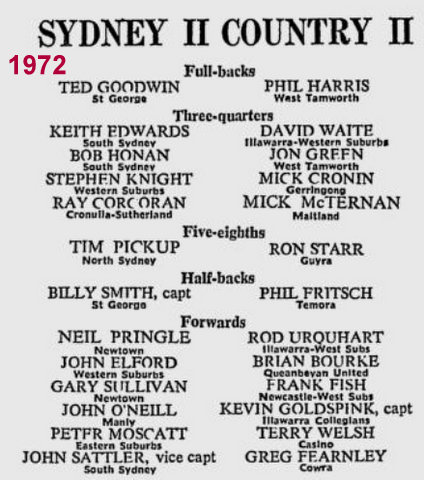 Steve was picked to play for Sydney Seconds but due to a serious back injury he had to withdraw from the game.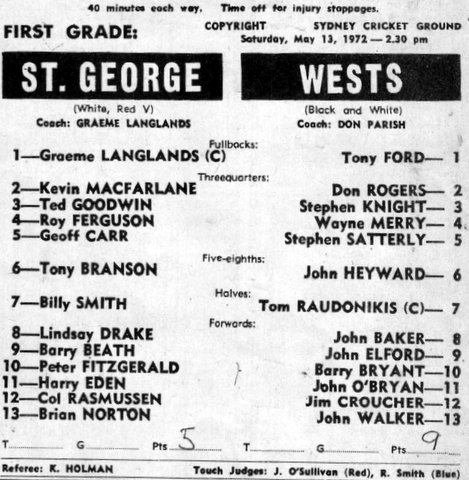 This was the game were Steve injured his back tackling Barry Beath.
Steve's very capable center partner was Wayne "Bugsy" Merry.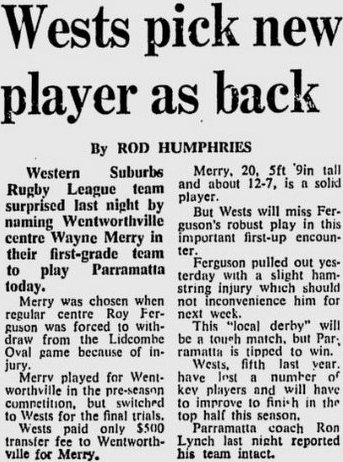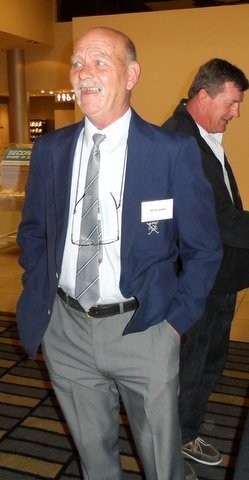 Wayne Merry enjoying himself at a Pratten Park Magpies reunion.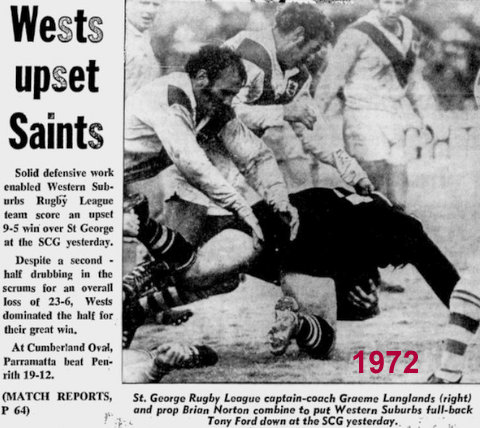 A great win for the Magpies.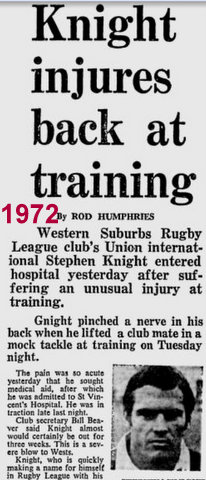 This back injury kept recurring right through his life.
(the team mate was Jon Clark)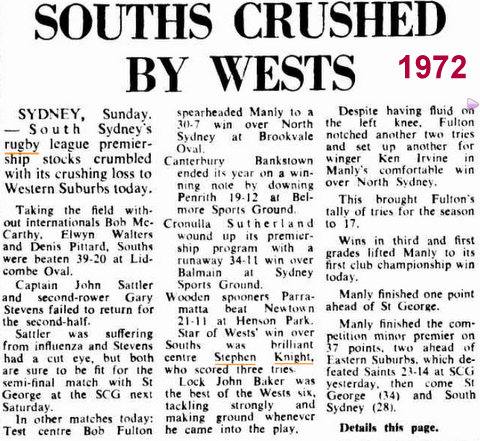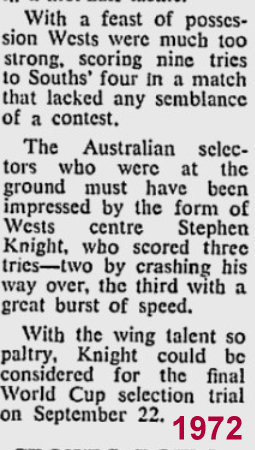 A good time to score 3 tries.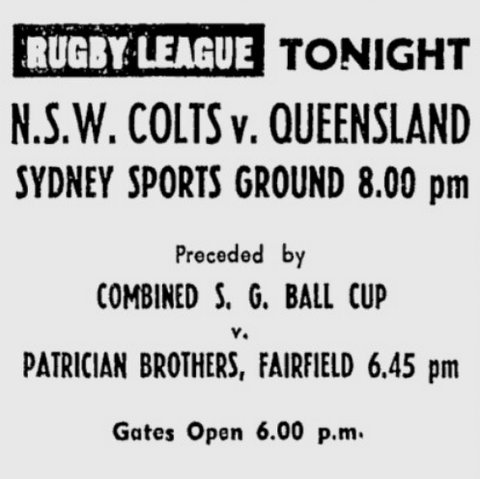 Played on Friday night at the Mighty Sydney Sports Ground.
 The 1972 World Cup.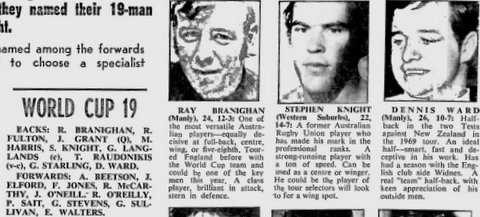 The World Cup  of 1972.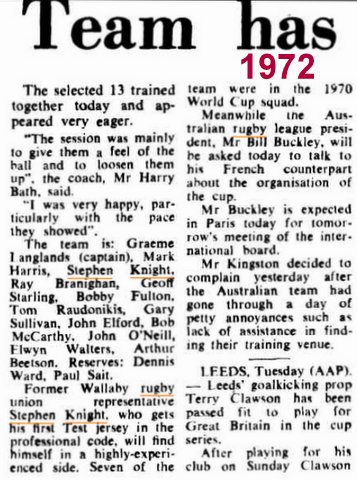 Story about First Test v England.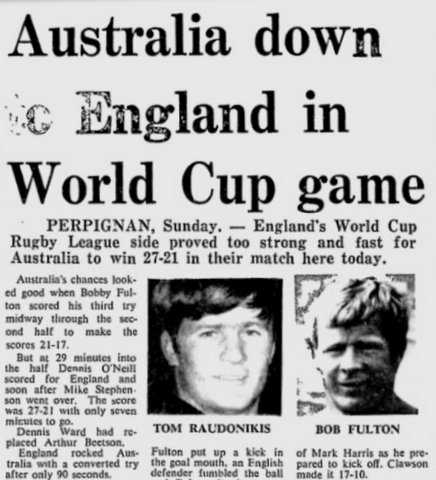 Steve played in this game.
In doing so he became the 465th Rugby League Rep player and the 36th Duel Code player.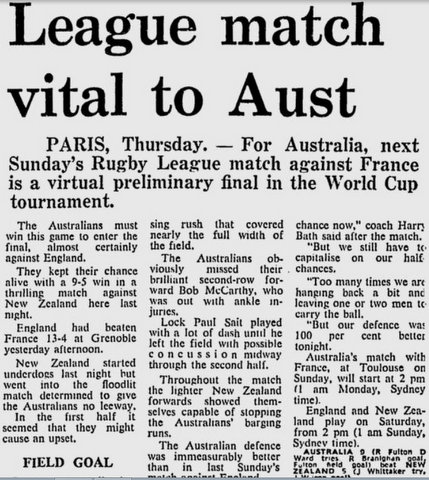 Hard game v New Zealand. Steve was injured for this game.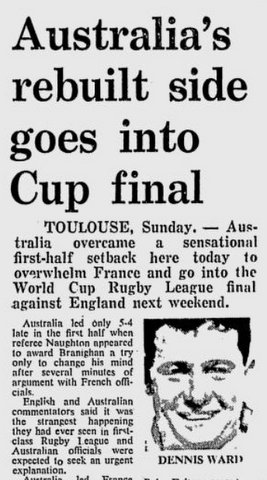 Steve was out injured for this important game.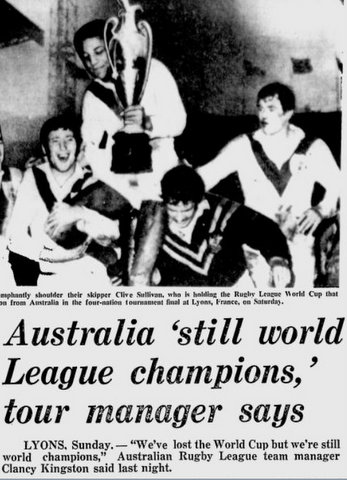 The game ended as a 10 all draw.
BUT
G.B. were awarded the Cup by virtue of a better position in the table.
Wests Rugby League 1973-1975.
Below I have added a few highlights of Steve's time with Wests.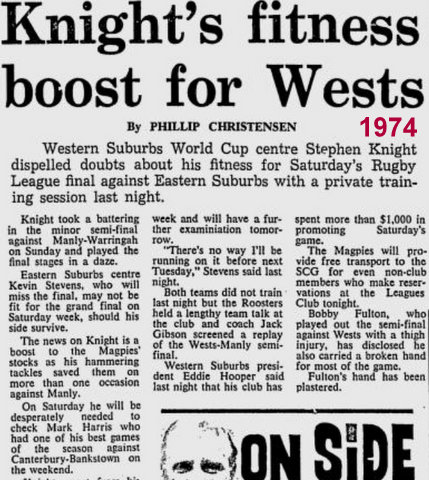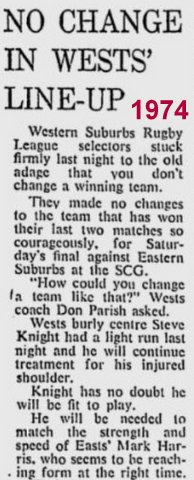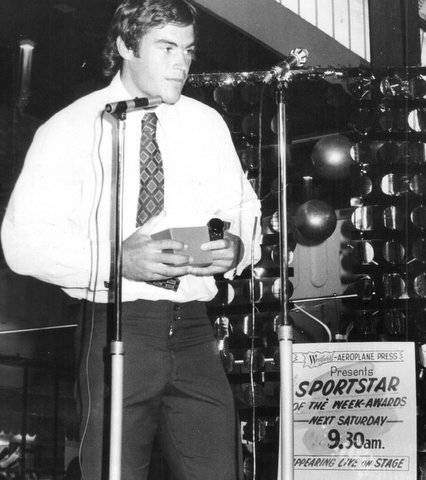 Steve at Burwood Westfield live on stage.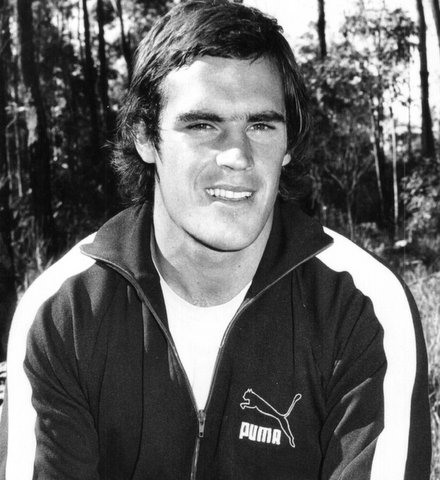 Steve in 1973.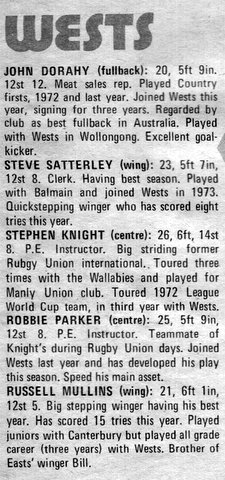 Steve joined at Wests by ex Manly RU team mate Robbie Parker in 1975.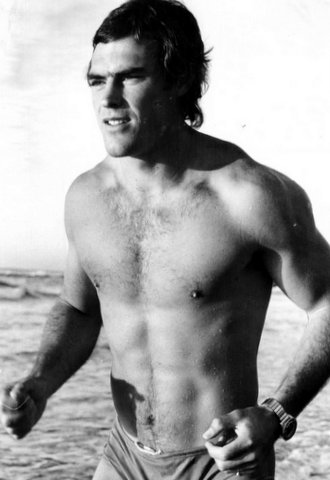 Steve going for a training run…does not look like Lidcombe Oval!!

Staff photo of Davidson High School 1975.
Steve is third from the left standing (wearing no tie…typical P.E. teacher)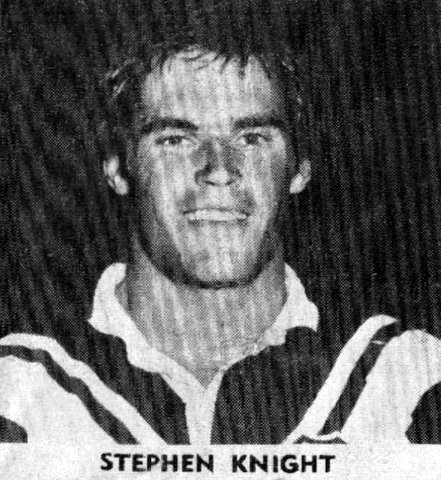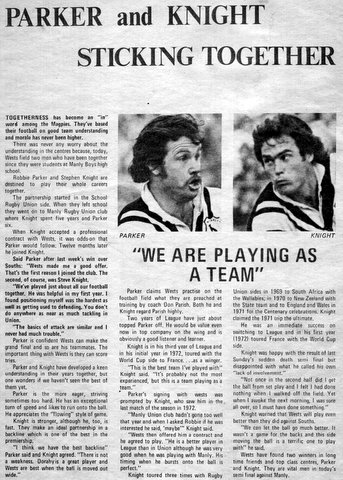 Wests won this Semi  Wests 24 to Souths 8.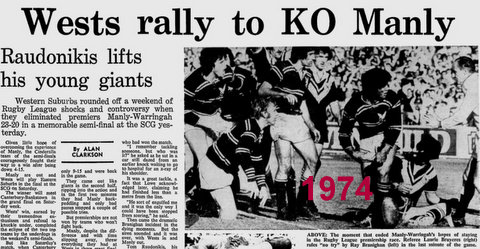 Wests beat the old foe 23 to 20.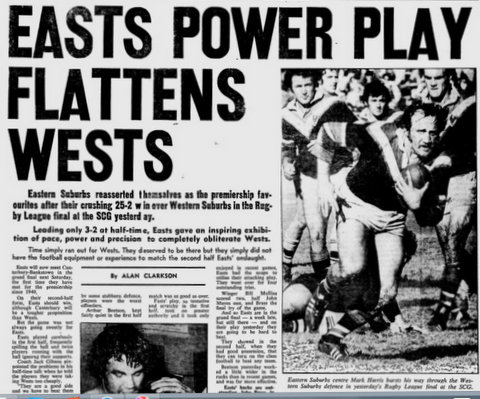 Wests beaten by a very slick Easts side, Easts 25 – Magpies 2.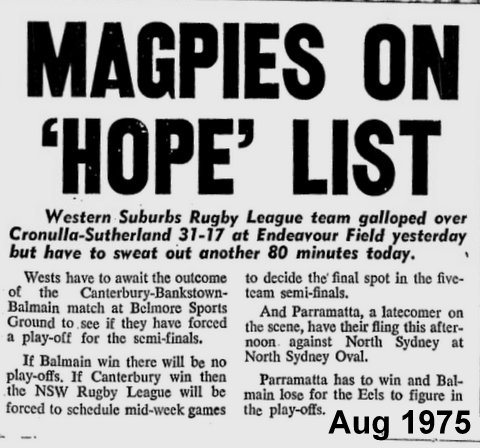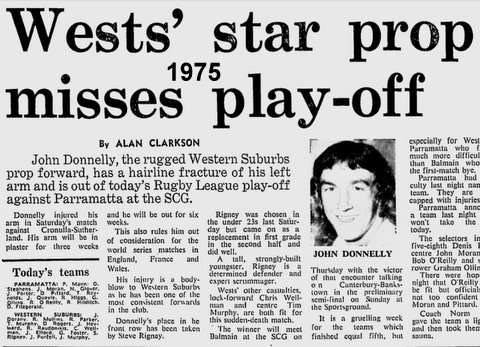 This should of been Steve's last game for Wests but he was sent off 2 weeks earlier.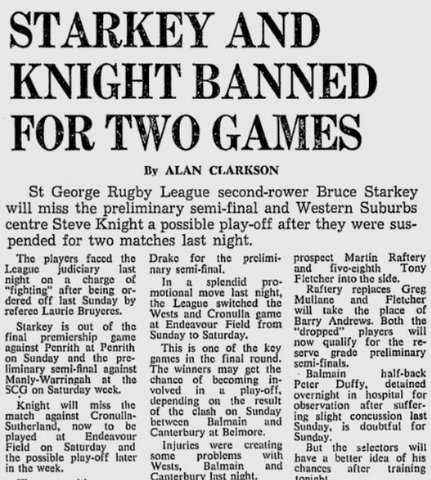 Such is life.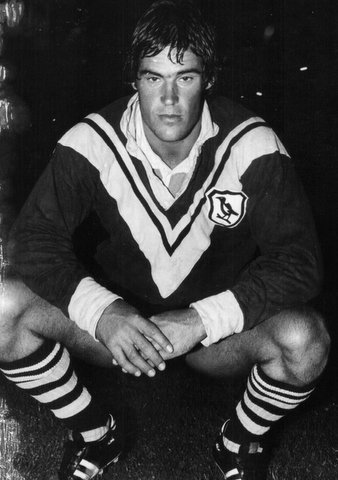 Not happy about leaving Wests.
After a Wests official and Steve had a difference of opinion he left for Balmain.
Steve did not want to leave Wests and would have loved to be a one club player.
Steve played 73 First Grade games with Wests and scored 25 tries.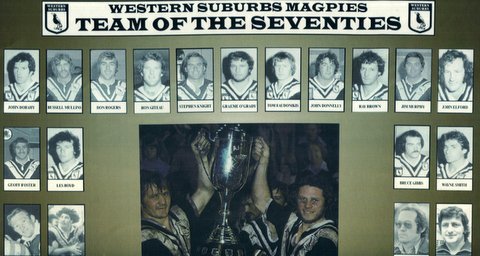 Steve made the  Magpies Team Of The Seventies.
The Tiger Years 1976 and 1977.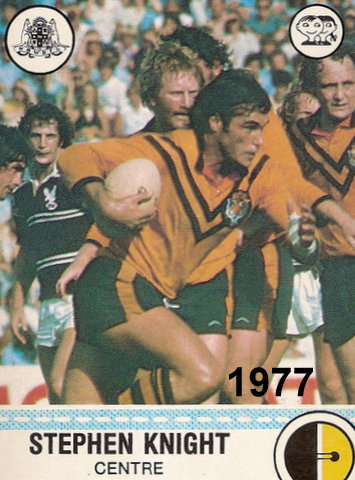 Steve's first coach at Balmain was Paul Broughton then in 1977 Paul was replaced by Ron Willey.
Paul Broughtons wife worked with Steve at Davidson High and he persuaded Steve to join the Tigers.
Played either Centre or Wing for Balmain during his two seasons with the Tigers.
Steve racked up 37 First Grade games and 14 tries.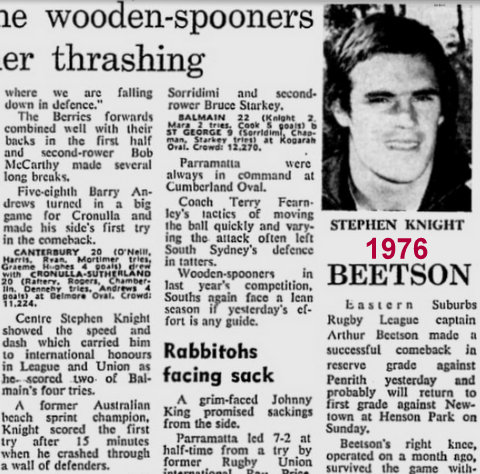 Steve gets a double against St George at Kogarah Oval in 1976.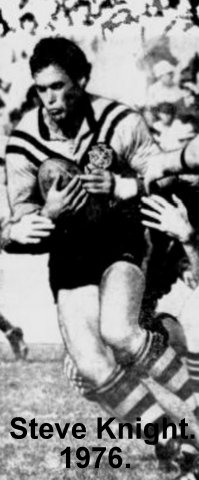 Steve Knight in a typical hard run.
Balmain just missed out on making the semis an unhappy Paul Broughton left.
Ron Willey was the new coach of the Tigers.
In 1977 Balmain made the semis they beat Manly but not Easts.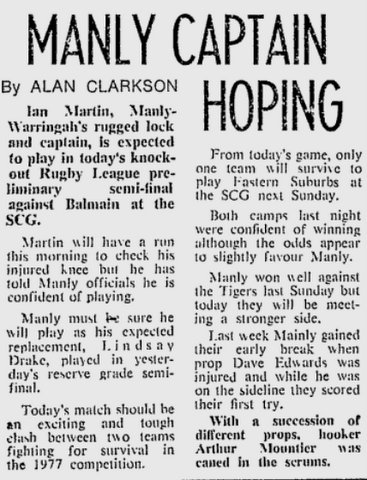 Balmain beat Manly in this knock out semi 23-15.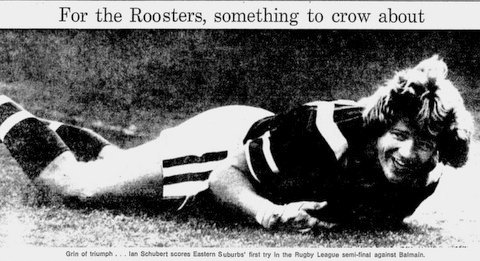 The Tigers 1977 season comes to an end. Easts 26 Tigers 2.
Thinking of retirement and sick of driving from Manly to Leichhardt, Steve was offered a contract to play for Manly. He choose the closer club.
Little known fact…Roy Masters and Ray Bernasconi visited Steve and offered him a contract worth more than Manly's deal, but due to travelling time to Lidcombe Oval he still went with Manly.
The Manly Years 1978-79.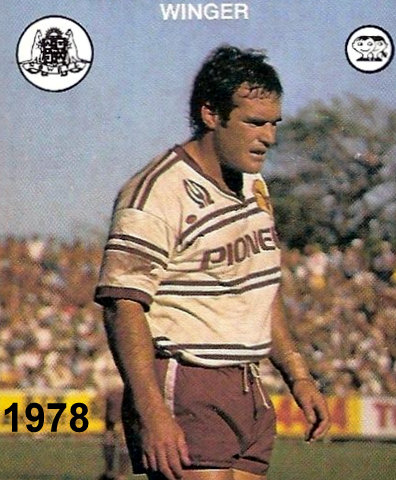 Steve played most of his time at Manly playing on the wing, which was not his preferred position.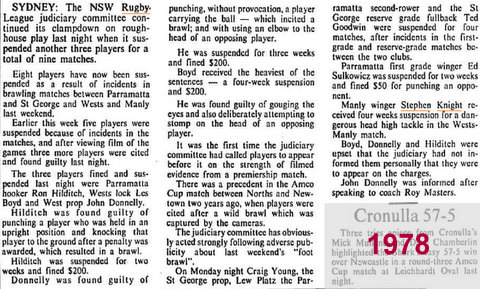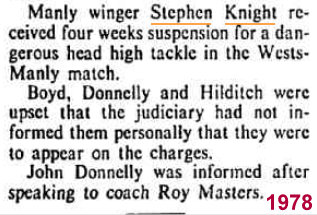 The aftermath of the battle of Lidcombe Oval.
1978 was the year that Manly played Cronulla in the Grand Final and also the Grand Final reply.
Manly 11 Cronulla 11.
Forget about Golden Point there was not even extra time…..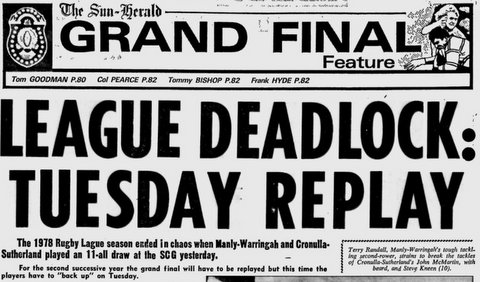 The Grand Final makes headlines…..
The Grand Final replay was played on Tuesday 19th September only 2 days later.
Manly 16 beat Cronulla 0.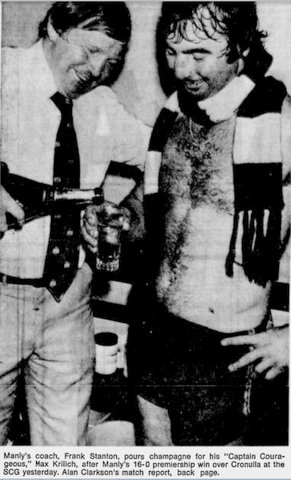 Winners are grinners.
Franks Stanton and Manly captain Max Krillich share a winning drink.
1979
 The last year for Steve Knight.
Steve playing in the second row, mixing it with the St George forwards.
Maybe looking for Bruce Starkey?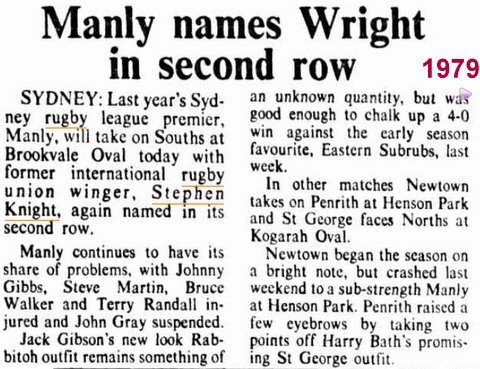 Dont blame me for the wrong spelling….its straight from the S.M.H.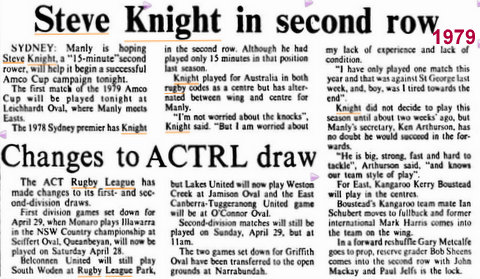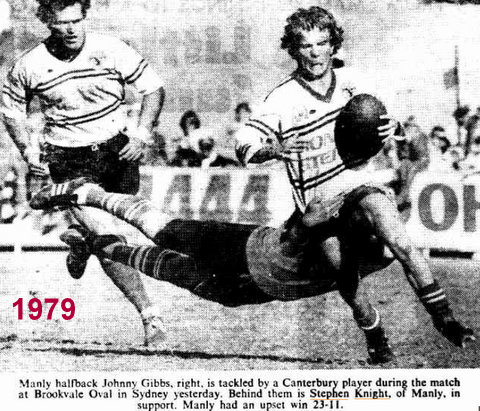 This was Steve's last game of Rugby League .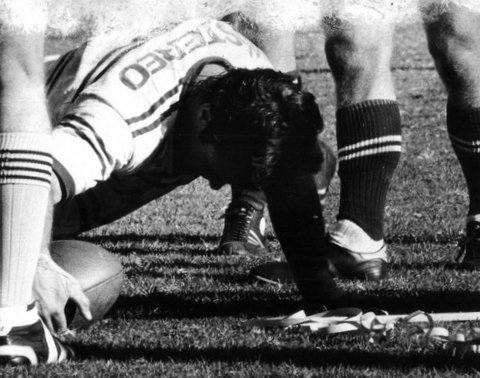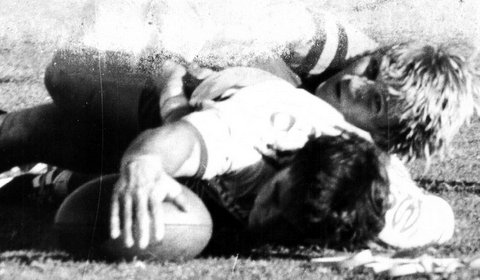 He scored a try to boot.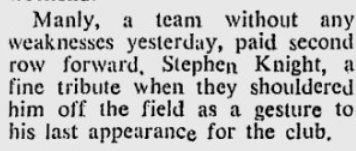 After 8 years of First Grade Rugby League Steve is chaired off Brookvale Oval.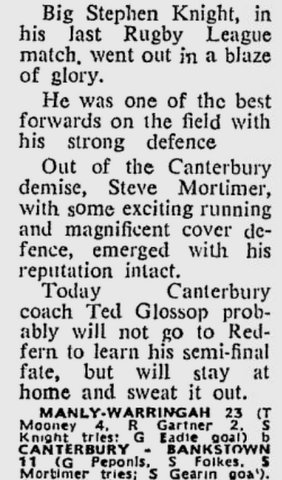 During his 2 years at Manly Steve played 32 First grade games .
In total Steve played 142 First Grade games for 3 Clubs between 1972 and 1979.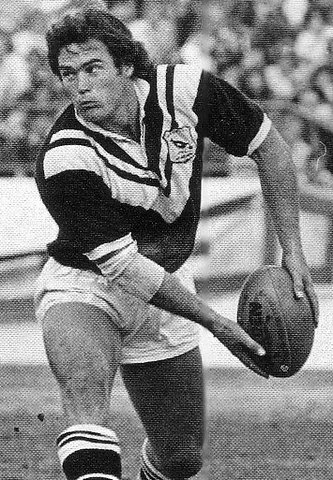 Wests 1972-1975.
I asked Steve who were the players at Wests that made a impression on him during his 4 years.
Best player: Tommy Raudonikis.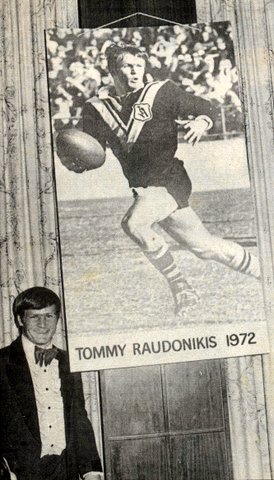 Tommy winning 1972 Rothmans Medal.
Special mentions.
Les Boyd, John Baker, Don Rogers, John Dorahy and John Elford.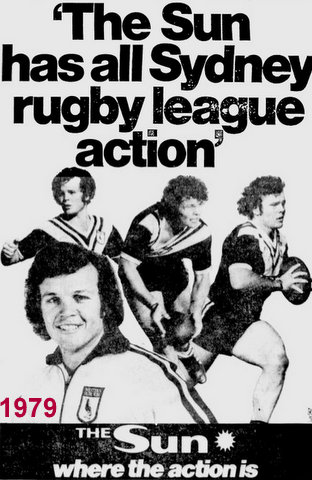 Les Boyd selling newspapers.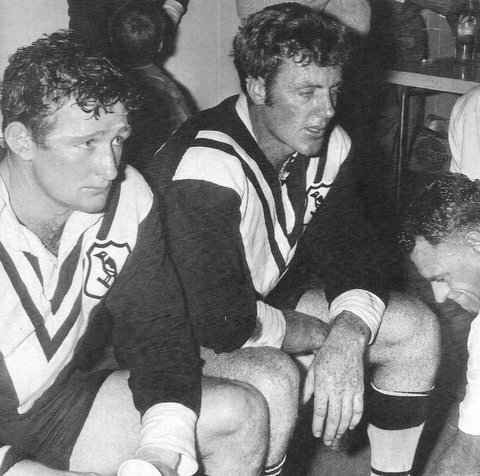 John Baker and Barry Bryant.
Steve loved playing at Lidcombe Oval and still can remember the cold showers at Pratten Park.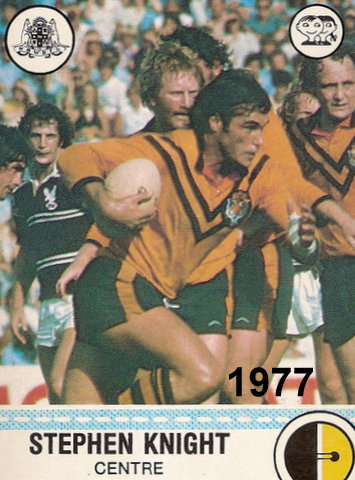 Balmain 1976-1977.
At Balmain Steve's best players were Brian Lockwood and Alan Mc Mahon.
Laurie Nichols the Balmain number one fan told anyone who would listen that
"Steve Knight gives them a fright"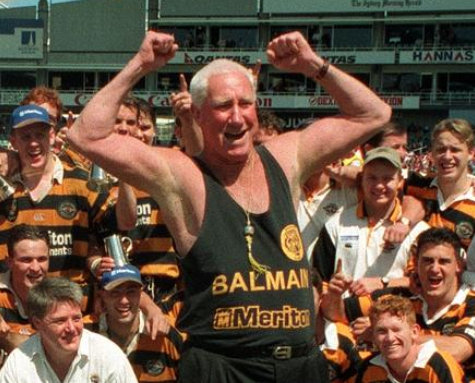 Laurie Nichols in full flight.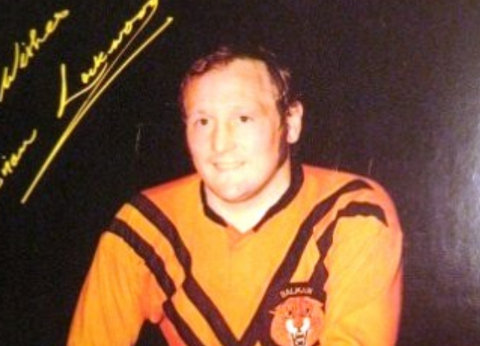 Englishman Brian Lockwood.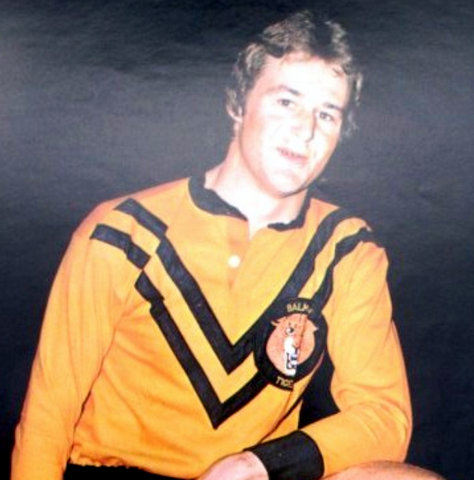 Alan Mc Mahon
 
Manly 1978-1979.
Steve finished his long football career at Manly.
During his time at Manly Steve played with a large number of great Rugby League players.
A few in particular he remembers.
To quote Steve "If Graham Eadie (Wombat) does not play we lose….
Russel Gartner was one the best players in the 1979 Grand Final replay.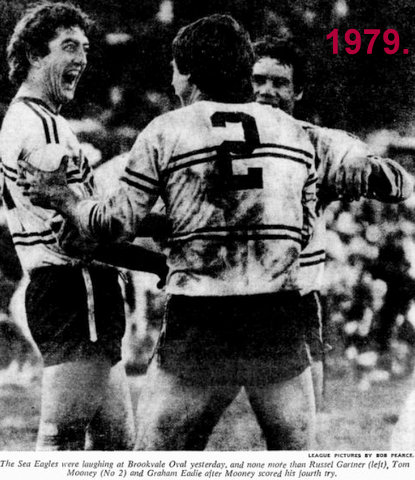 The two Englishman Malcolm Reilly and Phil Lowe.

And of course.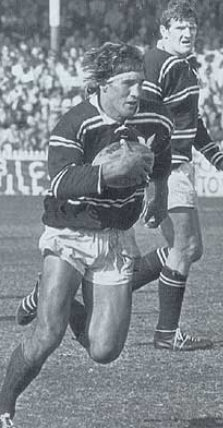 Terry Randall.
Before leaving I had to ask Steve a couple of important questions about his life and football career.
Steve was very honest with his answers.
Steve loved his time in League and has no regrets leaving Union. His time at Wests was especially enjoyable, and perhaps if a certain Wests official had not done the wrong thing Steve would of been a one club player e.g. Wests.
Best player ever. Ron Coote.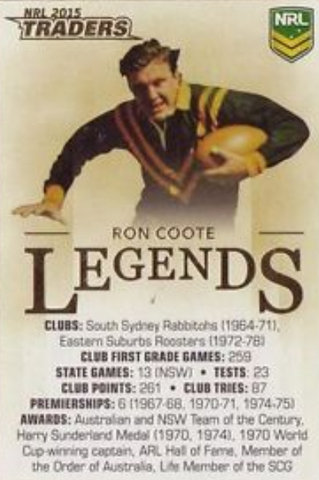 Favorite Sports Person aka Sporting Hero.(quick as a flash)
The Great Muhammad Ali.
Photo taken the same year Steve played for Wests.
Stephen Oliver Knight 24-4-2015.
(notice the Wests jumper framed in the back ground)
I would like to thank Steve for his time.
I enjoyed the couple of hours talking about the "good old days" it was brilliant.
(Just for the record Steve makes a very good cup of Coffee.)
 Foot note: I hope to get along to the Wests Archives soon to research more material for this story.
Mainly the Fibros and the Silvertails era. Cant wait.