Vale Bill Hilliard
1952 – 2022
Wests Player number 792 (1983)
Souths Player number 629 (1977)
Balmain Players number 696 (1978)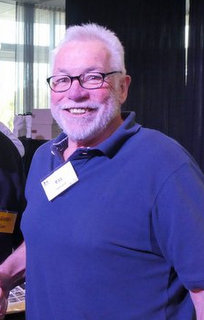 Below is a wonderful Tribute from Warren Boland
Warren was the Wests Captain in 1983 and also played at Balmain the same time Bill was there

*Billy Hilliard and I always joked that we were brothers
You might raise an eyebrow. Hardly lookalikes
Bill was a stocky front-rower, built like a bear, hitting it up and tackling all day long.
Me, a whippet winger, complaining I would rather face a firing squad than take it up from a tap
But, about the same height, Bill and I both had longish '70s black hair and beards, close enough in looks that a newspaper photo of a game mistook me for him in the caption. Bill kept that photo in his scrapbook after he typed his name over mine in a different font
Bill and I shared other similarities back then. We had both played rugby league for our universities, we were both teachers – in Bill's case, a long career in schools, and we'd each had one season at other clubs before we both played for Balmain and then Wests
In 1978 Bill was my captain in the Tigers premiership-winning reserve grade team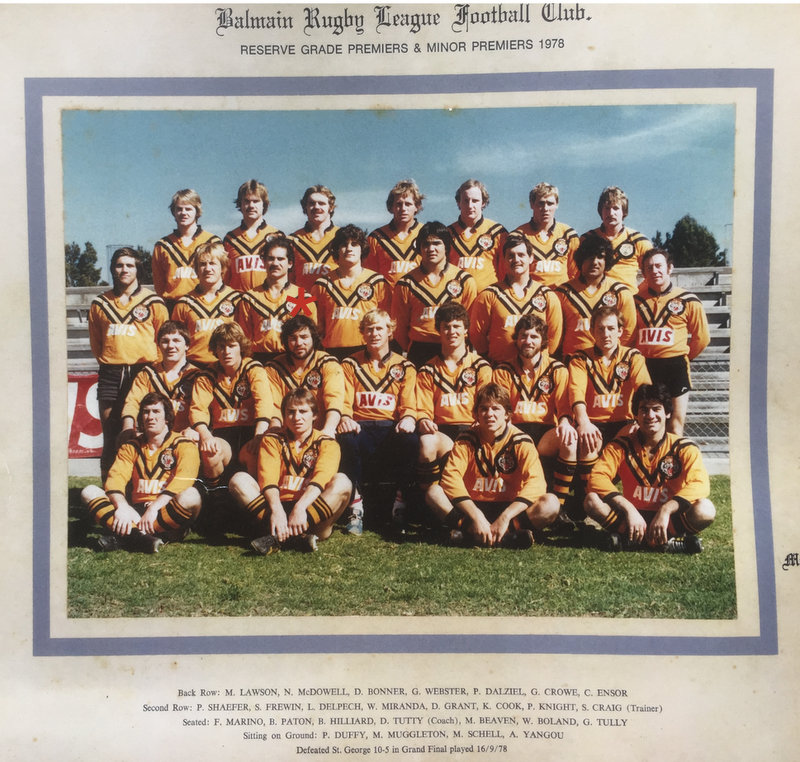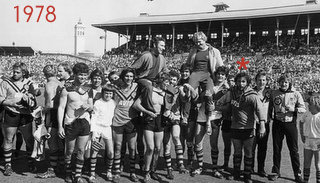 He led from the front, steady as a ship's skipper but rousing when he had to turn the tide. Everyone liked and respected him
Bill was a true believer. Loyalty, giving it your best and team spirit. On and off the field
He enjoyed a beer at the pub with the boys after training, and a few more at the club after a game
An amiable "good bloke", he could have a serious edge but always a ready smile and a bigger laugh
He was intelligent and dedicated to education, rugby league and his mates
He never missed a reunion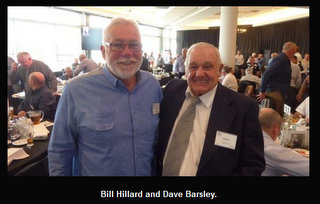 Bill and Dave Barsley at a PPM Reunion
Born and bred, he liked living in the inner western suburbs and it meant a lot to him to represent Souths, Balmain and Wests
Bill at Lidcombe Oval
In 1983 Bill joined the Magpies where I was captain. He often recounted to me with a wink how pleased he was when I was out injured for a couple of games because he was made skipper in my absence.
He was proud to have been a first-grade captain and a Western Suburbs Magpies captain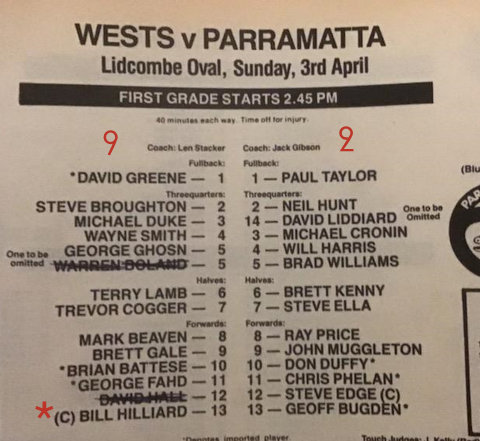 And he deserved to be proud. There was no better clubman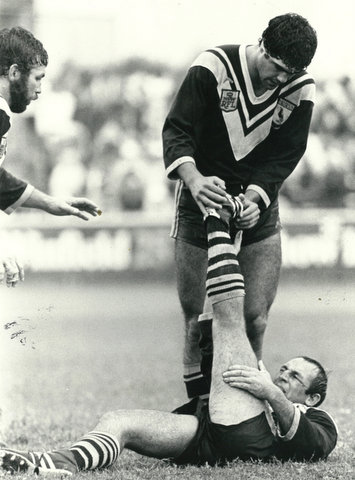 Bill, Brett Gale and Arthur Mountier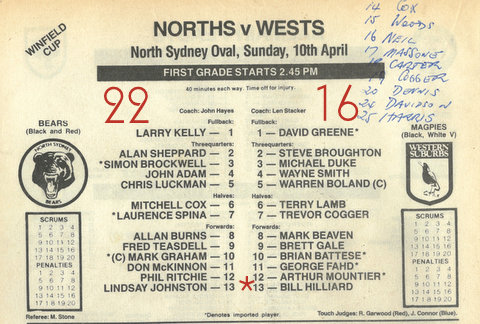 That same year, 1983, the NSW Rugby League moved to expel Wests from the competition. The Magpies were on the brink of financial collapse
Bill was a member of a leadership group who represented the players in negotiations with the club and the NSWRL. The players voted to defer payments owed to them to give the club time to get back on its feet
Led by then Club Secretary Manager Rick Wayde and the committee, with the active support of the players, Wests held various fundraisers including a rock concert at Lidcombe Oval and avoided insolvency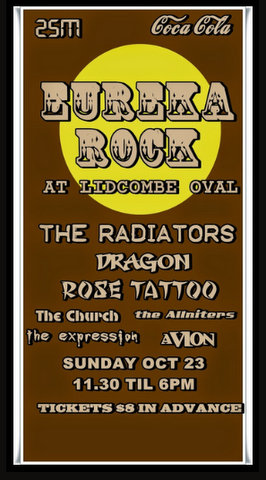 Bill played his part in saving the Magpies from extinction
The next time I was in the same team with Bill we were long retired. It was 1997 and the early years of Fox Sports Rugby League coverage
I was a commentator for Fox and Bill was our game statistician, another role he revelled in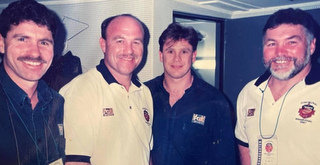 Warren Boland, Wally Lewis, Gary Freeman and Billy
At a recent reunion, Billy and I, now both grey haired and bearded, talked about these shared fond memories and chuckled again at being "brothers"
Minutes later I ran into league stats expert and historian David Middleton
I said "G'day David". He said "Hello Bill". I put him straight!
Next day I texted Billy to tell him about that hilarious encounter. Brothers still
In reply, Bill sent me the old scrapbook photo with the altered caption. He added the message "Bolo…..I never thought you were so good looking !!!!!!"
Not just brothers, Billy. Brothers-in-arms
*
Before coming to Wests in 1983 Bill had played for the University of NSW in the now de funked Second Division 10 years earlier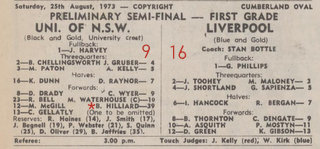 The Bill Buckley Medal
Bill came second three years in a row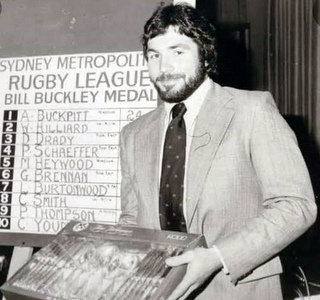 Bill receiving his cutlery set prize
Souths graded Bill in 1977 where he played five First Grade and 12 Reserve Grade games
Bill then played First and Reserve Grade for Balmain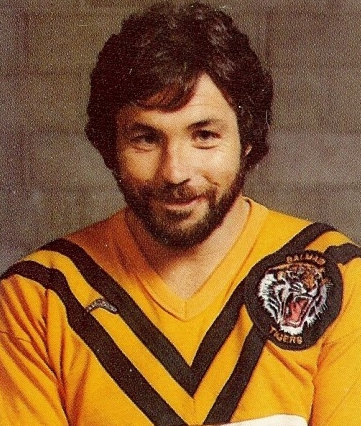 He captained Balmain to two reserve grade premiership victories in 1978 and 1982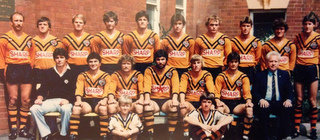 The Wests Year 1983
In 1983 at the age of 31 Bill played his final year of Rugby League at Wests
The BIGGEST game for Bill at Wests was to be Captain of Wests when they defeated the mighty Parramatta at Lidcombe Oval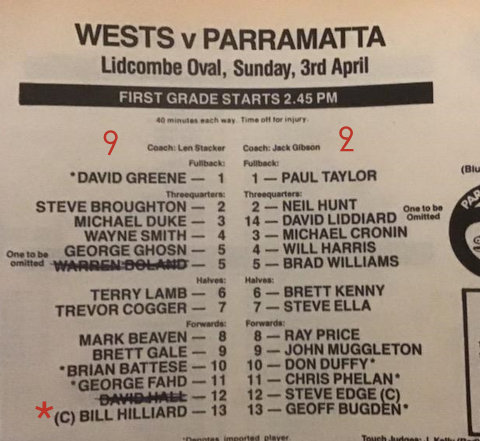 Note the Footy TAB start…20 and half…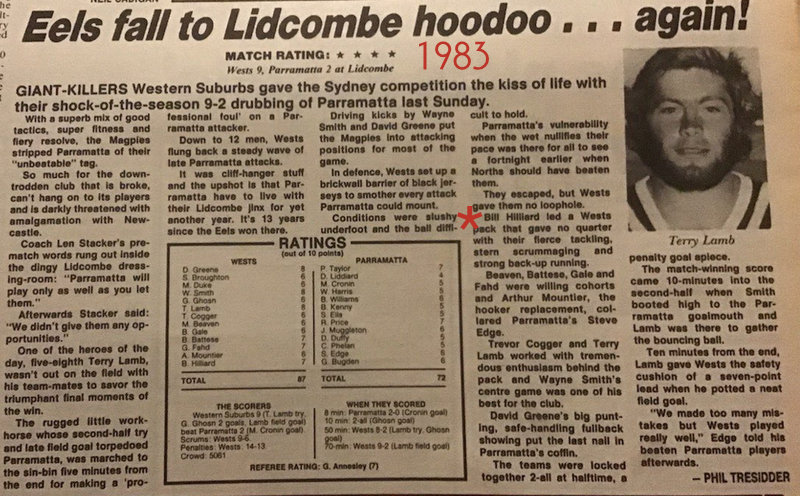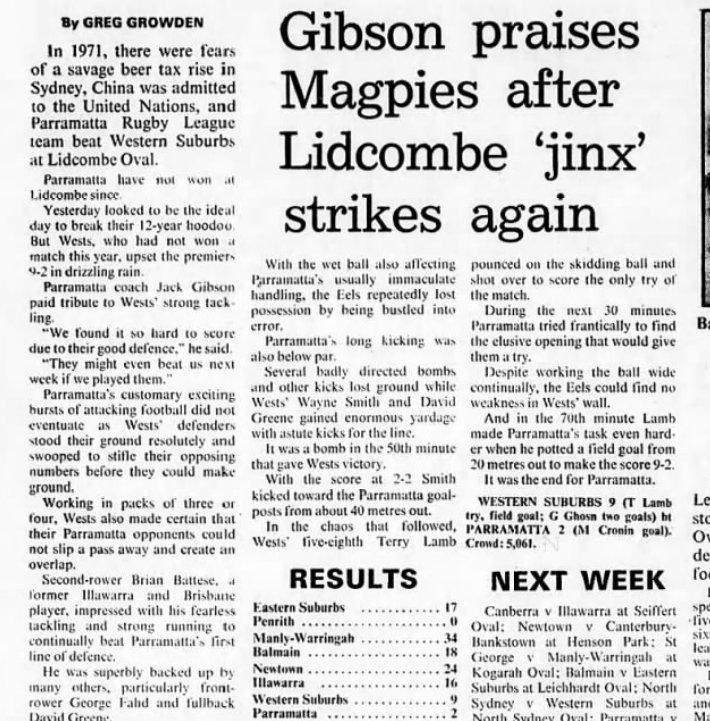 Bill at the end of the 1983 season went in to retirement from Rugby League
*
TRIBUTES/REFLECTIONS
BILL HILLIARD
I only recently corresponded with Bill. Such a decent man. Another, too young.
Michael Duke
Sad news, played many games with Billy, tough as and a really good person. Condolences to his family.
Trevor Cogger
Very sad, very sudden. Played against Bill when playing for Ryde Eastwood & played with him at Wests…hard player & great bloke.
Stephen Boughton
I played against Bill when he was at Balmain. He was a very tough and respected player. When he joined Wests, he was very open to talk to, very professional and a Champion Guy. Will be surely missed at all the Reunions.
Bruce 'Bruiser' Clark
Bill wasn't just a great footballer who I had the pleasure of playing beside but a fine man and a teacher and mentor of young men. Will be sadly missed.
Peter Lamb
I have added this interview Tony Adams had with Bill a few years ago

Thanks Tony Adams for letting us use his brilliant work
A special tribute to a champion bloke who just passed away

Former Souths, Balmain and Wests prop Bill Hilliard
Lovely fella – I am devastated – here is an interview I did with him a few years back…
RIP
By TONY ADAMS
Magpie blood flows through your veins, doesn't it?
Yes, my dad played a couple of seasons for Wests in 1949 and '50. Then he went to captain-coach Kurri Kurri – got good money too, and represented Newcastle against the French and Kiwis. He came back to Sydney after that to play for Balmain – I actually have a letter sent to him by the Tigers in 1953 – two years after I was born – asking him to play for them that year. But he got a hernia and retired before he could play a game for them.
How did your own career start?
My brother and I were both very sporty – dad coached us at cricket and footy. Then I went to the University of NSW and played for them in second division. In four seasons, I came second in the Bill Buckley Medal (for best player in the competition) three times. I got a bit of a reputation as a decent player. That was the time of the 13 import rule and the uni was in Easts territory, so they signed me up as a local junior. I played a couple of games in the under-23s, but I was a poor uni student with no car… I just retired.
What happened next?
I went back to Uni but then the second division comp folded, and I got an offer from Souths – to play first grade as an uncontracted player. This was 1977 and I made my debut midway through a game against Balmain when Herbie Timms got hurt. I'd played a full reserve grade game – there were no fresh reserves back then – but was delighted to get a run. I was stoked – suddenly I was on the same field as guys I had read about in the newspapers. I went okay but didn't last long… a kid named Peter Tunks was coming through and I got dropped for him. Over the years, I got dropped for some pretty good players – Rod Morris and John Donnelly were two others that come to mind. But you know, looking back, I got just as much satisfaction out of playing reserve grade over the years as I did first grade. It was a strong comp and I played with and against blokes who became legends of the game.
Why did you move to Balmain after just one year at Souths?
I played both first grade games against Balmain that first year at Souths and they called me – so they must have liked me. I was working as a teacher at Balmain High School at the time so it was the perfect move. I didn't go for the money – there was virtually none around them apart from the elite players. I had five good years there and was a specialist scrummaging prop – a job that is obsolete these days with the way scrums are. 
It was a fiery era, wasn't it?
Every scrum was a battle and I can't tell you the things that went on in there. Fighting was a part of the game and every match had the 'softening up' period where the boys would let off steam by belting each other. I remember one game against Souths, I faced off against their little halfback Barry Wood as fights were going on all around us. I had my fist cocked but he just looked at me and smiled and said 'We can't do this'… and kissed me on the forehead… it was a funny moment. Playing for Uni, a guy kicked me in the head one day and I saw read – so I kicked him up the arse. The referee sent me off and I got two weeks. It also cost me the Buckley Medal – the ref later admitted to me I was going to get points that day and that would have won it for me… I'm still dirty about that! 
You were also something of a specialist captain, weren't you?
I captained a lot of the teams I played in, yes. I was a fairly calm bloke and got on well with my team-mates, coaches and most importantly the referees. It was a role I enjoyed.
And you had some success, skippering the Tigers to two reserve grade grand final wins?
Yes, Balmain took a lot of pride in their reserve grade back then – we weren't going to win a first grade comp so it was the next best thing. In 1978, club legend Dennis Tutty coached us and we were rank outsiders in the grand final against St George at the SCG. Their skipper was Steve Edge and I had played against him at uni. Six members of their team had been in the Dragons first grade side that won the comp the previous year so they were supposed to smash us. But we came out on top and Percy Knight and Wayne Miranda chaired me off before a huge crowd – it was a special moment.
You repeated the dose in 1982?
We were underdogs again against a strong Roosters side that contained star talent like Ricky Walford and Russel Gartner. It was a memorable day for me because it was my last game for Balmain, and also for a club legend in Neil Pringle. I had one of my best years and also won reserve grade best and fairest. Our hooker was a kid called Benny Elias and my job was to protect him in the scrums – they would gouge him, scratch him, bite him. Even back then, you could tell he was going to be a superstar. He revolutionised hooker play with his dummyhalf skills.
And then you moved to Wests?
Yes – I saw a certain synergy there because of my dad also playing for Wests and decided to give it a crack. I played a fair bit of first grade and captained the boys to a win over Jack Gibson's Parramatta, who went on to win their third straight premiership later in the year – that was a massive boilover and the boys partied long and hard. Our regular captain Warren Boland was out injured that week and I went up to (coach) Len Stacker and told him I had a lot of captaincy experience and he gave me the job. You wouldn't believe it, Steve Edge was Parra captain, and before the game he laughed and said 'We are going to flog you blokes'. I guess we had the last laugh! Terry Lamb was just a kid and had a blinder for us that day… and I still remember I made the RLW Team of the Week! 
That was your final season?
I was 31 then and knew it was the right time to give it away. And Balmain asked me to come back and coach their third grade, which is a job I did for four years and really enjoyed. I loved coaching – in my job as a school teacher I also coached water polo, cricket and rugby union and found it a real challenge getting the best out of young athletes.
Your son Josh is also a fair athlete?
He excelled at most sports but especially triathlon. He played rugby union for NSW at schoolboy level but then joined the navy and they wouldn't let him play body contact sport. So he switched to traithlon and has represented Australia in world championships. All three of my kids are triathletes and I got into it as well until the age of 50 when my knees finally wore out and I had to give it away… reluctantly. I'm still teaching… being doing it for 40 years or so and still enjoy working with young people.