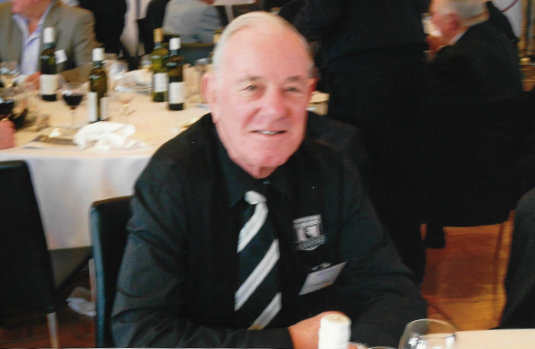 Ron Powell at a PPM reunion
Below a  little about Ron from the 2007 Magpie Journal Magazine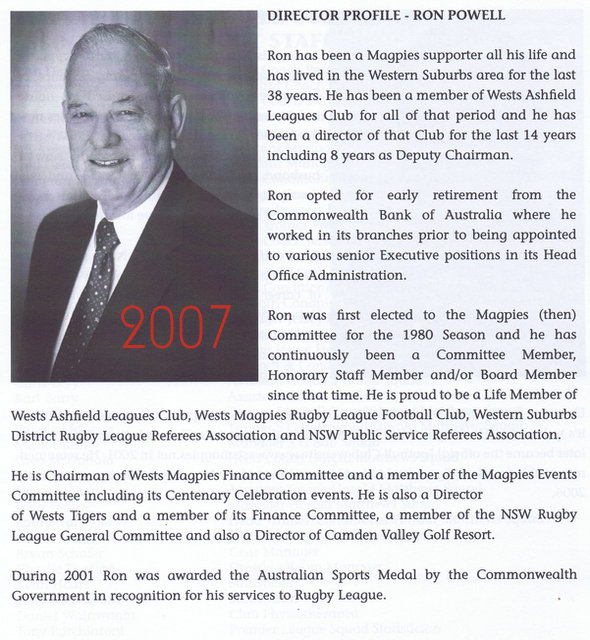 Reflections and Tributes:
Kevin Hammond:
Ron was elected to the Committee of the WSDRLFC  and served on the committee from the Lidcombe Oval days venturing out to Campbelltown and remained a Committeeman/Director through to his retirement around 2012.  Ron is a Life Member No. 85 of the Magpies awarded for distinguished and loyal service over an extended period.  He performed many important roles for the club ranging from gear manager to overseeing the financial governance and performance of the club.  He was always willing to do anything and everything to help the Magpies no matter how menial the task may have been.
Ron was an appointed Director of Western Suburbs Leagues Club Campbelltown at its inception and remained so for some time until Wests Ashfield withdrew from the governance of the club.
Ron was also a Wests Ashfield appointed director at Wests Sports Bowling club for a number of years.
Ron was a genuine natures gentleman, he was highly respected by all that either knew him or who came into contact with him, his integrity was beyond reproach.
He was a loyal supporter and servant of the magpies over an extended period and truly worthy of being referred to as one of the boys from Western Suburbs.
From my perspective and you can quote me if you so desire, as a former Chairman of the Board and Executive Chairman, it was not only a pleasure but an absolute honour to serve with Ron and to come to know him and his wife Carol as friends.
 *
John Dorahy: Sorry to hear this news and agree, Ron was a wonderful person around the Magpies…may God Bless him in the Magpie Heaven's Nest.
Trevor Cogger: Sad news! Ron was certainly a great Wests man who was always there when I was a young bloke. Certainly put a lot of time into the Western Suburbs Magpies. RIP
Steve Reeves: Very sad. He was a great Mate who always supported me.
Brian Brown: So sad to hear the loss of a great Clubman. Ronny was a terrific bloke. He would always interrogate you when you needed new socks or shorts mid year. My condolences to the Powell Family.
Robert O'Sullivan: Had the honour and privilege to serve on the Board with Ron for many years. RIP Old Mate.