Vale Rod Smith
Western Suburbs Rugby League Player Number 643 (1968)
1948 – 2022
Rod played for Wests between 1967 and 1972
During these six years Rod played over 120 Grade games in total
65 First Grade, 30 Reserve Grade and 26 Third grade games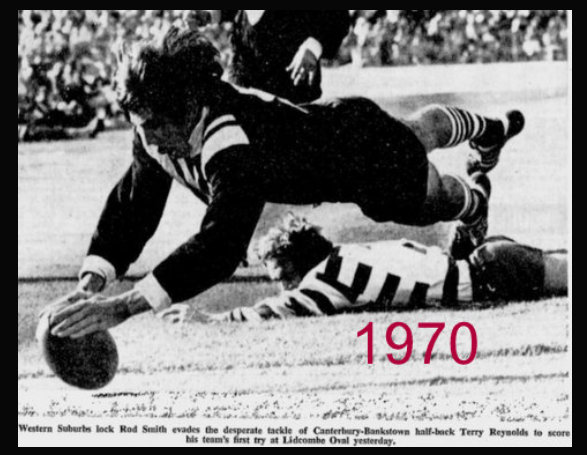 Rod scored 16 tries in First Grade and had a unique record of scoring two tries in one game five times
*
Lets go back to were it all started with Rod playing for his beloved Enfield Federals in the Western Suburbs Junior comp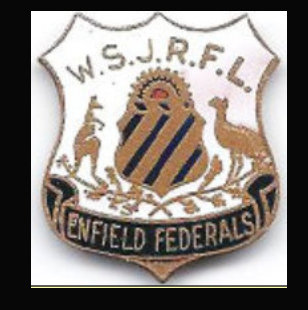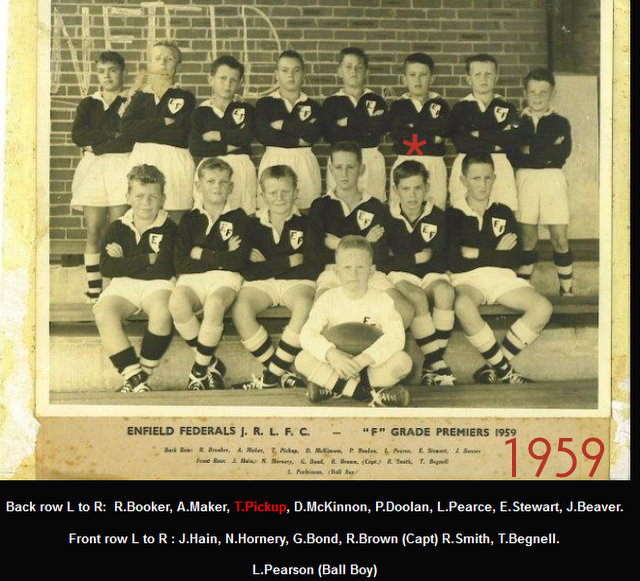 Rod was 10 in 1959 playing in the Under 12 Competition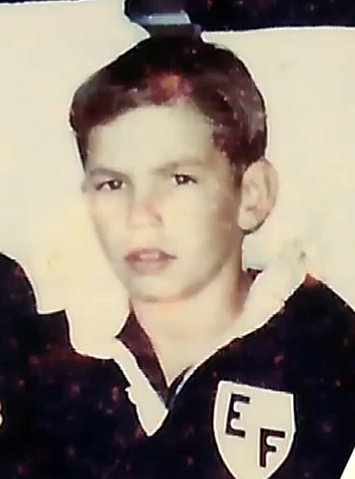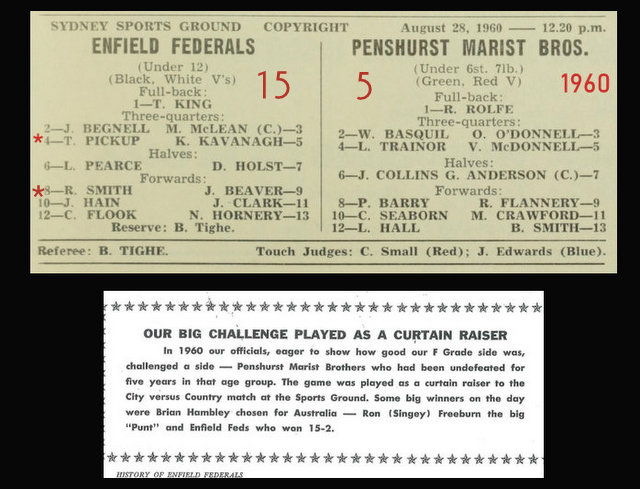 In 1960 Rod and his mates played at the old Sydney Sports Ground before the Sydney V Country game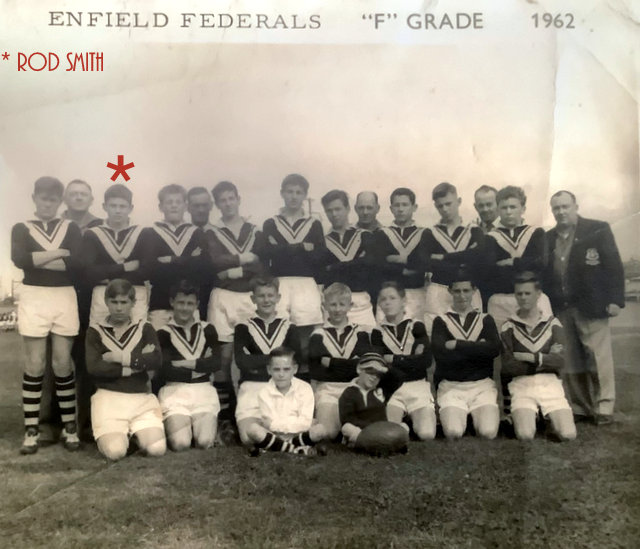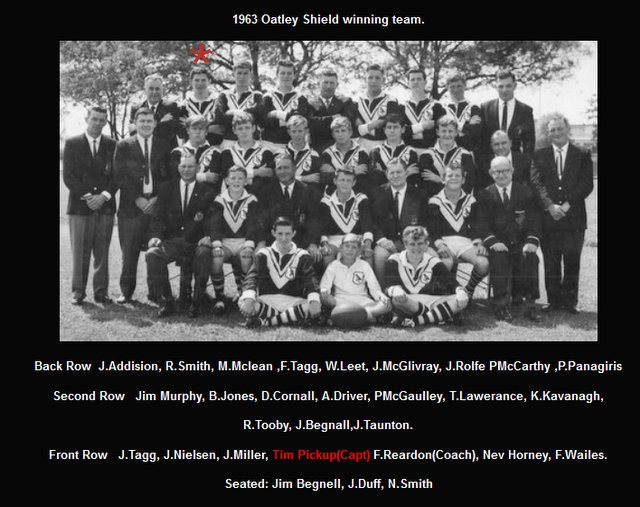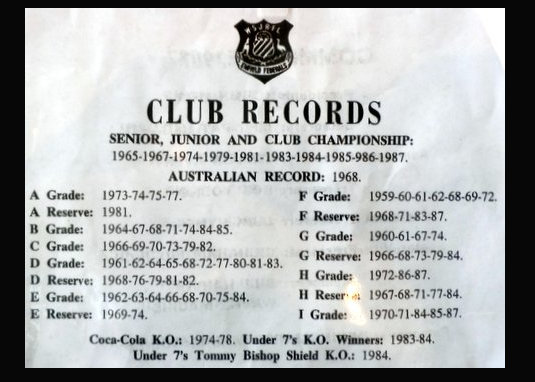 1967

Rod played four Reserve Grade and 22 Third Grade games in 1967
Of the 22 Third Grade games one was winning the 1967 Third Grade Grand Final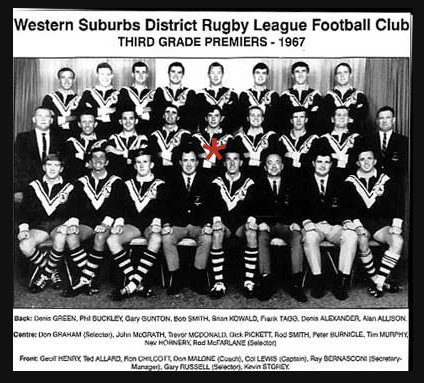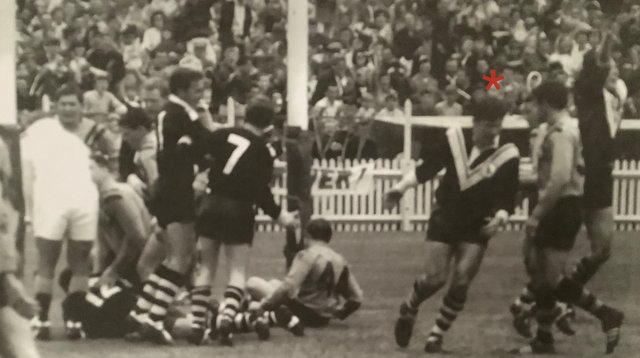 The winning try in the 1967 GF
Hooker John McGrath #12 scores under the post at the Paddo end of the SCG
Wests players left to right John McGrath, Peter Burnicle,Col Lewis, Geoff Henry and Rod Smith
Gary Gunton far right jumping with joy
Rod and a few of his team mates from the winning 1967 Third Grade side at a PPM reunion
1968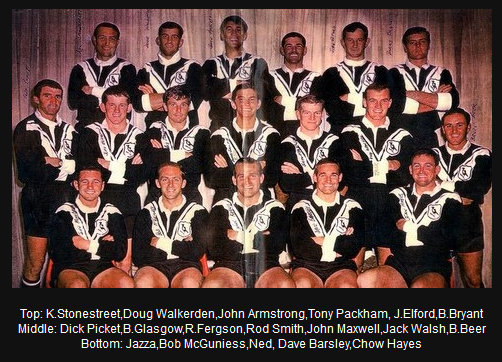 On March 31st 1968 Rod played his first First Grade game for Wests at North Sydney Oval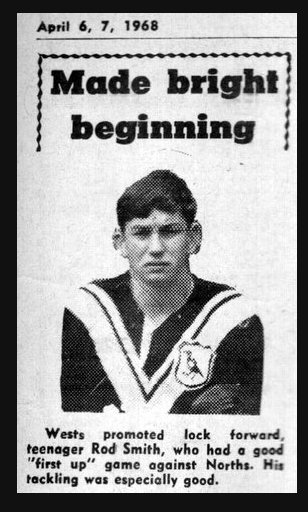 Wests 18 beat Norths 11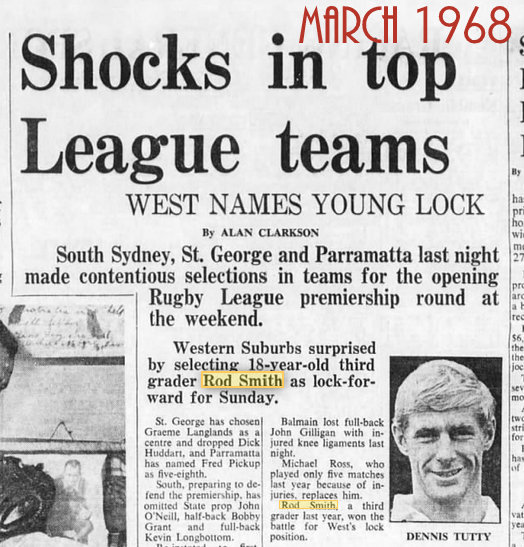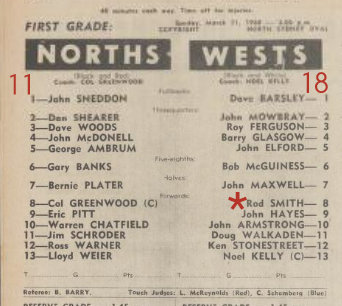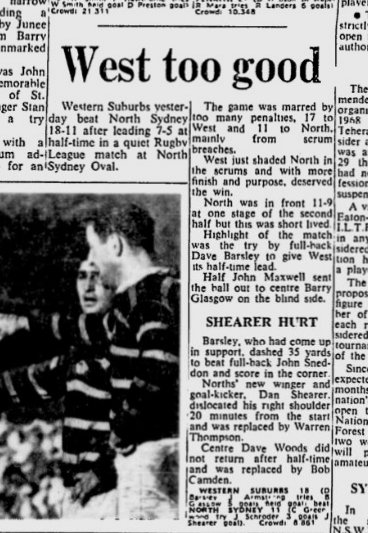 Also in 1968 Rod played against the French World Cup side at Lidcombe Oval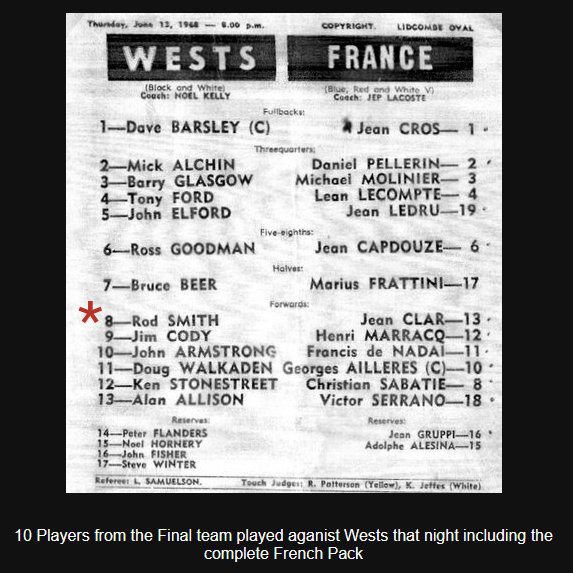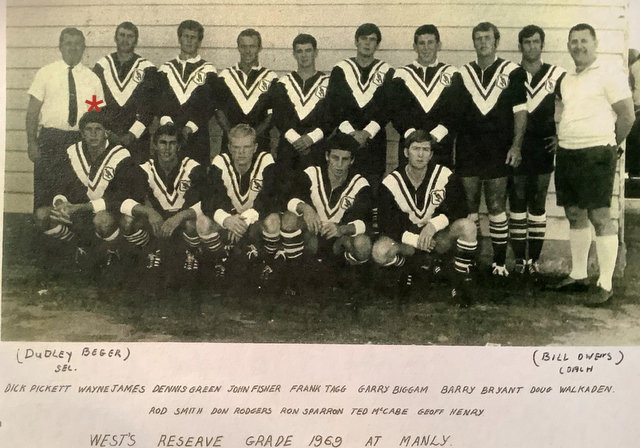 In 1968 Rod played 16 First Grade and 3 Reserve Grade games for Wests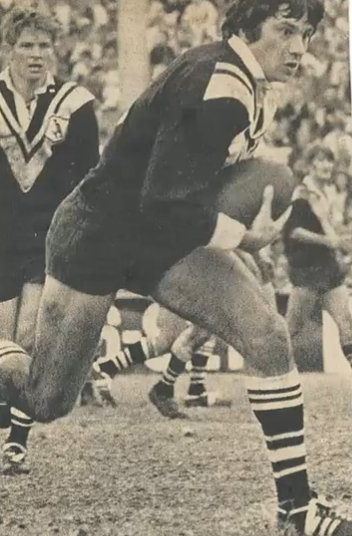 1969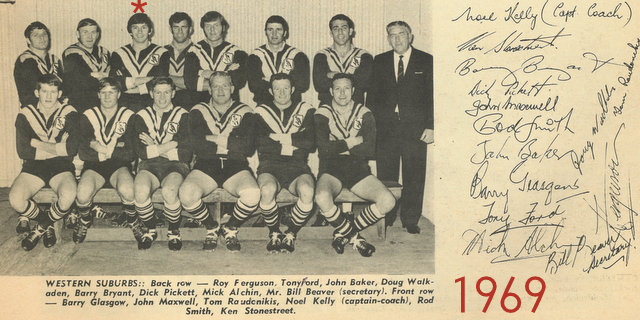 Rods first try in First Grade was scored on a famous day when Wests 19 beat Balmain 12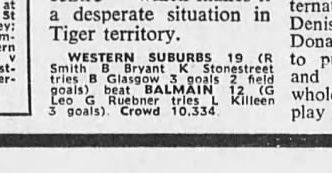 Balmain of course went on to defeat Souths in the 1969 Grand Final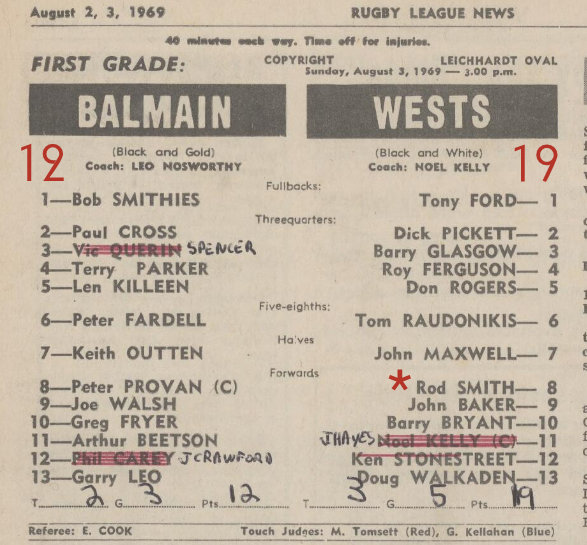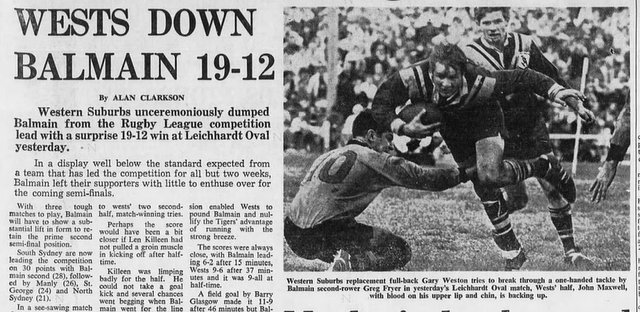 Rod was also there when Noel Kelly played his last game for the Magpies
And also scored a try…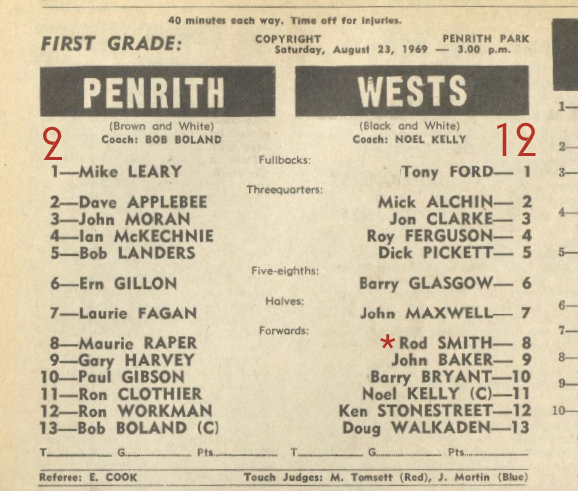 In 1969 Rod played seven First Grade and 12 Reserve Grade and four Third Grade games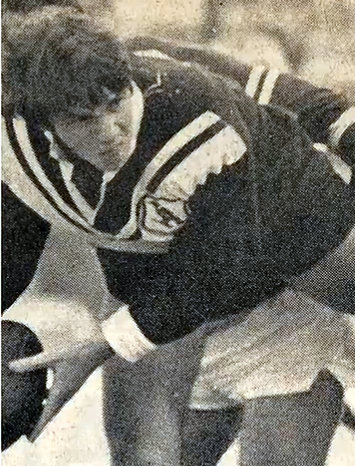 1970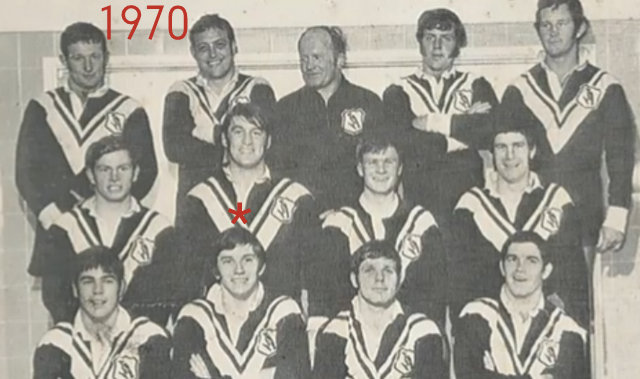 During the 1970 season Rod scored two tries in one game
This game was played on the 7th of June unfortunately Wests were beaten on this day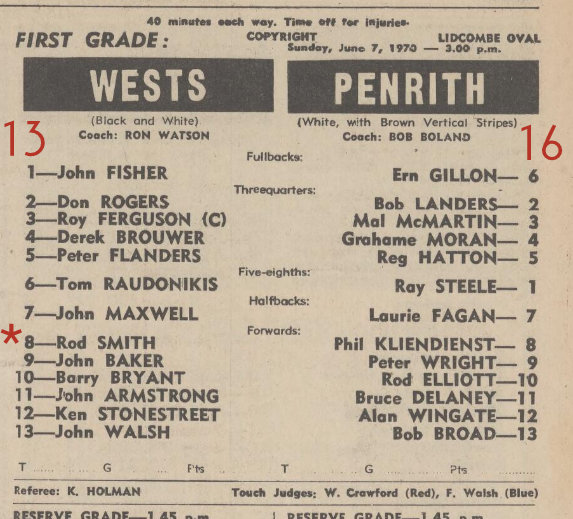 In 1970 Rod played in 17 First Grade games in a season that was not a good one for Wests
1971
The 1971 season for Wests started off with a big win over Canterbury at Lidcombe Oval
Wests 55 beat Canterbury 12
Rod scored two tries in this game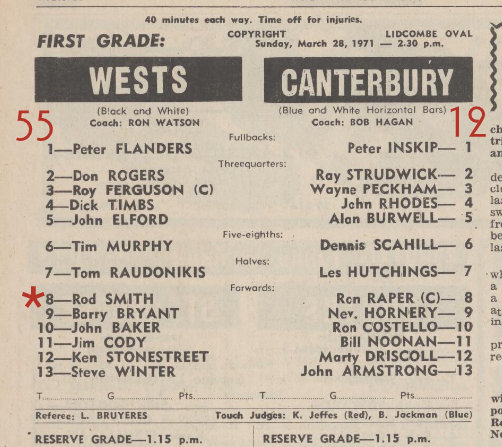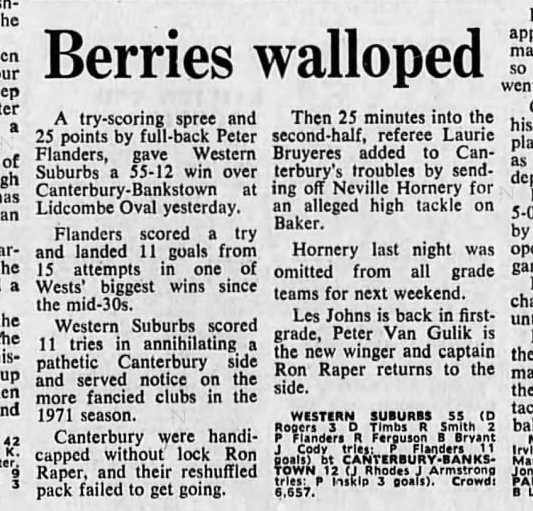 In 1971 Rod played 17 First Grade games and scored seven tries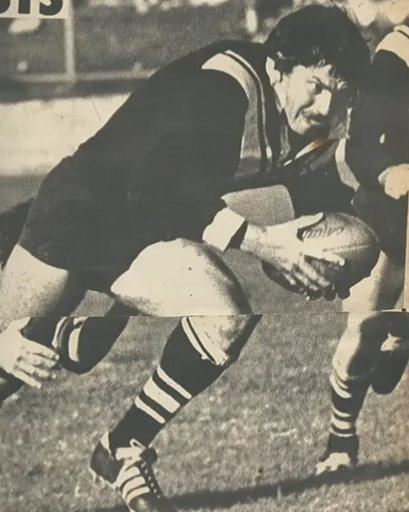 In 1971 a story was written for the Rugby League Pictorial magazine about Enfield Feds that featured Rod and his fellow Feds team mates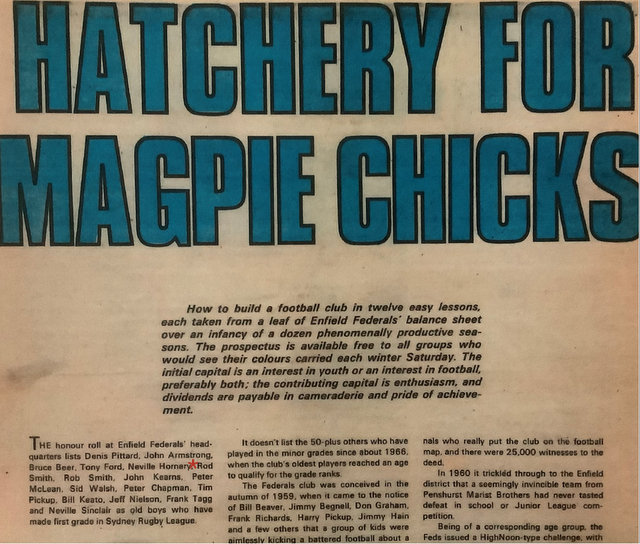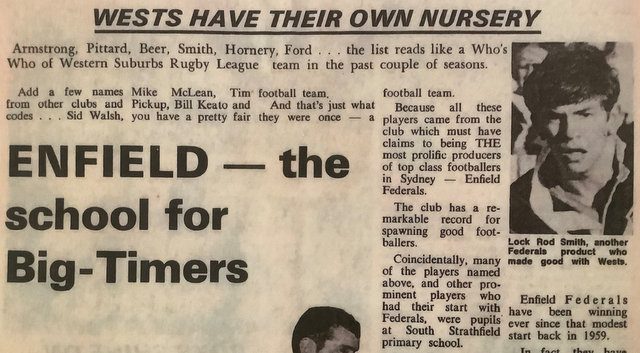 1972
A new coach at Wests in 1972… Don Parish
Wests had a few big wins one being Wests 52 beating Parramatta 10
The other was Rods last game at Wests
Wests 39 beat Souths 20 at Lidcombe Oval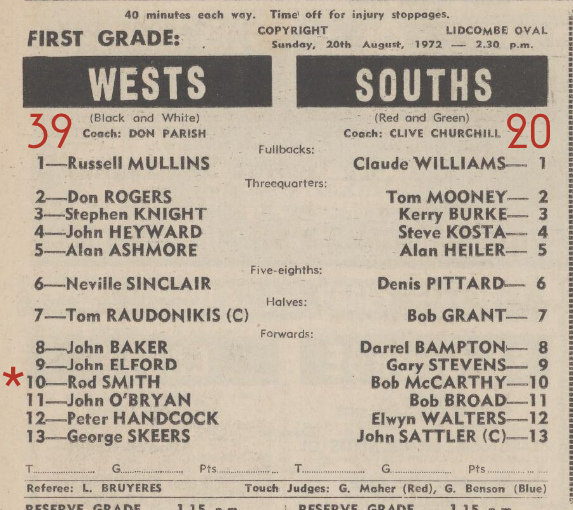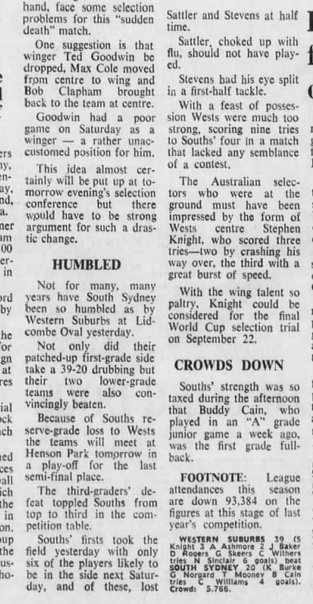 In 1972 Rod played eight First Grade and 11 Reserve Grade games
Due to a very serious shoulder injury at the age of only 24 Rod had to give Rugby League away
*
Below are a few tributes written by Rods team mates and friends
It was good to able to play games together with Rod in the same era. He was one player you would want in your team as he was a 80 minute player and good at his role.  It was a privilege to be chosen in the Enfield Federals Team of the Century with Rod which showed testimony of his ability from his fellow teammates and peers. He was a good friend and teammate and will be missed
Tony Ford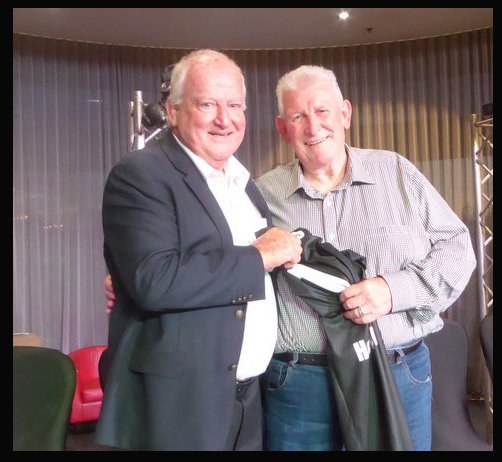 Noel Kelly and Tony Ford
Rod and I shared the same class from kindergarten at South Strathfield Primary.
I was a school soccer captain and wanted to play school rugby league. I asked Rod to help teach me how to play and he was only too happy to do so. Rod and I spent after school hours in his backyard teaching me how to tackle around the legs, how to lower my weight so that tacklers couldn't put me on the ground. How to hold my neck to prevent injury if they tried to spear tackle me. He taught me how to side-step and swerve and catch the high balls, the Rules and strategies. He was brilliant.
Rod was in a weekend team called the Enfield Federals and asked me to join. There I met a great team of 12 year old kids. Half were from our public school and half were from St Patricks Catholic School.
That Feds team became legend as they grew bigger and were better coached and trained. We went through undefeated for 4 years and held such dominance that we only had two points scored against us each of those seasons. The majority of this team represented Wests in Harold Matthews and Presidents Cup. From that team seven went on to play first grade for NRL teams and Rod Smith amongst them. Others were Tim Pickup, Neville Hornery, Jeff Neilson, Michael McClean, Frank Tagg and Jon Clark.
Rod Smith was a very fine lock forward and second-rower. Rod had silky smooth hands, fast moving and a tough tackler. In fact all the Smith boys (Robert and Wayne) were out of that same mould as they were fathered by Alex Smith, a truck driver who coached many Feds and Western Suburbs teams and was given his rightful place as Coach in the Enfield Federals "Team of the Century."
Rod had a very fine career at Western Suburbs Football Club, but I'll always remember him for him being a good and loyal friend who could run rings around me.
Rest easy Rod, I'm forever in your debt,
David Rose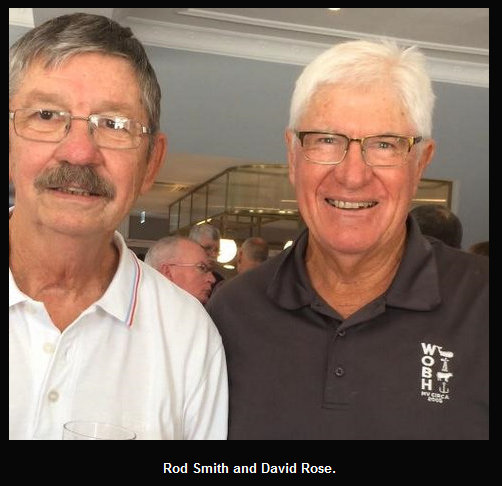 Rod was to me a very unassuming dedicated player and I would put him in a similar style of lock forward as the great John Raper
Which is ironic as both passing within a few days of each other.
Rod played with me in Wests 1967  premiership 3rd Grade team and from the records we played over 20 games together in that team. Rod of course went on to play over 60 first grade games for the Magpies a great ball carrier and an excellent defender.
RIP Young fella….
Geoff Henry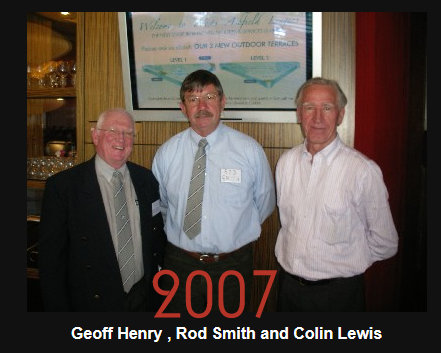 Many sharp football brains had their eyes on Rod at that time because for a back rower he could have easily played out wide as a centre. He was as quick across the ground as Pickup and Jim, in fact Jim was the quickest over 100m with Rod close behind him. Pickup was the quickest over 40-50 metres and his footwork being able to step off both feet made him dangerous given any ground to move. 
Rod played at lock in grade simple because he played at about 80kgs. He was too slight for the back row but at lock forward he was able to cover defend rather than defend in the line where his lack of size would have given up too many line breaks, not based on his skill but more his lack of size.
I recall his ability to back up line breaks and given his useful step and deceptive speed he could beat most fullbacks. I remember a game against Canterbury at Lidcombe, maybe in 1969-70 when we beat them by a huge score, possibly 50-12, and Rod played the house down. 
Jimmy Hain won the best and fairest award in that 1965 Flegg team but Rod was out and out the standout forward.

I guess I'm saying that Jim, Tim, Neville and Rod were the reason that that team remained unbeaten for 6 seasons winning the Australian Championship ( unofficial) with that 1965 Flegg Cup team beating a very handy Queensland champion team Norths Brisbane, the Panthers they were from memory in June 1965 in Brisbane. 
 Joe Begnell.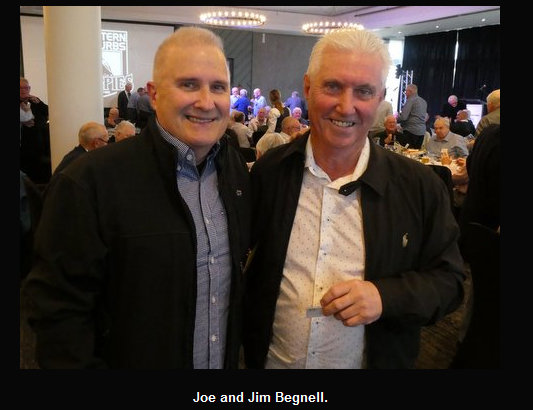 I remember Rod was a member of the group of Wests junior players known as "Noel Kelly's Kids of 1968" who formed the backbone of the West Suburbs team for many years thereafter. The success of that group in the senior grades paved the way for a number of juniors (me included) to aspire to make the Grade. I recall watching him play against the French international side in 1968 in a test warm-up. Rod was an exceptionally good tackler, and while not a big is stature, his speed around the ruck made up for size.
In 1972, the last season game against South Sydney, Rod Played his last game for the Magpies while I was playing my initial first grade game. Rod in the second row alongside John Elford, and John Baker at lock. This threesome proved a most effective defensive trio, with their speed and skill to nullify Souths forwards. For me it was a great confidence booster knowing that Rod and co 'had your back' when needed. The resulting win was a testament to the work effort of the forwards that day, with Rod in the thick of the action.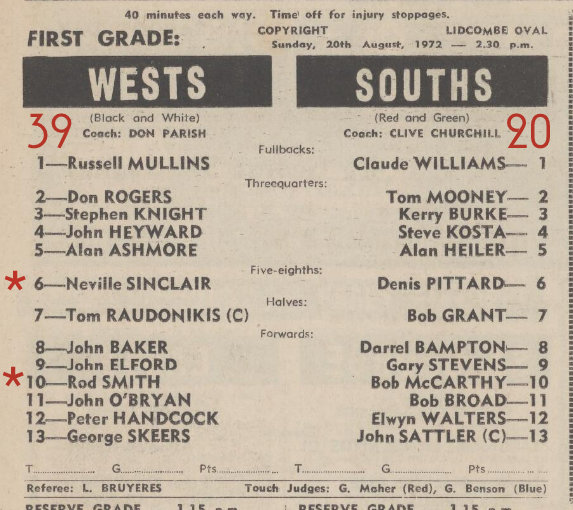 He will always be remembered with affection for his support and encouragement in my early years with Wests, and at the reunions thereafter.
Neville Sinclair
Neville Sinclair and Noel Kelly
* Barry Glasgow: Rod was a lovely guy and a great player right through juniors to 1st Grade. He was always reliable, always there and always got the job done.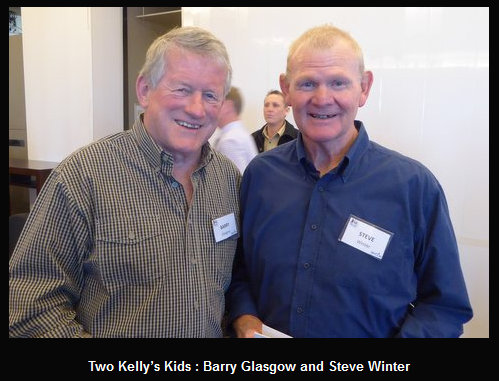 * John Chow Hayes: Rod was a quiet bloke from a fine Family and a pleasure to play alongside. Vastly underrated player who could have played representative football.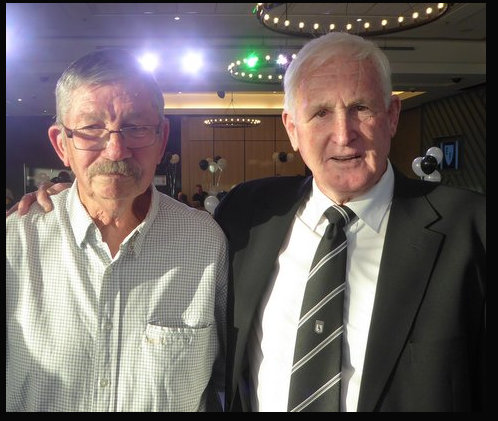 * Steve Winter: Rod was an out and out lovely bloke, a great player and a pleasure to play alongside. He was a whole hearted player who always had a go and was very reliable.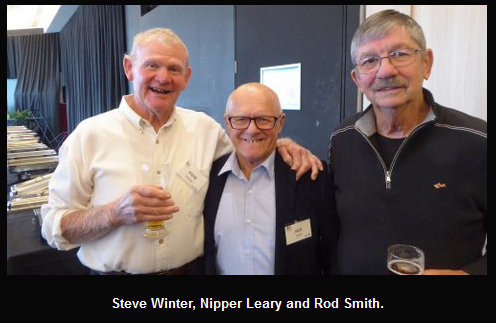 * Jeff Nielsen: Very talented footballer and a nice bloke.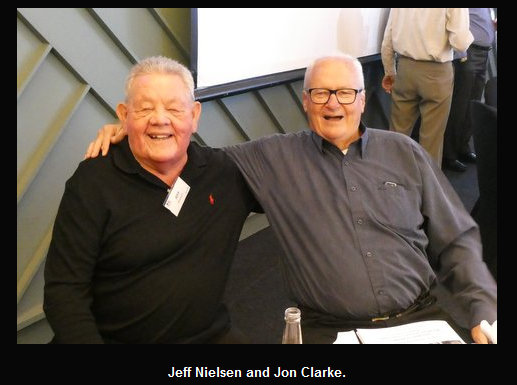 * Nathan Cole: I grew up watching Rod play @ Lidcombe Oval…what a great player.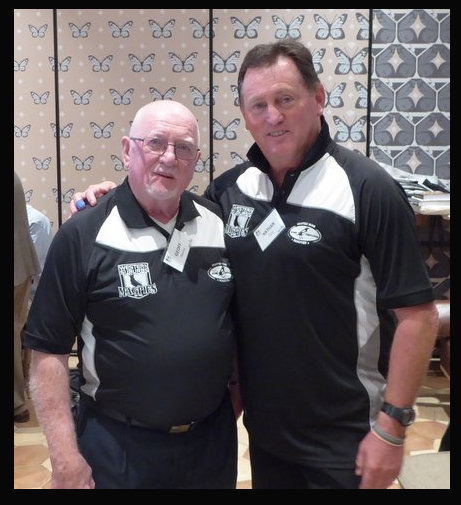 Geoff Henry and Nathan Cole
* Ross Epifania: I remember Rod as being a great footballer who I respected greatly. I later had the privilege of playing alongside his younger Brother, Wayne
In 2019 Enfield Feds named their Team of the Century 
Rod Smith was name the Best Lock to play for Feds in 100 Years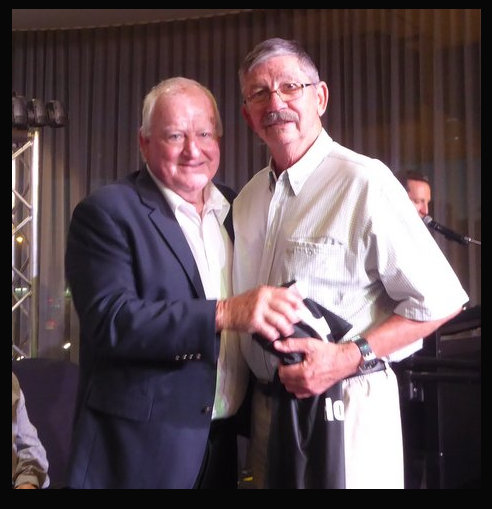 Noel Kelly presenting Rod with his award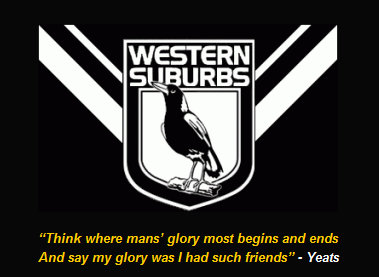 ROD SMITH RIP