Jim Cody.
A True Wests Legend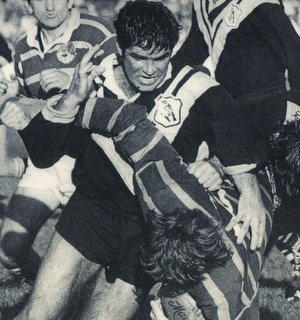 I think this photo says it all about Jim Cody the West's player. Jim always played to win no matter which grade or team he was playing for.
Jim Cody was and is one of the greatest Rugby League players to wear the famous Black and White jumper of WSDRLFC.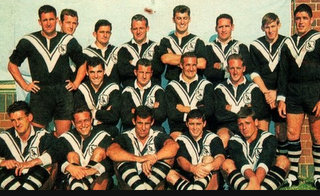 Thats Jim far right standing 1967.
     Jim was kind enough to let me interview him at his home.
We talked about days gone by and the great players
Jim played with and against over his 17 years of top grade
Rugby League.
I hope you enjoy Jims story as much as I enjoyed my time talking to my boyhood hero.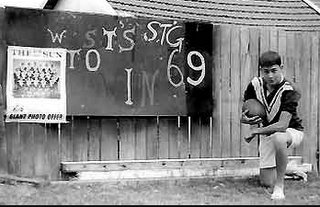 Me as a boy. (its my Jim Cody look.)
Lets start at the beginning Jim was born in 1943 and played Rugby League from an early age for the South Strathfield club.
Their home ground was Henley Park Enfield.
The year was 1957.
Jim played centre or five eight in those days before moving to the forwards so as to see more action.
During this time Jim won many comps as a junior.
It was about this time that the Enfield Feds were restarted.
A lot of Souths Strathfield players like Denis Pittard,
John Armstong and Nev Hornery to name a few went with Alex Smith. Alex took the boys to Feds and were a very successful junior side.
Alex Smith is the father of Rod and Wayne Smith.
Jim showed great ability as a young rugby league player and was asked to play President Cup for West's at the tender age of 15. Jim not wanting to upset his coach at South Strathfield declined the offer.

Jim was graded in 1961 and played his first 3rd grade game on April 15 at Henson Park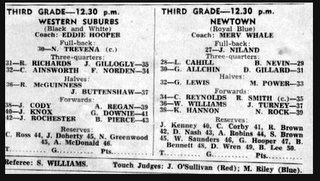 Jims jumper number 38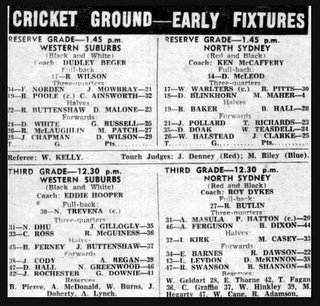 Jims first game at the SCG 1961.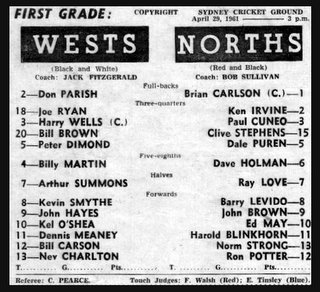 The main game played on that day April 29 1961.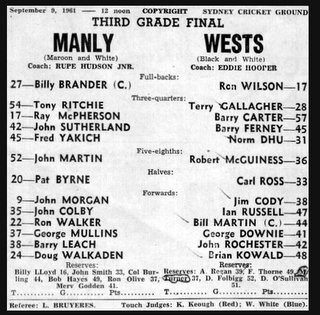 Jim on his way to the 1961 Grand Final.
Note: Doug Walkaden playing front row for Manly.
The SCG from the air in 1961.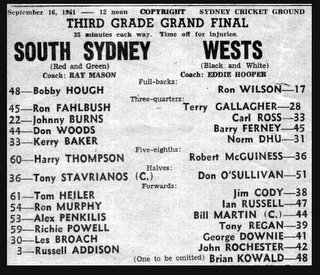 The winning Wests team in 1961.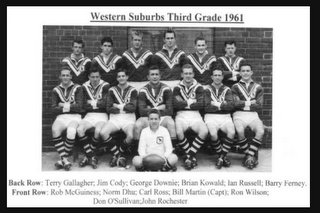 Wests beat Souths 12 points to 7.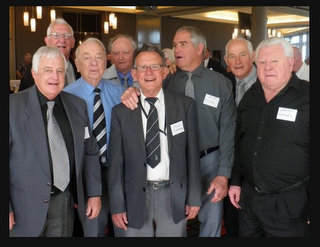 The winning team at the Pratten Park Reunion 2011
50 years later.
L to R Carl Ross, George Downie, Ray Bernasconi,Norm Dhu,
John Rochester, Jim Cody,
Ian Russell and Barry Ferney
In 1961 Jim played 18 Third Grade games as well as
3 Reserve Grade games.
1962
Jim made his First Grade debut in 1962.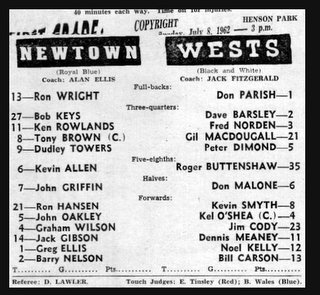 Jims first First Grade game. 
Jim was only 18.
Jim bottom left. Pick the odd man out in this team photo.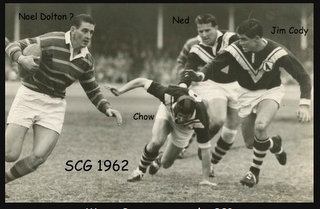 West v Parramatta at the SCG.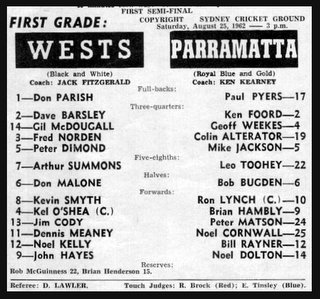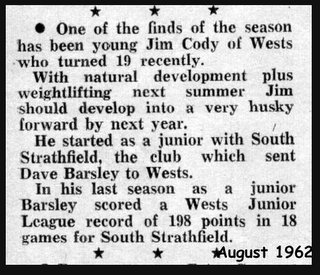 This story taken from the Rugby League News.
Jim played 11 Reserve Grade games and 12 games in First Grade including the 1962 Grand Final.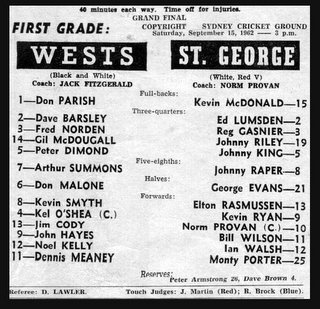 Wests lost 9-6.
This was the game where the Famous Cody,Provan,Wilson,Cody incident happened.
Billy Wilson was sent off after punching Jim.
Many years later Billy Wilson owned the Sands Hotel in Nambucca Heads and it turned out that Jims wifes second cousin is married to "Bluey" Wilsons son.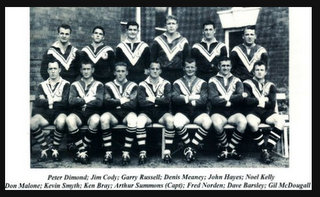 Wests 1962 Grand Final Team.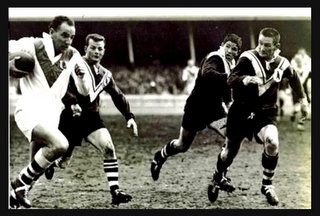 St George great Eddie Lumsden, Fred Nordon, Jim Cody and Kevin Smyth. 
1963
Jim was now 20 years old and looking forward to a big year at Wests.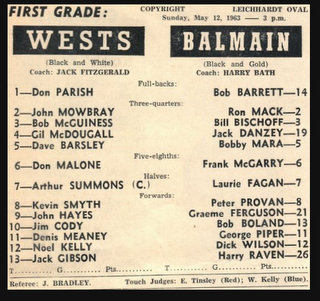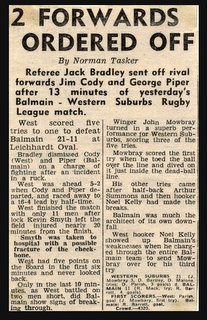 Wests were very hard team to beat in 1963.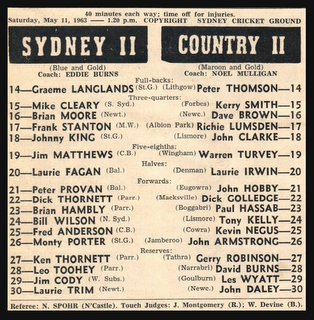 1963 was the year that Jim played in the Sydney II team.
A very good Sydney II team.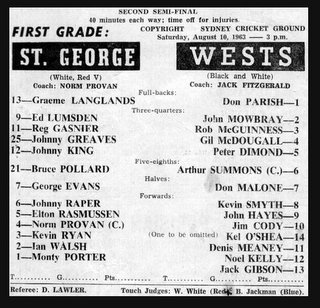 Wests beat St George 10-8 to go straight to the Grand Final.
Jim played what he thought was a good enough game to make the Grand Final.
 Unfortunately Jim was not chosen for the Grand Final and was very upset to have been left out of this famous game.
Jim was told by both selectors that they had picked him to play.
 To quote Jim " that kind of ripped my heart out…."
BUT
Jim played 2 weeks later in the Ampol Cup winning team.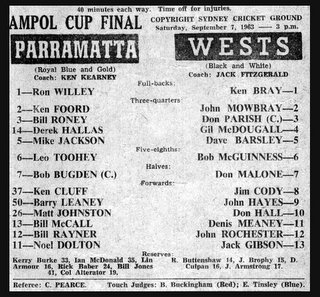 West 17 beat Parramatta 11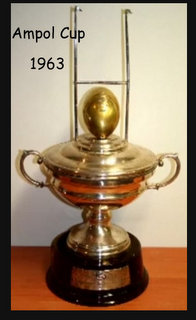 Jim played 16 First Grade games and 4 Reserve Grade games in 1963.
1964
Not a very good year for Wests.
Jack Gibson played 5 games, Arthur Summons 3 games,
Don Parish 1, Bill Carson 1 and Kevin Smyth 5.
Wests also did not play one game at the SCG in 1964.
Jim Cody played 17 games in First Grade and 1 in Reserve Grade.
A busy year for some.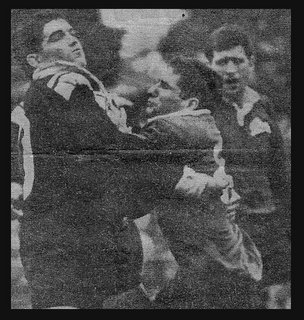 Jim and Souths Mick Falla meet.
1965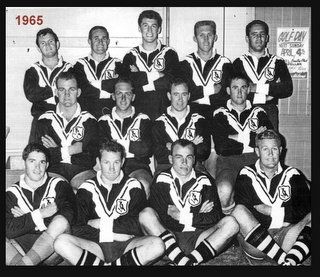 Jim Cody bottom left sitting.
( I think Ned took this photo )
A new coach at Wests, Ken "Killer" Kearney.
Wests made the Final of the pre season but yes beaten
by St George again.
Saints 15 – Wests 7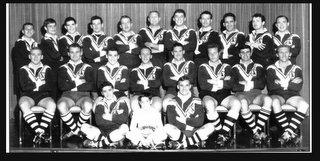 West's State Cup Squad 1965.
Jim is 3rd from the left standing between Roy Ferguson and Ron Costello.
The highlight of the season was winning the State Cup beating Parramatta 16-14.
Jim scored a try in this match.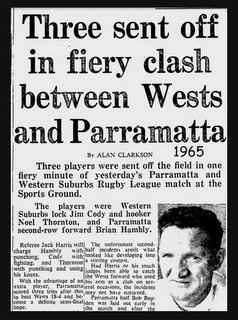 Jim had a big year in 1965 playing in 27 First Grade games.
1966 to 1969
The Noel Kelly Era.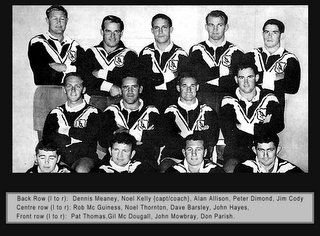 The 1966 team photo.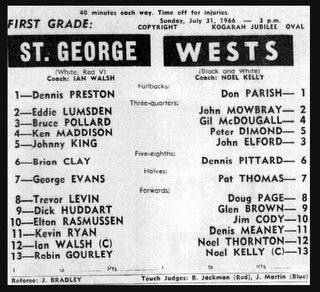 This is the history making game where St George were beaten at Kogarah Jubilee Oval for the first time in 10 years.
( If anyone has a copy of this game please contact me)
Wests 12 St George 9 was the final score.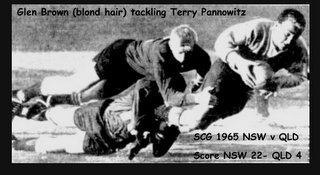 Glen played one season 1966 with Wests.
(If anyone can help me get in touch with Glen Brown that would be great.)
Back to Jim Cody.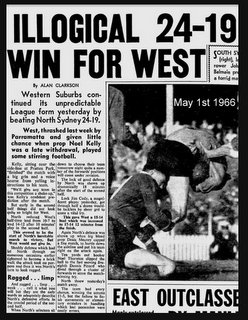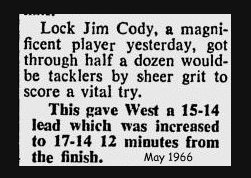 Jim scores another 3 pointer.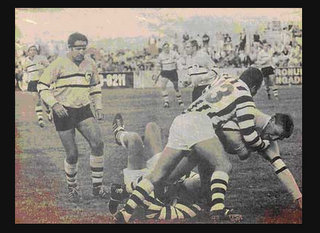 Noel with black head band.
One of Jims good mates from his days at Wests, Noel "Sailor" Thornton.
Jim would always room with Sailor when Wests went on trips away.
Jim played 16 First grade games in 1966.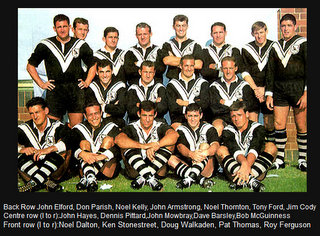 1967 team photo.
Back Row John Elford, Don Parish, Noel Kelly, John Armstrong, Noel Thornton, Tony Ford, Jim Cody
Centre row (l to r):John Hayes, Dennis Pittard,John Mowbray,Dave Barsley,Bob McGuinness

Front row (l to r):Noel Dalton, Ken Stonestreet, Doug Walkaden, Pat Thomas, Roy Ferguson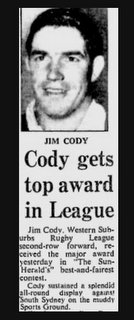 This was the last offical game played at Pratten Park.
Before the full time move to Lidcombe Oval.
Jim Cody was there.
Jim played 22 First Grade games in 1967.
1968 team photo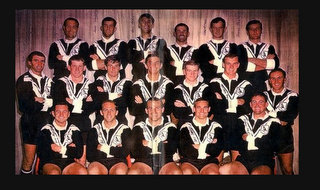 K.Stonestreet,Doug Walkerden,John Armstrong,Tony Packham, J.Elford,B.Bryant
 Dick Picket,B.Glasgow,R.Fergson,Rod Smith,John Maxwell,
Jack Walsh,B.Beer
 Jazza,Bob McGuniess,Ned, Dave Barsley,Chow Hayes
( where's Jim)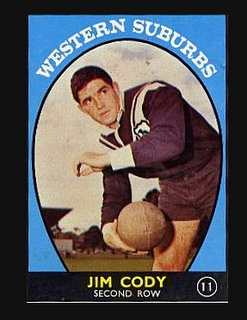 I found him!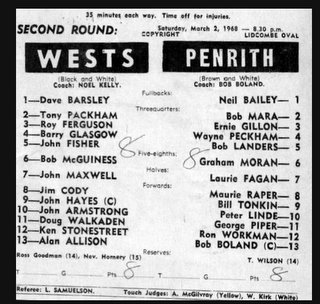 Start of a new season for Wests.
Jim Cody starts season 8.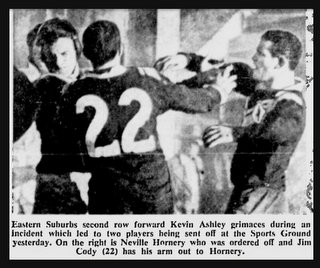 A funny sight Jim Cody holding back Nev Hornery.
Jim played 6 First grade games and 9 Reserve grade games
in 1968.
1969 Team photo.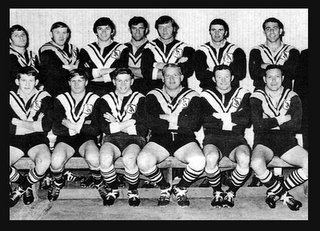 Neds last year at Wests.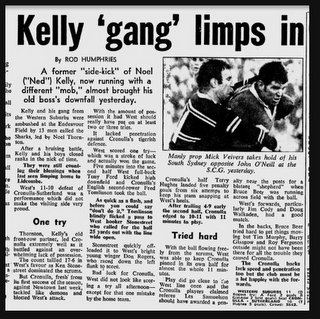 A very good win.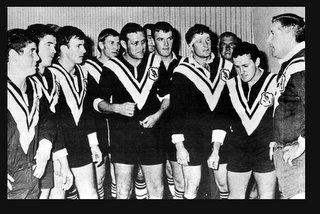 Jim is second from left next to Peter Flanders 1969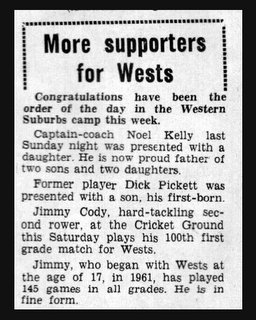 Jim plays his 100th First grade at the SCG.
Jim played 17 First Grade games in 1969.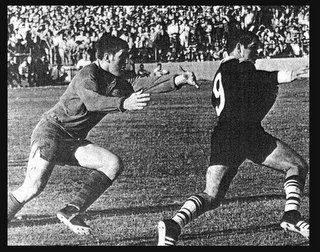 Jim runs past John O'Neill @ the SSG.

The 1970 season.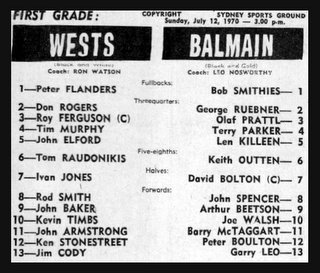 Wests have a new coach and Jims playing front row.
Jim played 12 First grade games, 1 Reserve grade and 2 third grade.
 The 1971 Season.
Jim played 8 First grade games and 7 Reserve grade games.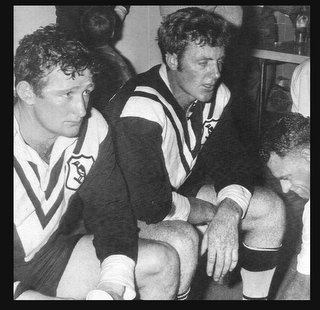 John Baker and Barry Bryant doing it tough.
The 1972 Season.
During  preseason training being held at Carss Park.
Jim called it "a horror course"
Jim asked Bill Beaver where his new contract was…
Bill kept saying he had left it at home.
After much talk Bill told Jim that a deal had been done with Nambucca Heads Roosters and that was that.
Jim to his credit took Nambucca to a premership win in 1972.
Nambucca also won the pre season comp the Caltex Cup.
The Caltex Cup was open to all teams between Newcastle and Tweed Heads.
The 1973 season.
Jim had come back to Sydney for work and was talking to old teammate Dave Barsley.Dave said that Jim would get a start no trouble at Ryde Eastwood
Ryde Eastwood were playing in the Sydney Second Division comp at the time.
A week later at the pre season game at Lidcombe Oval
John Elford had broken his arm and Alan Clarkson the journo asked Jim who he was playing with Jim told him the Ryde Eastwood story Clarkson said that South's were looking for a front rower and he was the man for the job.
Just then Don Parish the new West coach was walking past heard the conversation and said "Jim you are not going anywhere you will play for West's"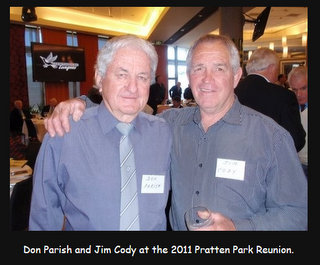 Don Parish and Jim Cody at the 2011 Pratten Park Reunion.
Jim told Don what happen in 1972 and Don told Jim that he would talk with the board and two days later Jim had signed a new contract…one training run later and Jim Cody was back in First Grade. West's needed some backbone and they got it.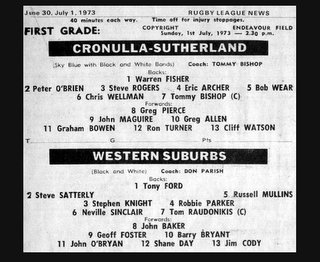 Jims last game in First grade playing in the front row.
There are only 4 players left from the Kelly Days still playing.
Tony Ford, Tommy Raudonikis, John Baker and Barry Bryant.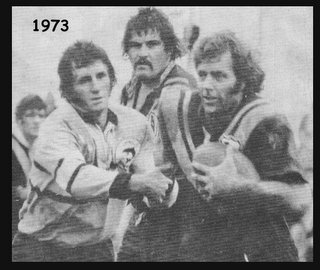 Barry Bryant with John O'Bryan.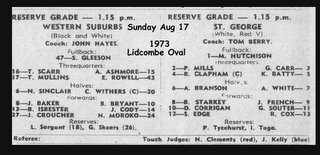 Jim Codys last game in the famous black and white jumper.
The end of a great career with Wests.
Jim played 14 games in 1973.
6 in First grade and 8 in Reserve grade.
In total Jim Cody played 159 First grade games.
 Jim played a total of 223 grade games for Wests over 12 seasons.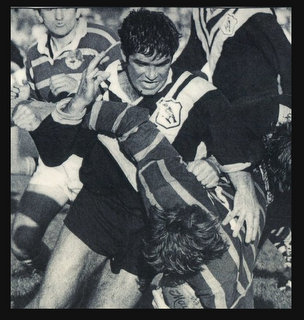 If you thought that was the end of the Jim Cody story you are very wrong.
Jim is now  30 years of age and has been offered a job as Capt/Coach at Griffith playing his great love Rugby League.
It was a very long year for Jim a lot of promises were made but most were broken.
One player of note playing for Griffiths was a very young
Ray Brown.
Ray was playing for the eighteens.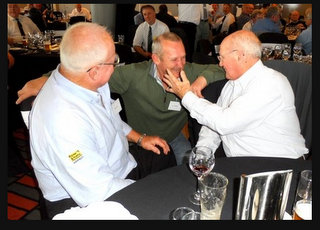 Ray between Noel Kelly and Arthur Summons.
Some more bad news for Jim was that Country football legend Len Bertoldo had left the club to play up in Mareeba.
In August of 2013 Len Bertoldo passed away.
A towering figure in Group 20 rugby league, Mr Bertoldo's career everest came in 1975, when he represented NSW alongside such legends as Bob Fulton, Arthur Beetson and Ron Coote.
"He will be a great loss to Griffith and a great loss to rugby league," Mr Coote, a former Australian captain, said.
"Len was from the old school. He ran the ball up hard and said what he meant."
Mr Bertoldo won an equal record-breaking seven Group 20 titles – six of them with his beloved Griffith Waratahs – and played in 10 grand finals.
He represented Riverina from 1975 to 1979, also representing Country in its famous 1975 victory over a star-studded City side.
His humble nature and love of Griffith saw him reject contracts from a host of Australian Rugby League (ARL) clubs, including Souths, Manly and Wests.
This story is taken from the The Area News newspaper.
After a long season at Griffith Jim played the next 2 years 1975 and 76 at Goulburn United as Capt/ Coach.
During these two years Jim was playing lock.

In 1975 Jim team made the Grand Final and in 1976 the Final.
In 1977 at the age of 34 Jim moves from Goulburn up to Coffs Habour to play for the newly formed Coffs Habour Jetty team as Capt / Coach.
The gun side during this time was Sawtell Panthers who had Les and Noel Cleal in their side.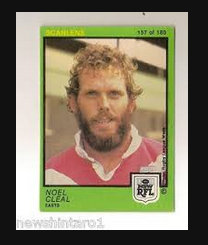 Noel Cleal.
Jims Coffs Habour Jetty side missed out on a spot in the semis by a bad decision made by the referee.
Jim and Refs??
The Coffs Harbour Jetty club only lasted one year.
Jim was offered the Capt/ Coach job with Coffs Harbour in 1978.
Unfortunately for Jim he was badly hurt at the first training run of the season.
His spine was separated from his tailbone…very nasty.
Due to the serious nature of the injury Jim only played one game that year.
Mainly because of this injury Jim retired from playing.
Jim was 35 years of age.
Thats 21 years of playing Rugby League.
After 1978 Jim coached Woolgoola Reserve grade in 1979 and 1980.
In 1982 Jim coach Sawtell Panthers Reserve grade side to a Premiership.
In total Jim was directly involved with Rugby league for 25 years.
We talked some more about Rugby League in general and Jim told me his favorite Sydney ground was Pratten Park mainly because Wests only played there on Saturdays which gave him all of Sunday to recover before going to work on Monday.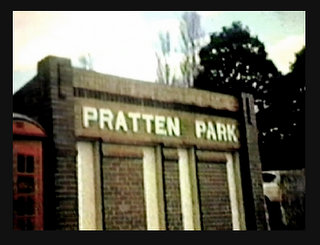 Entrance to Pratten Park and the famous Red phone box. 1960's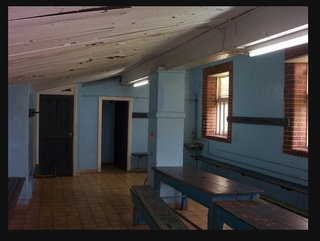 The Wests dressing room Pratten Park.
Taken in 2008 could of been taken in 1928!!

Speaking of Sydney grounds Jim remembers North Sydney Oval as having the hardest surface especially in the middle which was a cricket pitch in summer.
I had to ask Jim whom he would name as the best player he played with or against and quick as a flash he said Kel O'Shea. Jim said " One of the greats…..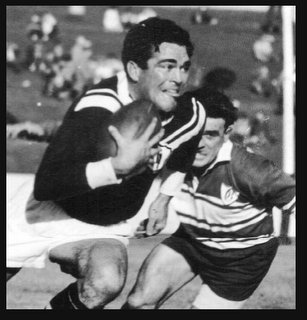 Big Kel O'Shea on the run at the SSG about 1962.
What about the Hard men Jim?
Kevin Ryan, Bluey Wilson and Brian Hambly to name a few.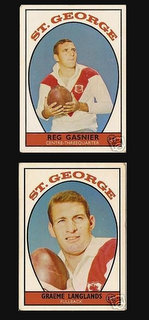 Two of the extra special players that Jim spoke of and played against.
 Jim still loves the game but shakes his head about the number of refs that can't or won't make a decision.
Jim finds that players are far to friendly with the players from the other team during and after the match.
Jim remembers old Roy Lister saying after a losing game in the Wests dressing shed " leave Cody alone just leave him alone…. and the fact that after a defeat you had to go to work on Monday and face the public and work mates.
Now the players live in a cocoon .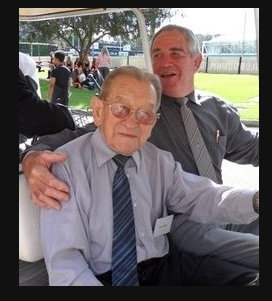 Jim and Bill Keato 2012 @ SCG Reunion.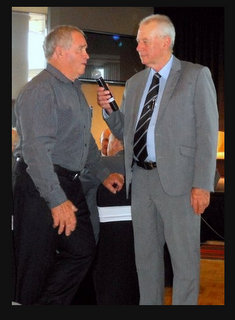 Jim talking to Rick Wayde at the Pratten Park Magpies reunion Aug 2013.
Jim  today lives near Coffs Harbour on the north coast of NSW with his wife Terry and life is good.
Jim Cody August 2013.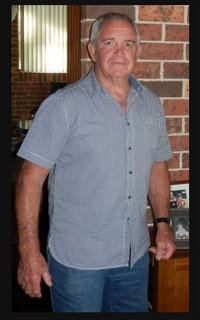 A very young and fit looking 70 year old.
Jim has a dickie knee which is the only major problem from his playing days.
Jim, thanks for your time I had a great morning and thanks to your lovely wife Terry for the beautiful morning tea.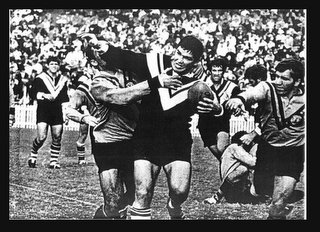 Jim on the run at the SCG 1969.
Thanks again to the wonderful and helpful Wests people at the Wests  Archives.
 Jims story would only be half told without your help.