It was my honour to interview Rees Duncan recently via the telephone and with the help of his wife Dorothy we were able to put together some of the many highlights of his very long Rugby League career
Starting from when Rees played in the winning Maitland High School University Shield team of 1947 aged 15 until coaching Cooma in the late 1960's at the age of almost 40
Below is my attempt to write the  Rees Duncan Story and what a story it is
1947
Rees at the age of 15 was chosen to play five eight for Maitland High in the very prestigious University Shield competition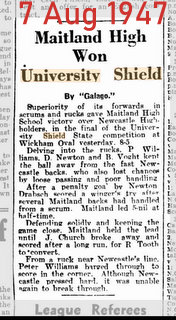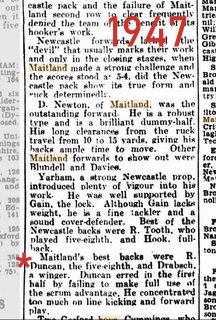 Rees was already making a name for himself in Rugby League
1947-1953
The Kurri Kurri Years
Rees dad who was also called Rees had played for Kurri before the Second World War and was a great influence in getting Rees to play Rugby League
Rees Senior had played over 400 games for Kurri and also played against the Poms in 1936
He played hooker for Newcastle when they beat the touring English team 21-16
Also Country many times and NSW v QLD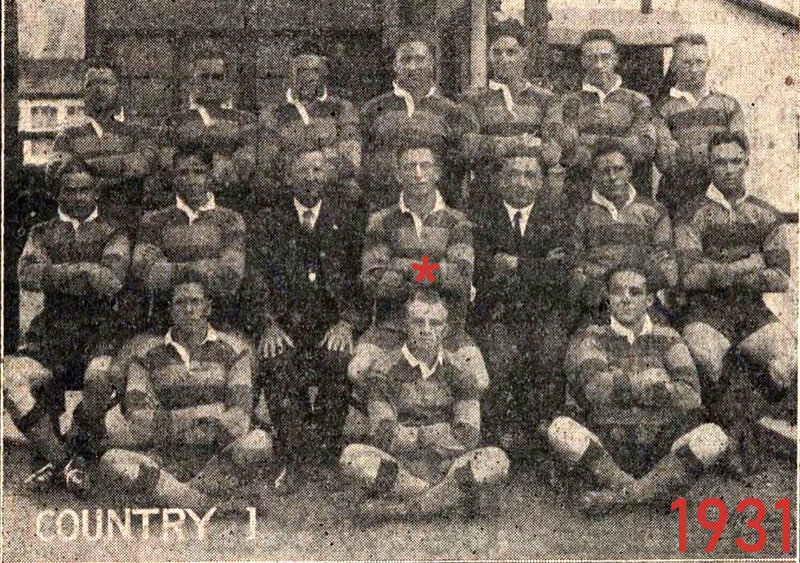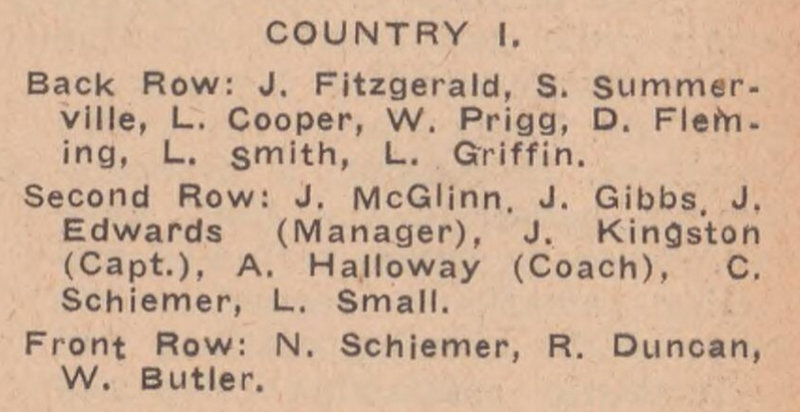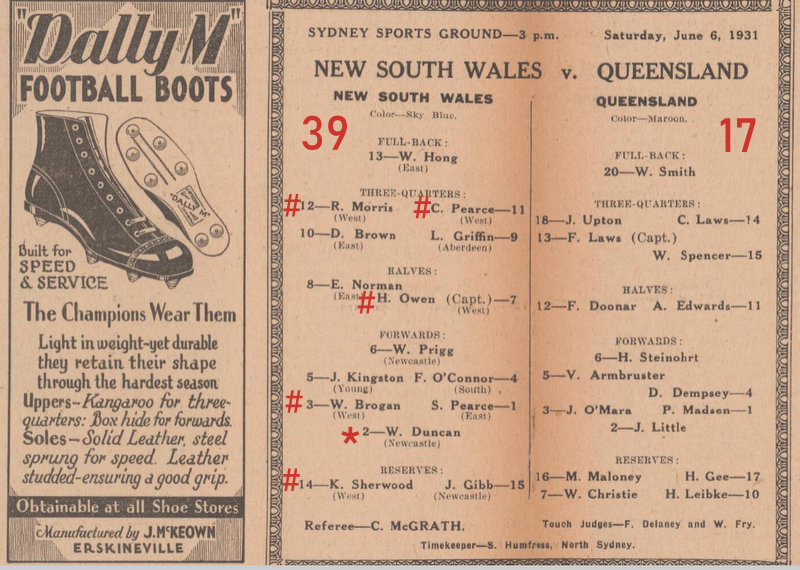 # Wests players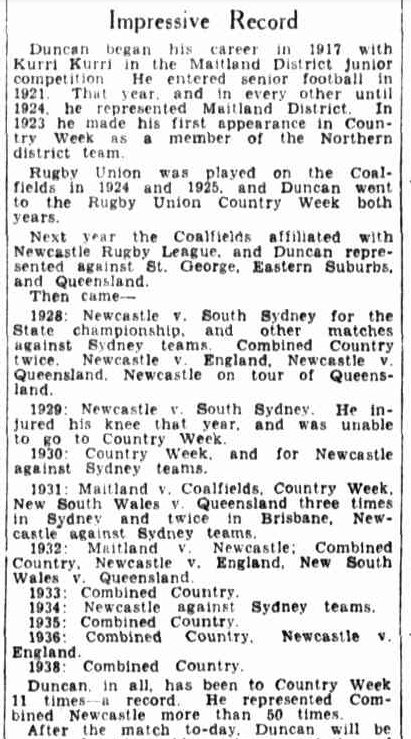 Rees Jnr had come from a very impressive Rugby League background
*
At the age of 15 Rees was playing for Kurri in the extremely hard Newcastle competition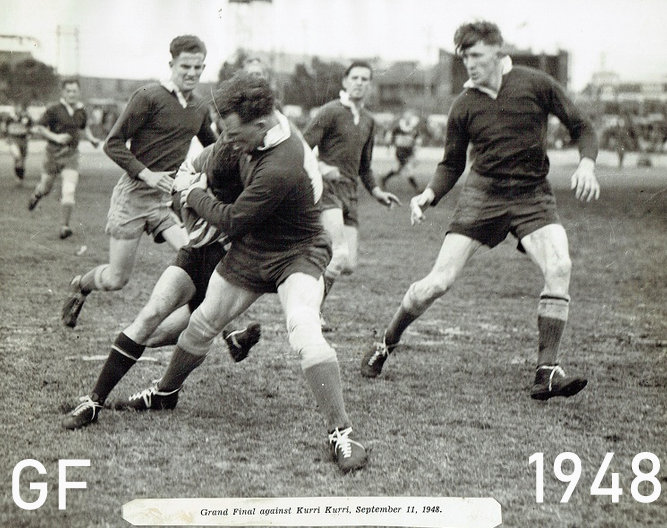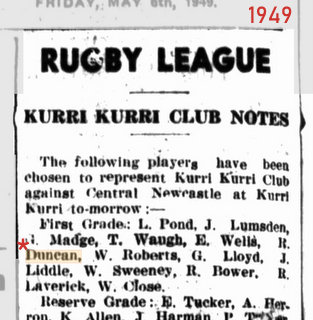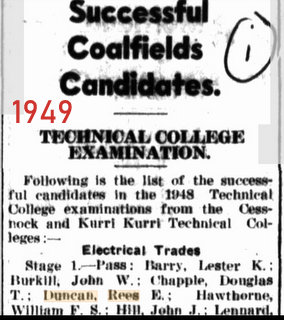 During this time Rees was also going to Technical Collage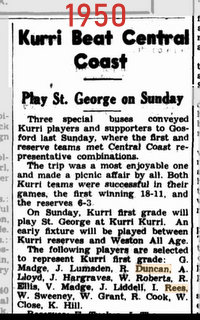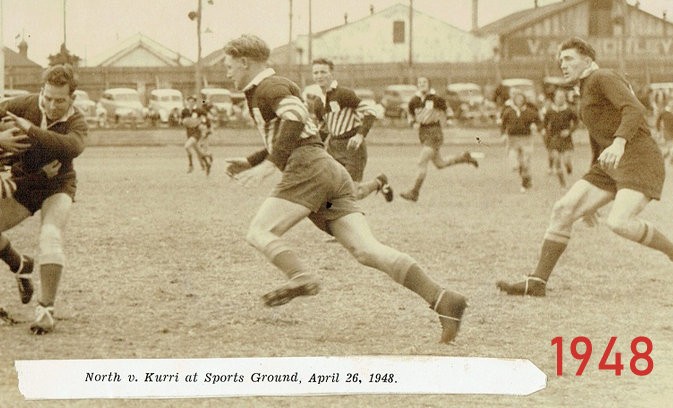 Whilst playing for Kurri Rees played for Country Seconds and Firsts
And 1951 Newcastle V France And a two Tests V New Zealand And the 1952-53 Kangaroo Tour And against the touring American All Stars Rugby League Team

Rees is one of the very few players to play for Australia before playing for his State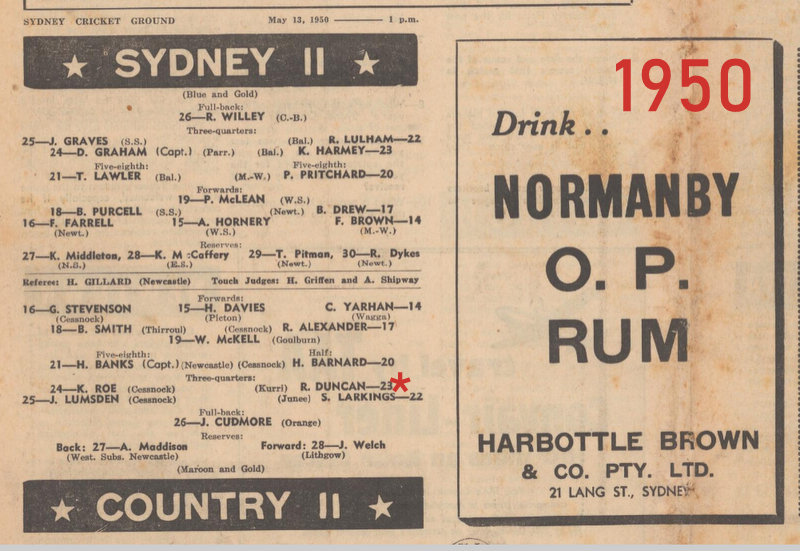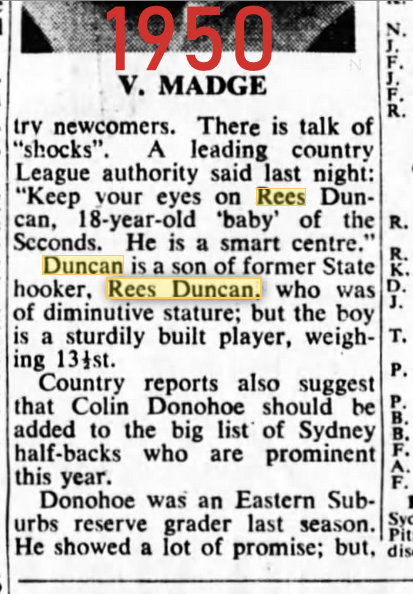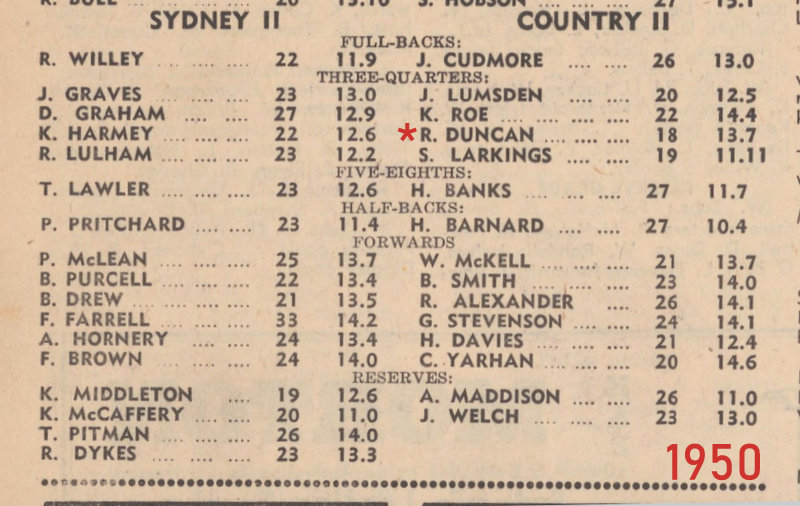 Newcastle played the 1951 touring French team at the Newcastle Sports Ground
Newcastle were just beaten by France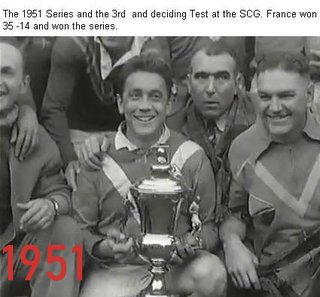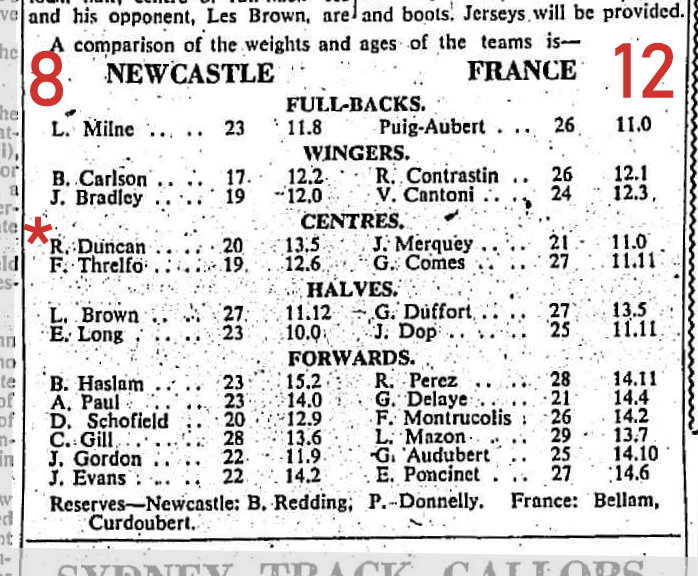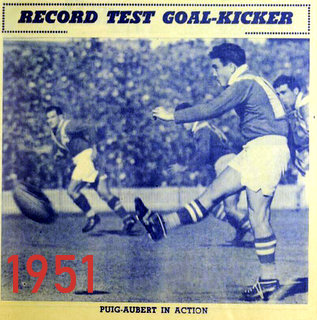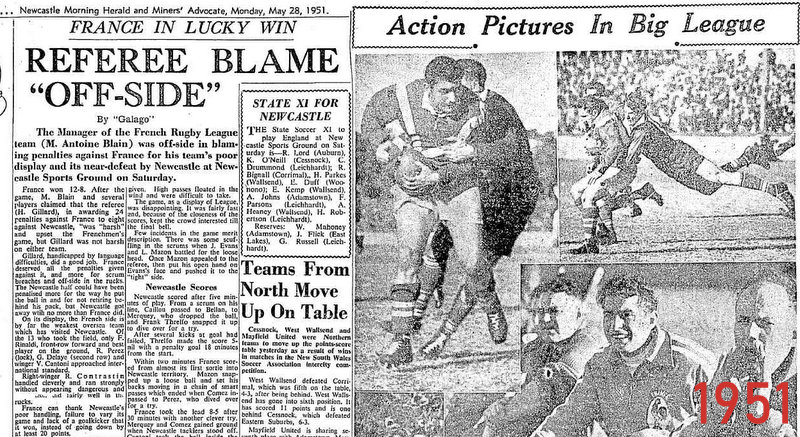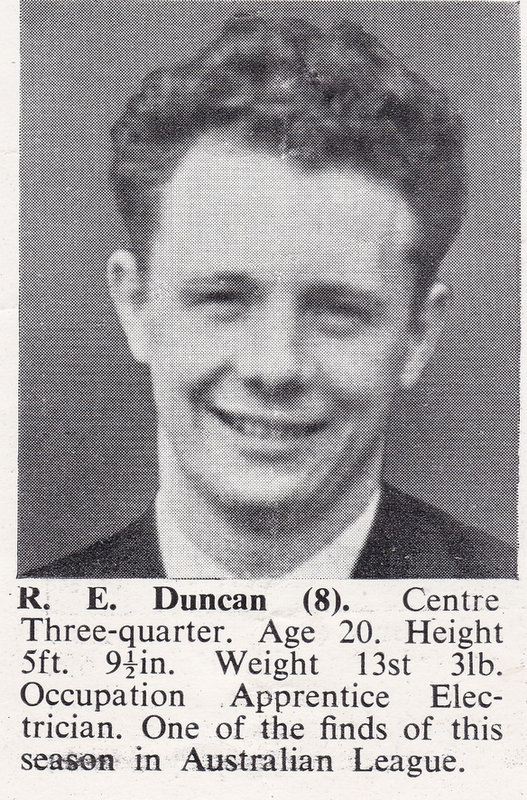 In those years Country district teams like Newcastle would play Sydney teams in what was called Country Week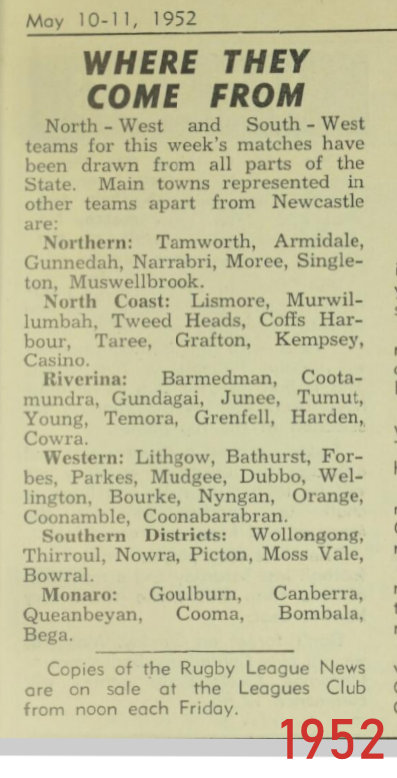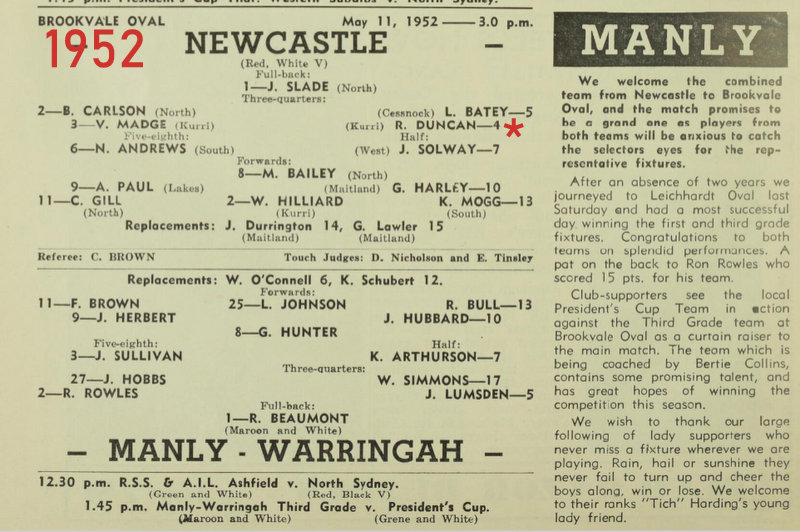 These games were played as a lead in to the annual Sydney V Country games
Below is a game between Wests and Western Districts played on the same day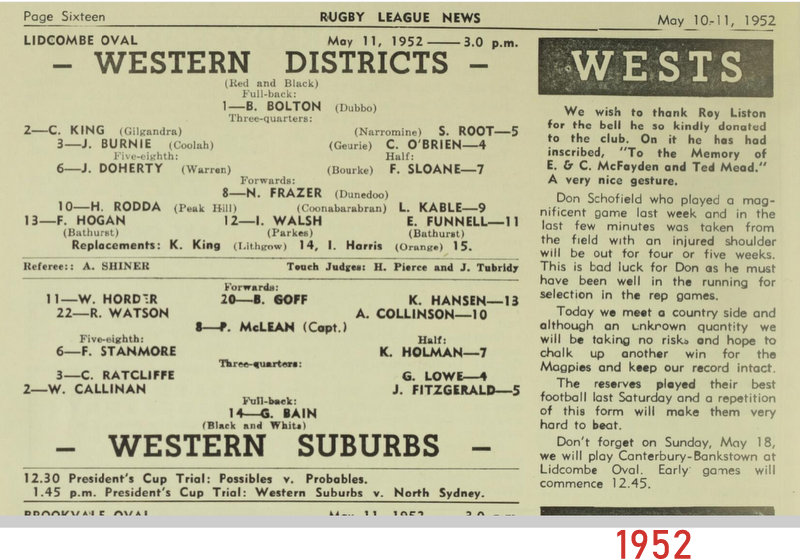 NOTE: the game was played at Lidcombe Oval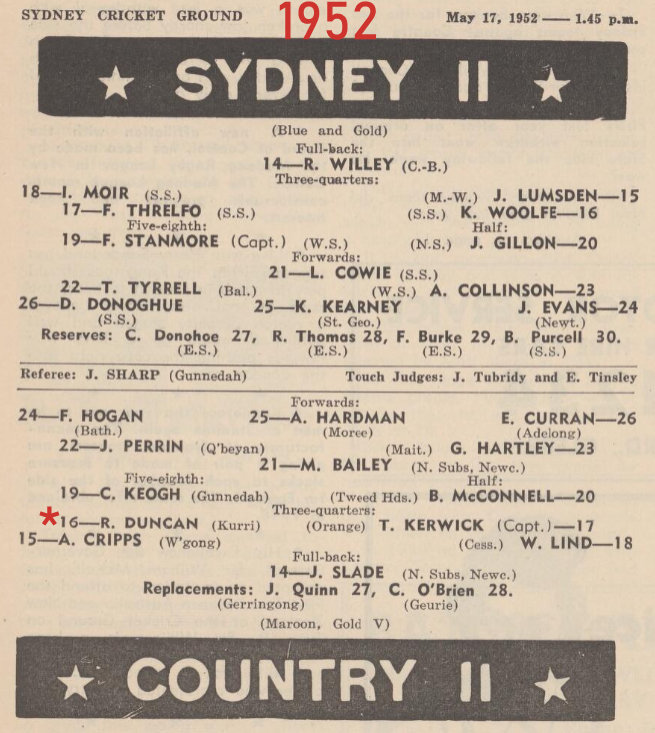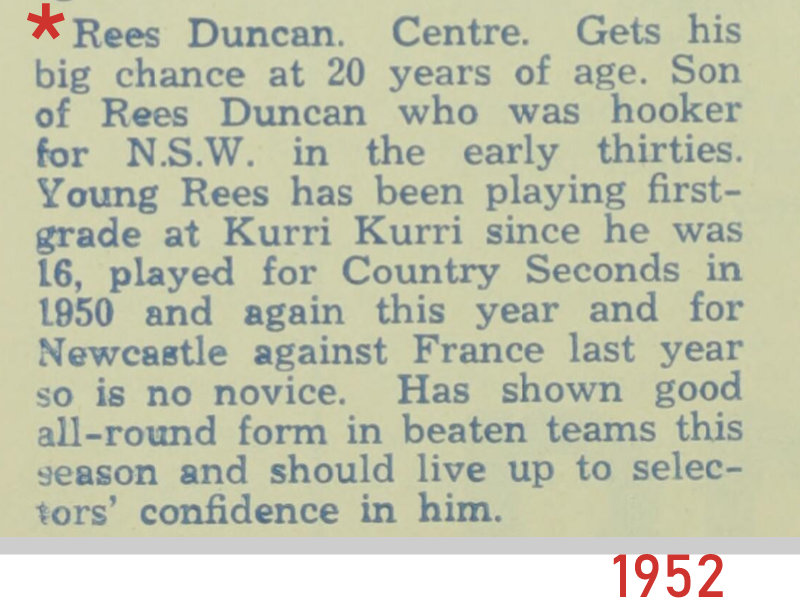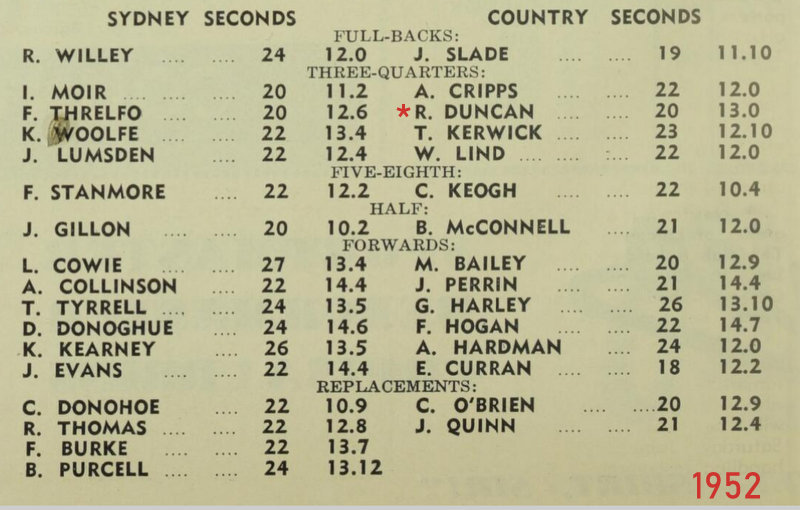 Below are the programs from the two Sydney Tests that Rees played in against NZ

Rees became the 290th player to play for Australia in Rugby League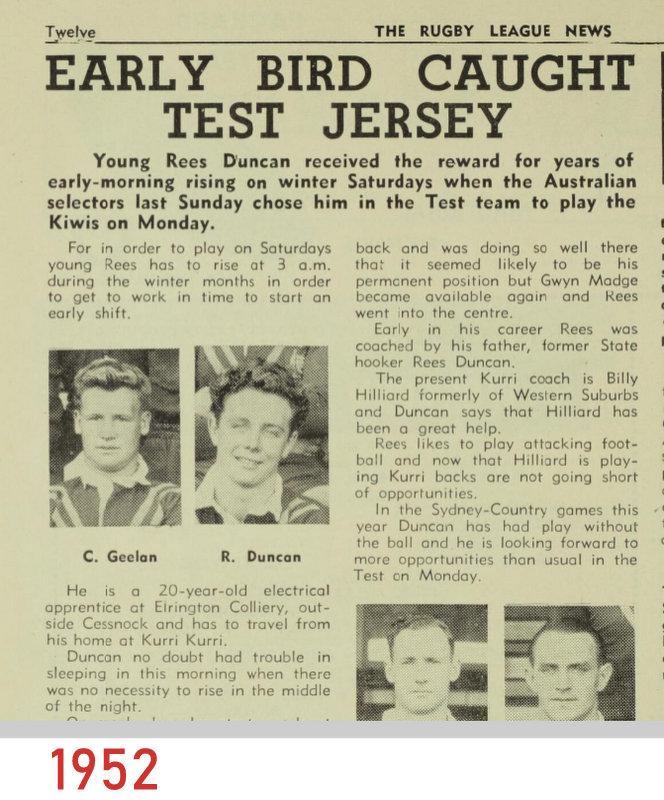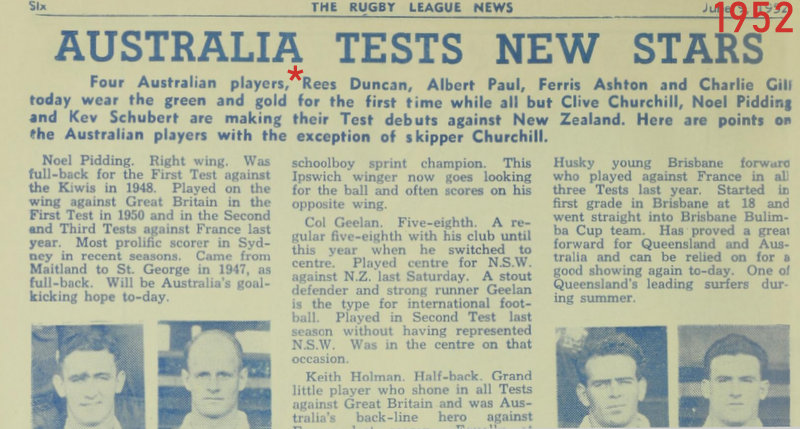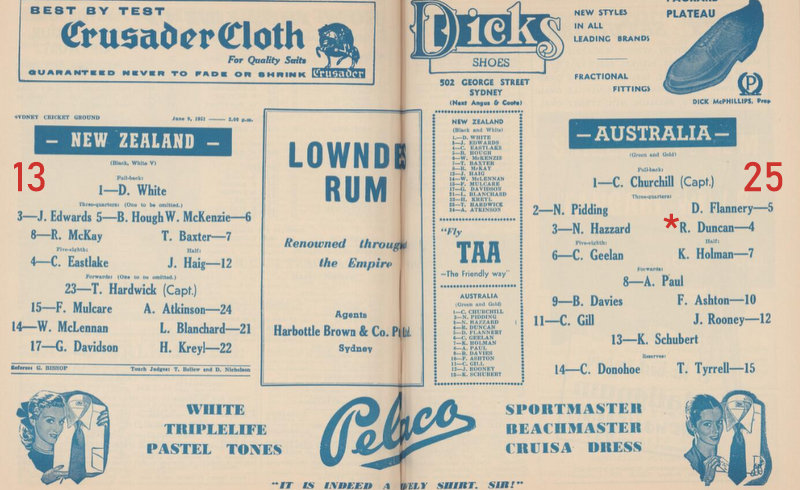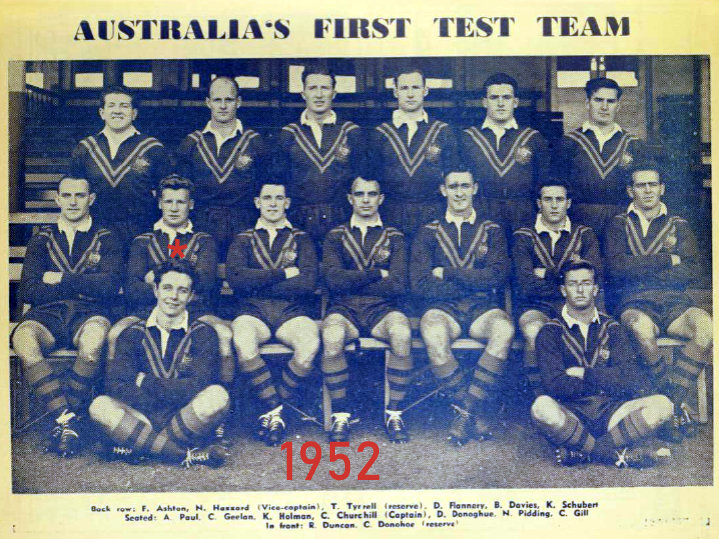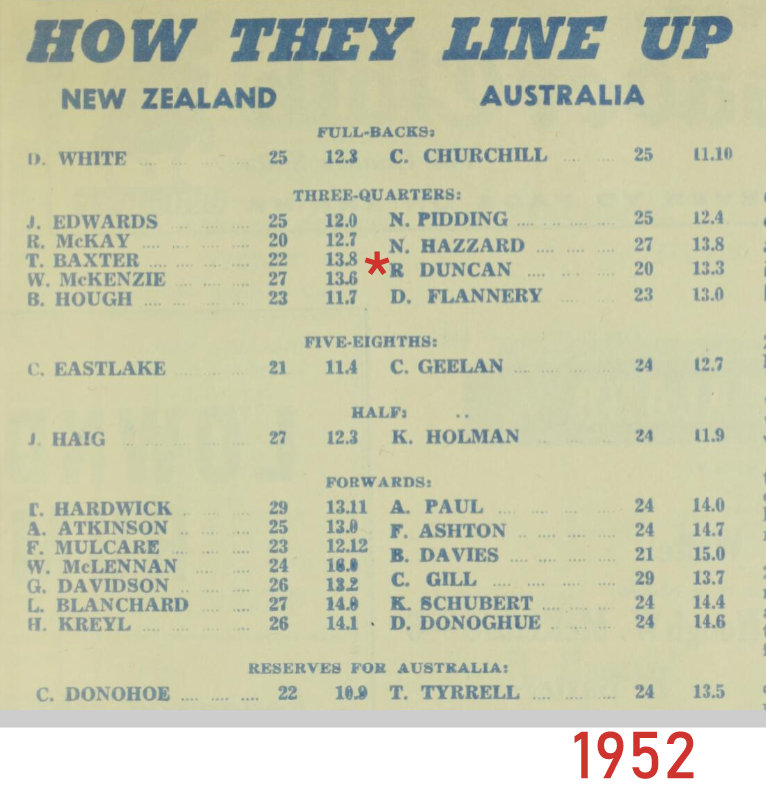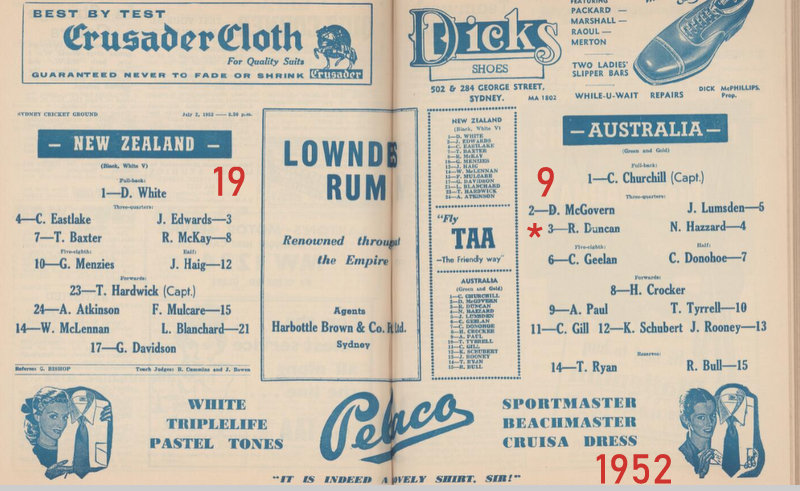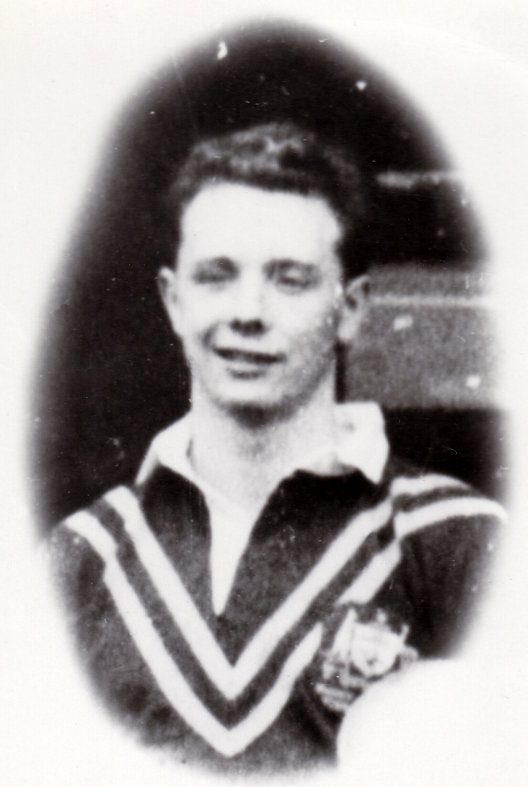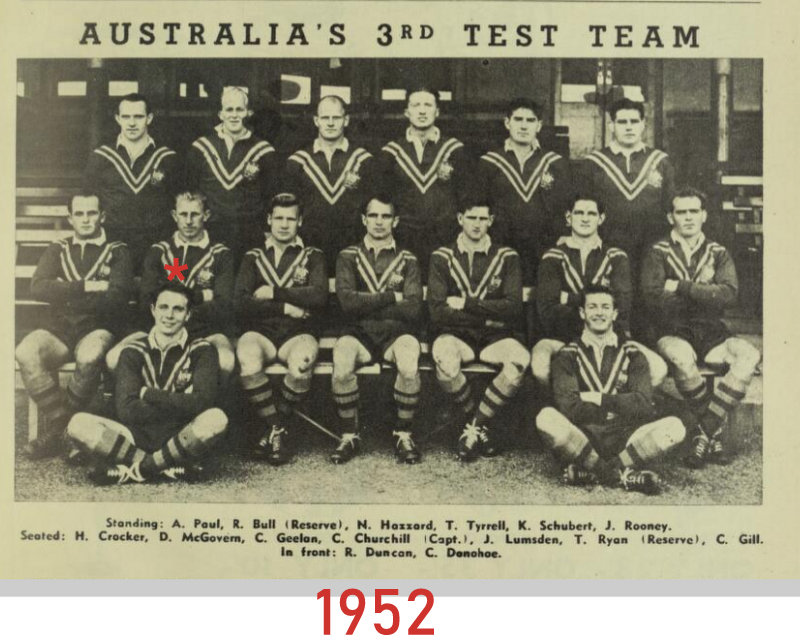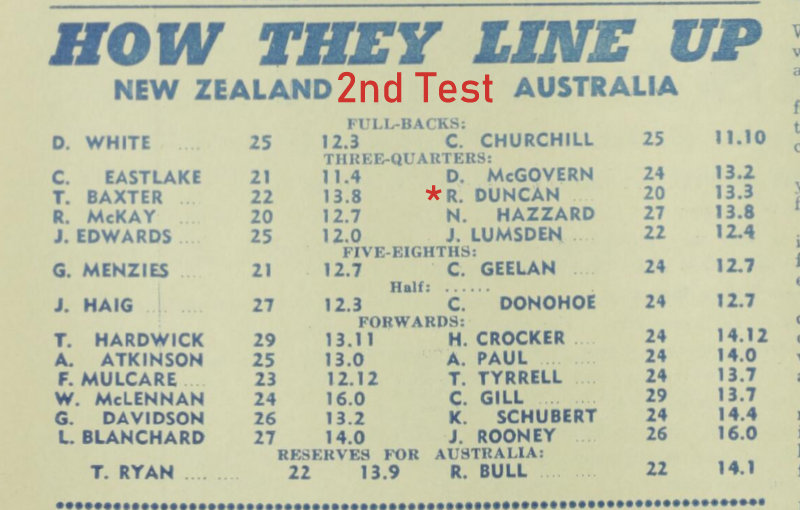 Rees is the youngest in the Australian Team
NOTE: Roy BULL who will come into Rees life a few times over the next few years.
*
1952-1953 Kangaroo Tour of England and France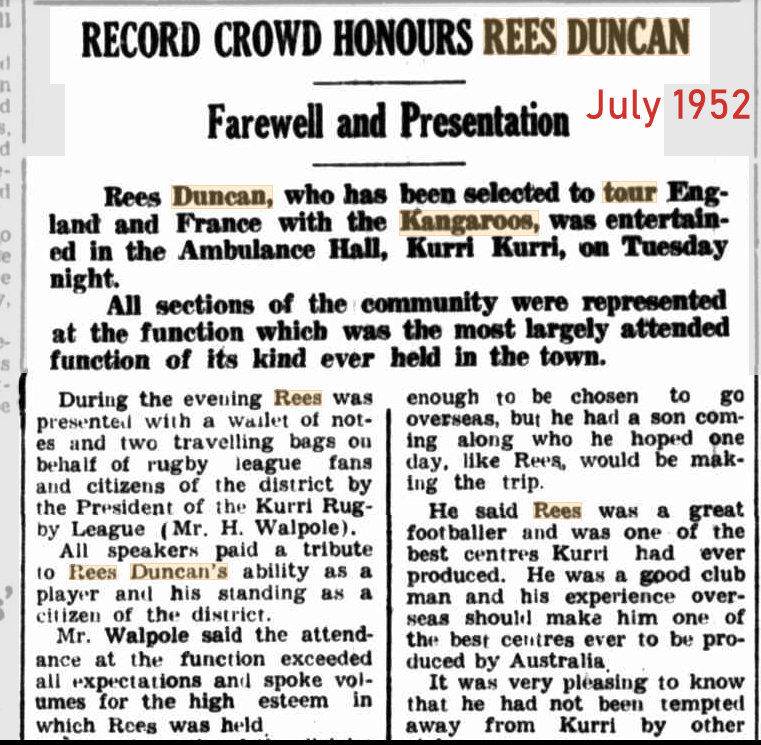 This Kangaroo Tour was the last to go and return by ship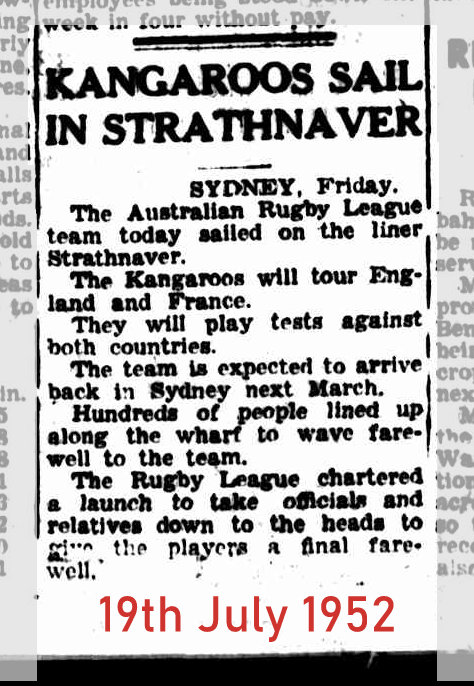 NOTE: The Tour lasted eight months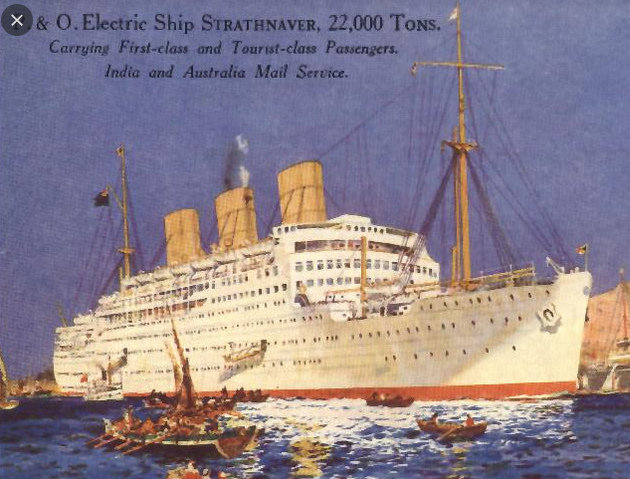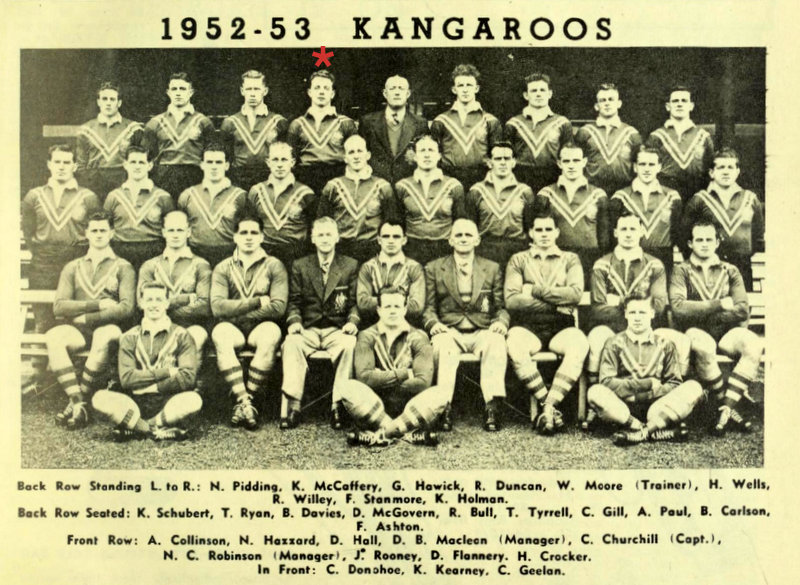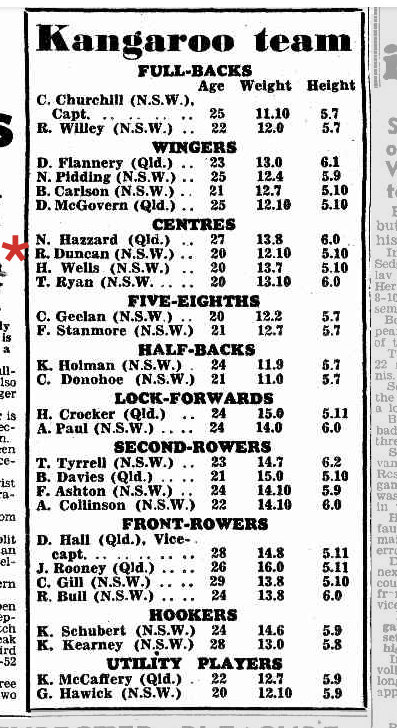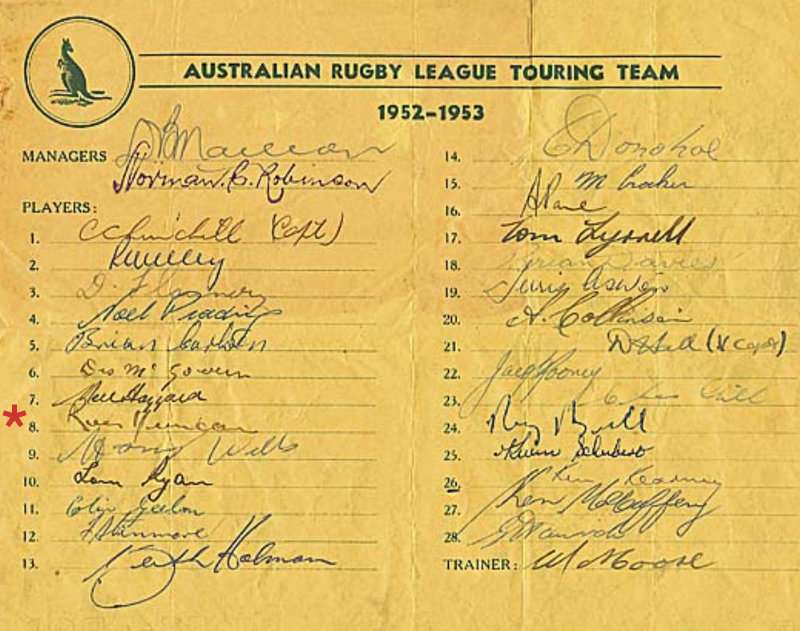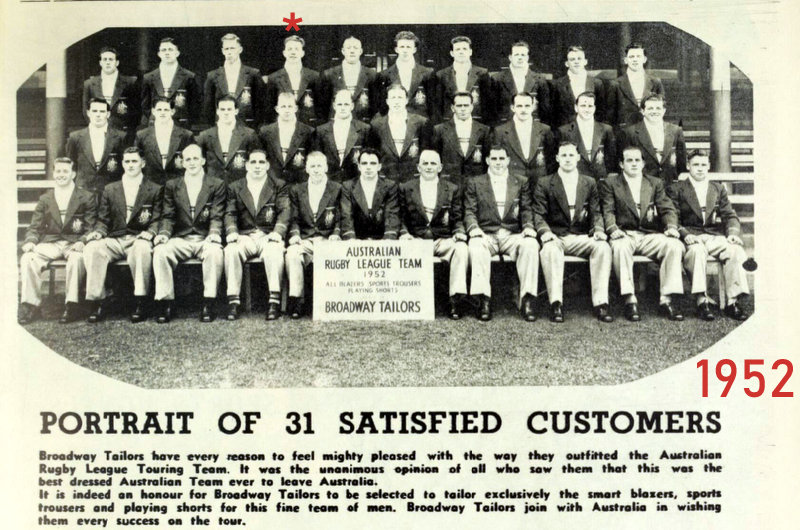 Keith Holman worked at Broadway Tailors for a few years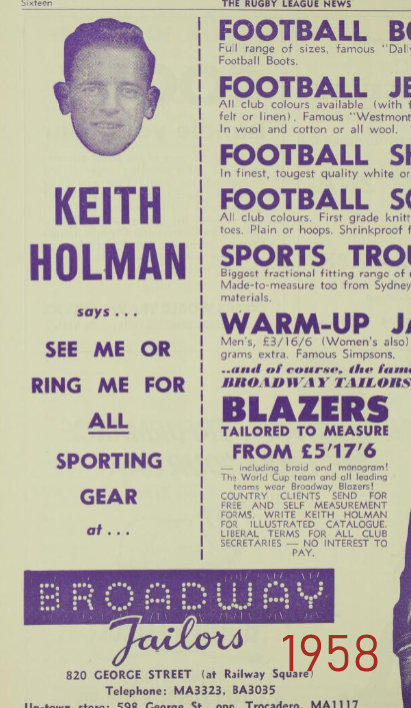 Photo taken at the SCG before the adventure started
Rees was only 19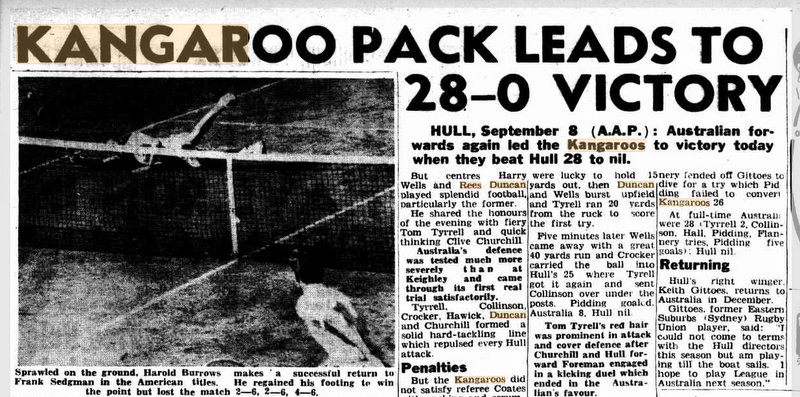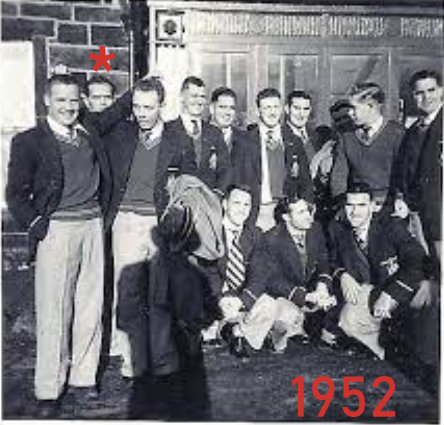 The Kangaroos between games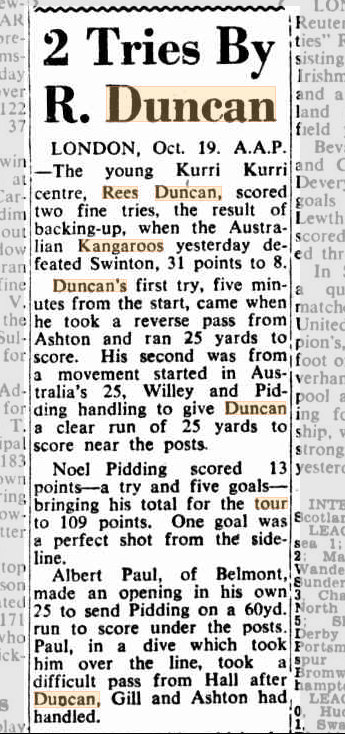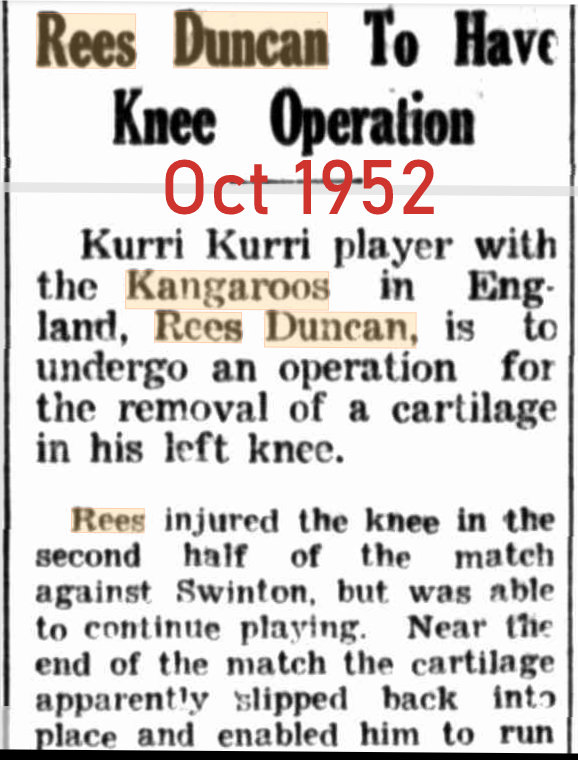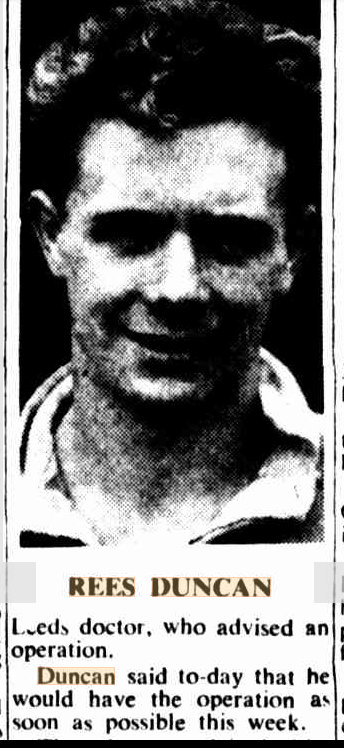 Rees missed about five games and came back to play five more Tour games in England before playing in six games in France
Rees played a total of 18 games and scored nine tries on Tour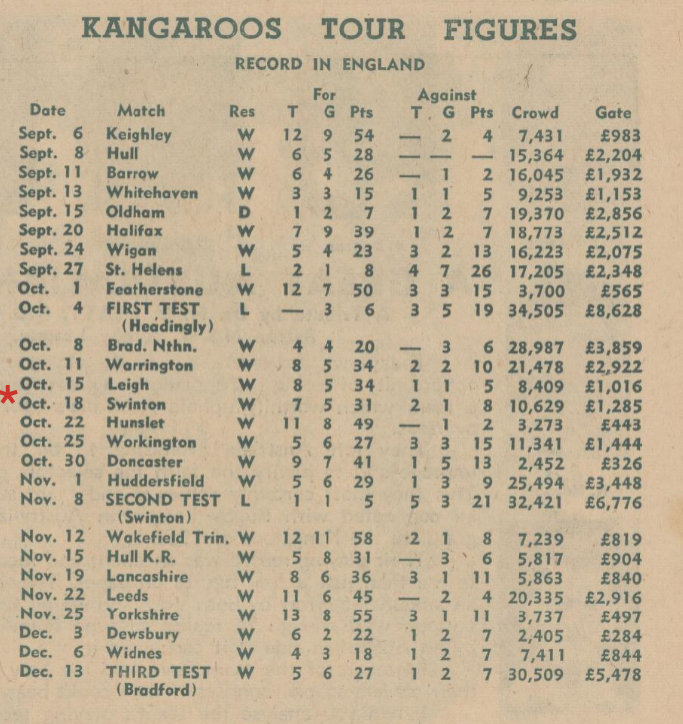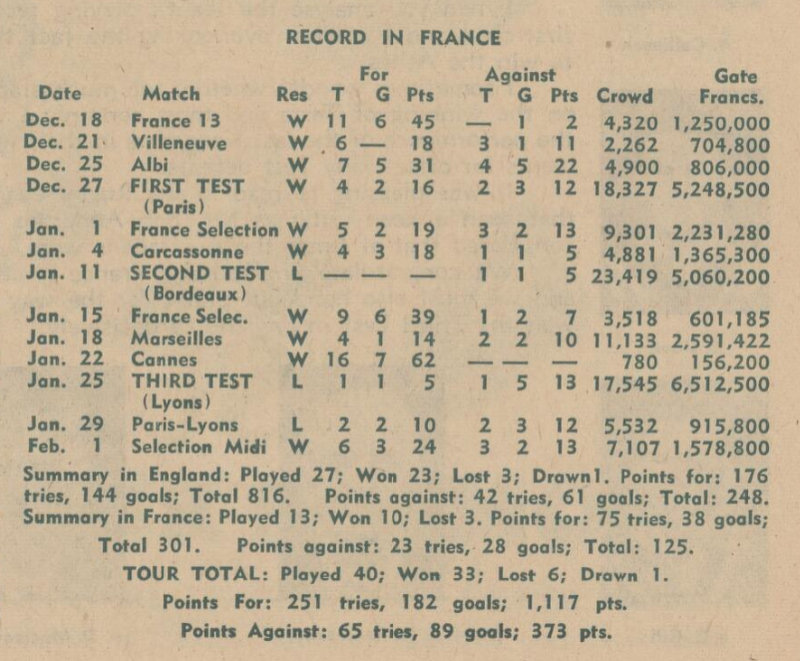 A special game was played upon the Kangaroos return to Australia

 On the 15th April 1953 there was a game between The Kangaroos v The Rest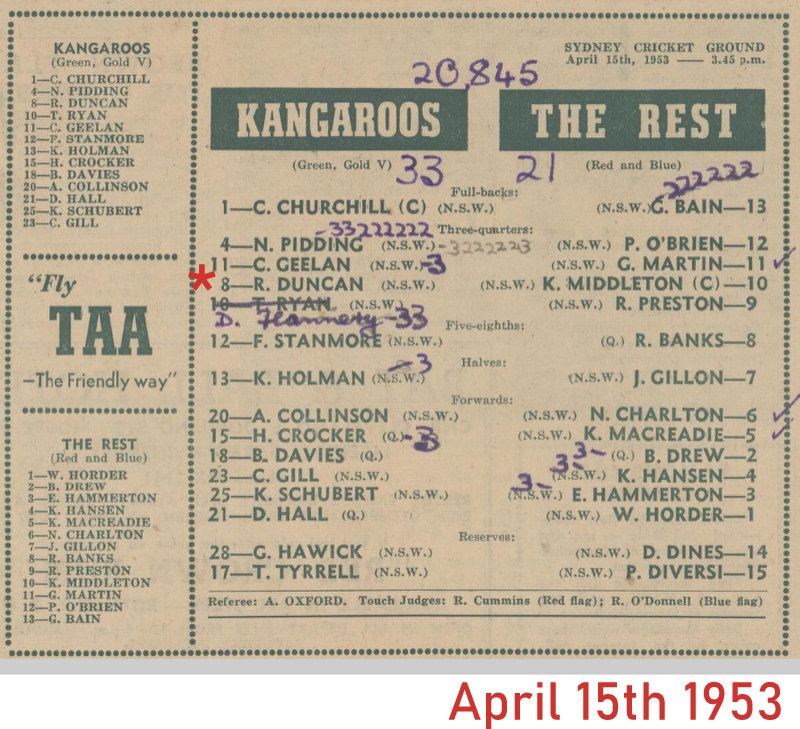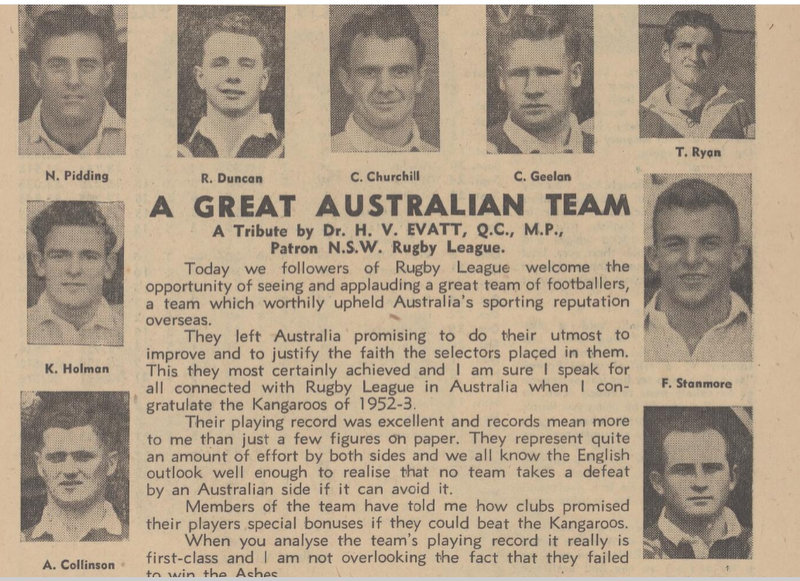 Rees was still playing in Kurri and was chosen to play for Country against Sydney in 1953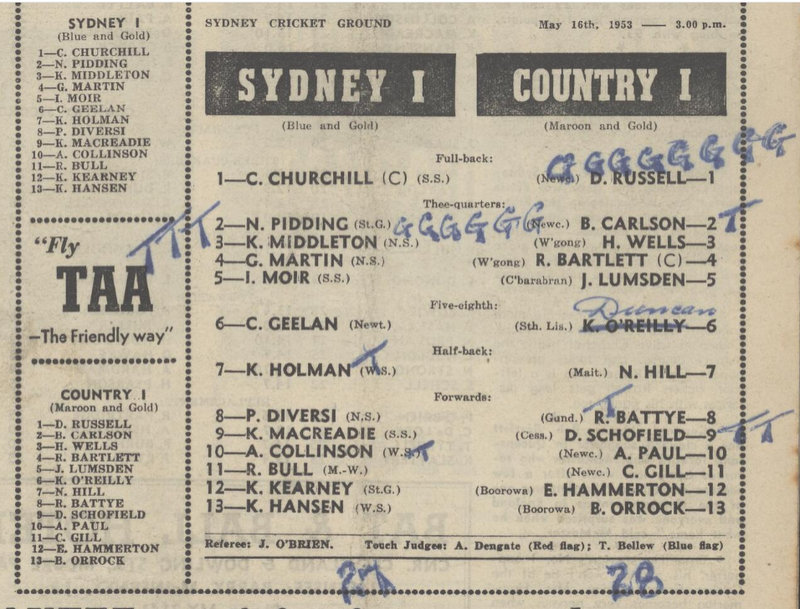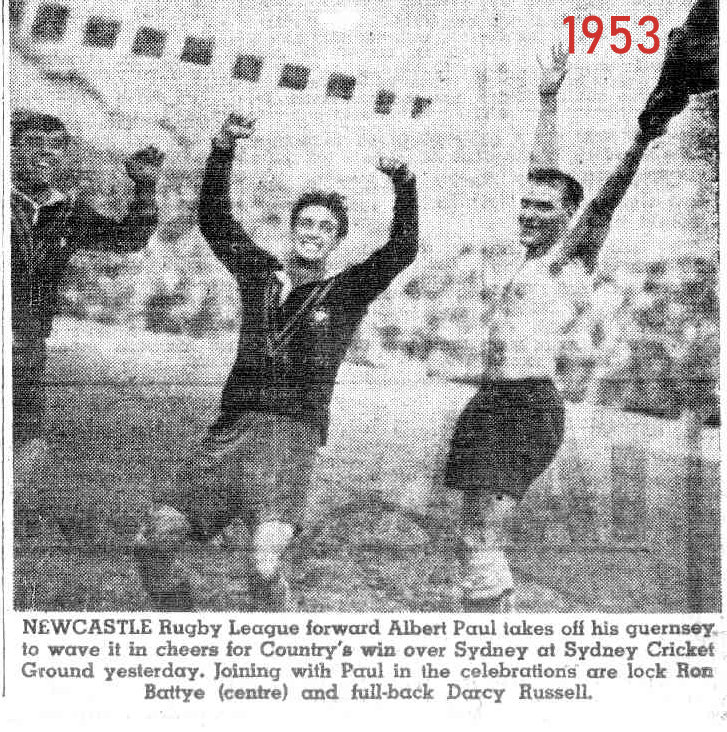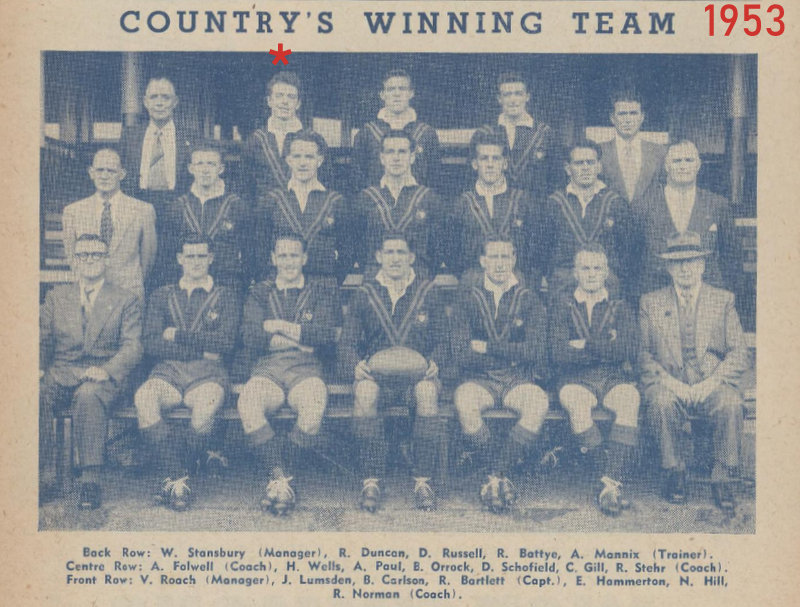 The famous Country win over a star packed Sydney team
Darcy Russell kicked eight goals in this game
Also a good win over QLD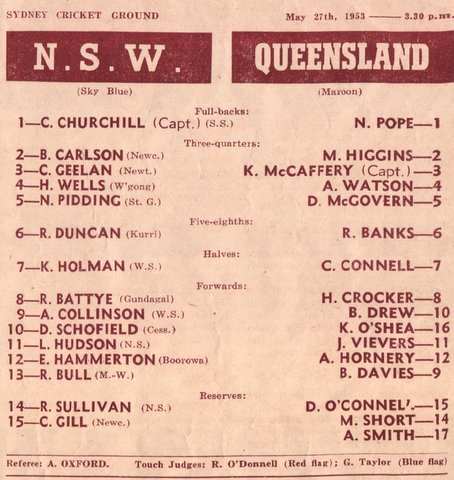 NSW 26 beat QLD 15
1953 was a busy year for Rees and Rugby League in Australia
The YANKS have arrived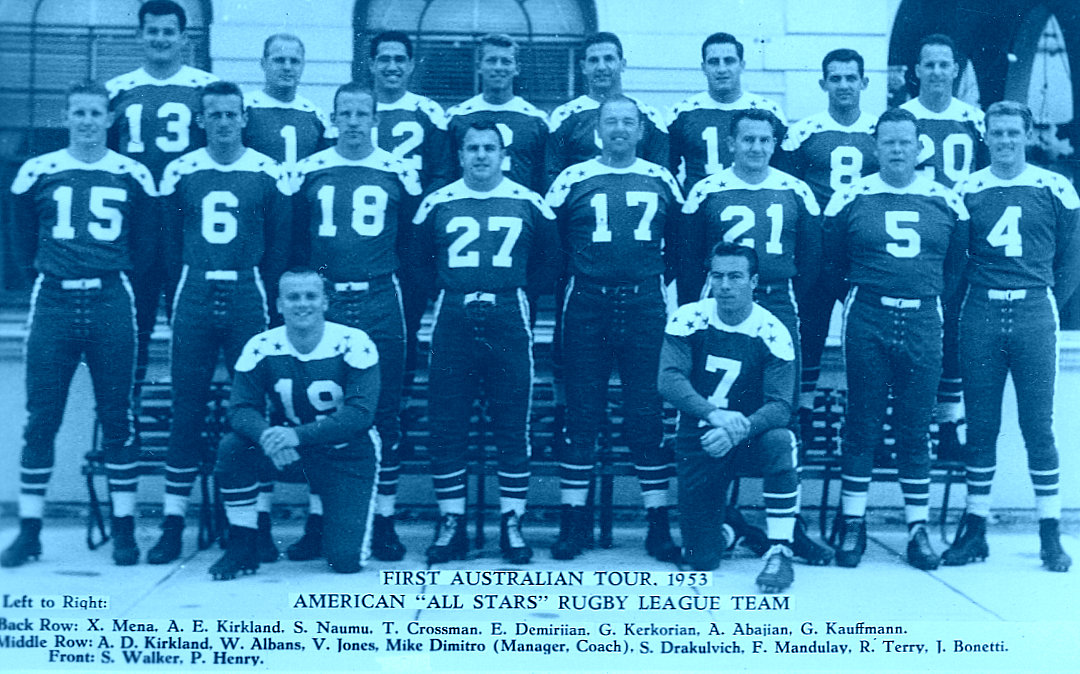 Rees played against the American All Stars with the NSW team
There are very few players from both teams still alive in 2021, 68 years later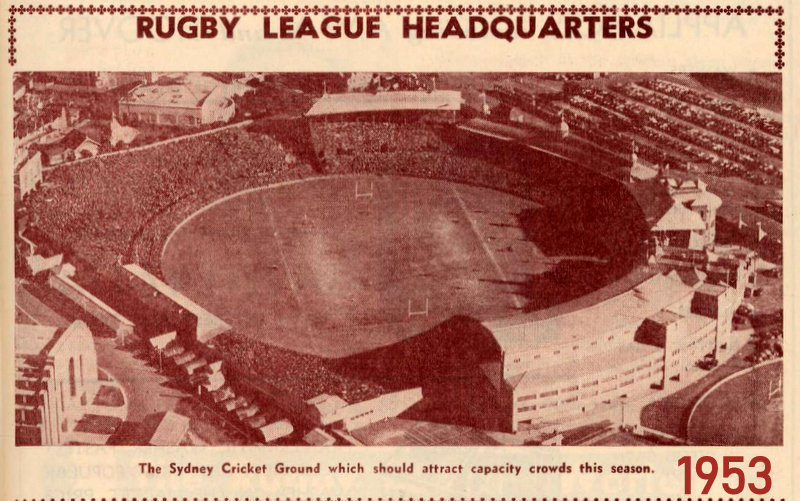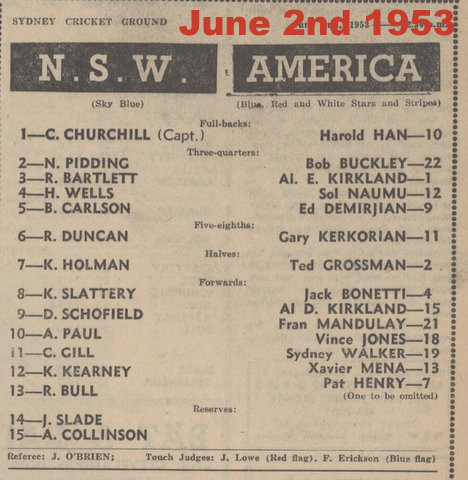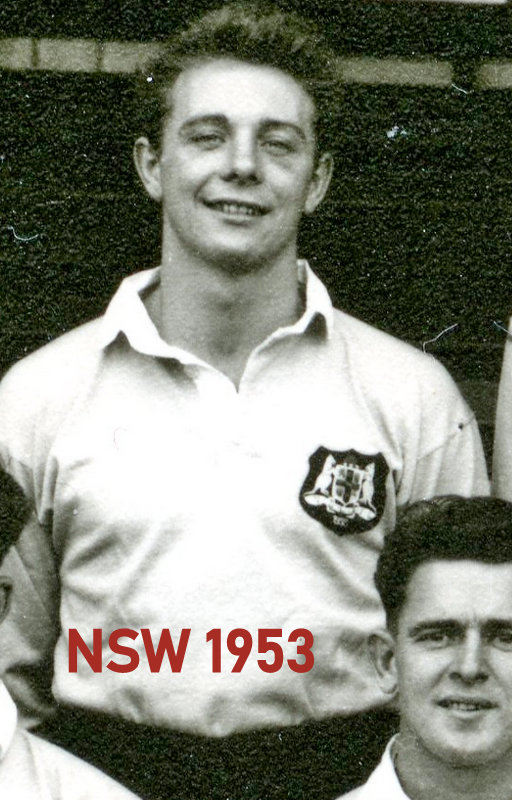 Rees with Keith Holman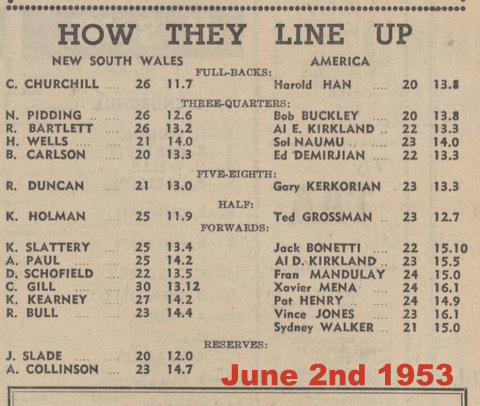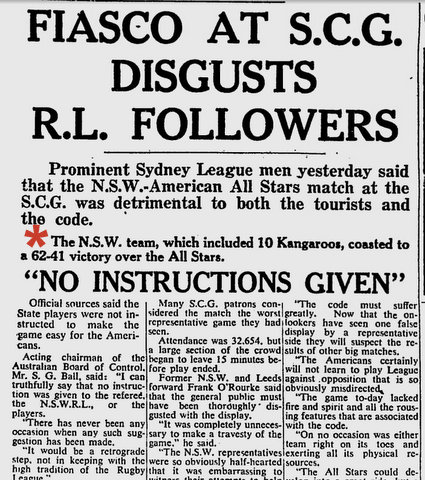 Could that be Rees in the background of this photo below?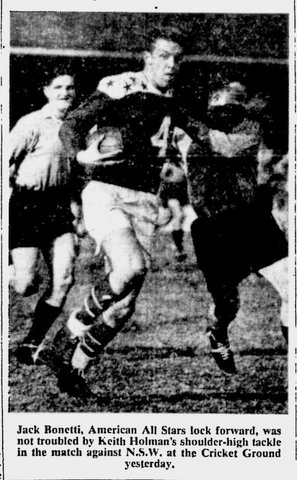 In late 1953 Manly approached Rees to play for the Manly team in the Sydney competition in 1954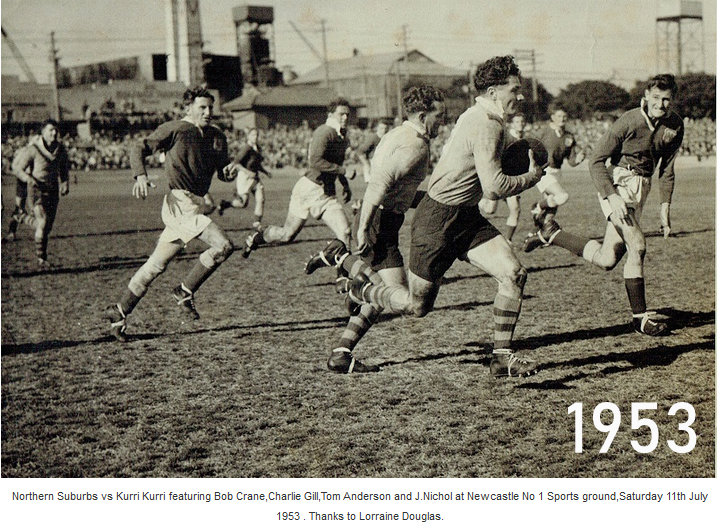 One of the Manly people was Roy Bull (below)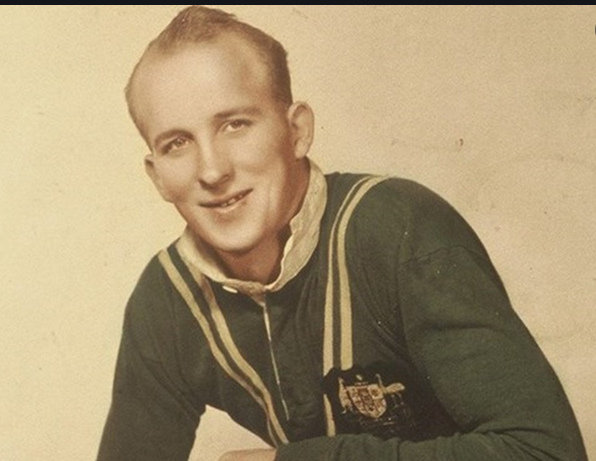 Rees had toured with Roy on the 1952 Kangaroo Tour of England and France
The Manly Years 1954 -1956
Rees joined Manly and became Manly Player number 93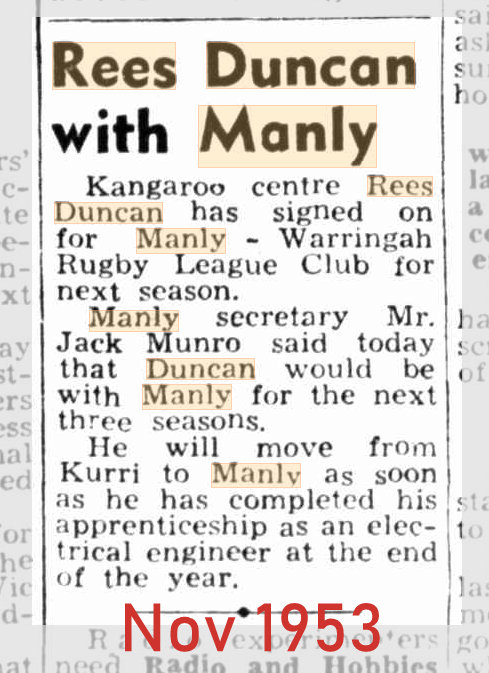 Rees first game with Manly
Rees also played for Manly against a Western Districts Team in 1954 as part of Country Week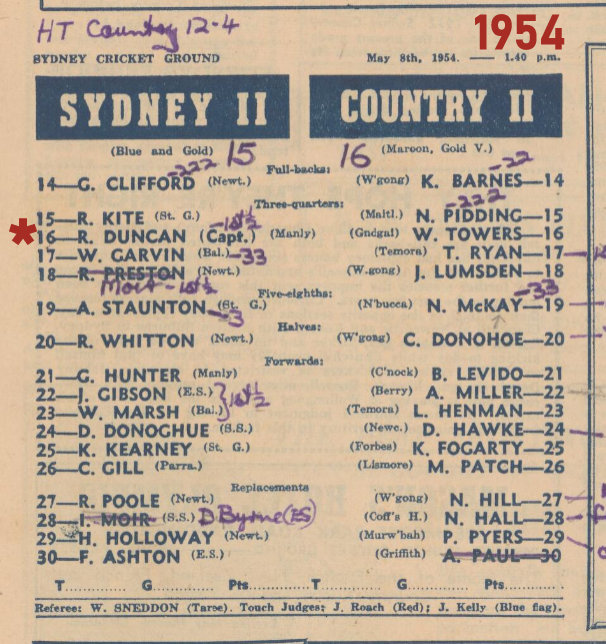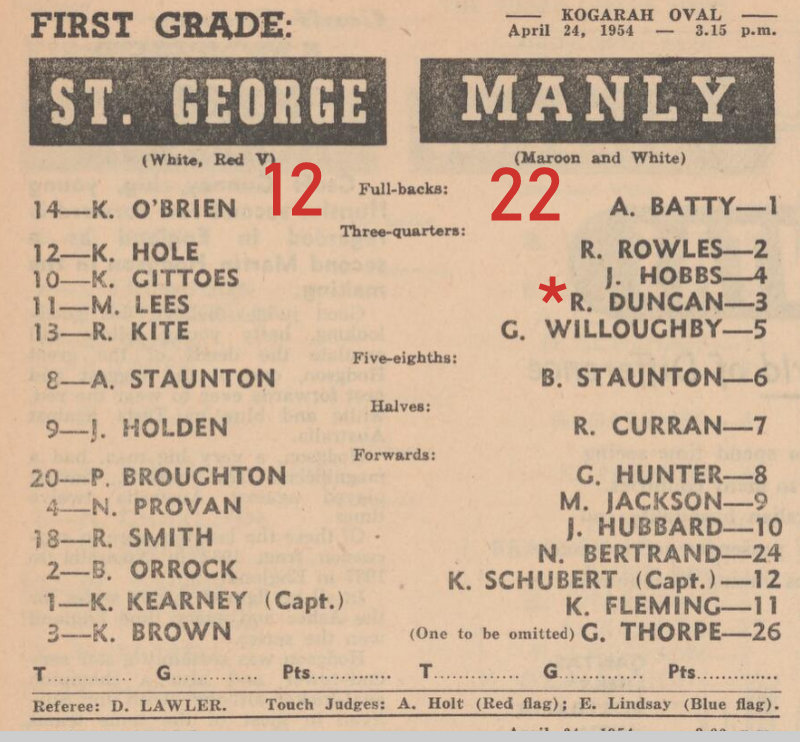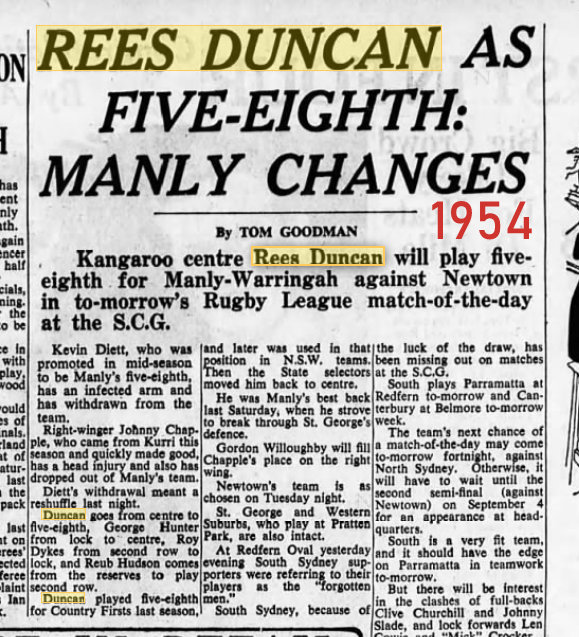 Rees and Gordon Willoughby at Manly training 1954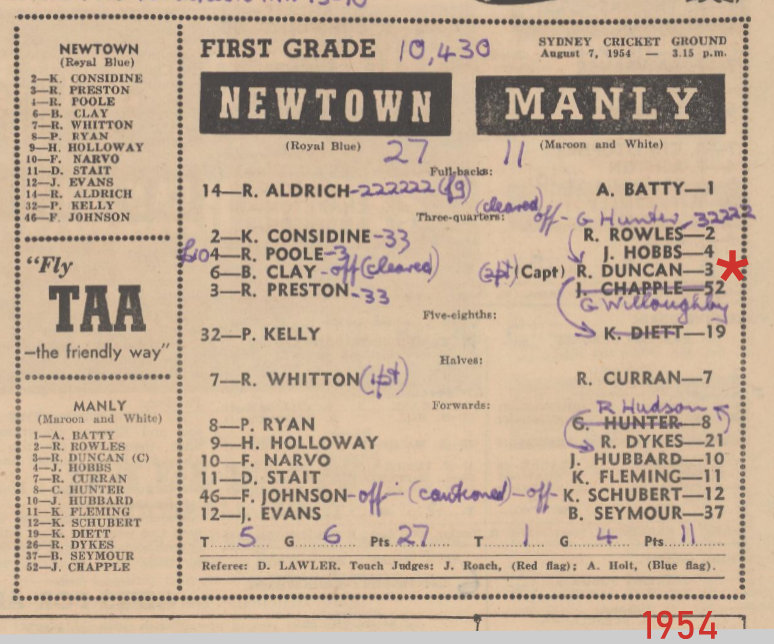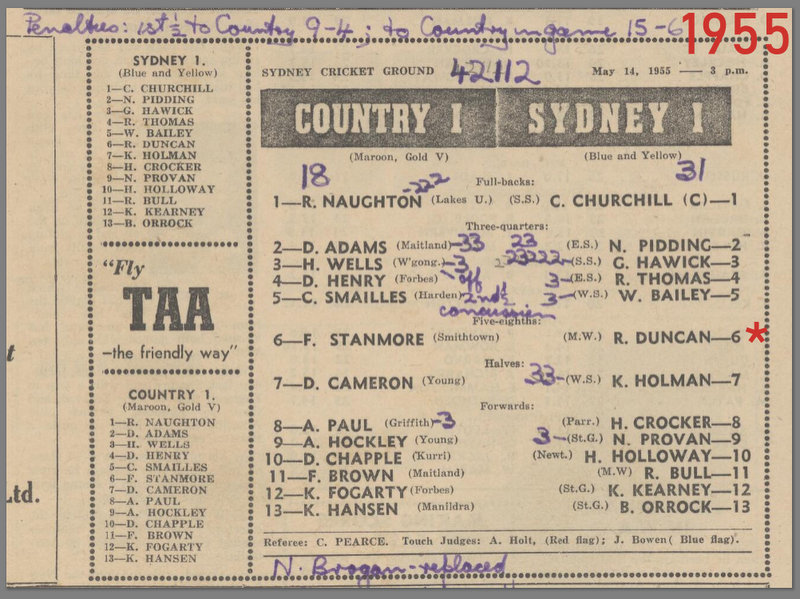 Also in 1955 Rees played for Sydney Firsts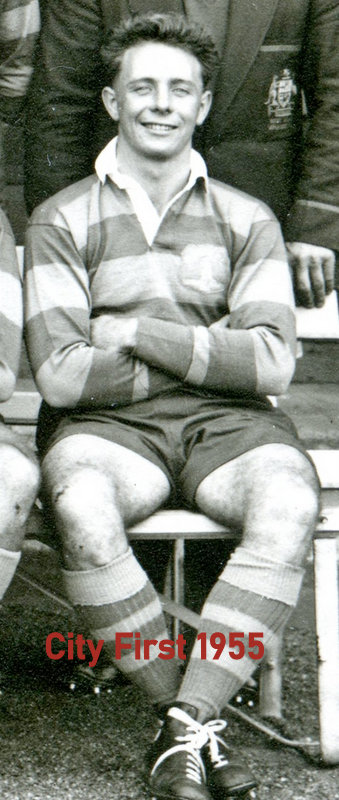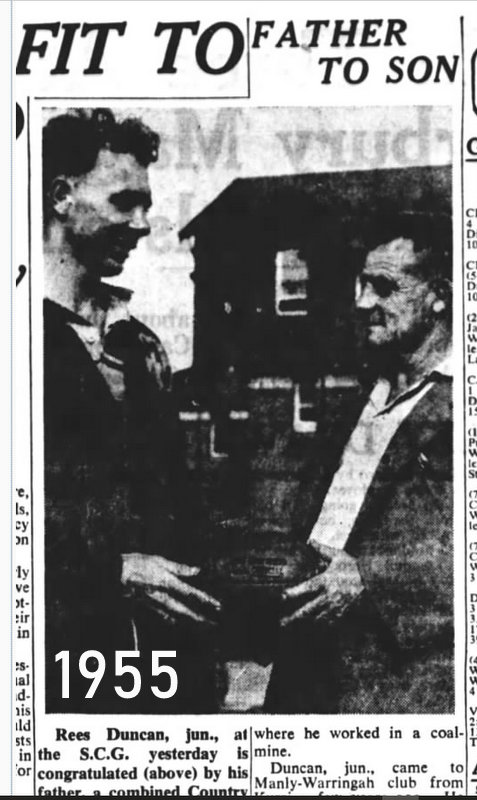 Rees dad came down to Sydney to wish his son well for the game ahead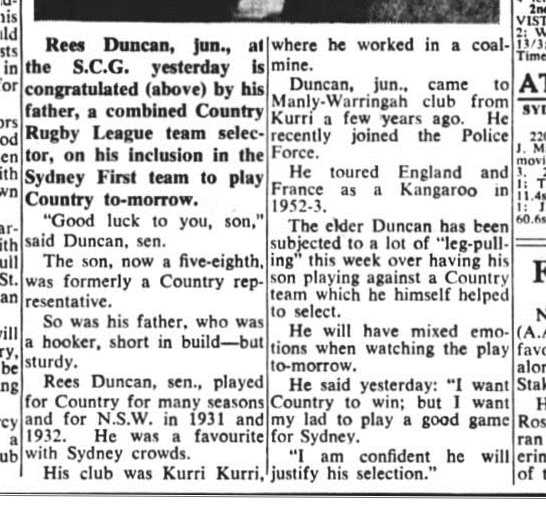 Below Rees was back playing the French in 1955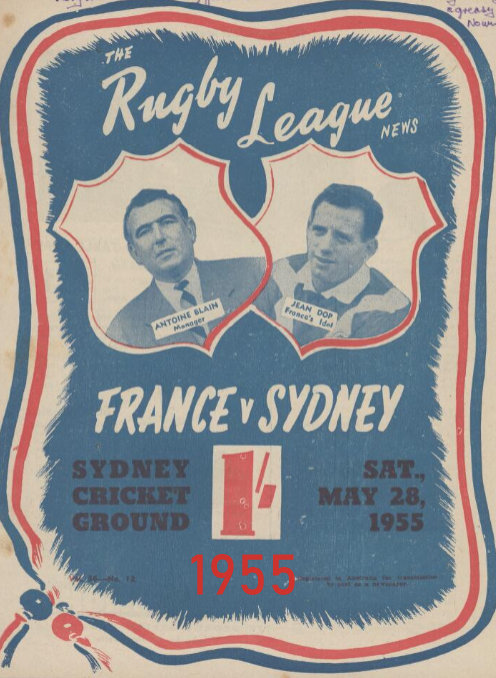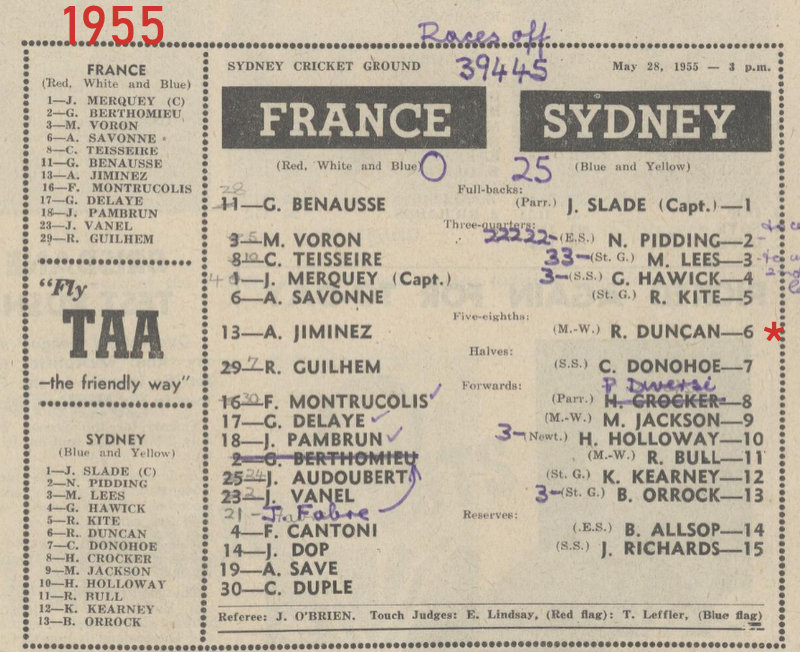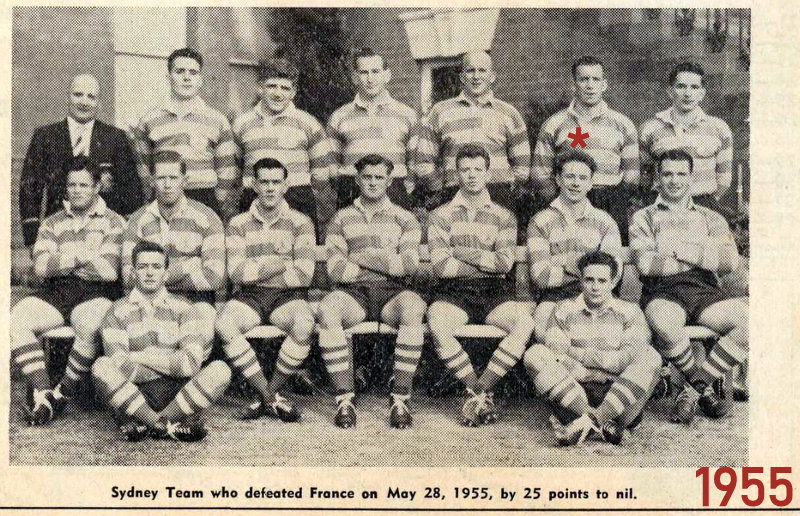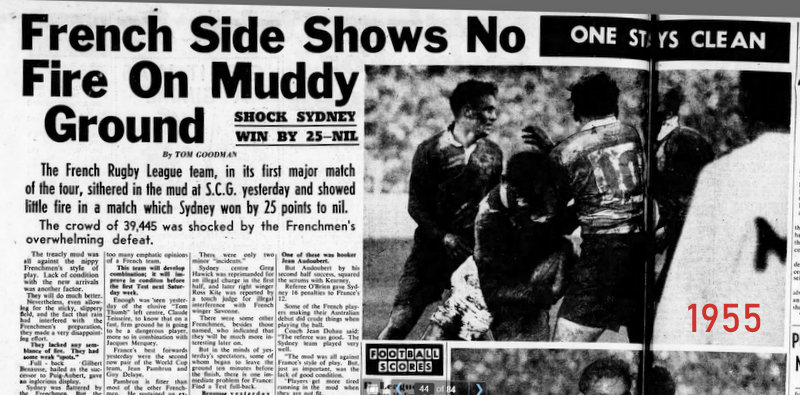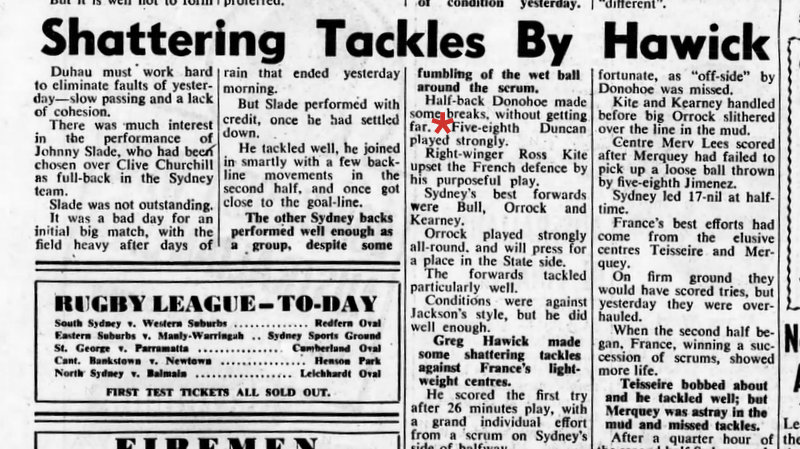 In 1955 Manly made the Semis and were just beaten by Souths.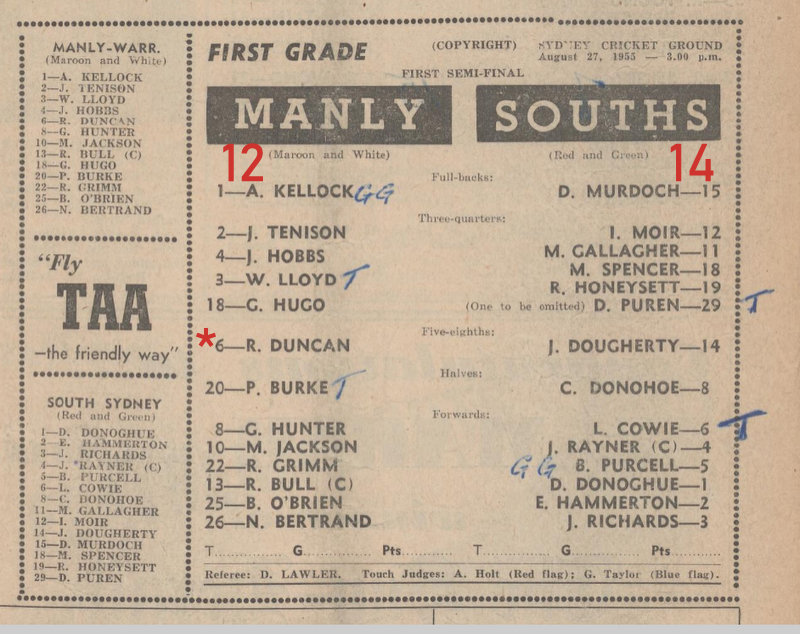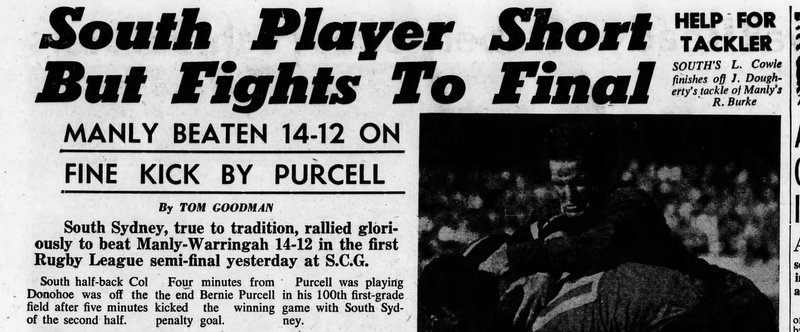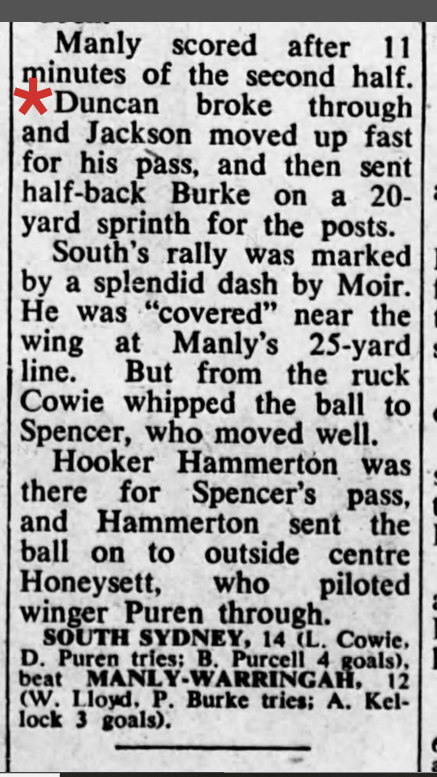 Below are a few games from Rees years at Manly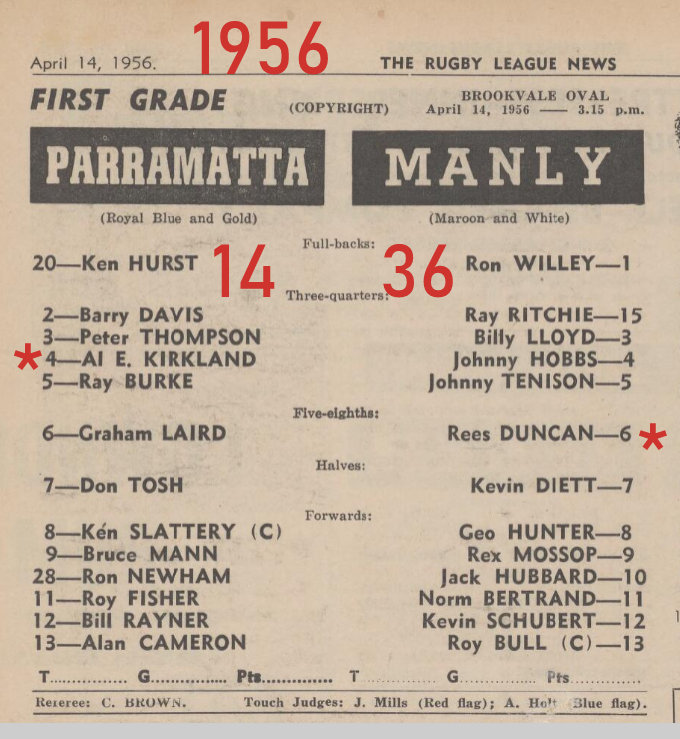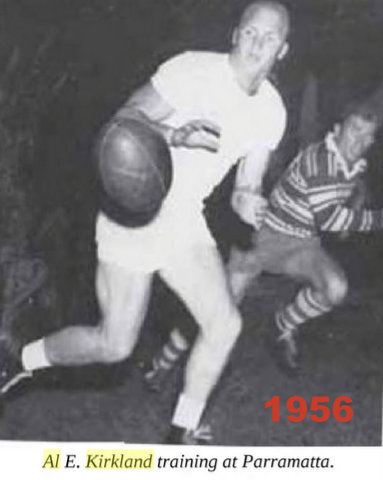 * Al E KIRKLAND played for the American All Stars

Rees scored three tries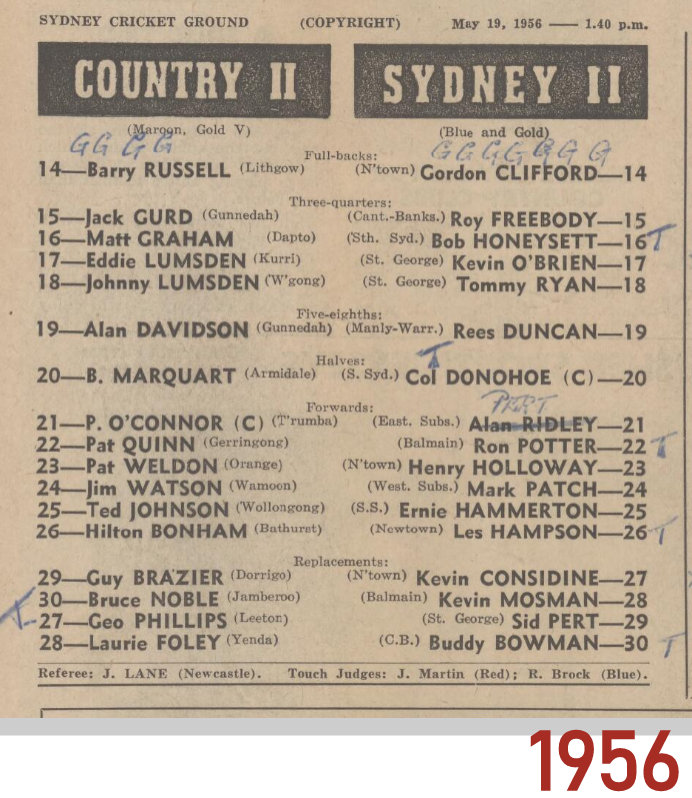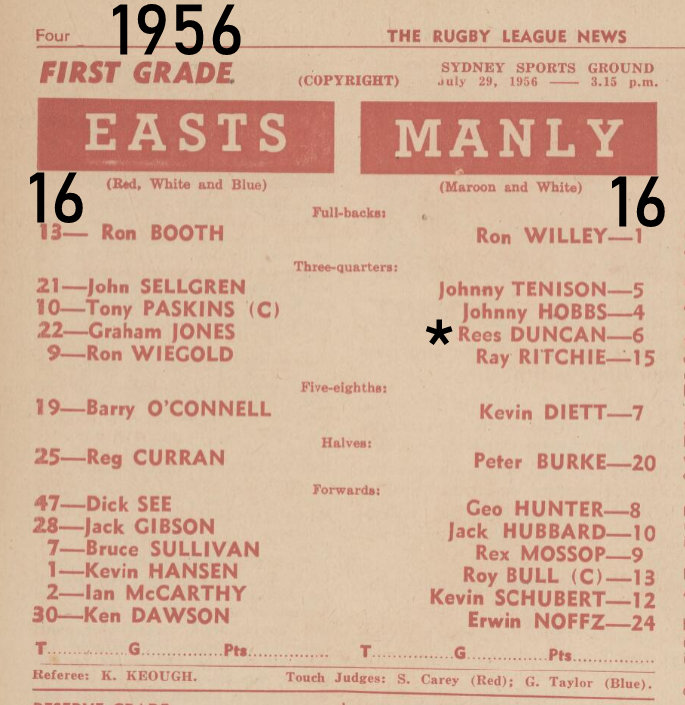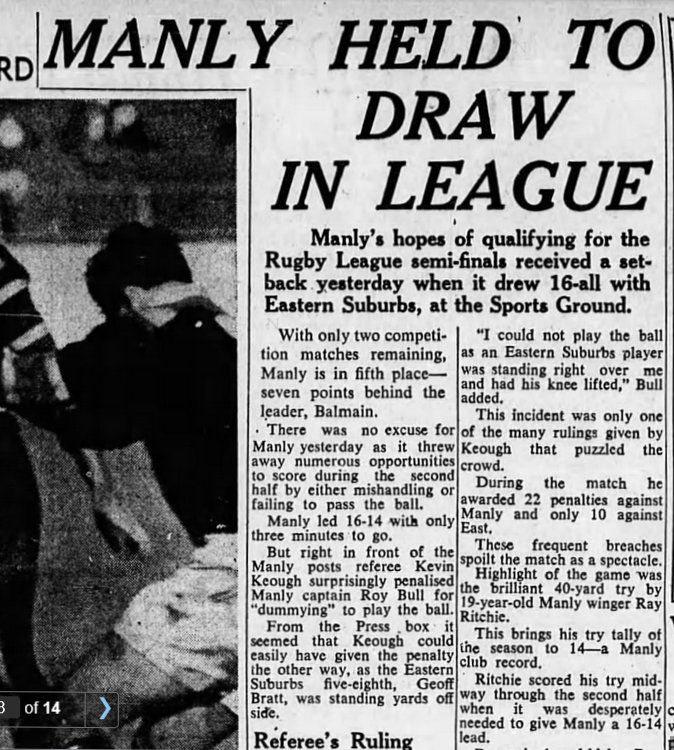 Rees scored a try and kicked five goals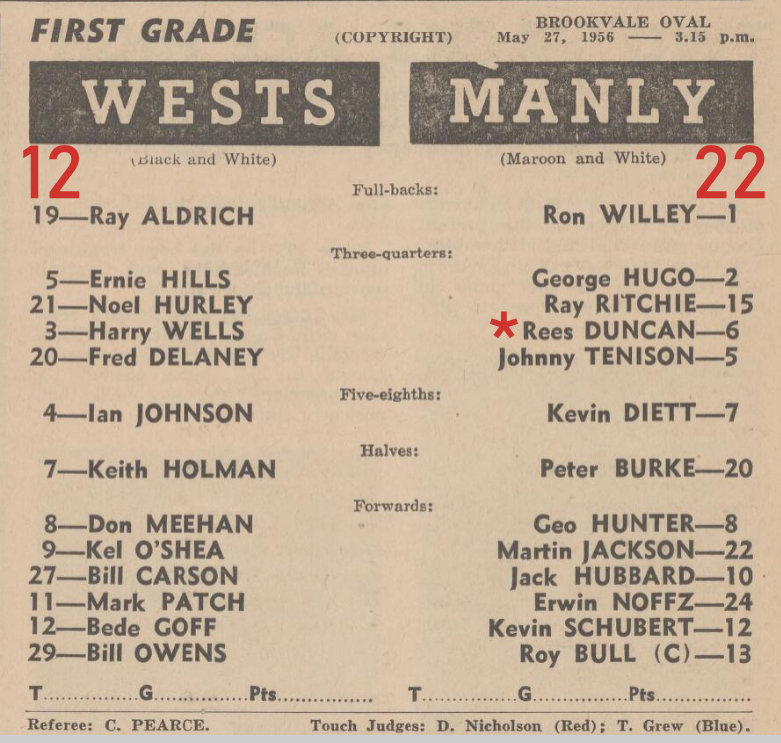 Rees scored a try in this game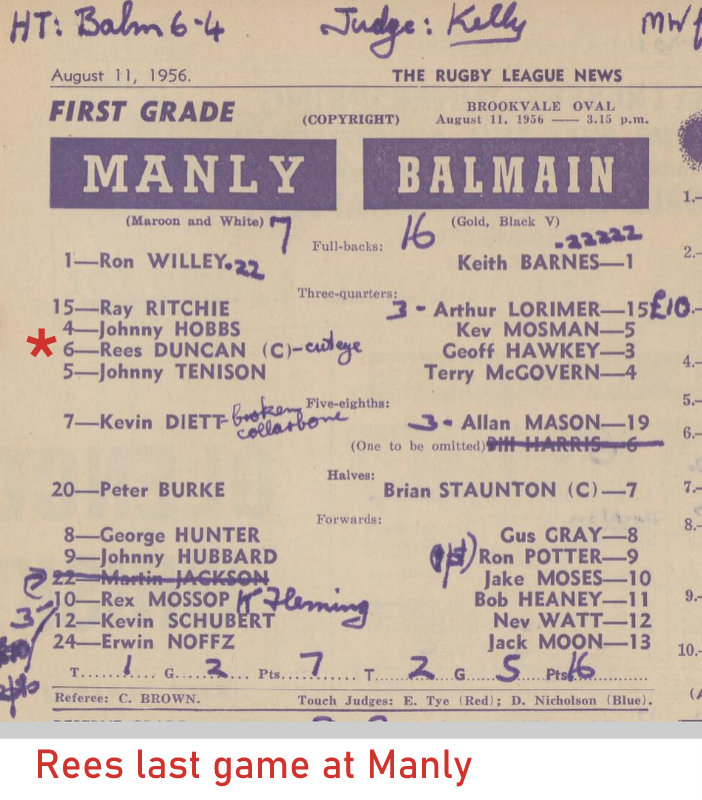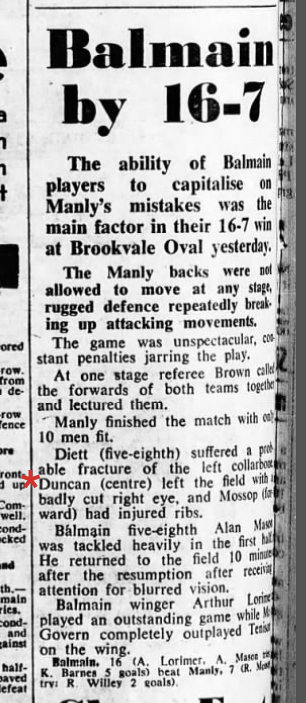 *
Back to Kurri Kurri 1957
Rees returned to Captain/coach Kurri and he was able to take Kurri to the Grand Final where they were beaten by Maitland 17 to 12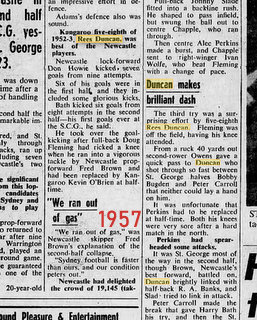 After this game Rees was chosen to play and Captain Country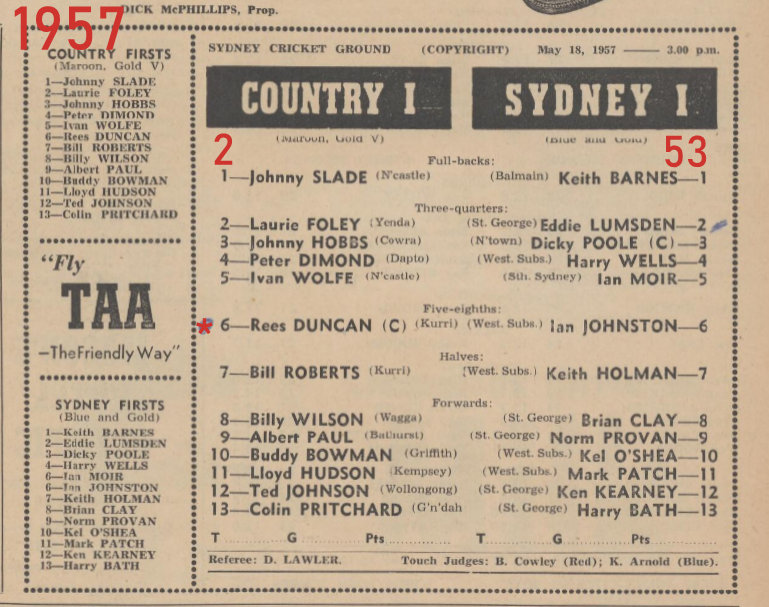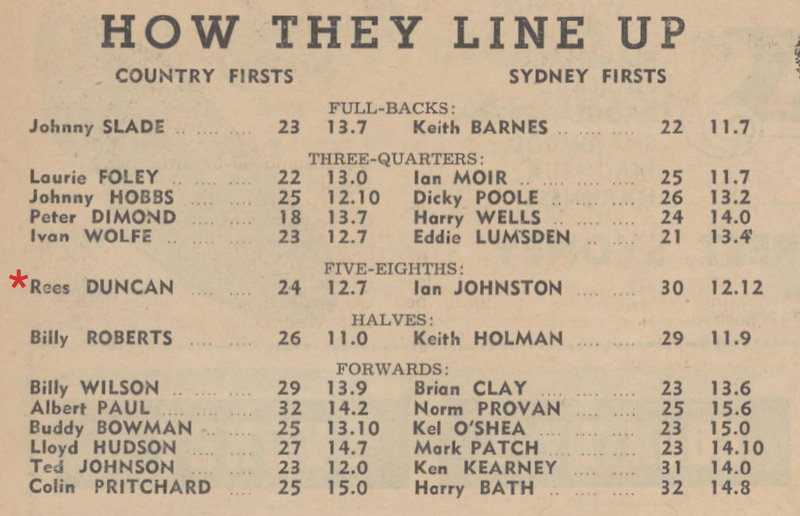 The game below was played as a curtain raiser before the NSW v QLD game in 1957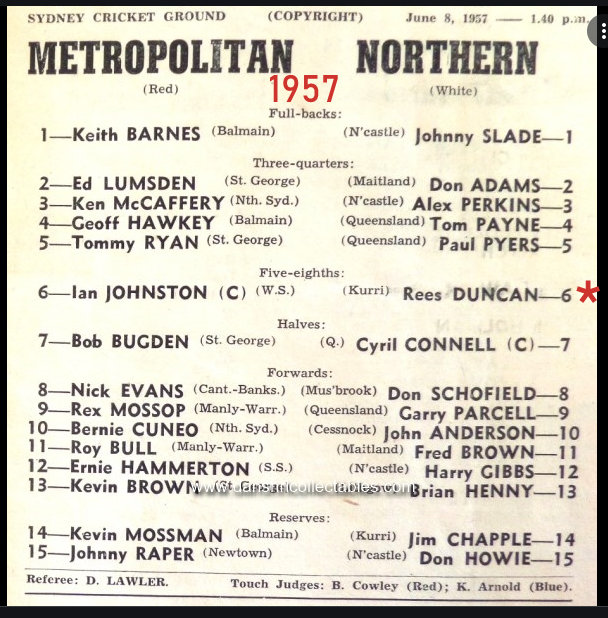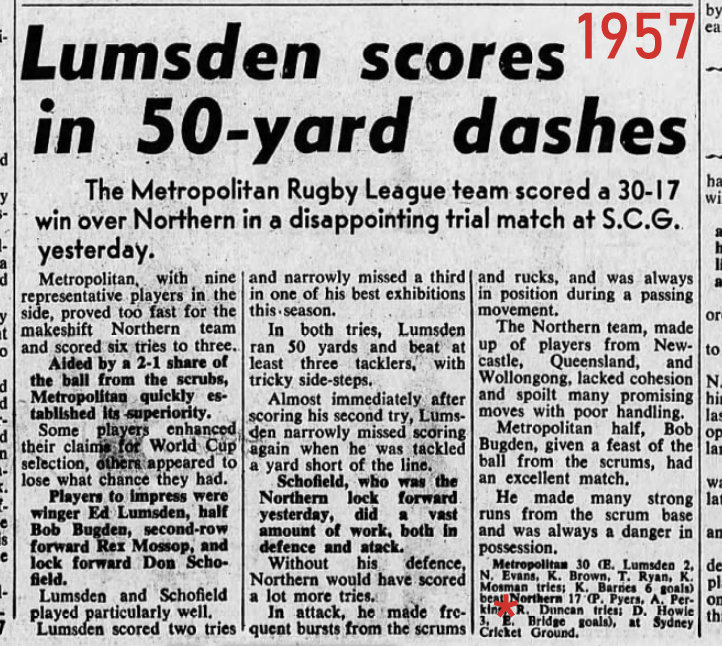 Rees was now 25 years of age
 1958 Rees Duncan is off to Western Suburbs in Sydney
Rees became Wests Player number 563 (1958)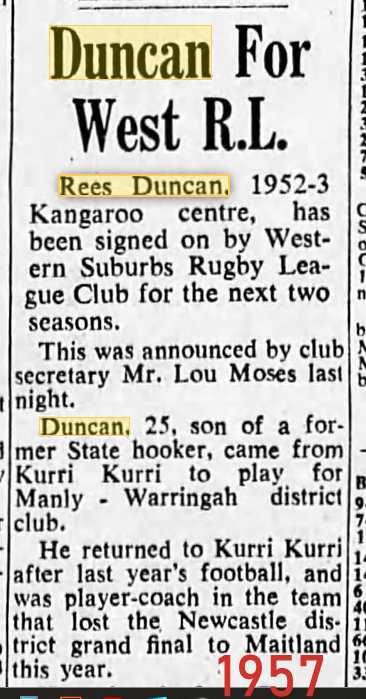 Rees and Dorothy remember having lunch with Lou Moses and his wife at 9 Rosa St Croydon and the deal was done that Rees would play for Wests in 1958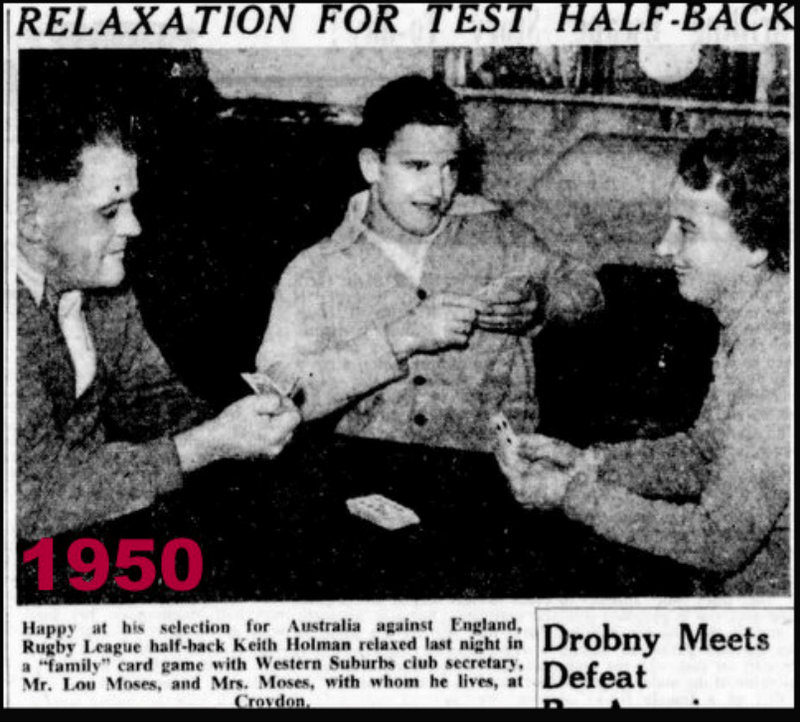 Lou and his wife with another famous Magpie at Rosa St Croydon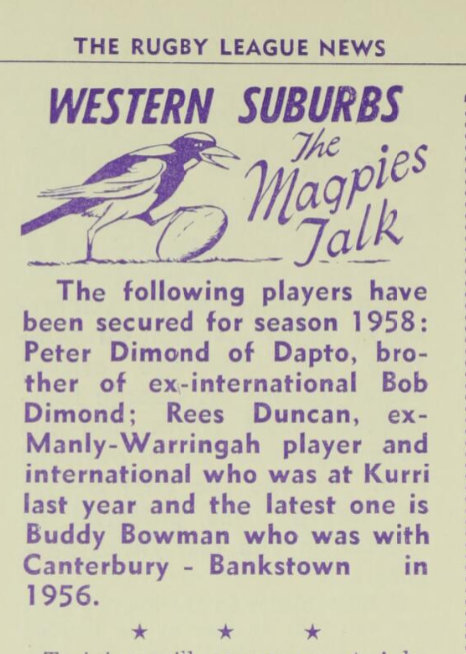 Rees first First Grade game at Wests
A very young Peter Dimond was playing on the wing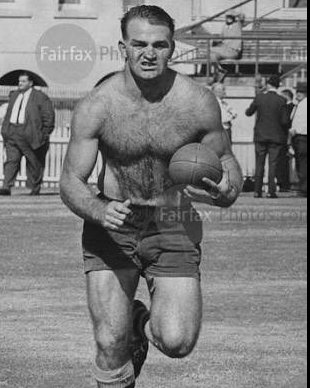 Peter Dimond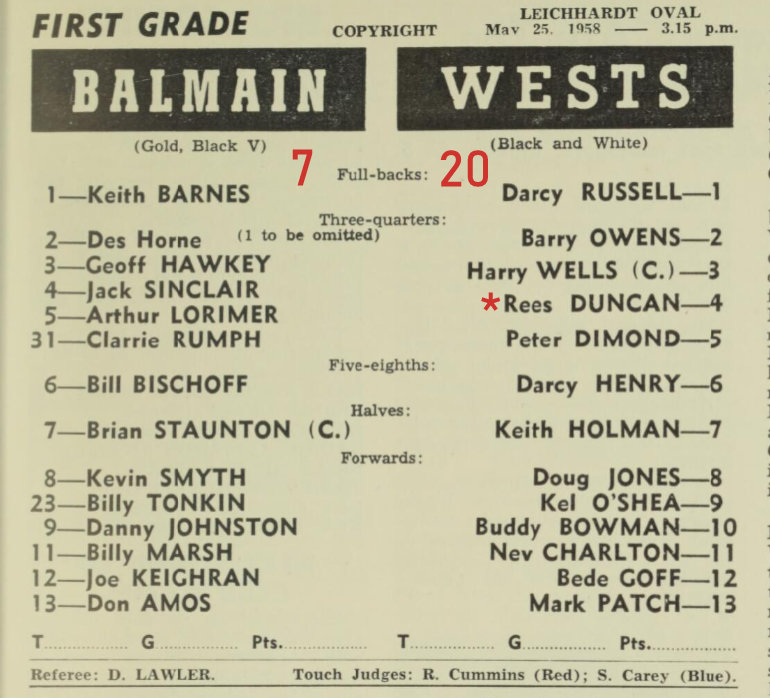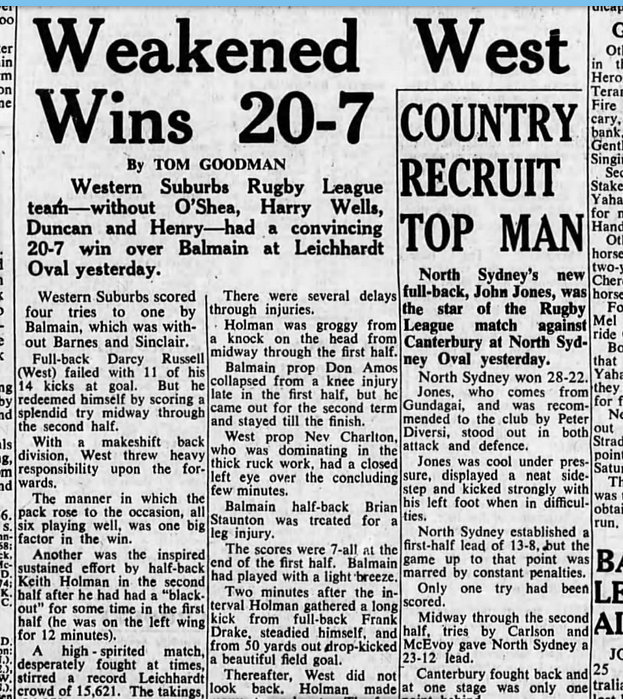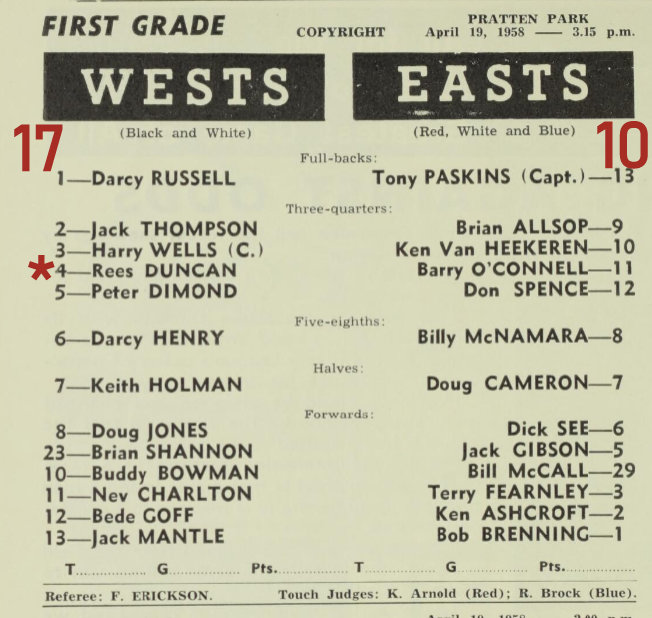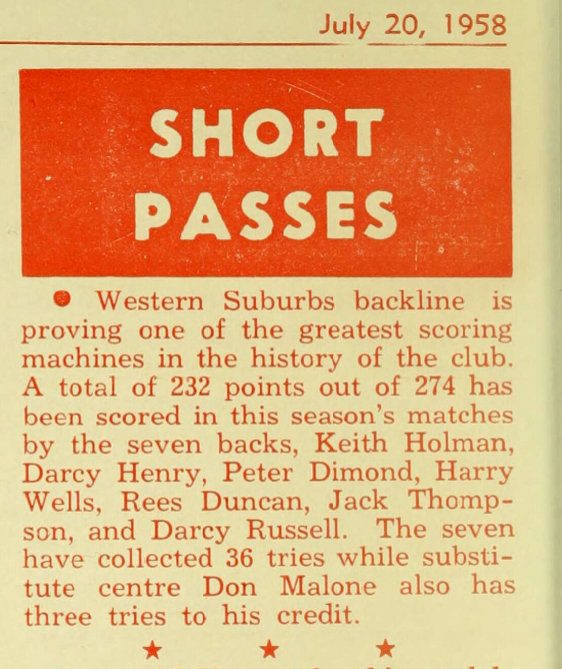 Rees was having a good year back in the Sydney comp with Wests until an accident at training happened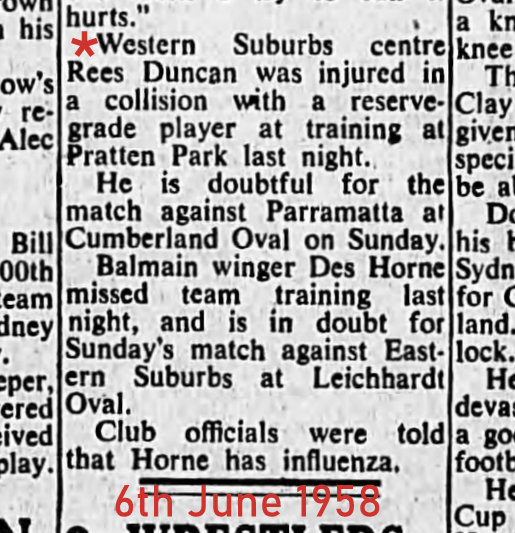 Rees was unable to play Rugby League until making a return to Reserve Grade in Round 15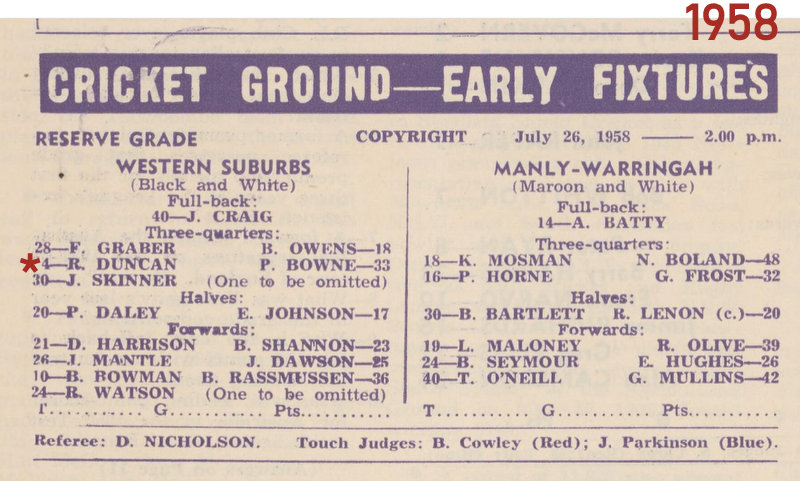 During Rees time away from the game Don Malone had been playing in his centre position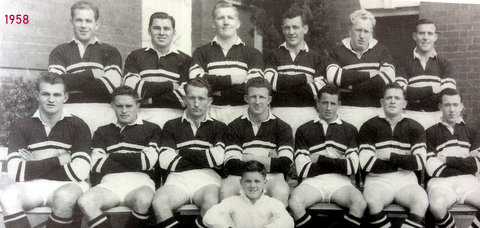 Don Malone (far right seated) played in the Wests 1958 Grand Final losing team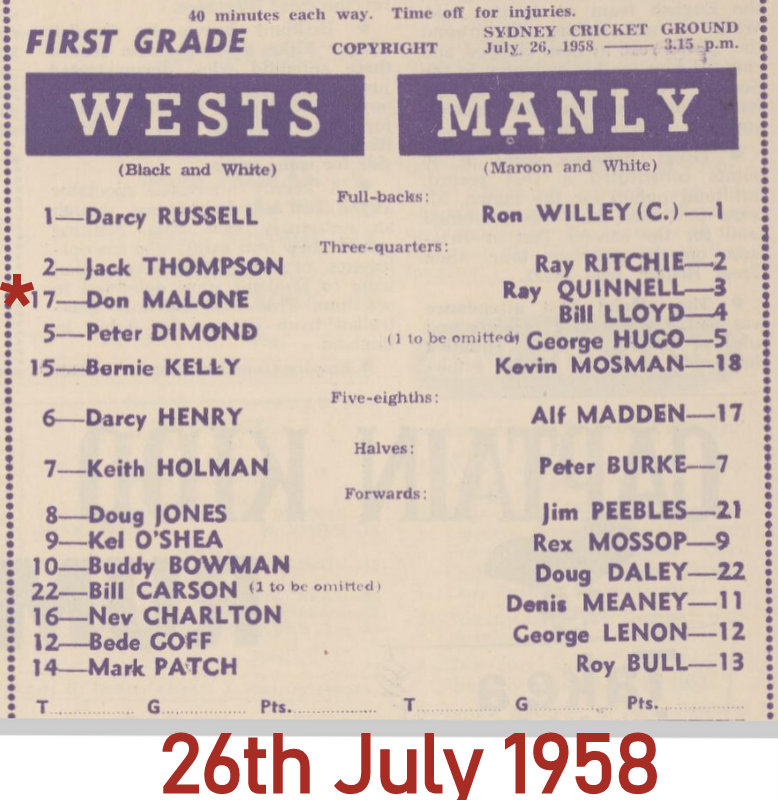 Unfortunately Rees was unable to play First Grade again for Wests in 1958
After Rees came back via Reserve Grade he was once again injured and played his last game for Wests on the 9th August 1958 in Reserve Grade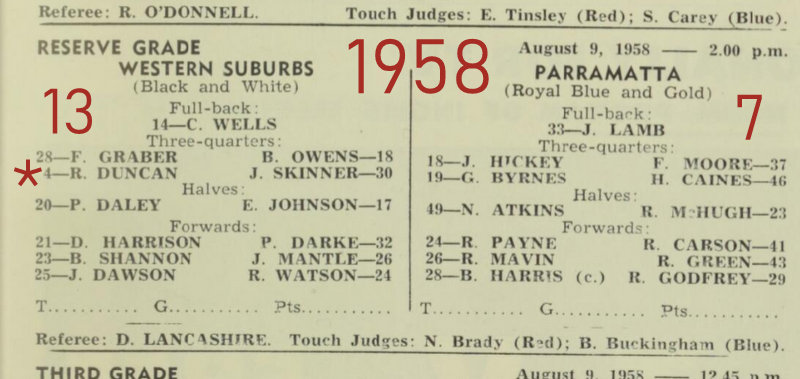 Rees receives an excellent job offer to work for Golden Fleece at Newcastle and he was also offered the job to Captain/coach the Lakes United Rugby League team in the Newcastle comp
1959
During 1959 Rees was once again chosen to play for the Newcastle Rep team this time against North Sydney at North Sydney Oval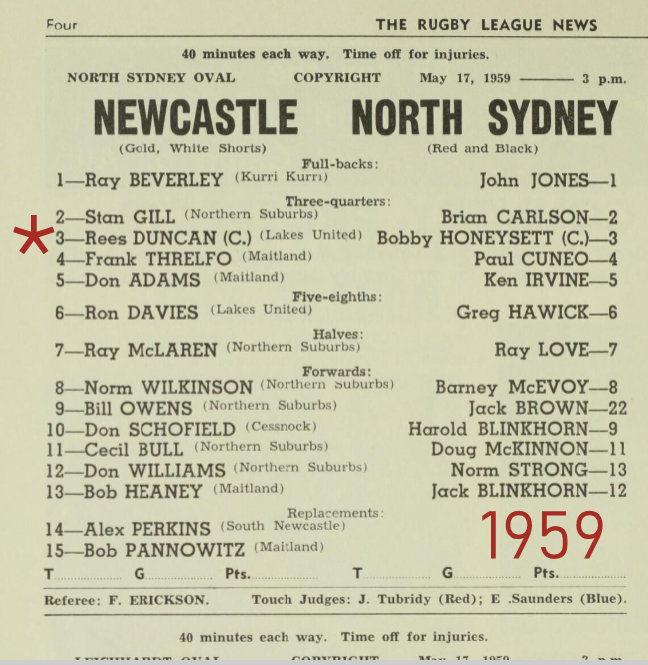 Also playing at Lakes United was Rees old room mate from the 1952 Kangaroo Tour Albert Paul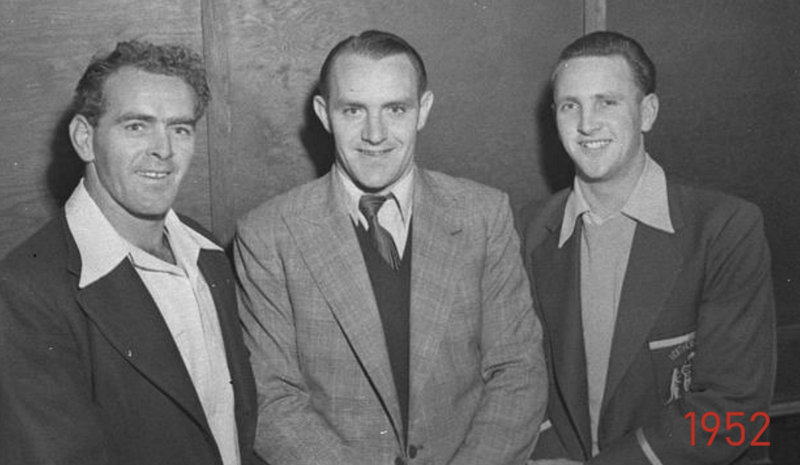 Left to right:  Charlie Gill, Albert Paul and Brian Carlson
All Newcastle players on Tour in 1952
1960
After a season at Lakes United Rees moved to the town of Scone and played for the local team
Rees was also chosen to play against the touring French team of 1960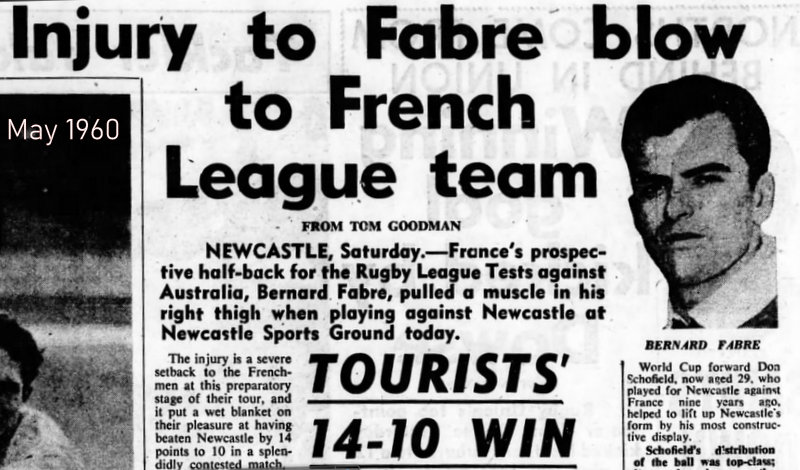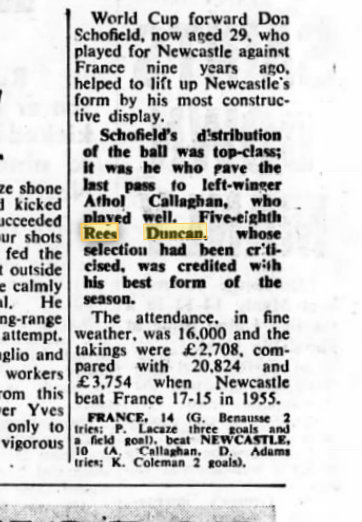 1961
Another year another job move. Rees and his wife Dorothy looked after the Goulburn Hotel in 1961
Rees being Rees at the age of 30 he Captain/ coached  one of the two Goulburn Rugby League teams Goulburn United

Rees was not the only ex international in Goulburn in 1961

Below beaten in the Semi Final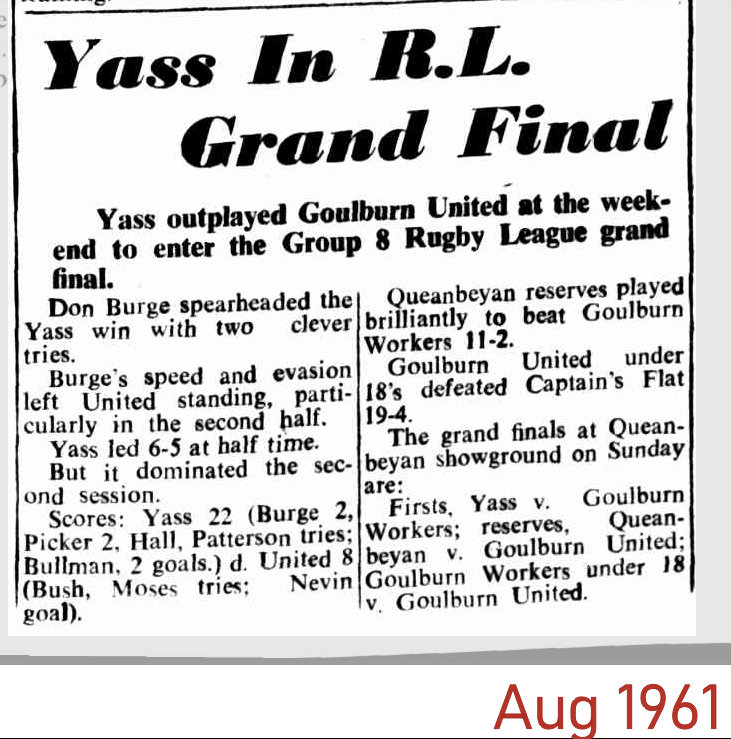 1962 – 1964
Having their home and successful business in the town of Scone
Rees and Dorothy moved back there after Goulburn and once again Rees was Captain /Coach of Scone Rugby League team
Using Scone as their base Rees found time to Captain/Coached Mudgee as well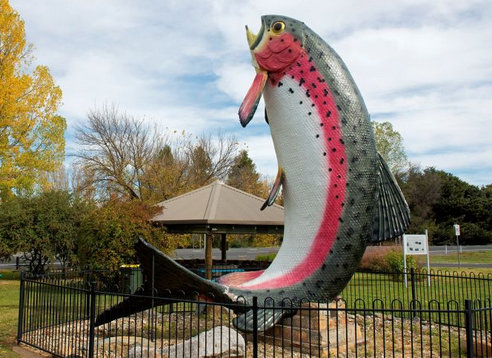 The Famous Big Trout at Adaminaby
Rees and Dorothy moved down to the  Adaminaby / Cooma area looking after Motels
Rees Captain/ Coached the local Rugby League team Cooma in Group 19
This story is only a very small part of the Rees and Dorothy Duncan life and times and of course adventures
*
A little recent history from 2010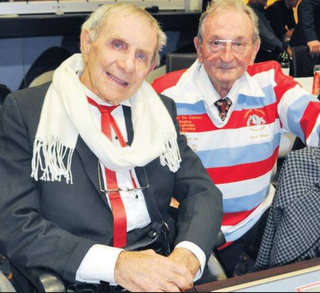 Rees and Noel White
Rees was named in the Kurri Rugby League Team of the Century in 2010

The 17-man squad include
Mark Hughes at fullback
Eddie Lumsden and Noel White on the wings
Dennis Boocker and Viv Madge in the centres
Rees Duncan Junior at five-eighth
Billy Roberts at halfback
Garry Sullivan at lock
George Hunter and Peter Brady in the second row
Bill Hamilton and John Sattler (captain) in the front row
and Jeff Masterman at hooker
with a bench comprising Jack Lumsden, Jeff Roach, Mick Shields and Phil Williams
Rees Duncan Senior was named Coach of the Century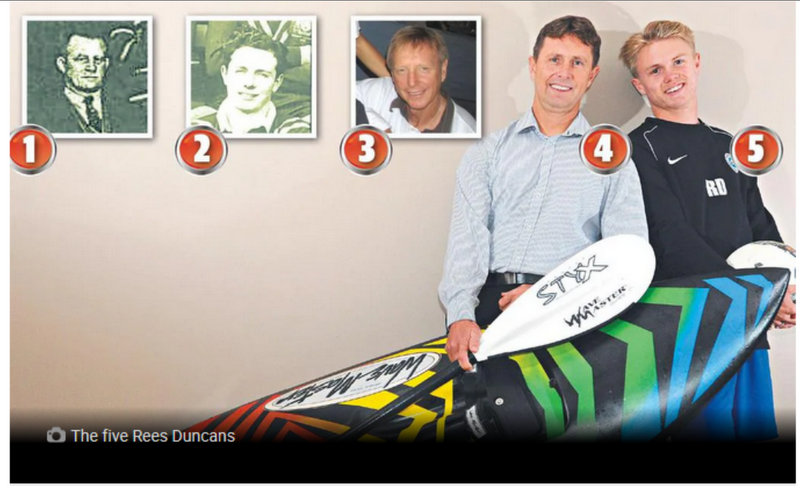 A long line of sportsmen all with the same name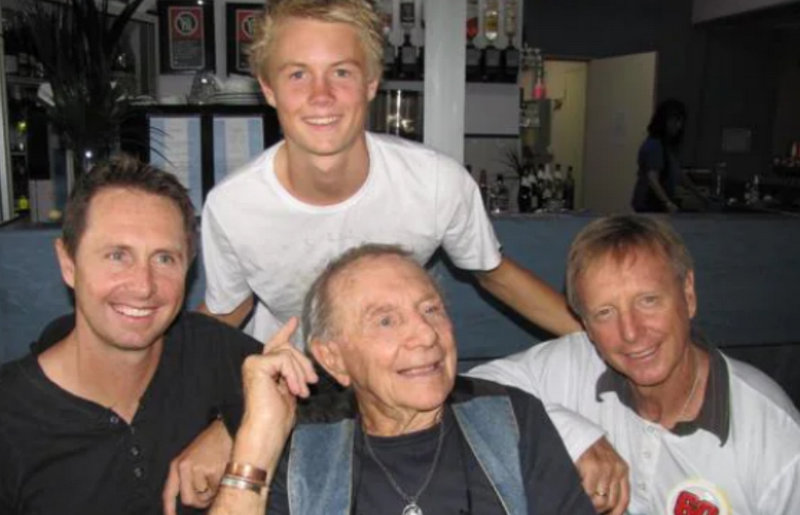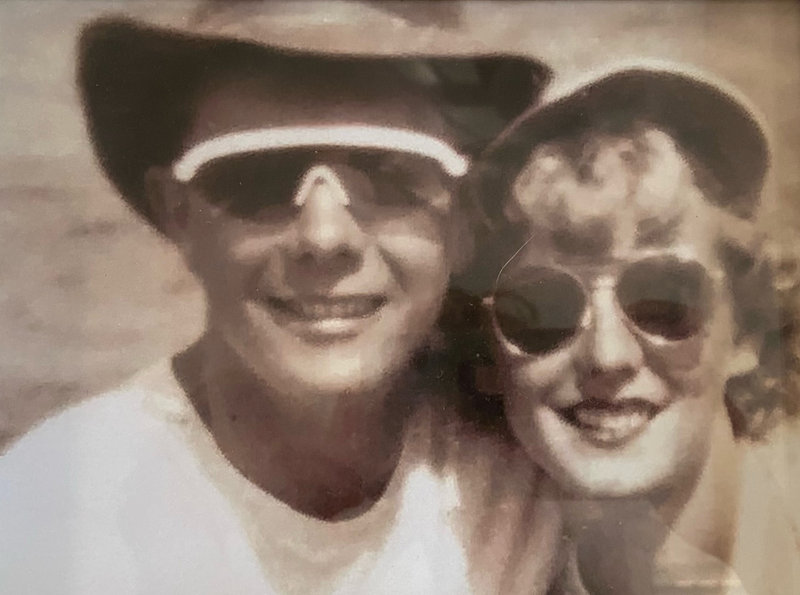 Newly weds back in 1952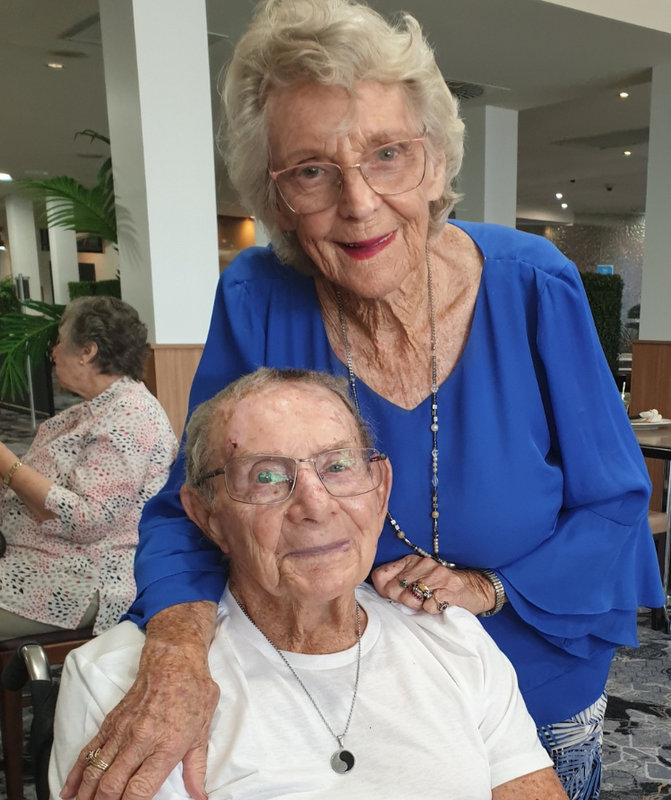 Dorothy and Rees in 2020
Rees Duncan with his Wests Players Medal number 563 (1958) June 2021
*
I would like to thank a few people for their help with this story
Rick Fetherston for presenting Rees with his Medal at Grafton
Steve Lalich for his photos of Rees
Steve also copied all the photos so Rick could present them to Rees and Dorothy
Most importantly to Dorothy and Rees thank you for your great memories of things that happened over 70 years ago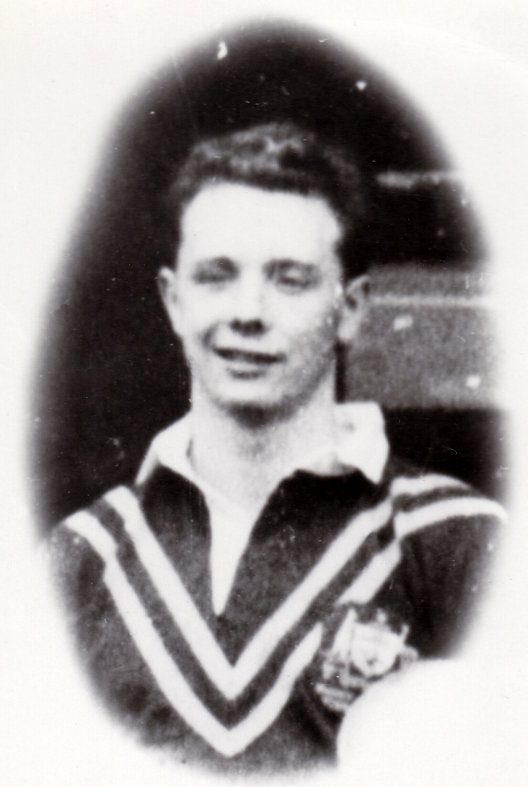 Rees Duncan in his Australian Test jumper 1952