Hello Guys.
The early photos of Enfield Federals and Wests 1932 Reserve Grade team that Neil Bennett sent through are absolutely fantastic. It has enabled me to build on my limited knowledge of this era and help confirm some of the distant stories my grandfather handed down.
Where possible I have identified first names of players and some officials
I have rewritten the first ten pages of Bill Knowles story and weaved in some of the local history of Enfield and have put together some of the stories of other players and their interactions particularly as they relate to rugby league, boxing and gaming.
I hope this additional information is useful to you and helps tell part of the story of Enfield Federals and Western Suburbs DRLFC
regards    Brent Knowles

I was sent this email via Neil Bennett from the Wests Archives little did I know what was hidden in the Bill Knowles Story.
Please take the time to read grandson Brent Knowles story of his grand dad.
These men were the "well diggers" of Rugby League.
If not for them there would be no Rugby League.
Bill Knowles 1908-1977
by Brent Knowles
Rugby League Playing Summary
Enfield Federals JRLFC 1927-1931
Western Suburbs DRLFC 1932-1935
Cooma RLFC 1934
Oriental Shamrocks 1934
Canterbury Bankstown DRLFC 1935 – 1940
Mudgee RLFC 1939
Homebush RLFC 1939
Camdenville RLFC 1941-1942
 Bill Knowles is my grandfather, he was born at Enfield NSW on 10 April 1908 and died at Liverpool NSW in 1977.
His registered birth name was Stanley Knowles although he was always called "Bill" or "Billy" and reported as W. Knowles in the newspapers of the time.
Bill lived much of his early life at Enfield and Burwood NSW. Bill stood about 5ft 9inches tall, weighed about 12 stone and had an athletic build.
*
I was twenty one when Bill died, so I knew him quite well and as a child I heard of the many stories of his colourful life. However, recollections often dim over the years and some stories become half truths while others become legendary.
Because he had such an interesting life I thought that it would be appropriate to properly research his life story and preserve it for future generations.
So what was essentially an essay on family history has become something more, being warmly embraced by the rugby league fraternity of his former clubs.
While they did not know Bill, as they are of a later generation or two,  they have been very enthusiastic in helping  piece together Bill's story. I didn't realise at first, but Bill Knowles story is part of their story and of course this builds a rich palate of history.
Bill has found his spiritual home here along with the many others who have worn the club colours.
I would like to acknowledge the valued assistance of Bill's nephew Bruce Roser, Nathan Cole  (Enfield Federals), Tony Lewis (Pratten Park Magpies),
Joe Begnall (President, Enfield Federals Past Players Association), and Neil Bennett (Archivist, Wests Archives).
Bill Knowles was graded with Western Suburbs DRLFC in 1932 from the Enfield Federals JRLFC  and was with Western Suburbs until the start of the 1935 season.
During this period he also spent part of 1934 as Captain/Coach of the Cooma Rugby League team.
With Western Suburbs, Bill Knowles played;
7 Reserve Grade games
He played in a combined Sydney Third Grade team (1932) against a combined Sydney Reserve Grade team as a curtain raiser to a NSW v England match at the SCG, represented Western Suburbs at the Sydney Rugby League knockout carnival (1933) where he ran second in the 100 yard forwards scratch race, and then backed up as a member of the winning teams relay event.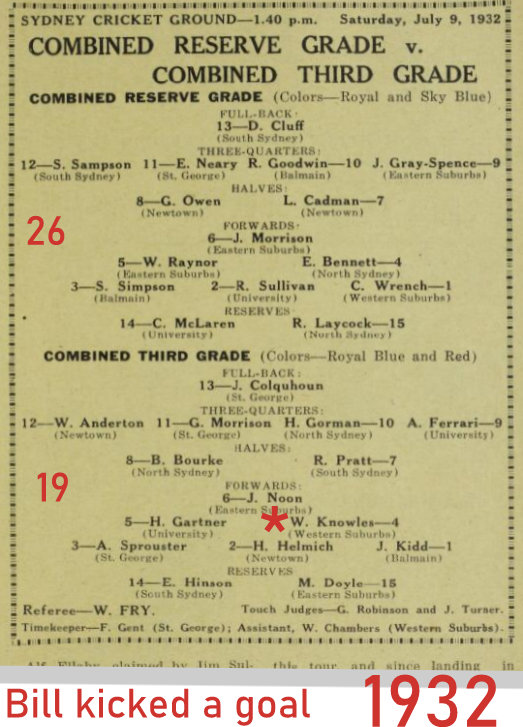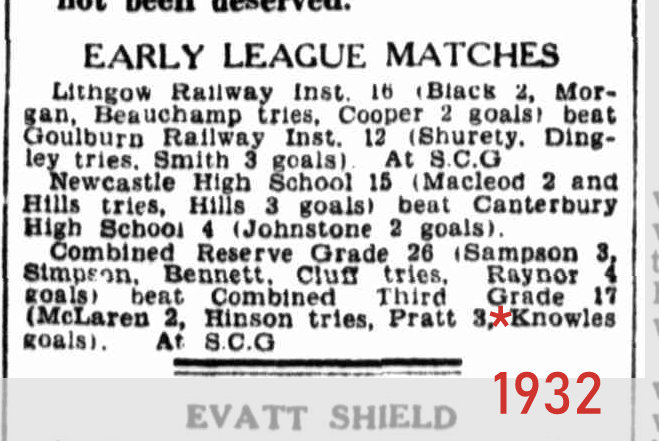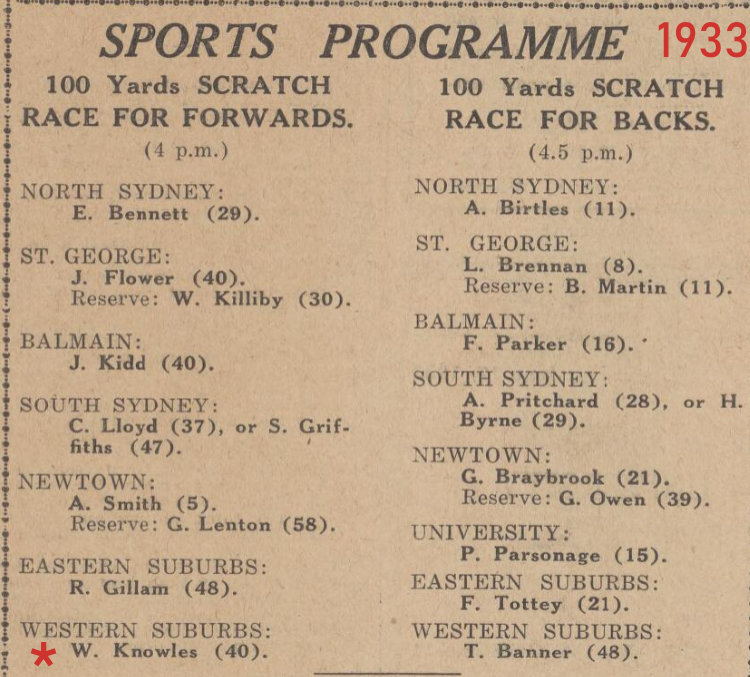 Bill joined the Canterbury Bankstown DRLFC in their inaugural year of 1935 and was with them until 1940 with a hiatus as Captain/Coach of the Mudgee Rugby League team (1939) and Homebush JRLFC (1939).
With Canterbury-Bankstown, Bill Knowles played;
3 First Grade games,
35 Reserve Grade games and
1 Third Grade game
Bill Knowles Canterbury – Bankstown Player number 30
He played in the first ever Canterbury Bankstown First Grade semi final appearance (1936) and again in a Reserve Grade semi final (1938) when he scored all of the team's points.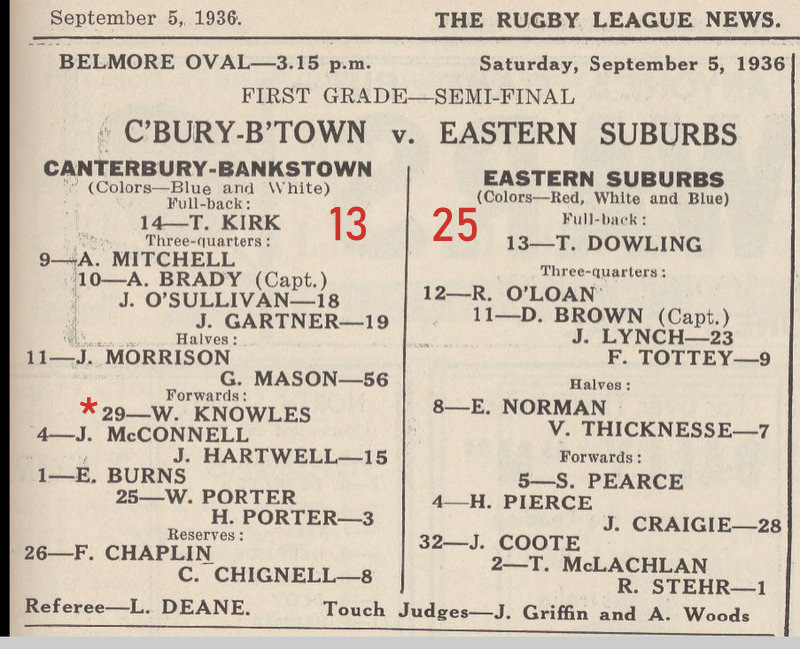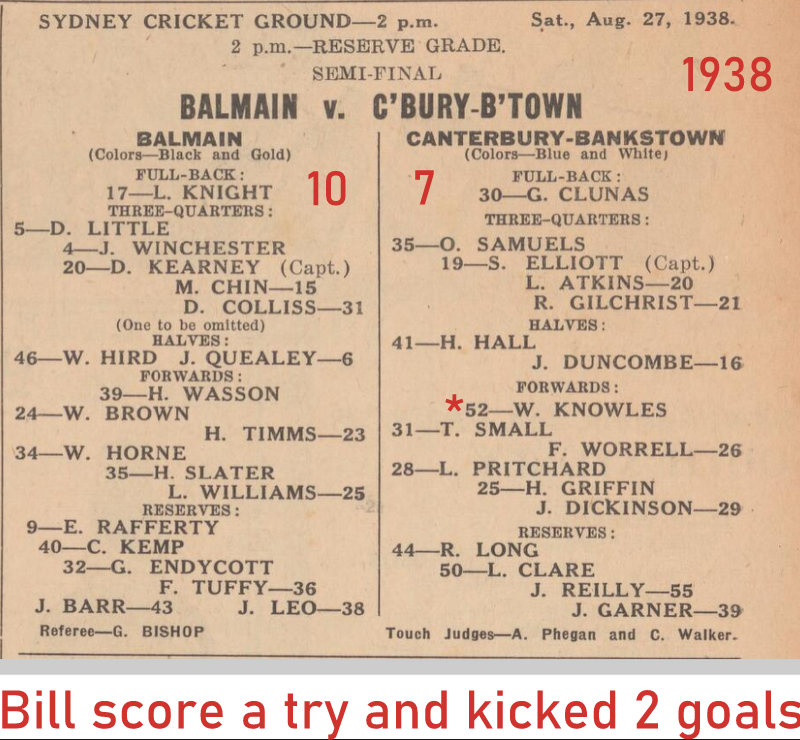 He was the top point scorer in Canterbury's Reserve Grade in 1938.
Bill was also chosen in Canterbury's First Grade squad in a number of other non premiership games.
In 1936 Bill Knowles played in a Reserve Grade Possibles v Probables match as a curtain raiser  to the Sydney v British Lions match at the SCG.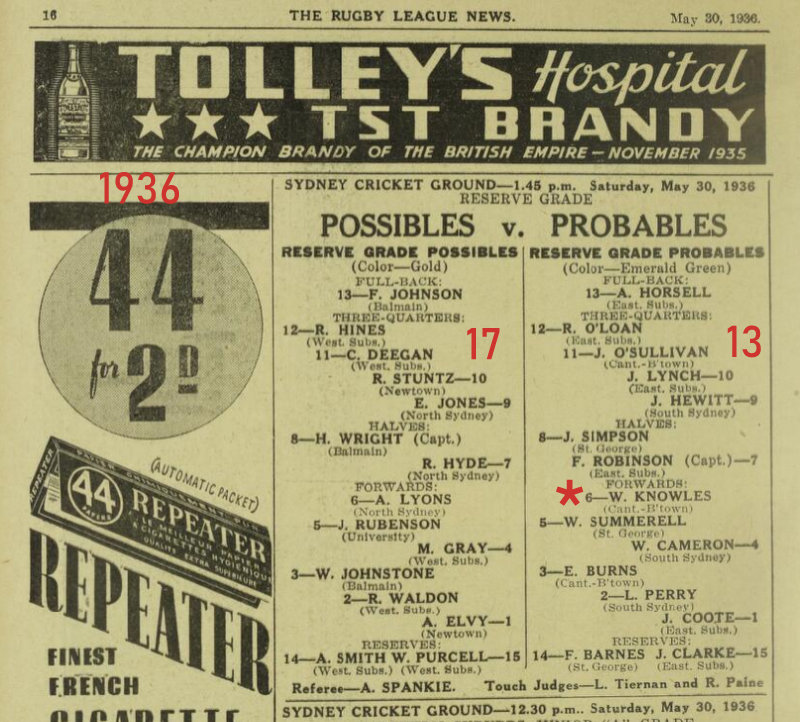 Bill Knowles was also selected  in the Canterbury Bankstown Night Competition relay team along with Frank Sponberg, Eddie Burns and Jack McConnell.
This is Bill Knowles Story:
The first newspaper appearance of Bill Knowles was on 30 May 1931 where he was reported as having kicked five goals for Enfield Federals "Blacks" in an A Grade rugby league match against Ashfield Rovers. He was again in the newspapers on 1 July 1931 where he was noted as one of the best backs in a win by Enfield Federals over Concord. The report noted that "the rival fullbacks, Knowles and Peterson, kicked and tackled splendidly, with honours slightly in favour of the former".
Unfortunately the reporting on local football matches was sporadic at best in those years and these are the only two accounts of Bill Knowles time in junior football. The newspaper, "The Referee", was one of the few newspapers that gave an account of such sporting matches and it appears to have only done so in 1931. Bill Knowles was 23 years old by this time and given his life-long interest in all sports, was most likely involved in junior sports much earlier.
Bill's nephew, Bruce Roser, who also played for Enfield Federals between 1963-1973 recounts Bill telling him that he started playing with Enfield Federals about 1928. Subsequently the Enfield Federals / Western Suburbs Rugby League Archives have been able to locate two team photos from this period.
Bill Knowles played in the undefeated  1927 Enfield Federals Premiership winning B Grade team. This team was also undefeated premiers in 1926 as well as winners of the Winn Cup in 1922, 1924 and 1927. The B Grade competition was for players under twenty one years of age and the Winn Cup was a B Grade knockout competition for teams in the Western Suburbs Junior Rugby League.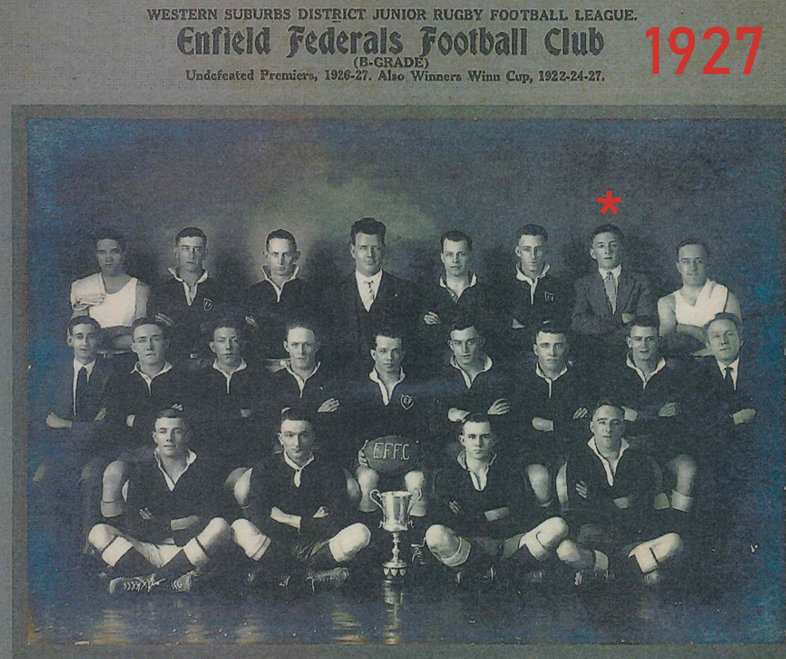 Back Row:     K Jones (Trainer), Alfred Power, A Dunlop, Claude McFayden (Coach), Ed Green, C Olsen, W "Bill" Knowles, (Committee),      John Clough (Trainer).
Middle Row: Frank Grant (Secretary), George Johnson, E Denham, Edward Johnson, Arthur Green (Captain),
Edward Duggan (Vice Captain), Cecil "Bill" Melton. Tom Stanton, R Johnson senr. (Committee)
Front Row:   Fred Andrews, Francis Jones, Roy Cook, R Hamilton,
Absent:          L Hyams (Patron), Roy Robertson Penman (President), D. O'Shea (Vice President), H Wild (Vice President),
Lawrence "Laurie" Meredith
Bill Knowles would have been nineteen when this photo was taken.
It is not clear why Bill was in a suit and was identified as a Committee man.
It may have been that he was not playing due to injury on the day that the photo was taken or perhaps he was going on a date with my grandmother, Rebecca Maris who he married a few months later in January 1928.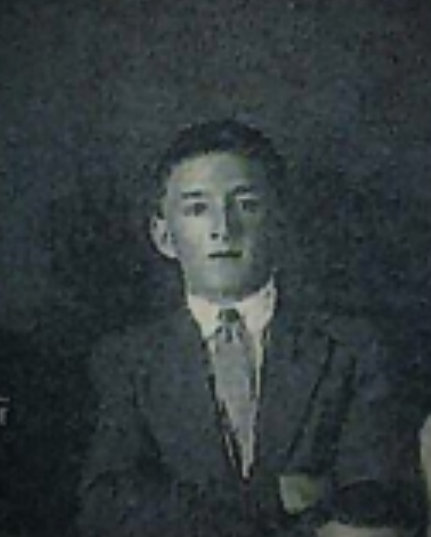 Bill Knowles 1927 aged 19
One of the players of interest in the Enfield Federals photograph from 1927 is C Melton. C Melton was born Cecil William Melton but later records indicate that he referred to himself as William Cecil Melton but was better known as Billy Melton. In the 1931 Enfield Federals team photo he was listed as W Melton.
Billy Melton was a top class featherweight boxer who was trained and managed by the former Australian Middleweight contender, Harry Dawson. Harry Dawson, who was considered one of the best boxing tutors in Australia, had a boxing Gym at Enfield and at one time had more than thirty boxers in training. Harry Dawson also taught Bill Knowles how to box and assisted Bill Knowles when Bill was running his boxing gyms at Enfield and Burwood in the 1940's.
Billy Melton first started boxing in 1925 and by 1927 he had established himself as a top contender. He would have been building his boxing career at the same time he was playing rugby league for Enfield Federals. Not long after the 1927 photo was taken, Harry Dawson organised a trip to New Zealand for Billy Melton to fight the New Zealander, Johnnie Leckie, the Australasian Featherweight title holder.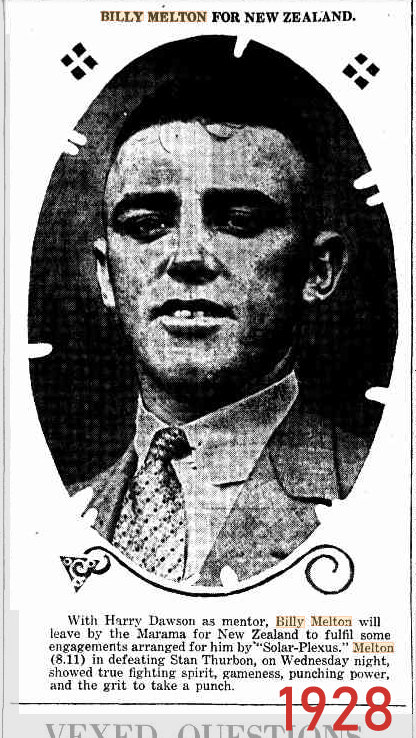 Billy Melton, did not win the title and had mixed results in New Zealand. After he came back he was not quite the same boxer. He had a few more fights, put on some additional weight and had retired from boxing by 1930. However he did continue with rugby league and played A Grade for Enfield Federals in 1931.
Boxing was a very popular sport in Australia in the first half of the 20th century and the 1920's was arguably the golden era for the sport. Boxing gyms and clubs were established in many Sydney Suburbs and Billy Melton like many other young men at the time entered amateur boxing "tourneys" that were held each week, to try their luck and hopefully go on to the main events. Local venues included the disused Burwood No. 2 Cinema and the Broadway Palace Theatre at 325 Liverpool Rd Enfield which held boxing tournaments from 1925.
Amateur boxing in Enfield can be traced back at least to 1909 when the Enfield Pastime Club established itself at the former Enfield Cinema, although its first tournament was held in the Federal Hall at Burwood. Harry Dawson established his connection with Enfield at this time by refereeing the tournament rounds and over the years involved himself with tutoring many Enfield boxers. Dawson's Gym at Enfield was at its peak in the mid 1920's until the early 1930's. In 1927 Harry Dawson was interviewed for the Arrow newspaper and the article reported that ; "Harry Dawson has a unique class. He has fifteen lads to instruct and not one of them uses language, drinks or smokes. Like teacher, like pupils. Harry should get some good ones from such a batch." Bill Knowles was certainly an avid pupil as he was reported on a number of occasions using this mantra when he was coaching.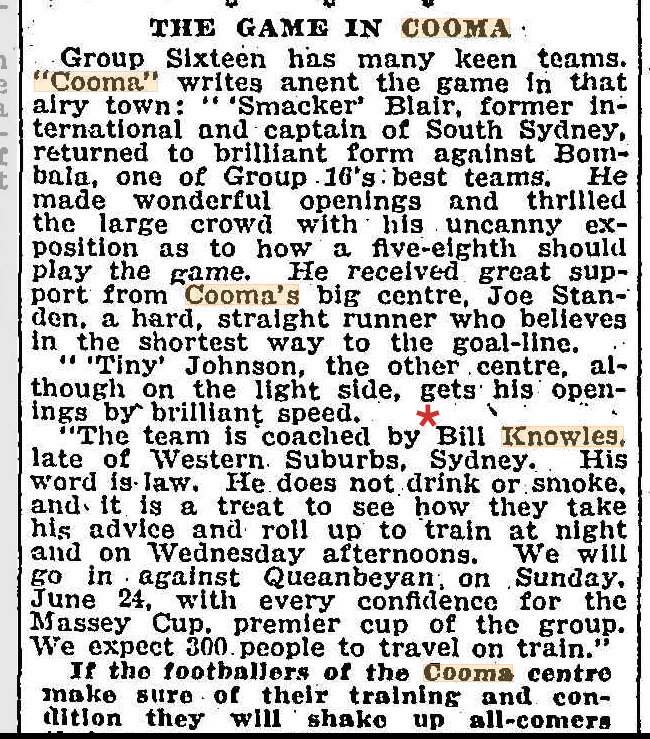 There were other boxing gyms in Enfield over the period including Bill Knowles gym in the 1940's, Bill Manners gym, Jack Ring's gym as well as Cec Melton's gym. It is likely that many of these gyms were operating out of the same premises. Cec Melton took control in the early 1930's at a time when Harry Dawson was winding down. The gym (most likely the former Palace Theatre) was very close to the Melton Sports Club complex at 335 Liverpool Road, at the intersection of Liverpool Road and the Boulevard. Harry Dawson formally retired in 1938 and Bill Manners emerged at that time.
However it is the relationship between the 1927 Enfield Federals and Dawson's gym which is of most interest. Boxing provided a great forum for achieving a high level of fitness and discipline, attributes that go well in other sports such as rugby league. It is therefore no surprise that the young men of Enfield participated in both sports.
From the Enfield Federals team photo of 1927 it can be established that players, Billy Melton, Billy Knowles and Lawrence "Laurie" Meredith were all trained by Harry Dawson. Other names including Frank Grant, Art Green, "Snooker" Cook and Ed Green were also trained by Harry Dawson. These are names that appear in the Enfield Federals photo and are most likely the same young men.
Laurie Meredith is the second cousin of Bill Knowles and it is noted that he was the only player missing from the 1927 team photo. The reason why he was missing is that he had his jaw broken in two places from an assault and spent nine weeks in Lewisham Hospital recuperating. The assault came about after a drawn boxing bout with William Savage at Parramatta.
Savage's brother Thomas, who had fought Billy Melton a few months earlier, and his father Frederick Savage approached Meredith in the dressing room after the bout complaining about the result. Frederick Savage punched Laurie Meredith breaking his jaw and Thomas Savage followed up with more punches.
Both men were charged with grievous bodily harm.
A number of the 1927 Enfield Federals players were still with the Club in 1931 and playing in the A Grade team.
In July of 1931 Enfield Federals won the Western Suburbs junior rugby league knock out carnival.
Beating Burwood on a count back and then defeating Croydon 3-0 in the final.
Enfield Federals also won the 440yd team relay race.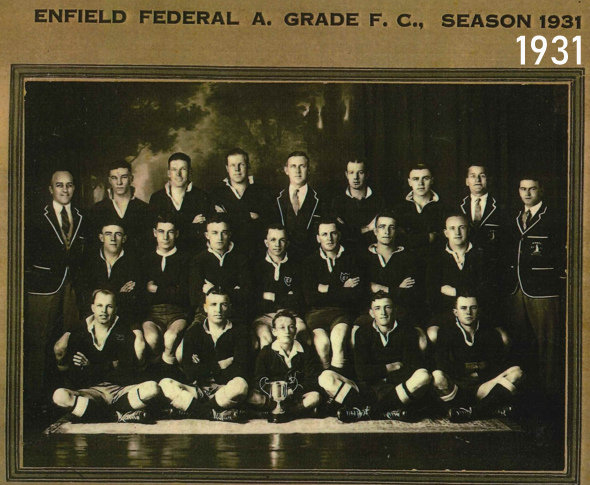 Standing:        John Clough (Committee), Lionel Frappell, Dudley Plant, Edward Grant, Frank McCauley (Coach),                              P Mason, Herbert Quinn, Frederick Phillis, (Secretary), Tom Stanton (Committee)
Second Row:  Stanley Wall, Harold Richards, Edward Duggan (Vice Captain), Arthur Green (Captain), John Cope,                            William Kroehnert, R Shirt
Sitting:            Harold Green, W (Cecil) "Bill" Melton, M Thompson (Mascot), W (Stanley) "Bill" Knowles, Roy Cook
Absent:            Arthur Ellison, George Gumbleton
Enfield Federals played well throughout the premiership competition but fell short at the end losing 10-6 to Burwood in the final. Burwood had played well throughout the season and were the minor premiers by a clear margin, so deserved to take out the 1932 A Grade premiership.
The 1930's was a difficult time for many. The great depression affected many families and individuals during this decade. Unemployment peaked at 32% in 1932 and only slowly reduced to 11% by the second world war. Work was difficult to come by and many were on relief programs or tried their luck by going "on the wallaby" to find employment in the country. For others, like Bill Knowles, they turned to whatever they could find. Bill Knowles had a wife and two children by 1931 and so he cut clothes props and sold them from door to door in the eastern suburbs and at other times sold fruit and vegetables from a horse and cart around the Burwood area.
His residential address in 1931 was 333 Liverpool Rd Enfield and his occupation was recorded as barman.
It is likely that he was working next door at Melton's Sports Club. While rugby league could bring notoriety and provide a living for some, for most it was a competitive struggle to make it to the top and not an occupation that was going to consistently put food on the table or pay the rent.
Enfield was very much like any other working class suburb where rugby league, boxing, racing (both horses and greyhounds) and gambling  were activities that appealed to the majority. The surge in SP betting and other forms of gambling such as two up, which were illegal, proliferated during the 1930's and 40's.
This form of gambling was popular in the hotels and ultimately evolved into establishments such as Melton's Sports Club. The popularity of this form of gambling increased due to the economic conditions of the Great Depression and as resistance to the establishment racing clubs. Therefore while it was illegal, most people didn't consider the activity criminal. The Police often turned a "blind eye" and in some cases profited as a result.
By 1938 pressure was building and a Royal Commission had been established. The Licensing Police were mobilised to conduct raids on suspected illegal gaming venues. In 1938 Bill Melton was the proprietor of Melton's Sports Club which was subjected to a raid and Bill Melton was subsequently fined 50 pounds. Each of the 57 punters (all men) found on the premises were fined 2 pound each.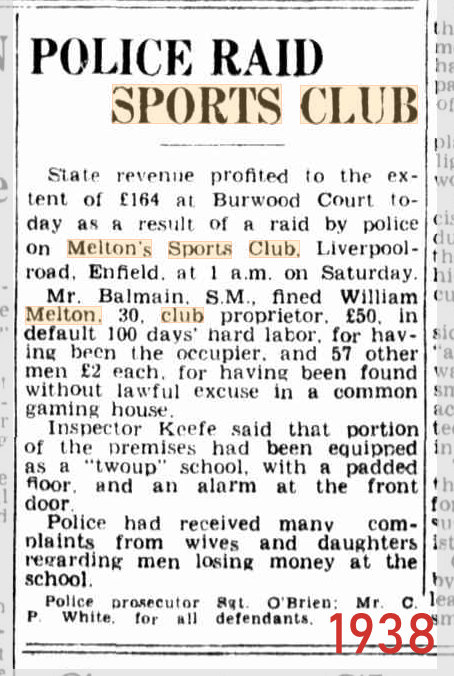 The Police produced evidence that the Club had been equipped as a two up school with a padded floor and an alarm at the front door.
The Police also raided the property to the rear, 198 The Boulevard Enfield, which was owned by Clara Australia Thompson. Clara Thompson was about eighty years old at this time and unlikely to be running a gaming establishment. It can only be assumed that this property was part of the Melton's Sports Club complex.
Bill Melton was again raided in 1954 at his home in Burlington St Homebush where he was running a Dice game in a shed at the rear. Bill Melton was fined 40 pounds and the other 21 men were fined 3 pounds each. It would be wrong to create the impression that Bill Melton was solely responsible for running illegal gaming in Enfield. Both his grandfather, William Melton and father Cec Melton had interaction  with the law regarding illegal gaming and related activities over the years. It has to be concluded that as a family they were quite good at it over an extended period.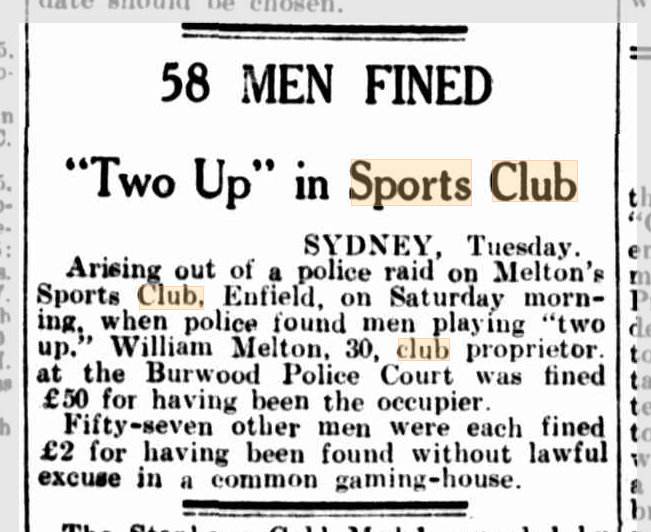 In fact Bill Melton's father, Cec Melton appears to have made the most of his entrepreneurial activities. In 1943 Cec Melton was taken to Court by the Taxation Department where it was alleged that he had made a large income from operating a two up school. He was fined 100 pounds for not lodging a tax return. His assets were estimated at 5,378 pounds and his outstanding tax amounted to 1,500 pounds. This contrasts with the average weekly wage of a couple of pounds at this time.
Police raids on suspected illegal gaming and sly grog establishments were a regular occurrence during the 1930's and 40's across Sydney and while the Meltons were targeted at Enfield, the neighbouring suburb of Burwood also received a lot of attention. Bill Knowles premises at George St Burwood were rented to the SP bookmaker, "Star" Andrews on Saturdays during the 1940's. Bill's son, Stan Knowles (my father), used to rent his radio to the SP bookmaker and run the starting prices up Burwood Road. These premises were raided from time to time and Bill Knowles used to tell the story of getting tip offs on impending raids and shifting sly grog off the premises. When the raids occurred the punters would scramble out through the back fence or over the roof tops of adjoining buildings. Bill Knowles appeared to be unscathed from these events.
Unlike most other illegal activities it was not common for the names of offenders who had been arrested to be reported in the newspapers. This may have reflected the view that these were not serious crimes or that they were so common place that there was not a great interest in those who were caught up in the raids and subsequently arrested.
These days gambling and the sale of alcohol are highly regulated and can be enjoyed by the public in hotels, clubs, casinos and sporting venues. In the 1930's and 40's that was not the case, so these illegal venues were a location of choice for working class members of the community as they provided a comfortable place for social interaction, sporting interests and enjoyment. The area around The Broadway at Enfield would have been a lively place pre and post world war two.
The Melton and Knowles families go back a long way. Greyhound breeding, training and racing appear to have been always of interest. Bill Knowles uncle, James Nathaniel Knowles has always had greyhounds. Family photos from the early 1900's show family members with greyhounds. James Knowles was also elected as a member of the NSW National Coursing association in 1915.
The Meltons apart from their other interests were serious greyhound breeders and raced the dogs during the 1930's and 40's. Some of these dogs won some major races including the prestigious NSW Waterloo Cup, which was the premier event in Australian greyhound coursing. Billy Melton's father, Cec Melton and Billy Knowles uncle, James Nathanial Knowles, who trained greyhounds, were photographed together with the greyhound that won the prestigious NSW Waterloo Cup.
In 1932, Bill Knowles was focussed on developing his rugby league career with Western Suburbs. While having some talent was important, this did not guarantee success. The games rules made it difficult for players to ply their trade. The residential rules required a player to only play for the District team in which they lived. To move to another team it was necessary to reside for 12 months in that new District to be eligible. It was also not possible to play for more than one metropolitan club in any one year  This made it quite difficult for players to move from one team to another if they fell out of favour or saw better opportunities at a new club. No doubt there was some creative stories to try and overcome these restrictive practices. Nevertheless for the strong established clubs like Western Suburbs this was a distinct advantage as they were able to capture and hold a lot of their young talent and readily supplement the group of established stars in their ranks.
The other issue that was a fall out from the economic conditions during the 1930's is that often country rugby league clubs had a distinct financial advantage over their city counterparts. In some country areas employment was reasonably strong and there was sufficient wealth to attract the better city players for a stint in the "bush." This became a problem in the early 1930's and the city clubs invoked the residential rule with some vigour. Disgruntled players or those simply taking advantage of the substantive offers from country clubs would have to apply to their home club for a transfer approval. Some of these transfers were rejected and went to an appeal process for resolution.
The Enfield Federals A Grade team of 1931 had a lot of talent and three players went on to be graded with the Western Suburbs District Rugby League Club in 1932. Lionel Frappell and Bill Knowles were selected in the Reserve Grade team for the start of the 1932 season and John Cope was selected in Third Grade.
Lionel Frappell (Western Suburbs, Player number 320 (1934) and Bill Knowles (Canterbury- Bankstown,Player number 30 (1935) eventually went on to play First Grade.

Bill Knowles                                                 Lionel Frappell                                                    John Cope
1931 Enfield Federals A Grade players graded with Western Suburbs DRLFC in 1932
Bill Knowles had immediate success in the trial matches at the start of the season, scoring a try against Balmain, a try in a Reserve Grade match against Eastern Suburbs and a try and a goal against St George.
He was graded and listed in West's Reserve Grade team and played the first six matches in the second row. In round seven and eight he played in Third Grade as a centre outside the great Vic Hey who was also having his debut year in grade football (Note: The Rugby League Hall of Fame  lists Vic Hey as commencing his grade career with Western Suburbs in 1933, however he was graded in 1932).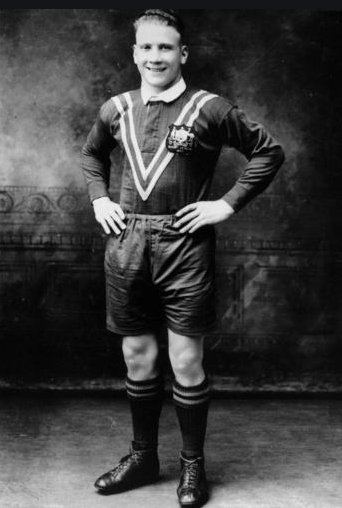 Vic Hey
In the two Third Grade matches Bill Knowles kicked five goals.
It is not clear why Bill was suddenly selected in the backline or why he went down to Third Grade but it may have been a ploy because immediately after the second game in Third Grade on 3 July 1932 it was announced that Bill Knowles had been picked in a combined Sydney Third Grade side to play against a combined Sydney Reserve Grade side in a curtain raiser to the British Lions v NSW match on the following Saturday at the Sydney Cricket Ground. The only other Western Suburbs representative was Charlie Wrench (Wests 290) who was picked in the combined Reserve Grade team.
On 9 July Bill Knowles played in the Combined Sydney Third Grade team which lost 17-26 to the Combined Sydney Reserve Grade team. Bill Knowles played second row and kicked a goal. There were just under 20,000 spectators at the Sydney Cricket Ground that day.
The following week Bill Knowles was back in the Western Suburbs Reserve Grade team at lock forward.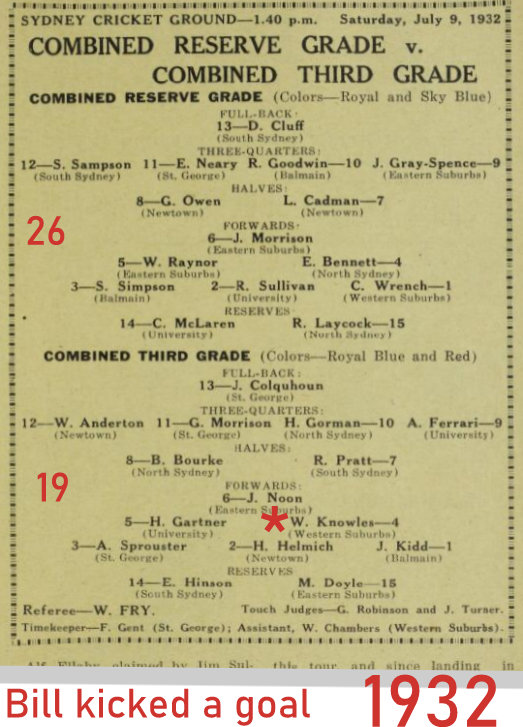 Bill Knowles 1932 season came to an end with two matches to go in the regular season.
The Rugby League News reported that, " Promising forward Billy Knowles was an absentee (in the match against St George on 20 Aug) through the fact that he is nursing a cauliflower ear that would do credit to some of the wrestling artists in our midst."
1932 was Bill Knowles inaugural season in Sydney Grade Rugby League. He played eleven of the fourteen round matches, missing the last two with injury. He was unlucky as that year Western Suburbs went on and were runners up in the Grand final in First and Third Grade and were semi finalists in Reserve Grade. He is one of five players missing from the 1932 Western Suburbs Reserve Grade – Semi Finalists team photo no doubt as a result of the season ending injury he received in the third last round. During 1932 Bill Knowles played seven Reserve Grade games, four Third Grade games, a representative match as well as all of the pre season trials.
During the regular season he scored one try and kicked five goals.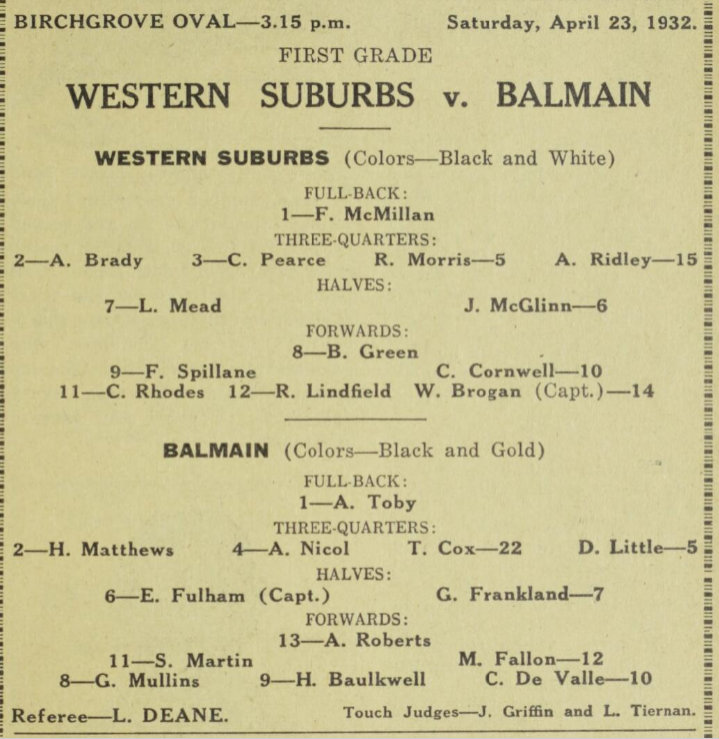 In retrospect this was a great year for Bill Knowles. Apart from his personal achievements it needs to be acknowledged that he was playing in a golden era for the Western Suburbs Magpies who boasted quite a number of international players, experienced grade footballers and many talented youngsters trying to make their mark. Two notables in the latter category were Vic Hey and Frank Sponberg who both commenced their careers in 1932 with Western Suburbs and went on to achieve the highest honours. Frank Sponberg was somewhat of a nemesis for Bill Knowles as he played in Bill's preferred position of lock forward and later moved to Canterbury Bankstown when Bill was also there.
Frank Sponberg
Wests Player number 294 (1932) and Canterbury – Bankstown Player number 10 (1935)
It is also worth noting that in 1932, the First Grade team was very stable with little change in personnel. From year to year there is often a significant turnover of players and for a range of reasons, including injuries,  opportunities arise for lower grade players to make their debut in First Grade. In 1932 there were only four players that made their First Grade debut for Western Suburbs. These players were Frank Sponberg (Wests #294), Jack McGlinn (Wests #293), Robert McMillan (Wests #292) and Harold "Mick" Rankine (Wests #295). Of these players, Harold Rankine played mainly in the Reserve Grade team but managed two first grade games in 1932 being the semi final and the First Grade grand final played against South Sydney.
The 1932 Western Suburbs Reserve Grade team was also interesting as all but one of the nineteen players had either played or would go on to play First Grade football.  Of the eighteen players in Reserve Grade, that would have First Grade experience, seventeen of them achieved this with Western Suburbs.
Bill Knowles was the only one that did not play First Grade with Wests. His time came at Canterbury when he and  a number of his Western Suburbs team mates went across to play with the newly created Canterbury-Bankstown team. Of the Reserve Grade players that had previous First Grade experience only Frank Spillane (8 games) and Ken Sherwood  (6 games) had any significant time in the 1932 First Grade squad
The only 1932 Reserve Grade player not to play First Grade was Jack Conley. Ironically, he played in a Western Suburbs Junior Rugby League A Grade Grand Final in 1934 for Homebush against Oriental Shamrocks. The final score was 2-2 with Conley kicking the goal for Homebush and Bill Knowles kicking the goal for Shamrocks. Bill Knowles made a brief appearance with Shamrocks after he returned from his stint in Cooma.
It can be seen that Western Suburbs had a wealth of talent in the early 1930's and with the ambitions of many not being fulfilled due to the quality of the First Grade squad and the restrictive residential rules it is easy to understand why a number of players sought opportunities in Country Football and why quite a number went over to play for Canterbury-Bankstown when they entered the competition in 1935.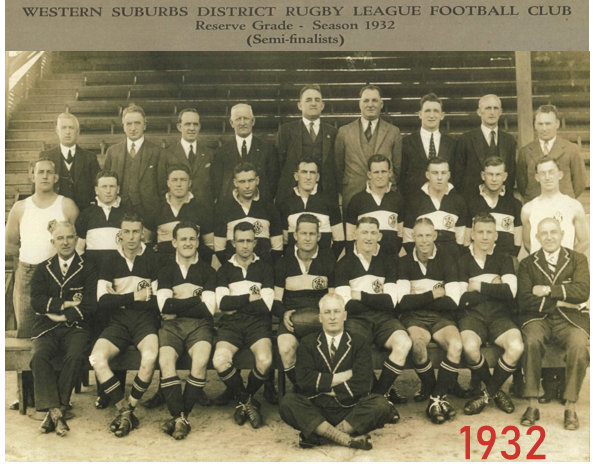 Back Row:      H Moxham (Hon Treas), H Hudson (Vice Pres), R Gamble (Vice Pres), Jim White (Dis Sec), Bob Liston (Vice                Pres), J Murray (Sel), R Vest (Sel), W Knight (Sec 3rd Grade), H Owen (Sel)
Middle Row:  H Lee (Trainer), Fred Comber, Ken Sherwood, Charlie Wrench, Frank Spillane, William "Bill" Howes,                          Lionel Frappell, Stan Tancred, A Armstrong (Trainer)
Front Row:    W Finegan (Sel), Richard "Dick" Davis, Jack Conley, Harry Cameron (Vice Capt), Neil Matterson (Capt),
Harold "Mick" Rankine, R Shepherd, Vic  Hey, C Elliott (Res Grade Sec),
In Front:        L Chambers (Vice Pres)
Absent:          Tom Magnus, Jack Rosa, W "Bill" Knowles, Charlie Cant, W "Bill" Carpenter
Below program from the 1932 Reserve Grade Semi Final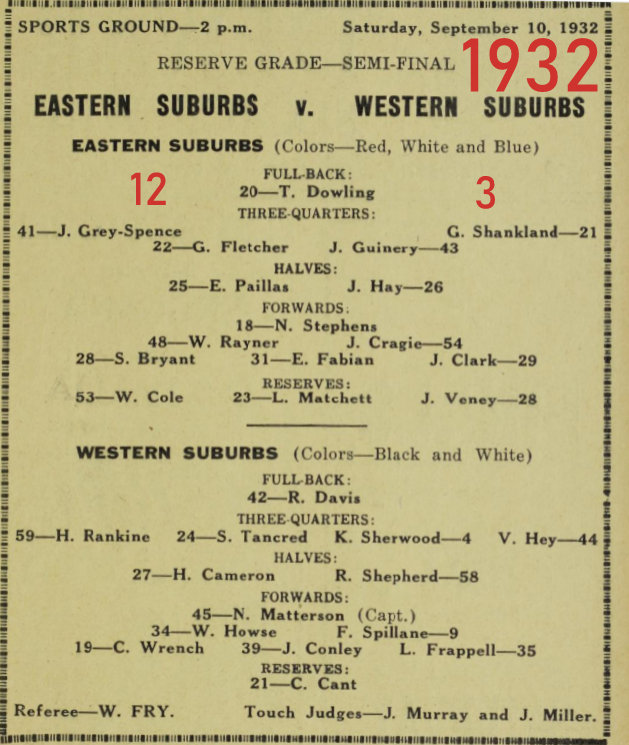 In 1933 Bill Knowles played pre season trial matches against Eastern Suburbs and North Sydney (Reserve Grade). He was listed on 17 April to play in the Western Suburbs Third Grade team for the season opener.
1933 was significant in that a Kangaroo touring team was to be picked and scheduled to leave for England mid season. This had an impact on the top teams, particularly for Western Suburbs as they had five members of the first grade team selected for the tour including Frank McMillan the Kangaroos captain. The Western Suburbs First Grade team were doing reasonably well for the first part of the season but didn't win a game in the second half of the season.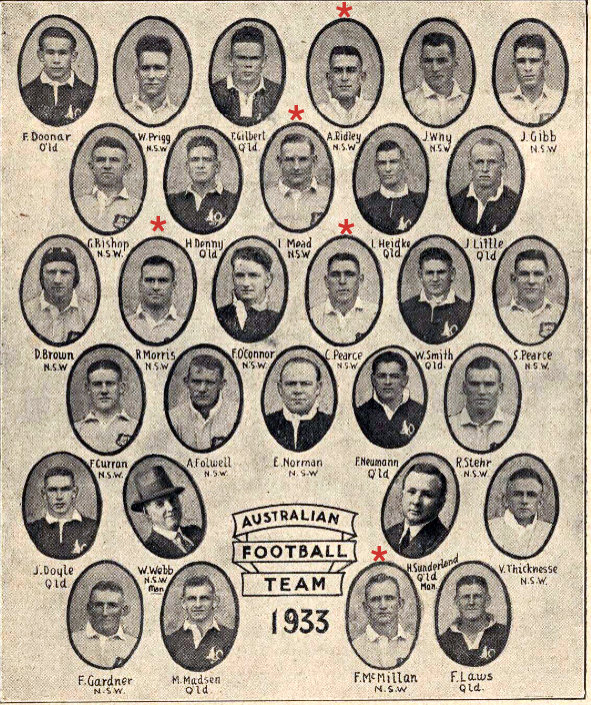 * Wests Players
The disruption was no doubt felt by the lower grades as well. Many new players were introduced and players were selected in a variety of positions. For Bill Knowles it appears that there was a level of frustration in 1933, yet some highlights as well.
Bill played the first three games of the regular season in Third Grade. He played second row and kicked six goals in these matches. He then did not appear in the next two games and there is no explanation for this.
Bill's next appearance was at the Sydney Rugby League knockout carnival. This carnival pitted Sydney Rugby League teams against each other in a knockout format with the winner of each match moving on to the next round until there was a winner. Western Suburbs were knocked out early and there is no record of Bill Knowles playing in this match.
However Bill Knowles was selected as the Western Suburbs representative in the forwards scratch race. These races were held in high esteem as there were bragging rights for the Clubs that had the fastest players. There were three events held before the Knockout Final. These were the forwards 100 yards scratch race, the backs 100 yards scratch race and the 440 yards relay race open to any graded rugby league player. All participants had to wear their club uniform including football boots.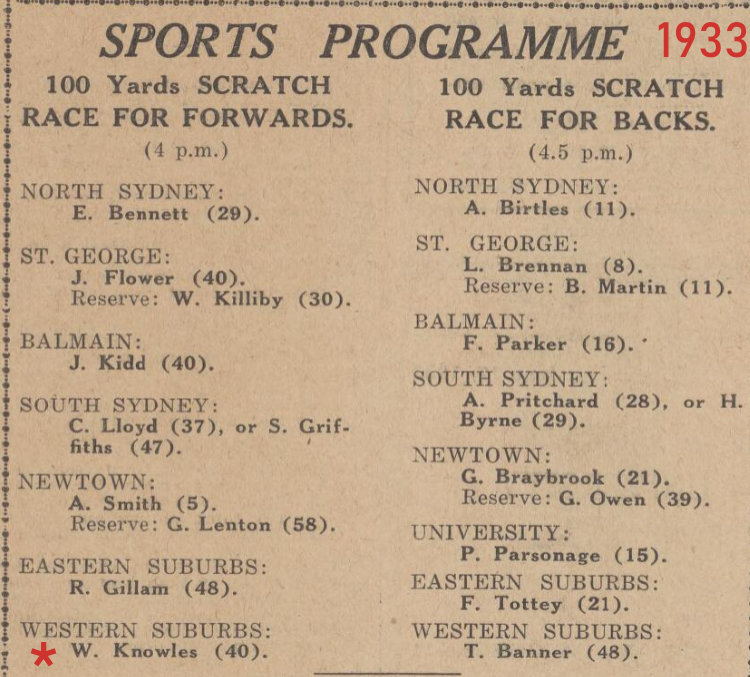 Bill Knowles ran second in the 100 yard forwards scratch race, beaten in the last few strides by Eric Bennett of North Sydney with Alf Smith of the Newtown Club third. The winner's time was 11 seconds which was fairly quick given that they were in full football kit.
The backs scratch race commenced five minutes after the forwards race and the relay commenced five minutes after that. Western Suburbs Club had a fresh set of four runners to tackle the relay but Frank Sponberg withdrew and Bill Knowles took his place.
Each team member was required to run 110 yards and then hand a flag onto the next runner who repeated the same feat. Again all participants were required to run in full football kit. With little time to recover from the forwards scratch race, Bill Knowles joined his team mates of Tom Magnus (Wests 307), Les Midson (Wests 300) and Richard "Dick" Davis (Wests 289). Midson and Magnus were both wingers and Davis was a fullback. All three of these players played first grade for Western Suburbs. The Western Suburbs Magpies took all before them, winning the event with the South Sydney and St George teams finishing in second and third position respectively.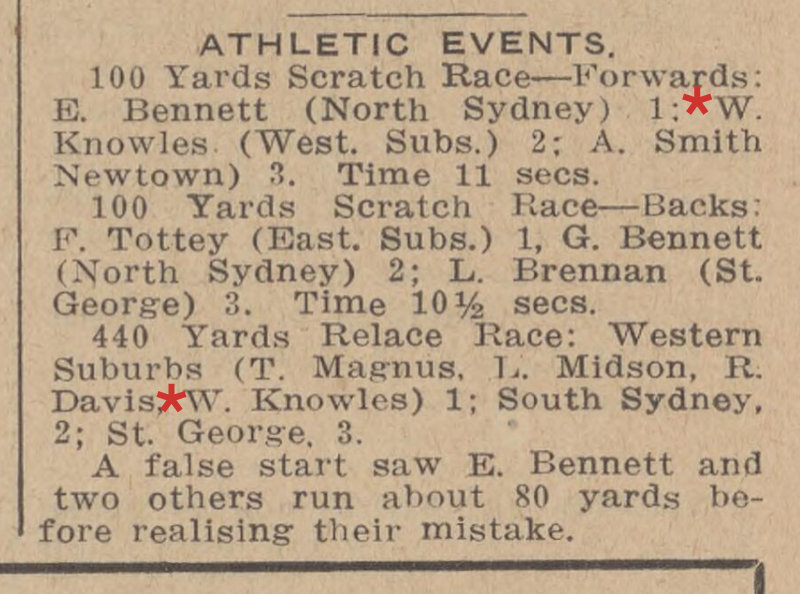 The Rugby League News of June 24 1933 reported "The dash of Billy Knowles in a race for forwards and repeated in the relay race last week was an eye opener to his club followers, many of whom are of the opinion that Bill should have a trial with the back division in future matches."
The views of the West's supporters and the Rugby League News didn't appear to influence the Western Suburbs selectors as the week after the Knockout Carnival, Bill Knowles was picked to play in the second row against Eastern Suburbs Third Grade.
The following week he was picked as a lock forward against St George Third Grade. The week after he was picked at lock forward against University Third Grade but actually played fullback. He kicked five goals that day. The week after that he was back in the second row against Balmain. That was Bill's last game for Western Suburbs in 1933. He did not play the following week and was picked as a reserve for the two weeks after that.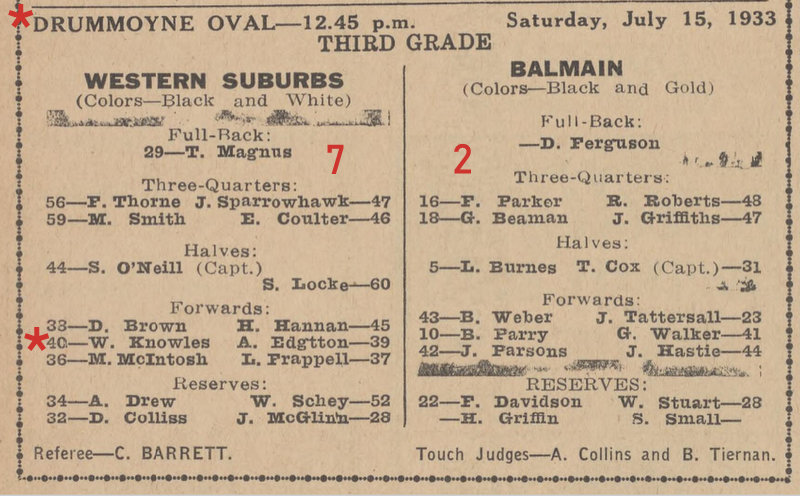 Note: The game was played at Drummoyne Oval. Balmain's Home Ground
It is not clear whether Bill fell out of favour with the selectors or the constant shuffling of positions simply reflected the year of turmoil that Western Suburbs had with the loss of players to the 1933 Kangaroo Tour. Knowing Bill he would have been happy to play anywhere for the team but no doubt would have felt let down  by not getting the chance to regularly play in his preferred position.
During 1933 Bill Knowles played seven Third Grade games for Western Suburbs, was picked as a reserve on two occasions and played all of the pre season trials. During the regular season he kicked fourteen goals. The highlight for Bill in 1933 was finishing second in the forwards scratch race and winning the team relay for Western Suburbs at the annual Rugby League Knockout Carnival.
The successes that Bill Knowles had in 1933 would not have been sufficient to offset his desire to achieve more in the game. Playing lower grades would not pay the rent and Bill was married with two young children. Bill always seemed to find work but during the Great Depression this work was sporadic.
Nevertheless, Bill rolled up for Western Suburbs in 1934. He played all of the trial matches against Newtown, Eastern Suburbs, St George and North Sydney. He was subsequently picked and played against South Sydney Third Grade in the second round of the competition. However that was the end of his season and time with Western Suburbs as on 4 May 1934 it was announced that he had been picked by Cooma United to play against Canberra later that month.
His clearance from Western Suburbs to play with Cooma came through a few days later.
It was not unusual for good Sydney rugby league players to be offered playing and coaching positions by Country and interstate clubs. This was no doubt a break for Bill as if he spent his time effectively it could lead to further opportunities in Sydney football the following year depending on his residential status. He certainly could not play for another Sydney club in 1934 as he had already played one game for Western Suburbs.
Rugby league was quite strong in southern NSW at the time with teams such as Goulburn, Queanbeyan, Canberra, Captains Flat, Gunning, Crookwell, Bungendore and Cooma competing for both the Massy and Carr Cups. The holder of the Cup was challenged by one of the other towns nominated from a draw and the holder would retain the Cup until they were beaten and the Cup would be passed on. The holders of each Cup would challenge at the end of the season to declare a champion.
Alf "Smacker" Blair Capt of Souths shaking hands with Wests Capt Gordon Stettler
Nearly all teams in this competition "imported" Sydney based players or coaches to boost their local ranks. In 1934, Cooma brought down Alf "Smacker" Blair who the previous year was player coach at Waratah-Mayfield in the strong Newcastle competition. Smacker  Blair had played for Australia and had been the Captain of South Sydney, playing 186 games for the Rabbitohs and leading them to premierships in 1926, 1927 and 1929. Blair finished his playing career at Cooma before eventually going back to Sydney to coach Western Suburbs in 1943 and South Sydney in 1944.
The combination of Smacker Blair and Bill Knowles would have given Cooma a good balance of experience, guile and speed. John Diversi, father of the Australian rugby league player, Peter Diversi was also in that team. It appears that Bill Knowles had responded to Cooma Rugby League's advertisement in April of 1934 calling applicants for a first class playing coach position. The advertisement was quite simple requiring the applicant to state age, weight, qualifications and salary. The period of engagement was from May to August 1934.
An article on Cooma Rugby League from the publication "The Referee" in June 1934 states, "The team is coached by Bill Knowles, late of Western Suburbs, Sydney. His word is law. He does not drink or smoke, and it is a treat to see how they take his advice and roll up to train at night and on Wednesday afternoons."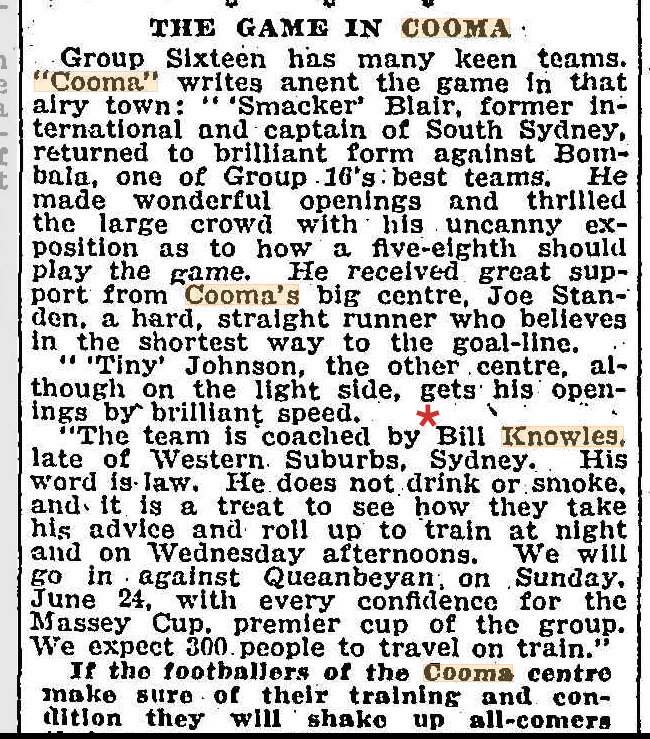 After Bill's commitments with Cooma, he returned to Sydney  and played in a Western Suburbs Junior Rugby League A Grade Final with Oriental Shamrocks, a Burwood based team, against Homebush on 1 September 1934. The game ended in a 2 all draw with Bill Knowles kicking the goal for Shamrocks. Homebush took the honours due to their higher place on the table. It is not known whether Bill Knowles played any other games with Shamrocks or whether he had a clearance from  Cooma to play for the Shamrocks team.
If Bill Knowles had any intention of playing for Cooma or any other country team in 1935, those plans would have been curtailed by the unfortunate death of his brother Alfred Knowles on 24 September 1934. Alfred Knowles was a well known Sydney jockey and trainer who specialised in hurdles racing. He was doing track work at Randwick race course when his horse fell and kicked him in the head. Alfred had five children under ten years of age and Bill Knowles was a good support to Alfred's widow and family.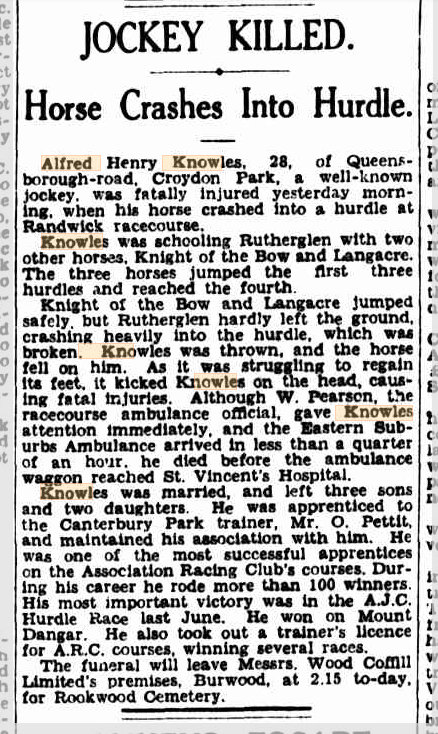 The 1935 rugby league season was a new chapter for the code with the introduction of the Canterbury Bankstown rugby league team. The Western Suburbs district had grown substantially and was drawing young talent from a broad catchment. The establishment of the Canterbury Bankstown Club would provide an opportunity for younger players to make their mark in top grade rugby league whereas they may have had limited opportunity in doing so under the residential rule with Western Suburbs. In fact a number of top level Western Suburbs players such as Frank Sponberg, Bob Lindfield, Jack McConnell and Jack Hartwell came across and formed the nucleus of that inaugural Canterbury Bankstown team.
At the start of 1935, Bill Knowles again trialled with Western Suburbs playing three games. However it appears that he was not graded or decided that he needed to look elsewhere as he was not nominated for any of the Western Suburbs teams at the start of the premiership.
However, in 1935, Bill did make his first appearance in the 10th round of the season being selected in the Canterbury Bankstown Reserve Grade team playing at lock forward. His first game was against South Sydney on 13 July just over one year after he transferred to Cooma.
Canterbury Bankstown were doing it tough in their inaugural year. They had used many players but could not develop a combination, particularly in First and Reserve Grades, that would make them competitive with the established teams. This resulted in a number of large scores being compiled against them. The Club however were looking to the future and had a young Third Grade team that was developing and becoming quite competitive.
When Bill Knowles joined Canterbury Bankstown it was evident that they were looking to capitalise on his experience and versatility. He was soon made Captain of the Reserve Grade team and played four games all at lock forward. The Reserve Grade team during this period were well beaten but at least competitive. Bill Knowles scored two tries and kicked a goal.
Bill Knowles clearly made an impression as on 10 August 1935 he was picked in the Canterbury Bankstown First Grade team at five eighth but actually played half back against the all conquering Eastern Suburbs team. He was described as a "Utility Man" who had been playing in the Reserve team. This was a golden era for Eastern Suburbs who within their ranks was the Australian Captain Dave Brown and a number of other seasoned internationals. Eastern Suburbs had already beaten Canterbury Bankstown in the first round by 87-7, so playing them again was somewhat of a daunting task.
There is no indication that Bill had ever played in the halves previously so it was a big call for him to be selected there particularly as he was opposite Australian representatives, Viv Thicknesse and Ernie Norman not to mention Dave Brown in the centres. This would not have daunted Bill as he was used to playing various positions and was athletic, strong and quick. It is those attributes that the Canterbury selectors would have recognised as useful in trying to stop the Eastern Suburbs juggernaut. This was to no avail as Eastern Suburbs were ahead by 41-0 at half time and eventually won the match by 65-10.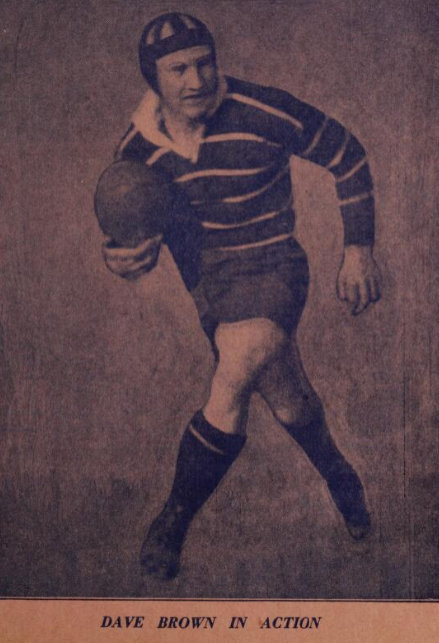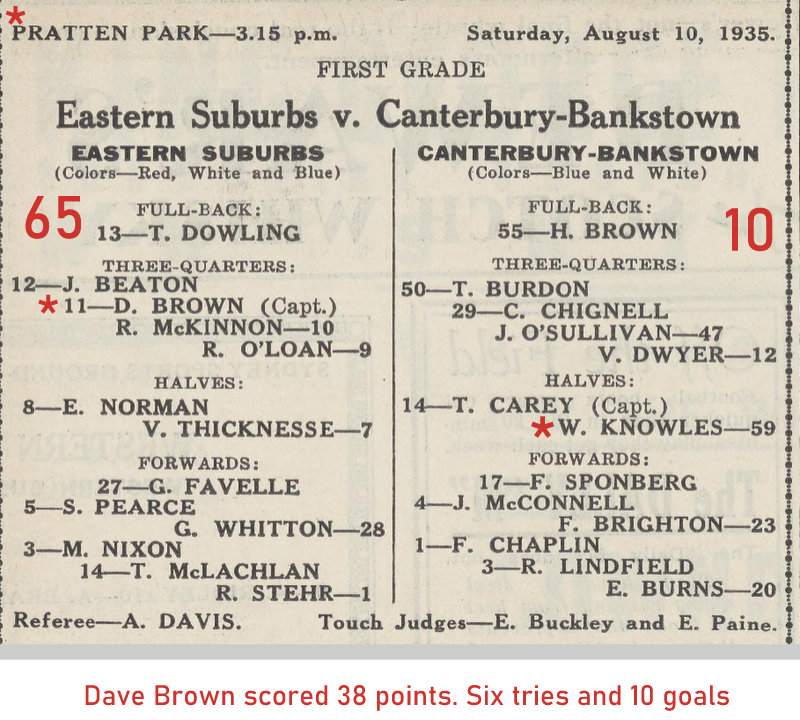 Note : Canterbury – Bankstown shared Pratten Park with Wests in 1935
Bill was selected in the final two matches of the season in First Grade in the centre position. The penultimate match was against University which Canterbury Bankstown won 16-15 thereby relegating the University team to the wooden spoon. Reports from the time mentioned that Bill Knowles played a strong game in the three quarters. He secured the ball in front of his goal and ran practically the length of the field and when tackled by the fullback passed to Dwyer who scored his second try, taking Canterbury to a 16-7 lead which was a match winning score.
The final match of the season was against Bill's former club, Western Suburbs. Bill was selected to play in First Grade in the centres but did not play any football on that day. It is possible that he was injured but most likely that Western Suburbs complained that Bill was not residentially qualified to play with Canterbury Bankstown and it would have been easier for Bill to stand down rather than place Canterbury in a position where there may have been sanctions imposed by the League administrators. To support this position it was reported on 1 October that the " Rugby League asked for a report on the residential qualifications of W Knowles who played for Canterbury Bankstown this season."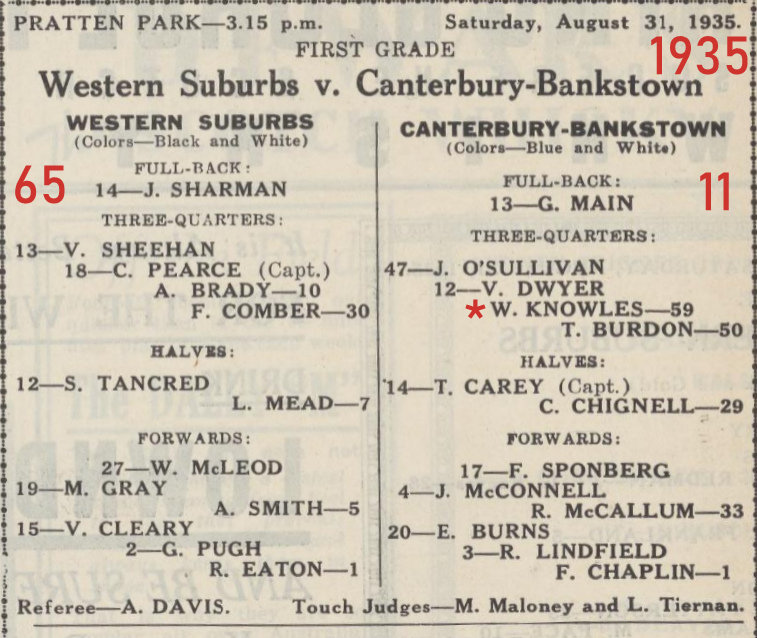 To give an indication of the concerns that the Rugby League administration had with compliance of the residential rule, by the start of 1937 it commenced publishing the names of those players that had transfers approved and those that had incomplete transfer applications. For those players who participated in fixtures without a clearance, a fine of 10 shillings was imposed for a first offence and 20 shillings for a second offence. "Professional" players also had to pay registration fees before clearances would be stamped. These fines were substantial at the time particularly as most players were not significantly recompensed and work for many was difficult to come by.
Bill Knowles was registered on the electoral roll as living at Dodd's Hotel in Cooma in 1934.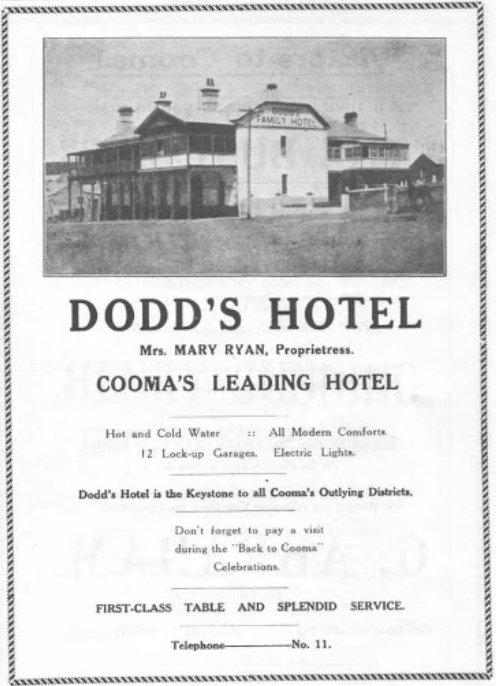 While he was registered at 38 George St Burwood in 1935 in the Western Suburbs district this was his mother's home and probably a hangover from his time before he went to Cooma. He was subsequently registered in 1936 and 1937 at 170 Croydon Ave Croydon Park in the Canterbury Bankstown district with his wife Rebecca and his widowed sister in law Jessie Knowles.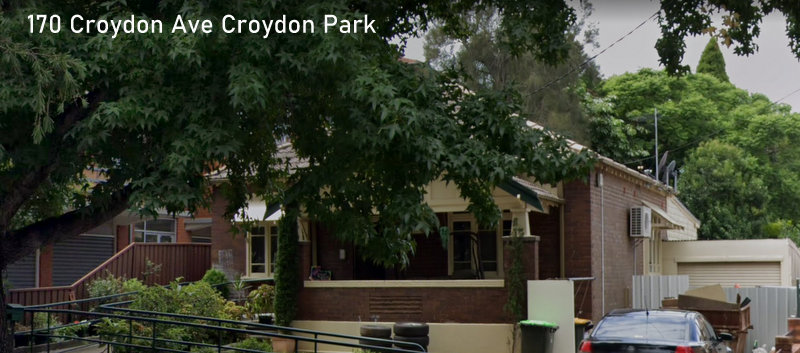 It would appear that Bill Knowles was eligible to play for Canterbury but it also needs to be acknowledged that people during this period moved residence frequently.
During 1935 Bill Knowles played two First Grade games and four Reserve Grade games for Canterbury Bankstown. He was selected as Captain for three of those Reserve Grade games. He was selected in First Grade for the final match of the year against his former team, Western Suburbs but was most likely stood down as his residential status was being questioned. Bill played in all of the pre season trials for Western Suburbs but was either not graded or decided to stand down so he could join Canterbury Bankstown later in the season. During the regular season he scored two tries and kicked one goal.
Canterbury Bankstown learnt from its inaugural season and recruited well during the off season with some experienced and young talented players that would contribute to the success of the club for years to come.
The former Western Suburbs captain, Alan Brady joined the team along with Henry Porter and a young Tom Kirk.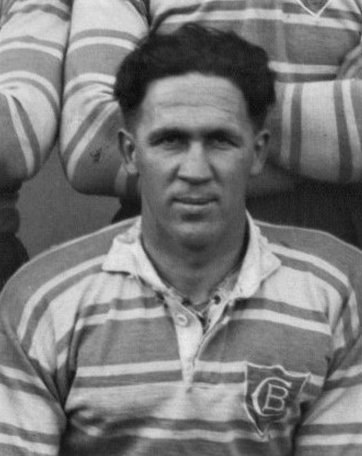 Alan Brady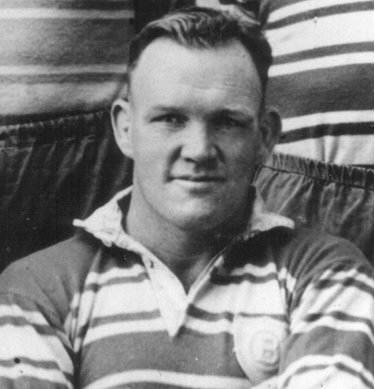 Henry Porter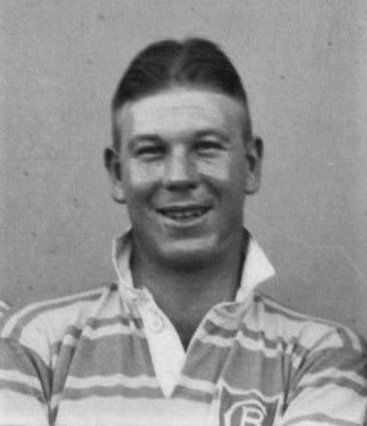 Tom Kirk
The 1936 season started with a Night Football Competition . This was the first opportunity for the Canterbury Bankstown team to show how it had improved with a new coach, Frank Burge, and the influx of new players. The squad for this competition included many players who battled through Canterbury's inaugural season. Bill Knowles was included as a reserve in the First Grade squad to tackle the premiers Eastern Suburbs and St George. It is not apparent that Bill took the field in these matches but Canterbury acquitted itself well in narrow losses to these teams and this was a sign of the improvement that Canterbury would make in the coming season.
As part of the Night Football series, relay races were programmed for backs and forwards. Bill Knowles was selected  in the Canterbury Bankstown forwards relay team along with Frank Sponberg, Eddie Burns and Jack McConnell. Unfortunately the team did not place in the relay.
Bill Knowles at the age of 28 was one of the more experienced Canterbury players and started the 1936 season in a similar role to that which Canterbury had him in when he arrived at the Club in the middle of 1935. He was again utilised for his leadership and tactical ability as the Captain of the Reserve Grade team for the first four rounds of the season, kicking nine goals in these four matches.
The Sun newspaper, on the match against Newtown, reported that "W Knowles is a good player. One of the stars against Newtown on Saturday. The lock forward did some splendid work in setting up a try for C Quinlivan."
An article in the Rugby League News in April 1936 reported that "W (Billy) Knowles, Reserve Grade skipper and, lock forward is a clever player and wily tactician. No Captain is prouder of his charges than Billy, and on the field he is an inspiration to his men."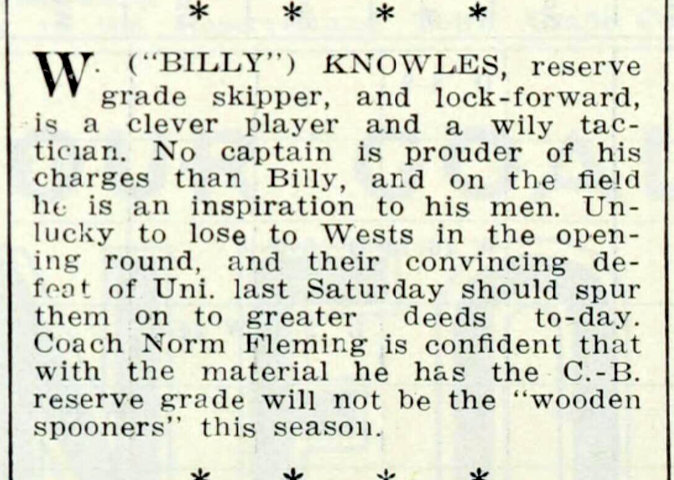 1936 was a touring year by the British Lions Rugby League Team and subsequently there was a number of breaks in the regular season to accommodate test matches and other representative fixtures. Often, there would be representative or challenge matches which were curtain raisers for the main event.
On 30 May, Bill Knowles was selected for a Reserve Grade Possibles versus Probables match which was the curtain raiser for the Sydney versus British Lions match at the Sydney Cricket Ground. Bill was in the Probables team which lead 10-8 at half time before eventually losing a tight game 13-17.
Bill played lock forward with Eddie Burns in the front row and Jack Coote (father of Ron Coote) in the second row.
The Rugby League News reported "Billy Knowles, one of the (Canterbury Bankstown) Club's representatives in the combined Reserve Grade last Saturday, and who put up such a rattling display at lock, has proved himself a good Club man. In fact, he is regarded as the utility man of the Club. Good handler and goal kicker, he excels in the lock position by always giving the requisite weight to the pack before breaking fast to smother an opponent or range up in the attack. He is equally at home in any position on the field."
The regular season recommenced for a further three rounds with Bill Knowles playing at lock forward in the Canterbury Bankstown Reserve Grade team.
On 29 June the First Test between Australia and the touring British Lions was played at the Sydney Cricket Ground. As a curtain raiser two knockout rounds were played by Sydney First Grade teams. Bill Knowles was selected as a Reserve for the Canterbury Bankstown First Grade team that played Western Suburbs. Canterbury Bankstown won 13-2 and had a formidable pack which included Henry Porter, Bill Porter and Eddie Burns in the front row, Jack McConnell and Jack Hartwell in the second row, with Frank Sponberg at lock.
There was one more regular season match before the representative calendar again took prominence. Bill Knowles returned to Reserve Grade against St George playing at lock forward.
On July 18, the touring British Lions returned to the Sydney Cricket Ground to play the Third Test against Australia. Another two knockout rounds were played by Sydney First Grade teams as a curtain raiser to the Test Match. Bill Knowles played lock forward in the Canterbury Bankstown First Grade team against St George. Canterbury won the match 8-3. Canterbury Bankstown and Eastern Suburbs remained the two undefeated teams. Canterbury Bankstown again boasted a formidable pack with Henry Porter, Bill Porter and Eddie Burns in the front row, Jack McConnell and Jack Hartwell in the second row and Bill Knowles replacing Frank Sponberg at lock.
The following week Bill Knowles was back in Reserve Grade at lock forward and played five of the remaining six regular season games.
Canterbury Bankstown finished the regular season in equal second position with Balmain. Eastern Suburbs topped the table undefeated although they had two draws during the season, one of which was against Canterbury Bankstown in the only time that they met during the season. 1936 was a significant turn around for Canterbury Bankstown who only finished in front of the University team in 1935.
The First Canterbury team to make the semi finals:
1936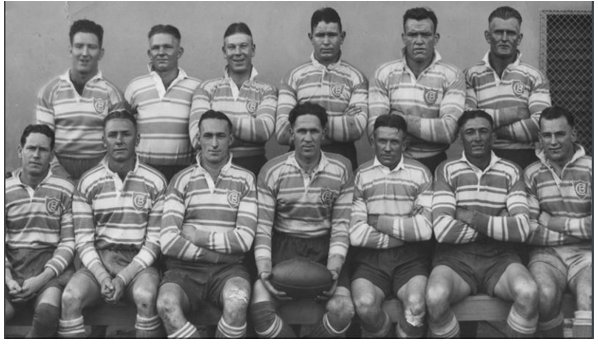 BACK ROW:  Jack McConnell, Eddie Burns, Tom Kirk, Aub Mitchell, Henry Porter, Jack Hartwell.
FRONT:  Jack O'Sullivan, Bill Porter, Joe Gartner, Alan Brady (Capt), George Mason, Bill Knowles, Charlie Chignell
Bill Knowles was selected to replace Frank Sponberg at lock forward in the Canterbury Bankstown First Grade team to play Eastern Suburbs in the semi final.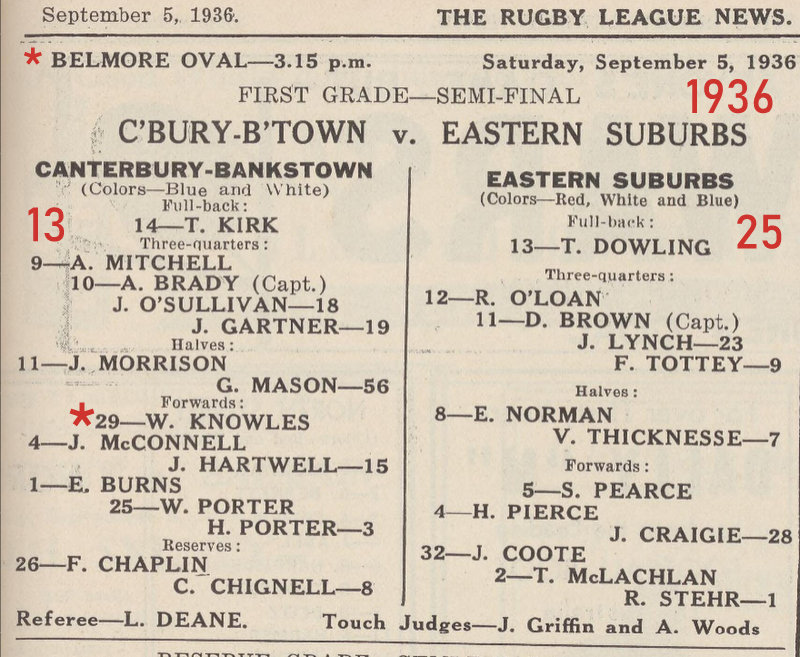 Canterbury Bankstown lost the semi final 13-25 and Balmain who won the other semi final were subsequently beaten by Eastern Suburbs 32-12 in the Final.
1936 was a good year for Bill Knowles. While he only played First Grade once in the premiership rounds, the game that he did play was the Semi Final against the undefeated Eastern Suburbs team. This was the first time a Canterbury Bankstown team had made the final series and from a Club perspective was important in establishing  its credentials at an elite level as well as building a supporter base which prevails to the current day.
Bill Knowles played thirteen of the fourteen regular season games, all in Reserve Grade and a number of those as Captain of the team. However the highlights of his season would include being picked in the First Grade squad for the pre season Night Football competition and then as a member of the Canterbury Bankstown forwards relay team.
During the season Bill, played in a Possibles versus Probables Reserve Grade match prior to the Sydney versus British Lions game at the Sydney Cricket Ground.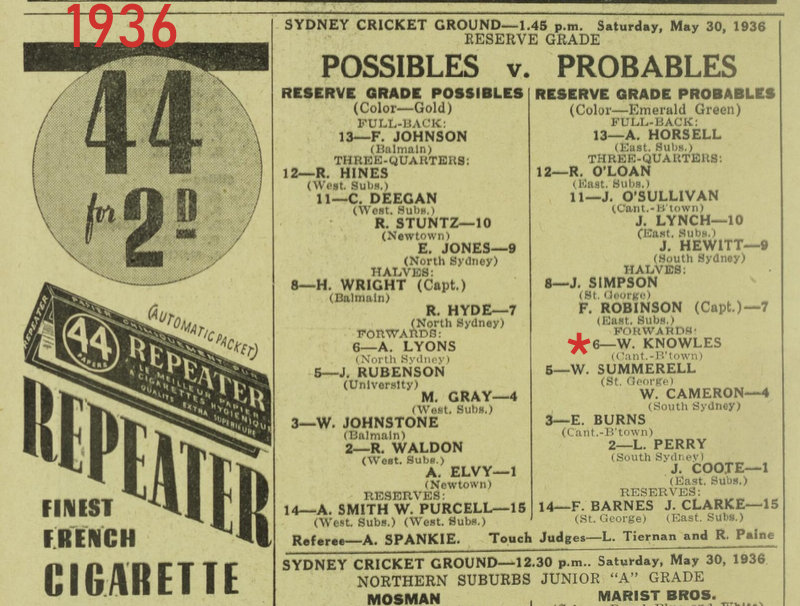 And was selected in the Canterbury Bankstown First Grade squad to play in a Knockout competition prior to the Australia versus British Lions First Test at the Sydney Cricket Ground.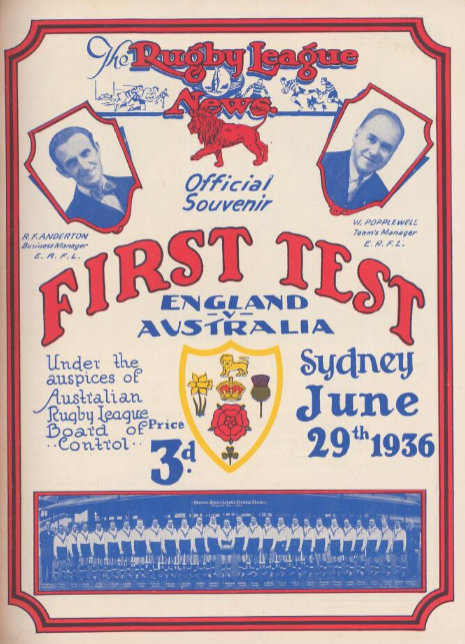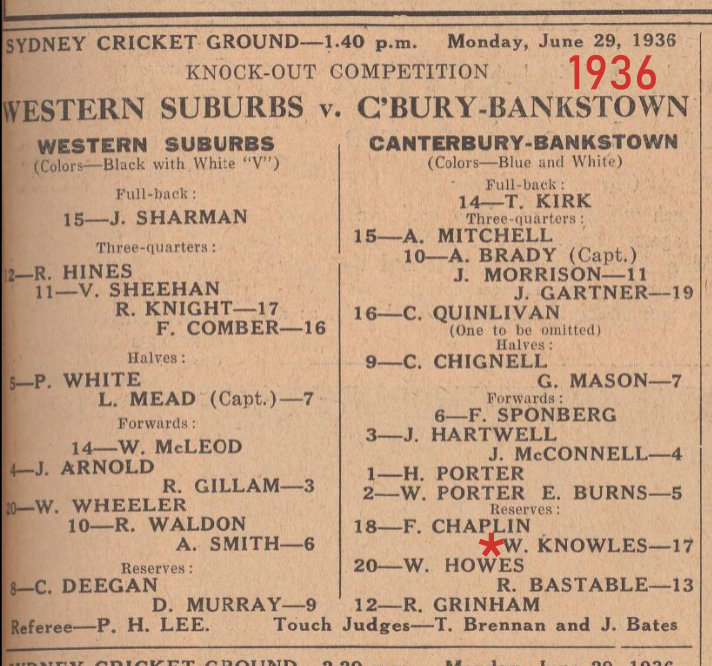 And finally played in the Canterbury Bankstown First Grade team in a Knockout competition prior to the Australia versus British Lions Third Test at the Sydney Cricket Ground. The only disappointment for Bill, that year, was that he didn't have more opportunity to play in First Grade.
1937 was an unusual year in that the season lasted for eight rounds only, truncated due to the Kangaroo tour to England. There was no final series with the Premiers determined as "first past the post". The second part of the regular season was replaced by a City Cup competition which had been held regularly from 1912 until 1925 but on only three other occasions being 1937, 1942 and 1959. The University Club also voluntarily withdrew from the premiership at the end of this season.
Bill Knowles was selected in the Reserve Grade team to play in a trial on 20 March and then was selected as a reserve for the First Grade team in a trial match against South Newcastle on 27 March, however he was back in the Reserve Grade team for the start of the competition.
Bill Knowles played in Reserve Grade for  seven of the eight premiership rounds in 1937. He inexplicably missed the last round and then the first five rounds of the City Cup competition.  He came back in Third Grade in the third last round, the only time that he ever played Third Grade for Canterbury Bankstown.
The highlight for Bill Knowles in 1937 would have been the ANZAC Day match against Goulburn in Goulburn. It was not unusual for Sydney teams to travel to country regions and play a local team or a representative team from that region. In those days country football was quite strong and many country teams could match it with their city counterparts. So when city teams had a bye or there was a break in the premiership competition, travelling to country centres gave the city teams a good practice run to keep up their momentum.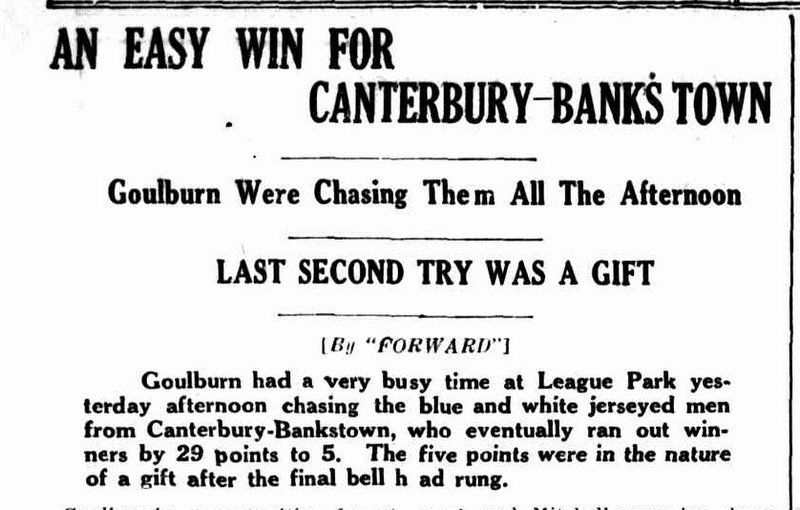 Bill Knowles was selected and played in the First Grade team which was comprised of the following players: G Main; R Gilchrist; J Gartner; A Brady; A Mitchell; C Chignell; W Sponberg; W Knowles; F Chaplin; J McCormack; H Porter; W Porter; E Burns.
The Goulburn Evening Penny Post gave a good account of the match.
Extracts of that match are as follows;
"Goulburn reached the opposition 25 for the first time. They were not allowed to remain long for Brady and Knowles combined to make an opening for Burns who knocked on when a try was sure. However a score followed the scrum, Sponberg darting across for Mitchell to convert."
"Sponberg received from the ruck and sent to Chignell, who ran in easily between the posts. Knowles converted.
Canterbury Bankstown 23-0."
"Another score came when Knowles followed the ball as it came well clear of a ruck towards Goulburn's line, picked up and touched down in the corner.
Canterbury Bankstown 29-0."
"Besides (Henry) Porter, the outstanding forwards on yesterday's performance were McCormack, Knowles and Burns."
Bill Knowles was also selected as a reserve for the First Grade team in a trial match against South Newcastle at the start of the 1937 season.
1938 was  a great year for the Canterbury Bankstown Rugby League Club.
The First Grade won its inaugural premiership and both Reserve and Third Grades were semi finalists.
The Club also won the Club Championship.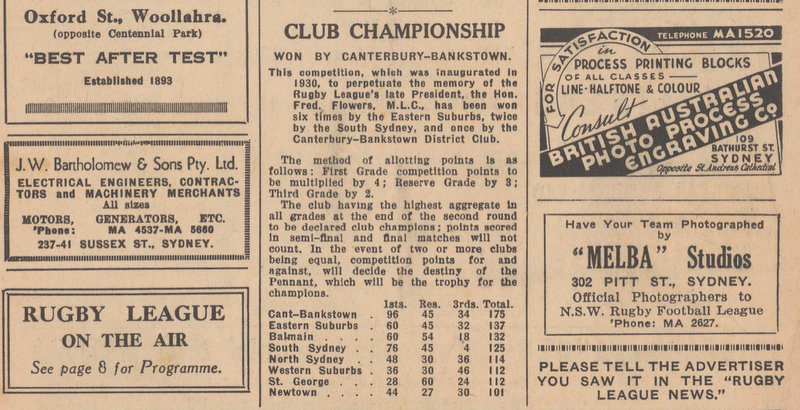 Bill Knowles missed the first three rounds of the 1938 season but was selected as a reserve for Third Grade in the fourth round but did not play. The following week he was selected and played in the Reserve Grade team at lock forward. He was selected  in that team and position for every game for the remainder of the season however did not play in two second round matches against St George and South Sydney  due to injury.
Bill Knowles played eight regular season games and two semi final games. He scored points for his team in all but one of those games. In all he scored two tries and kicked twenty goals for a tally of 46 points in the 1938 season. The Canterbury Bankstown Reserve Grade team posted 149 points throughout the season and Bill Knowles was the top point scorer.
The highlights of the season for Bill would have been the win against Eastern Suburbs in the Reserve Grade play off final where Canterbury were victorious 13-2 and Bill Knowles contributed with two goals.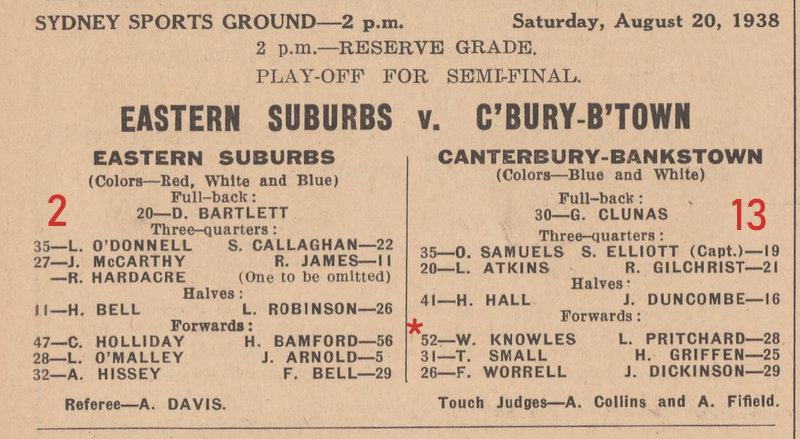 This enabled Canterbury Bankstown to meet Balmain in the preliminary final but unfortunately they suffered a loss 7-10 with Bill Knowles scoring all of Canterbury's points, a try and two goals. Balmain went on to win the 1938 Reserve Grade grand final.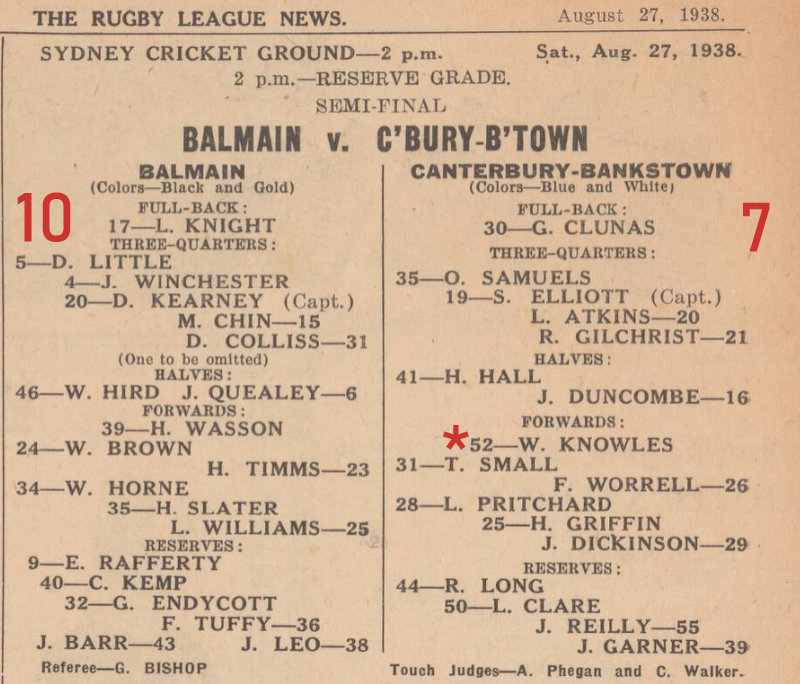 For Bill Knowles efforts he was selected in the Canterbury Bankstown First Grade team to play against Waratah-Mayfield, the Newcastle City minor premiers, in the Inter City Club Challenge at the Sydney Sports Ground  on 17 September.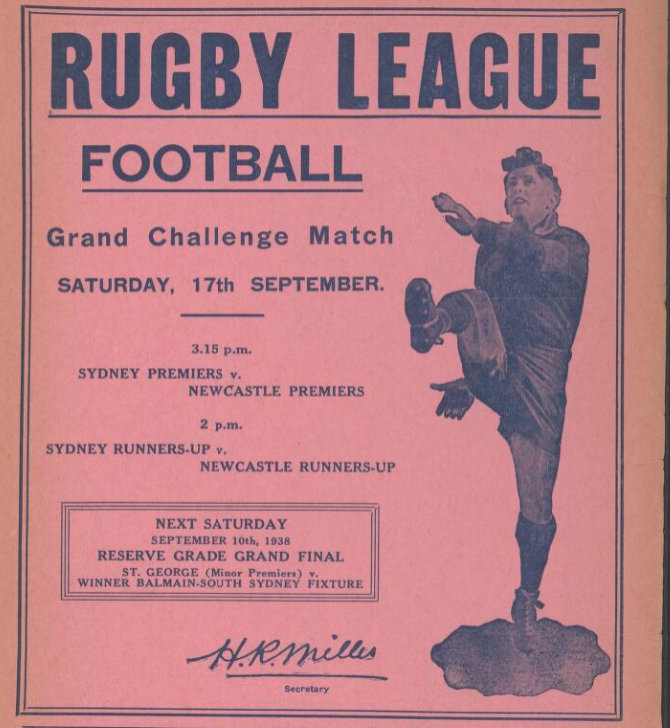 Canterbury Bankstown won the right to play in this challenge by taking out the 1938 First Grade premiership. Canterbury Bankstown defeated Waratah-Mayfield 31-5.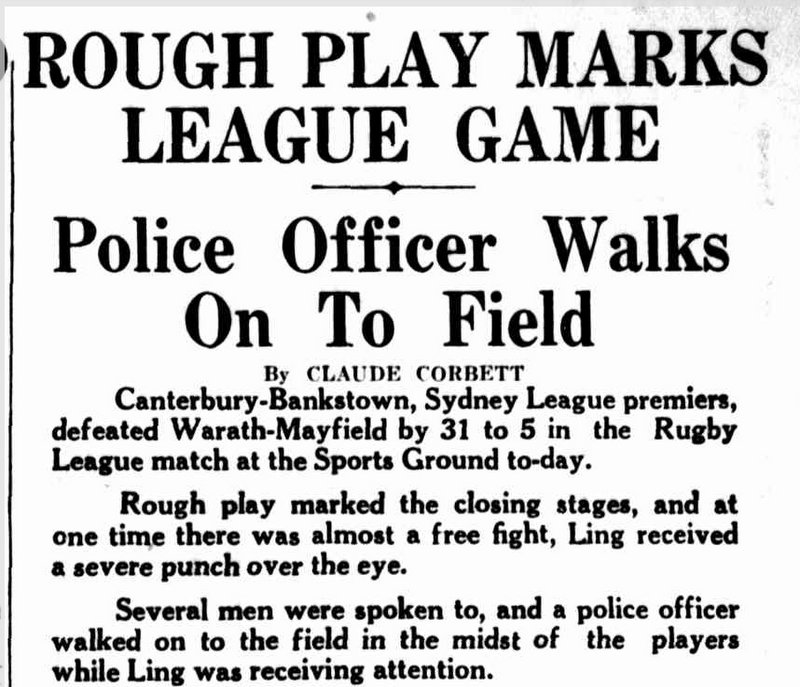 In 1939 Bill Knowles at the age of thirty one was in the twilight of his rugby league playing career. After having a successful year with Canterbury Bankstown in 1938, he no doubt saw an opportunity to play and coach football in one of the regional towns in NSW.
It is known that he applied for a player/coaching position, to at least two country teams at the start of the 1939 season.
The first was with Cowra Rugby League Club, who were considering up to nine applicants, and the second was with the Mudgee Rugby League Club who were quick off the mark and offered Bill the position.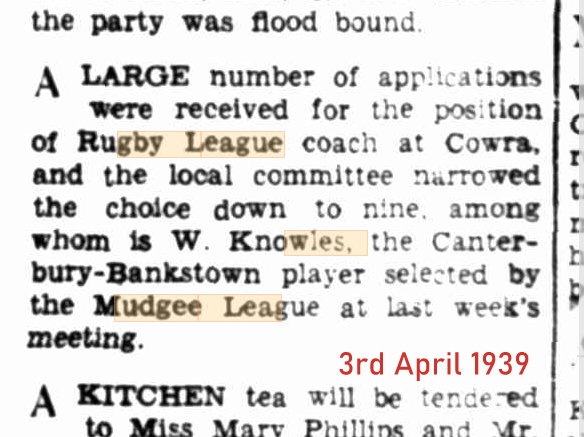 Mudgee Rugby League Club was going through some difficulties and it is not clear whether Bill Knowles was aware of this before he accepted the position.
Had he known of the financial and structural problems at Mudgee he may not have taken the position.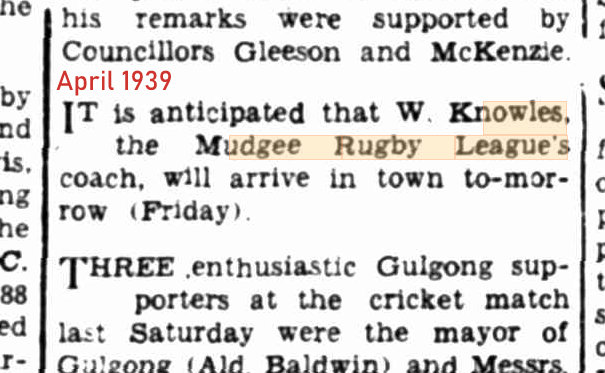 For the Mudgee Rugby League Club, a perfect storm was brewing in 1939. In 1938 the Club was deep in debt but to its credit corrected this by the start of 1939 with a small surplus of 13 pounds. However this didn't account for the debt that the Club owed the referees association for its contribution for the 1938 season.  The former Mudgee Coach had left the district and two star players had moved on.
The Club at its initial meeting in early March 1939, failed to create much enthusiasm with only a few old die-hards putting in an appearance and no one wanting to take on an official position. The meeting fizzled out without anything being achieved. At this meeting it was suggested that a canvass be made to induce new men to stand for the various responsible positions. At the subsequent meeting  there was a satisfactory roll up and citizens fresh to the game were induced to "hop in" and try their luck.
During an informal discussion, the question of paid players was introduced. It seemed to be the general opinion that a coach would be necessary, but that was as far as officials were prepared to go. Some speakers contended that, owing to the agitation against Sunday football, it might be difficult to finance the business this season and that very few leagues would be in a position to engage more than one paid man. Pending the settlement of this vexed problem, the members felt that they would have to tread very cautiously for a start. If the charge for Sunday games cannot be enforced, the revenue must necessarily slump pretty badly.
Sunday football had been played for over a decade but a persistent agitation against this resulted in a Supreme Court challenge by the Bathurst Minister's Fraternal. While Sunday football was allowed to continue it was not possible to charge for entry or provide for other charges, in lieu of, under the Sunday Observance Act. Sunday football was popular as it allowed players who could not or would not play on Saturdays to remain active. The down side was that a major source of income would be diminished by playing Sunday matches. This was a significant problem for Country Rugby League teams.
On 12 March, the Mudgee Rugby League Club called for applications for a Coach for the 1939 season. The role of the paid Coach was seen as a necessity for instructing the players and an applicant was sought who had the expertise and experience. The League was hopeful of securing a capable player, who in addition would be prepared to pay particular attention to any young lads who showed promise. It was certain that Mudgee would have to draw from its youthful brigade in 1939 and therefore good coaching was an imperative.
Apart from the player/coach position, Mudgee had one other  paid player in 1939 although it is not totally clear who that was. Bert Williams, a Kangaroo centre from 1937 had transferred  to the town at the start of the year for work purposes and while Bert Williams played a few games for Mudgee it never appeared that he was  seriously making a comeback as he had a chronic leg injury which ultimately curtailed his playing endeavours. A McBeth was the other player who came to Mudgee from South Sydney via Portland. It is most likely that he was the other paid player in 1939.
On March 30 it was announced that Bill Knowles of the Canterbury Bankstown Club had been appointed Coach of the Mudgee Rugby League team. The Mudgee Guardian reported that "Bill Knowles who specialises in the lock forward position, played with the all conquering Canterbury Bankstown Firsts and Reserves last season, so he must be pretty decent. According to reports, the new Coach is a non smoker and a non drinker." Bill Knowles was clearly looking to capitalise on the successful year he had with Canterbury Bankstown in 1938.
Bill Knowles by 1939 had a wealth of experience in Grade rugby league and had played under some of the best Coaches in the game including Frank Burge and Jim Craig, the later who took Canterbury Bankstown to their inaugural premiership and club championship in the previous season. Bill was also renowned for his athleticism and fitness which he maintained all of his life.
Bill Knowles arrived in Mudgee on 14 April and soon got to work. He addressed the Mudgee Rugby League who afforded him a warm welcome. He made it very clear to the Committee that he expected the players to devote their whole attention to training. He stated that only really fit men could give their best and his views seemed to meet with general approval.
The Committee agreed to support the new Coach by adopting an incentive scheme whereby a bonus payable at the end of the season would be provided in the amount of 2 shillings and six pence for attendance at training and 5 shillings per match. If the Mudgee Rugby League Committee was concerned about the club's financial position at its inaugural meeting, then the latest proposition would significantly increase the pressure on the Club in terms of its fund raising endeavours throughout the season.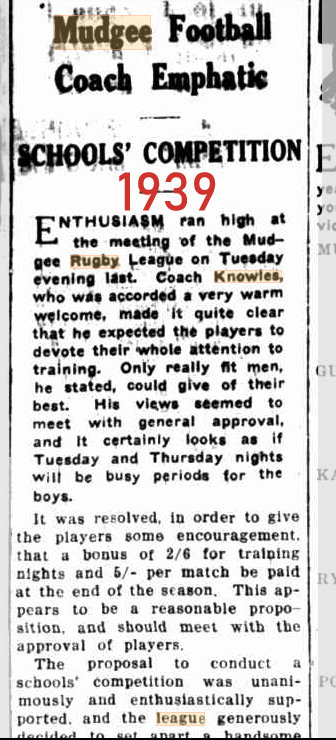 The Committee also proposed to establish a schools competition and Bill Knowles enthusiastically volunteered to give up some of his time to instruct the young players. Bill Knowles responded by modestly expressing his hope that the team would hold its own during the season.
The real challenge for Bill Knowles was to bring together  a team which was capable of matching the heavy weights from towns such as Lithgow, Bathurst, Dubbo, Wellington and Orange. As the Club only recently appointed the Coach, there had been no direction given to the players to prepare them for the season which commenced within a fortnight.
Results from the period were not consistently reported so it is difficult to develop a complete picture as to how the team performed. The team however opened the season with a win against Bathurst 22-18 and the following week Mudgee defeated Wellington 13-12 with Bill Knowles scoring two tries and kicking two goals. A 13-13 draw with Dubbo and a 21-3 win over Dunedoo were also recorded.
Mudgee met the strong Lithgow Western Suburbs team on June 4 for the All Blacks Cup and went down 8-5 with Bill Knowles kicking a conversion. Knowles was described as a "tiger" in the close work and displayed great pace in following the ball. Bert Williams played in this game but along with McBeth, both players retired with injuries.
Overall the results of the Mudgee team appeared to be quite reasonable and the team certainly appeared to be holding its own in the Group 10 competition. However by the middle of May, one month after Bill Knowles took charge of the team, problems were evident. Four experienced members of the team  sought clearances to leave the Mudgee team as they had moved to the town of Glen Davis for employment. Injuries were taking a toll and the Mudgee Committee decided to hold a fund raiser on May 31 to support "wounded" players.
Also by mid May the Committee was endeavouring to build a strong forward program of matches as it acknowledged that funds were not exactly flourishing at present but with the "big and important battles ahead, the finances will receive a good boost." However the Club's optimism did not bear out with only six of the nineteen matches played in 1939 being at Mudgee's home ground. These home games were essential for raising revenue and along with the prohibition of charging for ground entry on Sundays, the situation was looking dire.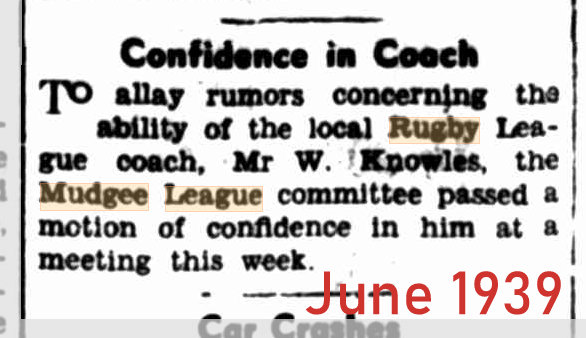 These rumblings culminated in the Mudgee Rugby League releasing a statement, on 13 June, that, "to allay rumours concerning the ability of the local Rugby League Coach, Mr W Knowles, the Mudgee Rugby League Committee passed a motion of confidence in him." Such a motion is often the death knell for Coaches and so was the case here. By the following week, the Mudgee Rugby League Club resolved to dispense with the services of the two paid players, one of whom was the Captain/Coach, Bill Knowles.
The Mudgee Guardian newspaper on 29 June editorialised on the rugby league situation in Mudgee. "It is hoped that an attractive game will be arranged very shortly, otherwise interest will show a big decline. Bad luck seemed to come all in a heap this season. We lost several of the mainstays of the team early and then injuries which put others out of action. Victories, as a result have not been too frequent, and the fans lost some of their interest. A conquering side commands followers and financial worries do not therefore obtrude themselves. The reverse is the case when the luck turns, and it looks as if there is a long stern battle ahead for the local authorities.
If Bert Williams can be induced to coach our boys it should be possible to build up a side of keen young players, who while not quite up to Cup standard just now, should develop into something a lot better as the season advances. There is nothing like experience. Just because we are in the doldrums at the moment there is no earthly reason why the towel should be skied. We feel sure that the players will be found if sufficient encouragement is forthcoming."
To put some perspective on the 1939 season, the Mudgee Rugby League team played nineteen matches, winning nine, losing eight and drawing two, a number of these victories being in the early part of the season. The team scored 178 points for and had 182 points scored against them. Bill Knowles was Captain/Coach of the team from 23 April until 13 June, a period of eight weeks. It is known that he missed one game during this period due to injury but was the top scorer for the season with 35 points."
Bill Knowles was granted a clearance on 18 July by the NSW Rugby League to transfer from the Mudgee Rugby League Club to the Homebush Club which played in the Western Suburbs A Grade competition. There are very limited records of this competition and it is not known what contribution he made to the Homebush Club.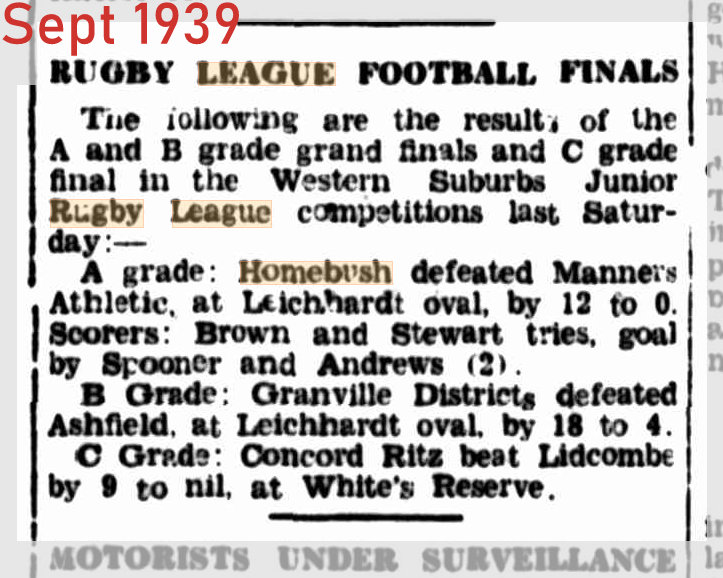 However the Homebush Club won the Western Suburbs A Grade competition in 1939.
Bill Knowles returned to the Canterbury Bankstown Club in 1940, played in a First Grade game in the preseason competition and then was selected to play several games in Reserve Grade before retiring from Grade competition at the age of thirty two.
For the Mudgee Rugby League Club, the situation did not improve. Bert Williams took over as Coach in a non playing role and neither the Coach nor players were paid during 1939 or the following season. The team had no experienced professional players and therefore struggled against the stronger clubs in Group 10.
At the end of the season, The Mudgee Guardian reported; "Some people seem to be annoyed with the local Rugby League because more home matches have not been played, but the authorities are not to blame. Everything possible has been done to induce outside teams to visit Mudgee but the Cup lure in the main centres is too keen. Mudgee is rather far removed from the principal football towns and this factor mitigates against frequent visits."
The Orange Rugby League was in a similar position to Mudgee at the end of the 1939 season, and was seeking to transfer from Group 10 to Group 11. It was stated that: "Orange being at the tail end of Group 10, was handicapped by its remoteness from the stronger football centres. Mudgee is in an even worse position for in addition to being at the tail end of Group 10 it is still further away than Orange from the big centres and there is very little prospect of improving the situation by transferring to any other Group, for the town would still remain the last outpost."
Mudgee's  1940 season started the way the 1939 season ended with Bert Williams as Coach and no paid players in the team. By mid season, the Mudgee Rugby League Club advised Group 10 that it was withdrawing from all competition.
There was no organised District rugby league in Mudgee in 1941 as the District Rugby League failed to have its annual meeting. An attempt was made to provide rugby league in the District when a public meeting agreed to establish a junior rugby league competition including four teams from the town of Mudgee, with invitations to be sent to the towns of Gulgong and Goolma. There is no indication that this competition ever got off the ground. It was not until 1944 that junior rugby league was organised in the town and 1946 before a senior district rugby league team was once again established.
Bill Knowles returned to the Canterbury Bankstown Club in 1940 and was selected as the Reserve Grade lock forward in a trial against North Sydney. The following week he was selected as the First Grade lock forward in a trial against Newtown. A report on that match stated "Porter, Burns and Allison and the lock man Knowles were prominent in the forward exchanges."
However there was a lighter side in that match which firstly reflected Bill Knowles sense of fun and secondly demonstrated his confidence and experience playing in top level football. The Sunday Sun reported; "Players did not approve of the spectacle of Newell (who replaced Gartner at half time) striding about the oval in spotless togs and without a speck of mud on him during the Canterbury Bankstown v Newtown (First Grade) trial at Belmore Oval yesterday.  During stoppages in play, Knowles, Denton and other Canterbury Bankstown team mates chased the new winger with 'mud pies'. Even Newtown's winger, Stewart, 'threatened' Newell on one occasion. There was loud cheering from Canterbury Bankstown and Newtown supporters when the winger got the ball and was dumped in a sea of mud. After that he did not look out of place." The match ended in a fair 6-6 draw.
The following week, 20 April, Bill Knowles was selected in First Grade as the lock forward to play against Newtown again but this time in a knock out competition at the Sydney Cricket Ground.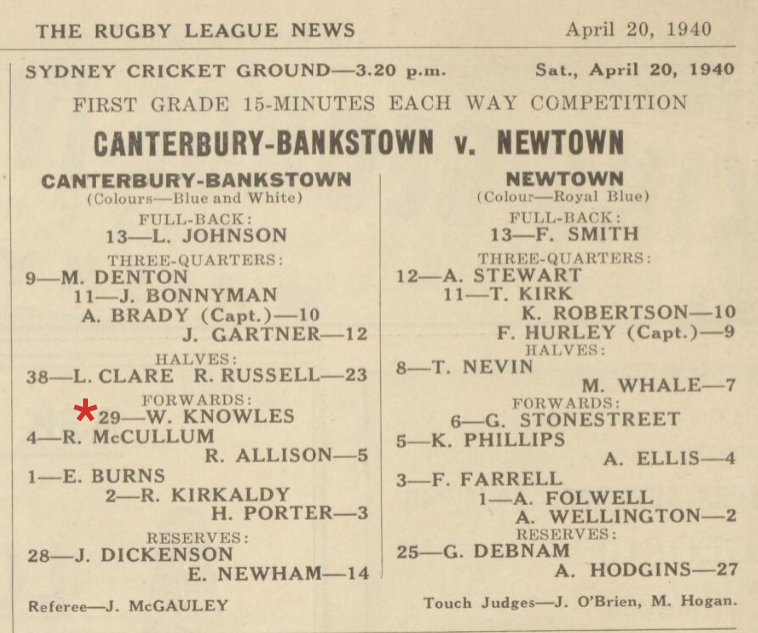 Bill Knowles was selected to play in the opening four premiership round of 1940 in Canterbury Bankstown's Reserve Grade team at lock forward.
The Rugby League News from 1940 indicates that he did not play in the first three matches but did play in the fourth round against Western Suburbs.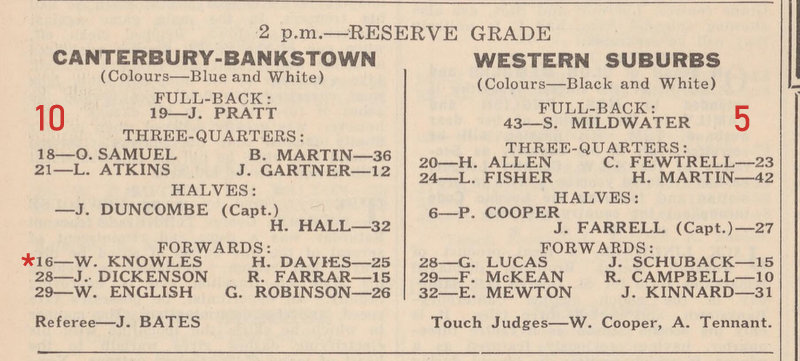 This was Bill Knowles last match in Grade Rugby League although he was listed as a Reserve for Third Grade in July of 1940.
Bill Knowles played Grade Rugby League over nine seasons for Western Suburbs and Canterbury Bankstown and while it was evident that he was still competitive at the start of 1940, no doubt time was catching up with him to continue playing at the elite level but it is unknown why he decided to retire when he did.
Likewise it is unknown what Bill Knowles did during the remainder of the 1940 season. It must be noted that rugby league was very much a semi professional game in those days however there were some opportunities for skilled and experienced players to receive some recompense albeit quite modest and so Bill may have been looking to capitalise on that situation. He obviously had that in mind when he took on the playing coach role at Mudgee the previous season, so it is more than likely that he was looking for another opportunity given that he was still very fit and capable.
There is some likelihood to the above proposition as Bill Knowles joined the Camdenville Rugby League Club located in inner Sydney in 1941 and 1942. Family stories suggest that he was given a truck as payment to play with Camdenville but the veracity of this story cannot be confirmed nor is it known whether he received any other inducements.
Camdenville was a club that had some history. It played in the short lived Sydney Metropolitan Rugby League Competition in 1940 and 1941 and then played in the St George Junior Rugby League before ultimately finding a home in the Newtown Junior Rugby League.
The Sydney Metropolitan Rugby League was comprised of some of the better junior rugby league teams  and was home for a number of former prominent rugby league players. It was unaffiliated to the NSW Rugby League and so the residential qualifications that limited player movement and associated penalties could not be enforced in the Metropolitan League. This was only a problem for players wanting to return to competitions sanctioned by the NSW Rugby League.
Newspaper coverage of the Metropolitan League was generally limited to upcoming matches and results, so not much is known about the players that were in that competition. One newspaper article from 1941 reported that "A George and W Knowles were outstanding in general play" and there was a report of Knowles kicking a goal in a match in 1942.
That brought a close to Bill Knowles football career. He was fortunate to have experienced a lengthy period in Sydney Grade Rugby League, playing with and against some of the best players of his era. While he mostly played Reserve Grade, he was the ideal utility player that could play most positions and was very much a go to man when needed by his Club. He provided leadership, was skilful, could match the fastest players for speed and could kick goals. His fitness and athleticism and ultimately his experience no doubt prolonged his time in the game.
In 1943 Bill Knowles started a new career when established himself as a boxing trainer and manager.
He had gymnasiums at Enfield and Burwood NSW. At one time he had a stable of more than 30 boxers.
During the 1940's he was one of the leading figures in the boxing industry.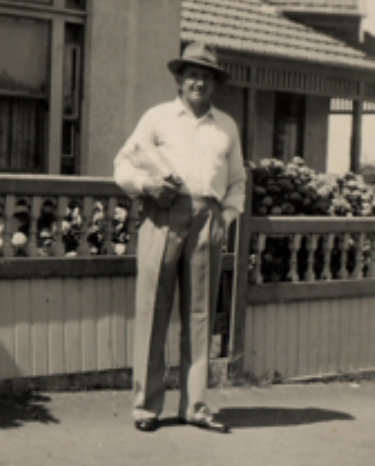 Bill Knowles in the 1950's
*
The photo below was take on the wedding day of the author of this article Brent Knowles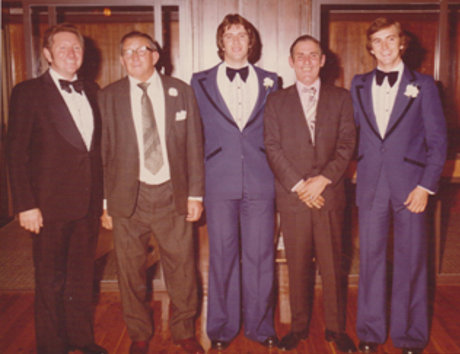 L to R: Stan Knowles (my father), Bill Knowles (my grandfather), Brent Knowles, Bruce Knowles (my uncle), Craig Knowles (my brother).
Sadly Bill died six months after this photo was taken.
Stan Knowles (my father) also played seven lower grade games for Wests in 1955.