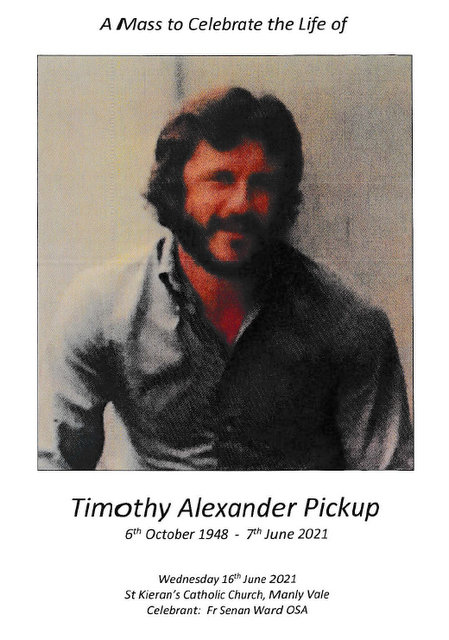 Tim Pickup was a regular at the PPM Reunions with his son Martin Pickup by his side

Although Tim never played Grade for Wests he was a born and bred Magpie
The Enfield Federal Years
Tim Pickup was a Western Suburbs Rugby League junior who played his formative years with the Enfield Federals J.R.L.F.C from 1959 to 1965. The Federals were formed in 1912 but dissolved, to be reformed by Tim's father Harrie and friend Jim Begnell in the late 1950s. The Federals became a juggernaut and Pickup's teammates included six future Sydney First-Graders, including Michael McClean – Manly,North Sydney and Wests (son of former Western Suburbs Captain Peter McClean), Neville Hornery – Canterbury and Wests, Geoff Nielsen – Canterbury and Easts, John Clark – Wests and Parramatta, as well as Rod Smith and Australian Horse-racing identity, Frank Tagg – both Wests. Legendary Balmain,NSW and Australian Rugby League Trainer/Conditioner, and noted hard man Les Hobbs was also a key member of this team.
The Enfield Federals were such a dominant side they went undefeated for seven years, and ironically lost their one and only game, the 1965 Grand Final which was Pickup's last ever match for the club. During the Federals reign they quickly ran out of opponents, having to play up an age group to get a game and eventually had to shift to other Junior League's (Balmain, Newtown) to be accommodated. The Federals were such a force that twelve out of the starting thirteen line-up represented Western Suburbs RLFC in the 1963 S.G Ball/Oatley Shield and 1965 Jersey Flegg and won both competition's Undefeated, with Tim Pickup as five-eighth and captain.
The 1959 Enfield Team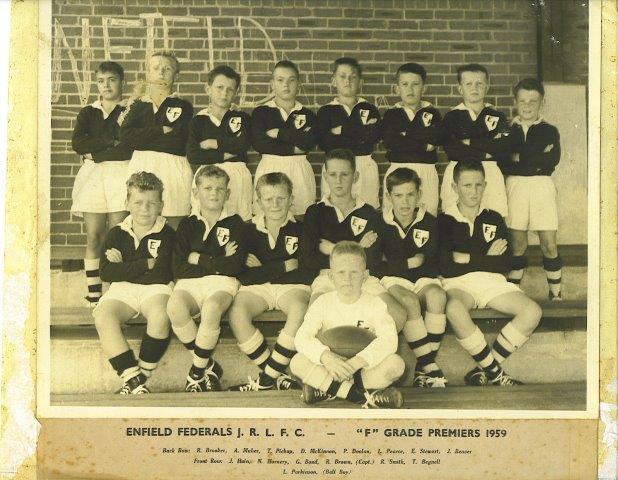 Back row L to R:  R.Booker, A.Maker, T.Pickup, D.McKinnon, P.Doolan, L.Pearce, E.Stewart, J.Beaver.
Front row L to R : J.Hain, N.Hornery, G.Bond, R.Brown (Capt) R.Smith, T.Begnell.
L.Pearson (Ball Boy)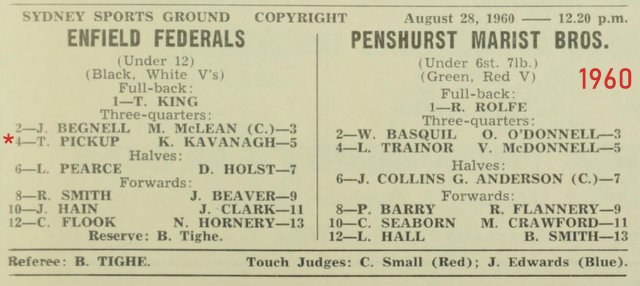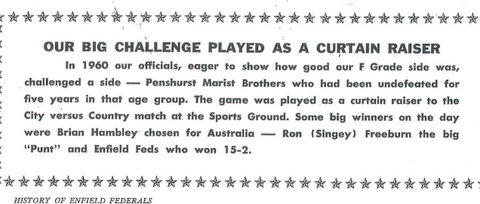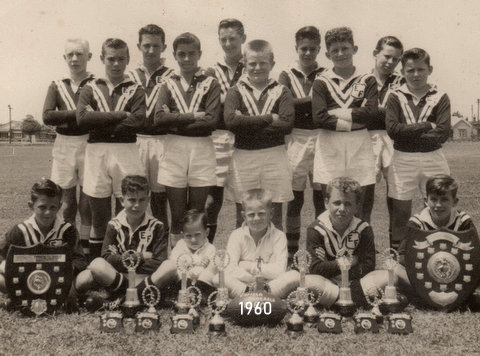 BACK : Les Fruend, Terry Begnell, Rick Brown, Ken Nicol, Richard Delaney.
MIDDLE: Don McKinnon, Ray Brooker, Gary Bond, Michael McLean, Chris Flook.
FRONT: Tim Pickup, David Holst, Joe Begnell (Mascot) Les Parkinson (Ballboy), Jim Hain, Larry Pearce.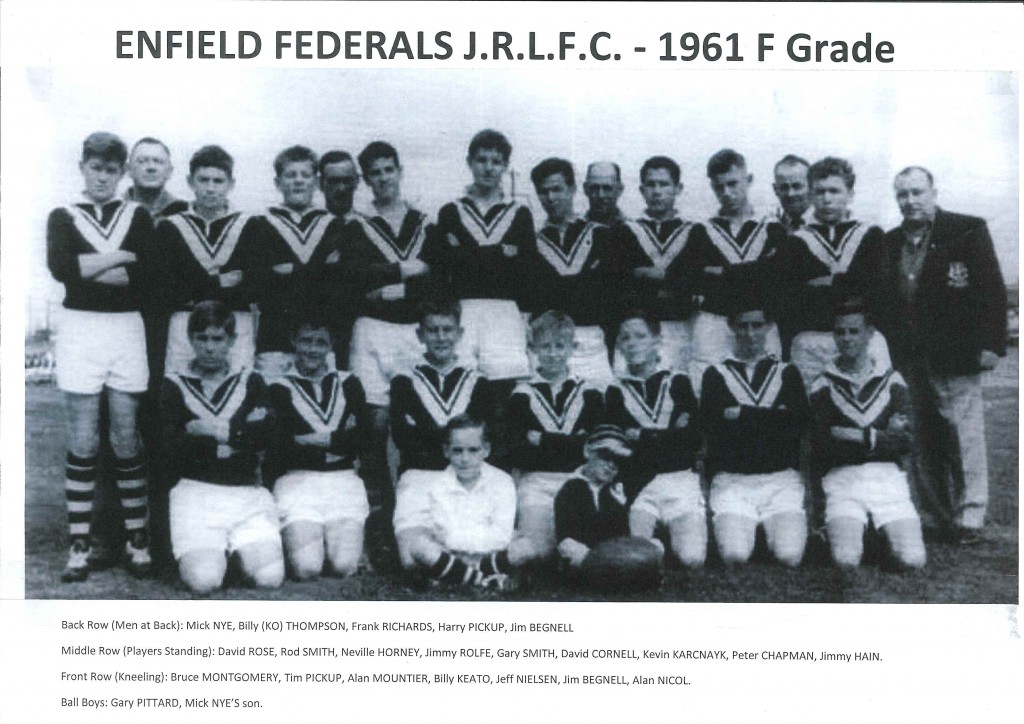 1963 Oatley Shield winning team.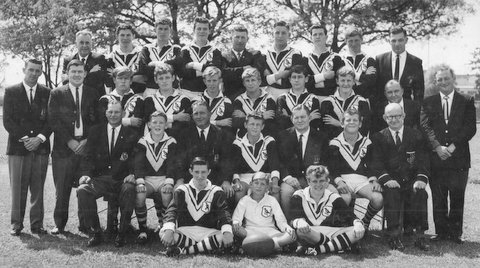 Back Row  J.Addision, R.Smith, M.Mclean ,F.Tagg, W.Leet, J.McGlivray, J.Rolfe PMcCarthy ,P.Panagiris
Second Row   Jim Murphy, B.Jones, D.Cornall, A.Driver, PMcGaulley, T.Lawerance, K.Kavanagh,
R.Tooby, J.Begnall,J.Taunton.
Front Row   J.Tagg, J.Nielsen, J.Miller, Tim Pickup(Capt) F.Reardon(Coach), Nev Horney, F.Wailes.
Seated: Jim Begnell, J.Duff, N.Smith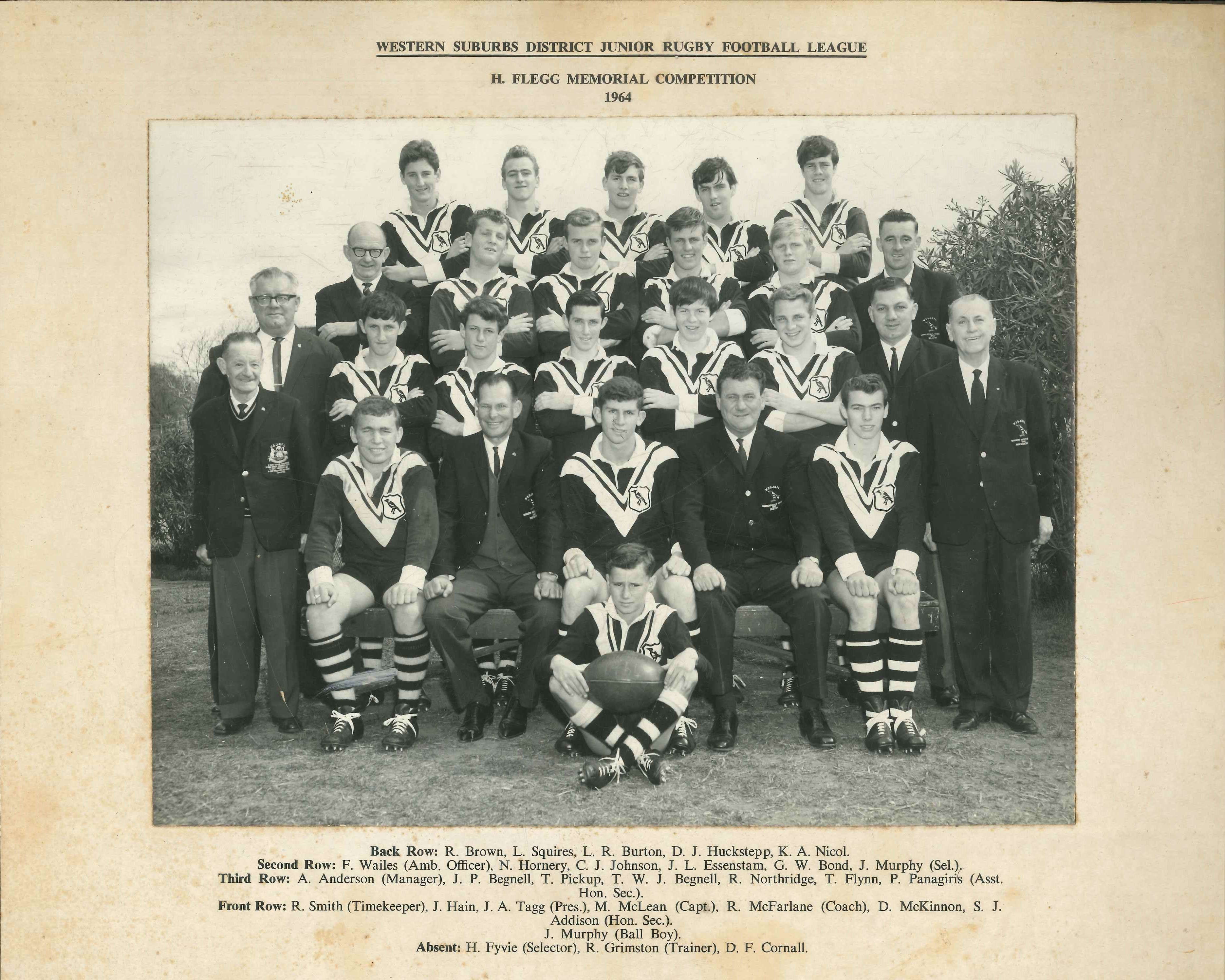 The Famous 1965 Flegg Team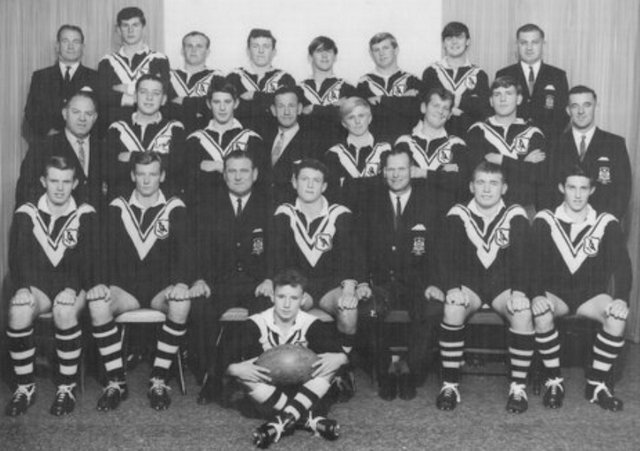 Tim is sitting behind Greg Murphy (ball boy)
In 1965, Western Suburbs RLFC called upon Pickup and teammate Neville Hornery to play in the 3rd Grade open-age Semi-finals.
Harrie Pickup deemed his son to be too young for this promotion at only 16 years of age, yet Neville not only accepted the challenge, he excelled and so began his chequered career.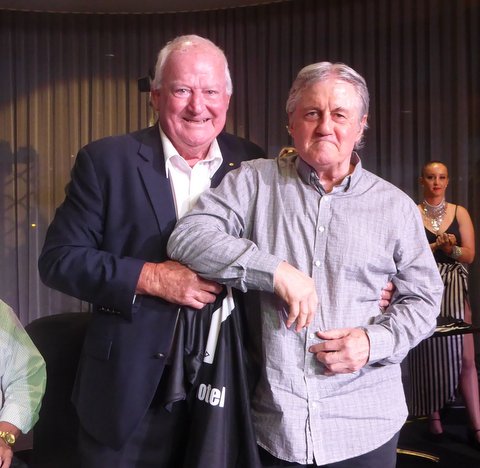 Noel Kelly presenting Tim with his Enfield Feds half-back of the Century jumper
Pickup did his schooling at St. Patrick's Strathfield, and graduated from Christian Brothers Lewisham in 1965. He was offered a high school scholarship to storied Rugby Union nursery, St. Joseph's Hunter's Hill but declined for at that time was not a fan of the game.
At the end of 1965 Harrie Pickup decided to move his family to the Northern Beaches, as all three brothers had discovered surfing and were regulars on the Peninsula. The Pickups settled in Curl Curl.
The information below is from MOL Life Member Ken Vessey
Born in the Western Suburbs of Sydney, he played in an undefeated Enfield Federals Junior Rugby League Club team for seven years, representing the Western Suburbs Club in the junior representative teams before his family moved across the Sydney Harbour Bridge to Seaforth and the Wests Club refused to grant him a clearance to play in any other rugby league district but theirs. It is difficult to comprehend that Tim never played with the Wests Club as he was no doubt destine for success as a clever Five Eight.
So what did he do then , it is worth reading :
He tried out at the Manly Rugby Union Club in the late 1960s as a 17 year old Fly Half and was graded in first grade where he played for three seasons before going to England, playing for Blackpool RL Club in 1970-71;
He then received offers from several Sydney RL Clubs and selected North Sydney Bears RL Club where he played 52 first grade games from 1972-74; he was awarded Player of the Year in 1973 & 74;
During 1972-75 his representative career bloomed, playing six games for NSW, three games for City NSW, 11 games for Australia including as a member of the 1973 Kangaroos touring team to England/France;
In 1975, he accepted a generous five year contract from the Canterbury Bankstown RLF Club where during 1975-79 he played 47 first grade games
In 1976, he injured his knee in a World Cup game against France and missed most of that season playing limited first grade games before retiring in 1979;
In 1985, he was awarded as a Life Member of the Canterbury Bankstown RL Club;
Upon retiring from rugby league, he linked up with champion boxing trainer Johnny Lewis at the Newtown PCYC and was manager of Jeff Harding when he won the WBC World Light-Heavyweight title against all odds in 1989;
In 2000, he was awarded the Order of Australia Medal for his outstanding services to Australian Sport;
2002 saw him appointed to the Board of the Canterbury Bankstown RL Club to rectify matters after the salary cap scandal
Lastly, in 2006, he named in the North Sydney Bears Team of the Century and was a finalist for both the Canterbury Bankstown Bulldogs 70 the Anniversary Team and the Manly Rugby Union Team of the Century .
One of Tims biggest fans was his ex Norths coach Noel Kelly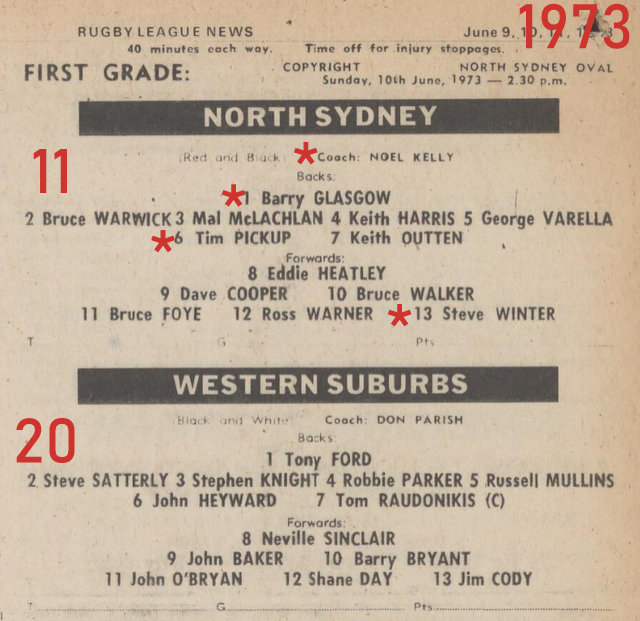 *

All ex Magpies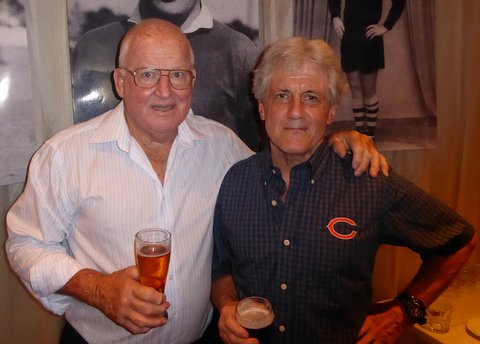 Noel and Tim at Noels 80th Birthday Party
The 1968 Manly Team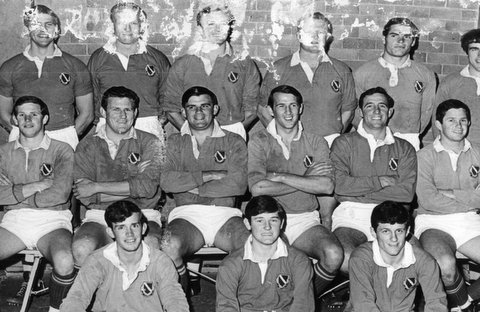 Steve Knight is five from the left back row and Tim is front row far right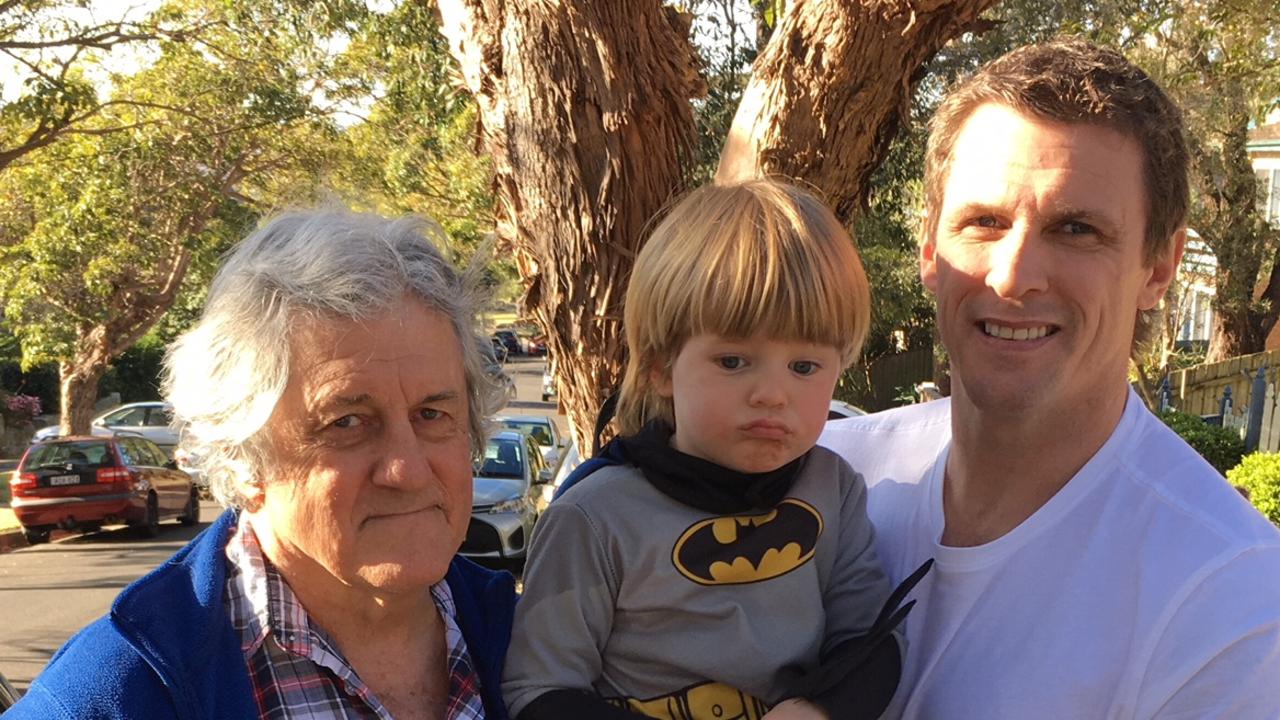 Tim with his grandson and son Martin
RIP Tim PICKUP