All Magpie fans know the name Barry Bryant….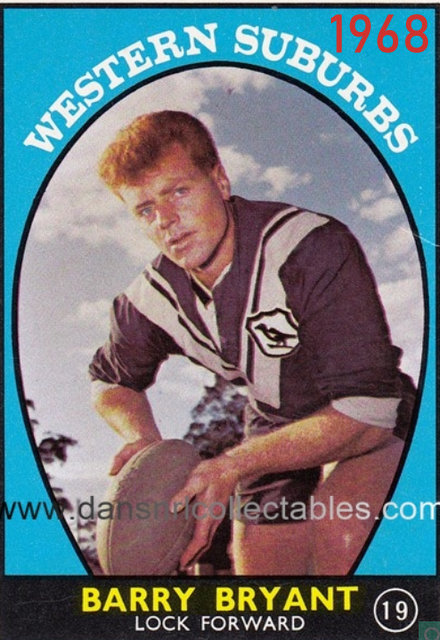 The big redhead from Cowra who came from the Cowra Magpies to play for the Wests Magpies in 1965
I had the pleasure to chat with Barry at his Cowra home about all things Rugby League

I hope you enjoy this step back in time when men like Barry Bryant played for Wests
Barry was born in 1945 at Cowra and was a very good sportsman from an early age
Barry's mum and dad would drive him to many sporting events
Besides Rugby League Barry excelled in running and track & road cycling
Barry's mum gave him her racing bike a Malvern Star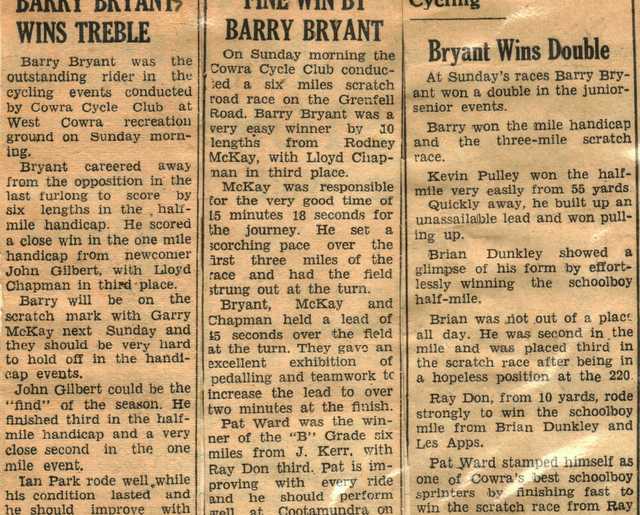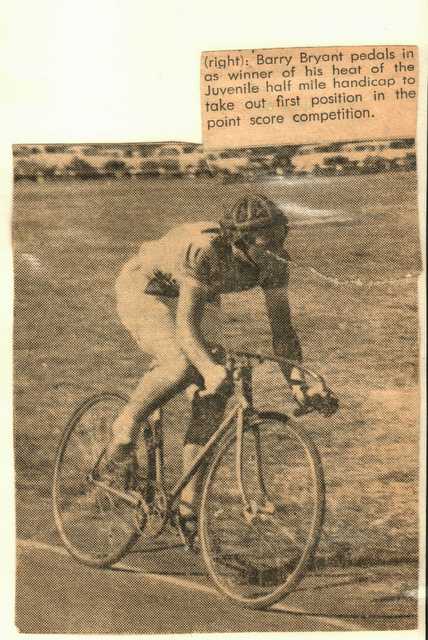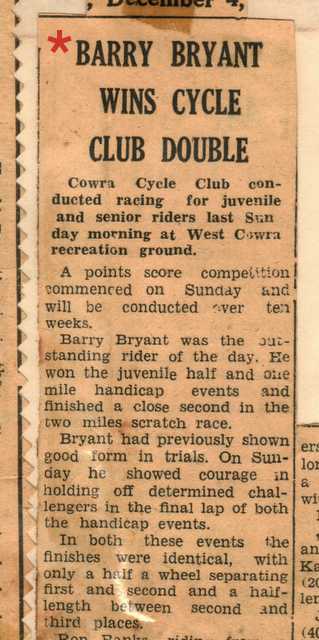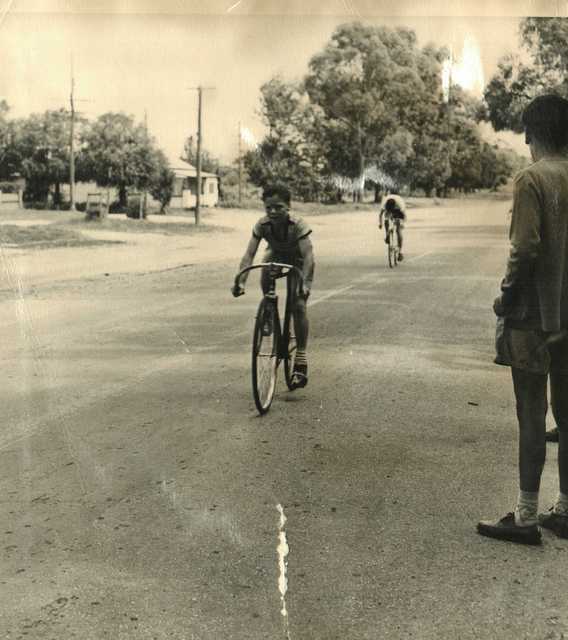 In 1958 Barry at the age of thirteen was playing A Grade for the local  Mulyan Under 21s Rugby League team
Mulyan was a "suburb" of Cowra. The Teams colours were Black and White

1961-1964
Barry at the age of only 16 was playing in the Group 10  competition for the Cowra Magpies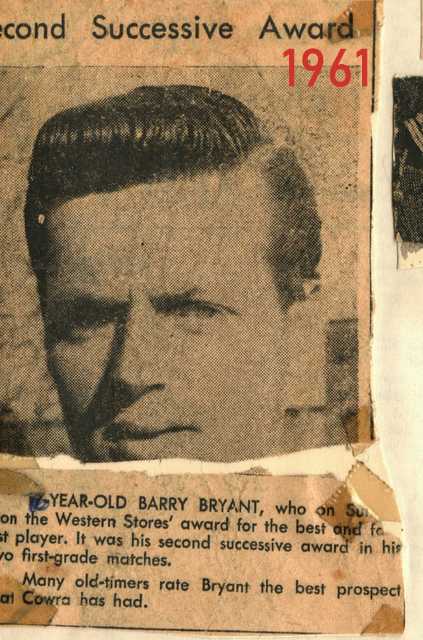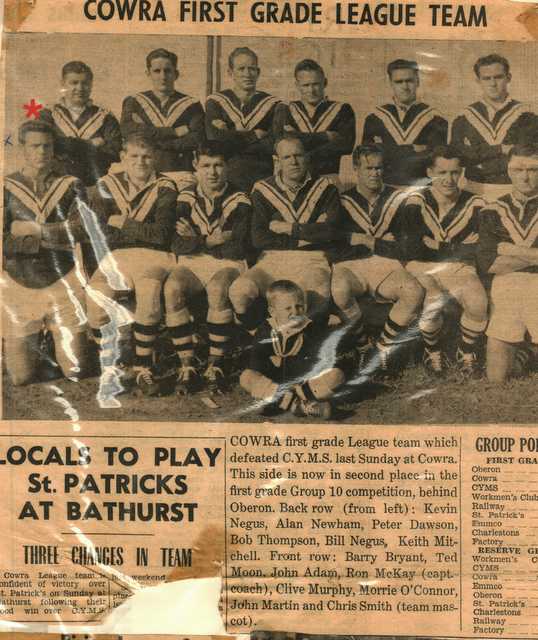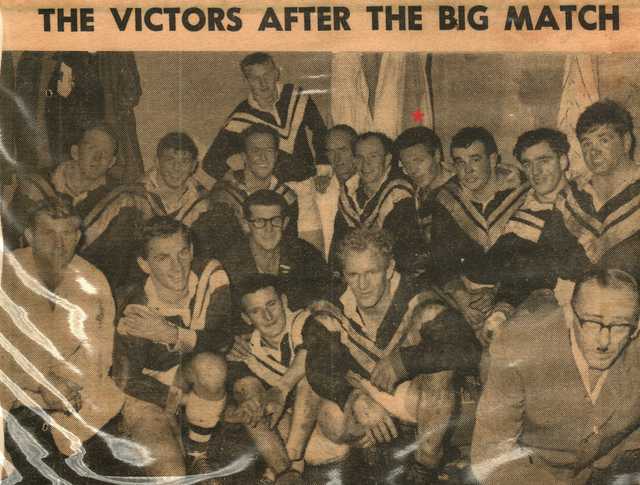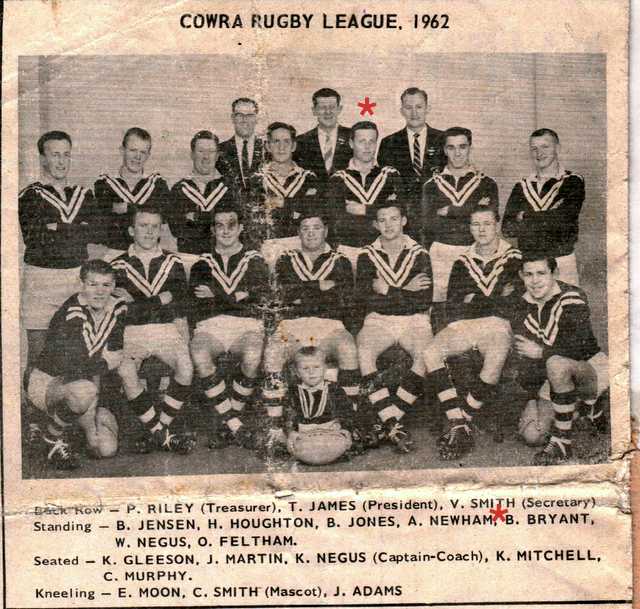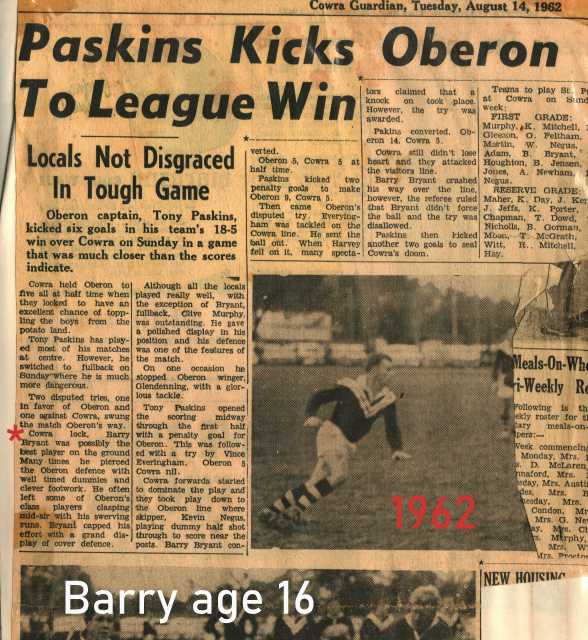 The year 1963 would see Barry's life change forever
Frank Stanmore the famous Wests five eight had seen Barry play for Cowra and got in touch with Wests who sent Bernie McCabe and Bill Beaver to sign Barry to play for Wests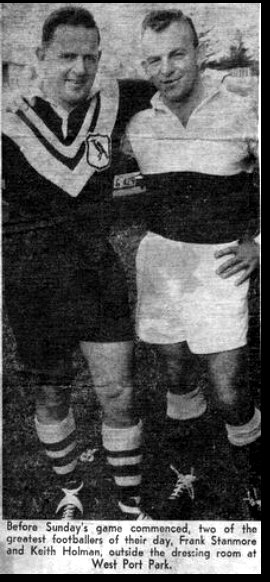 Two Wests greats Keith Holman and Frank Stanmore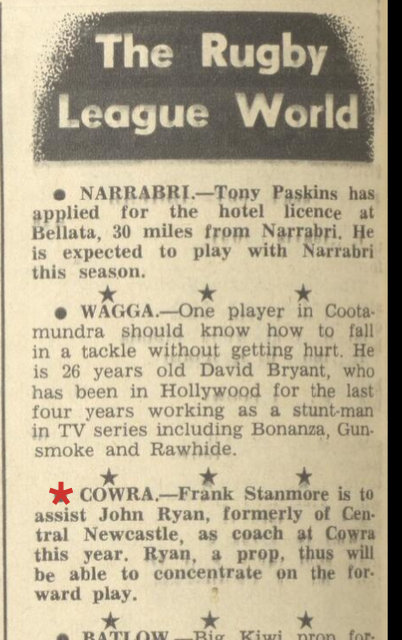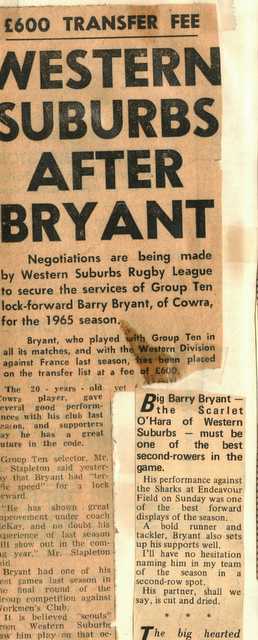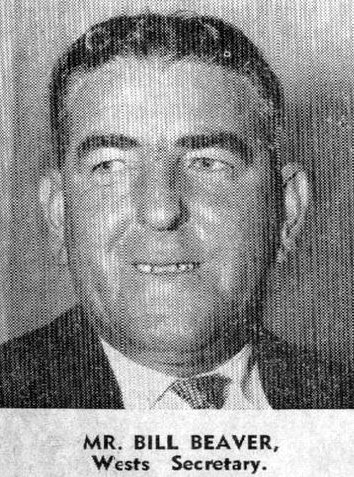 Barry's dad said Barry was too young and it was another year before Barry was signed to play for Wests in the Sydney competition
 Meanwhile at the age of 19 in 1964 Barry played for Western Districts against the touring French team at Wade Park Orange
The local boys beat the French 27-17
1965
Barry comes to Sydney and remembers training at Ashfield Park and meeting the other Wests players one in particular that stands out was Gil MacDougall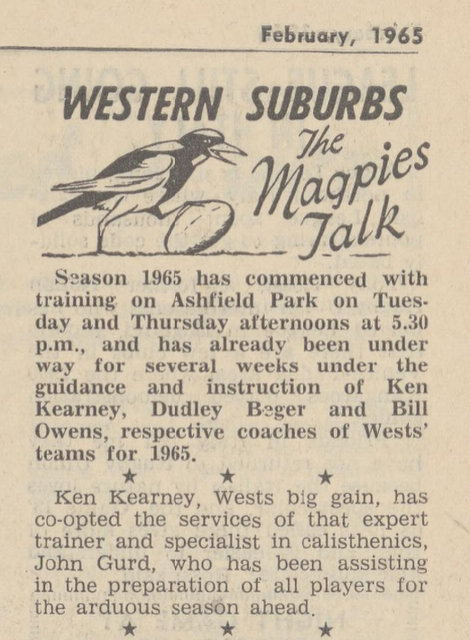 Gil playing for Wests
The season for Barry starts off with a win in Reserve Grade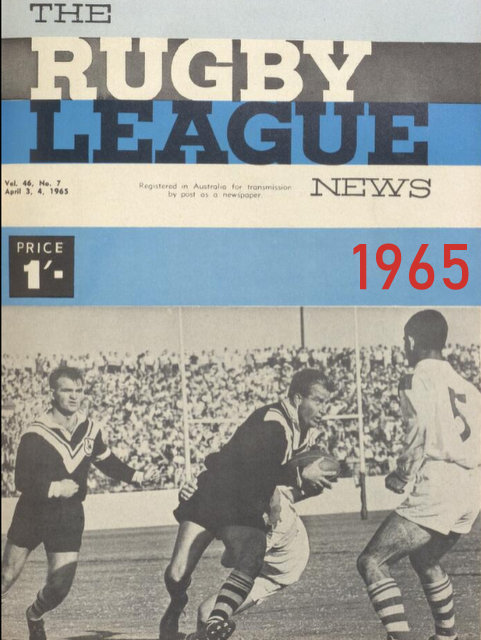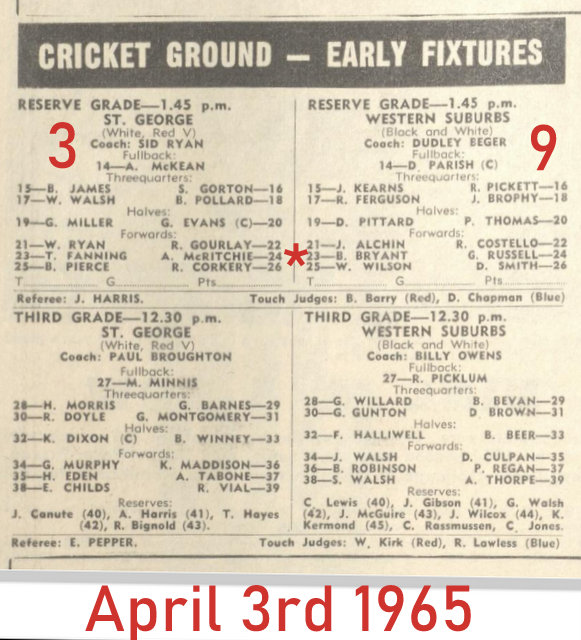 First Grade Team that day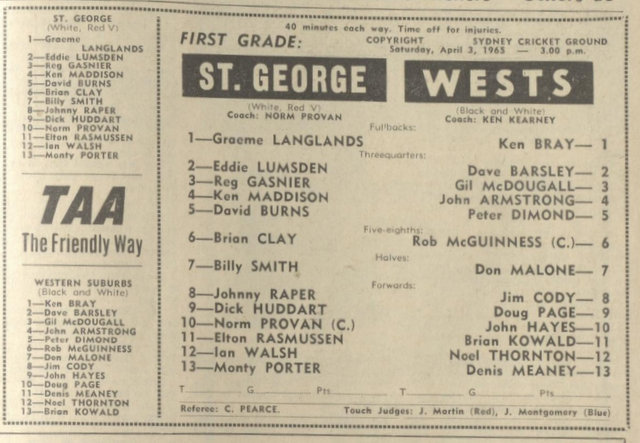 It was not until near the end of the 1965 season that Barry had his 1st First Grade game
The Final of the State Cup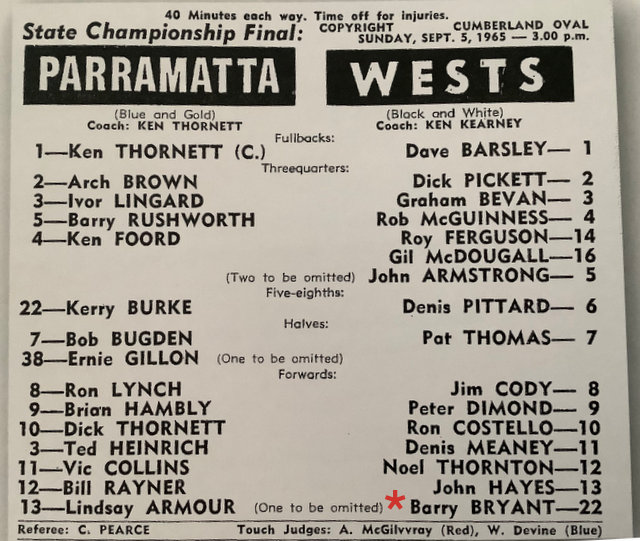 Barry remembers the hostile reception Wests received when they played Parramatta at Cumberland Oval
Score Wests 16 beat Parramatta 14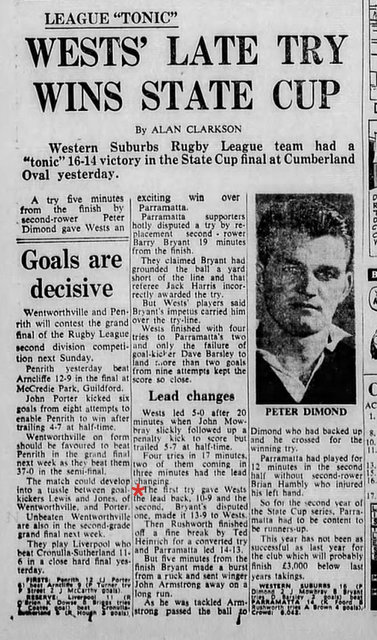 Barry assures me it was a fair try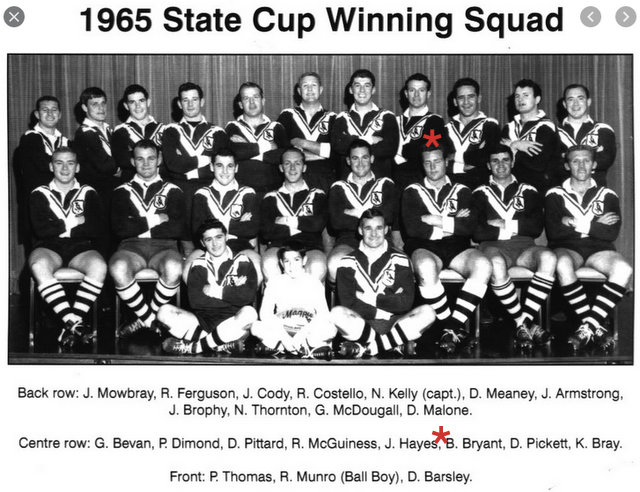 Also in 1965 a Wests Squad toured North Queensland
Barry was in the squad age 20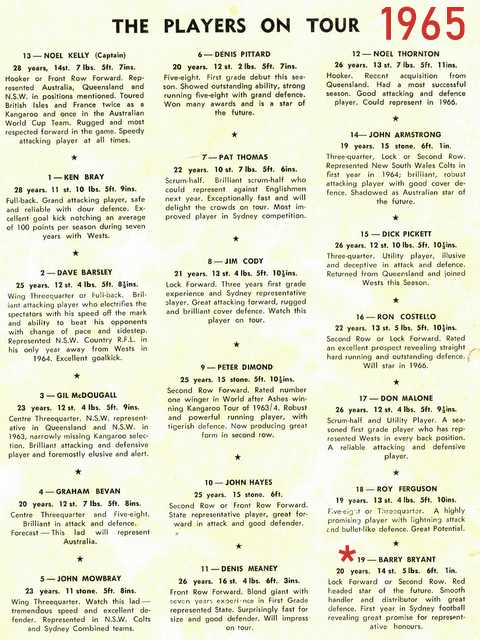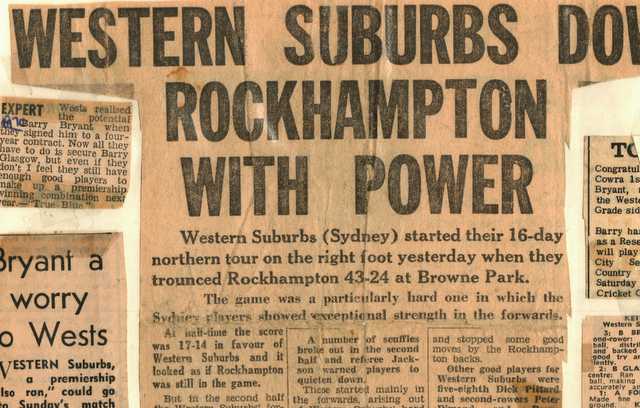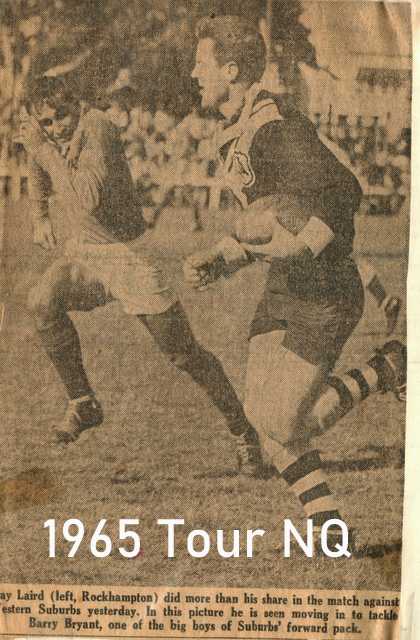 1966
Barry is still in the Army doing his National Service which makes it hard for him to both train and play for Wests
Barry only plays five First Grade games in this year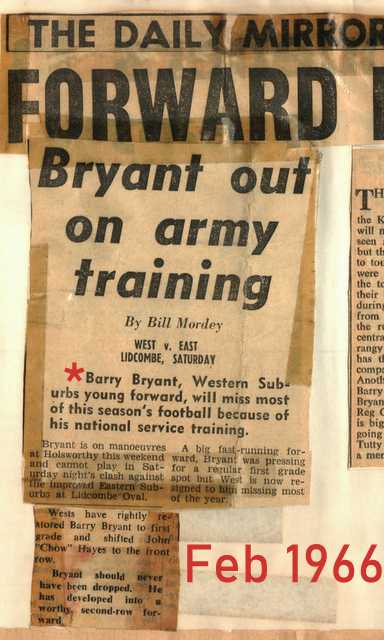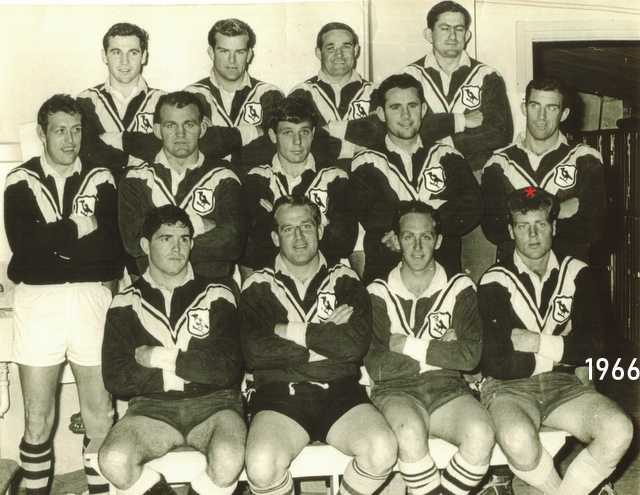 This team photo was taken in the Pratten Park dressing shed
Dennis Pittard, Ross Goodman, Dave Barsley, Don Parish,
Ken Stonestreet, Peter Dimond, Roy Ferguson, John Hayes, Doug Walkaden,
Jim Cody, Noel Kelly, Rob McGuiness, Barry Bryant.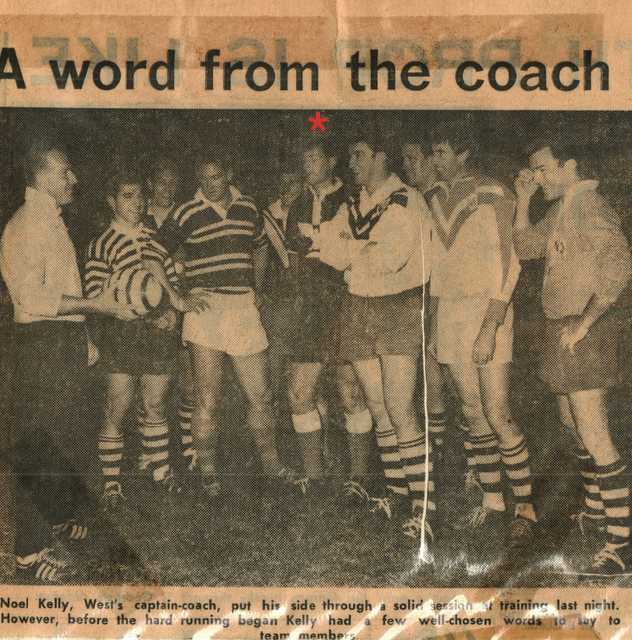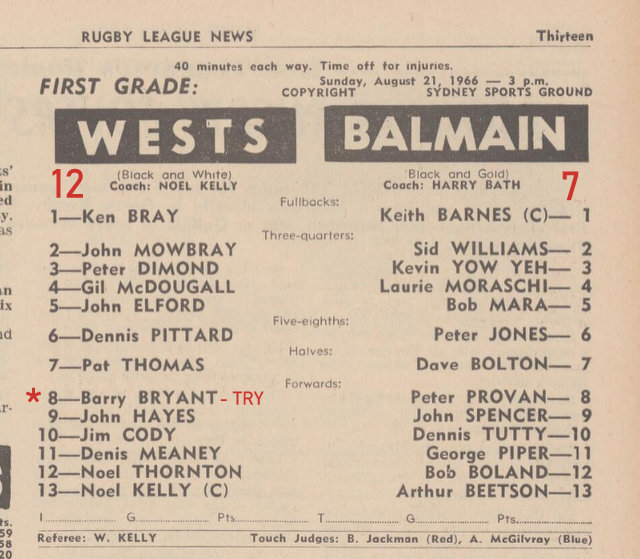 Last game of the 1966 regular season Wests beat Balmain and Barry scored a try

Wests won the last four games of the 1966 season and qualified to play Newtown for the last spot in the Semis of 1966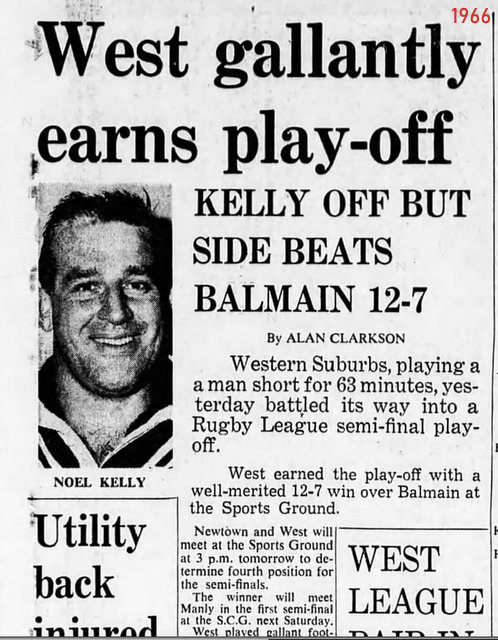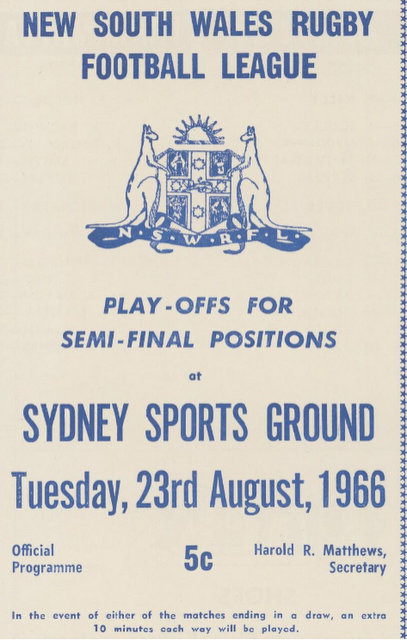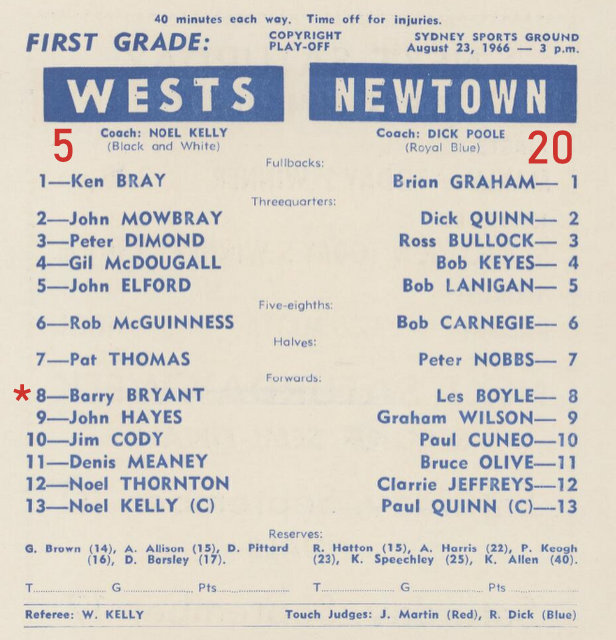 Unfortunately the team did not look like this when it ran onto the field
Noel Kelly was suspended and Jim Cody was injured
*
Also in 1966 Barry had a game of Rugby Union Playing for the Combined Services V Sydney
The game was played at Coogee Oval on the 3rd August and Barry played on the wing!!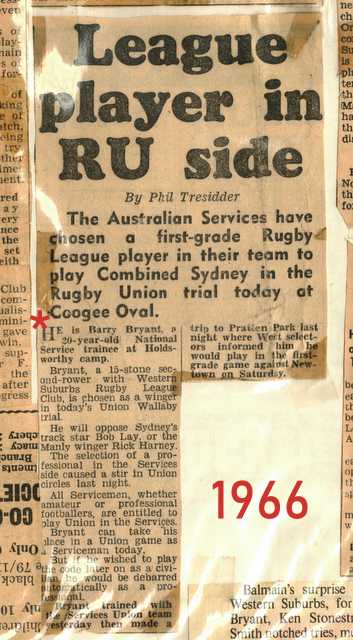 Barry's opposite winger was  the very fast Bob Lay
Bob Lay ran in the 1964 Tokyo Olympics and the 1962 Perth Commonwealth games for Australia.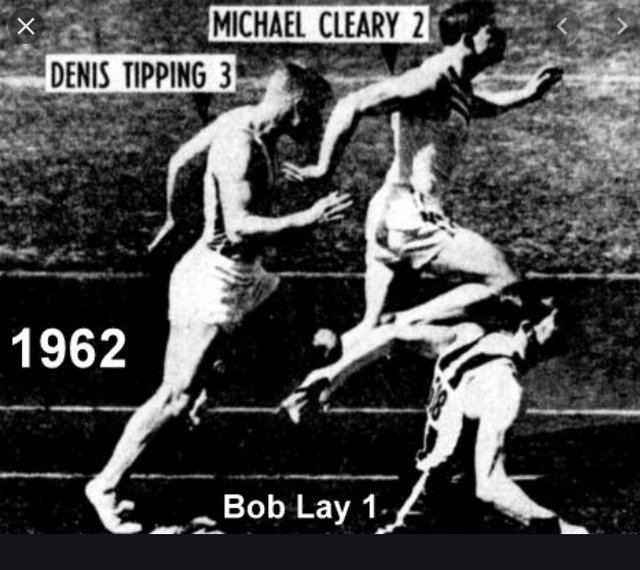 Result: A Red Hot Sydney Team 22 beat Combined Services 10
1967
Barry sought the help of Mr Fred Daley to see if he could be transferred to an Army base in Sydney to be able to play more footie for Wests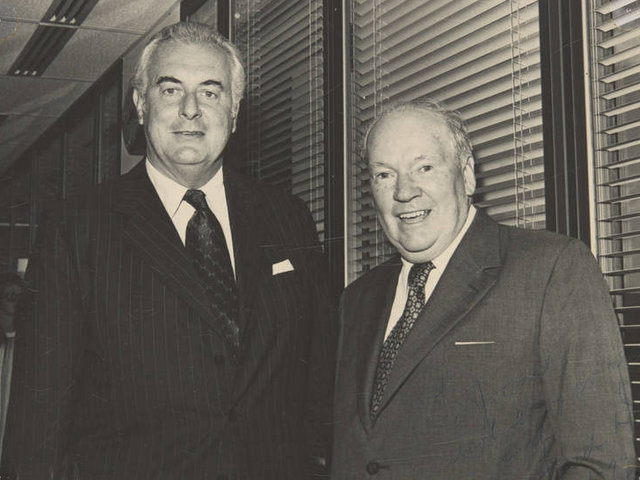 Gough Whitlam and Fred Daley
Fred was a very keen Wests supporter and it happened.
*A little about Fred Daley.
Frederick Michael Daly AO (13 June 1912 – 2 August 1995) was an Australian politician who served as a member of the House of Representatives from 1943 to 1975, representing the Labor Party. In the Whitlam Government he was Leader of the House, Minister for Services and Property, and Minister for Administrative Services.
 Barry now based in Sydney and in his last year of Army life played 17 First Grade games in 1967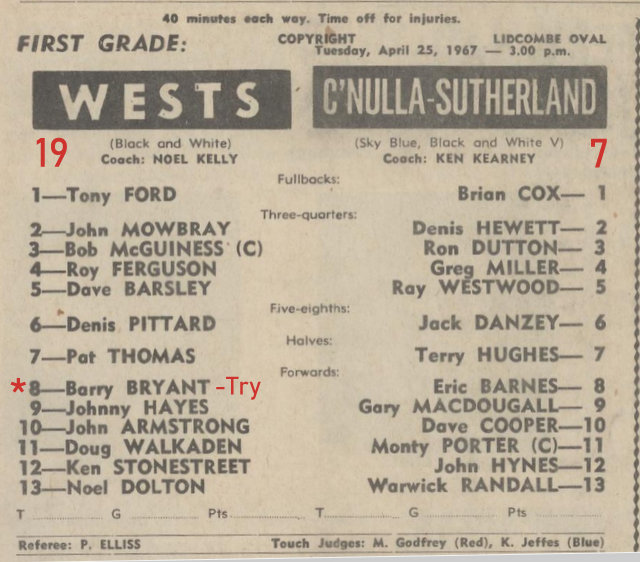 Barry scores a try
Noel Kelly and Peter Dimond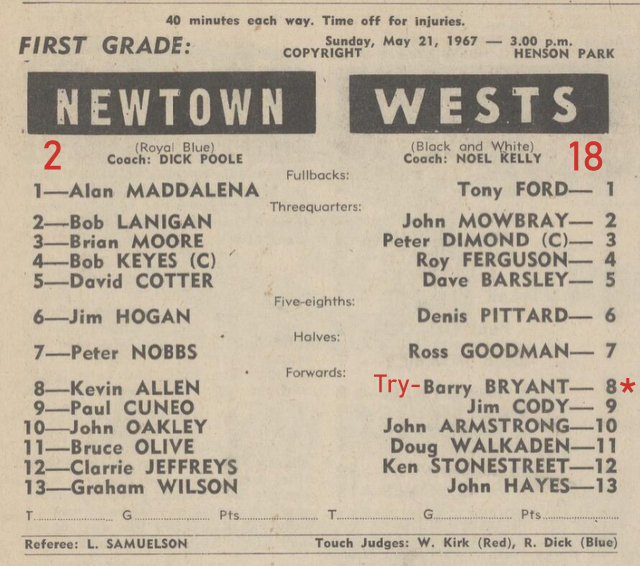 Good win to Wests and Barry scores another try
Note: Peter Dimond is Captain
Wests missed playing in the 1967 Semis.
1968
Barry has finished his two years in the Army and the 1968 season awaits him and Wests.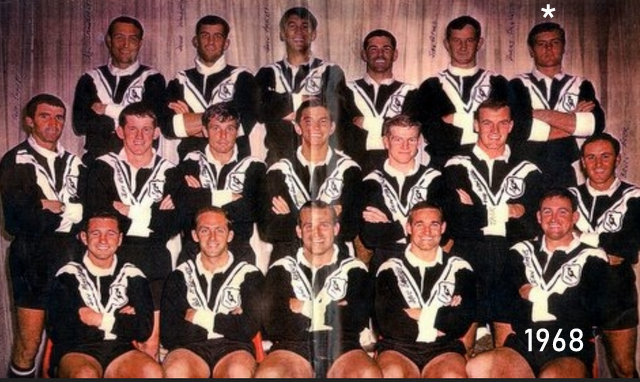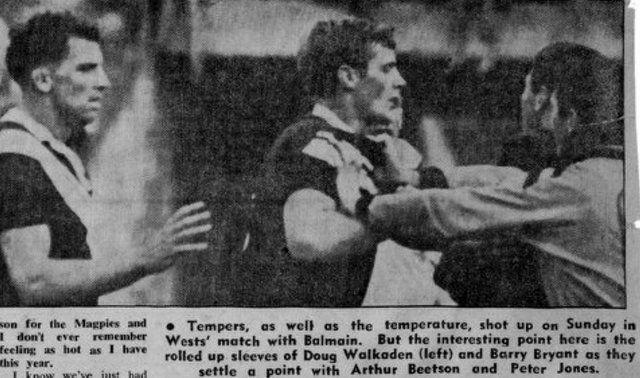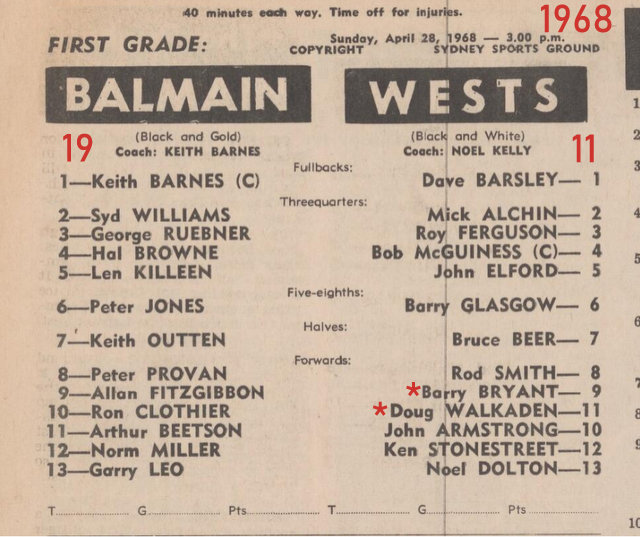 * Doug Walkaden and Barry playing in the second row.
In 1968 three big games stick in Barry's memory
The two wins against St George one at Lidcombe Oval and one at Kogarah Oval and the big win over Canterbury on the 25 August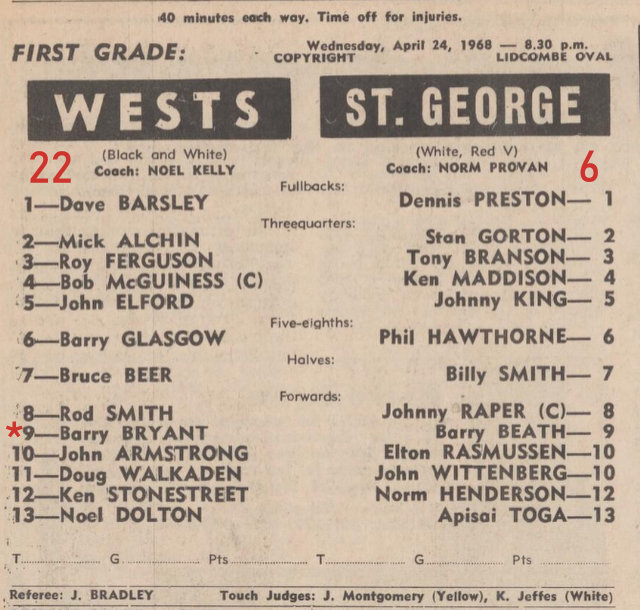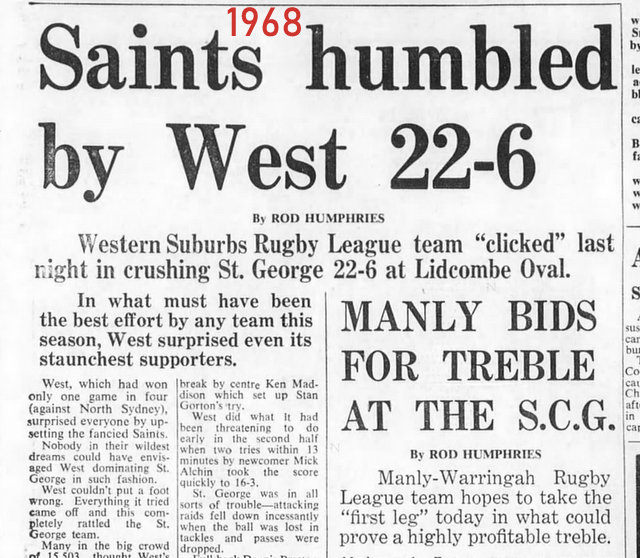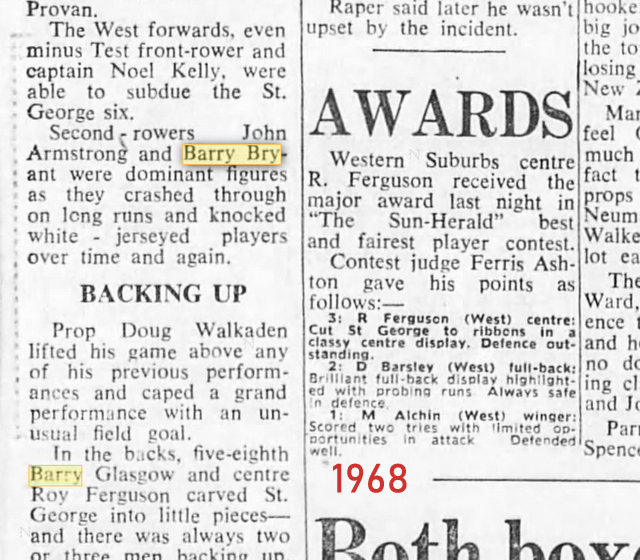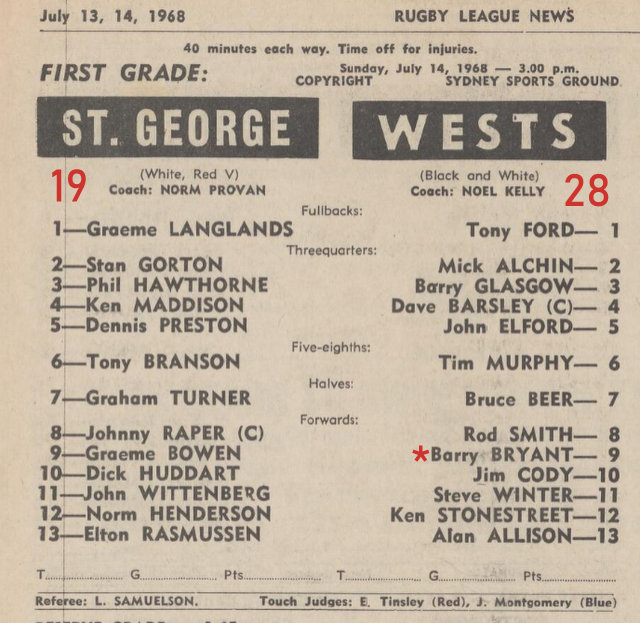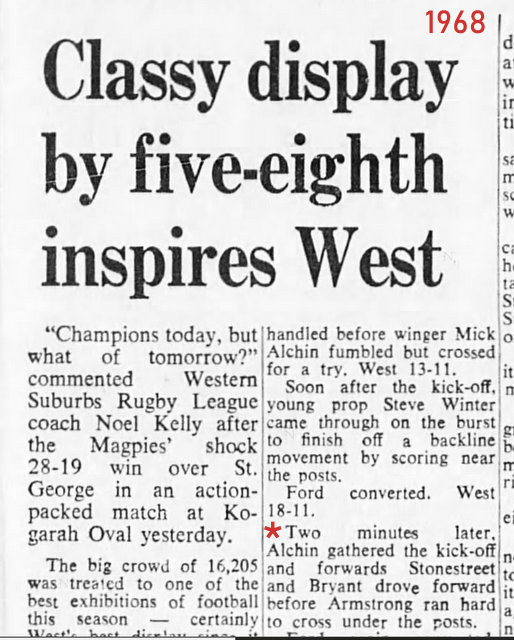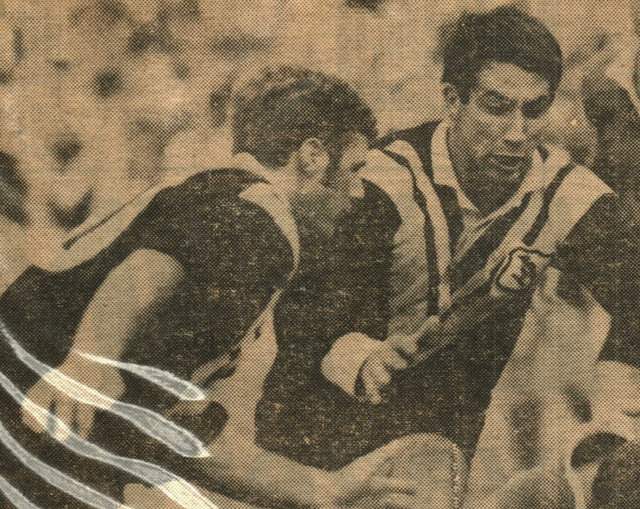 Barry and Mick Alchin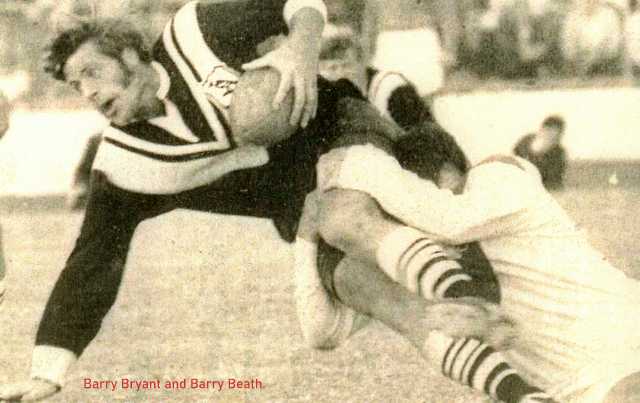 Photo thanks to Steven Lalich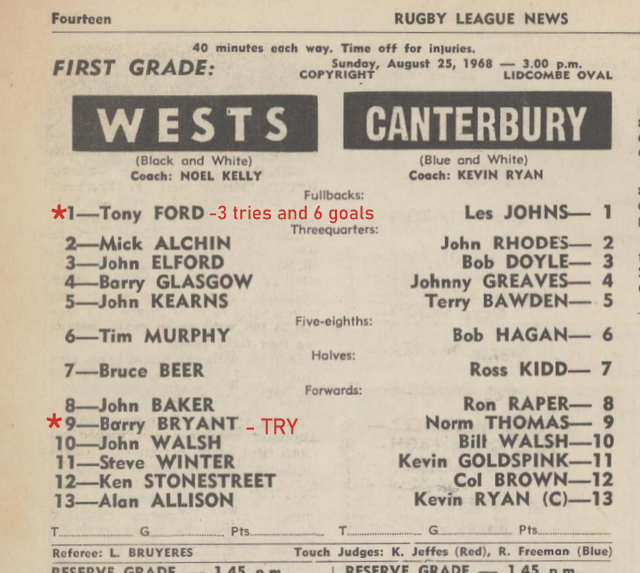 Wests have a big win against Canterbury but a little too late for Wests to make the semis

Thanks to Barry's great memory a mystery was solved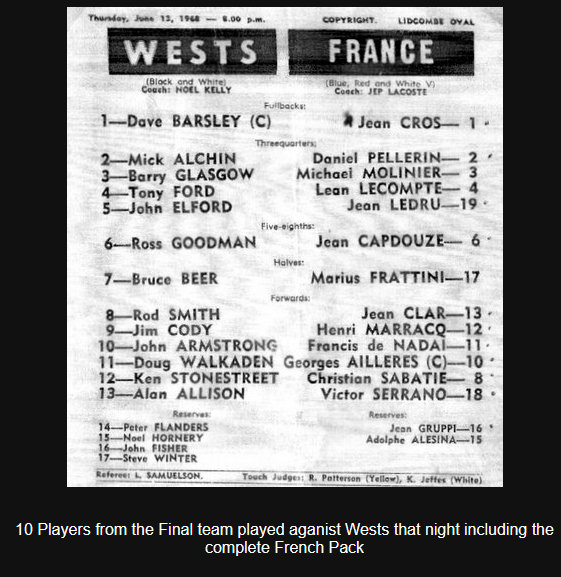 Why was he missing from the Wests V France game??
A broken hand that kept Barry out for four weeks.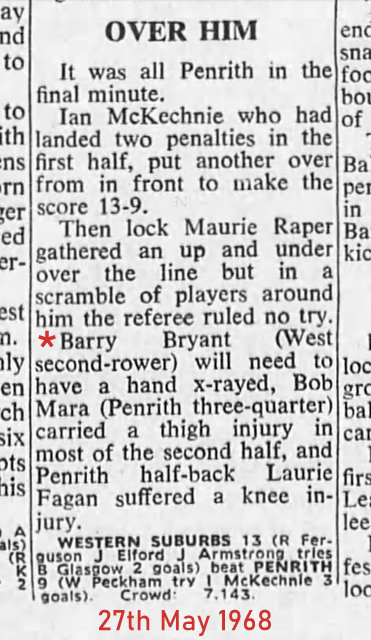 1969
1969 was Barry's best year at Wests and playing Rugby League
Barry played 21 First Grade games and scored five tries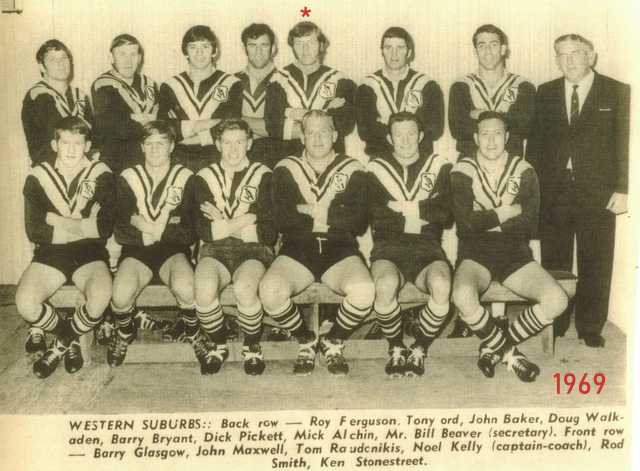 He won all the awards at Wests and played in the Sydney Seconds v Country Seconds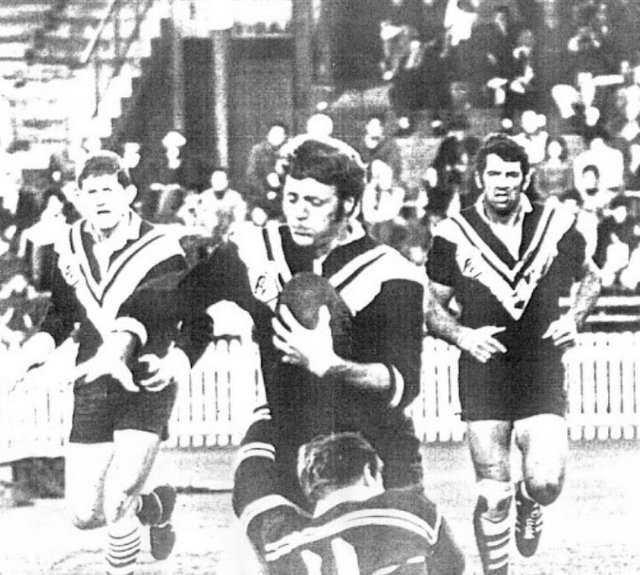 Barry Glasgow, Barry and Doug Walkaden at the SCG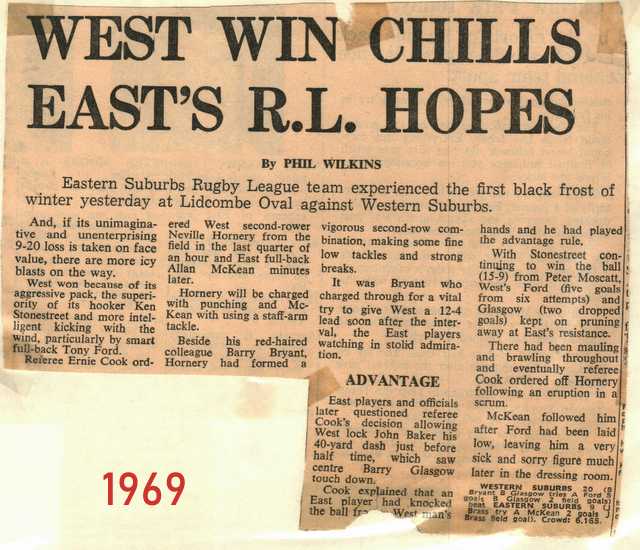 The famous Nev Hornery send off. Nev got one week for every punch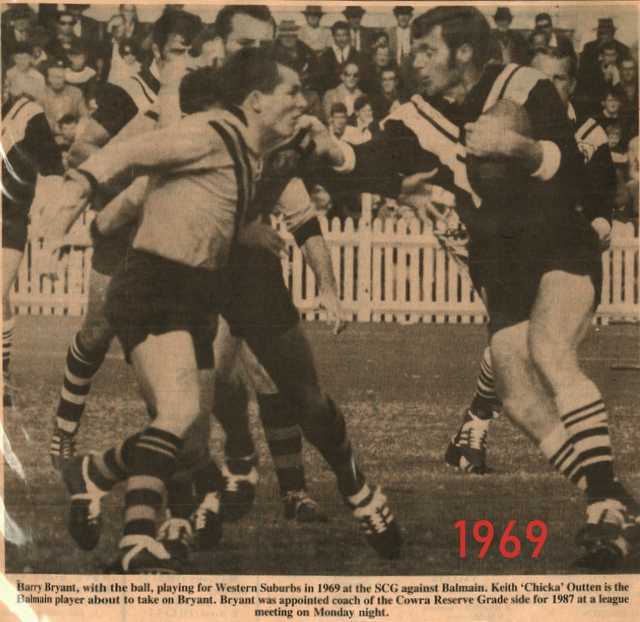 A very young Tommy Raudonikis in front of Barry

Barry and John Baker worked together on the County Council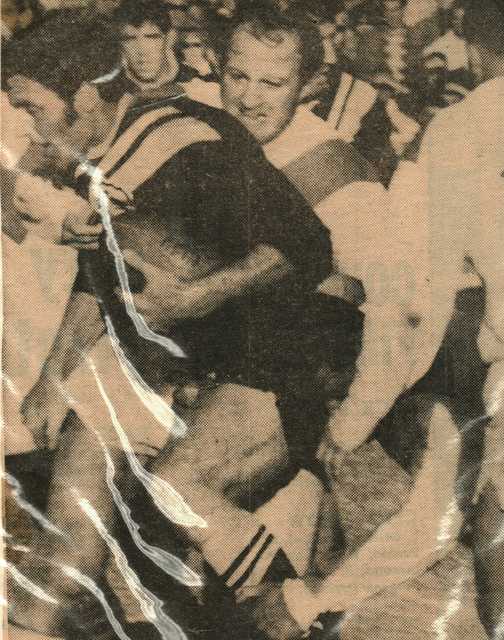 Barry being tackled by John Raper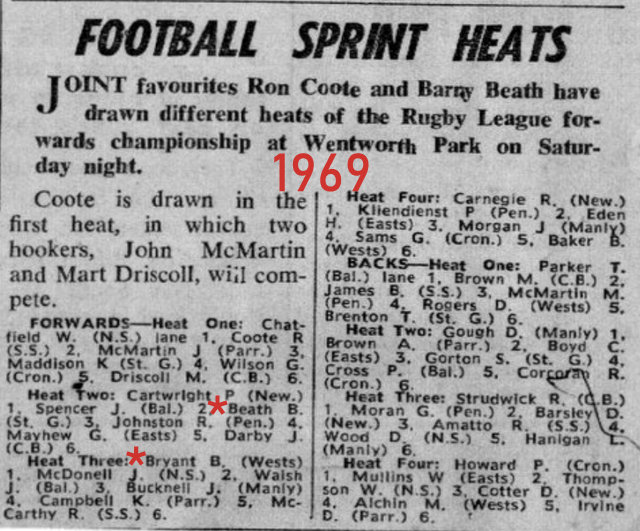 These sprint races held at Wentworth Park dogs were very popular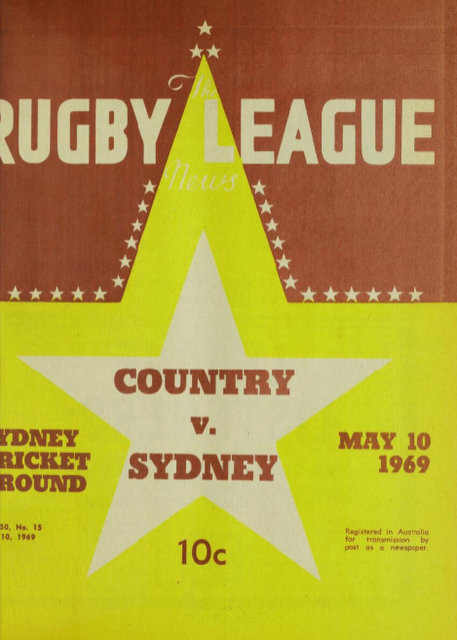 Barry received a couple of Telegrams of congratulations before the game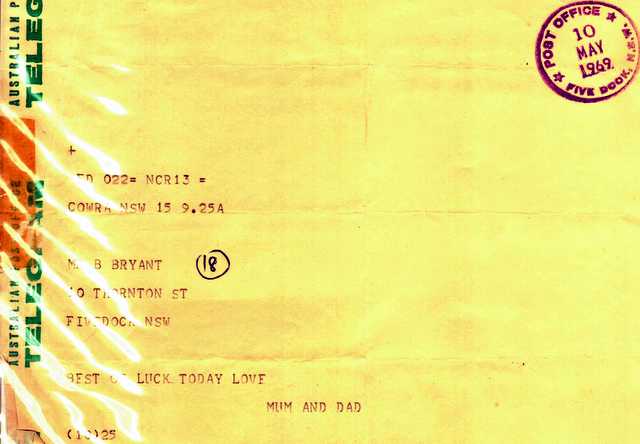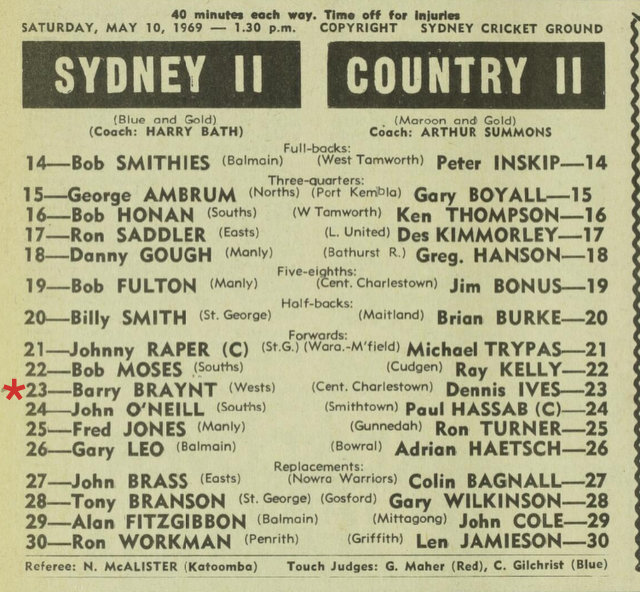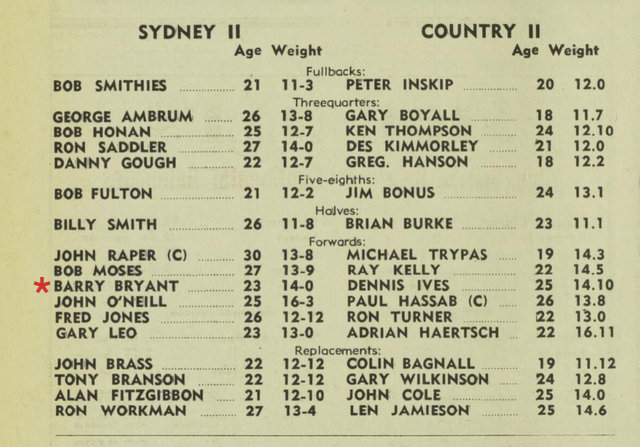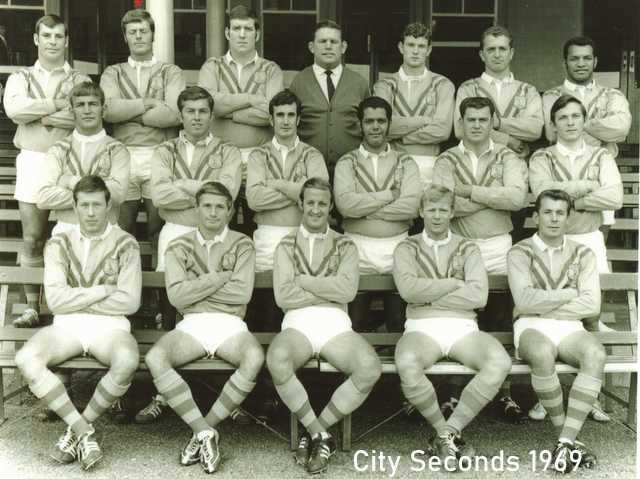 Country II 24 beat City II 18
Wests had a couple of good wins in 1969 Barry scored tries in both
 Wests also beat the future 1969 Premiers Balmain at Leichhardt Oval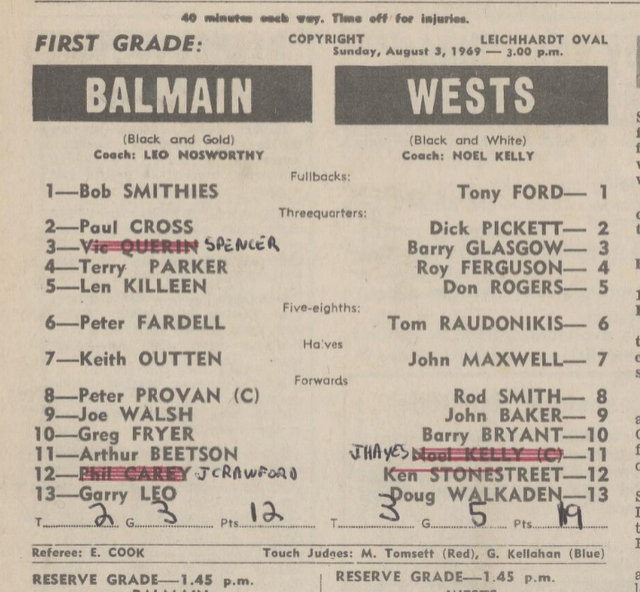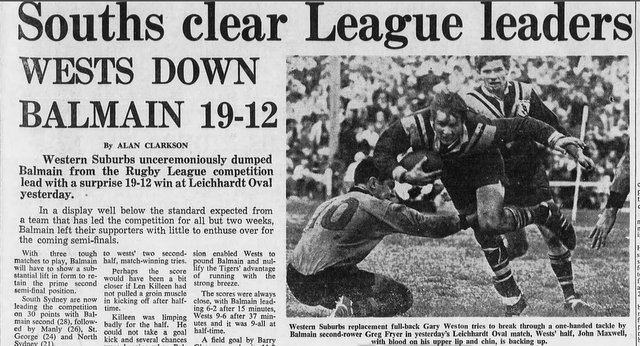 Barry scored a try in this game.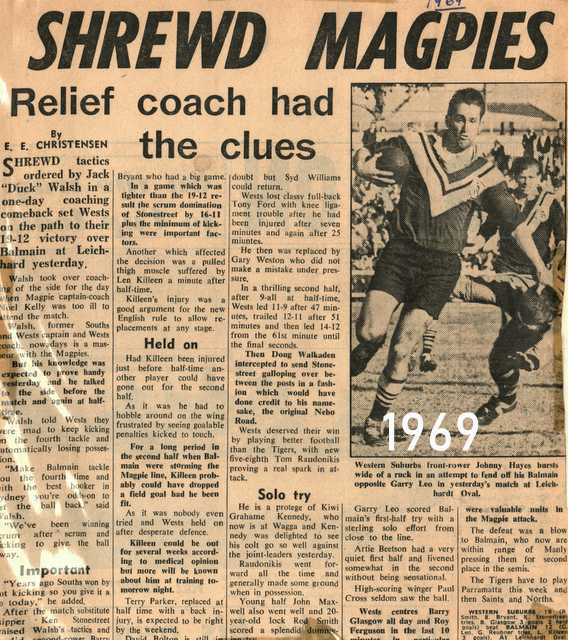 And Noel Kelly played his last game at Lidcombe Oval for Wests.
Barry was there.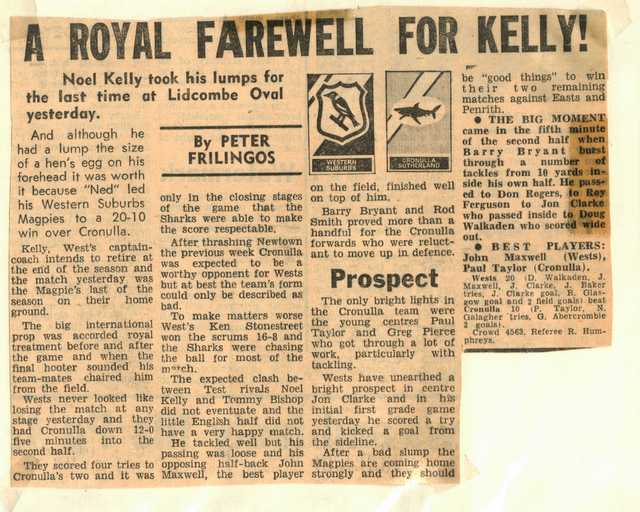 Wests won their last five games in the 1969 season but missed out on making the semi finals
1970 – 1971
A new decade and a new coach at Wests. Ron Watson took over from Noel Kelly as coach of Wests First Grade
The 1970 and 1971 seasons were not good for Wests only winning six games in 1970 and four games in 1971
Barry played 20 First Grade games in 1970 and 22 First grade games in 1971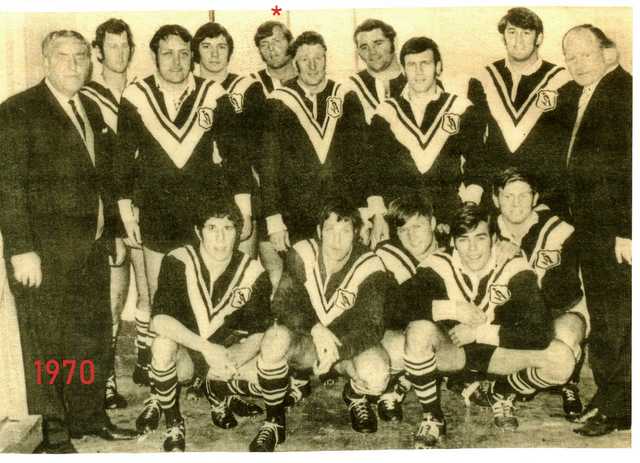 Ron Watson the new coach is standing far right.
*

Barry made history by being on the First front cover of the new Rugby League Week magazine
Barry remembers this one game from 1971
Wests 55 beat Canterbury 12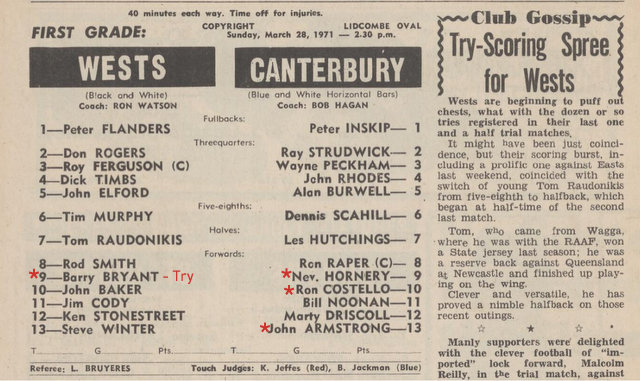 Barry scored a try in this game (as did almost everyone else)
* Three ex Magpies playing for Canterbury.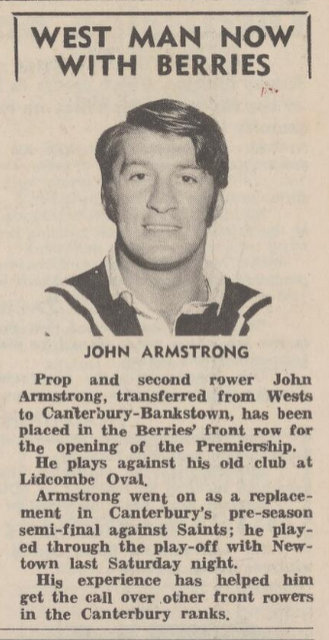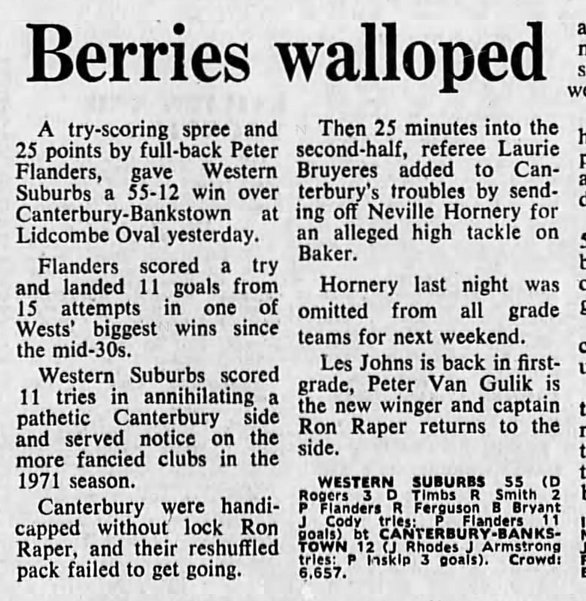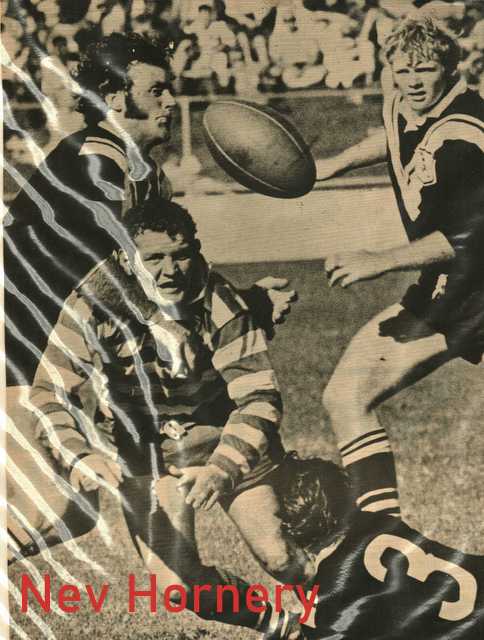 Barry was sent off in the Second Round game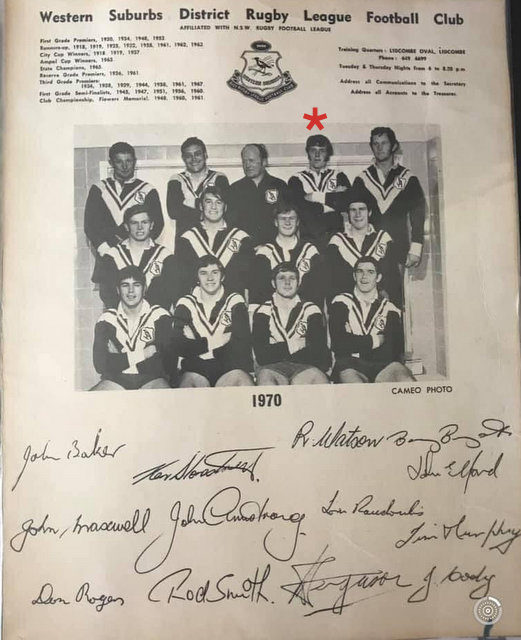 Barry had only one major injury in his time at Wests a broken chest bone.
It happened when Barry was involved with a tackle on Malcolm Reilly at Pratten Park.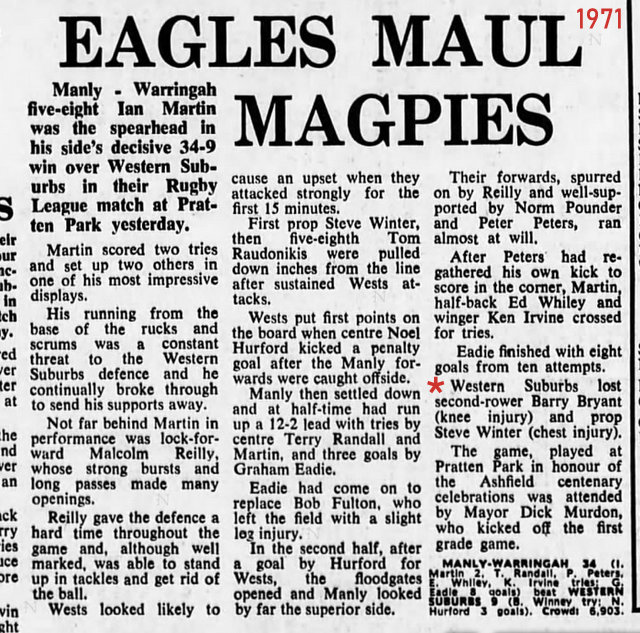 The newspaper report is wrong…Steve Winter had the knee injury and Barry the chest injury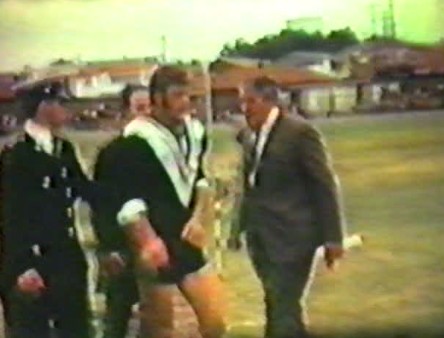 Photo of Barry leaving Pratten Park with the chest injury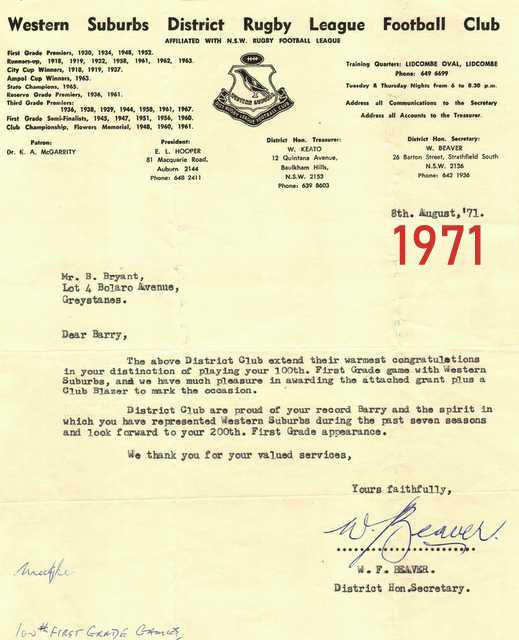 1972 and 1973
Don Parish was appointed as the new Wests coach for the 1972 season. Don played for Wests and Australia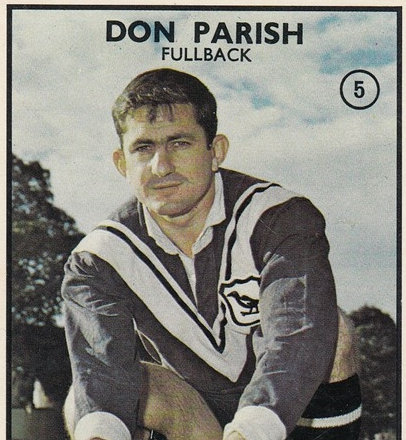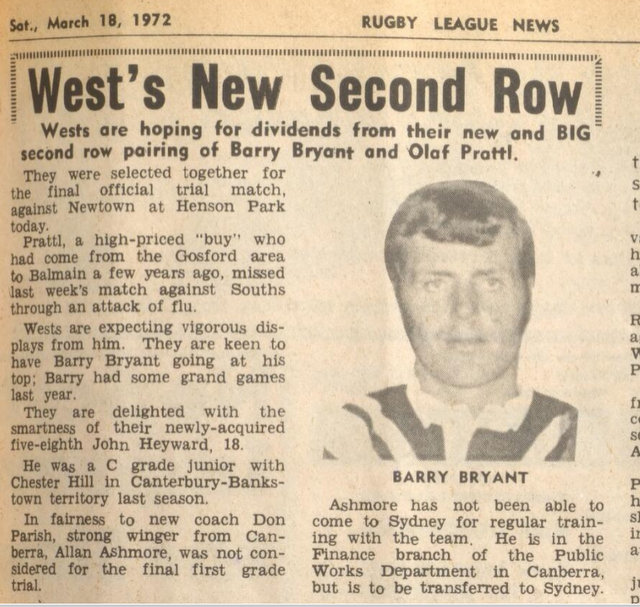 Wests returned to Pratten Park on the 29th of April 1972 and beat North Sydney 39- 10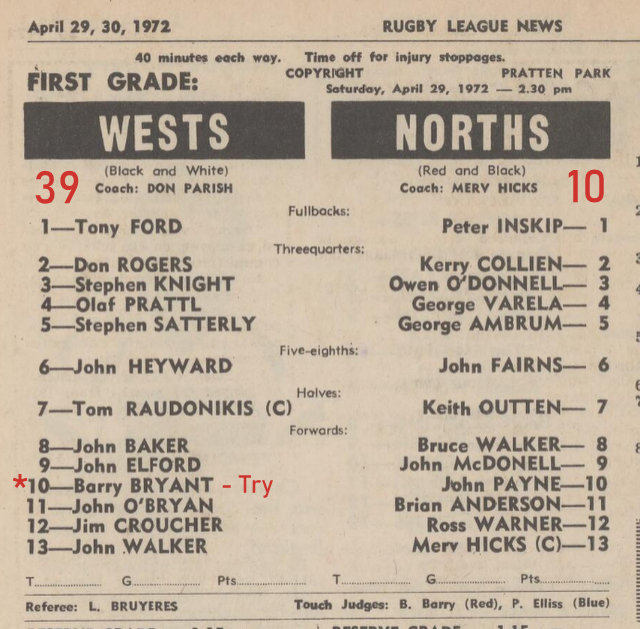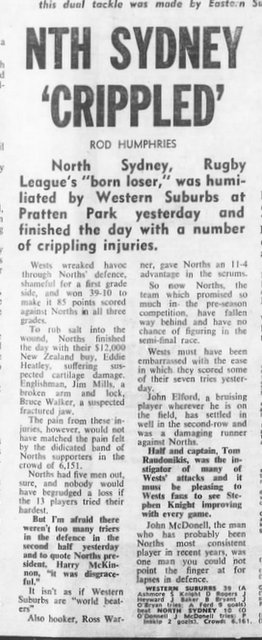 One game in particular that Barry remembers is the Wests v Saints game played at the SCG on the 13th May 1972
Barry won the Man of the Match.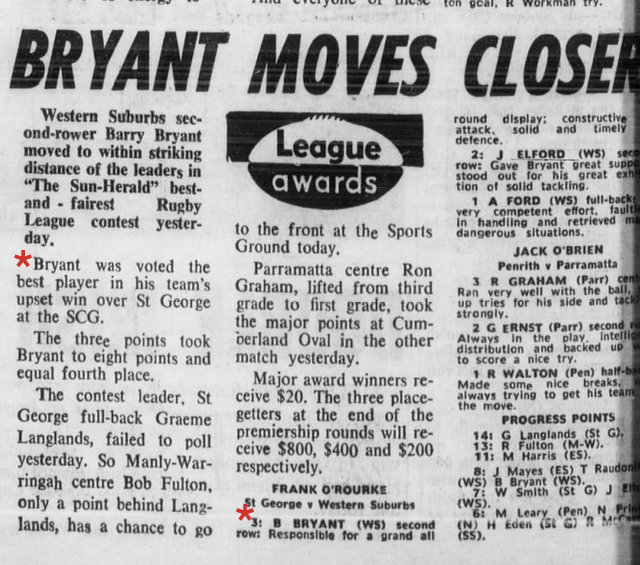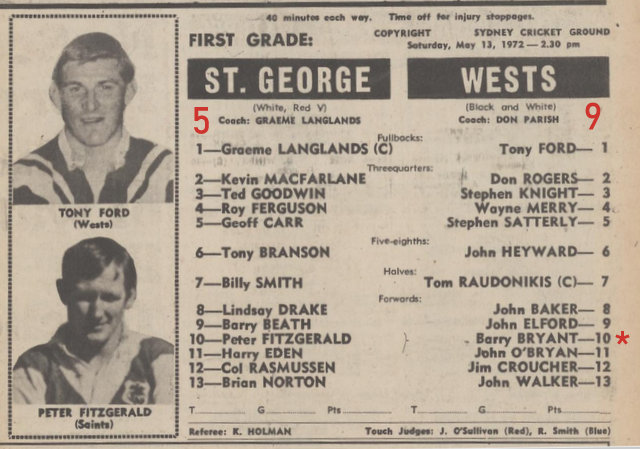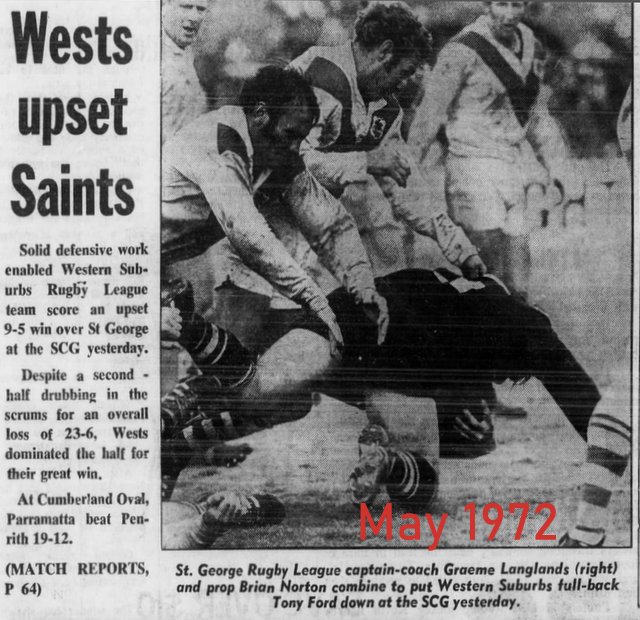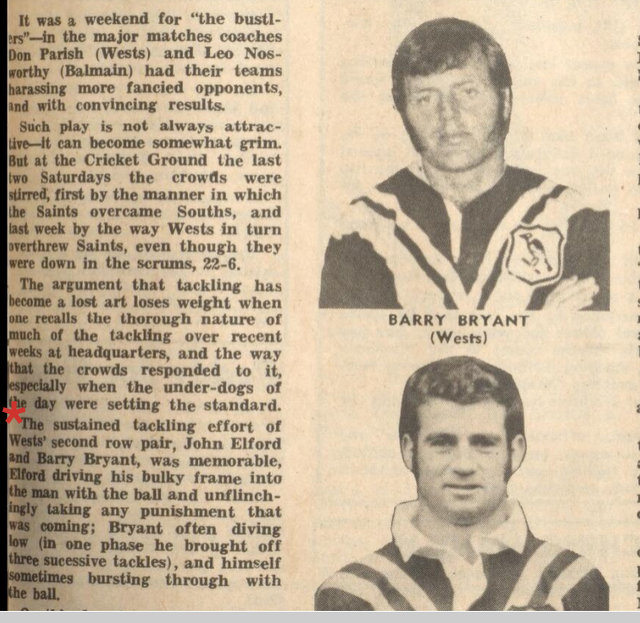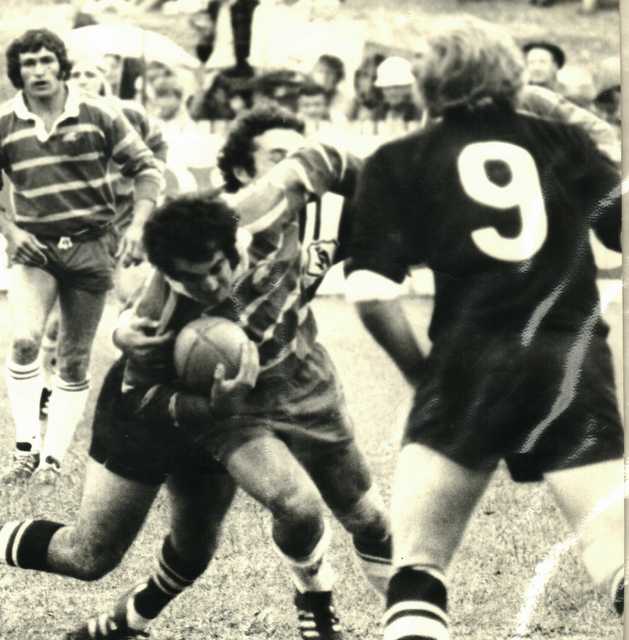 Barry playing against Parramatta at the old Cumberland Oval in 1973
1973 The Final Season
1973 was Barry's last year at Wests he played 19 First Grade games and only one Reserve Grade game
That Reserve Grade game was Barry's last game at Wests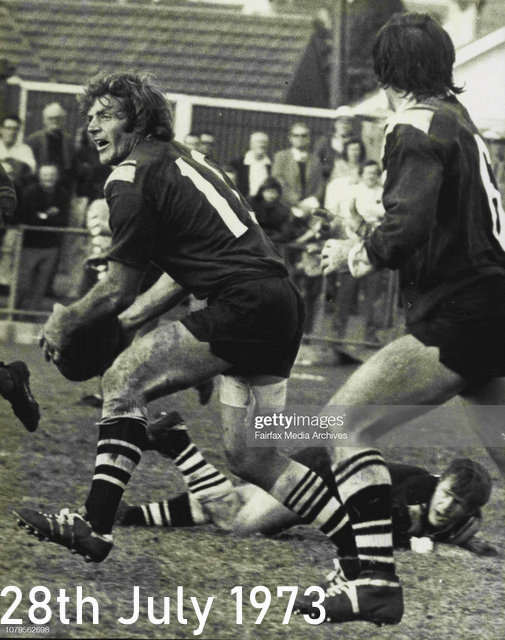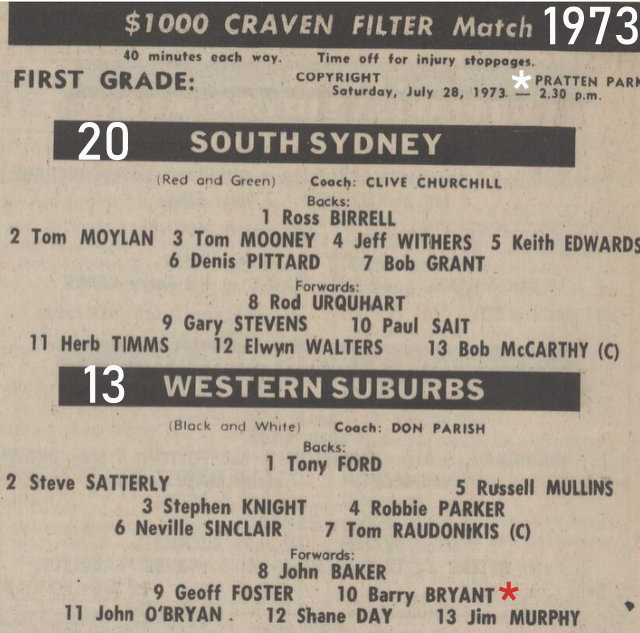 Below Barry's last First Grade game for Wests played at Pratten Park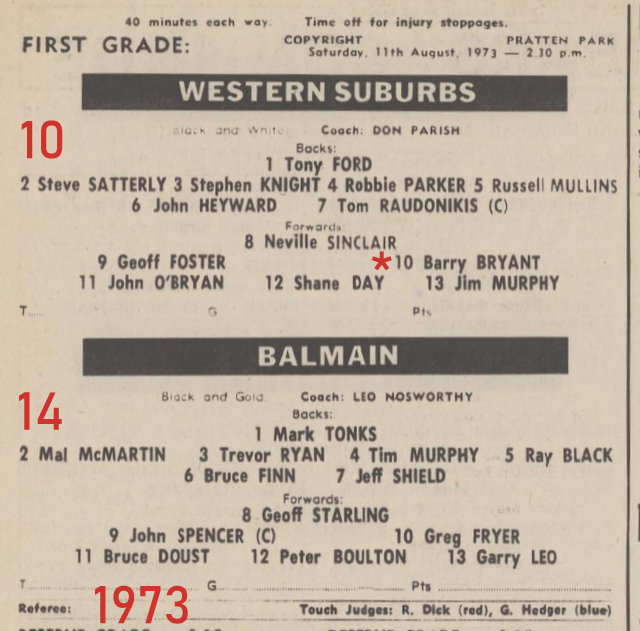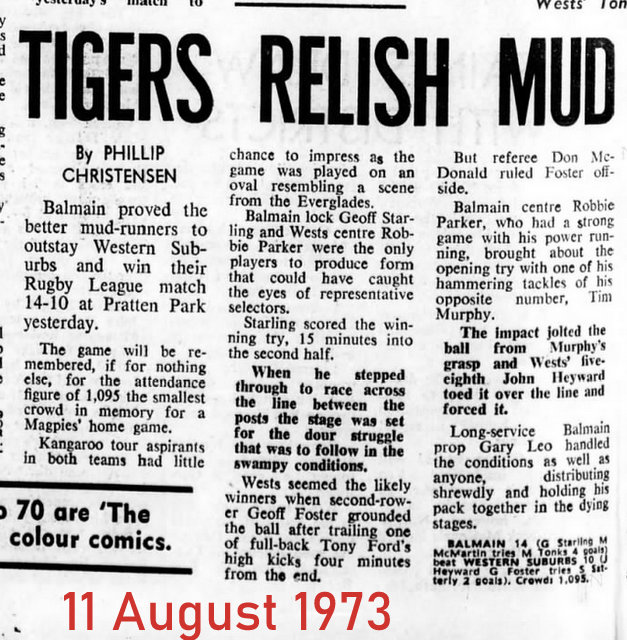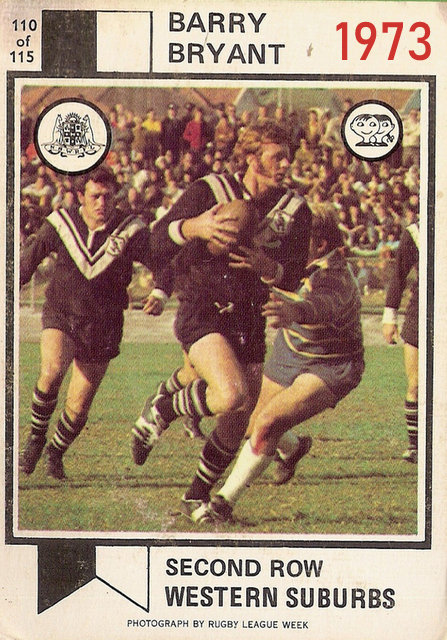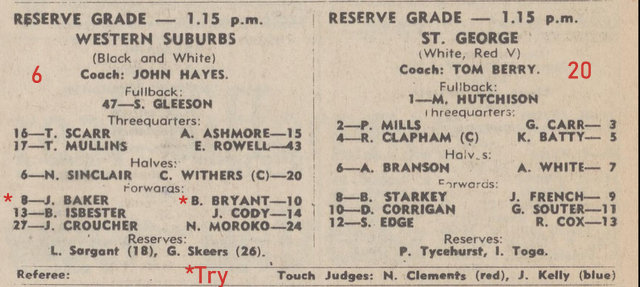 Barry and John Baker's last game for Wests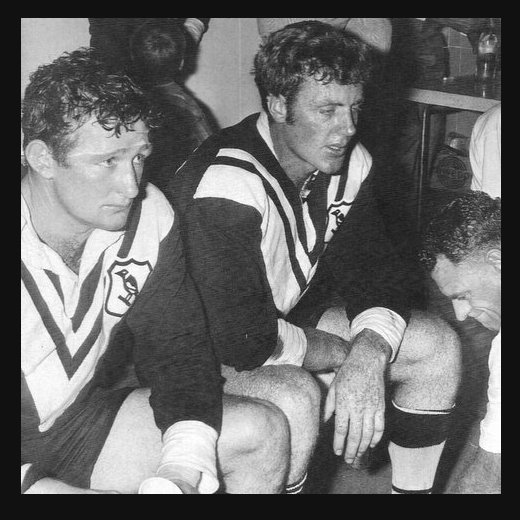 1974 – 1975
Barry decides to take up an offer to Captain/Coach the Gloucester Magpies in 1974
The deal was done with a simple handshake and Barry was off to Gloucester for the next two years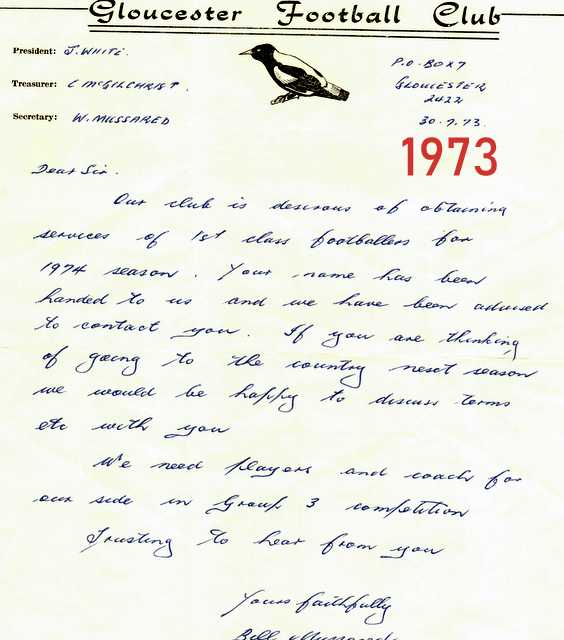 After Barry had agree to play with the Magpies two better offers from two Queensland clubs were made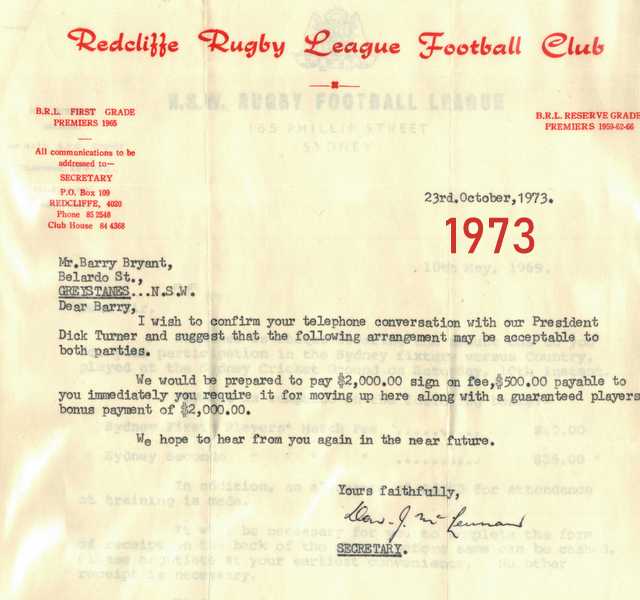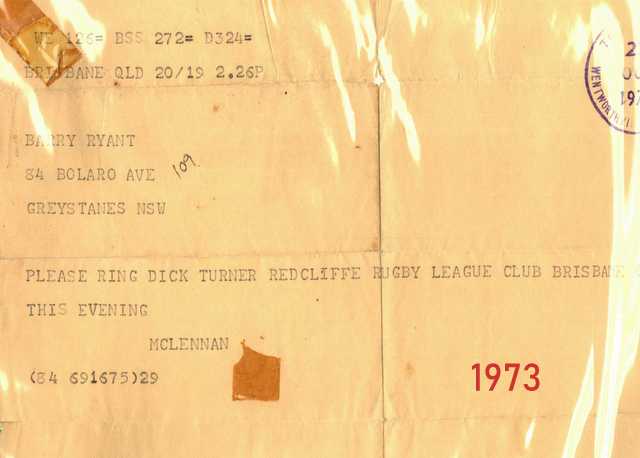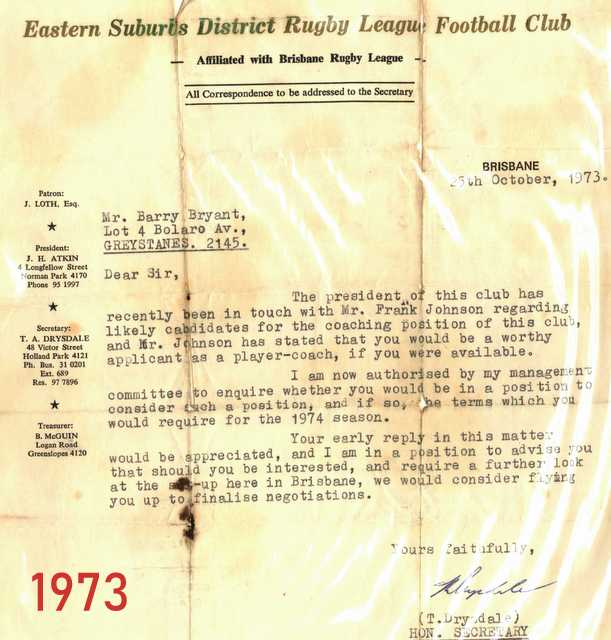 But Barry had shaken hands on the original deal with Gloucester and that was that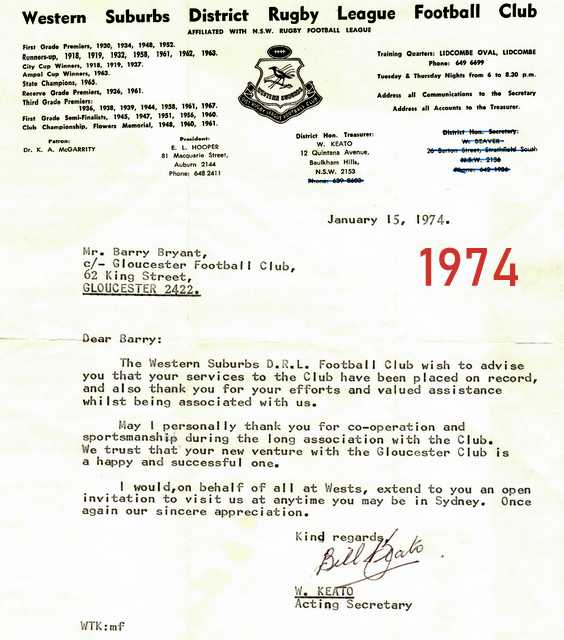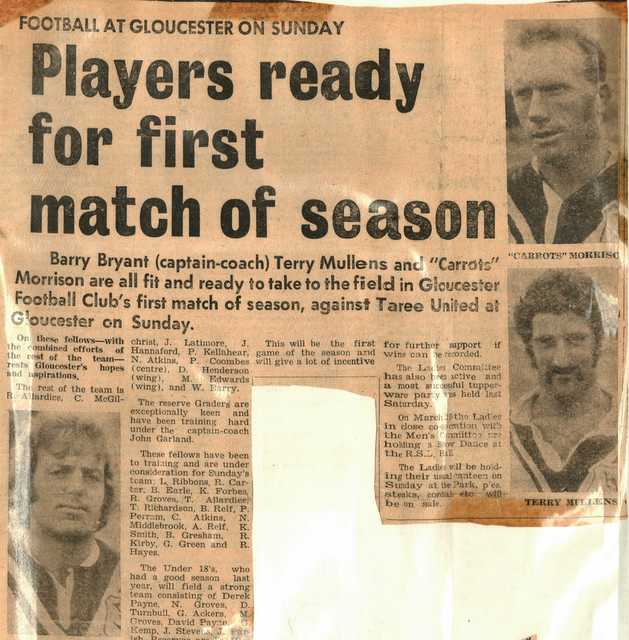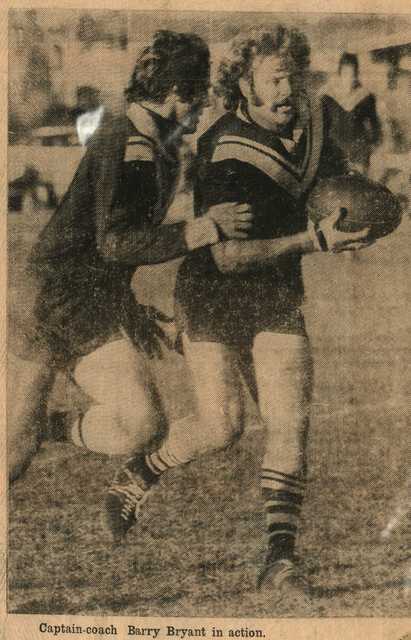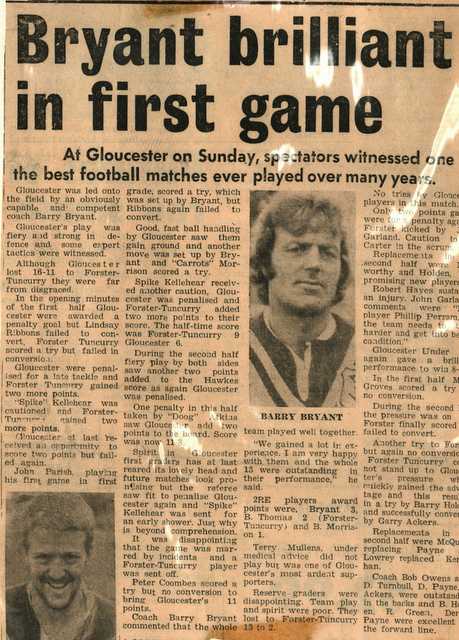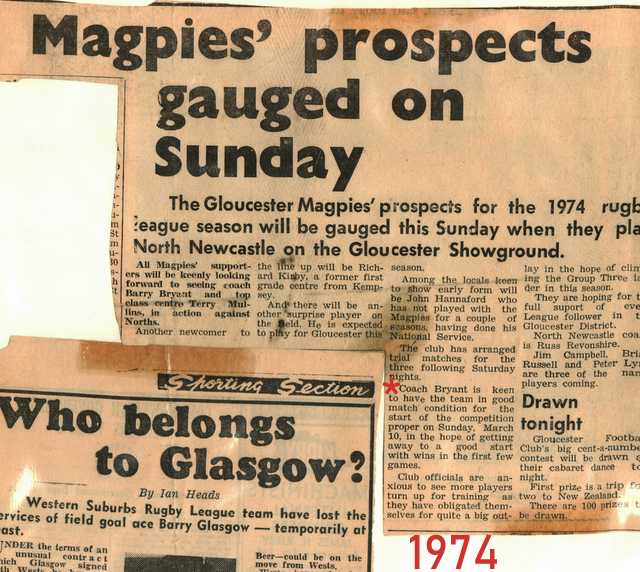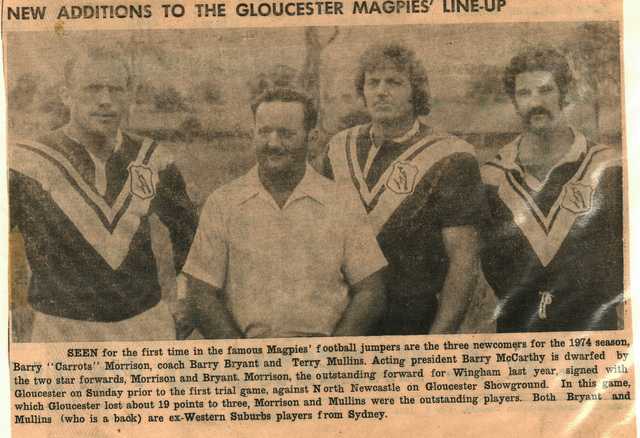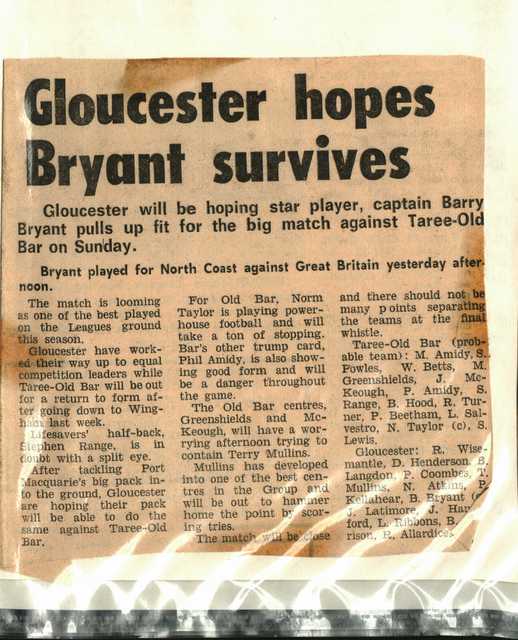 This article mentions Barry playing against Great Britain
The Poms 19 beat the North Coast 9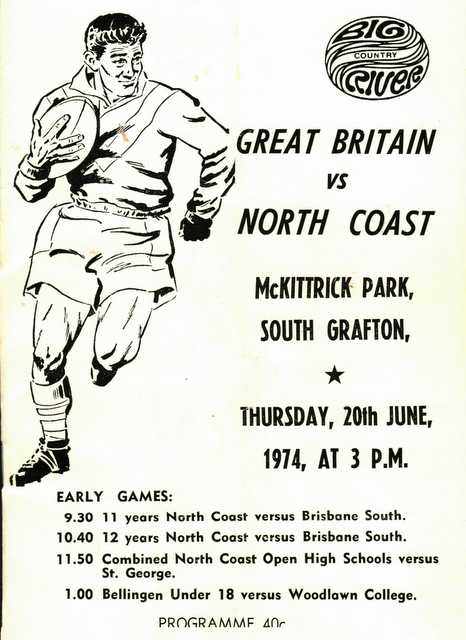 Barry was also Captain of the Group Three team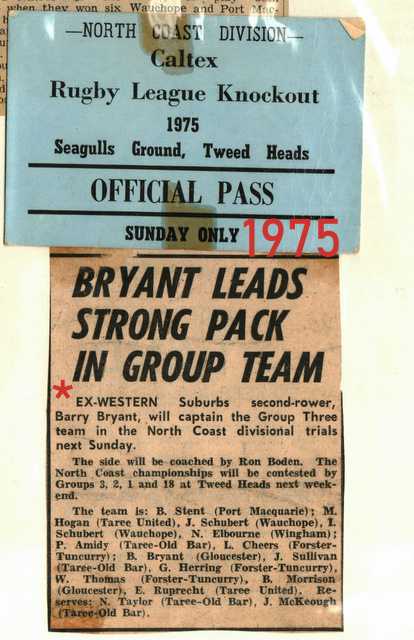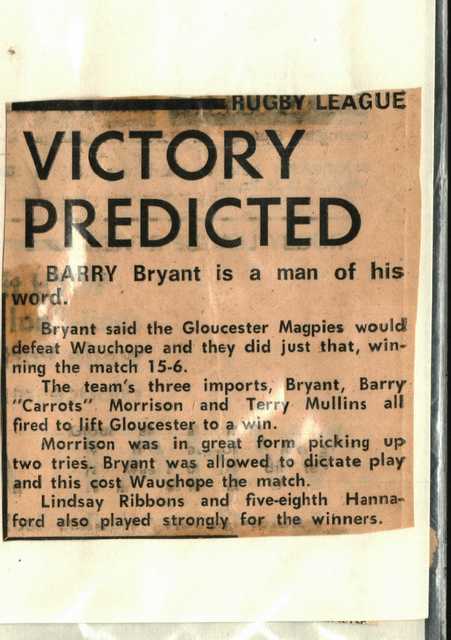 After two seasons with Gloucester Barry decided to give Rugby League away
Barry had taken the Magpies from last to semi finalist
Then Barry received a phone call from ex Wests Magpies team mate Mick Alchin
Mick was Captain/coach of Wentworthville Magpies who were now playing in the Illawarra Competition

Mick asked Barry was he interested in playing and after much though Barry said yes
1976-1977
Barry played at Wenty for two seasons

Barry was now 31 years of age and had been playing Rugby League for 20 years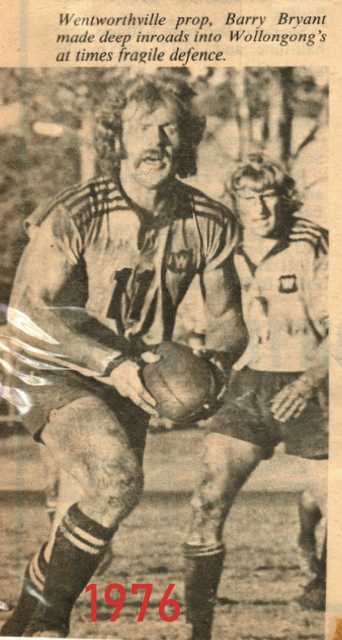 Barry Bryant playing for his Third Magpie team and his fourth Black and White team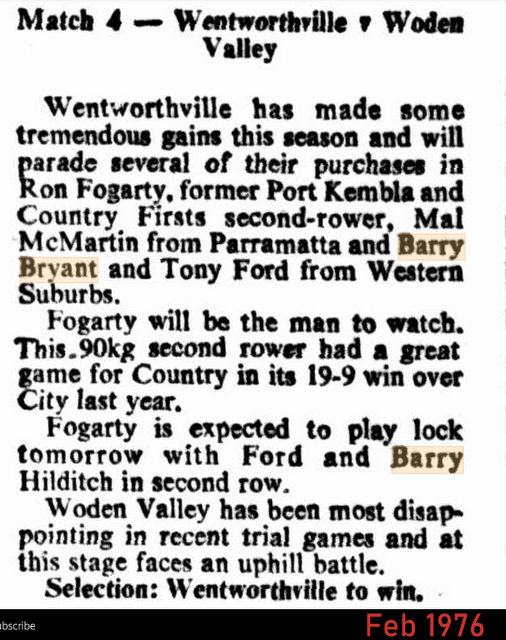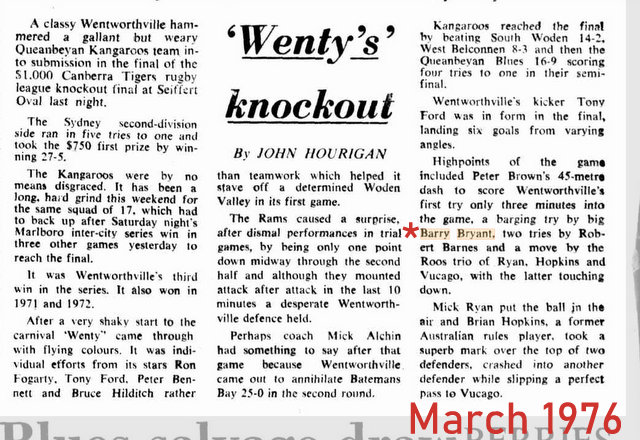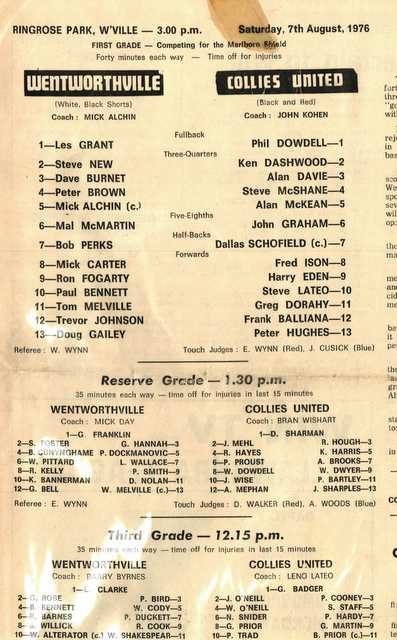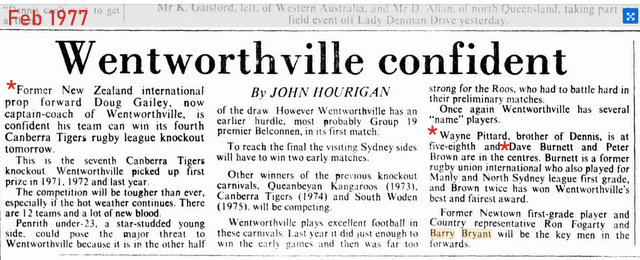 Mick after three years at Wenty was replaced by Barry Byrnes as coach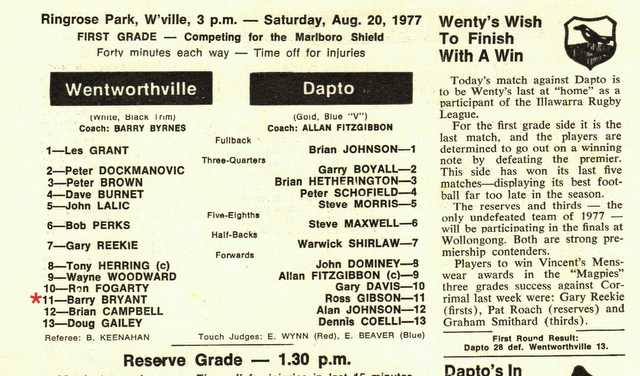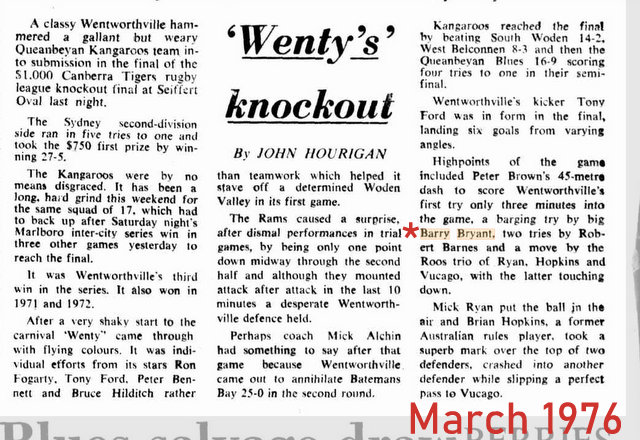 After two years at Wenty Barry and the family headed off to Perth for a few years before coming back to live at Cowra
1981 – 1987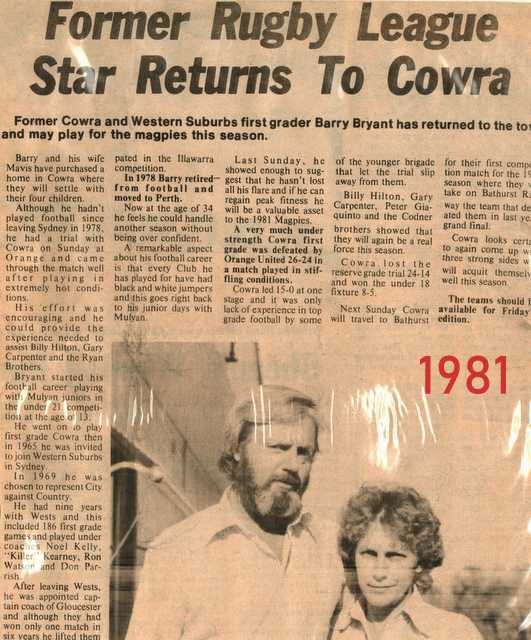 Barry and Mavis back home at Cowra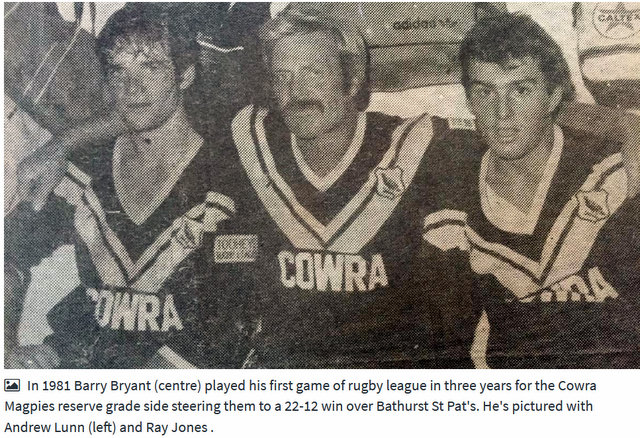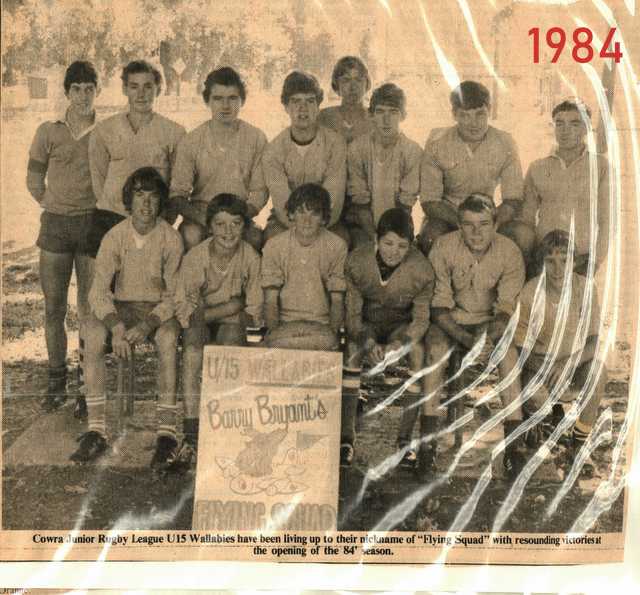 The sign says Barry Bryant's Flying Squad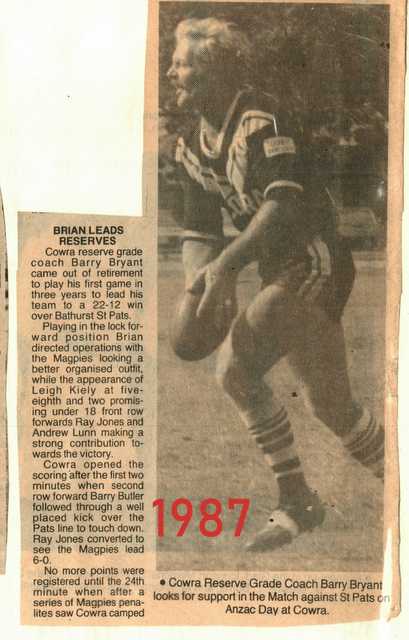 Barry was 42 years of age in 1987
Still wearing the Famous Magpie proudly on his chest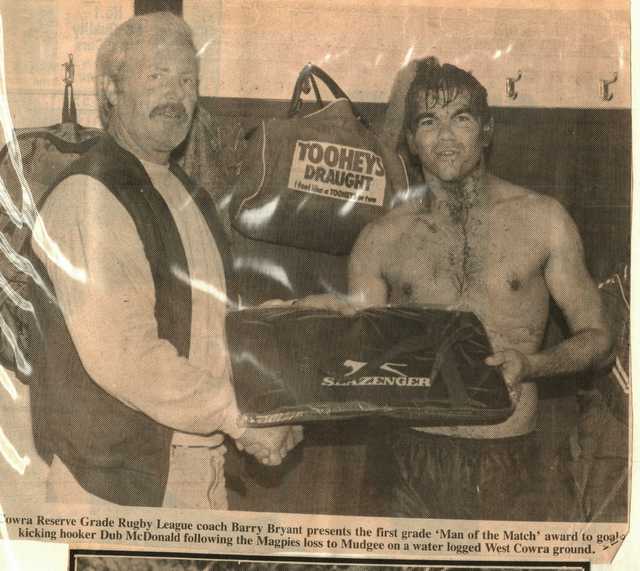 Barry Bryant playing Aussie Rules at the age of 42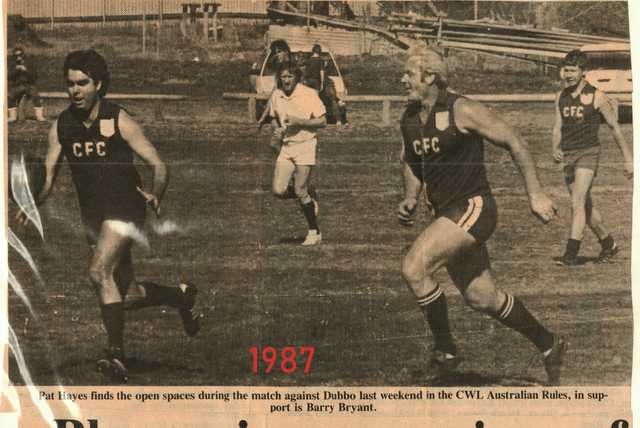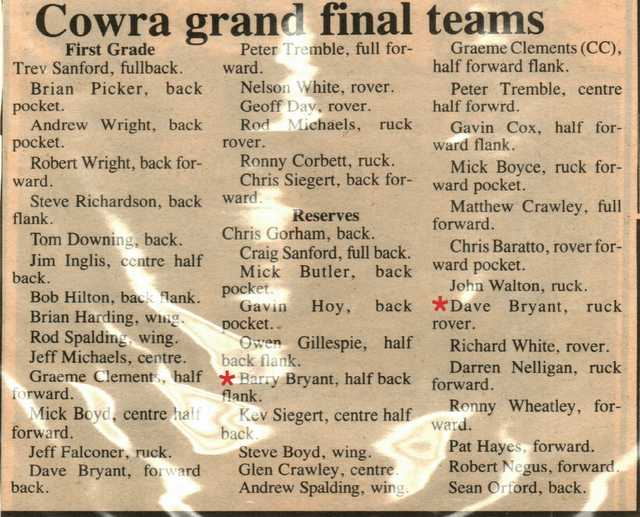 Barry playing Half back flank ??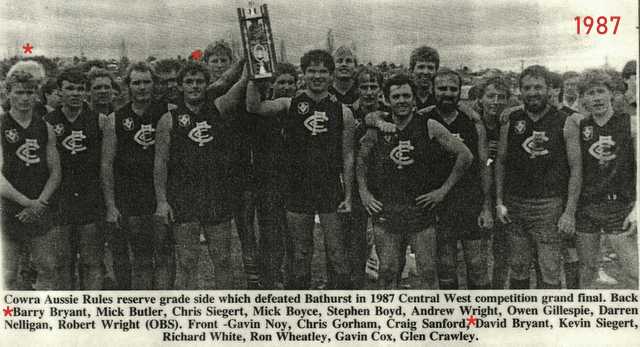 Barry playing Aussie Rules with his son David Bryant for Cowra
This team won the Central West competition in 1987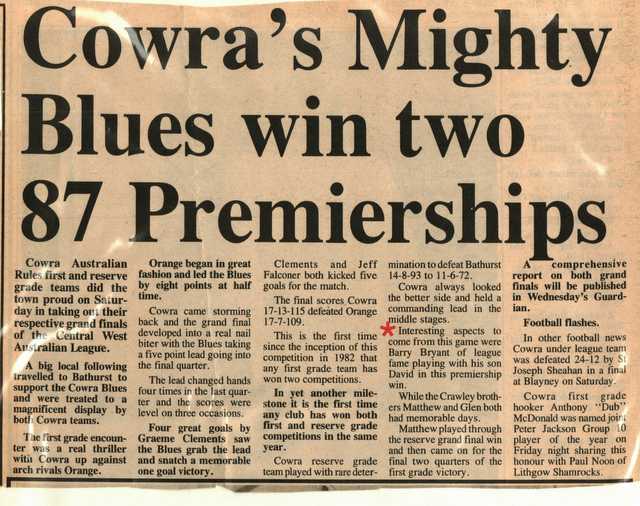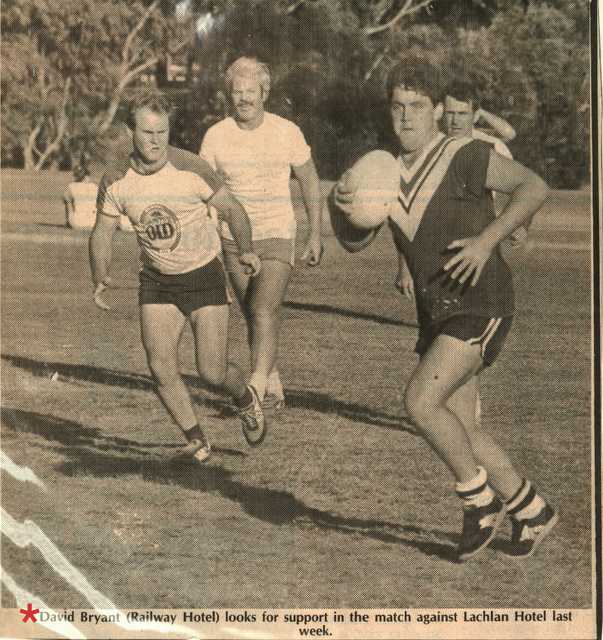 After a very long Rugby League career 1958- 1987 Barry knew it was time……
*
In all Barry played over 190 games for Wests in all grades with a total of almost 40 tries
Playing under four coaches Ken Kearney, Noel Kelly, Ron Watson and Don Parish Barry rates Noel the best coach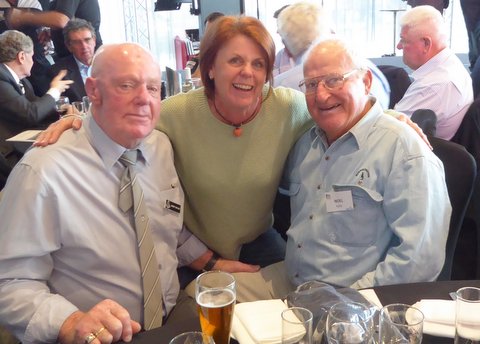 Barry, his daughter Tracey and Noel Kelly at a PPM reunion
Barry is very proud of the fact that he was a one Club player in Sydney even though he received offers from other clubs during his nine years at Wests
Both Easts and Parramatta were keen to sign Barry but he was determined to only play for Wests
*
It was time for me to ask the usual questions and Barry gave each question much though
Best players at Wests…Noel Kelly, Doug Walkaden, Tommy Raudonikis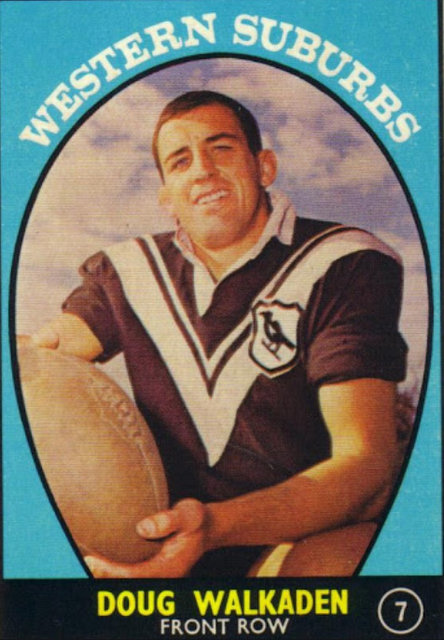 Hardest player… Barry named two Poppa Clay and Kevin Ryan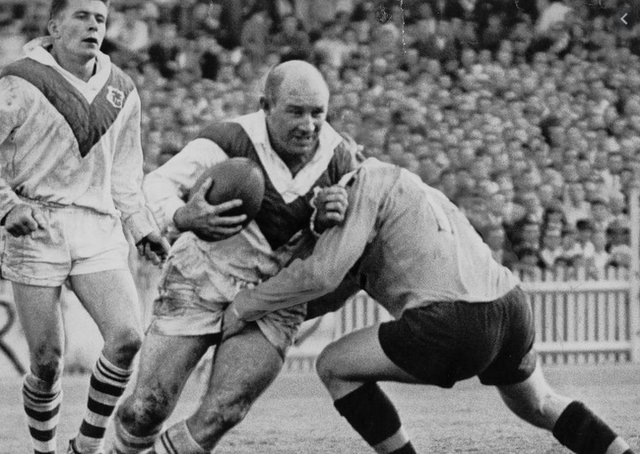 Poppa Clay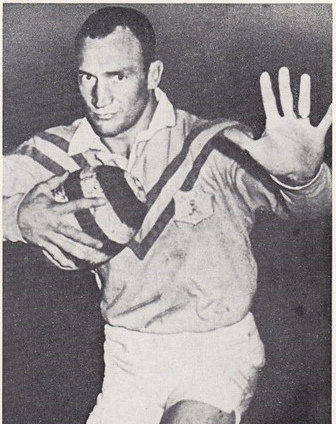 Kevin Ryan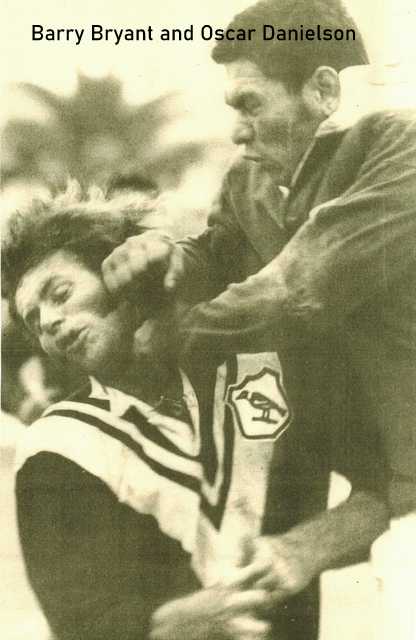 Also a tough player Oscar Danielson
(photo thanks to Steven Lalich)
The Best player… Reg Gasiner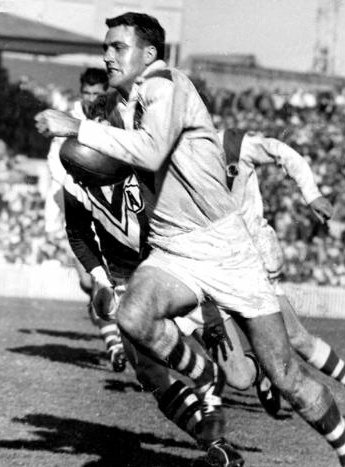 Noel Kelly told Barry before a game to tackle Reg and stop him from running…..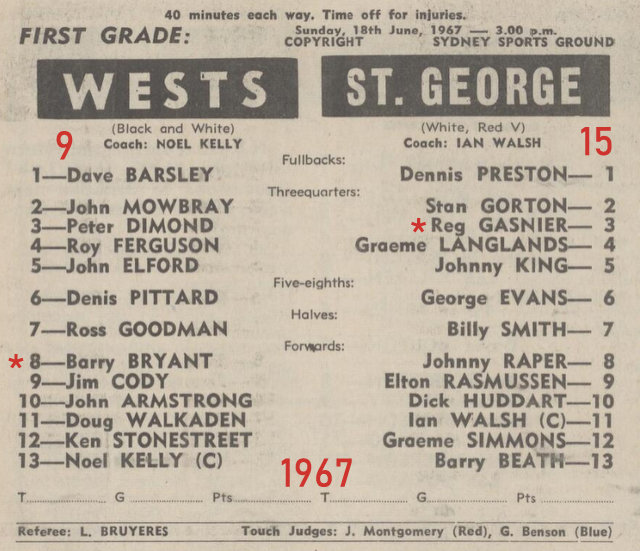 Barry had Reg lined up for a tackle and the next thing Barry knew Reg was scoring under the posts
The SCG was the ground Barry loved to play on except for the cricket pitch area in the middle of the ground
One funny story Barry told me about from the good old days was the Wests timekeeper Roy Liston would pass Barry a flask of brandy
for Barry to sip before a game and at half time
Roy Liston was a Wests player from the 1920's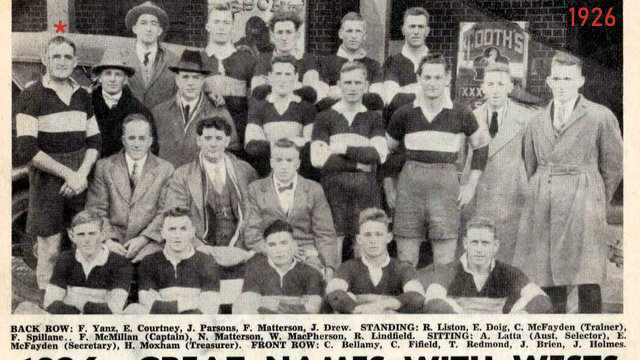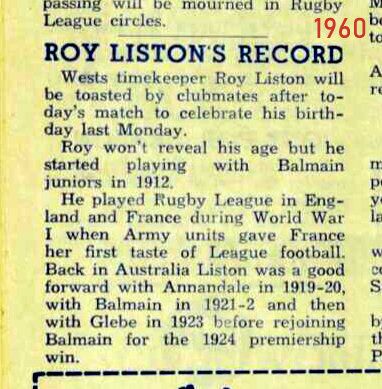 Speaking of drinking…where did the team go for drinks after training?
Pratten Park days….the famous Horse and Jockey Pub at Homebush
Lidcombe Oval days ….this is a new venue to me…the Ukrainian Club near Lidcombe railway station
*
In 2008 Barry was chosen in the Western Suburbs Team of the 1960's.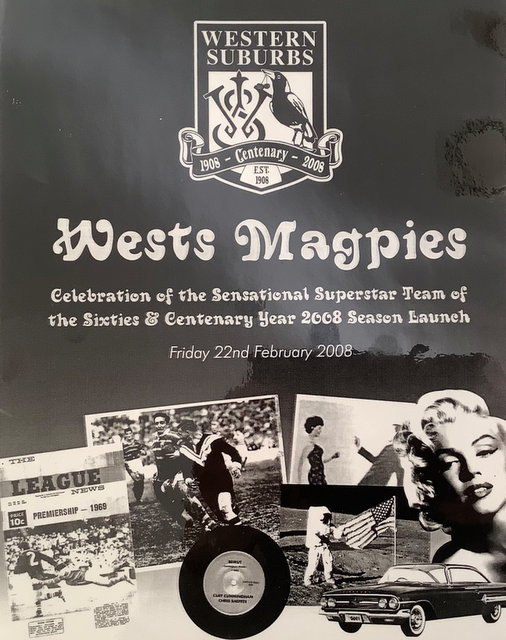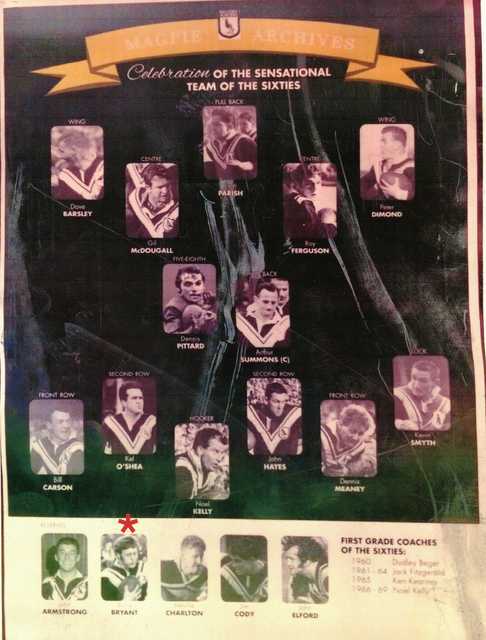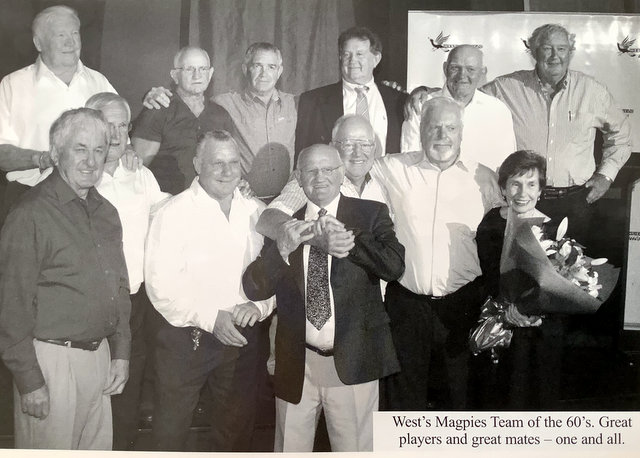 Left to right back row Nev Charlton, Gil MacDougall, Jim Cody, John Elford, Peter Dimond,Dennis Meaney
Left to right front row Don Parish, John Hayes, Roy Ferguson, Arthur Summons, Noel Kelly, Barry Bryant
Marie Fitzgerald Coach Jack Fitzgerald's widow is holding the flowers

*
  In 2016 Barry was inducted into the Cowra's Sporting Hall of Fame
*
Barry values the friendships he made during his career, maintaining close ties with many rugby league colleagues to this day
"We had a good time in my era" Barry said
"One of the best things is we've stayed friends with all the players
We have the reunions and we're all still friends"
Photos below from various PPM reunions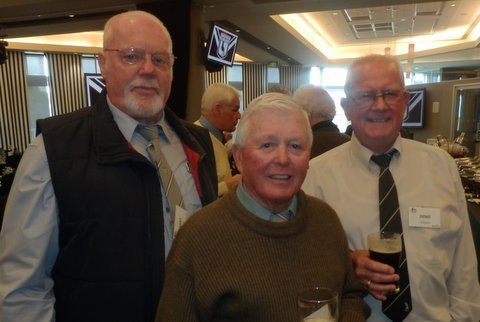 Barry, Pat Thomas and Denis Culpan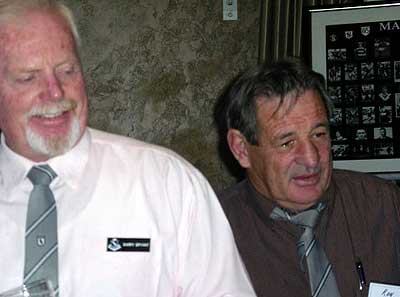 Barry and Ron Costello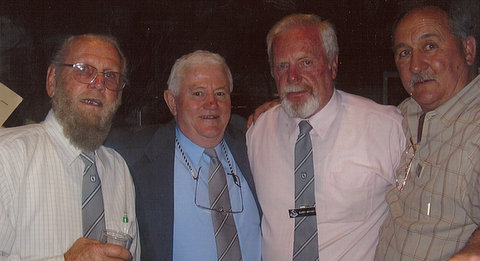 Wishbone Donnelly, Ben Fisher, Barry and Kevin Brown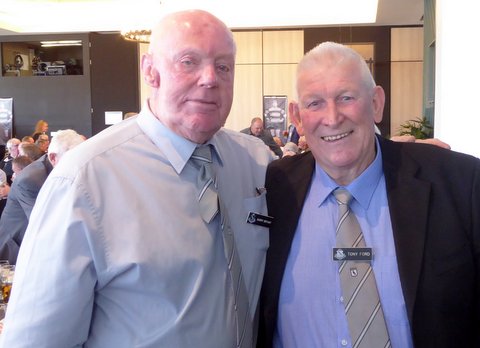 Barry and Tony Ford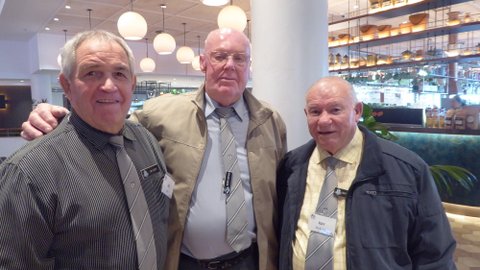 Jim Cody, Barry and Ray McNeilly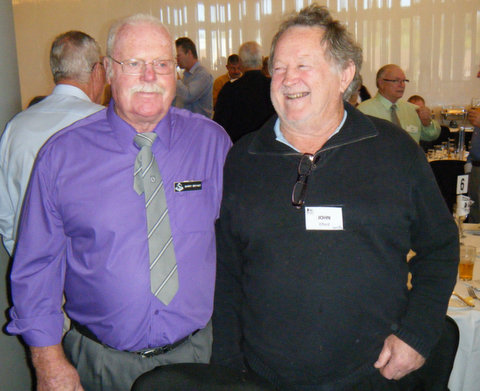 Barry and John Elford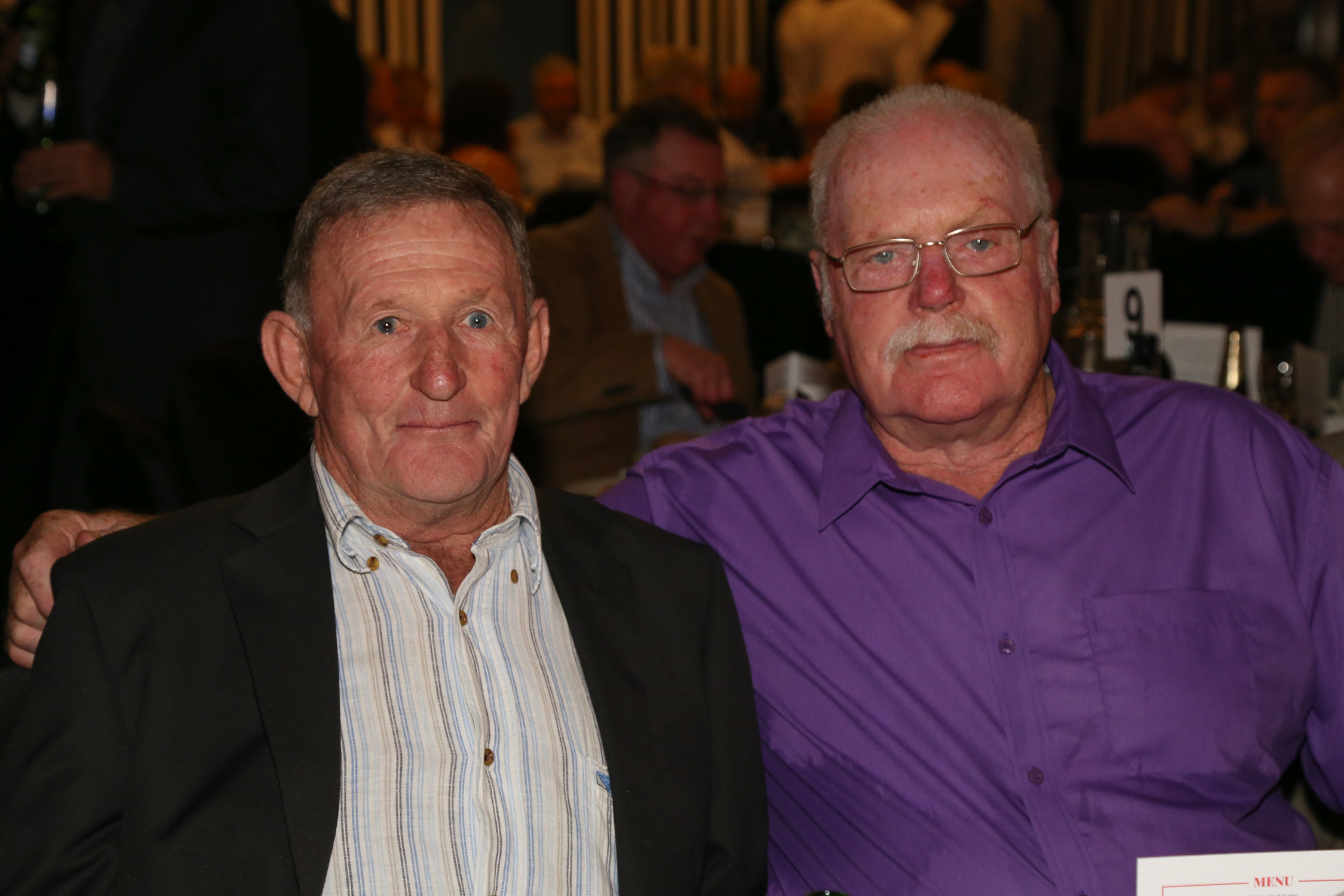 John Baker and Barry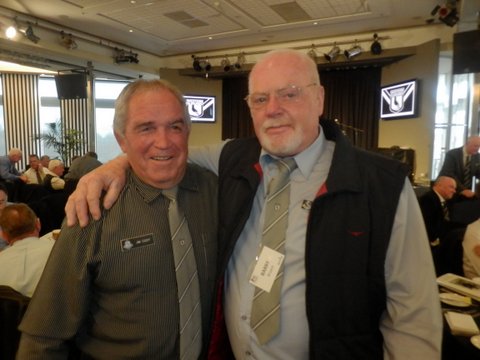 Jim Cody and Barry
In closing I would like to thank Barry for allowing me to interview him and to share his personal scrapbooks
Also a wonderful morning tea supplied by Shelby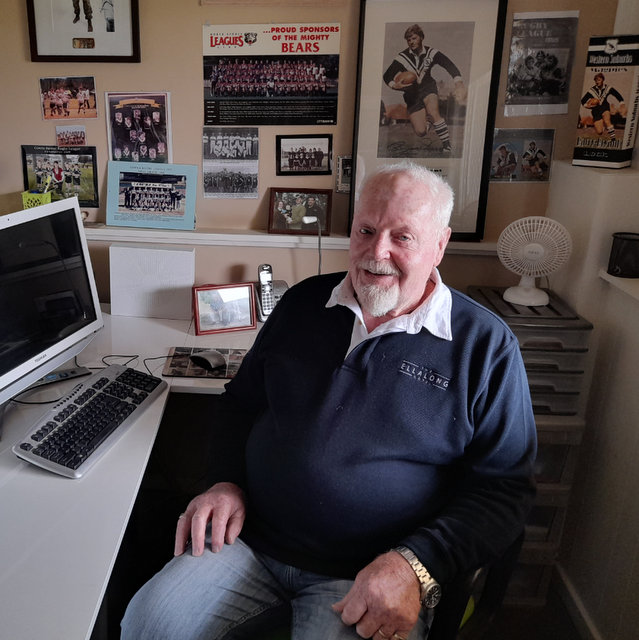 Barry surround by memories 2021

Last but not least, Tracey Sills, Barry's daughter for her kindness when I visited with my trusty scanner.
Great coffee and lunch.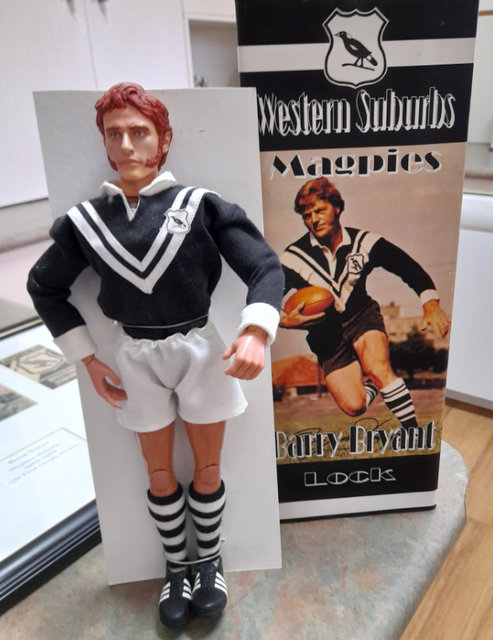 Tracey was also responsible for this one of a kind Barry Bryant Action Figure…Tracey sounds better than D0ll??
 Also of interest is that in the town of Cowra there are two parks with Wests connections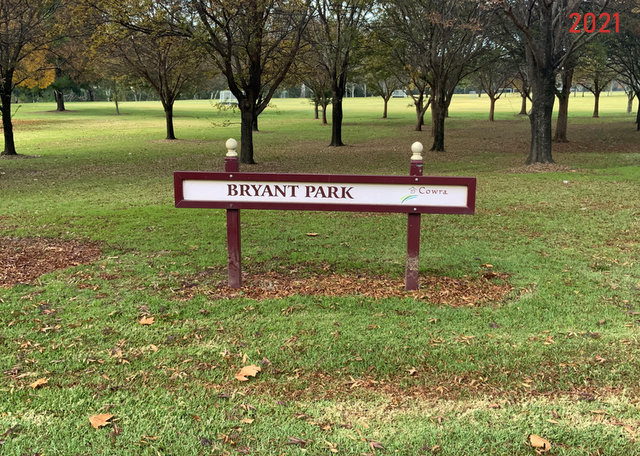 Bryant Park is named after Barry's dads brother William Henry  "Billy" Bryant 
It was named in 1982 after William Henry  "Billy" Bryant who worked for Council for 47 years as a ganger, parks and gardens overseer and 44 years as a Council foreman.  One of his brothers, Hubie Bryant, was Barry Bryant's father and William Henry Bryant was his uncle.  Written information we have state the park name recognises the contribution many members of the Bryant family have made to the Cowra district
Raudonikis Park, named after another of our wonderful sportsmen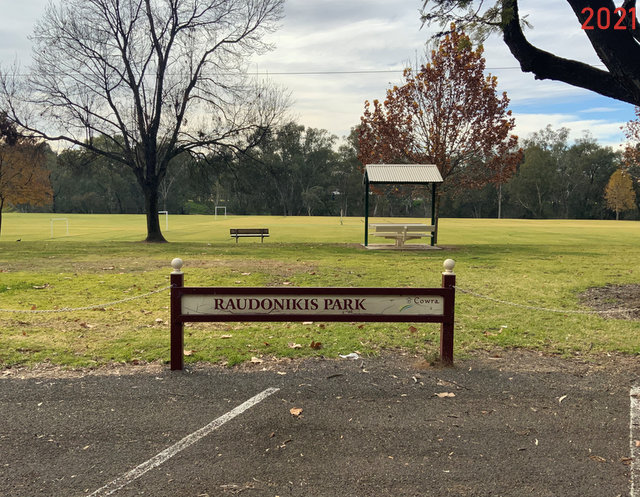 Thanks to Ray Walsh of the  Cowra and District Historical Society for the photos and history of both Parks