Vale Peter Dimond
1938 – 2021

Wests Player number 562 (1958) Australian Player number 337 (1958)   
Western Suburbs Magpies (Syd) 1958 – 1967
Wests Magpies Life Member number 56
Wests Tigers Team of the Century. Winger. 2003
Wests Magpies Team of the Century. Winger. 2004

Wests Magpies Hall of Fame. 2008
South Newcastle Team of the Century. 2010
*Peter played 157 First grade games and scored 93 tries 5 goals and 1 field goal for Wests (Sydney)
TOTAL 293 points.
During his ten seasons at Wests Peter played under five coaches.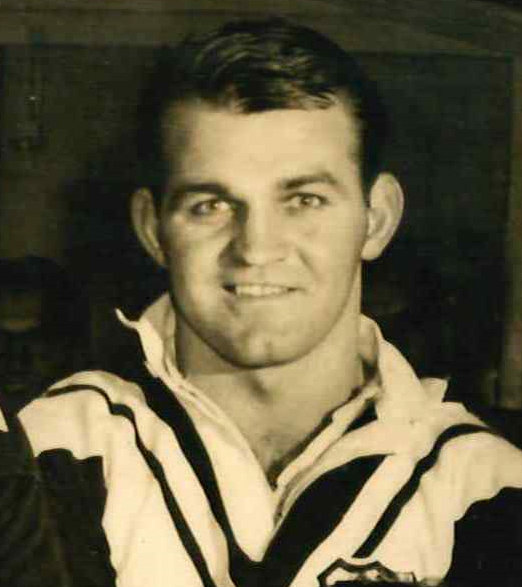 Vic Hey 1958-59, Dudley Beger 1960, Jack Fitzgerald 1961-1964, Ken Kearney 1965 and Noel Kelly 1966-67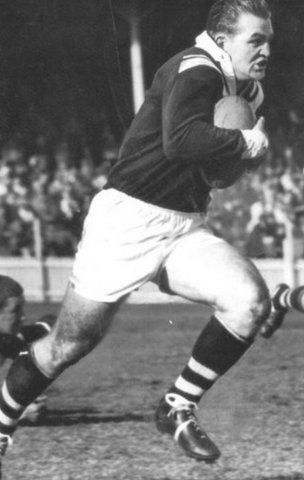 One of the more famous photos of Peter Dimond in full flight
Lets start at the beginning……1950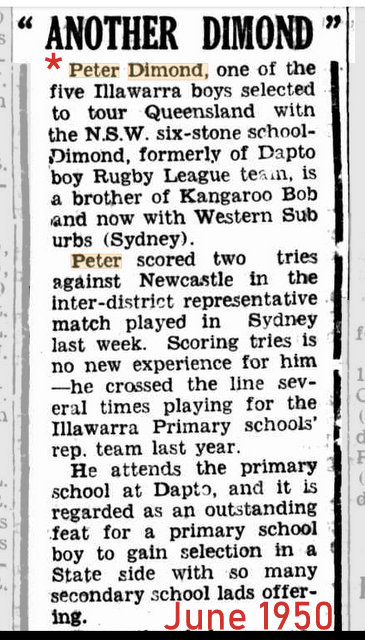 1952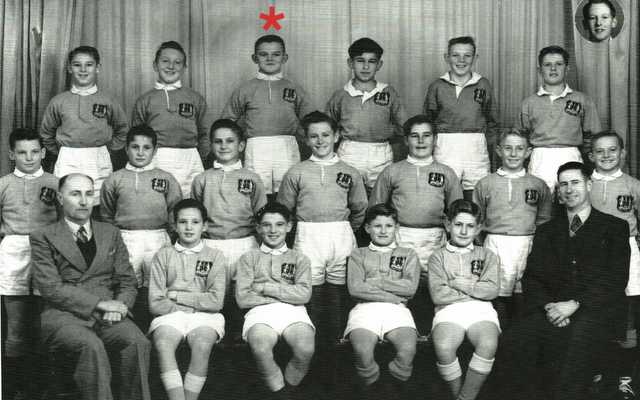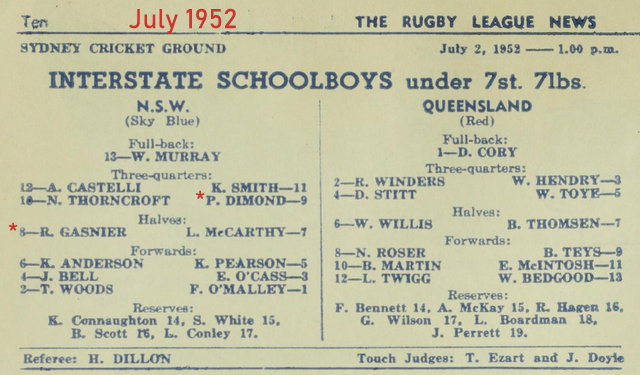 Peter Dimond first appeared at the SCG in 1952 playing in a NSW 7st 7lbs school boys team V QLD

Score NSW 21 beat QLD 0
*Peter Dimond and Reg Gasnier scored 2 tries each
1953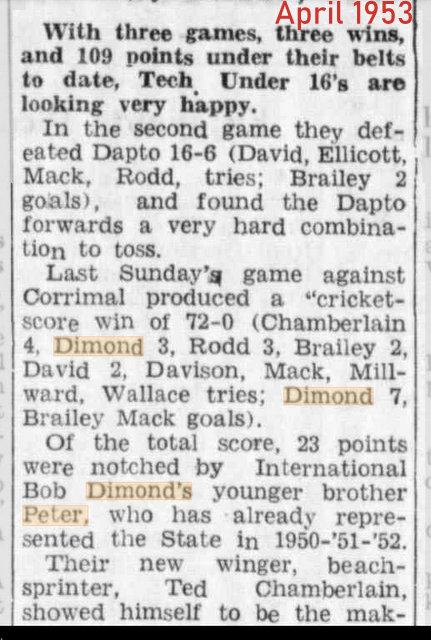 1956
Below Peter played in the winning Dapto DRLFC Team.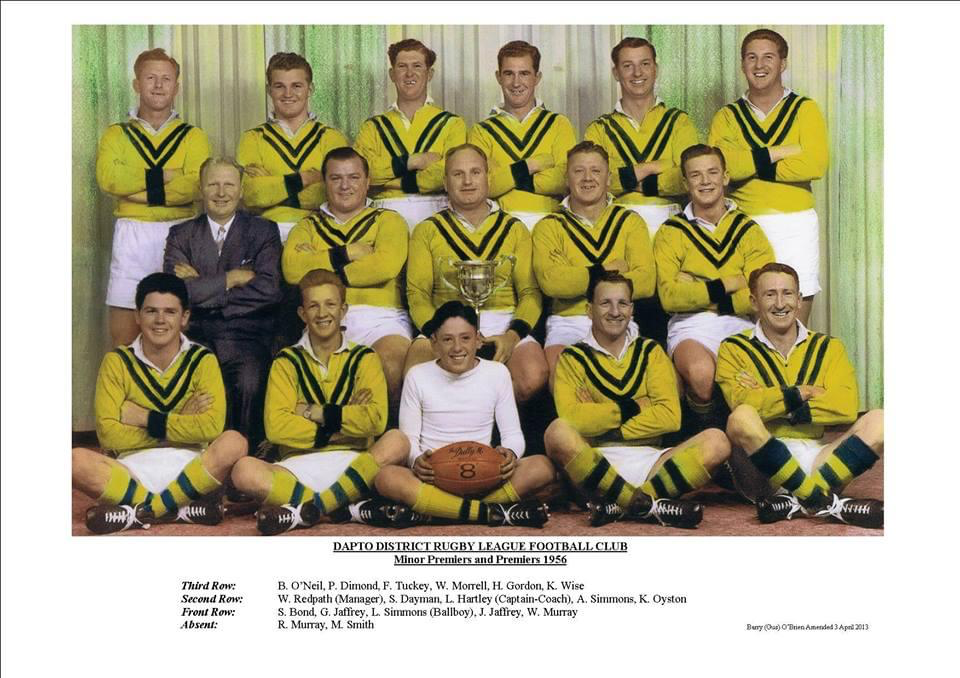 Peter was picked to play for Country Firsts in 1957.
1957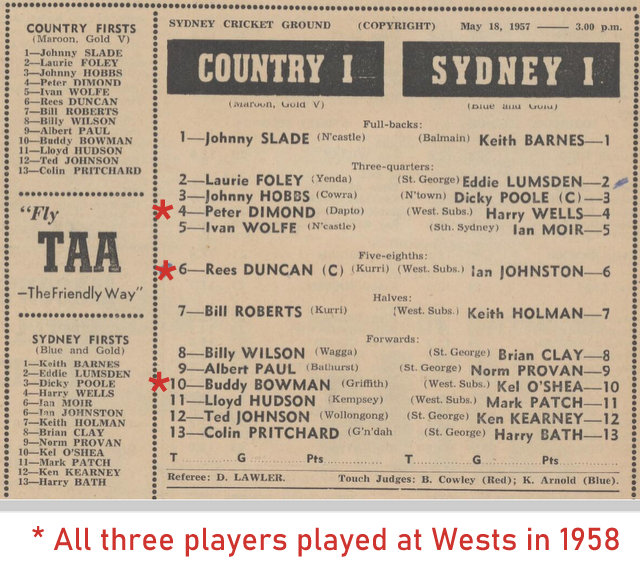 1958
Good news for Wests Peter Dimond is on his way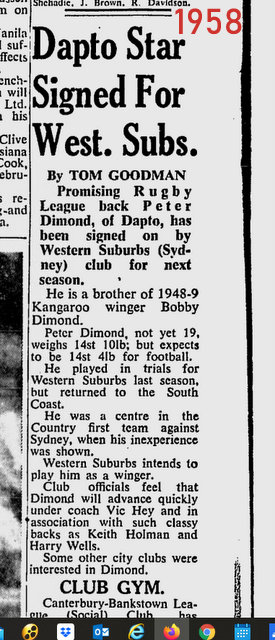 Wests placed him with Vince and Agnes Read in Colane Street Concord as a boarder.
Peter's first official 1st Grade game was played on Easter Monday at the SCG.
Winger from the South Coast …..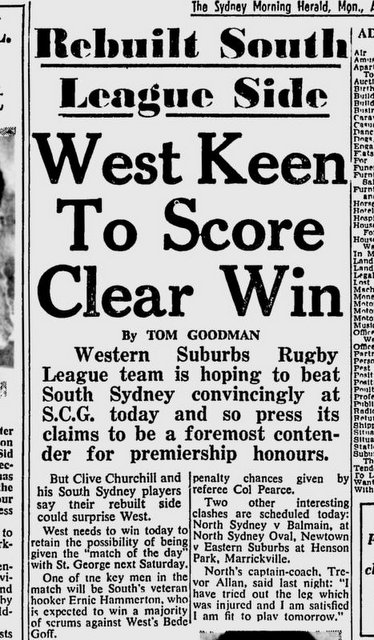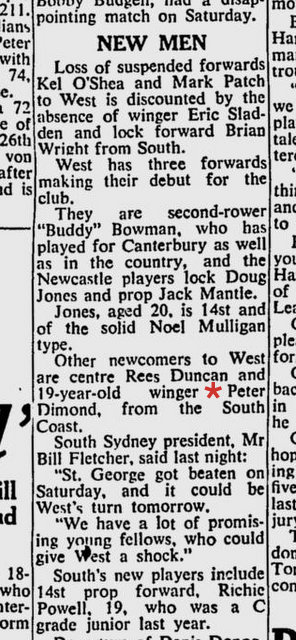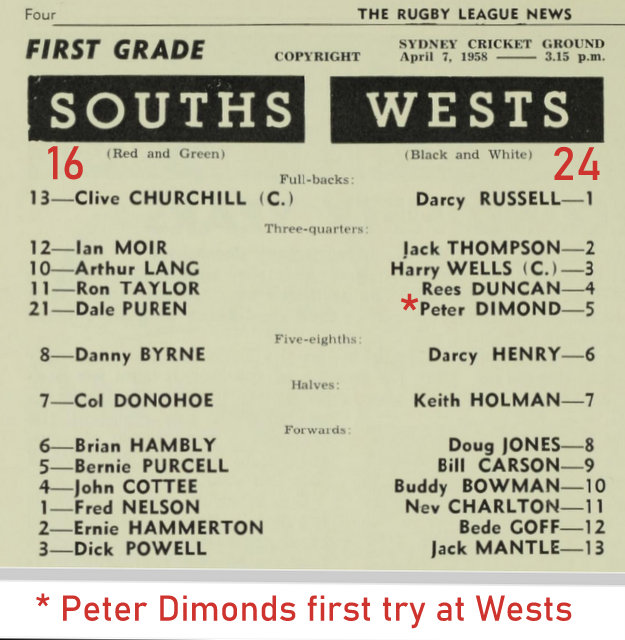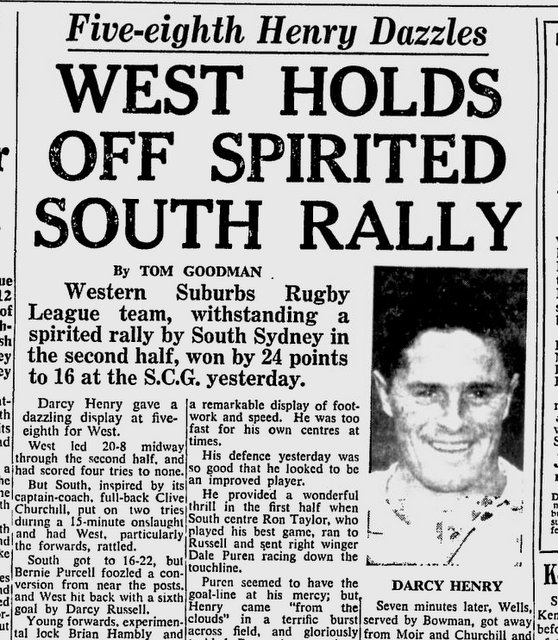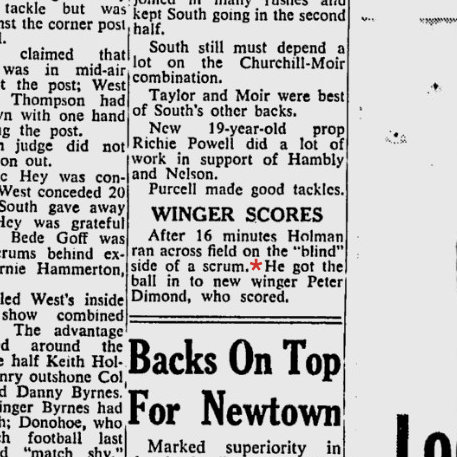 Photo from that first game at the SCG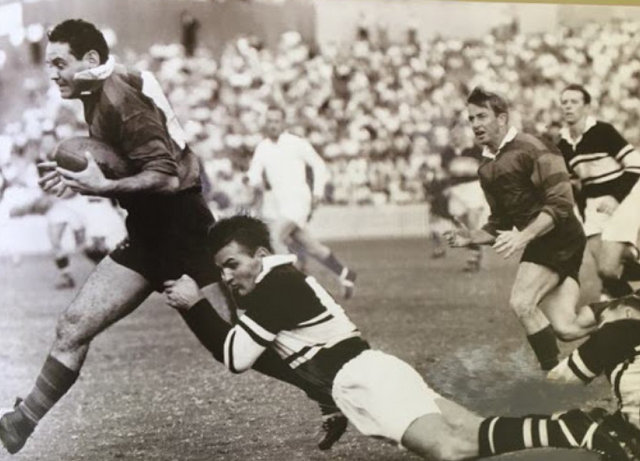 Ron Taylor, Peter and Col Donohoe.
Wests made the Grand Final in 1958 but unfortunately were beaten by St George.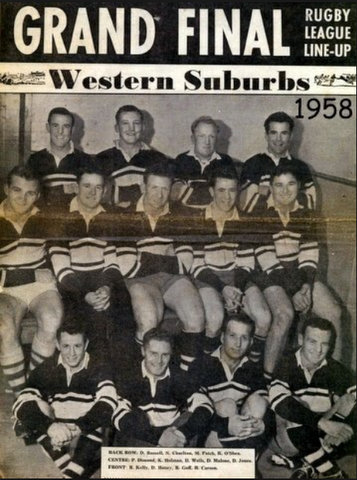 Also in 1958 Peter was chosen to play for Sydney Seconds, NSW V GB and the Second and Third Tests against the Poms.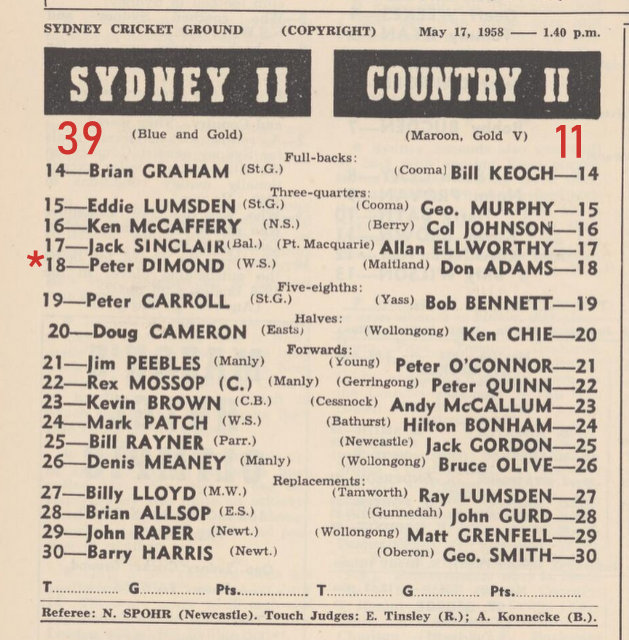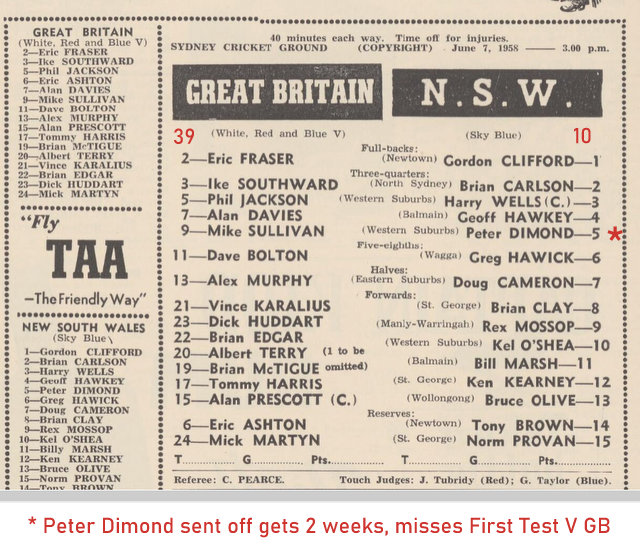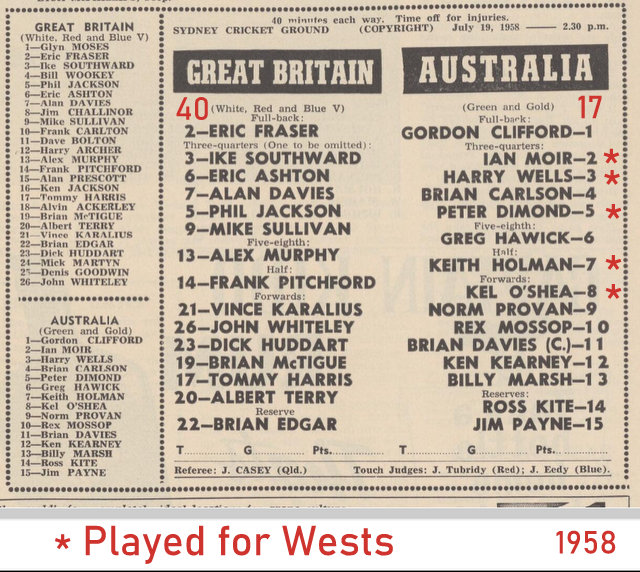 Peter in his first year at Wests scored 15 tries.
Peter missed selection for the 1958/59 Kangaroo Tour.
1959
Due to injury Peter was not available for the Semi and Final in 1959.
Peter scored 8 tries for Wests in 1959
1960
In 1960 Wests made the Preliminary Final but were beaten by Easts 20 – Wests 15.
Peter scored a try in this game also another good season of 14 tries.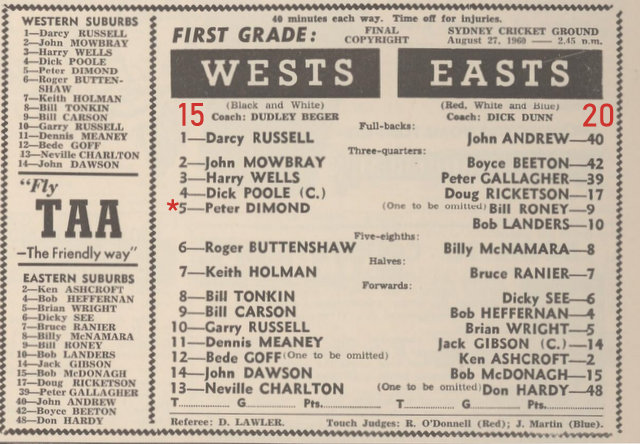 1961
Peter had a good season at Wests scoring 15 tries but once again the Mighty St George team was impossible to beat in a Grand Final.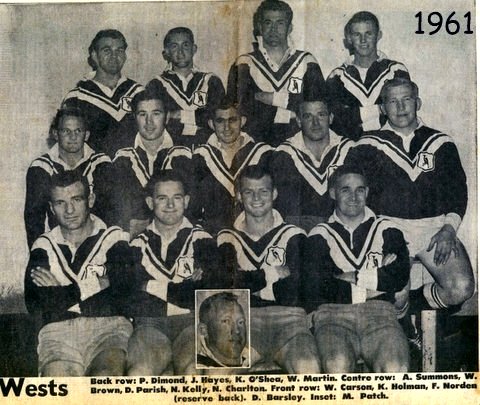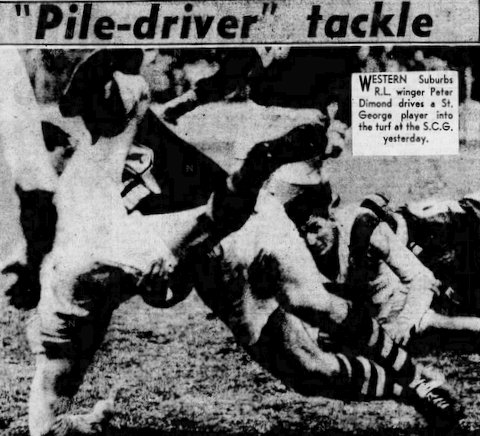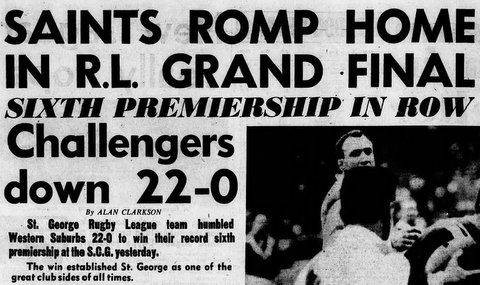 1962
Peter's tally of tries at Wests for 1962 was 12.
Scoring 4 tries in one game.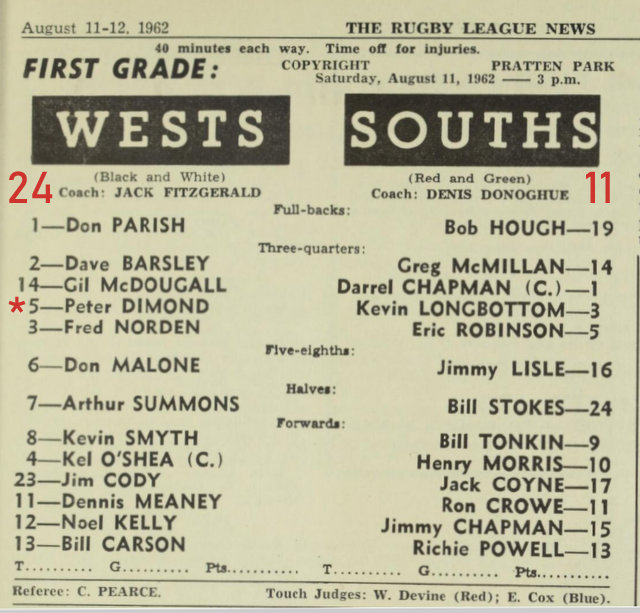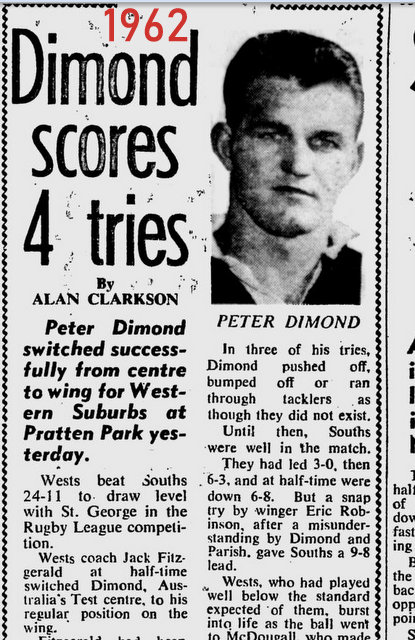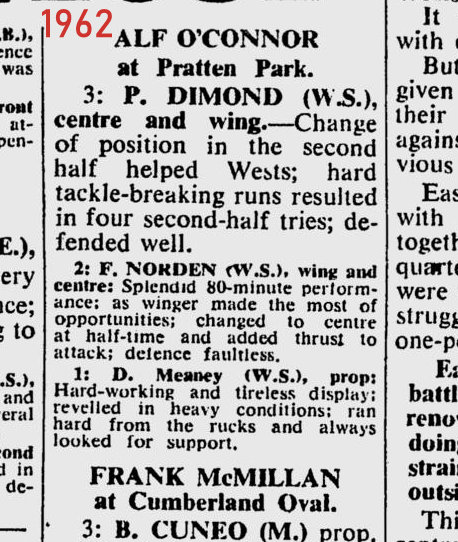 It was soon Grand Final time and Wests again played Saints.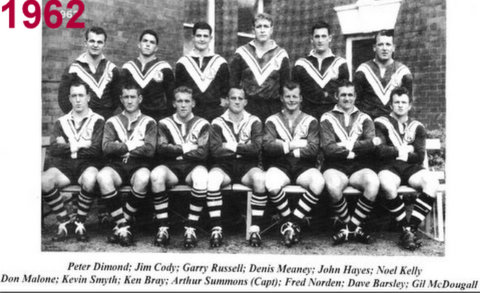 Happy times with Noel Kelly and Billy Beaver.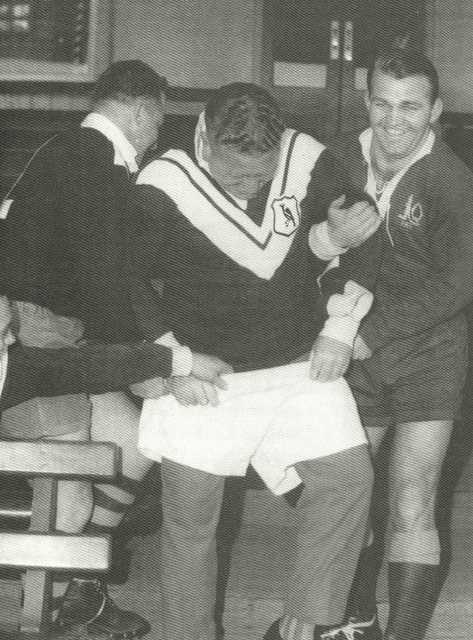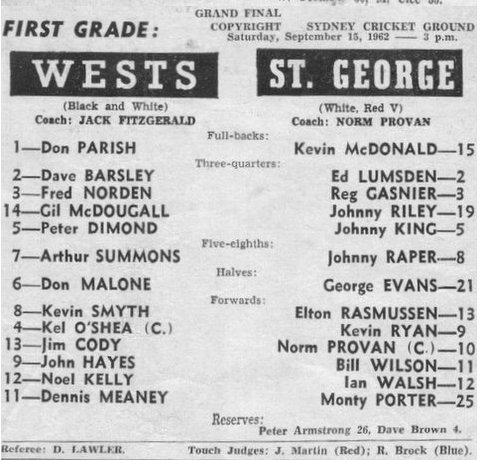 St George 9 beat Wests 6.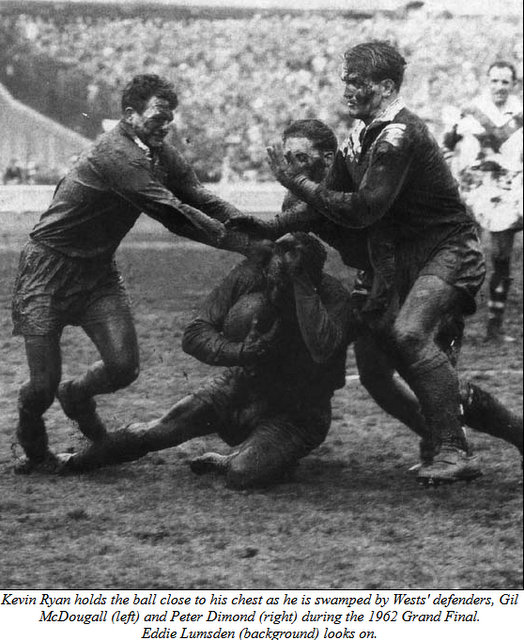 Peter and fellow winger Dave Barsley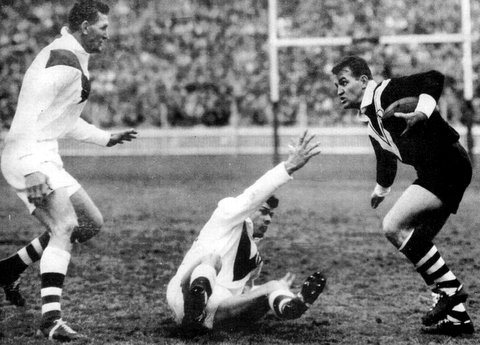 Norm Provan, Johnny Greaves and Peter Dimond.
In 1962 Peter played for NSW v GB and in 1 Test against the Poms .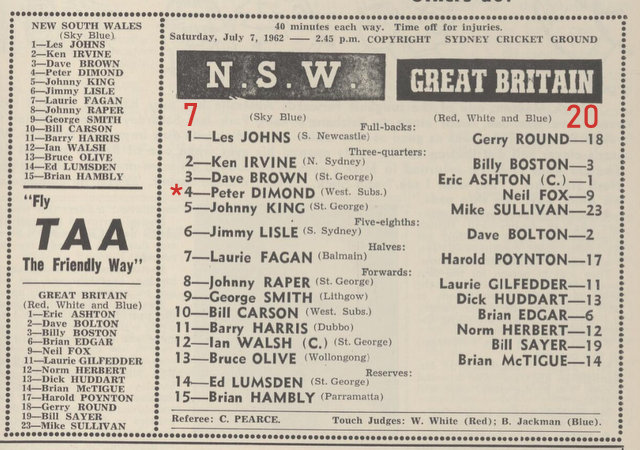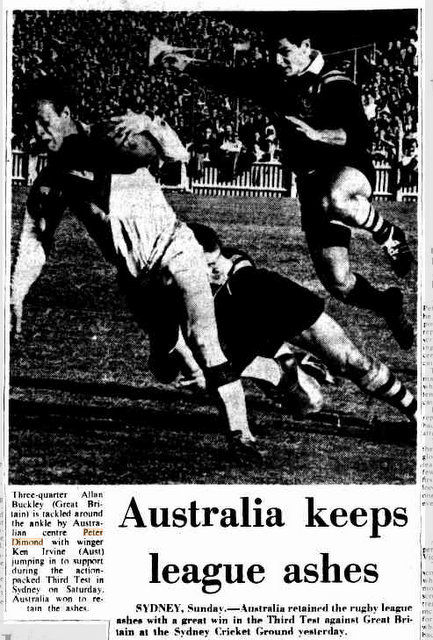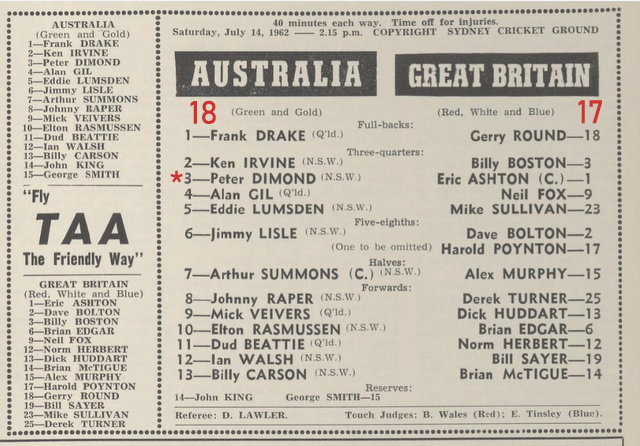 That Test was the Third Test played at the SCG. Australia 18 beat GB 17 to win the Ashes.
Peter and Valerie celebrate after the Third Test win.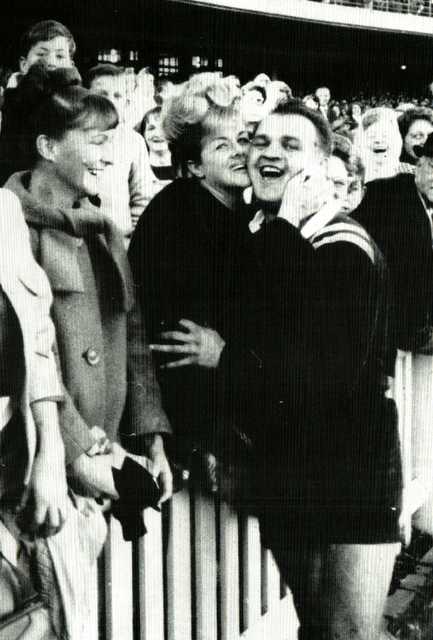 1963
A big year for Peter…Wests made the Grand Final….lost again… good news Peter was chosen in the Kangaroo Touring Team

A little known game ….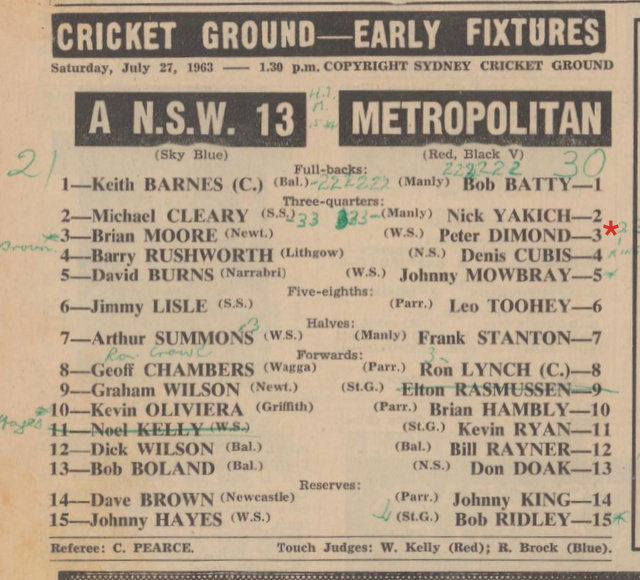 The game was played as the curtain raiser before the Australia V South Africa Test.
Peter played in the two interstate games V QLD.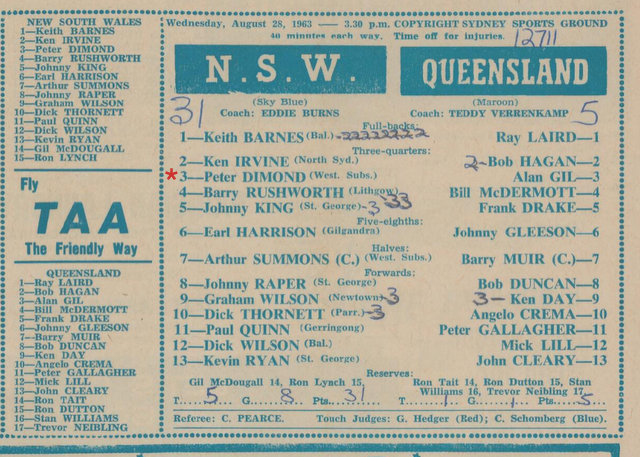 Peter slipping past a QLD player.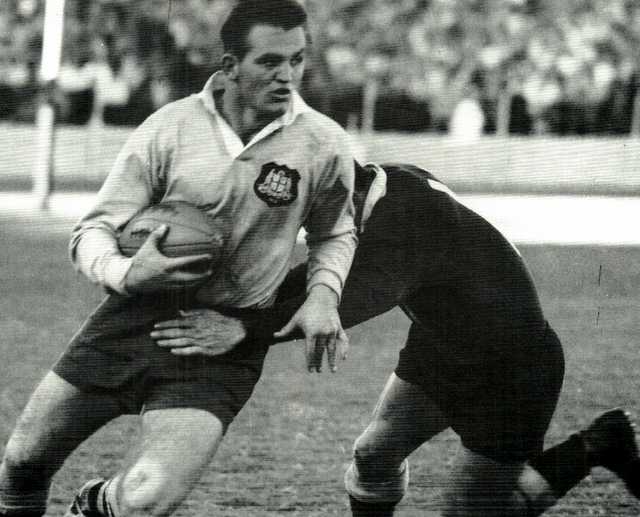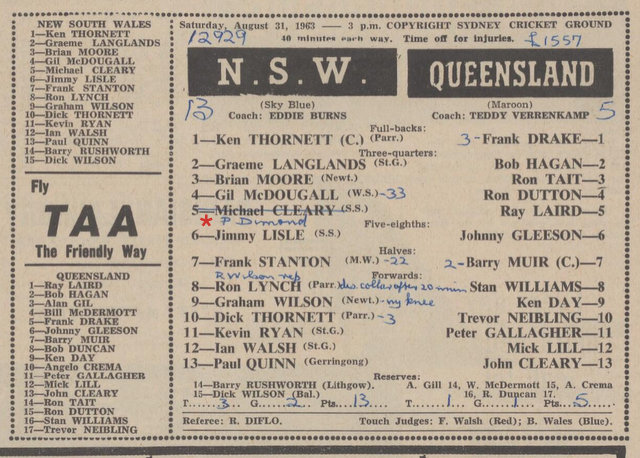 Great photo of Peter running onto the SCG.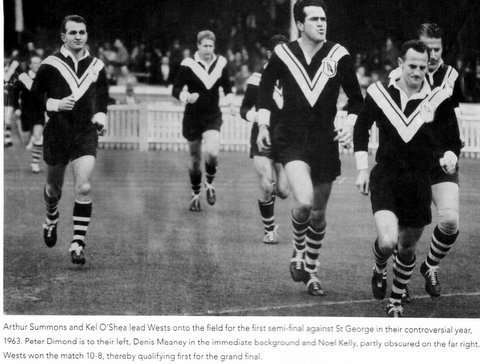 Photo of Peter taken at the Wests training leading up to the Grand Final.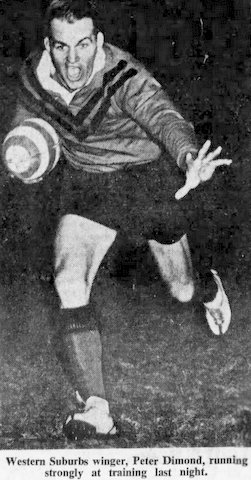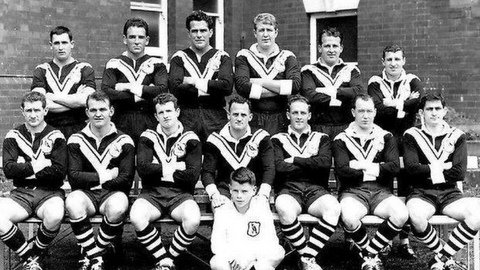 Top L to R. Chow Hayes, Jack Gibson, Kel O'Shea, Denis Meaney, Ned, Jazza.
Bottom L to R. Kevin Smyth, PD, Gil Mc Dougall, Arthur Summons, Podgy Mc Guinness, Irish Malone, Don Parish.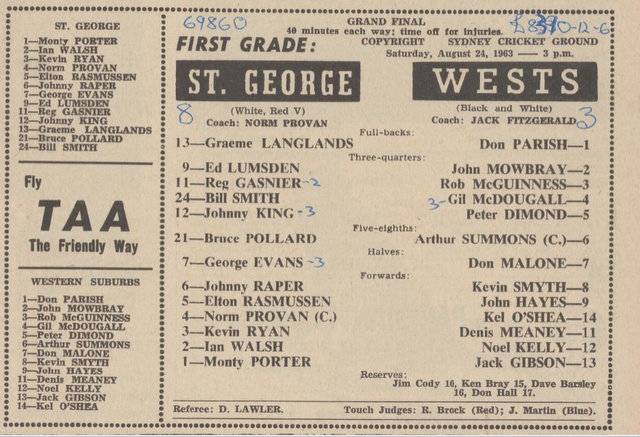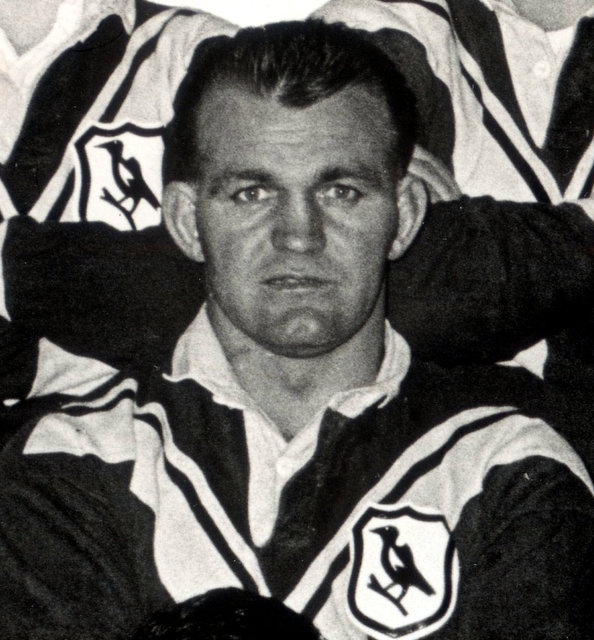 This disallowed try could have won the game for Wests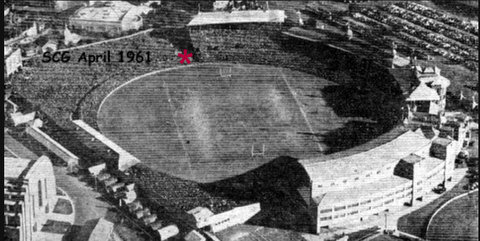 * Spot where I was standing with my mum in 1963. We both agreed it was a try…
The famous photo from that Grand Final.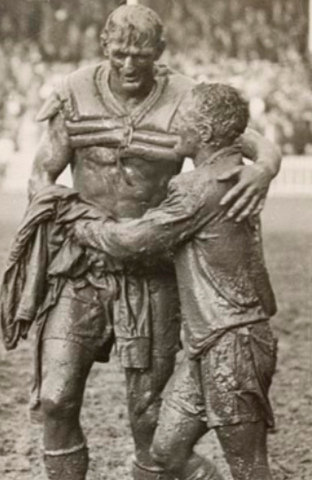 The 1963/1964 Kangaroo Tour.
Peter played in 24 of the possible 36 games on this tour. Peter scored 16 tries. 2 in the Swinton Massacre Test.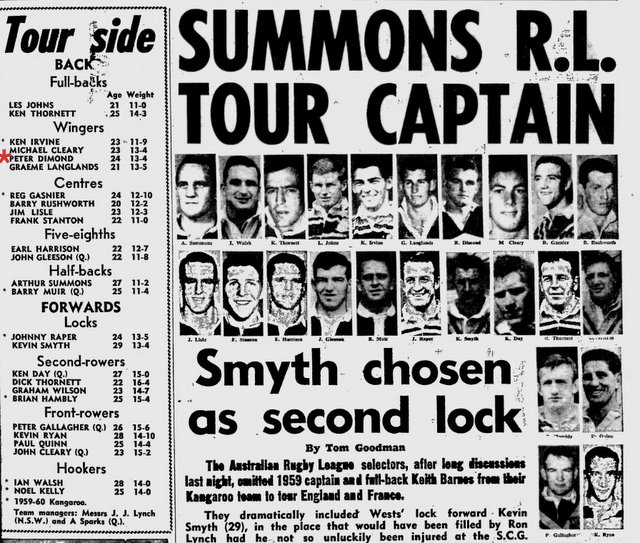 Below I have to share this comment about Peter from a Rugby League expert.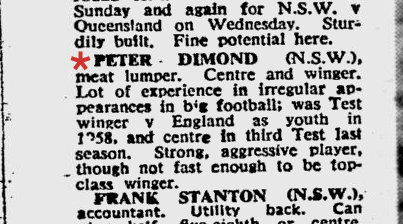 FIRST TEST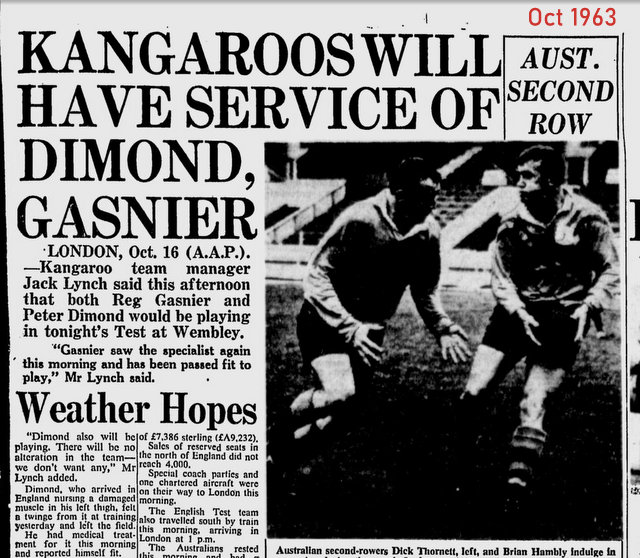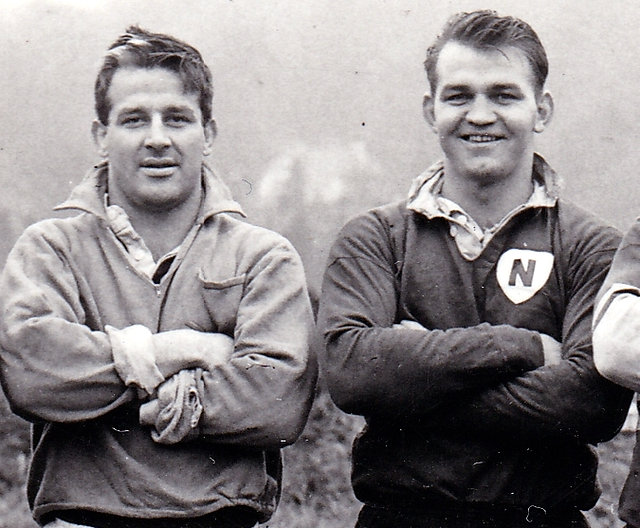 Noel Kelly and Peter Dimond.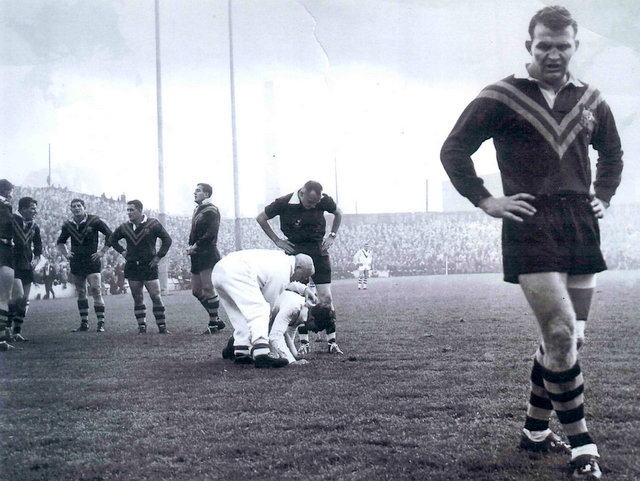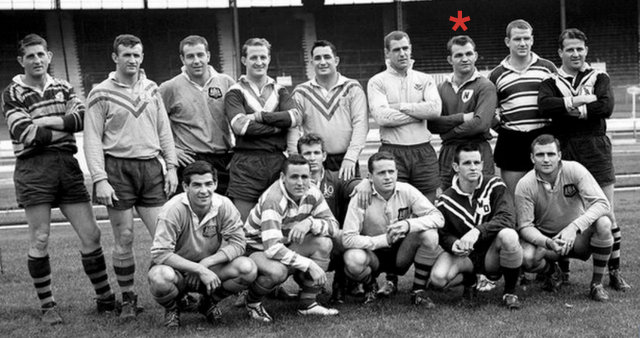 Paul Quinn, Brian Hambly, Dick Thornett, John Raper, Ian Walsh, Ken Thornett, Peter Dimond, Peter Gallagher, Noel Kelly,
Ken Irvine, Jim Lisle, Graeme Langlands, Barry Muir, Earl Harrison, Reg Gasnier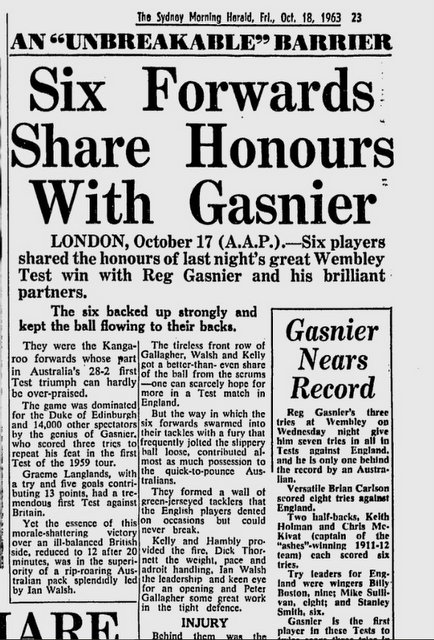 SECOND TEST
Peter Dimond meets Prince Phillip.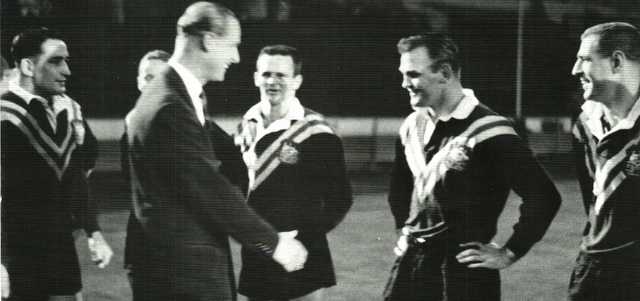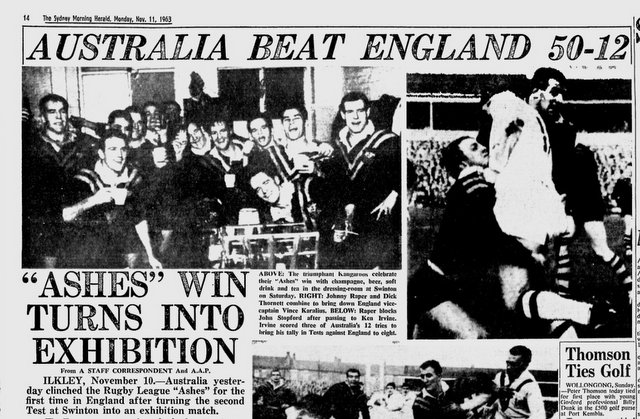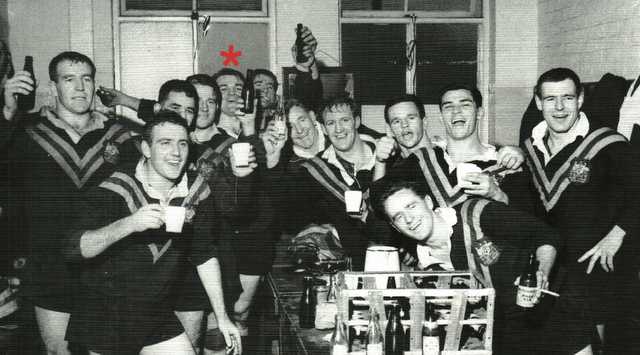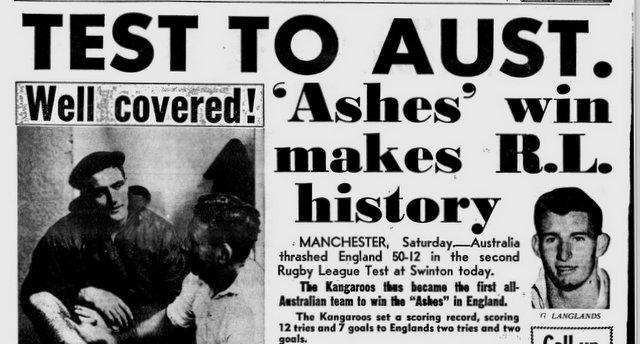 THIRD TEST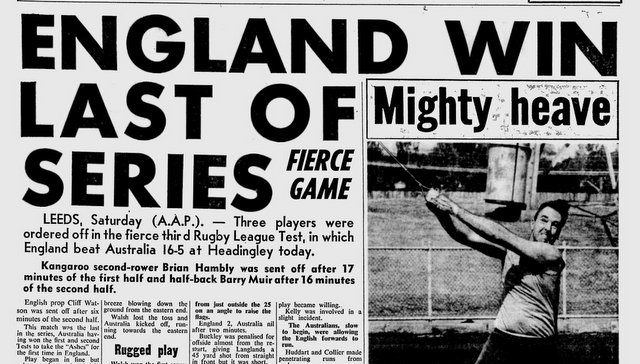 On to France where Peter plays in all three Test v France
1st Test France 8 beat Aust 5
2nd Test Aust 21 beat France 9
3rd Test Aust 16 beat France 8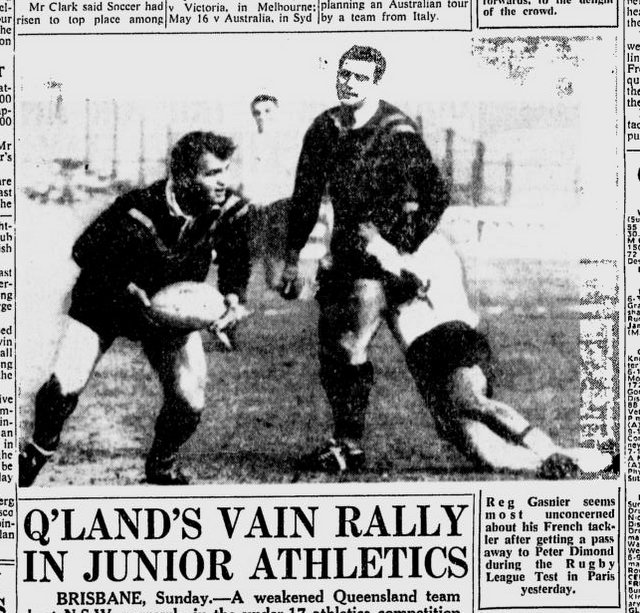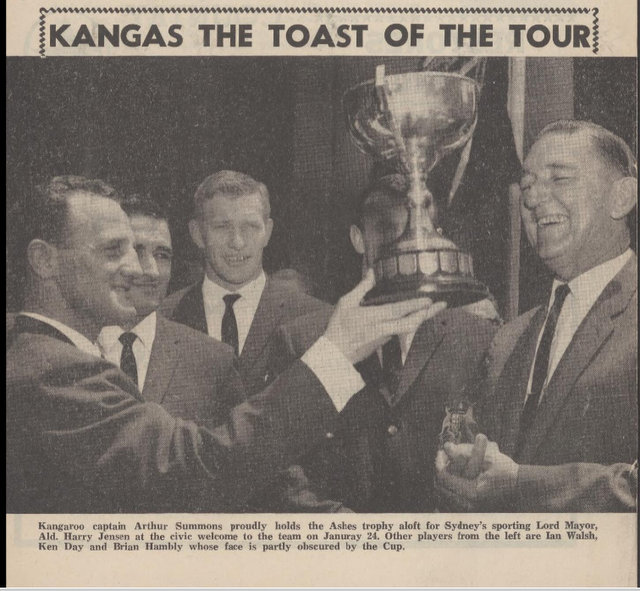 1964 – 1967.
After the exciting Kangaroo Tour it was back to club Football at Wests.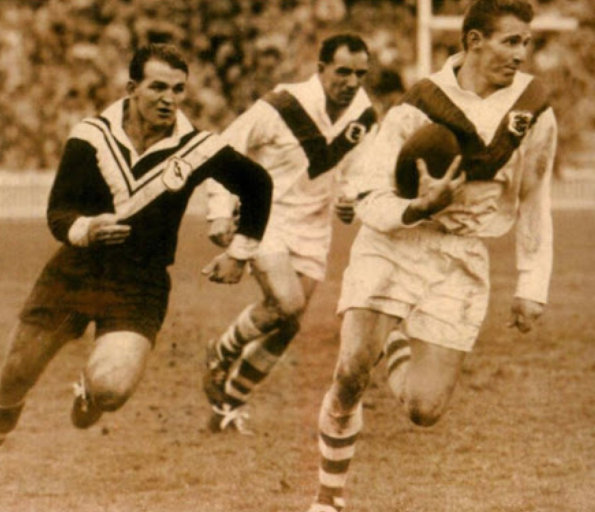 Peter Dimond, Eddie Lumsden and Graham Langlands.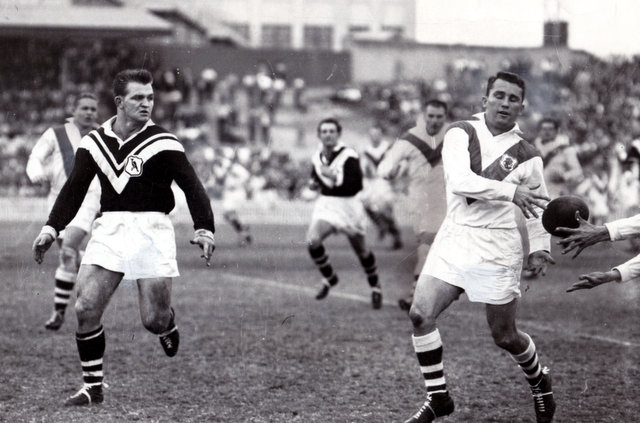 Peter Dimond and Brian Graham at the SCG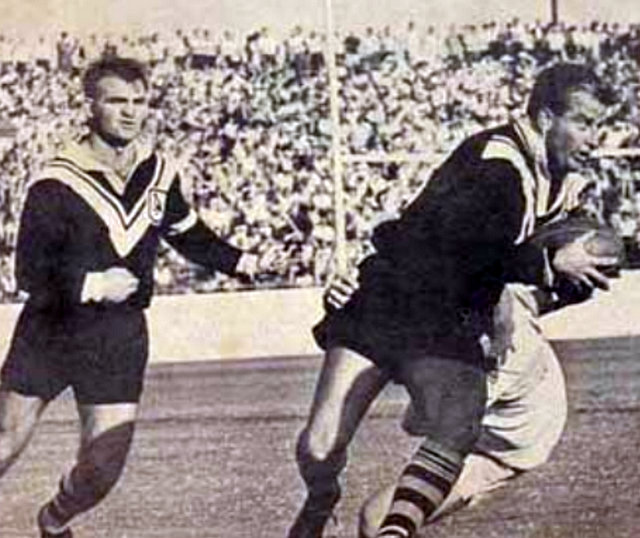 Peter and Noel Kelly at the old Sydney Sports Ground.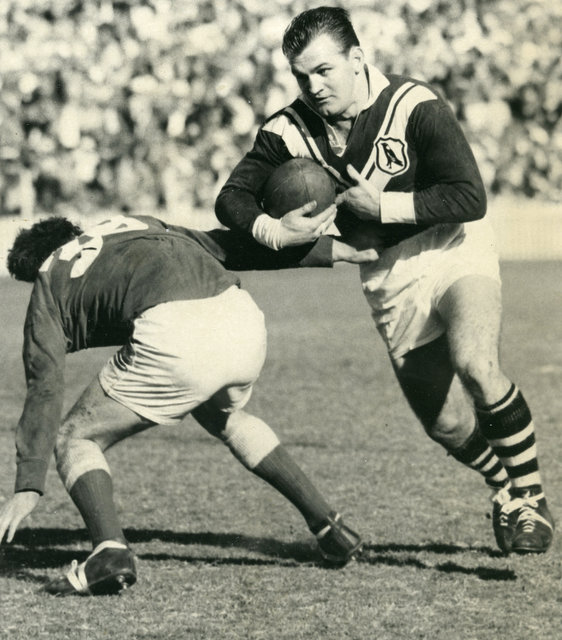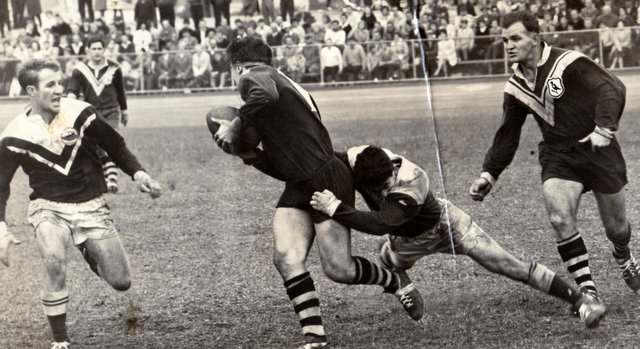 Maurie Raper, John Armstrong and Peter Dimond.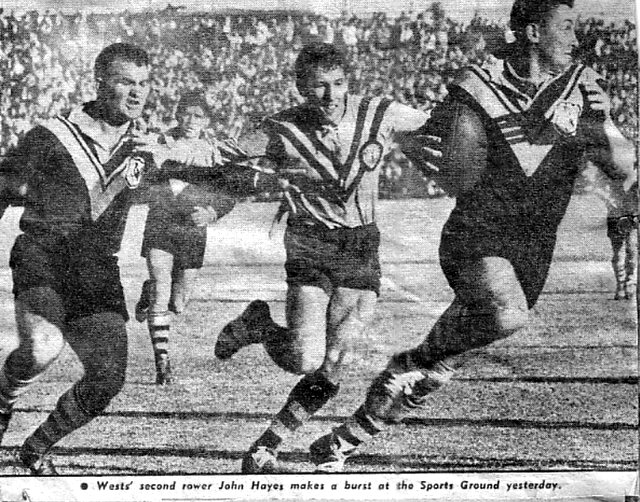 Peter, Jim Cody in the background and Chow Hayes.
Peter scored 11 tries in 1964, 3 ties in 1965, 2 tries in 1966 and 3 in tries in 1967.
Peter playing in the second row and kicked a goal from half way some say over half way….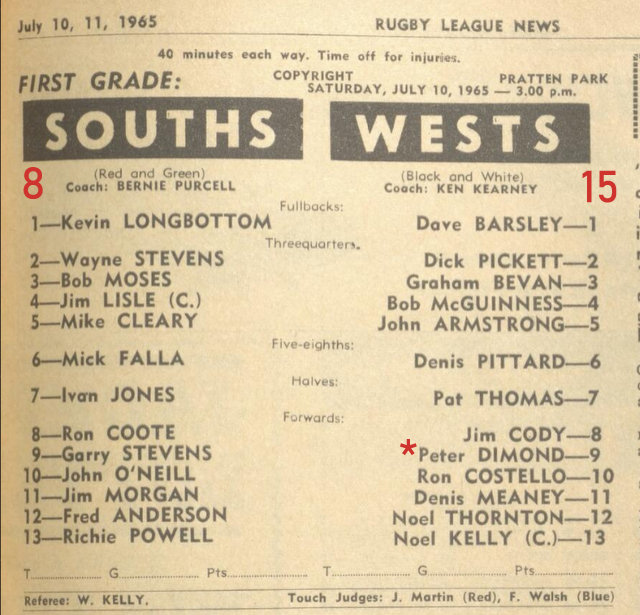 Wests never made it back to the SCG in September again during Peters time at Wests.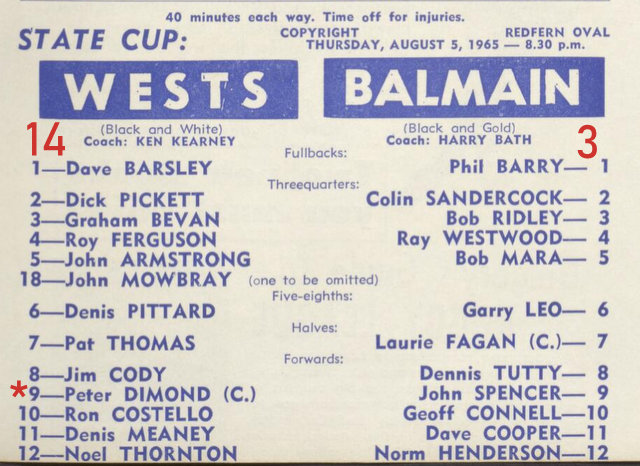 Although Wests won the State Cup in 1965.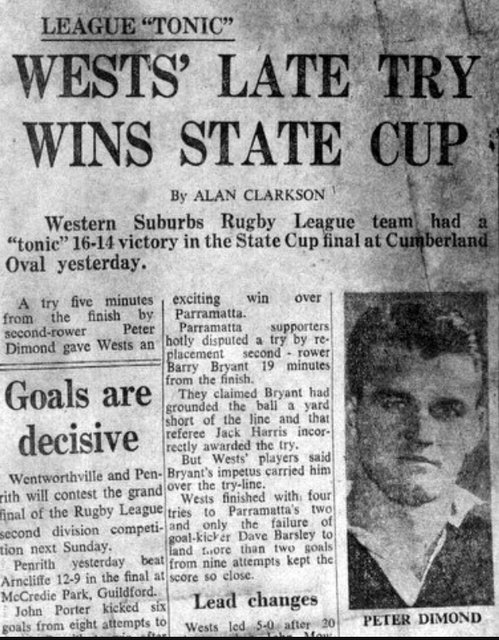 Wests 16 beat Parramatta 14.
Peter during his spare time did some modelling.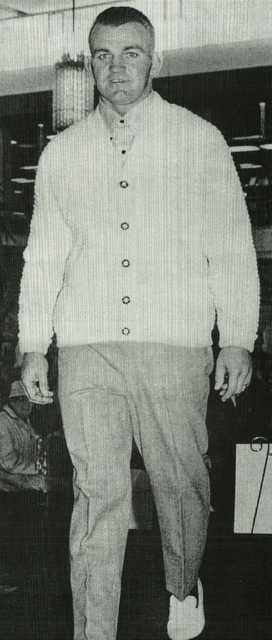 In 1966 Peter  returned to play one more Test for Australia V Poms.

The Poms had won the First Test 17-13, Australia won the Second Test 6-4 .
Both teams needed to win the last Test at Sydney to win the Ashes.
Training run at Coogee Oval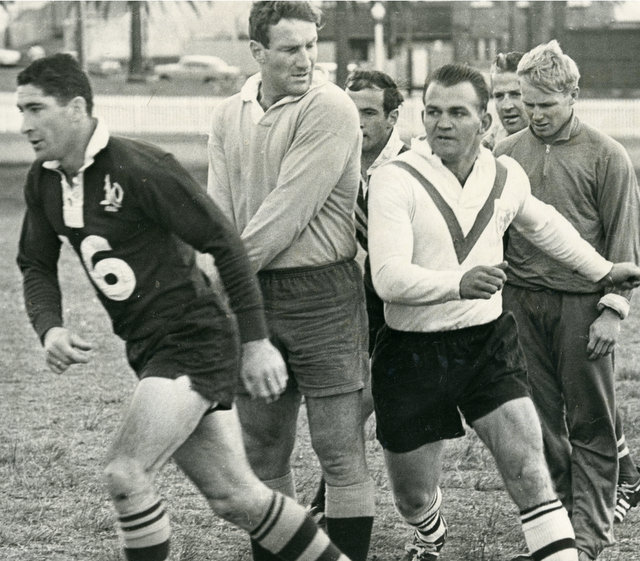 Ron Lynch, Mick Veivers, Gary Banks, Peter, Noel Kelly and Les Johns.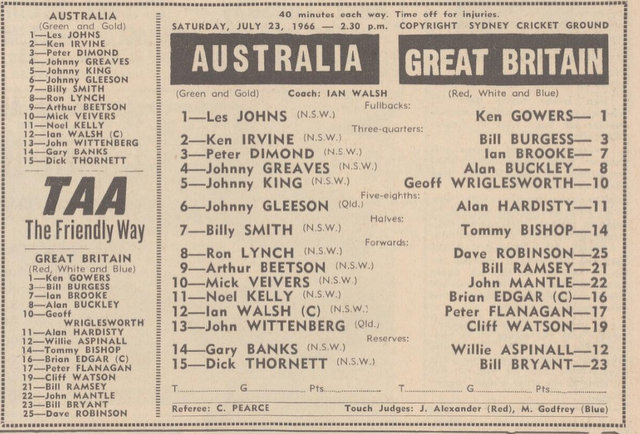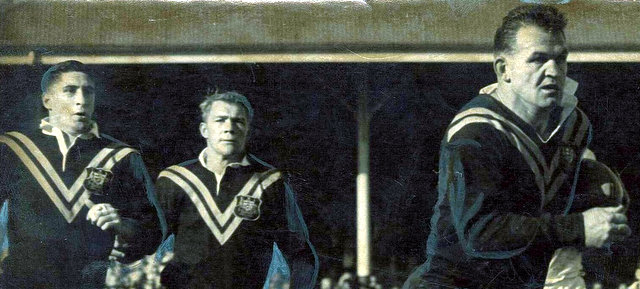 Ron Lynch, John Wittenberg and Peter Dimond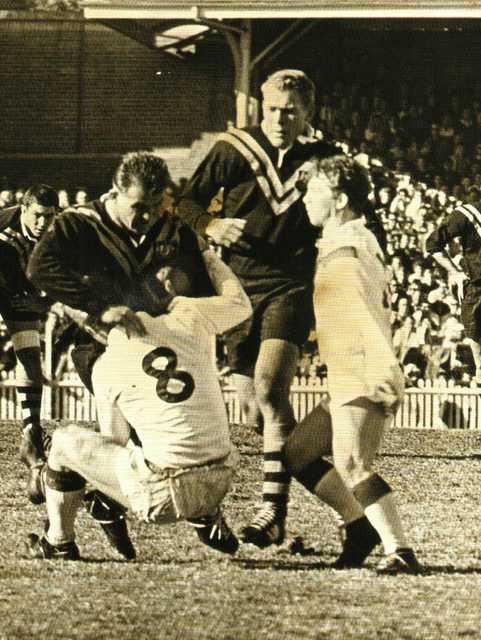 Action shot from the 1966 Third Test.
Arthur Beetson, Peter with ball, number 8 is Alan Buckley, John Wittenberg and Tommy Bishop about to take Peter's head off!!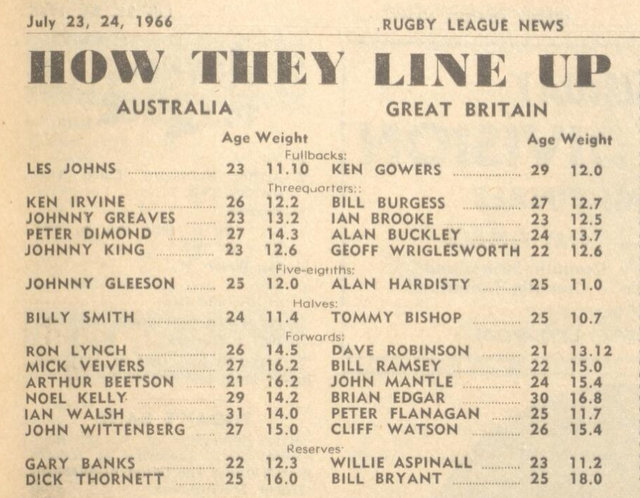 Australia 6 beat Great Britain 4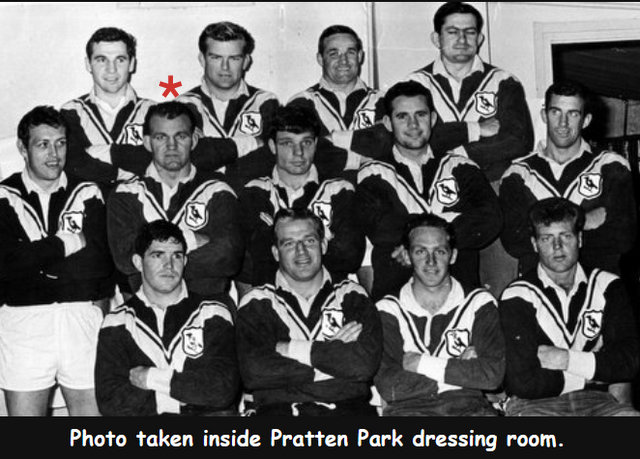 1967 was Peter's last year at Wests and unfortunately Wests did not make the Semis.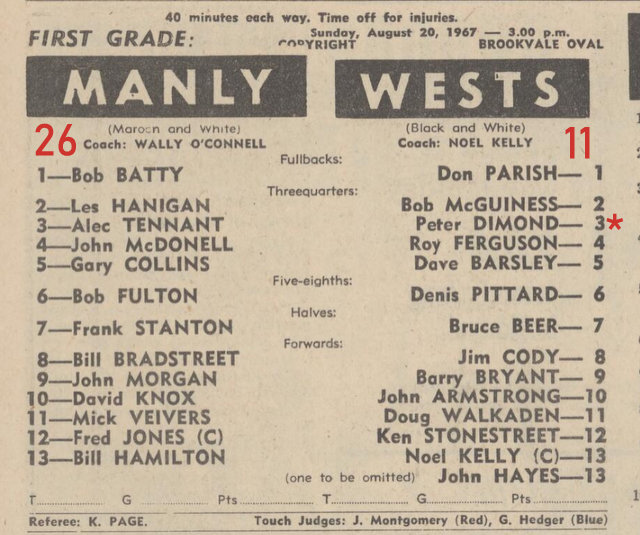 Peter's last game at Wests.
*
However Peter was chosen to play for Sydney v Country in a Kangaroo trial game.
Which did not end well for Peter.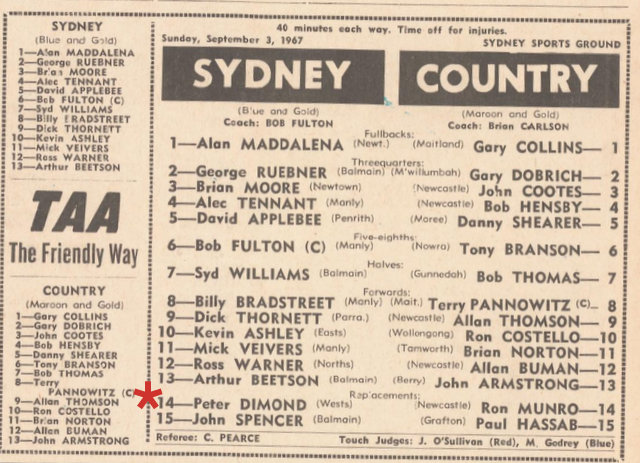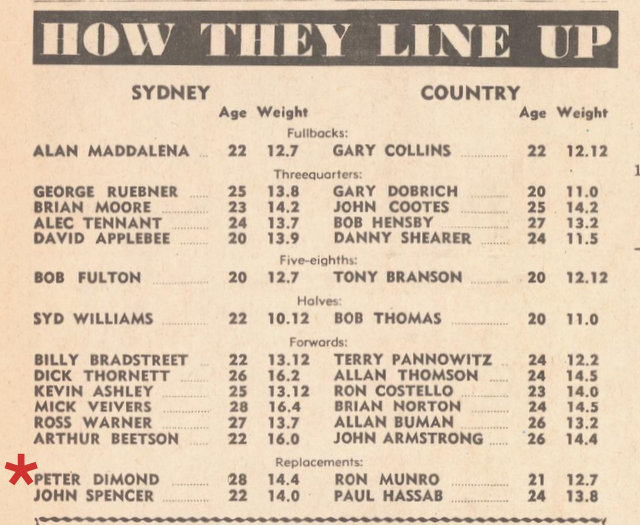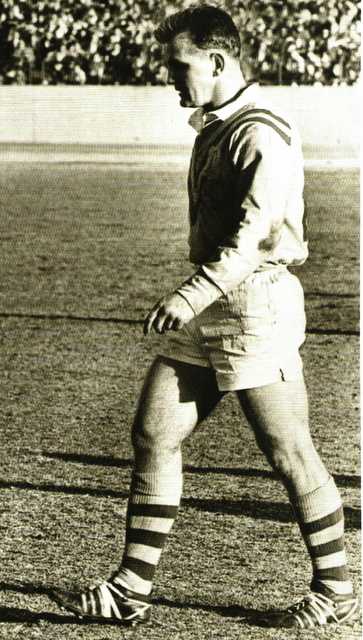 Peter sent off by Col Pearce.
1968, 1969 and 1970
Peter moved up the highway to play for Souths Newcastle for the next three seasons
The pervious coach of Souths was St George and Parramatta legend Bobby Bugden
Peter Captain coached Souths to a premiership in 1968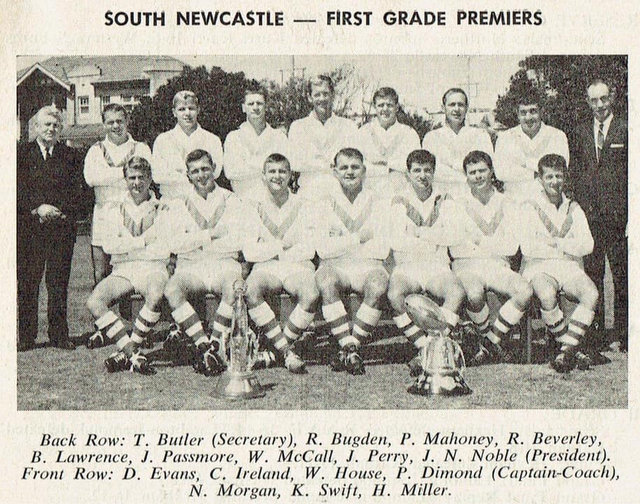 Souths 9 beat Lakes United 6.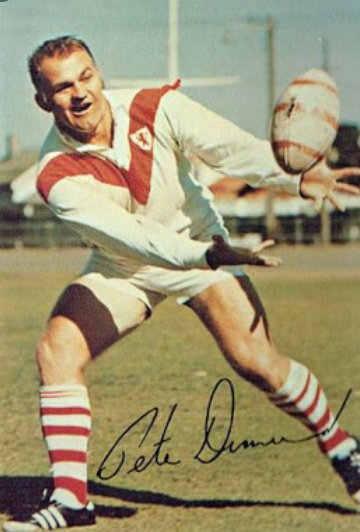 Peter is also in the Souths Newcastle Team of the Century.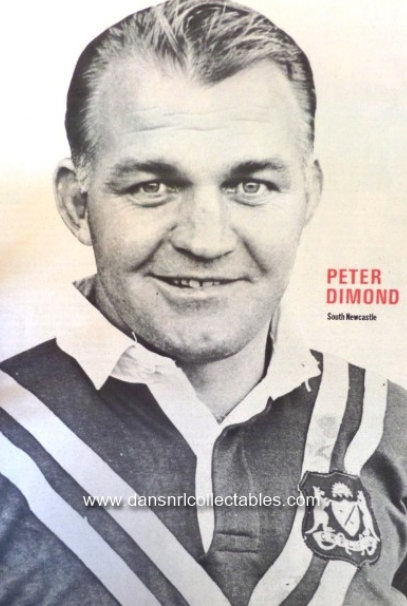 While at Souths Peter played for Country First in 1968 and 1969.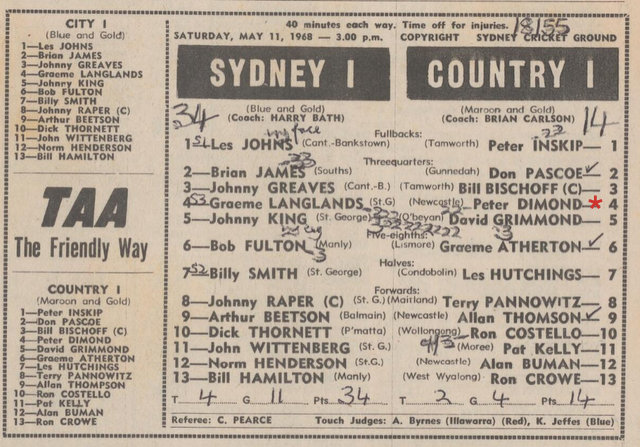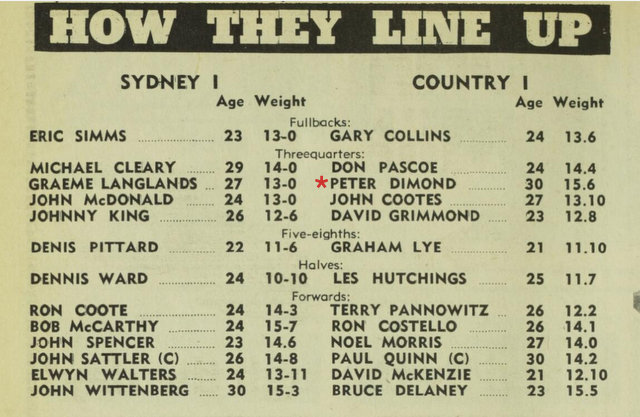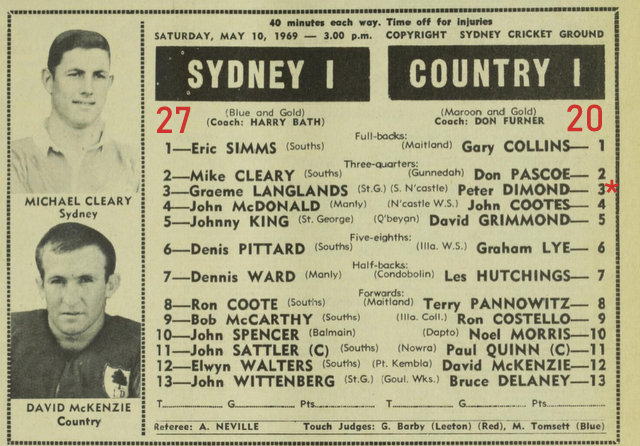 Also in 1969 Peter played in the winning Newcastle rep Team that won the Country Championship.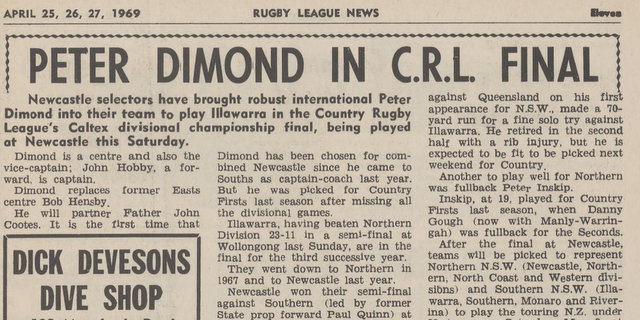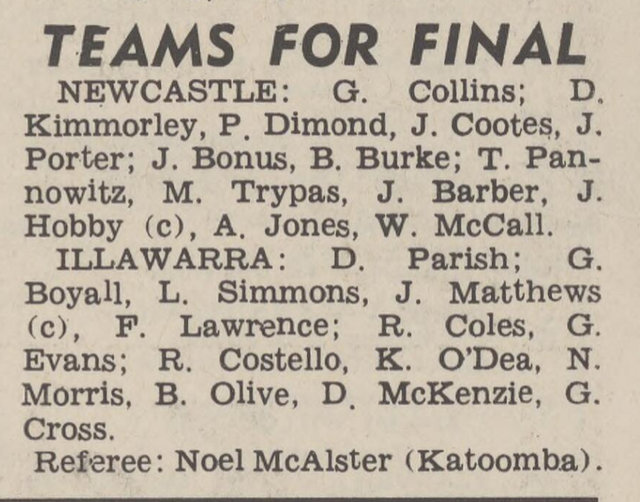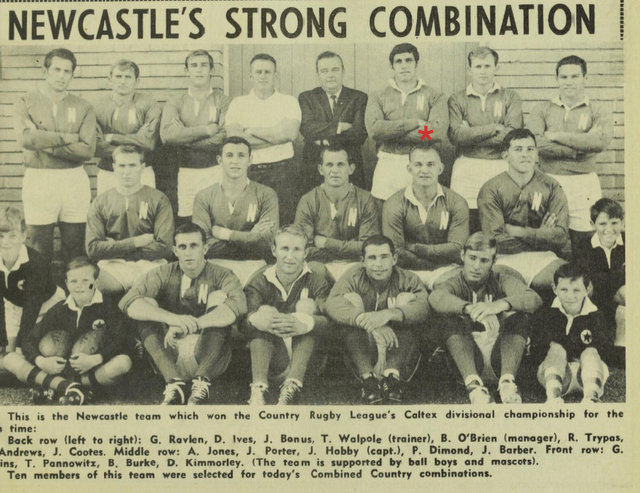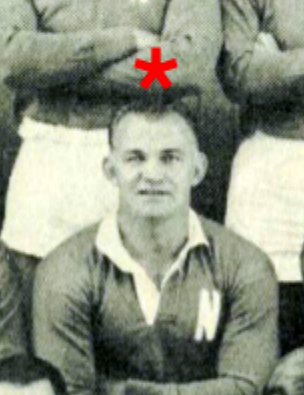 1971
At the age of 33 Peter played at Maitland in 1971.
The Pumpkin Pickers coach was Terry Pannowitz.
 

1973
In 1973 Peter's next move was to Murwillumbah where he ran the Imperial Hotel and played for the Old Boys.

Peter was Capt/coach and played at five eight.
*
*Peter and his brother Bobby have a House Team name after them at Dapto Public School.
Its called the DIMOND Team aka BLUE Team.
*
In 2008 Peter Dimond and Paul Dillon released a book on Peter's very interesting life.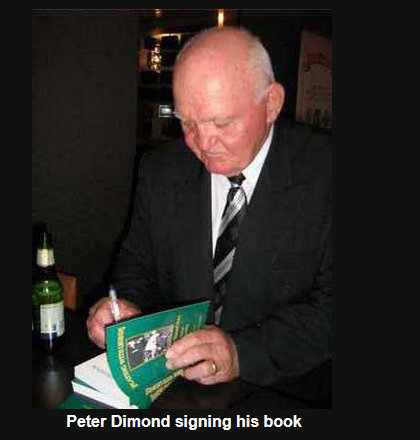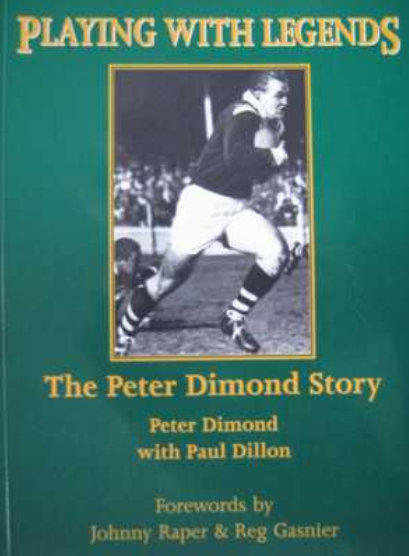 'Playing With Legends'  was launched at Wests Ashfield in front of an enthusiastic crowd of Peter Dimond fans and Western Suburbs supporters.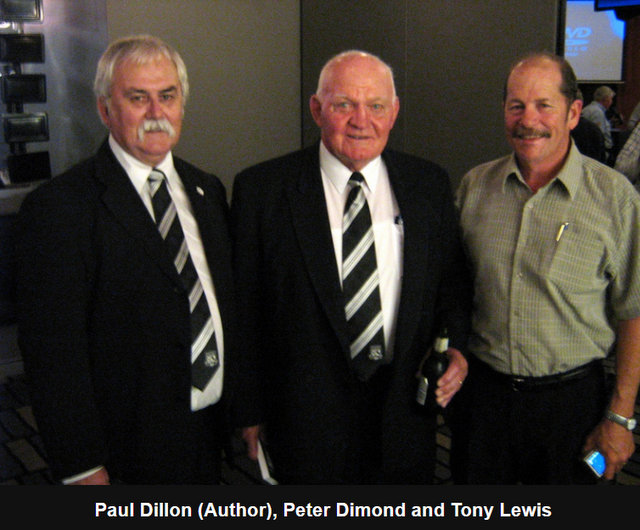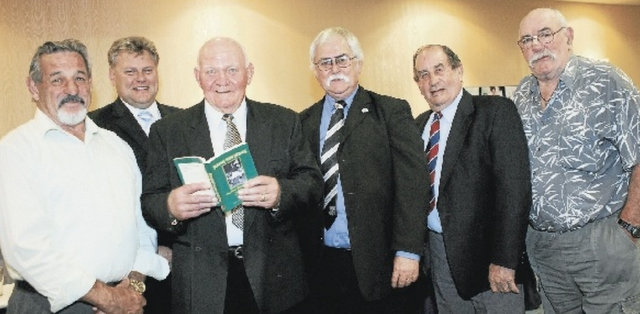 Peter with a few old mates.
Ron Costello, Peter, Paul Dillon, Dave Bolton and Cliff Watson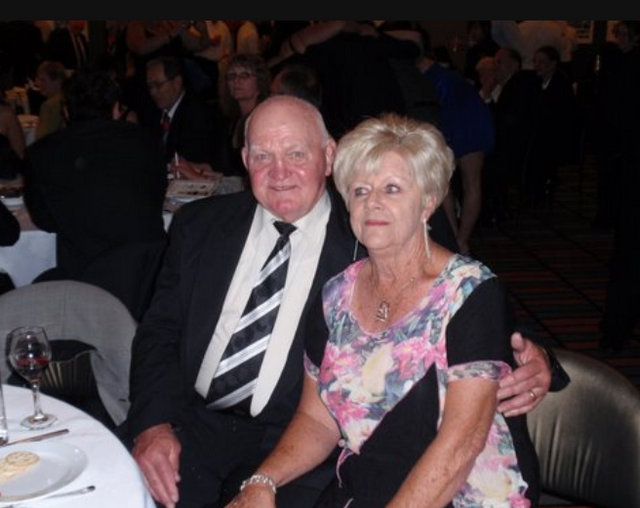 Peter and his wife Val at a Wests Night.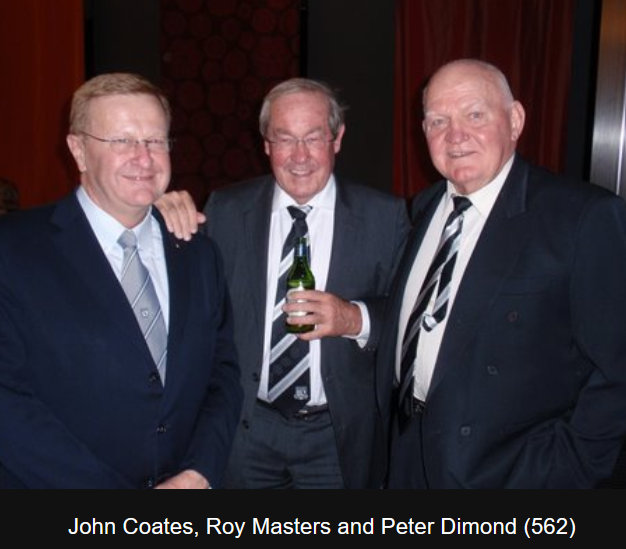 Below Wests Team of the Century.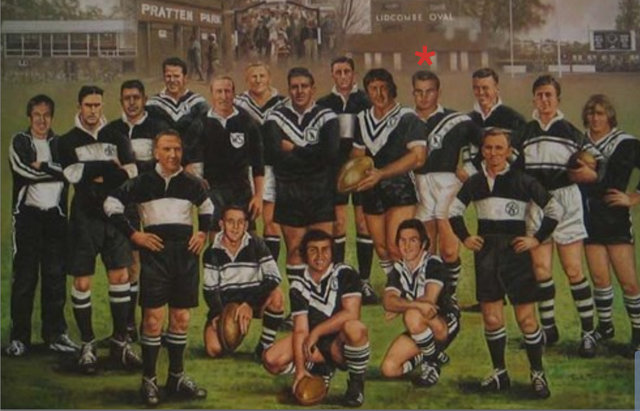 Fullback – Frank McMillan
Wingers – Peter Dimond, Alan Ridley
Centres – Harry Wells, Cliff Pearce
Five Eight – Vic Hey
Halfback – Keith Holman
Lock – Les Boyd
2nd Row – Kel O'Shea, Arthur Clues
Front Row – John Donnelly, Ed "Tedda" Courtney
Hooker – Noel Kelly (Captain)
Reserves – Tom Raudonikis, John Dorahy, Neville Charlton, Bill Carson
Coach – Roy Masters.
Below Wests Tigers Team of the Century.

1. Keith Barnes © (Fullback)
2. Peter Dimond (Wing)
3. Charles Fraser (Centre)
4. Harry Wells (Centre)
5. Alan Ridley (Wing)
6. Vic Hey (Five-Eight)
7. Keith Holman (Halfback)
8. Steve Roach (Front Row)
9. Ben Elias (Hooker)
10. Noel Kelly (Front Row)
11. Paul Sironen (Second Row)
12. Arthur Beetson (Second Row)
13. Wayne Pearce (Lock)
14. Kel O'Shea (Reserve)
15. Jim Craig (Reserve)
16. Tom Raudonikis (Reserve)
17. Harry Bath (Reserve)
Coach: Norm "Latchem" Robinson
*Barry Ross supplied me with this information on Peter's early sporting life.
Peter was also a good cricketer and was playing first grade with Dapto in the Illawarra competition at 16.
In 1954 was selected in an Illawarra representative under 17 team to play the South Coast.
His team-mates in this team included Brian Taber who went on to play 16 Tests and Barry Bates who became a NSW opening bowler in Sheffield Shield cricket.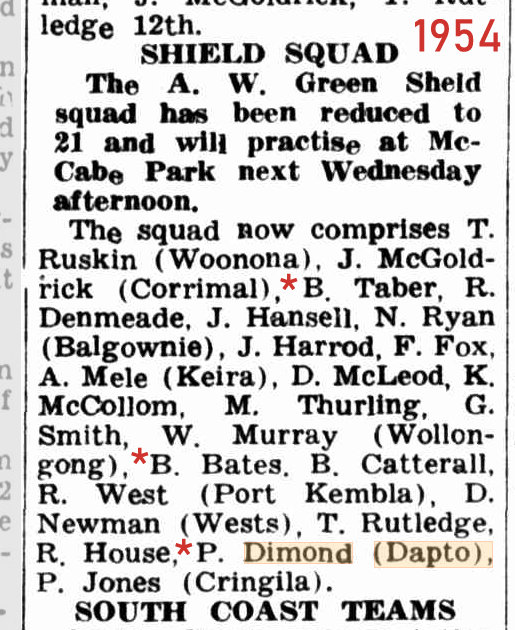 In rugby league he made his first grade debut with Dapto in the Illawarra competition at 17 years of age in 1956.
The Dapto captain/coach was former Wests Magpies player, Kevin Owens, older brother of Billy. Dapto at first thought they had signed Billy Owens.
Peter also represented NSW Schools in three successive years. These were 1950 NSW 6 stone team from Dapto Primary School and 1951 and 1952 NSW 7 stone 7 pounds teams from Wollongong Technical College.
Peter was on the wing in 1952 while Reg Gasnier from Sutherland Intermediate High was the five eighth. Both Reg and Peter scored two tries in the 21-0 win over Queensland which included Bob Hagan, who played two Tests and went on to become CEO of the Bulldogs.
This 7 stone 7  pounds game was played at the SCG on 2 July 1952 as an early game to the third Australia-New Zealand Test.
Both Reg and Peter were 13 and this was the first time they had met and the  beginning of a close  friendship which lasted more than 60 years until Reg's death on 11 May 2014.
They were room-mates on the 1963 Kangaroo tour which was the first all Australian team to win the Ashes in England.
Both Reg and Peter played all six Tests on this tour- 3 against Great Britain and 3 against France.
RIP Peter Dimond