Vale Tommy Raudonikis OAM
Wests Player 655 (1969)
Wests Magpies Life Member number 76
1950 – 2021.
*Tom played 202 First grade games and scored 33 tries at Wests.
**

Please note I have tried to cover all of Tommy's brilliant career but that is impossible.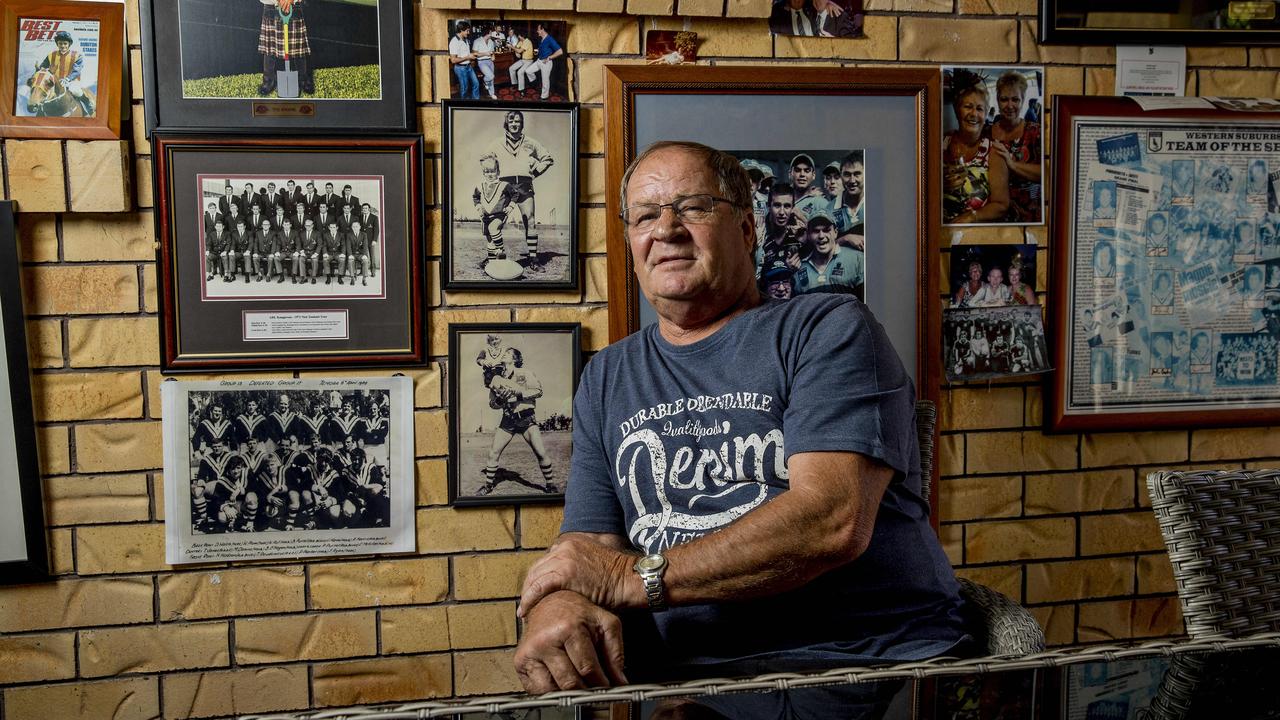 Where do you start with a Legend like Tommy Raudonikis…..?
….maybe way back in 1959 when Tom played for the 5st 7lb team at St Raphaels Cowra.
Tommy is the kid with the ball and winning Pennant.
Tommy returns to his old school in 2018.
At the time of his visit Tom said this….
"My playing career began at St Raphael's under the coaching guidance of Mother Scholastica."
"When we drove into the town yesterday, I had tears in my eyes because this is where it all started,"

"They were good times, and I can't thank Cowra enough for them"
"I didn't have all the ability but I did have the determination and Cowra played a big part in that."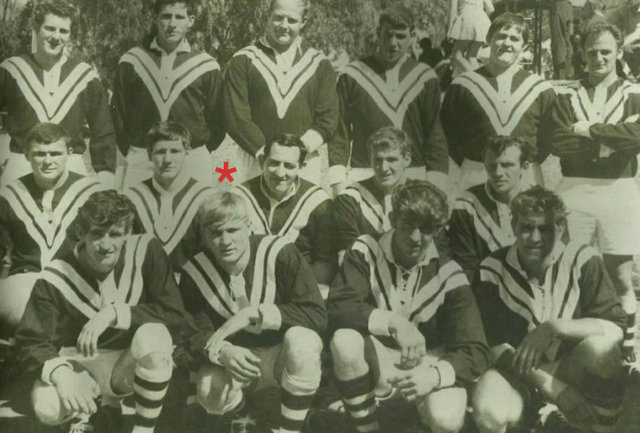 * A very young Tom Raudonikis.
On leaving school he started off as an apprentice engineer with the RAAF based in Wagga Wagga.
While there he played for local side the Wagga Kangaroos.
In 1969 he was scouted by the great Arthur Summons.
Arthur Summons in his Wagga Magpies jumper in 1969
The legendary Western Suburbs Magpies playmaker immediately saw the potential in Raudonikis and sent him up to play with the Lidcombe-based team.
 Before leaving the Wagga Kangaroos in 1969, Tom played in three Maher Cup winning games.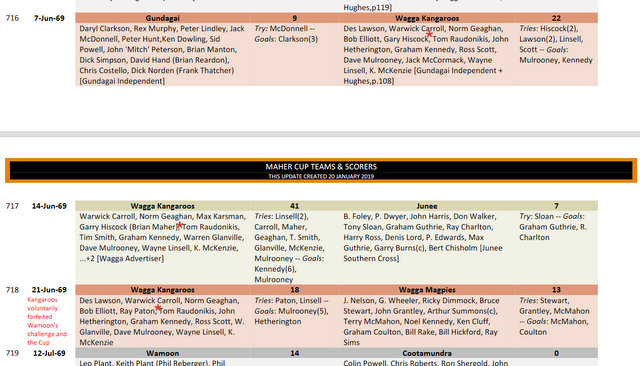 The Wagga Kangaroos also won the Group 9 comp in 1969.
A couple of weeks later Tom was playing in Reserve grade for Wests against Souths.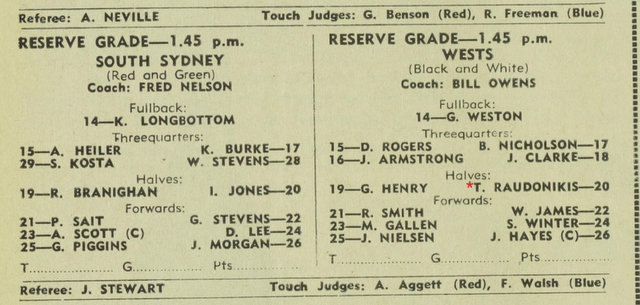 Tom only played two Reserve Grade games at Wests during his long career.
Souths 27 beat Wests 0.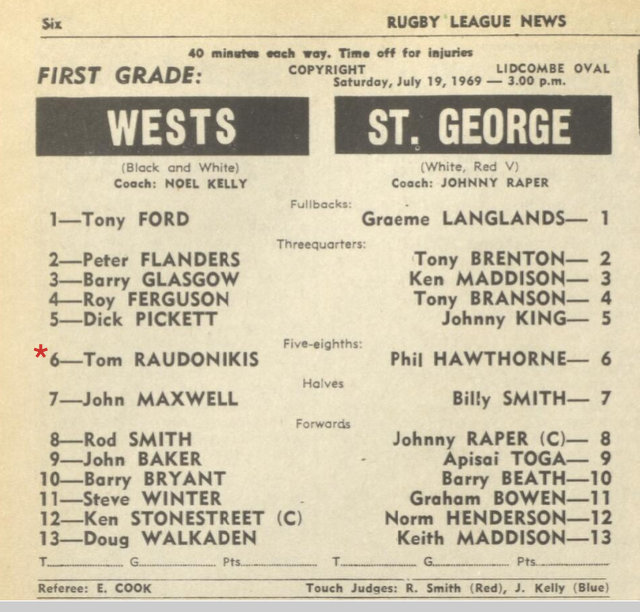 On Saturday July 19th 1969 at Lidcombe Oval Tom made his First grade debut with Wests.
St. George 22 beat Wests 11.
It became obvious to everyone that Tom was a very special player.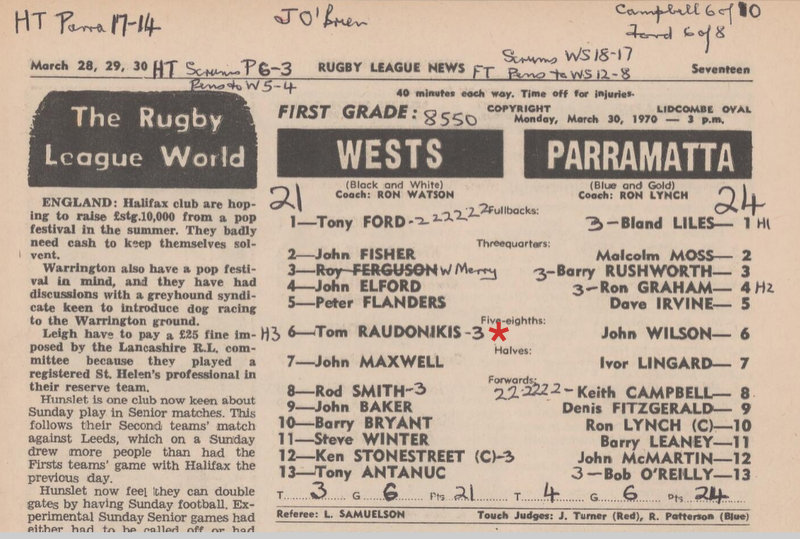 In 1970 Tom scores his first try for Wests.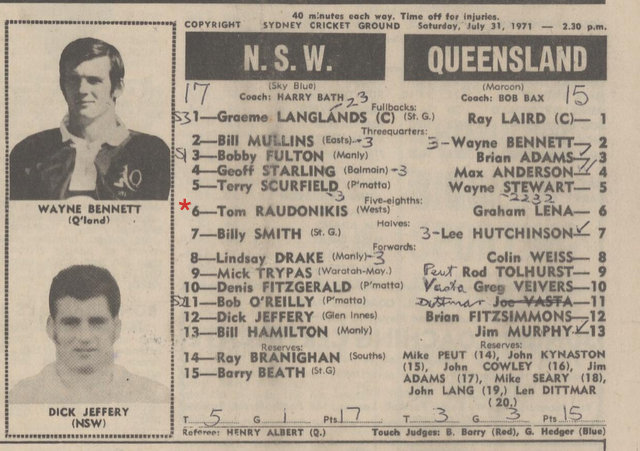 Tom's first game in the sky blue of NSW.
Tom with the ball and Wayne Bennett number 2.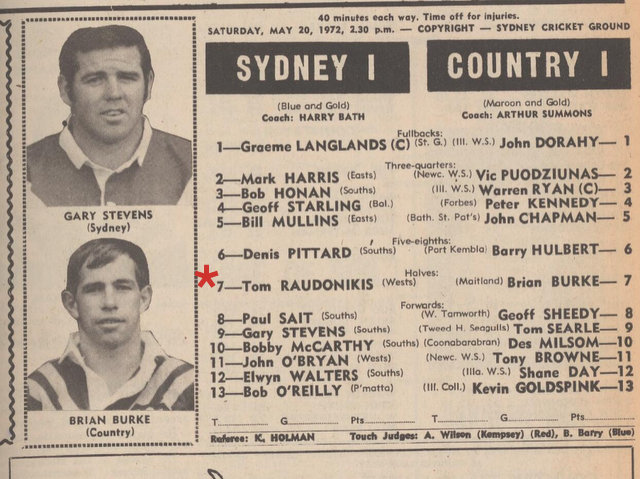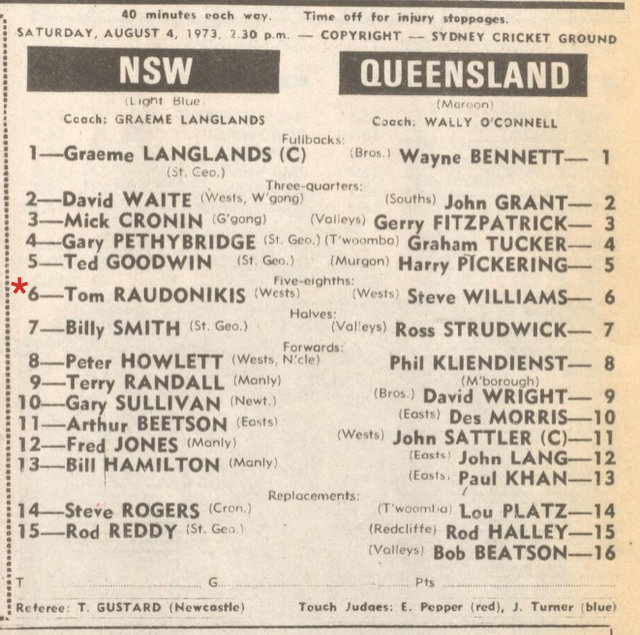 *In this 1972 interstate game Tom scored two tries.
NSW 26 beat QLD nil.
Tom played for his beloved NSW 24 times between 1971 and 1980 scoring 11 tries for the Sky Blues.
In 1972 along with Wests team mate John Elford, Tom played his first Test match for Australia.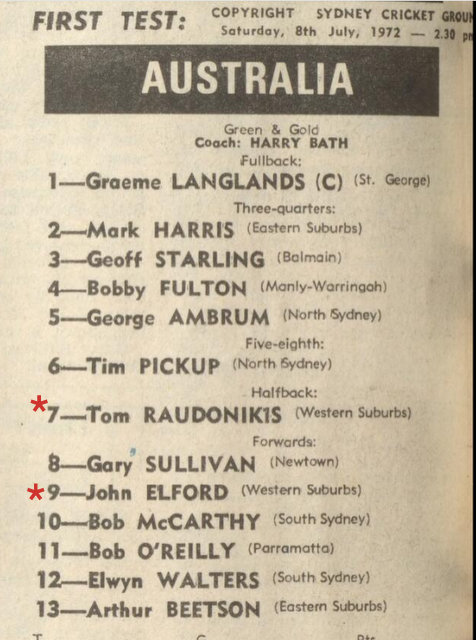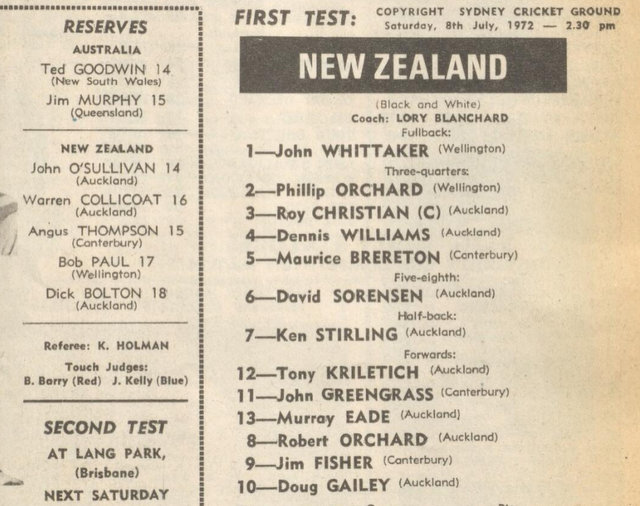 Australia 36 beat NZ 11.
Tom played for Australia 20 times between 1972 and 1980 scoring two tries.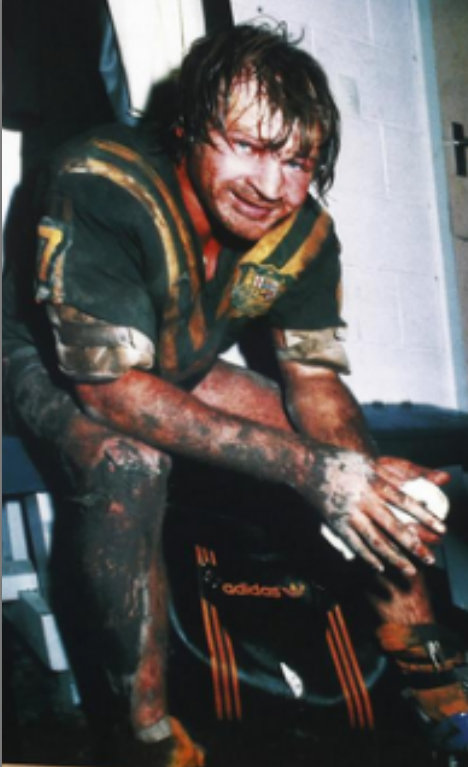 Tom after his last game for Australia.
Australia 21 beat NZ 7.
In 1972 Tom won the Rothmans Medal.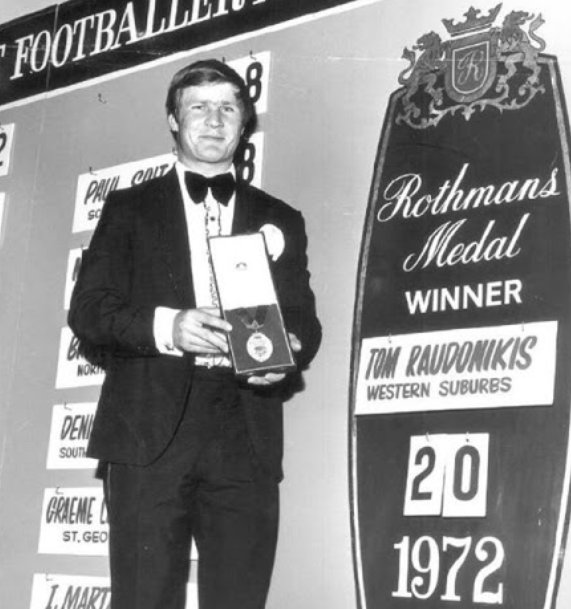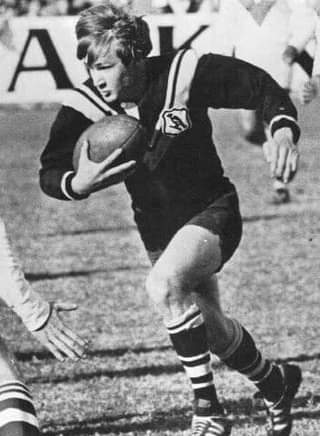 *
*In 1977 Wests were coached by another great Wests half-back Keith Yappy Holman.
Tom and Yappy.
That was the year Wests won the AMCO CUP.
In 1978 a very important person came into Tom's life
Roy Masters.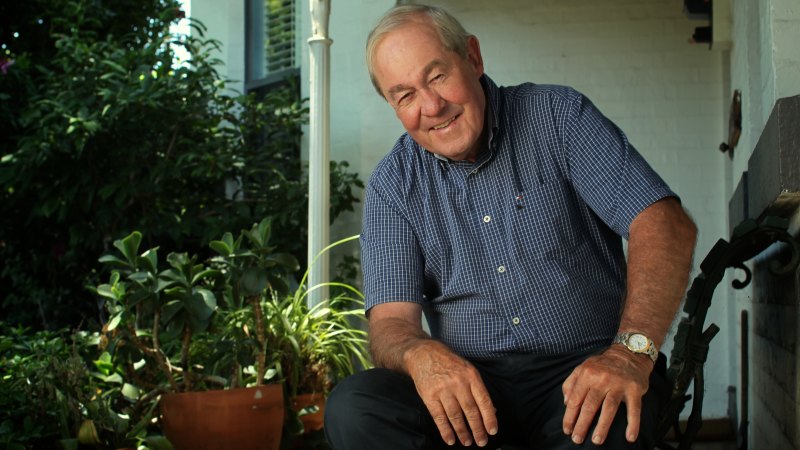 Roy Masters coached Wests between 1978 and 1981.
Roy was the coach and Tom was the fearless captain of Wests.
 Roy wrote these words about Tom a few days ago.
"Integrity" has become such a hackneyed word in rugby league today, it is almost meaningless.
Yet Tom Raudonikis, who died on Wednesday, defined it.
He was incapable of telling a lie.
He possessed an antennae, a built in early radar system which detected the strengths and weaknesses of others and allowed him to become a topdog on the football field and a champion of the underdog off it.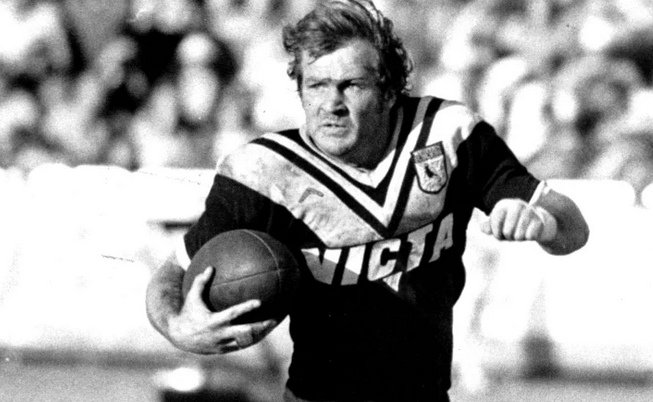 One of Toms 33 tries for West's.
Tom passing the ball with Dallas watching his mate.
A little info on Tom and his playing ability at this time….from Alan Whiticker.
"Raudonikis terrorised his opponents – halfbacks and forwards alike – with his resolute competitiveness.
He was the top Australian halfback during the 1970s and captained Australia in the third and deciding Test against Great Britain on the 1973 Kangaroo tour.
Raudonikis also played in two World Cup wins (1975 & 1977), four Ashes series (1973, 1974, 1978 & 1979) and against France (1978) and NZ (1978 & 1980).
Testimony to his toughness was the celebrated occasion in 1977 when he was relegated to the reserve bench in an interstate match in favour of a young Steve Mortimer. NSW was losing when Raudonikis took the field late in the second half but quickly instigated a fight with his opposite number Greg Oliphant (who was being treated for an injury on the sideline!) and inspired NSW to a narrow 14-13 win with a great try.
Tom played 202 first grade games with Wests, he shocked everyone in the game when he accepted an offer from John Singleton to play for Newtown in 1980.
He captained NSW in the inaugural State of Origin match and toured NZ that year where he made his final Test appearance in Australia's Second Test win in Auckland.
One of Raudonikis' greatest matches was in the 1981 grand final but despite scoring a marvellous solo try he could not stave off defeat against the Eels." 
In 1980 Tom moved to Newtown to play for the Jets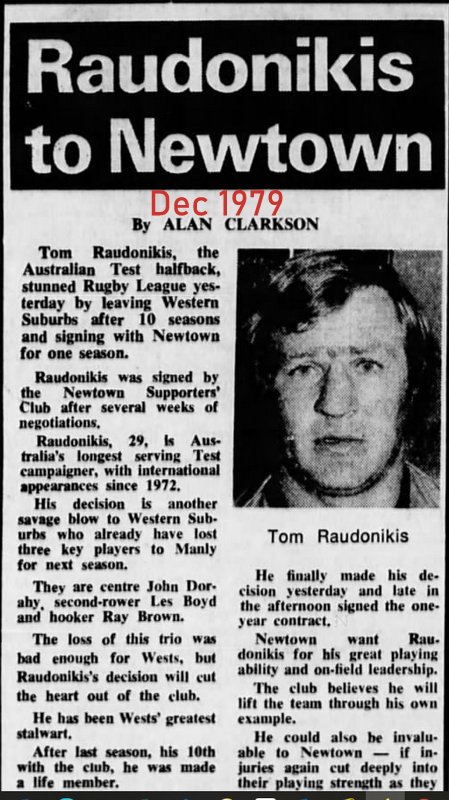 Different team same Tommy.
Tom played 37 First grade games for Newtown and took them to the 1981 Grand Final.
Unfortunately Parramatta 20 beat Newtown 11.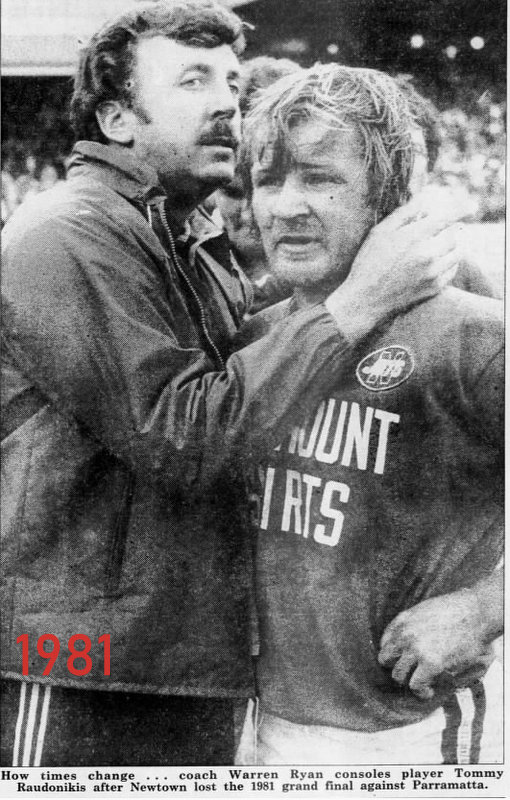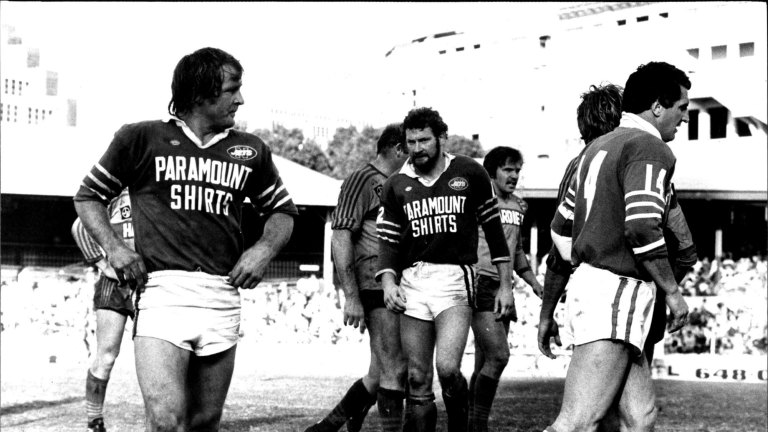 Scene from the 1981 Grand Final
Great mates.
John Singleton and Tommy
In 1983 Tom moved to Brisbane Brothers as captain/coach.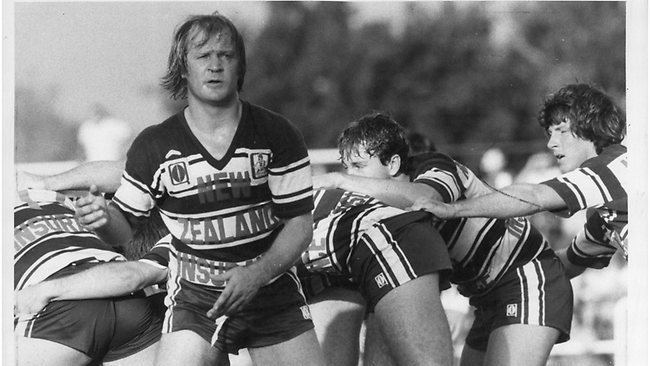 Tom then had seasons at Brisbane Norths and Ipswich.
The letter below is from Jim Landy the coach who took over from Tom at Ipswich.
*"Today we lost the great Jet Tommy Raudonikis a true gentleman, a tough astute player, brilliant coach and a great mate.
I am incredibly grateful and privileged to have had the opportunity to coach alongside this true legend and was able to build an everlasting friendship.
Tommy began as Jets Coach in 1985 and continued to 1988 where we reached the Grand Final.
I was honoured to take over the coaching role from Tommy in 1989.
During his time as with us he formed many friendships with the Ipswich community and Jets families and was very instrumental in helping players reach greater heights in their playing and coaching careers.
His expertise and sometimes unusual methods as a coach always brought the best out of his players.
Tommy's characteristic ways and down to earth nature was fondly accepted and respected by the Ipswich community and all involved within the Ipswich Jets."
Tommy will always be remembered by his toughness on the field, his unique coaching ability, and as a great friend and mentor to many.
On behalf of the Ipswich Jets, we would like to send our sincere condolences to his partner Trish and family.
Tommy will always be fondly remembered throughout Ipswich and surrounding areas as a great coach, great friend and a true legend."
Rest in Peace Tommy
Jim Landy
Tommy and Barry Muir far right.
In 1995 Tom returned to his beloved Western Suburbs Magpies to coach.
Alan Whiticker writes….Like a blast from the past, and with the Wests club at the crossroads following the resignation of coach Warren Ryan toward the end of the 1994 season, Raudonikis was lured back to the club to take over the coaching reins in 1995.
The former champion player quickly instilled spirit back into the ailing club and was rewarded for his efforts with his appointment as NSW State coach in the divided 1997 ARL season.
After winning the 1997 State of Origin series, his team was beaten by the Wayne Bennett-coached Maroons in 1998 and with the Wests club facing the possibility of extinction, Raudonikis stood down from his Origin post in 1999.
The Famous Team Poster from 1998.
Wests last year 1999.
The very last game at Campbelltown.
August 29th 1999 for Tom and Wests as we knew them .
Tom was coach of the 1997 winning NSW State of Origin Team.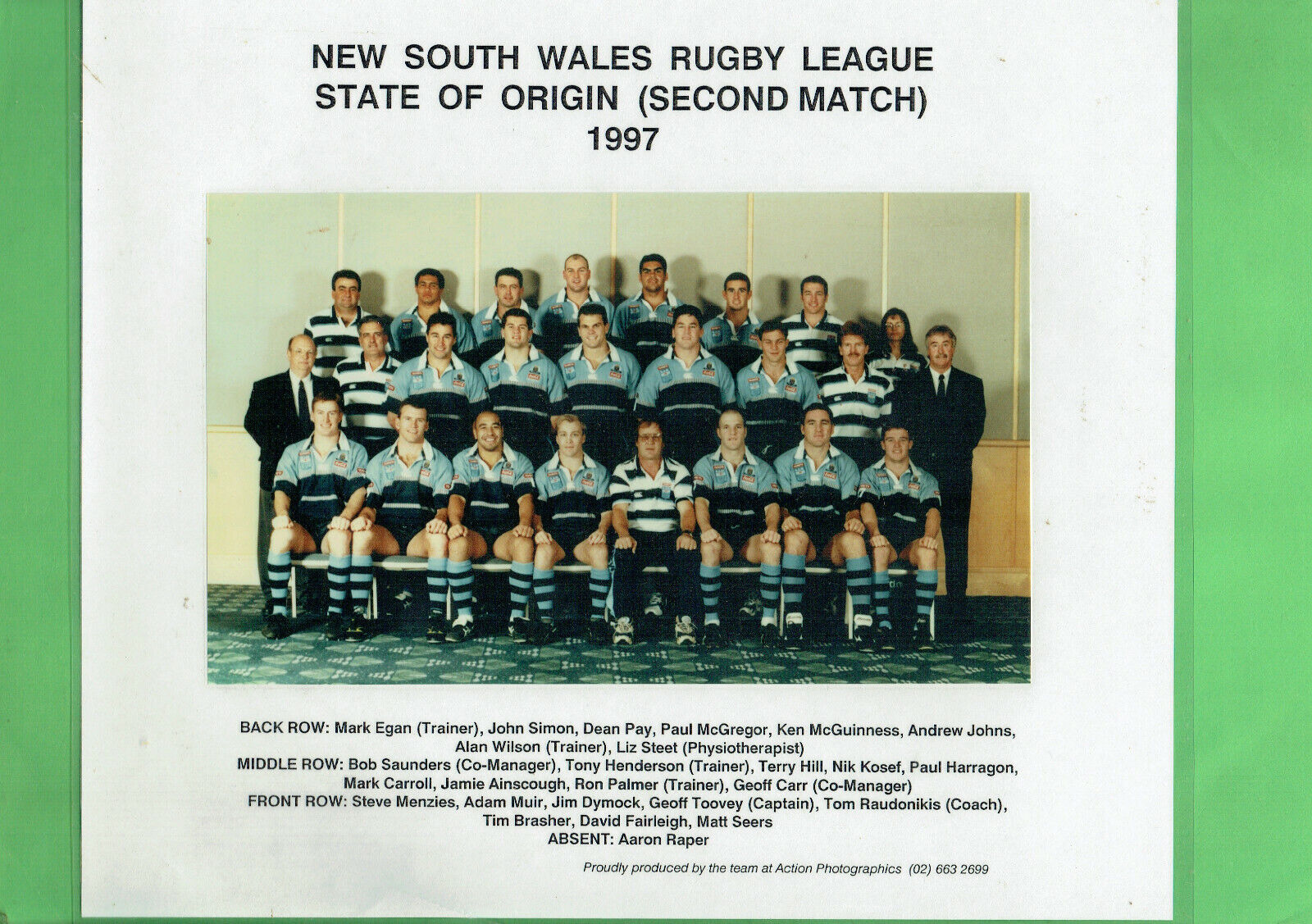 Game One   NSW 8 beat QLD 6
Game Two    NSW 15 beat QLD 14
Game Three  QLD 18 beat NSW 12.
In 2004 Tom was named in the
WESTERN SUBURBS TEAM OF THE CENTURY
In 2008 Tom was inducted into the Rugby League Hall of Fame Number 75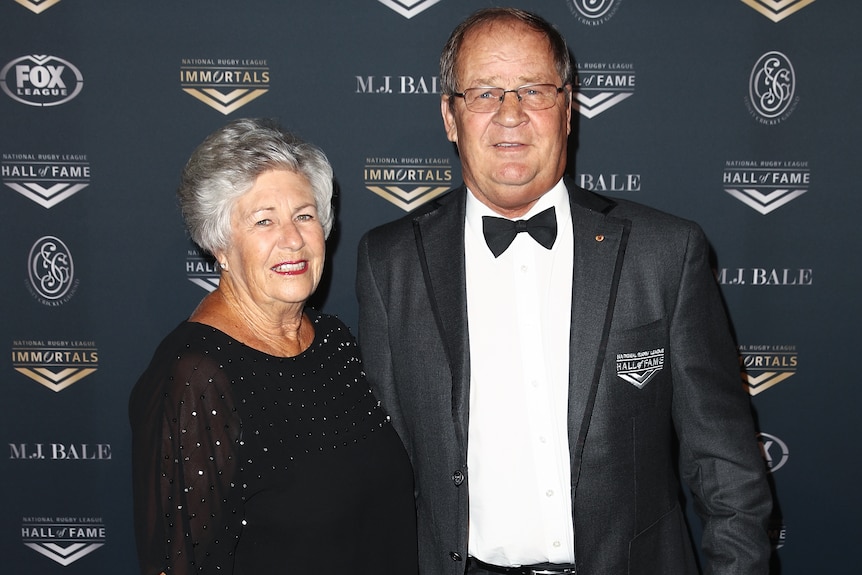 Trish and Tom.
Away from the field Tom was a very strong supporter of the Men Of League organization.
Tom was MOL Member number 330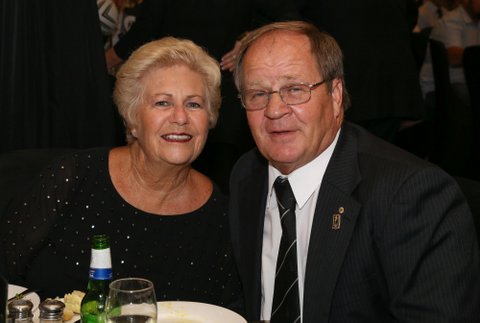 Trish and Tom at a Wests Heritage Night.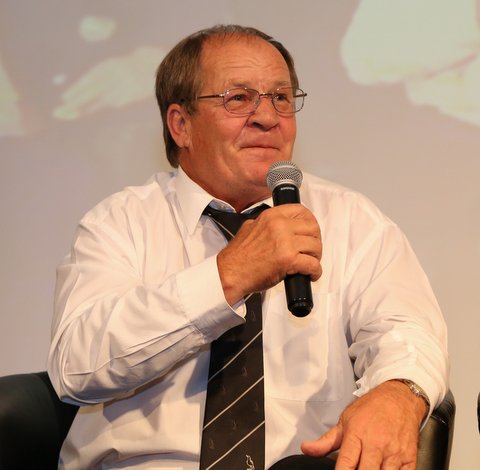 Tom doing what he did best talking about Wests.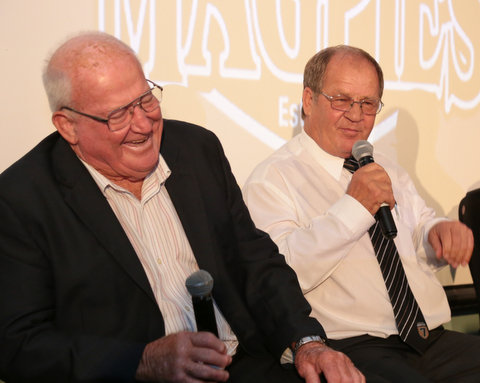 Two Wests greats both no longer with us
Tom also loved to come to the PPM Reunions and catch up with old team mates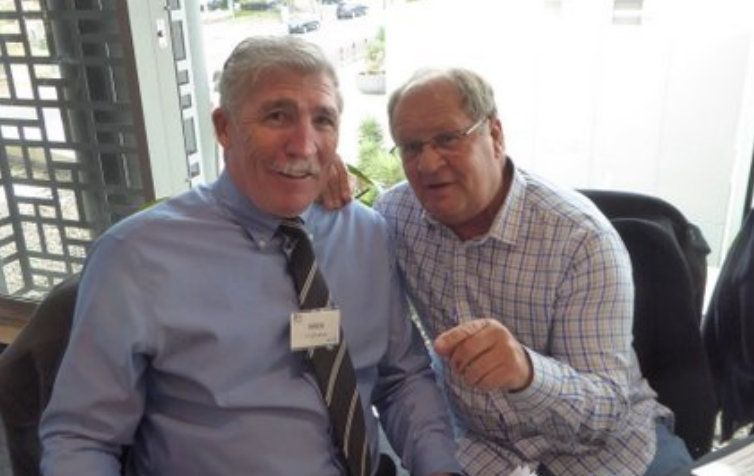 Mick Liubinskas and Tom talk over old times at the 2014 PPM reunion
Tommy was always happy to help out at Origin time
Tommy Raudonikis presents a jersey to Nathan Cleary in Brisbane in 2018
*
I knew it would be very hard to write this Vale to Tom Raudonikis mainly because of the amount of living Tom had packed into his life.
During my research for this Vale I have grown to love and appreciate Tom more.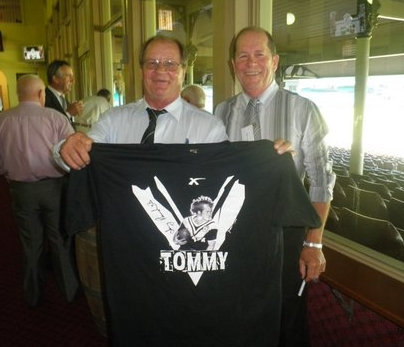 Thank you Tom for the brilliant memories.
The word VALE  means "farewell" in Latin.
The Western Suburbs Magpie Warrior.