John "Snoozer" Elford.
On my way to a wedding at Tweed Heads I was lucky enough to interview John Elford at his home at South West Rocks.
John came down from Kempsey via Smithtown Tigers in 1966 and stayed for 10 years with the Wests Magpies. During his time at Wests John went from a speedy, hard running and tackling winger into a very hard running, ferocious tackling Test playing second rower.
But let us not get to far ahead of ourselves ……
John was born at Kempsey (not Casino) on the 1-3-1947. John is the youngest of 6 children. The Elford kids were brought up at Frederickton on the banks of the Macleay river. John played Rugby League at Kempsey High School and weekend footy with the Smithtown Tigers.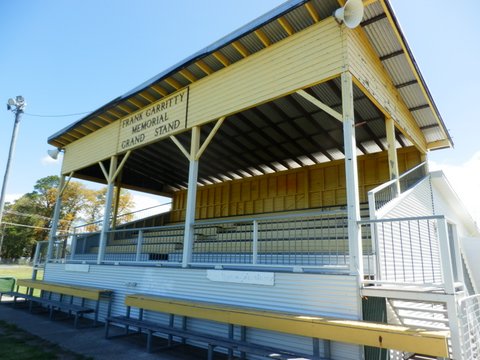 The Frank Garritty Memorial Grand Stand at Smithtown Oval.
When John played Under 18's at the age of 13 he would play second row and when he was playing Reserve Grade John would play on the wing. John was only 16 when he made his First grade debut in 1963.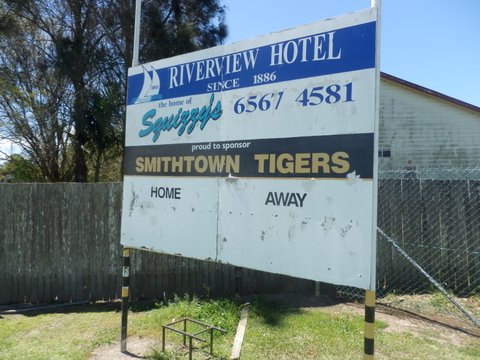 The famous score board from Smithtown Oval.
During this time John's older brother Owen was chosen to play rep football but due to his wife burning his footy boots he missed the chance to play.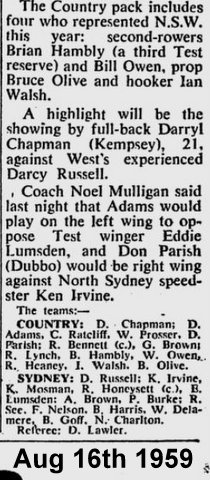 Was this game the one that Owen missed.
Owens position was taken by future Kangaroo Darrel Chapman. Darrel toured with the 1959 Roos.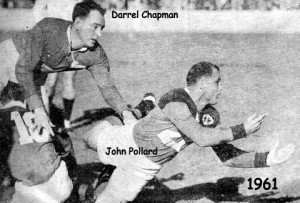 Darrel Chapman playing for the Souths in 1961.
John remembers two coaches from his youth who were Capt/Coaches at Smithtown.
Frank Stanmore, ex- Wests and Horrie Toole, ex- Norths, both played five-eight for Smithtown.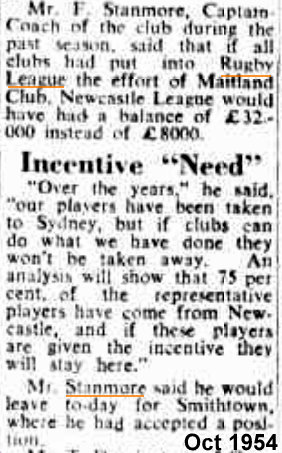 Story about Frank Stanmore going to Smithtown in 1955.
During these years John was very involved with the South West Rocks Surf Club.
He was a beach sprint champion which helped him with fitness and speed. John was also playing rep football Group v Group.
1965  
John's life was about to change forever. Eric Adams, who had connections at Wests, lived at South West Rocks. Eric organized for Billy Owens and Noel Kelly to visit and chat to John about playing for Wests in Sydney. Ned told John, " Boy you better get yourself down to Pratten Park next year … John was only 17, so Ned went to see John's Mum and Dad and promised that he would look after John if he came to Wests.
Note:

Mrs Elford's brother, Jack Baxter, played for both Newtown and Saints in the early 1950's.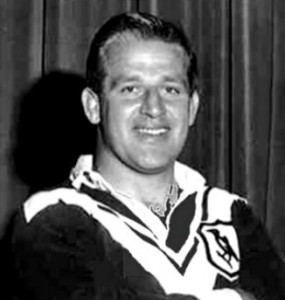 A young Noel Kelly in 1965.
1966 – 1971

John moved down to Sydney and was living at Bondi Junction with a few mates. He was told that he should play Rugby Union to beat the transfer fee that Smithtown might put on him.The story was if you played RU for 1 year you could move over to League and not incur a transfer fee. One of John's flatmates was trying out for Easts Rugby League and told John to come along and try out for Easts.
John met with Roy Flynn, the Easts treasurer at the time and the conversation went like this…"No chance, bring him back when he grows up!!!" John had just turned 18. This chat stayed with John and he always played that little bit harder when Wests played Easts.
John, without a car, arrived at Ashfield park via public transport and trained with Wests. John was very impressed with John Armstrong who was both very fast and big. John Armstrong in those days was also a winger/centre.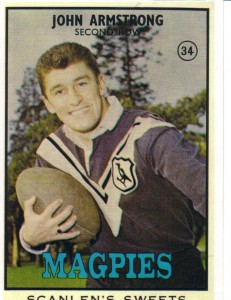 The late John Armstrong.
Also, at that first training session John met Noel Kelly, Jim Cody, Peter Dimond, Noel Thornton, Dennis Meaney and John Mowbray.
John played 13 First grade games in 1966 and had a great rookie season.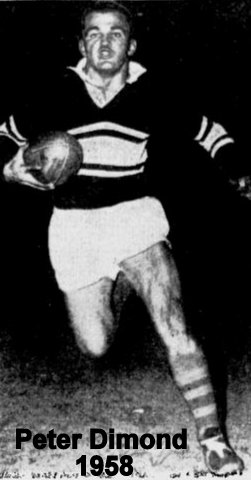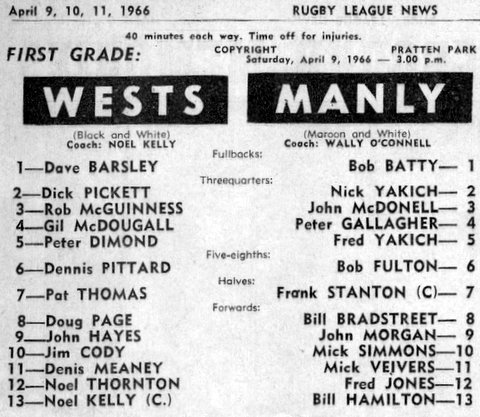 John's first First grade game. He replaced PD on the left wing.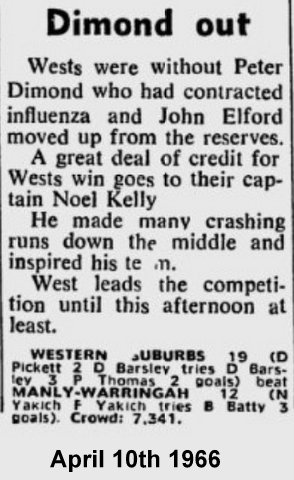 John's first game at the SCG.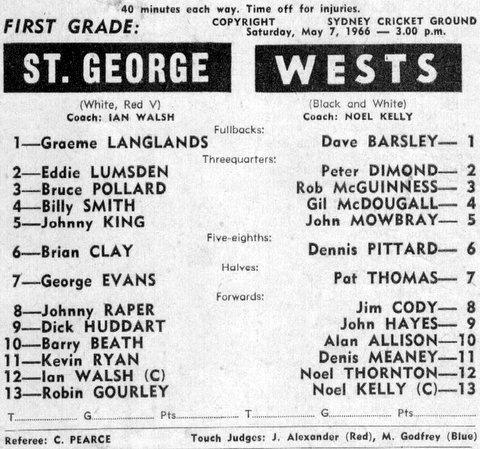 John replaced Peter Dimond on the right wing.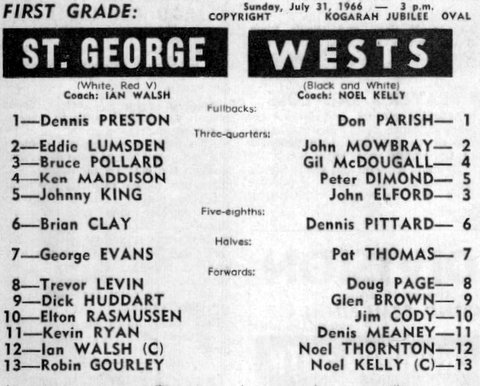 This is the famous game where Saints were beaten at Kogarah Jubilee Oval for the first time in 12 seasons.
Wests 12 St George 9.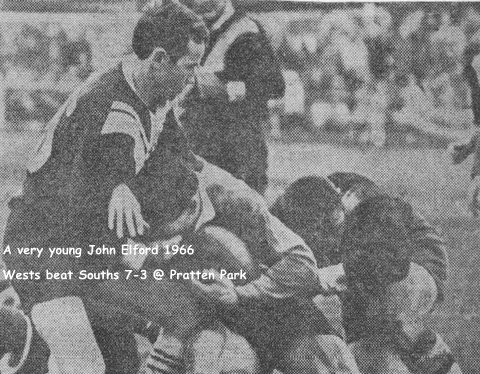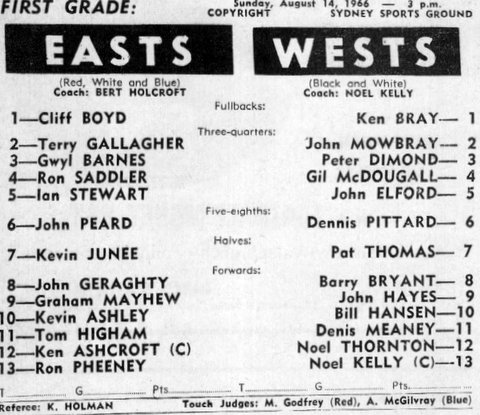 John scored his first try for Wests in this game.
Wests finished equal fourth in 1966 and there was a mid week play off with Newtown.
Newtown beat Wests 20 points to 5.
Note: this very rare program supplied by the Wests Archives. Many thanks.
1967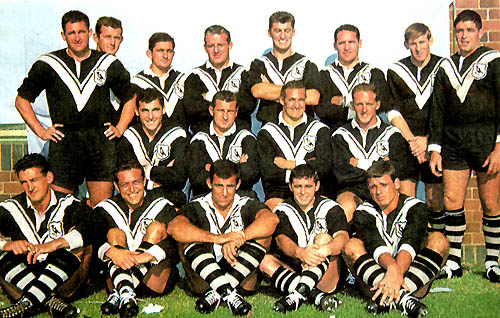 Wests 1967 Team. John is second from the left back row (behind Chow Hayes)
1968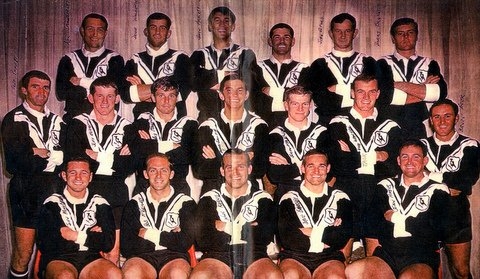 John is second from the right top row.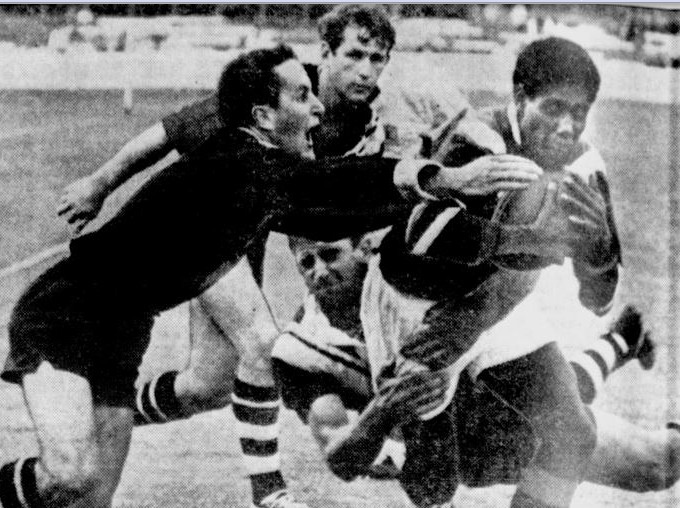 John and Bruce Beer in action 1968.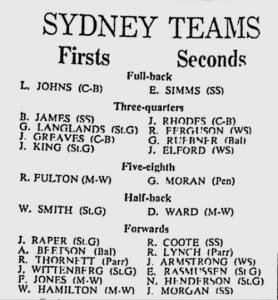 John played on the wing in this game in 1968.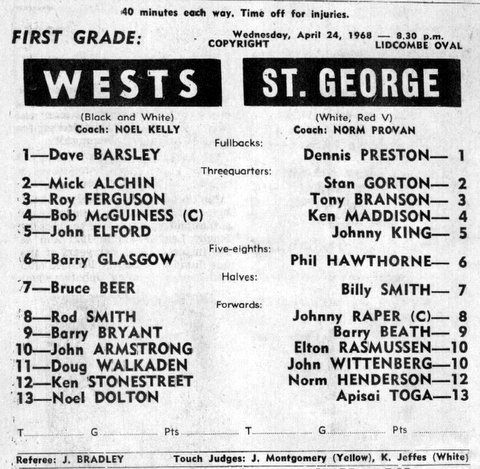 A game to remember.
Wests 22-Saints 6.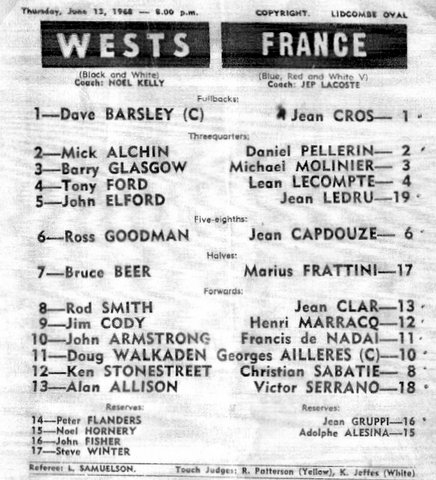 John also played in this once in a life time game.
1969

John decided to have the season off but played in the Sydney Business House Comp at the Domain in Sydney.
This was the final, played before the NSW V QLD game. I can't find out the score but John tells me the Water Board boys won.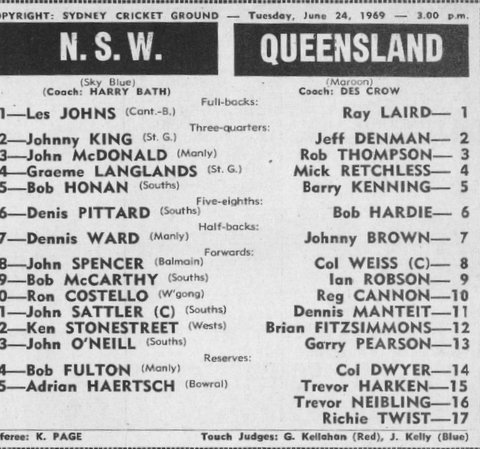 The main event. Note: Nebo playing hooker.
Bernie Purcell, who was writing for the Sun newspaper, said,  " the only good thing about today's football was Wests winger John Elford playing for the Water Board."
1970 – 1971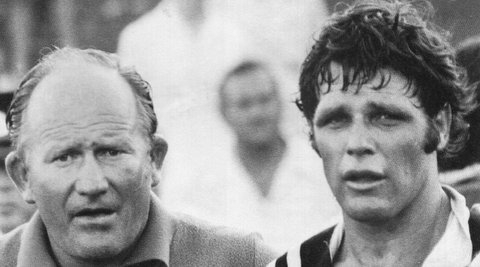 Ron Watson the new coach and Roy Ferguson 1970.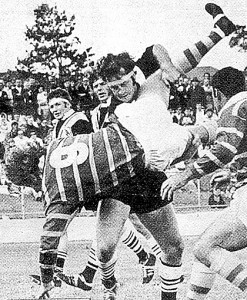 This photo of John tackling Dennis Fitzgerald was on the cover of the First edition of Rugby League Week.
Way back in 1970.
John remembers mainly playing in the centres in 1970, then in 1971 John "Chow"Hayes, the reserve grade coach, moved him into the second row.
A few weeks later John went back up to First grade and starred as a second rower.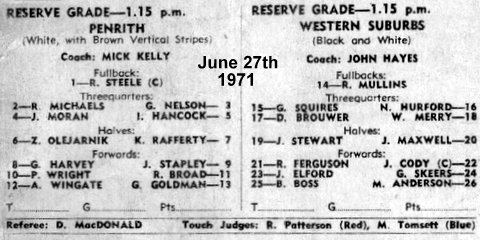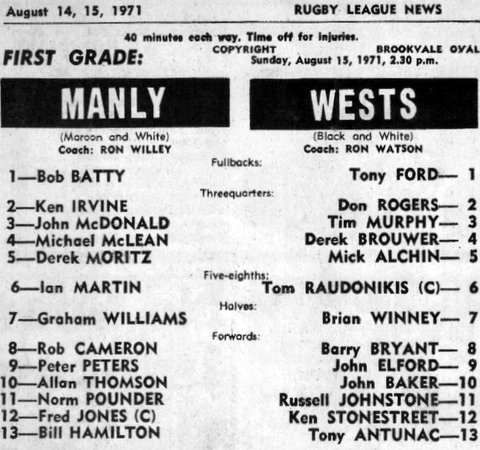 The start of John Elford's days in the second row.
1972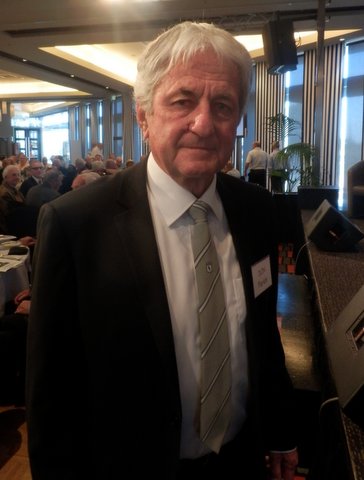 New Coach for the next 5 years, Don Parish.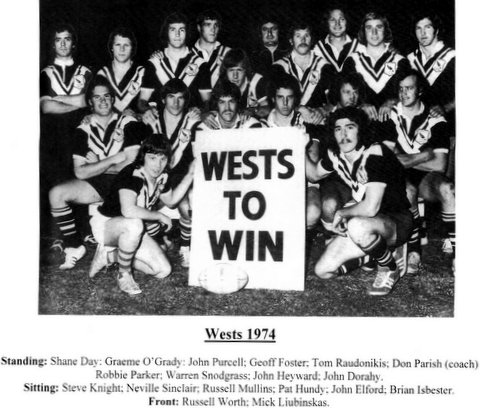 Some of the players from the Parish years.
John's best year with Wests was 1972.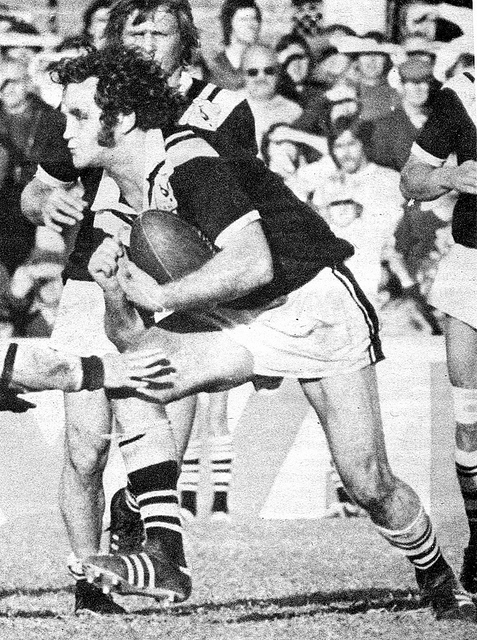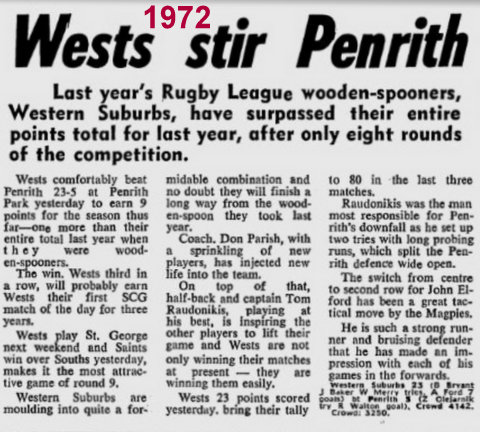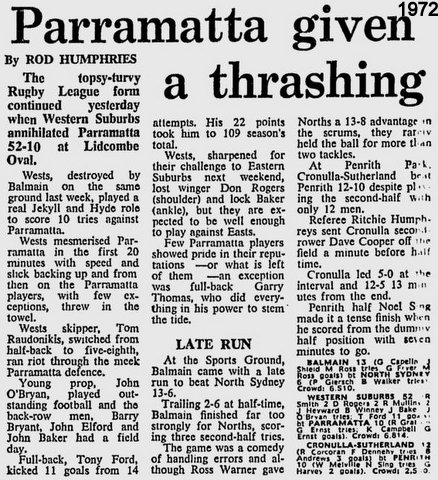 John and fellow forwards Barry Bryant and John Baker had a field day.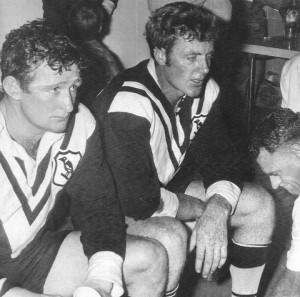 L-R  John Baker and Barry Bryant.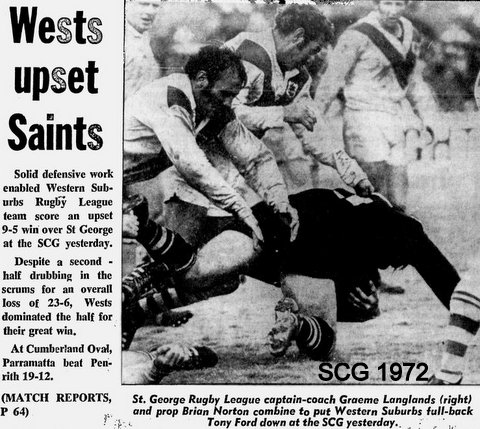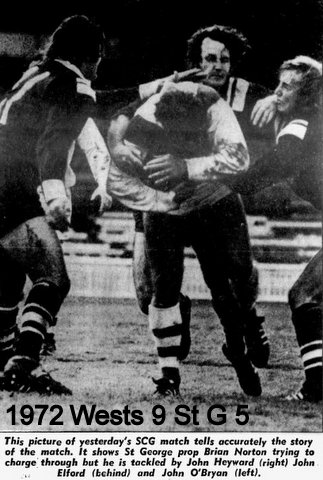 The game I remember most from 1972. A real nail bitter at the SCG.
During this year John played for Australia against New Zealand and  he was chosen to tour with the 1972 Australian World Cup Team.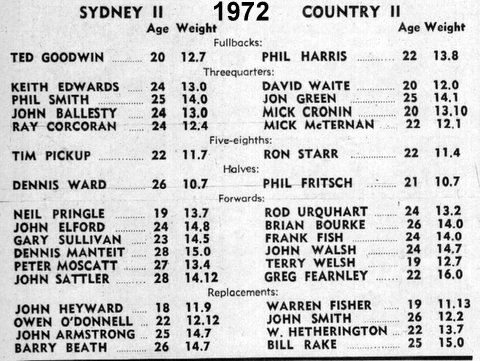 John playing for Sydney Seconds.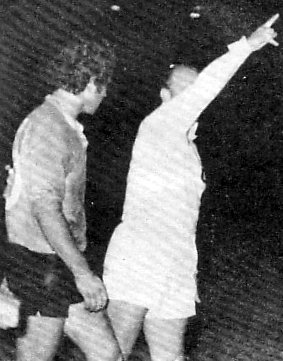 John sent off against Queensland at Lang Park.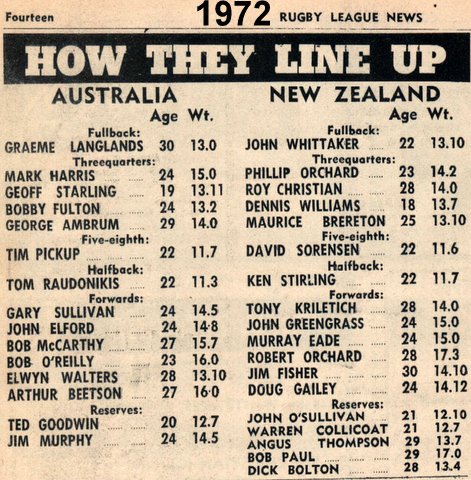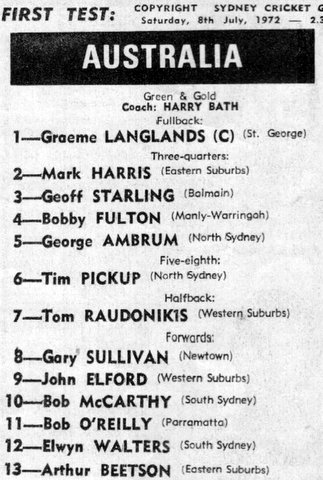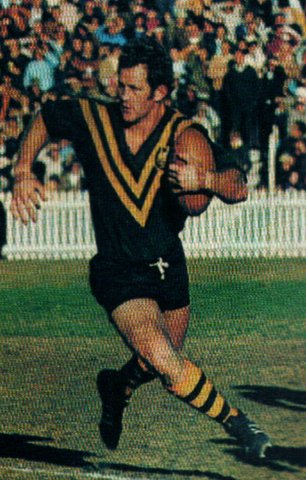 John Elford playing for Australia on the SCG in 1972.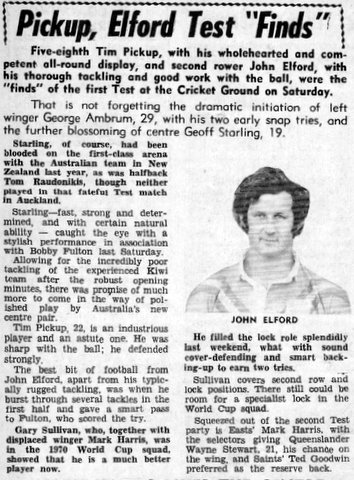 Story about the First Test in Sydney 1972.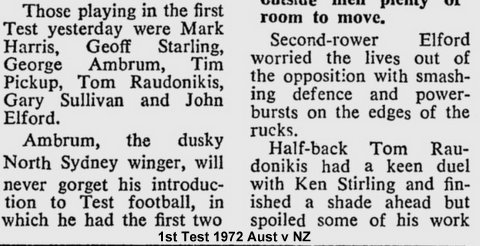 Then the second Test was played in Brisbane.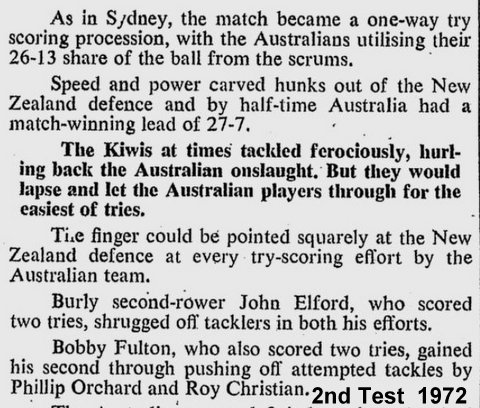 Second Test in Brisbane. John scores 2 tries.
Then off to France and the World Cup.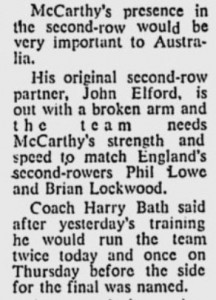 This is the first time John broke his arm.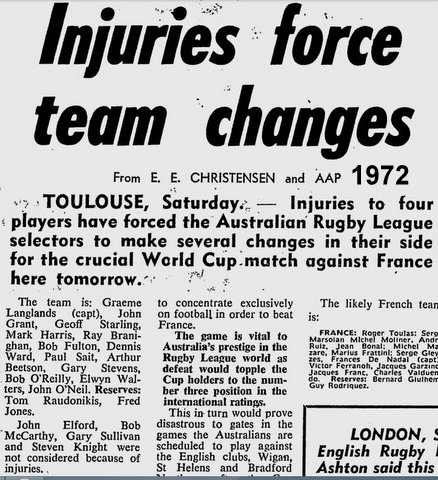 John stayed with the team for the rest of the World Cup.
Australia played England in the Final. A 10 all draw meant England won on a count back system.
1973

 Note: I think the name with the pencil lines through it may be the famous Laurie Driver.
John broke his arm for the second time in a pre-season game against Balmain.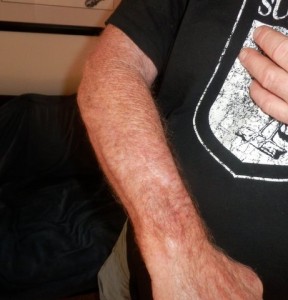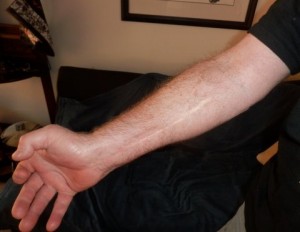 This time John had a plate put into his arm also a bone graft to help his arm get better.
Unfortunately, John's operation was not a success.
I took these photos of Johns forearm in 2014.
They show the the huge scars and John's crippled right hand.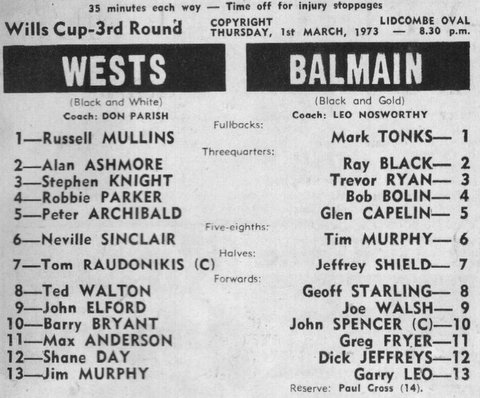 This was the last game that John  played for Wests in 1973.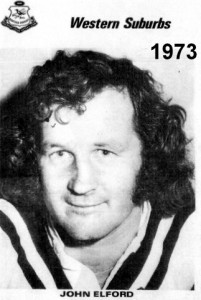 1974 and 1975
1974 was a great year for Wests. They went all the way to the Prelim Final and were beaten by a red hot Easts side 25-2. Easts went on to win the premiership by beating the Berries 19-4.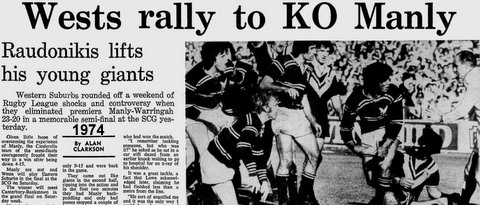 Wests beat old foes Manly along the way 23-20.
1975
1975 was a very lean year for John. He was carrying many injuries. John made a comeback to First grade in late August.
The game was against Cronulla and Wests had to win to stay in the race for the Semis.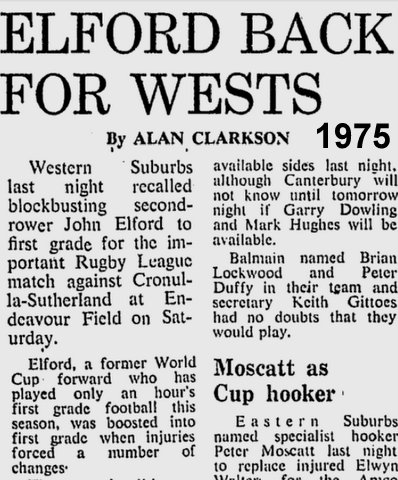 Wests defeated Cronulla 31-17.
With Parramatta, Balmain and Wests all finishing on 21 competition points, two playoffs were used to determine outright fifth place. One team, drawn out of a hat, would have the luxury of playing the winner of the first playoff match. Balmain's name was drawn, but they lost to Parramatta who beat both sides in three days to earn entry into the finals series.
Wests were beaten by Parramatta on Tuesday, August 26th by 18-13.
John played his last game at the SCG.
 1976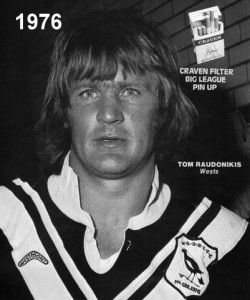 Tommy Captain of Wests in '76.
John played in all First grade games leading up to the career ending Amco Cup game.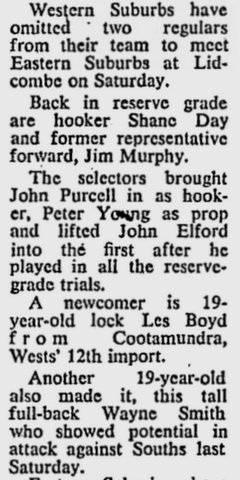 Wests first game of the 1976 season.
Wests beat Easts 8-5.
Note: Les Boyd playing his first First grade game for Wests.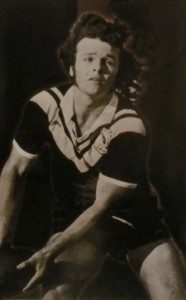 Les Boyd.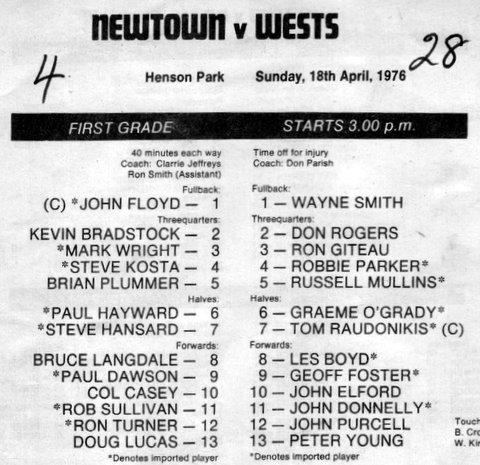 John's last game for Wests in the Sydney competition.
Note: for some reason John has not been called an imported player.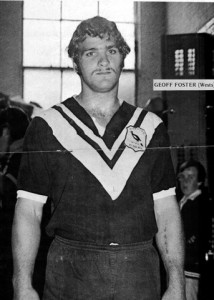 John's second row partner Geoff Foster.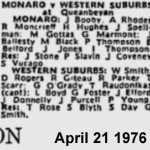 The two teams that played on that fateful day 38 years ago.

John scored a try in his last game for Wests.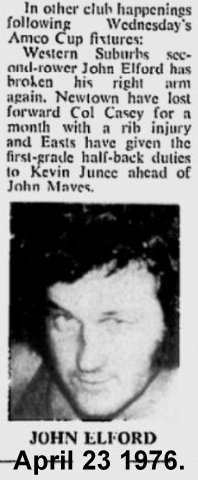 Little did anybody know that this small story on John was the the end of his time in Sydney.
A very sad end to a wonderful Sydney football career.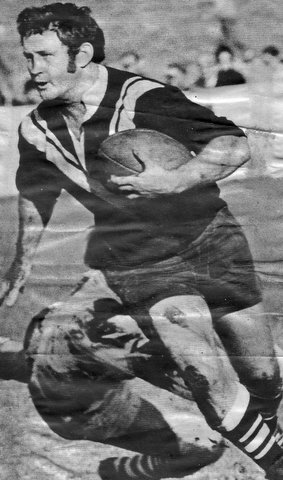 John Elford in full flight.
What a scary sight for opposition teams.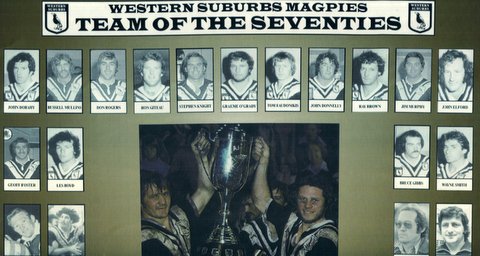 John made the team of the Seventies and was also made a Life member of Wests.
John played for Wests between 1966-1976. During this time John played 132 First grade games and 42 Reserve grade games.
That's 174 grade games with Wests.
 1977-1979
John made the decision that his time in Sydney rugby league was over an took up an offer to Capt/Coach his old club Smithtown. Johns mum and dad were still alive and John was still a country boy at heart so the decision was a no brainer.
In his first year as the Smithtown Tigers Capt/Coach John won the Group 2 comp.
The Smithtown Tigers beat Nambucca Heads.
In 1978 John took the Tigers to another Grand Final and were beaten in extra time by the Sawtell Panthers 14-13.
Les and Noel Cleal were playing for Sawtell before going down to Easts in 1980.
In John's last year at Smithtown his Tigers were again beaten in the Grand Final this time by Macksville.
John was almost 33 years of age and his arm/hand was not getting any better so he knew it was time to hang up the boots.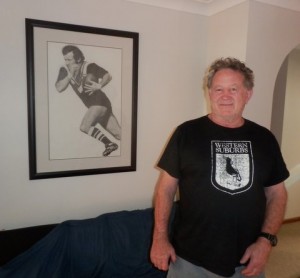 John Elford 2014.
In 2013 the inaugural John Elford Shield was played between South West Rocks Marlins and  Lower Macleay Magpies.
Unfortunately South Wests Rocks were beaten 32-22 by the Magpies.
A very large crowd turned up and some say it was the Biggest sporting event held in Smithtown.
Jim Cody and John Baker two of Johns old team mates were there to watch the Shield match.
The main organizer of the John Elford Shield is Johns daughter Brienna.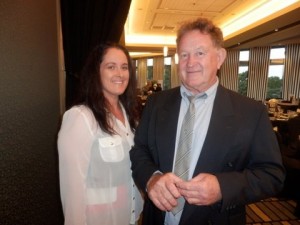 Brienna with her dad @ the Magpie Heritage Night 2014.
In 2014 the Marlins were able to win back the John Elford Shield by beating arch rivals Lower Macleay  38-22.
Story below taken off the South West Rocks Marlins website.
'The South West Rocks Marlins have taken out The 2014 Hotel Kempsey John Elford Shield over arch rivals the Lower Macleay Magpies. The game was played in front of a massive crowd and proved to be an entertaining and physical game as the crowd expected.'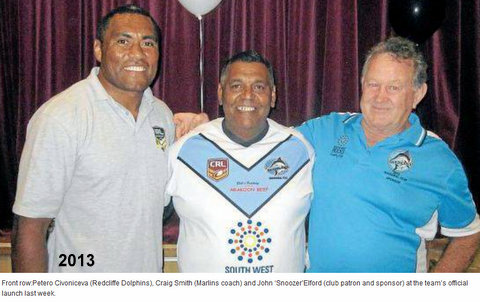 John with Petero and Craig Smith.
 Before saying goodbye to John I had to ask him the important questions (to me anyway).
Best player:

after a long time John chose Artie Beetson.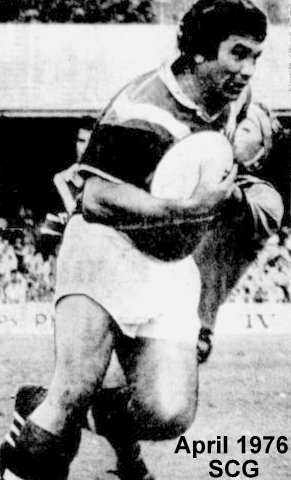 Artie playing for East in 1976.
Best player at Wests over your 10 years?  

Noel Kelly, great player, great coach and great person.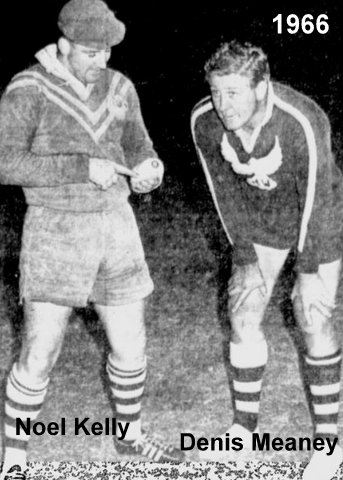 Must have been a cold night at Pratten Park…or Ned lost a bet!
How about favorite ground?

  SCG and Pratten Park also Sydney Sports ground.
Coaches ? 

  Harry Bath and Noel Kelly also Don Parish.
The nickname Snoozer were did that come from? 

"Noel Kelly who would pick me up at Belmore Park near Central Railway. I would get a lift off Ned because I had no other way to get to training. One night Ned arrived to find me asleep on a park bench with a newspaper over my head and I was christened Sleepy which over time was turned into Snoozer."
Below is a story about Johns life now at South West Rocks.
 It's a bumpy, dusty drive beside the Macleay River just south of South West Rocks (home to Smoky Cape Lighthouse and a prison with a killer view, Trial Bay Gaol) to get to the big blue shed at Rainbow Reach, with potholes so deep you could fish in them – but the drive is worth it. John Elfords oysters explode in your mouth, salty and creamy, with a lingering mineral aftertaste.
He's been oyster farming here for a dozen years, is passionate about his product and the river he works and lives by, and reckons he wouldn't want to do anything else. "I get up early in the morning and take the boat out on the river when it's as flat as a tack," he says. "That's my office. How can you beat that?"
Rainbow Reach Oysters // Rainbow Reach Rd, South West Rocks. Mon-Fri 8-4pm, Sat 8-12pm.
John is very happy with life and would love to see any old Wests players and share a oyster and a story.
In closing I would like to thank John for his time and the way he answered my questions with such honesty.
As a  Wests fan in the 1960's and 70's John "Snoozer" Elford was a player I would love to watch play.
He played very hard but fair.
Those head on tackles that John made famous will always be something I will remember.