NOEL RAYMOND KELLY
(1936-2020)
ARRIVING IN SYDNEY
Saturday 17 June 1961 was a cold wet afternoon at
Pratten Park in Ashfield, home of the mighty Western
Suburbs – "the Magpies". Wests are in the middle of
their golden era 1956-63. Four grand finals in Sydney's
rugby league competition, never out of the semis,
always competitive in the lower grades.
We were aged twelve, just old enough to travel by
train to Ashfield Station and, with great anticipation,
make the trek to Pratten. We always arrived in time to
see all three grades. We had favourites in the Thirds
and Reserves, names lost in time such as Norm Dhu,
John Rochester, Fred Norden and Roger Buttenshaw,
never to make a huge impact but the heart and soul of
the club. Our heroes were in the Firsts, of course,
players such as Kel O'Shea, Don Parish, Keith Holman,
Arthur Summons, John Mowbray and the intimidating
Peter Dimond.
The "golden era" for the Magpies was supported by
the newly established Western Suburbs Leagues Club
on Liverpool Road at Ashfield. It enabled the club to go
on a spending spree which saw the Magpies tagged as
"The Millionaires" during the years 1956 to 1961.
Judicious recruiting saw players of the calibre of Harry
Wells, Darcy Russell, Kel O'Shea, Peter Dimond and
Dick Poole brought to the club. These recruits were
instrumental in keeping Wests routinely near the top of
the ladder.
We first saw Wests' latest recruit, Noel Kelly, in round
8 1961. Noel had come from Queensland to join Wests.
He had missed the early part of the season owing to a
knee cartilage operation. Noel – universally known as
"Ned" and later as "Snozzle" or "Snoz" due to his
frequently broken nose – was already an international.
He had toured Great Britain and France with the 1959 Kangaroos.
With his uncompromising attitude and "retaliate
first" philosophy Noel added significant starch to our
pack. We needed an enforcer. With his boxing
background, "Ned" was exactly what Wests required.
As hooker, he joined a formidable front row, propped
by the amiable giant Dennis Meaney and Nev
"Boxhead" Charlton. We quickly came to love "Ned".
He became something of a hero to Fort Street boys
from Mortlake, Burwood and Five Dock who were just
getting to know the game and forming allegiances.
Wests beat Parramatta 34-7 that day with Keith
Holman showing his versatility by booting seven goals
from eight attempts.
The Sunday Mirror reported that "Kelly was playing
his first match after a cartilage operation and acquitted
himself well, particularly in open play". The Sun-Herald
opined "Kangaroo hooker Noel Kelly should be
improved by the run, after his long lay-off".
Great man on field and off
Noel Kelly was to become one of the greatest and
best loved of all Magpies. He would achieve just about
everything that there is to be achieved in the game of
rugby league.
* Kangaroo Tours to Britain and France 1959-60, 1963-
64 and 1967-68.
* Captain and hooker of Western Suburbs' Team of
the Century.
* Named in the list of Australia's 100 Greatest Players
(1908-2007) produced to celebrate the code's
centenary.
* Hooker in Australian Rugby League's Team of the
Century.
* Chosen in Queensland Rugby League's Team of the
Century at hooker.
* In 2008 inducted into the National Rugby League's
Hall of Fame.
* Founding board member & Life Member of The Men
of League Foundation.
* Patron of the Men of League Northern Sydney
Committee.
* Patron of The Pratten Park Magpies, the past
players' association of the Wests Magpies.
* Life Member of the Sydney Cricket Ground
(recognition of which Noel was particularly proud).
* In the 2018 Queen's Birthday Honours list was
awarded the Medal of the Order of Australia (OAM)
for services to rugby league.
* The annual award for the best forward at Wests
Tigers is named the Noel Kelly medal in his honour.
Our shared literary journey turned out well, the exercise a considerable enjoyment
largely due to Noel's irresistible humour and to his straight – down the – middle approach
in sharing key moments and favoured yarns gathered in his life at our get-together…. –
the Kelly style being unswervingly fair dinkum i.e. dead straight and, no frills — albeit with
a chuckle never too far away. From Ned throughout there was no gilding of the lily in the
tales he told. For me, a captivated listener through the gathering process of his memories
there was much enjoyment – with most of the interviews conducted in a picturesque setting:
gazing out from a veranda at Maison Kelly across the long view to his favoured golf course
and further still to the ocean with a cold beer in the mix now and then, plenty of laughs,
and some snacks prepared by Noel's wife Chris to whom Noel would dedicate the book
that emerged "a wonderful teammate through it all" in tribute of Chris.
(Ian Heads, Eulogy at funeral)
Noel worked with author Ian Heads to record
recollections and anecdotes of his life and times – Hard
Man: A Life in Football (Ironbark 1996). That excellent
book is drawn upon in what follows. I am hoping that
this article about Noel and his life will provide insight
into a great Australian life – he grew up and prospered
in an Australia that no longer exists.


BOY FROM QUEENSLAND
Noel Raymond Kelly was born in Ipswich, 27km southwest
of Brisbane, in January 1936 and brought up in the
nearby town of Goodna. He enjoyed a happy
childhood, typical of a country Australian upbringing in a
close-knit community. Walking or riding a pony 3km
to school, fishing, swinging out over the river on a rope.
Noel earned money by delivering newspapers, milk,
bread, ice. Life was simple and straightforward, hard
physically with wood to cut and fields to plough.
Noel attended primary school at St Mary's in Goodna
and a Christian Brothers High School where he reacted
against harsh physical punishment. He finished his
education at the local state school and, at 14, started
an apprenticeship as a fitter and turner in Brisbane;
then worked with his father in a butcher shop.
Boxing and rugby league were Noel's sporting
interests. He worked hard on his ringcraft, learnt to
punch with both hands and had 15 or 16 amateur fights.
His rugby league career started with Goodna in the
local district reserve grade comp as a lock forward and
occasionally at hooker. In 1955, at 19, Noel graduated
to the "big time" to play with Railways in Ipswich. In
1955 he met his wife to be, Chris. They married in 1956.
Noel also fitted in three months of National Service
that year.
At Railways he teamed up with two
front rowers bound for distinguished
international careers, Gary Parcell and
Dud Beattie. Noel switched to play for
Brothers in 1958 and again played
with Parcell and Beattie in the Ipswich
rep side and for Queensland and
Australia.
Noel described the old Bulimba Cup
competition (1925-1972) as tribal
warfare, a tri-series played between
sides representing Ipswich, Brisbane
and Toowoomba. Noel was a member
of the successful Ipswich teams of
1958-59; he believed that was his
springboard to state and
international honours. He won a place
in the Queensland side that year.
A rare Queensland success in the
interstate series led to his selection as
hooker in the First Test team to play
New Zealand. Selection in the 1959
Kangaroos followed, then the 1960
World Cup in England.
International honours did little for
the Kelly family finances. By the time
Noel returned from England "we
were scraping along on the smell of
an oily rag". An offer of a captaincoaching
job came from Ayr, just
south of Townsville. The deal was
good for a country town – 800 quid, a
house and a job. When he arrived, Noel discovered that
he was expected to captain-coach and play for a
different local team each week. He again played for
Queensland that year and in the First Test of the series
against the touring French.
OFFER FROM WESTS
Towards the end of the season, Jim Sharman jnr of
boxing troupe fame, came to town and mentioned the
opportunity which could exist at the Western Suburbs
club in Sydney where Sharman had played his football.
A visit from Bill Beaver, Wests' secretary, resulted in an
offer which Noel eventually accepted after weighing
up a competing offer from Souths. The deal with Wests
included a house and a job. "Right from Day One, it was
an absolute bloody schemozzle".
After a hellish trip down from Queensland in a rustedout
ute – "the only air-conditioning was a hole in the
floor" – the Kelly family met Bill Beaver at Hornsby.
There they learned the house and job were hopes for
the future. The club patron was licensee of the
Narrabeen Hotel where the Kellys secured temporary
accommodation. After two months they found a house
in the area and never moved from the northern
beaches.
Noel proved himself as a hard worker and quickly
secured three jobs – as bouncer and roustabout at the
Narrabeen Pub, as a butcher and on weekends as the
driver of the Ghost Train on Manly Wharf. Noel says of
1961: "I looked around the club I had joined. It occurred
to me that the days when Wests were known as 'The
Millionaires' had passed and that it was now getting
close to twilight for more than a few of them".
"Noel Kelly is what you would call a
rough diamond. He played the game of
rugby league about as hard as it could
imaginably be played and lived his life
as a decent, fair and thoroughly
likeable bloke."
(Frank Hyde, as quoted by Ian Heads)
Despite that, the season was successful for Wests.
Only three narrow losses on the path to the semis. "We
had some great talent – blokes like Donny Parish, Peter
Dimond, rugby convert Arthur Summons, Keith
Holman – although "Yappy" was slowing and nearing
the end of the trail – Kevin Smyth, Kel O'Shea, Nev
Charlton and Dennis Meaney. Wests had no answer to
the St George machine in the grand final, losing 22-nil.
It was an excellent year for the Magpies, however, and
I knew I had joined a fine club. We won the club
championship and both lower grade teams were
premiers."
Wests went close again the following year, losing the
1962 grand final to St George 9-6. The 1963 grand final
against St George was played on a mudheap at the SCG
after a week of constant rain in Sydney. Despite the
conditions, a record crowd of 69,806 attended. Wests
had beaten St George on three occasions that year and
were confident going into the match.
1963 GRAND FINAL: bitterness everlasting
Several dubious decisions in that game have been
reviewed, analysed and debated at great length. It was
certainly one of the most controversial grand finals.
The John O'Gready photograph of the rival, mud-caked
captains, Norm Provan and Summons, briefly
embracing at the end of the match subsequently
became the inspiration for the premiership trophy, the
Provan/Summons trophy.
Noel was bitter about that loss and the influence
which referee Darcy Lawler had on the outcome. The
bitterness lasted for all his days. In his words: "The
ache from 1963 is deeper, more painful. It infuriates me
today to think that we were good enough to win the
grand final, and that the game's supreme prize should
have been ours. I will never forgive Darcy Lawler for
what he did that day. I have no doubt we were robbed
– because a referee was on a promise of payment if he
looked after the other side. I can think of no worse
thing that has happened in my long life in and around
football." Saints won 8-3 aided by a lopsided 18-7
penalty count in their favour. "Every time I look at the
film of the game now I see Darcy turning us around. I
have nightmares about it".
1963 was the final time Wests appeared in a grand
final. The team did not recapture the near-glory years
of 1961-62-63 in the seasons that followed. They were
no longer "The Millionaires" they had been
in the late fifties.
An era had ended, the old champions
retired or moved on. Noel stayed with the
club for another six seasons at Pratten and
then Lidcombe. Jack Fitzgerald completed
his successful four-year period as coach after
the 1964 season. In 1965 Ken Kearney came
for a single disappointing season in charge.
Noel was captain-coach of the Magpies
from 1966 to 69 in what is known as the
"Kelly's Kids" era with players such as Jim
Cody, Neville Hornery, Denis Pittard, John Elford, Pat
Thomas, Barry Glasgow, Tim Murphy and Steve Winter
coming to the fore. The club struggled financially,
however, and did not challenge the top teams during
this period. Noel's last game as a footballer in Sydney
was at Penrith on a bleak, cold and rainswept
afternoon.
AFTER WESTS
So his time at Wests was over. Gary Lester, in his
history of the club – Clouds of Dust, Buckets of Blood:
the story of the Western Suburbs Rugby League Magpies
(Playright 1995) – wrote: "Kelly played with Wests for
nine seasons, most of them filled with controversy and
character. He was an archetypal tough guy, cunning
too with a rough quick humour from which Australian
heroes are made. If Kelly was not exactly a recognised
national icon, to Wests and many in Australian rugby
league, he was an Aussie hero. Kelly revelled in the raw
toughness of league. He endured and embraced the
courage it required and accepted the credo, "Do unto
others as they would do unto you."
Noel had an unhappy year in 1970 as captain-coach of
Wollongong, then hung up his boots. In 1972 he was
persuaded to take on the coaching job for Norths
reserve grade and, in 1973, took over as first grade
coach, a job he was to hold down for four seasons. At
the end of 1976, having retired from coaching at
Norths, he was selected to coach a Sydney team for a
short tour to New Zealand. North's President at the
time was "Acka" Forbes. When the coaching position
was under discussion at Philip Street, Acka told the
General Committee that "Mr Kelly has decided to
throw his ring into the hat".
Noel's career tally was 111 matches for Wests, 25 Tests
for Australia, 8 games for Queensland and 6 for NSW.
He coached Wests on 85 occasions and Norths on 88
occasions.
KANGAROO TOURS
Only one front rower has ever undertaken three
arduous Kangaroo Tours to Britain and France. That
player is Noel Kelly. These tours lasted an incredible
four and a half months. The following extracts from
Noel's book provide a remarkable insight into what the
tours were like.
With his Queensland Test teammates on the 1959 tour
Rear: Elton Rasmussen, Jim Paterson
Front: Barry Muir, Doug Beattie, Noel, and Barry Parcell
*1959
Noel was just 23. The extracts below come from the
chapter on "Rampaging Kangaroos" in his book.
Too many injured players were taken away, "more
crocks than you'd find in a hospital casualty waiting
room. I know because I was one of them".
"Despite knee problems, a wonderful experience in
my young life".
Keith Barnes captain, Rex Mossop vice-captain and
Clive Churchill, coach.
Home base was the ancient Troutbeck Hotel on the
edge of Ilkley Moor in West Yorkshire. The place was
full of fragile furniture, old decrepit stuff put there
especially for the occasion and
tended to fall to pieces at the
slightest bump. "Ilkley was a
dreadful choice as a home base
for a bunch of footballers".
"The food in England was
bloody awful, plenty of bread
and potatoes and not much
more."
"The Australian League paid
us eleven quid a week and of
that I sent eight pounds back to
Australia to Chris".
There was no travelling
masseur, physio or doctor.
"A great trip full of fine
memories, good times and bad
weather".
Lost the Ashes with the Poms winning the deciding
Third Test 11-10.
A team full of young guns ready to make a splash on
the international scene – Gasnier, Raper, Irvine and
more. The 59 tour laid the foundations for 1963 and
beyond.
"Some wonderful characters including Brian Carlson
and Billy Wilson who will live forever in my memory".
"Peter Dimond was something else again when it
came to toughness on the football field. He was big,
strong and mean".
Gasnier a non-drinking fresh faced bloke with
amazing ability. "When he threw his head back and
went into overdrive there was nothing anyone could
do to catch him".
"Off the field the Poms were terrific blokes, the battle
would be quickly forgotten and the mateship was
about as good as it could possibly be. Great respect for
Derek Turner and Jack Wilkinson".
"I got to like the English crowds in '59 and on my
subsequent tours. They used to give us heaps at times
but they were a generous lot and hugely appreciative
of the finer points of the game".
"Relationships between the touring team and the
press were excellent; all doing it tough together – all
doing our best and having some fun along the way".
Things were different in France where we felt like
outcasts. "Word had come across from England that
we were a troublesome lot, prone to damaging hotels.
Everywhere we went we were treated with wariness.
That feeling of alienation, added to the raw steaks,
expensive beer, long days of travel in old slow buses,
deep and aching homesickness and bad weather,
created the perfect climate for occasional trouble".
"The French football we encountered was typically
eccentric, featuring rabid home-town referees and
matches that were as physically tough and testing as
any you'd ever face. The French players liked to trip and
kick, and they'd generally have a madman or two in
their sides. They'd zoom in from 20 metres away, kick
you and then be gone. We did well to win all three Tests
and lose only two of 13 games in France".
Two exhibition matches in Italy brought a colourful
and historic ending to the tour. Noel fell in love with
Venice and returned there four or five times over the
years.
The tour bonus for each player was 272 pounds, seven
shillings and sixpence.
*1960 World Cup
Noel survived a rigorous fitness test to make this tour
of England. The team stayed at the Midlands Hotel in
Bradford, a nice pub in a larger town much better
suited to housing a football team than Ilkley had been.
Despite a continuing battle with his knee, Noel played
all five games on that short, tough tour. "That was a
close, hard-fought campaign, contested by four evenly
matched sides". Australia beat France and New
Zealand before losing the Final to an English team
which included Alex Murphy, Vince Karalius, Billy
Boston and Derek Turner.
*1963-64
The extracts below come from a chapter called "War
Games".
"In 1963 it was a new ball game. Just about all of us
knew what to expect". There was a big score to be
settled after 1959 and 1960. "We were itching to get
back and have another crack at the Poms."
"Personally, I was ready for anything. By then I'd had
three seasons in the toughest arena in football – the
Sydney premiership. I was a confident player, strong in
mind and healthy, this time, in body. I knew deep down
that this trip was going to be something special".
Back in the Troutbeck pub in the backwater of Ilkley.
"Nothing much had changed. It even seemed as if they
may have brought in a fresh batch of rotten old
furniture".
Travel to matches from Ilkley was always slow and
long, via winding narrow roads which meandered
through the countryside. "We got to sing a lot of
songs".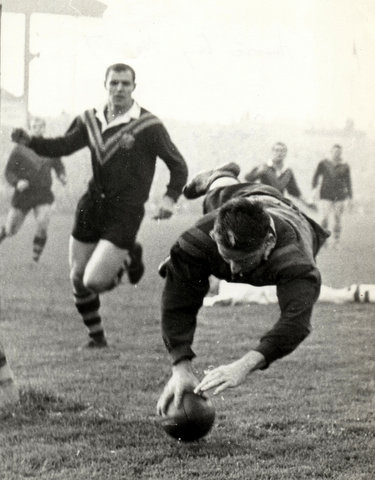 "As graceful as a cow on a bike".
Frank's tongue in cheek description of the
technicalities of the Second Test try Ned scored
at Swinton in the Ashes series of 1963.
(Ian Heads)
"We were an older, more sensible lot in 63." Captaincoach
Arthur Summons was injured early in the tour.
"He was a man much in charge, unafraid of
the responsibility of leadership, had
everyone's respect and was a powerful
reason why the tour worked so well."
Achievements on the 63 Tour are a famous
part of Australian rugby league history. The
smashing 28-2 win in the First Test at
Wembley and the even more devastating 50-
12 win in the Second Test at Swinton ("the
Swinton massacre") in which Australia
scored 12 tries, "rank high amongst great
green and gold victories over the years. It
was one of those magic afternoons on a
football field. Johnny Raper has never played
better." Noel's joyful dive for a try during this
Test was recorded for posterity by
photograph and film.
"After taking the Ashes, we were never
going to be allowed to win the Third Test.
Played at Headingly, Leeds, on a gloomy day,
it was a thuggish affair, dominated by the
one-sided refereeing of our old enemy, Eric
Clay. The Poms wanted to get square more
than we did and they wanted to win more
than we did."
"After winning the Ashes, the first time in
52 years by an Aussie touring team, we
managed to 'maintain the rage' in France,
dropping the First Test 8-5 then rebounding
to win the next two."
"We came home in style that year to an
unprecedented reception. More than 1000
family and fans were at the airport to meet us
and crowds lined the streets as a motorcade
brought us to the Sydney Town Hall."
"The experience had been tremendous – a wonderful
highlight of a life in football." Clive Churchill wrote:
'They are, most assuredly, the greatest Australian team
ever sent on an Ashes-winning mission. One cannot try
to differentiate between the individual players. They
bewildered England with pace and ability."
*1967
Noel, at 31, was in the veteran class. These extracts
are from his chapter "On Ilkley Moor in a Bowler Hat".
Potential problems were again exacerbated by
housing the team in disgraceful quarters – this time in
the Ilkley Moor Hotel, a rundown place since burned to
the ground.
Noel regarded this tour as ending rugby league's age
of innocence. "Vast media attention was paid to the
small matter of a naked player parading in Ilkley
wearing nothing but a bowler hat and a necktie." Noel
is equivocal about whether this incident happened but
does note that "Chook" Raper dined out on the story
ever after.
"This time there was no Arthur Summons to pull
things together. Gasnier as captain-coach was not the
ideal choice."
It was a sterling effort to retain the Ashes following
defeat in the First Test. Noel describes the victory in the
Second Test (17-11) as "one of the finest wins I have
been involved in".
For the Third Test, snow, frost and ice throughout
England had made most grounds unusable. At
Swinton's Station Road ground the playing field had
been covered with tons of protective straw. "In a mean
Test played under floodlights, we won the Ashes 11-3.
The conditions were terrifying, with the mud frozen
into sharp icicles that could cut and tear."
"Within days the Tour was in steep decline as we
crossed the Channel to the disappointment and
letdown of the French leg. The First Test was drawn (7
all). The French won the next two (10-3 in Carcassonne
and 16-3 in Toulouse).
"The Tour deteriorated in France to the point of
anarchy".
Reg Gasnier's wonderful career ended in a low-key
match in Avignon.
Noel missed family and home on that Tour. "The
French leg dragged unbelievably. France was always a
survival test – cold, often unfriendly and lonely."
Noel played 17 of 27 games. Graeme Langlands
topped the list with 19.
The '67 Tour was the last of its kind – never since has
an Australian team stayed at an out-of-the-way place
such as Ilkley.
Send-offs and philosophy
Noel was sent from the field for various indiscretions
on eleven occasions in the Sydney premiership and
around sixteen times during his career. Penalties were
typically a caution or suspensions for one or two
matches. Four of the Sydney send-offs were for scrum
breaches rather than foul play. Noel believed that his
reputation preceded him to Sydney and that he was
often unfairly treated.
This is how Noel explained his approach. "I played the
game hard, and I played for keeps. If an opponent was
worrying me with illegal tactics, I would set out to stop
him in the most direct way possible. Over the seasons I
copped it and I dished it out – and I didn't whinge.
That's the way it was in the years I played. If anyone
even looked like he was going to hang one on me, or
give me trouble, I'd get in before him. Retaliate first. It
wasn't a bad creed for football the way it was played
then."
"It's always easier to reason with someone when
they're sitting on their backside. My opponents
became aware before too long that if they gave me
one, the only certainty in their lives was that they'd get
one back. My eye-for-an-eye system was clearly a most
sensible approach. After a while, blokes got sick of
getting one back and they left me alone to play
football."
Noel was involved in a famous incident in
the first few minutes of the Second Test
against New Zealand at Lang Park, Brisbane
in 1967. The big Kiwi prop Robin Orchard
flattened the Australian five-eighth Johnny
Gleeson as he was chasing a loose ball. Noel
remembers: "I saw red. In a rush of blood and
emotion I hit Orchard with the best left hook
I've thrown in my life. It connected as well as
a sweetly hit one wood".
Down went the big Kiwi. Both Noel and
Orchard were sent from the field by referee
Col Pearce. "There I was, a minute or two into
an important Test in a Kangaroo Tour year
and I'm on my way off the park." Incidents
like that have become part of the game's
folklore but were never a big deal for the
blokes involved. What happened on the field
stayed on the field.
Honorary Life Membership of The Men of League 2016
Noel describes the Second Test of the
1966 series against the Poms in Brisbane
as one of the hardest games he ever
played in. "It was bloody fierce, no
quarter asked or given, and bordering on
a running brawl. The right hand I landed
on their lock, Bill Ramsey, came when he
was dishing out serious punishment to
our second rower Mick Veivers, who was
on the ground. Bill subsequently joined
him for a sojourn on the grass".
Arthur Summons, another Magpie great who died
just weeks before Noel, rated Kelly as the toughest
player he had played with or against. Noel was not a big
man, particularly by today's standards. His playing
weight was around the 14 stone mark (approx 90kg).
AFTER FOOTBALL
Noel's life after football was rich and productive.
With Chris always at his side looking after the books
and paperwork, he ran several successful businesses.
He set up a company selling bacon and ham products
and smallgoods and called it "Gem of the West". For
several years he ran butcheries at Collaroy and Frenchs
Forest. Subsequently, with son Greg, he purchased and
operated a houseboat hire business at Berowra
Waters, north of Sydney. Noel and Chris became
successful property investors, Noel always available to
look after a variety of maintenance tasks. Noel spent a
lot of time with his five children and with his
grandchildren as they grew up. Leisure pursuits
included golf at Long Reef or Cromer, fishing, travel
and tending his aviary of birds.
Ned volunteered that any time he
happened to be working in the front
garden and the postie sounded a blast
of his whistle Ned would immediately
head inside and take a shower.
(Ian Heads)
Noel also became a television star when, in the late
seventies and early eighties, he joined the must watch
Sunday league program, Controversy Corner, chaired
by Rex "The Moose" Mossop. Other panellists were
former referee Col Pearce, ex-player Ferris Ashton and
respected journalist Alan Clarkson. Noel was
photogenic and articulate on television. When Alan
Clarkson died in 2015, Noel became the last remaining
survivor of the program.
When the Men of League Foundation (a rugby league
charity) was established in 2002, Noel became a
founding board member. The Men of League was set
up to provide practical assistance and social support to
members of the rugby league community. Noel made
countless welfare visits to members who were unwell
or doing it tough and drove many kilometres to speak
at Men of League events where he was always well
received.
In 2016 he was made a Life Member of the
Foundation. This charitable work was also significant
when Noel was awarded the OAM for services to rugby
league in 2018.
I had quite a lot to do with Noel over the past five
years or so: firstly, in my role as Secretary of Wests Past
Players' Association ("The Pratten Park Magpies") of
which he was Patron; and, secondly, in my position as
Treasurer of the Men of League Northern Sydney
Committee of which Noel was also Patron. We became
friends.
Noel had warmth and charisma; an oft overused term
but Noel did have it. He had a twinkle in his eye and was
fascinating to the ladies even in his seventies and
eighties. Noel was natural and friendly, he always had
time for people and I observed how often people
wanted to say "g'day" to Noel or have a short chat. He
treated people with respect – even the idiots. He was
equally able to mix well at the bar or with captains of
industry – with prince or pauper.
In his book, Noel concludes: "Life is about surviving
as best you can, growing as a person, supporting your
family. As a footballer I did what I felt I had to do. As a
human being I have tried to conduct my life fairly, with
respect for those around me". He truly did live by that
philosophy.
In the introduction to his collaboration with Noel, Ian
Heads writes: "Hard Man is a book about a special
Australian. Gruff, honest, loyal, modest – he would
probably be the last to admit there was anything
special about him. Kelly brought a basic decency to just
about everything he did – and a work ethic honed by
necessity from earliest days. With the occasional
deviation in the heat of battle – some of it now
regretted – he carried the code of his life onto the
playing fields of the rugby league world, building one
of the outstanding careers of post-war football.
Around football he constructed a life built on simple
things – love, hard work, fair treatment of his fellow
human beings, friendship, good humour."
Noel was struck down by a heart attack and a stroke
at his home at Collaroy in late May. He was treated at
Royal North Shore Hospital where complications with
his gall bladder and kidneys became apparent. He was
allowed to come home on Friday 12 June and died on
Sunday 14.
Roy Masters wrote in a tribute in the Sydney Morning
Herald "the end was peaceful, surrounded by Chris, his
children and grandchildren and the sounds from his
aviary of beautiful birds singing him to a merciful
silence".
On the day of his funeral, the Australian flag at the
Sydney Cricket Ground was flown at half-mast. Noel
loved the ground, played there many times and loved
attending matches there in the years after football.
GEOFF SQUIRES
SOURCES
Noel Kelly with Ian Heads, Hard Man, A life in Football (Ironbark1996). Note: Ian has told me that he rates this book as "probably
the most enjoyable book (of 52 or so) that I have tackled down the years".
Ian Heads & David Middleton, A Century of Rugby League, 1908-2008 (Pan Macmillan 2008)
Ian Collis & Alan Whiticker, Rugby League Through the Decades (New Holland 2011)
Gary Lester, Clouds of Dust, Buckets of Blood. The Story of the Western Suburbs District Rugby League Football Club (Including
Wests Tigers) 1908 – 2015 (Playright Publishing 2016)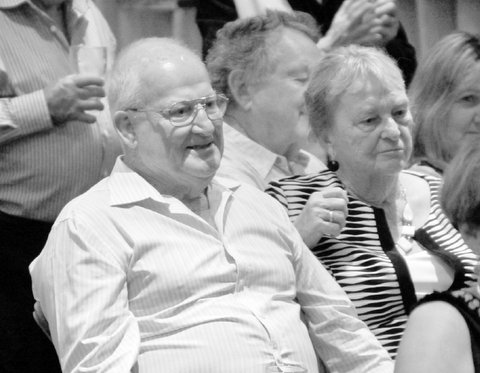 With wife Chris at his 80th birthday 2015