Mike Bailey OAM
On the celebration of the Queen's Birthday in June 2020, the Chairman of Wests Ashfield Leagues Mike Bailey was awarded the Order of Australia (OAM) in recognition of his work with both rugby league and in the broader community.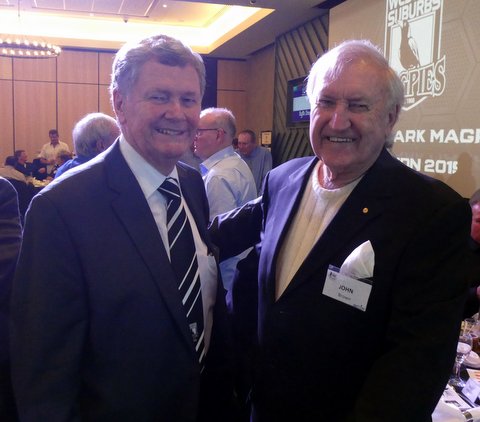 Mike Bailey OAM with John Brown AO at a recent PPM reunion.
*
Mike is a journalist who later presented weather reports on media platforms including ABC, Radio 2KY, Seven and Nine Networks. He is a long-standing Debenture Holder at Wests Ashfield, who was elected as a Director in 2010 and became Chairman in 2011. Mike has also worked for several state government departments, including overseeing a major climate change project and in the administrative and fund-raising operations of the Catholic Church.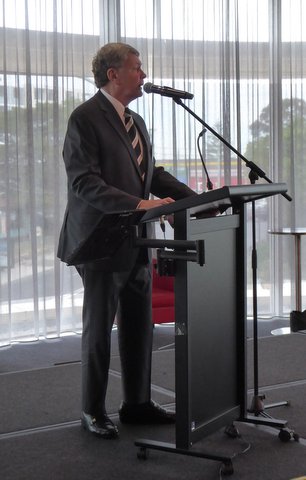 Mike our regular MC at the 2018 PPM reunion.
He has hosted events that deliver financial support to groups within the local community through the Club GRANTS program and the annual Community Citizenship Awards.
Wests Ashfield formally congratulates Mike on receiving this award and the Club acknowledges his long-standing contributions.
 *
A little about Mike Bailey.
Mike Bailey became one of the most identifiable and credible voices in broadcasting through news reporting and later weather presentation. Over 13 years he has produced news and current affairs programs and documentaries on ABC-TV and the Seven Network. He has hosted AFL telecasts for three seasons. Mike has also presented weather and hosted current affairs and talkback radio programs on 2GB, 2KY, ABC and community and rural radio outlets across NSW.
His work in print journalism included the preparation of an Almanac on Sydney's weather; a weekly column with The Sun-Herald for 7 years; monthly columns in gardening and surfing publications; and occasional freelance travel articles.
Mike Bailey has been Course Coordinator and Lecturer in Journalism at Macleay College in Sydney over more than a decade. He continues to host many functions for numerous corporate and charity groups, and has been a Board member of several charitable organisations.
Mike has been an Australia Day Ambassador since 1999, and among his Awards is the Archbishop of Sydney Citation in recognition of outstanding contribution to Christian ideals in radio and television presented by Cardinal Edward Clancy in 1990.
In 2007, Mike took a look at politics from the inside as Labor candidate for North Sydney in the 2007 Federal Election. He went on to spend a year as Media Adviser and Departmental Liaison Officer for the NSW Minister for Lands, Tony Kelly MLC before coordinating a major climate change project for emergency services in NSW.
Mike Bailey married his wife Helena (former presenter of the Seven Network's Romper Room) in 1986, and they have a son Michael, born in 1988.
*
Murray Reynolds outside Bankstown Police Station.
Congratulations to Enfield Federals Past Player Murray Reynolds who was recognised in the Queen's Birthday Honours list.
Detective Superintendent Reynolds was awarded the Australian Police Medal for his ongoing commitment to serving the people of NSW.

Australian Police Medal.
Murray affectionately known as Patches , grew up just a good punt kick from the Crossways Hotel and played for the famous club from 1968 to 1977.
The 1968 Undefeated Enfield Feds F Grade Team.
Murray is a regular attendee at the Annual Enfield Federals Past Players and Supporters Reunions.
Murray also played for the Newtown Police Rugby League Team.
They were the 1979 Premiers.
 

Murray is 2nd from the right front row sitting next to Dave Oliveri Ex Wests player on his right.

*
The Police History of Murray appears below.
Det Supt Murray Reynolds joined the New South Wales Police Force in 1974, commencing his career at Darlinghurst Police Station in general duties. Between 1978 and 1981, he worked at Phillip Street, Flemington and Bankstown Police Stations and 21 Division (Special Squad), before embarking on a career in criminal investigations with the Surveillance Squad, Armed Hold Up Squad and South Region Drug Unit. He left the Force to pursue business interests in 1989 but re-joined in 1998 and was stationed at Kings Cross Local Area Command.