It was suggested to me that there was a good story about the Tancred family and their connection to Wests. I had heard the name Tancred before but it was to do with the famous H.E. Tancred Stakes horse race and the equally famous Tancred Meats. Little did I know that there was a very long history about Wests and the Tancred family going way back to 1920…
I hope you enjoy their story.
*
As it turns out the H.E. in the H.E. Tancred Stakes once played Rugby League for Wests in 1920.
Henry Eugene or Harry to his mates played one season at Wests.
Harry played in eight First Grade games. Wests Player number 197 (1920).

A little history of Harrys Life and Time from his Wikipedia page.
An older Harry Tancred.
Henry Eugene "Harry" Tancred (25 May 1897 – 15 November 1961) was a rugby union and rugby league player and administrator who represented New Zealand at rugby league and Australia. He played 14 matches for New Zealand, 13 on tours of Australia in 1919 and 1921, and once in a pre tour match against Auckland. He was an entrepreneurial businessman influential in meat wholesaling and exporting who together with his brothers, built Tancred Industries to become one of Australia's largest wholesale butchering firms. He was active in the thoroughbred industry as a racing administrator and racehorse owner.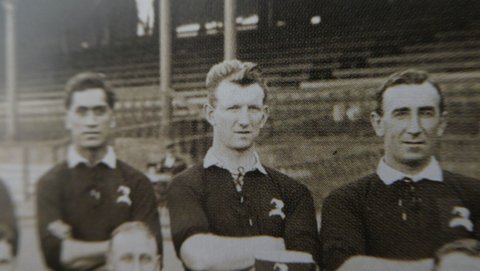 Harry (middle of photo) as a young man (age 22) playing for New Zealand in 1919.
Harrys Rugby Union History.
Tancred, a number eight played with the Petone Rugby Club from 1914.Henry Tancred began his career playing in the Wellington region. In 1914 he played for the Petone rugby club against the Auckland club champions Ponsonby in a pre season match won by Ponsonby 14-11.
In 1915 he played for the Wellington rugby team against Auckland at Eden Park. Wellington won the match 9-5 in front of 5,000 spectators.
Tancred continued to play for Petone and Wellington through to the 1918 season. In a 1918 article in the Free Lance, a Wellington based newspaper Tancred was described as a "big and burly youth… he is a fine specimen of a New Zealand lad, and takes a lot of stopping when he gets possession of the ball" . This was to be his last season of rugby union.
Upon his return to Sydney in 1923 he was active as a player at the Glebe-Balmain club. He made representative appearances for the New South Wales state side. In 1923 the New Zealand Māori rugby union team visited and Tancred appeared in two games of the three match series in which the Waratahs were undefeated.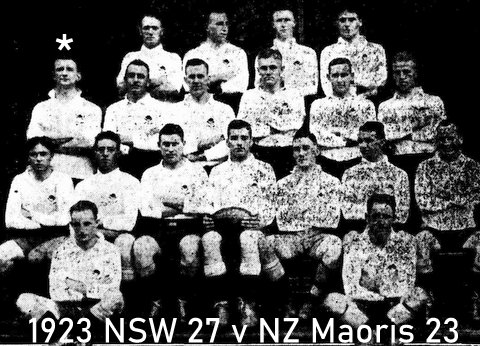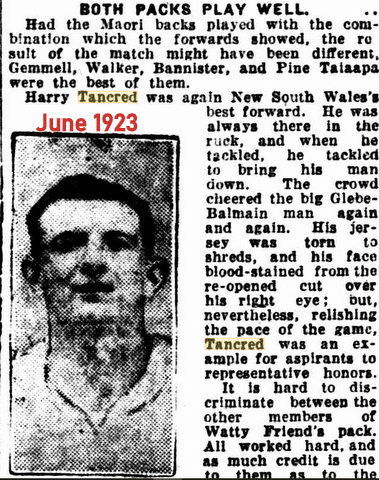 With no Queensland Rugby Union administration or competition in place from 1919 to 1929, the New South Wales Waratahs were the top Australian representative rugby union side of the period and a number of their 1920s fixtures, including Tancred's two appearances in Sydney in June 1923, were decreed in 1986 as official Test matches.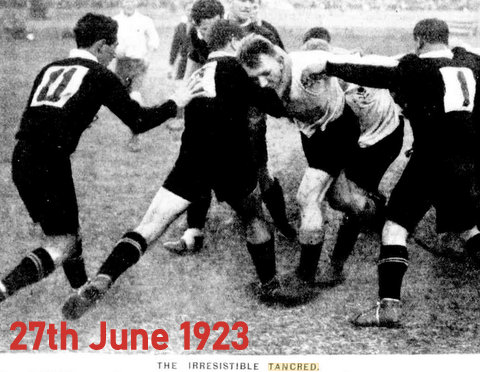 Harry Tancred in the thick of things.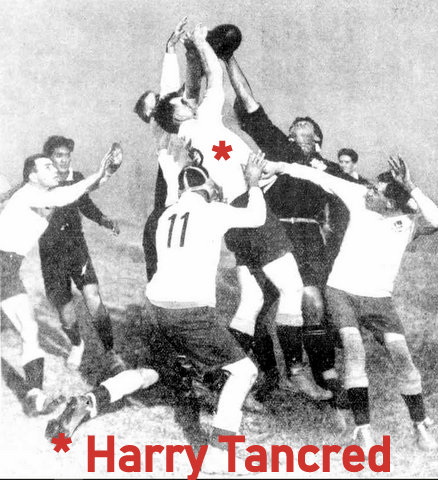 Tancred thus claimed a total of two international rugby caps for Australia. His brothers Arnold and Jim were also Australian national rugby representatives both making the 1927–28 Waratahs tour of the British Isles, France and Canada. Harry would later be involved in the administration of both the Randwick and Drummoyne Rugby Clubs.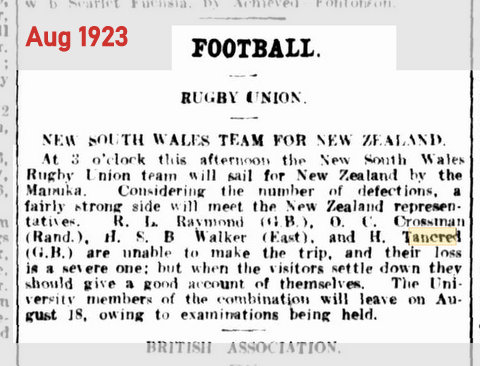 Harry missed the NSW tour of NZ.
*
Time to go back to 1920 and Harrys playing for Wests.
Below is the Rugby League section of Harrys Wikipedia page.
In 1919 he switched codes moving from the Petone rugby team to the Petone league team. That same season he was picked for the New Zealand team to tour Australia and became Kiwi number 120 in the process.
Tancred had a busy tour playing in 8 of the 11 matches. He debuted for New Zealand in the first tour match against NSW Firsts where he played in the second row in an 18-23 loss in front of 46,157 spectators at the Sydney Cricket Ground.
He played against the same opponents days later with New Zealand going down again 9-20. Tancred would have become very familiar with these opponents as he missed the matches with Tamworth and Northern Division but was back in action for two more matches with New South Wales Firsts which New Zealand again lost 31-39  and 19-22 . Tancred tasted defeat for the 5th time on tour when New Zealand went down 13-26 to Queensland Firsts. A week later he moved to the lock position in another defeat to Queensland Firsts 13-16 . Tancred experienced his first win in the New Zealand jersey in the 23-0 win over Rockhampton. This time he had been moved into the front row where he played prop and he also crossed the line for a try. He played there again against Toowoomba where New Zealand rounded the tour off with a resounding 42-12 win, scoring two more tries in the process.
*In 1920 he moved to the Western Suburbs club in Sydney no doubt after having caught their eye while on the 1919 tour.
He played 8 matches for them from Round 8 to Round 15 and scored 4 tries.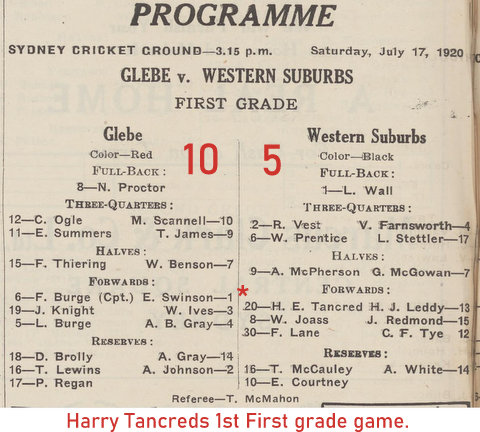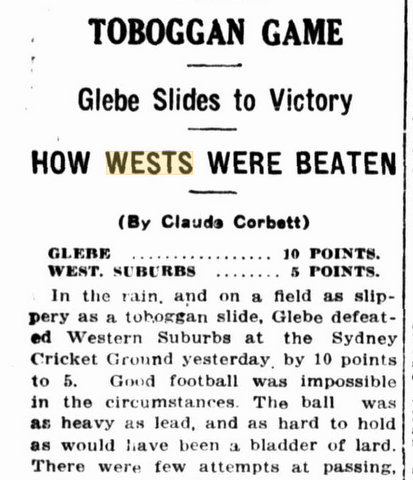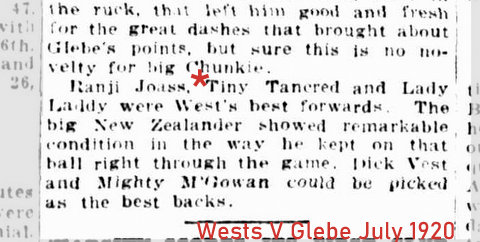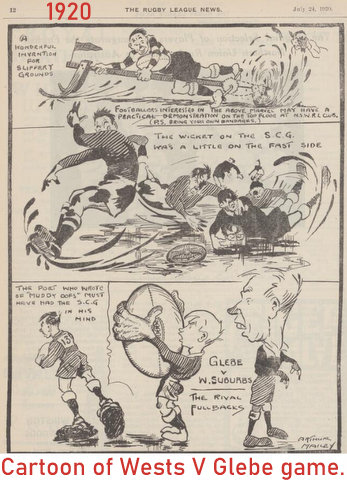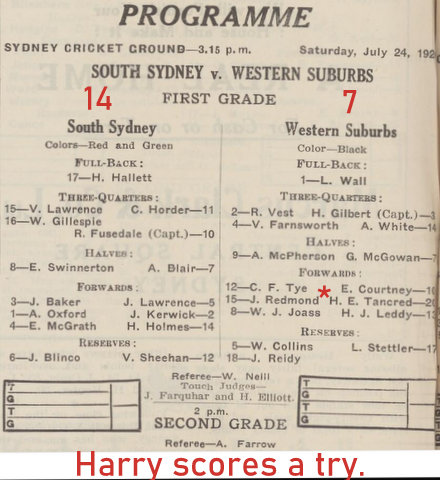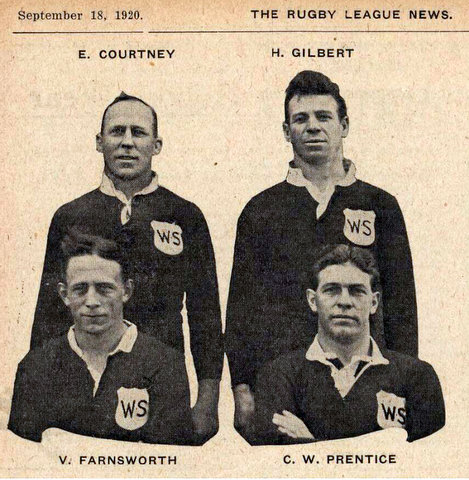 Some of Harrys more Famous Team mates in 1920.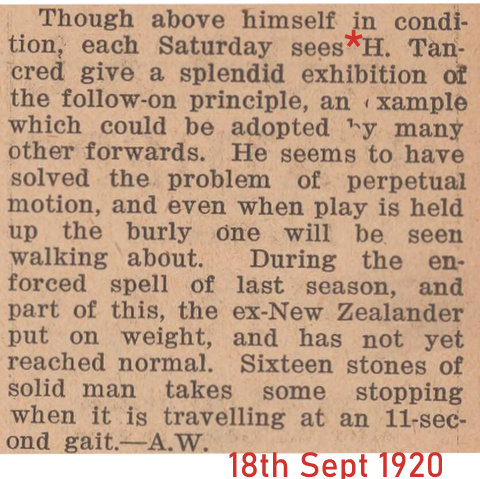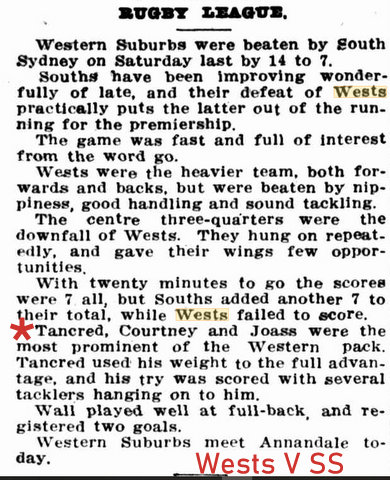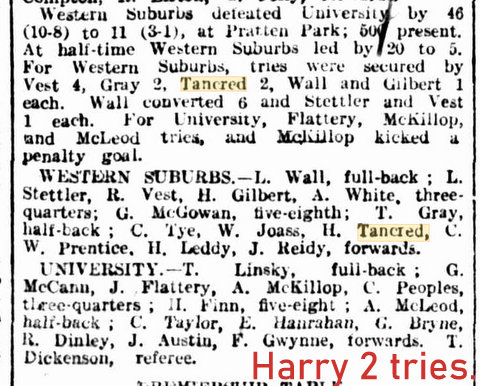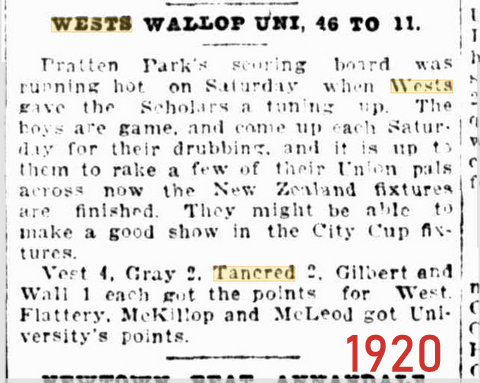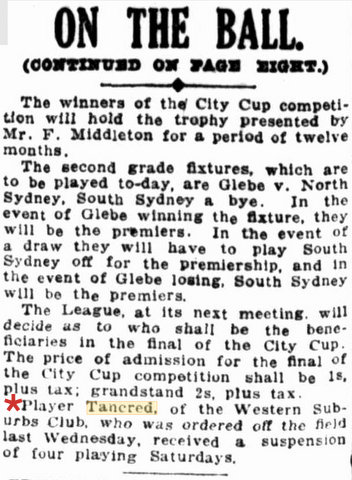 This was Harrys last game at Wests.
Harry is back in New Zealand.
In 1921 he registered with the City Rovers club in the Auckland Rugby League competition. He scored two tries for them during the season which saw City win both the first grade championship and also the Roope Rooster.
In 1921 Tancred was to tour Australia again. In a match prior to the tour he played for New Zealand against Auckland in front of 11,000 spectators at the Auckland Domain. New Zealand won by 22 points to 16 with Tancred scoring a try after a "smart dash". He was named captain for the tour and he did this on field in at least 5 of the 8 matches. He played all his matches in the hooker position. His debut leading the side did not go well with New Zealand hammered 9-56 by a strong New South Wales Firsts side. He captained New Zealand again in a 25-12 win over Queensland Firsts , before losses to the same opponents 16-21 , and 3-8 . It is unknown if he took part in the matches with Wide Bay and Stanthorpe as there are no team lists for the matches. However he again captained New Zealand in the final tour match against Newcastle Firsts which New Zealand won 27-14.
After the tour was over Tancred coached the Wellington team prior to their match with Auckland.
In 1922 he gave the game away in New Zealand and was reportedly going into business in Sydney.
*
We come forward a few years to 1931 and Stan Tancred plays in a game for Wests Reserve Grade. Stan was a Wests Junior who played for the Burwood United Club.

Stan is the nephew of H.E. Tancred .
Two years later in 1933 Stan makes his debut in Wests First Grade Team.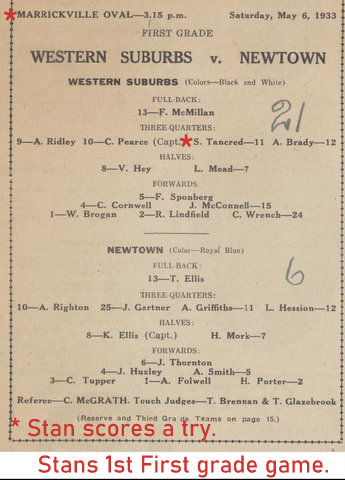 Stan scores a try on his First Grade debut.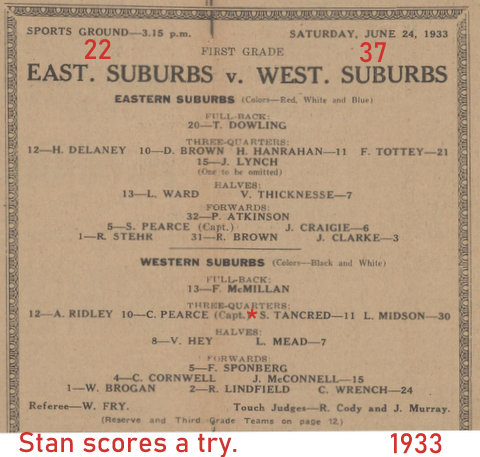 1933 is a great year for Stan he is picked to play in the City team V Country.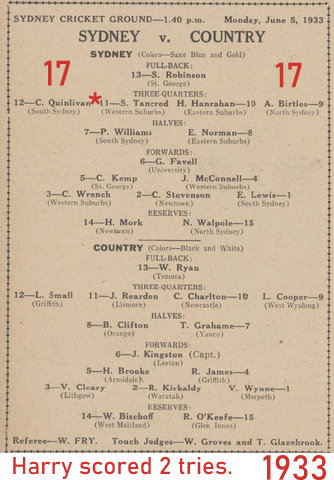 Stan scored two tries in this 17 all draw with Country.

1934
In 1934 Wests won the premiership which made history because Wests went from the Wooden Spoon in 1933.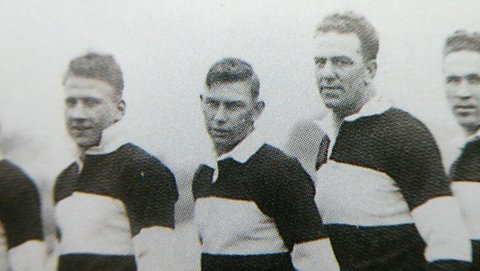 Vic Hey, Stan Tancred and Charlie Cornwell.

Stan played in all seventeen First Grade games in 1934 as well as playing for Sydney V Country.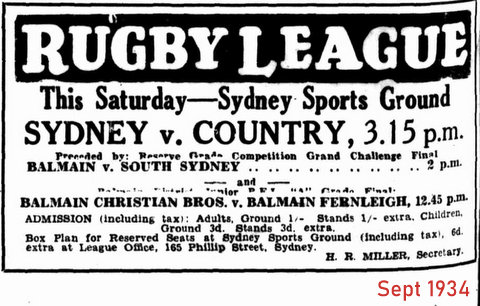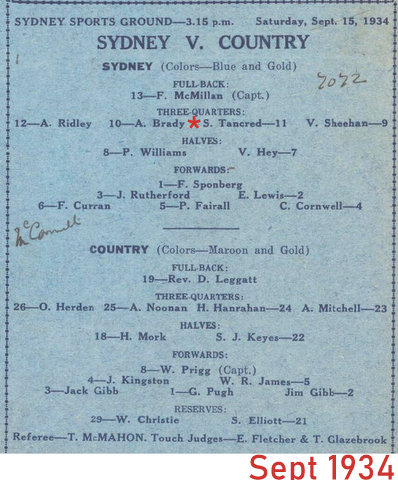 Score was Syd 32 Country 29. Stan scored a try.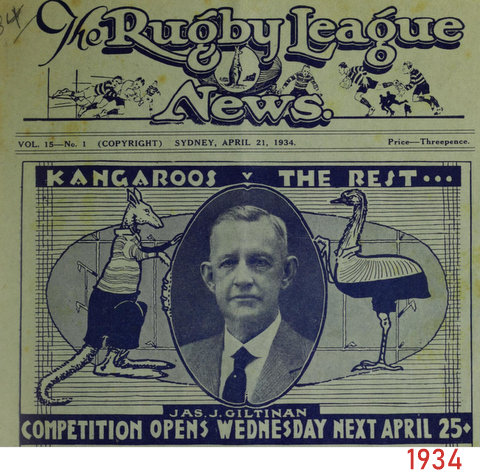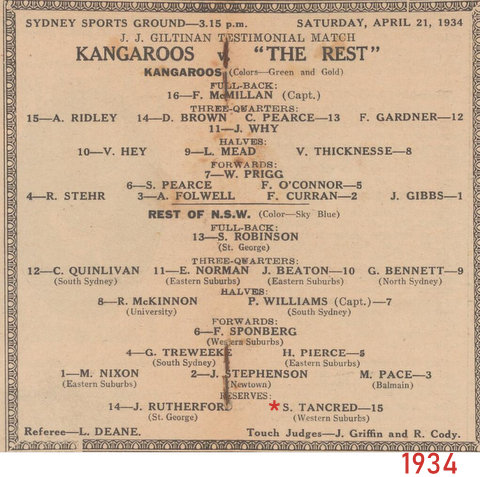 A few great players kept Stan out of the "The Rest" team.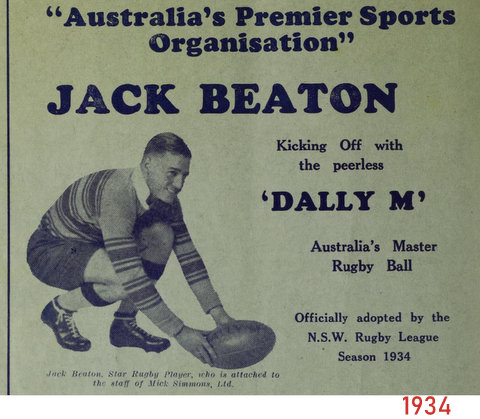 Jack Beaton was one of them. Note: Jack played First Grade cricket for Wests.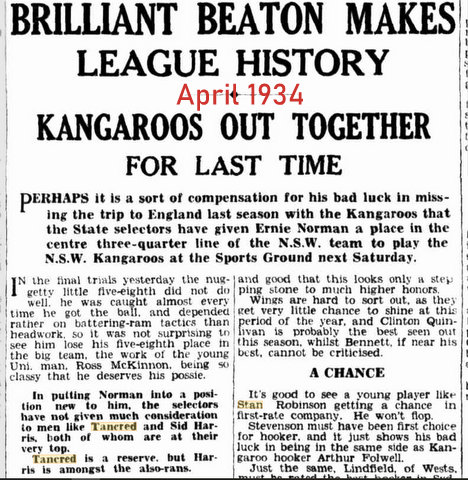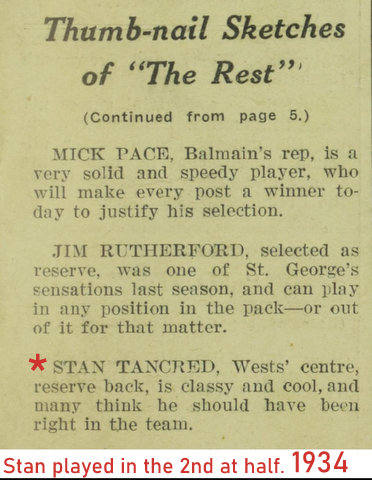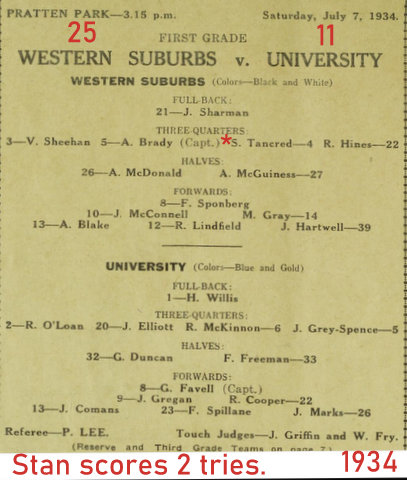 Another two try haul for Stan.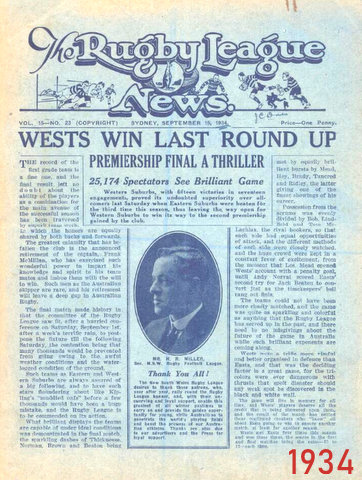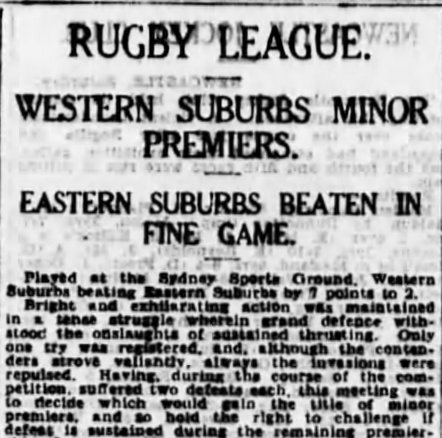 Wests 7 beat Easts 2.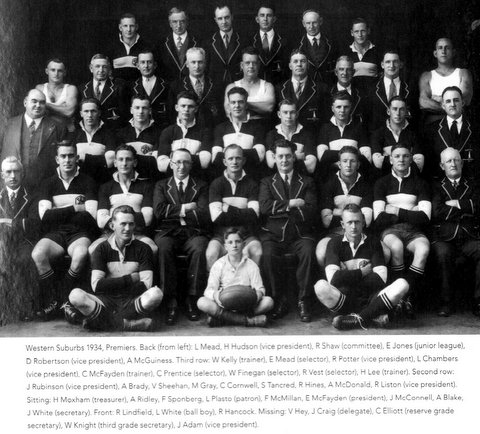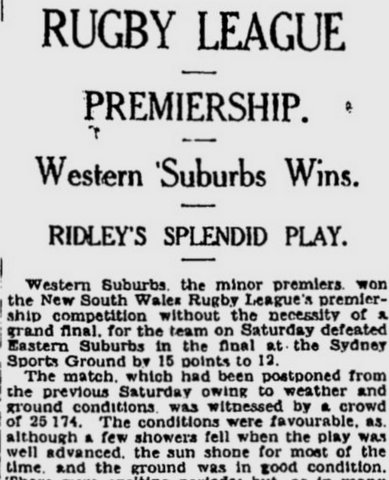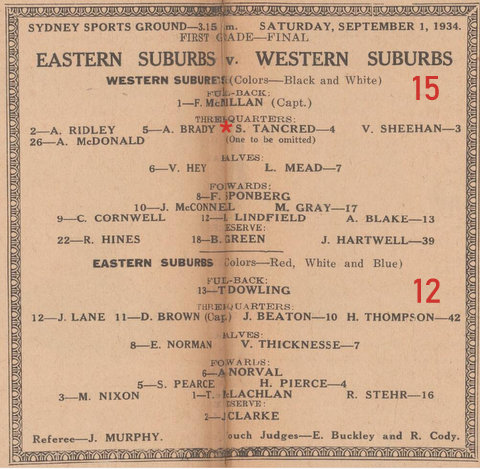 1935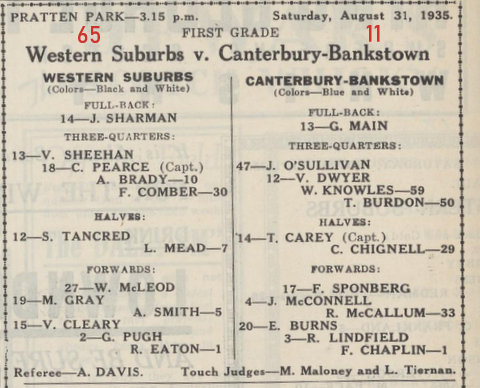 Stan was playing five eight in this game but believe it or not Stan did not score a try!!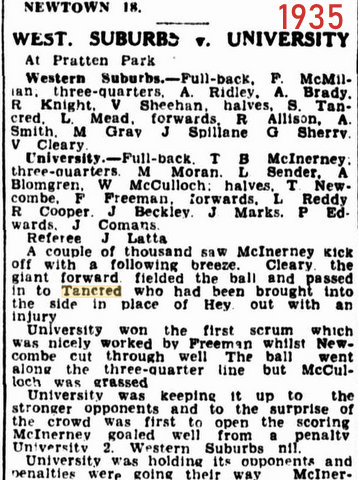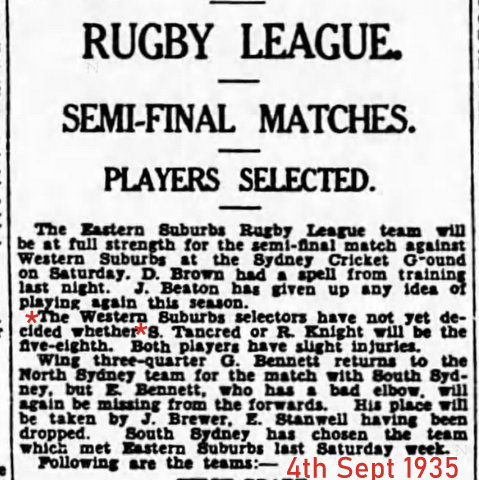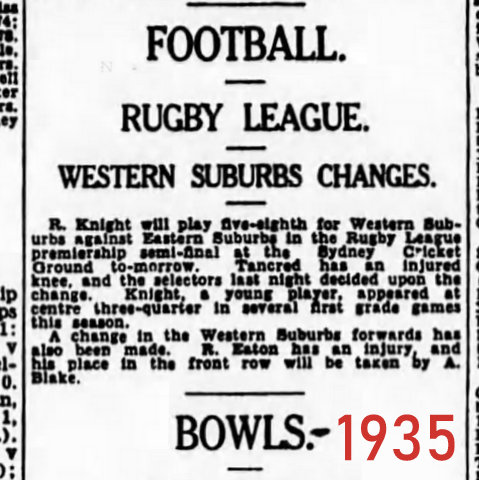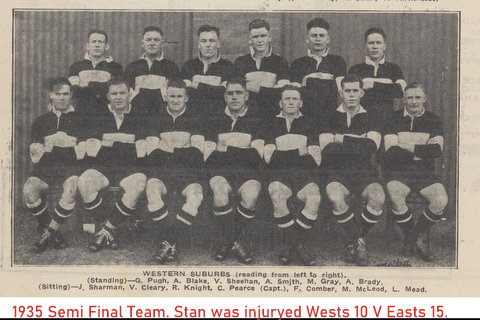 1936 and 1937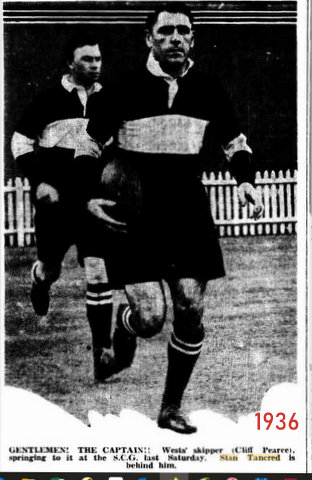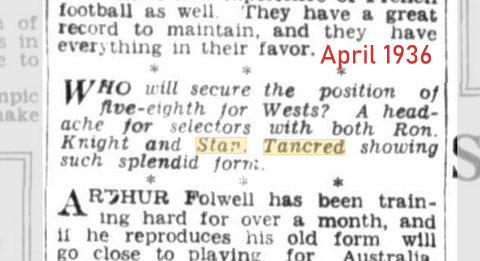 Stan gets a mention in early 1936.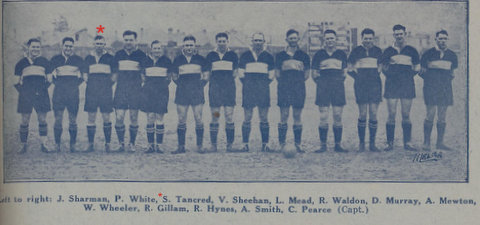 Wests First Grade Team photo 1936.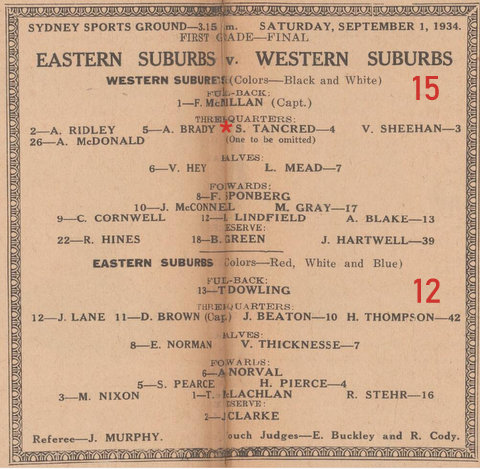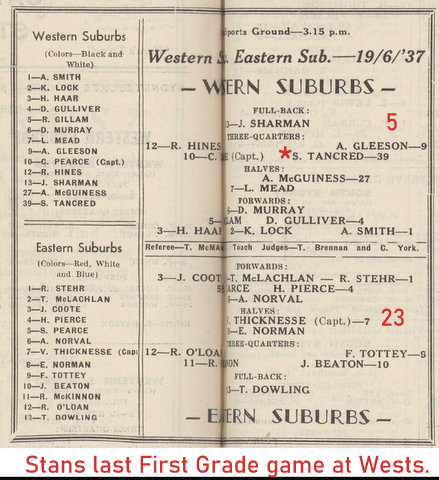 Well not quite…..Wests made the Semis of the City Cup in 1937.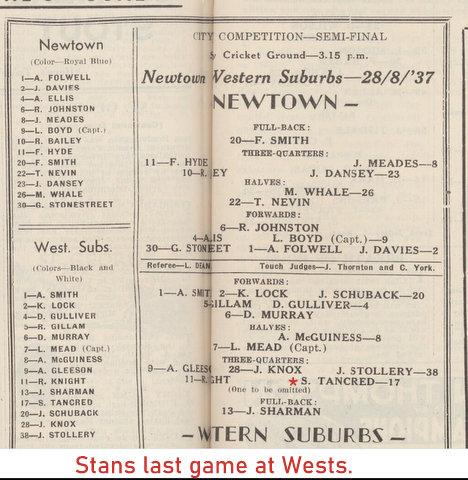 Stan played for Wests between 1931 and 1937.
48 First Grade games not counting 8 City Cup game, 23 Reserve Grade games and 1 third grade game.
*
A few years later along comes Stans son Ronnie Tancred.
In 1965 Ron played in the Under 17 Ashfield De La Salla Brothers team that beat  the invincible Enfield Feds team led by Tim Pickup.
Ashfield 4 beat Feds 2.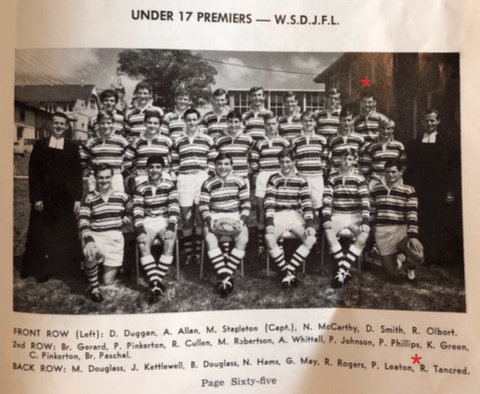 In 1967 Ron was chosen to play in the Wests H.Flegg Memorial Team.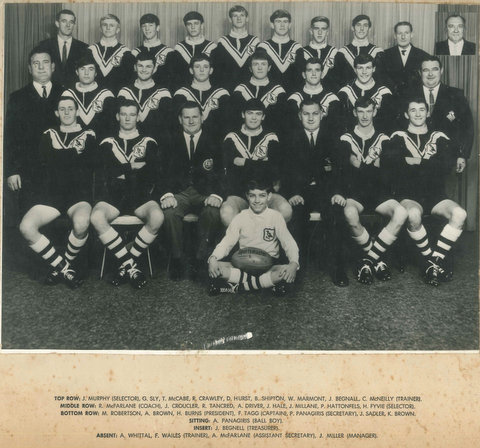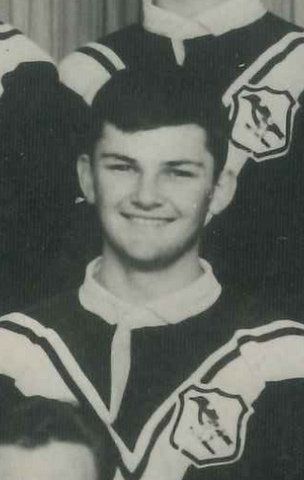 Ron played at Presidents Cup level for Wests between 1968 and 1970.
In 1968 Wests Presidents Cup team played Canterbury before the annual NSW V QLD game at the SCG.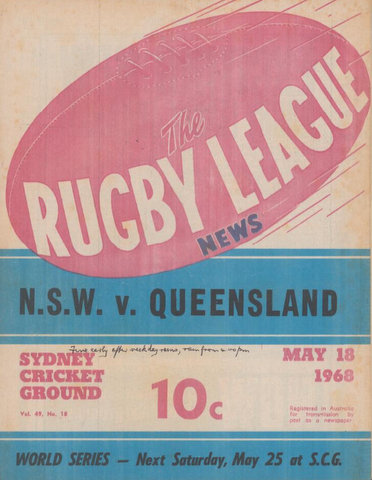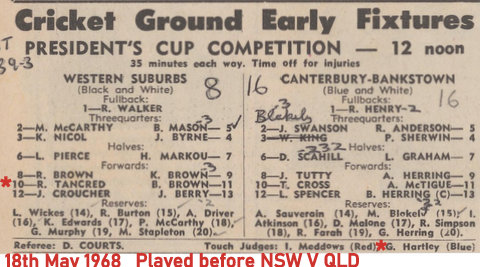 *

Note touch judge G. Hartley.
1969 Wests Presidents Cup team play Canterbury before the Country V Sydney Game.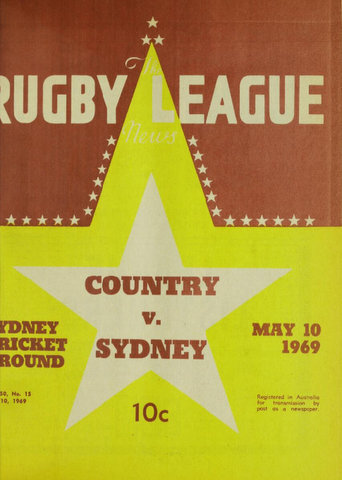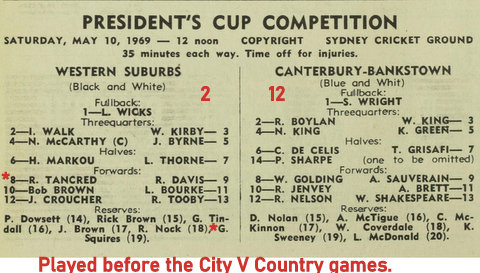 1970 Wests Presidents Cup team play Balmain before the City V Country game.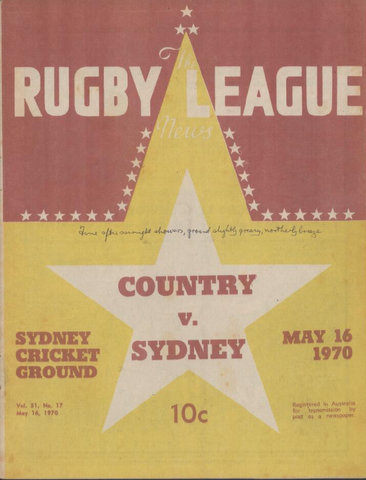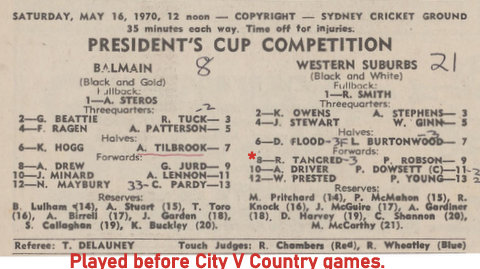 Ron scores a try in this good win over Balmain.
Before the NSW V Great Britain game Wests played Manly in the Semi Final of the Presidents Cup.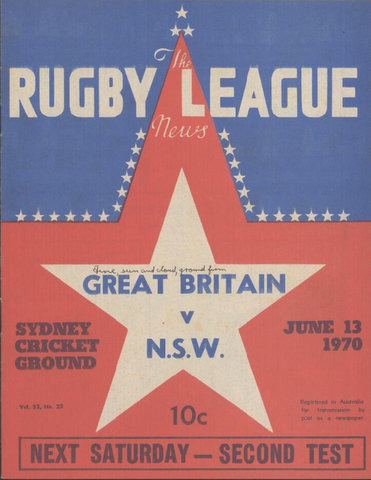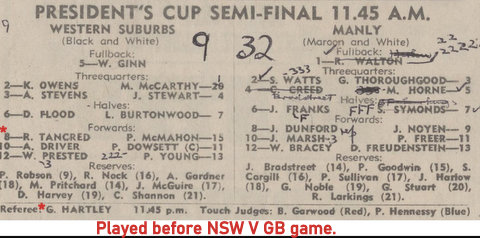 Manly 32 were to good for Wests  9.
* Note the referee…small world??
In this Feds Team the Late Gary Bond was the coach.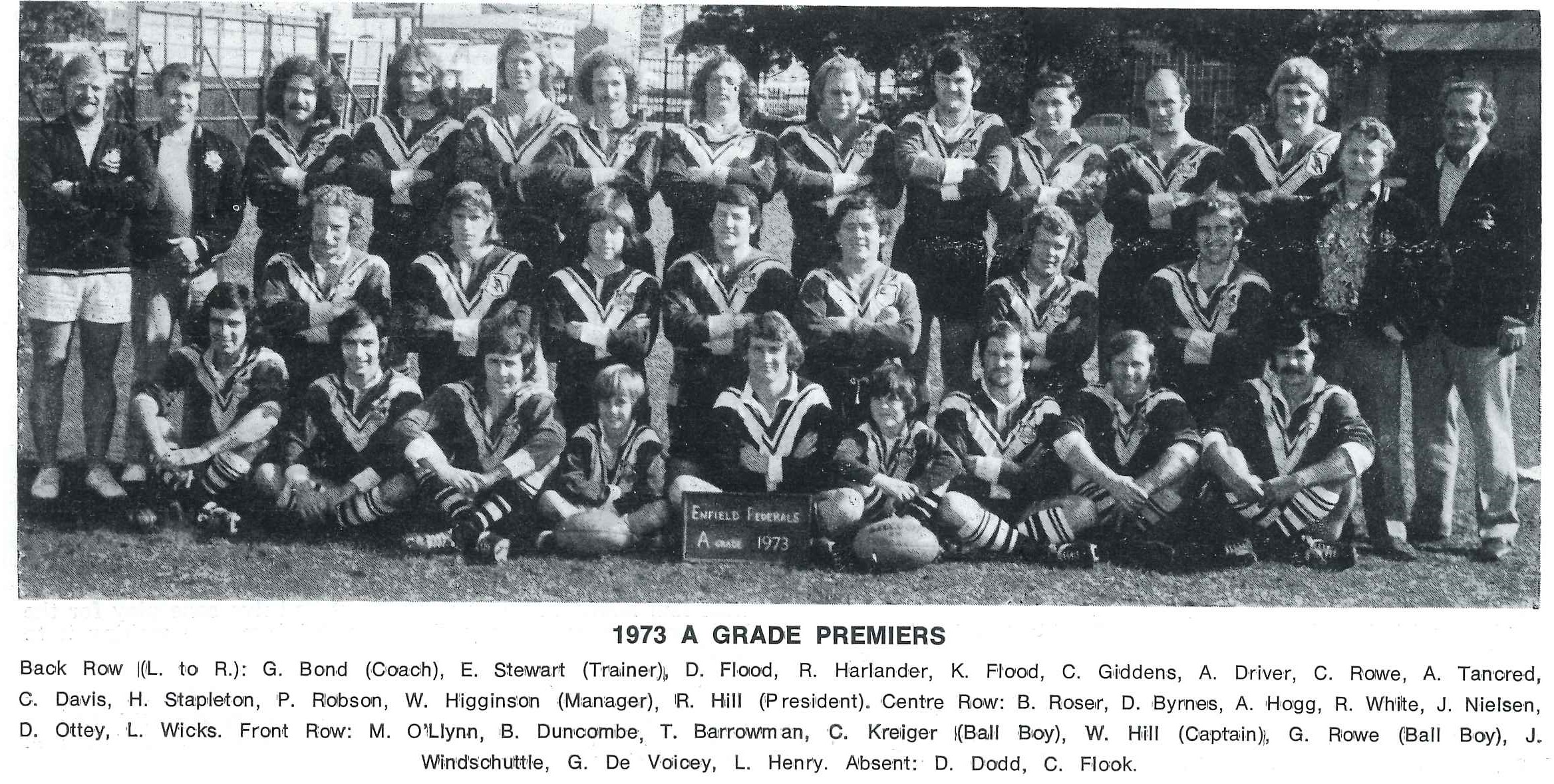 Ron played for Enfield Federals for many years.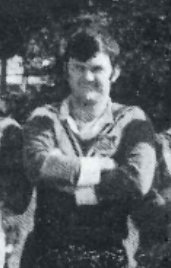 Ronnie Tancred.
Ron also played in the 1975, 1977  A Grade winning Teams.
Ronnie retired from football at the end of the 1978 season at the age of 30.