Below is the Official History of Pratten Park.
1906
Responding to a request from the Ashfield District
Football Club, Council begins
action to purchase some of the a Beckett estate

known as a Beckett's Paddock as
a first step in acquiring the land to establish 
Pratten Park.
1911
Council resumes additional land adjoining a Beckett
Paddock that is owned by
Trustees of the Hall Estate. These two parcels of

land and become Pratten Park.

A remaining portion of the Hall Estate that included
a house, Cambewarra (since
demolished), was sold to Council in 1923 thus

completing the present extent of the
Park.
1911 The State Government gazettes Pratten Park on
26 July 1911.
1911
Summer Hill Tennis Club proposes to Council that an
Association of tennis players
in the Western Suburbs and other districts be formed
 Council agrees and grants
land at Pratten Park to the newly formed Western

Suburbs Lawn Tennis
Association for 4 tennis courts. By 1914, the Club
had 6 tennis courts.
1912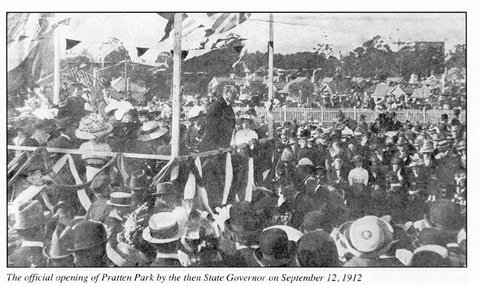 The Governor of New South Wales officially opens

Pratten Park on 12 September
the Right Honourable Frederick Napier,
Baron Chelmsford. The Park was named
in honour of Herbert Edward Pratten,

Mayor of Ashfield between 1909 and 1911,
in recognition that the Park's establishment was

largely due to his efforts.
Burwood District Cricket Club, having obtained a

lease of Pratten Park in 1911,
plays its first matches at the Park.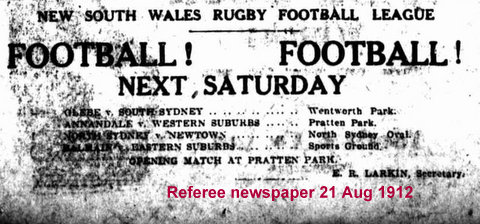 1912 Western Suburbs Rugby League Club plays its

first match at Pratten Park.
1913
Burwood District Cricket Club changes its name to
the Western Suburbs District
Cricket Club at the instigation of Council.
1913
The South Ashfield Bowling Club forms and starts
using space in Pratten Park
allocated to it by Council.
1913
Fundraiser held in September by the United Friendly
Societies Ashfield
Dispensary.
1914
Under pressure from local residents, Council refuses
 to let Western Suburbs
Rugby League Club use Pratten Park for its matches.
For the next 5 years the
Club plays out of St Luke's Oval (now Concord Oval)
Council gives permission to the local Rifle Reserve
to use the Park for military training.

 Spectator seating erected at the Arthur Street
end of the tennis courts.
Parks Committee of Council recommends planting palm
trees both sides of the
avenue from the entrance gates to the oval.
1915
 20 trees planted on the Western boundary of

the Park.
1916
National baseball league holds Patriotic baseball
 game.
1918
 A Patriotic Tennis Tournament held.
1919
 A cycle track around the perimeter of the oval
is levelled and ashes rolled.
1920
The Returned Sailors and Soldiers Club holds an

Anzac Memorial Carnival in
March.
Building of a pavilion and grandstand at the oval,
with accommodation for 450
spectators, is completed and opened by

Senator HE Patten. The opening is
followed by a cricket match, Aldermen vs Council

staff. Senator Pratten (previously
Mayor of Ashfield) had donated
£500 towards the pavilion's cost.
Western Suburbs Rugby League Club returns to

Pratten Park, which becomes its
home ground.
Pratten Park season tickets are issued for

life members, members and ladies.
1921
1921 South Ashfield Bowling Club changes its name

to Pratten Park Bowling Club.
Alterations are made to the Bowling Club building.
A new bowling green is
constructed.
1922
A cricket scoreboard is erected with a financial

contribution from Western Suburbs
District Cricket Club. It replaces an earlier score
board.
1923 An additional room is added to the

Bowling Club building.
1923
The Evening News installs a direct phone line to

avoid delays in getting sports
results.
1925
1925 A children's playground is established.
1925 A number of cycling carnivals are run

successfully.
1928
Council refuses an application by the licensee of

the Bald Face Stag Hotel at
Leichhardt to erect a brick publican's booth to

sell liquor.
Western Suburbs District Cricket Club complains to
Council about the state of the
Pratten Park wicket. This is refuted by Council's

Engineer – "the usual complaint
when batsmen do not make runs".
1930
Autodrome Super Speedways Ltd successfully

negotiates with Council to hold dirt
track motorcycle racing on Saturday nights.
The first meeting attracts over 6000
people.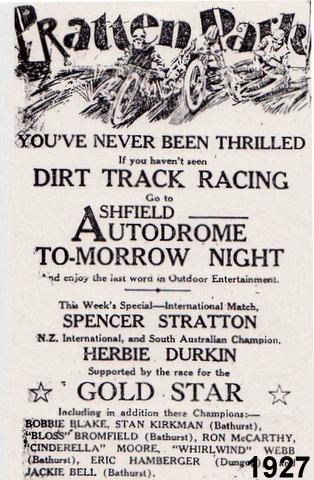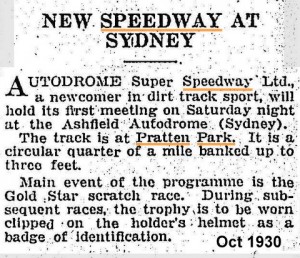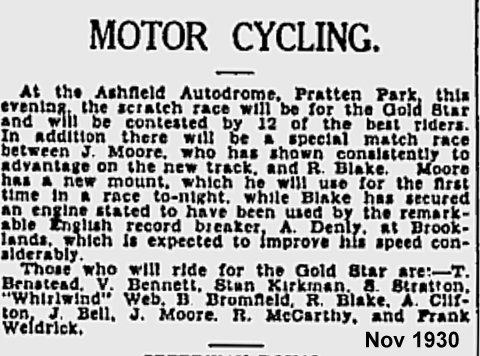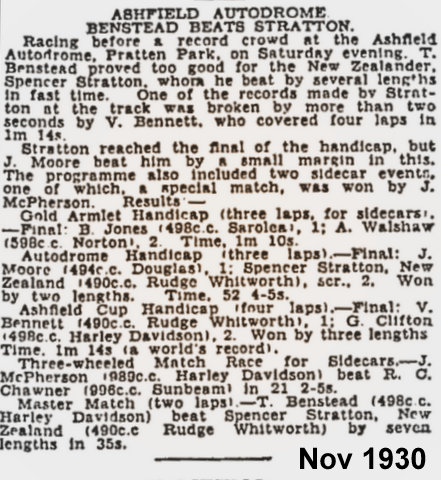 Council receives numerous complaints and petitions
from residents about noise,
crowds and late finishing times. Representations

are also made to the Minister for
Local Government.
An application to Council by the Model Aeroplane

Association to fly model
aeroplanes on Sunday mornings is refused.
1931
1931 Autodrome Super Speedways Ltd goes into liquidation.
1933
 An Eastern entry pavilion in Arthur Street is
constructed.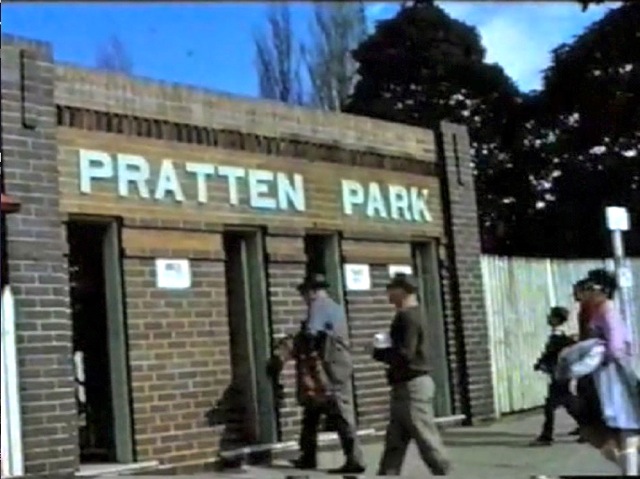 The famous eastern entrance in the 1960's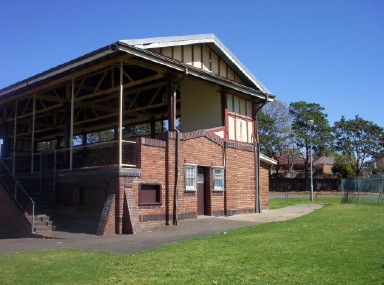 View of Pratten Park Grandstand.
Grandstand Pratten Park.
Work is provided by the State Government at Pratten
Park for the relief of the
unemployed.
1935
A wooden cycling track is laid down over the existing
cycling track and is the first
track in Australia to conform to international

requirements for record making
purposes.
Council permits the Western Suburbs Lawn Tennis Association
to occupy 4 ground floor rooms in Thirning Villa.

1936
1936 Floodlights are installed around the cycle track
 to illuminate the oval.
1939
Tenders are called for the demolition of the existing
 Bowling Club building and the
erection of a new building.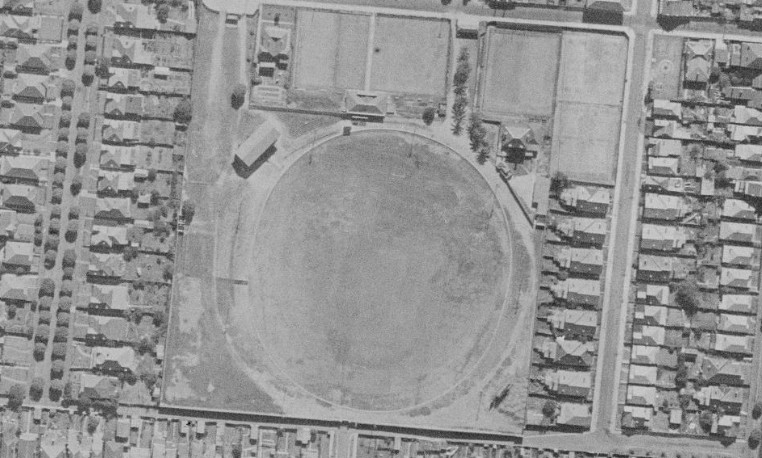 Aerial view of Pratten Park 1943.
1946
6 wooden tiers of seating are installed in the Southeast
 and Southwest areas
around the oval
1952
The new Northern stand at the Tennis Courts is named
after the Western Suburbs
Lawn Tennis Association's first Secretary C M Harris
1953
A modern scoreboard is erected.
1958 Council approves extensions to the Bowling Club
 building.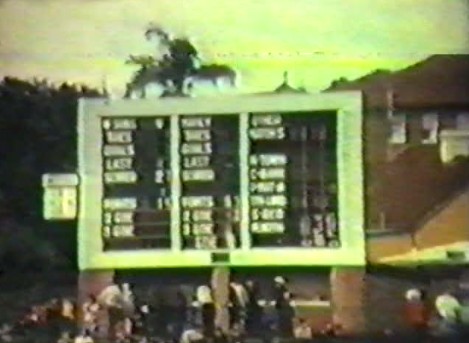 The scoreboard in 1970's
1959
The enlargement and refurbishment of the Bowling Club
 building is completed and officially opened on 30 May.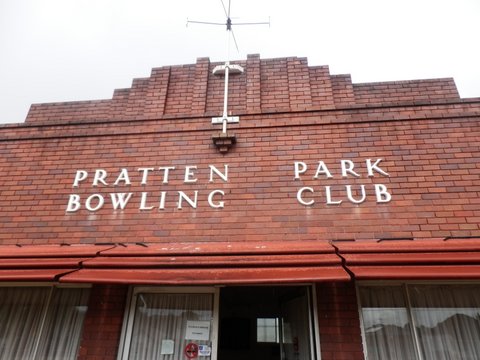 1961
Council permits an exhibition tennis match on a

Sunday despite protests from
church members.
1963
Council gives permission for both tennis and bowling
 clubs to play on Sunday
mornings.
1967
First televised rugby league match at
Pratten Park.
1968
Western Suburbs Rugby League Club moves permanently
to Lidcombe Oval.
Wests having played alternate home game matches between

Lidcombe Oval and Pratten
Park during the 1967 season.
1970
1970 Council approves further extensions to the

Bowling Club building.
 1971.
Wests return to Pratten Park after 3 years away.
Wests played 10 games during this period 1971- 1985.
| | | | | | | | | |
| --- | --- | --- | --- | --- | --- | --- | --- | --- |
| NSWRFL 1971 | | May 30th | Western Suburbs | 9 | Manly Warringah | 34 | | 6,903 |
| NSWRFL 1972 | | Apr 29th | Western Suburbs | 39 | North Sydney | 10 | | 6,161 |
| NSWRFL 1973 | | Apr 21st | Western Suburbs | 14 | Canterbury | 42 | | 5,445 |
| NSWRFL 1973 | | Jul 28th | Western Suburbs | 13 | South Sydney | 20 | | 7,016 |
| NSWRFL 1973 | | Aug 11th | Western Suburbs | 10 | Balmain | 14 | | 1,095 |
| NSWRFL 1977 | | Aug 7th | Western Suburbs | 10 | Cronulla | 47 | | 3,171 |
| NSWRFL 1977 | | Aug 20th | Western Suburbs | 4 | St George | 49 | | 4,450 |
| NSWRL 1985 | | May 12th | Western Suburbs | 24 | South Sydney | 16 | | 5,391 |
| NSWRL 1985 | | Aug 4th | North Sydney | 24 | Western Suburbs | 8 | | 4,557 |
| NSWRL 1985 | | Aug 18th | Penrith | 42 | Western Suburbs | 16 | | 4,320 |
1972
 The Bowling Club extensions are completed and
officially opened on 29 January.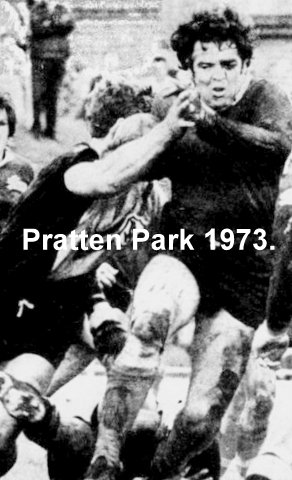 Geoff Foster tackling Gary Stevens at Pratten Park 1973.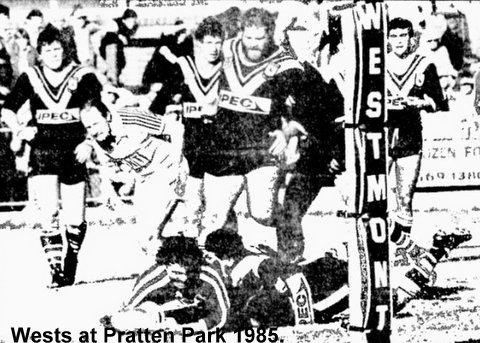 Wests last game at Pratten Park August 18th 1985.
Wests lost to Penrith 42 – 16. But Wests had won the AMCO Cup on Wednesday night .
1980-1985
During this period, complaints about parking are

periodically received from
residents. Ashfield Mall parking for 1300-1500 cars
is put forward as the solution.
1984 NSW Women's Cricket Association plays the

England Women's Cricket Team.
1985 2 demountable cricket sight-screens are installed.
1985
Western Suburbs Rugby League Football Club is given
permission to play 3
Sunday games.
Two plagues on the wall of the Pratten Park grandstand.