Vale Arthur James Summons
1935 – 2020
Wests Player number 584 (1960)
Wests Magpies Life Member number 106 (1998)
Wallaby Player number 431 (1957)
NRL Hall of Fame number 64 (2008)
 Western Suburbs Magpies Hall of Fame (2008)

Life Member of the Sydney Cricket Ground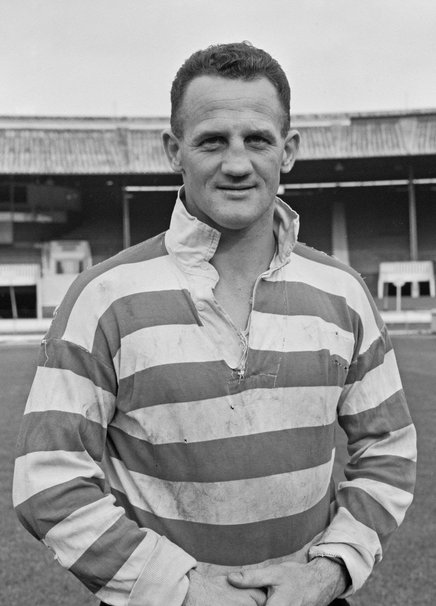 Arthur came over from Rugby Union to Wests in 1960 after playing for Gordon, City, NSW and Australia in Rugby Union.
Arthur Summons played both codes as a youngster and was a Rugby star at Homebush Boys High and later for Gordon Rugby Club in Sydney.
In 1956 and 1958 Arthur won two Premierships with Gordon RUFC.
Arthur kicked a field goal in both Grand Finals of the Shute Shield.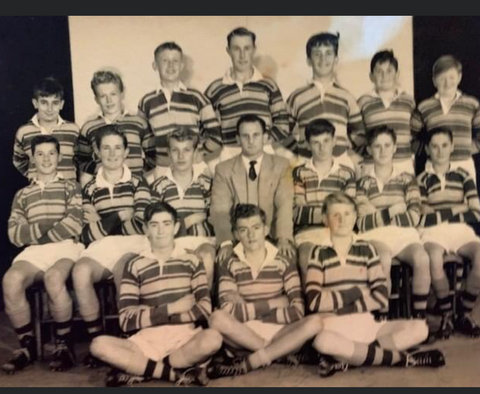 Arthur Summons coach of Meadowbank Boys High School Rugby Team…
Manual Arts teacher for some years in late 50s during his career in Rugby touring with the Wallabies in 57 and 58.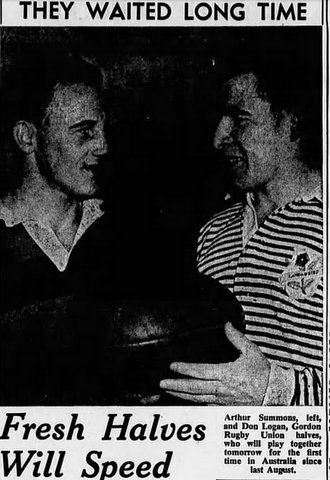 1957.
He wasn't long graded at Gordon before Summons was called up for his first senior representative match for New South Wales against Queensland in 1956, and soon thereafter faced the touring Springboks.
The following year, the skilful flyhalf was selected for Australia's tour of the British Isles and France, where he stepped out in the Test arena for the first time against Wales at Cardiff, aged 22 years and 22 days as a shock selection ahead of Wallabies mainstay, Dick Tooth.
Arthur was chosen to tour with the 1957 Wallabies Tour of the British Isles and France.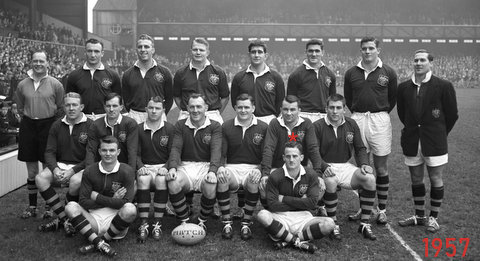 Summons went on to play four of the five Tests on that tour, striking an immediate rapport with scrum-half Des Connor and crossed for what would be his only Test try in the loss to Ireland at Lansdowne Road.
He remained the first choice flyhalf for the Wallabies leading into the 1958 season, where he ran out in four more Tests, including the three-Test series against New Zealand across the ditch. It was there, in the second Test in Christchurch, that he tasted victory for the first and only time as a Wallaby in a bruising 6-3 triumph at Lancaster Park.
Summons made two further Test appearances, against the visiting British Lions in Brisbane and Sydney in 1959, concluding his international Rugby career with 10 caps before making the switch to Rugby League to join Western Suburbs.
Very big news back in 1959/1960.
1960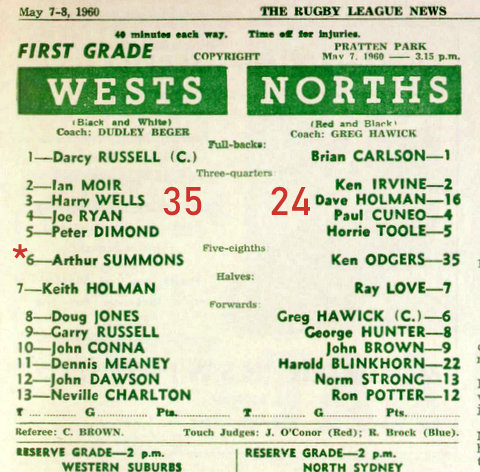 Arthur scored two tries in his First Grade debut for Wests.

 Also in 1960 Arthur played in the Reserve Grade Semi and Final games.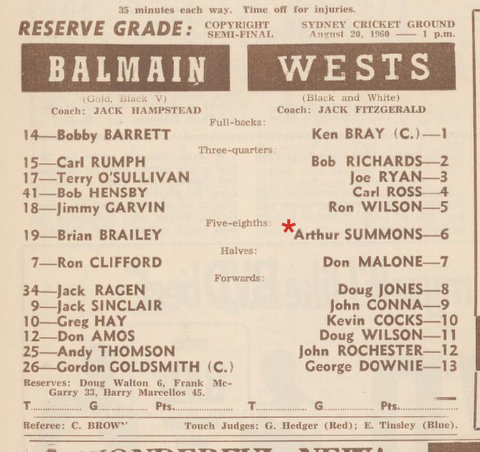 Wests 15 beat Balmain 3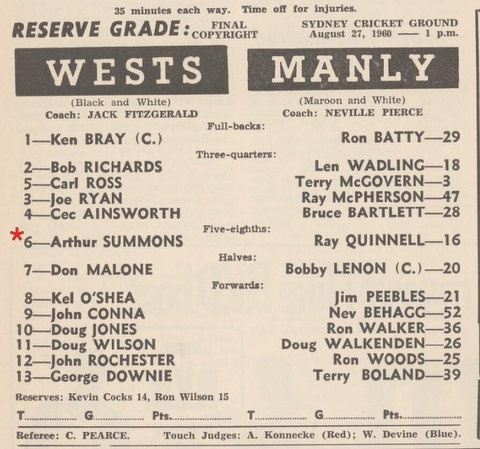 Manly 8 beat Wests 7
1961 – 1963
During these three seasons Arthur would play in three Grand Finals.
Also play against GB at home in 1962 before leading a successful Kangaroo Tour to England and France at the end of the 1963 season..
Arthur played his first Rugby League Test against NZ on July 9th 1961.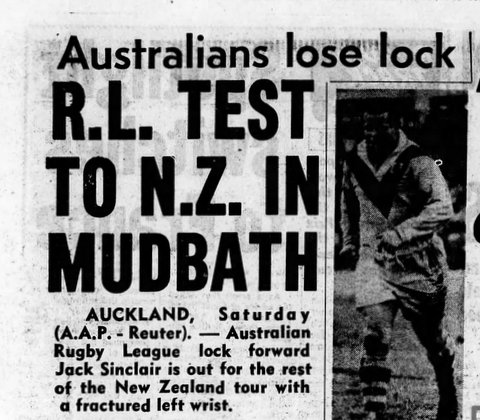 New Zealand 12 beat Australia 10.
Next came Arthur's first Rugby League Grand Final.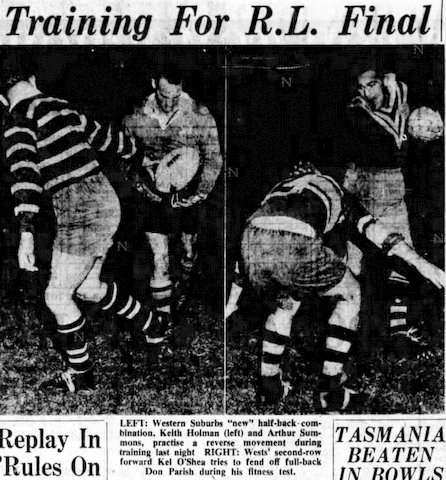 Yappy and Arthur at training before the GF of 1961.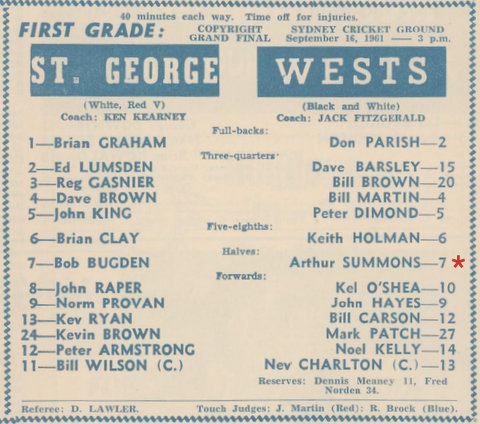 St George 22 beat Wests 0.
The Great Britain team toured Australia in 1962 and Arthur played in all three Tests.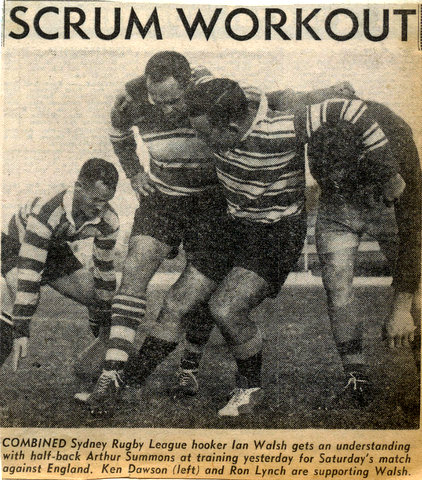 Arthur feeds the scrum at training in 1962.
Arthur wearing his Wests jumper with pride.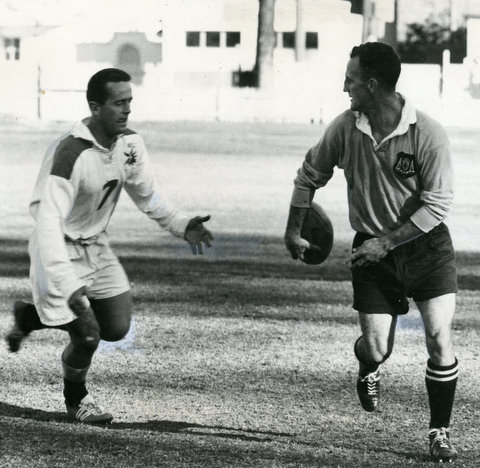 Barry Muir and Arthur at the SCG 2.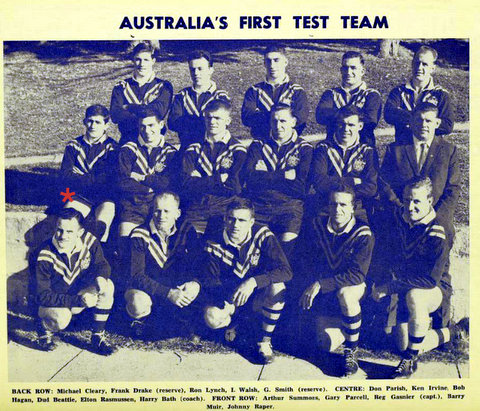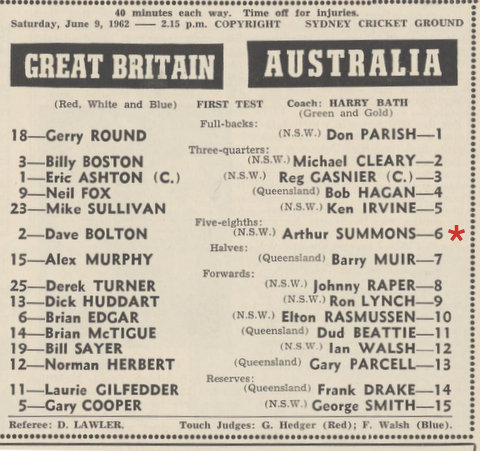 Great Britain 31 beat Australia 12.
In the Second Test played in Brisbane G.B 17  beat Australia 10.
Third Test was played in Sydney.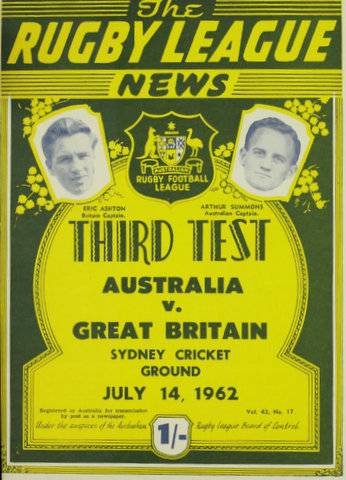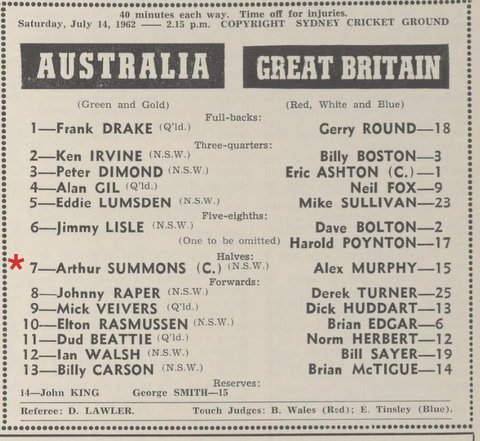 Australia 18 beat Great Britain 17.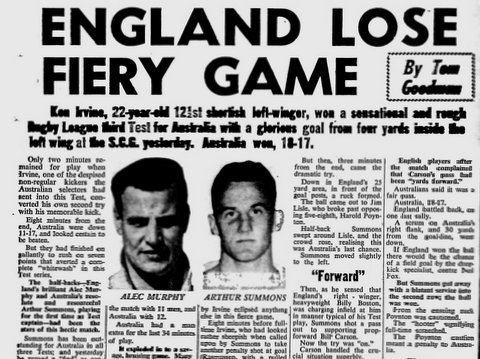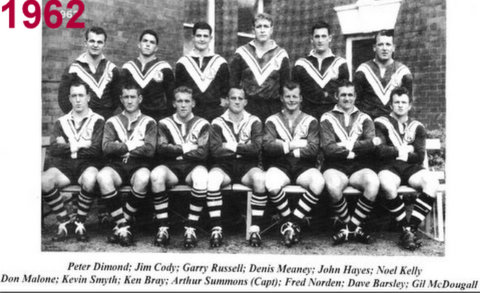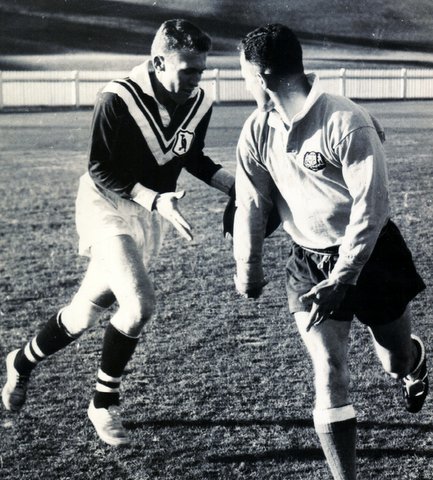 Ken Bray gets a flick pass from Arthur at a training run held at the SCG number 2.
Ken Bray replaced Don Parish at fullback for the 1962 Grand Final.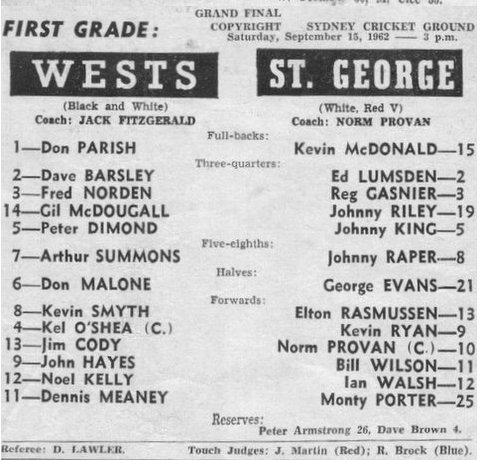 St George 9 beat Wests 6.
1963
Wests again played St George in the 1963 Grand Final.
Arthur was now Captain of Wests.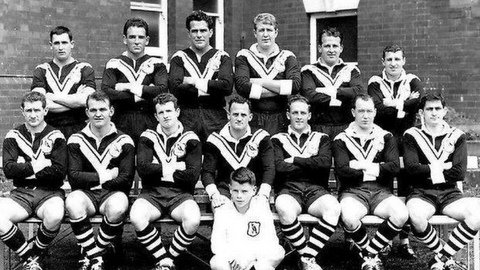 Top L to R. Chow Hayes, Jack Gibson, Kel O'Shea, Denis Meaney, Ned, Jazza.
Bottom L to R. Kevin Smyth, PD, Gil Mc Dougall, Arthur Summons, Podgy Mc Guinness, Irish Malone, Don Parish.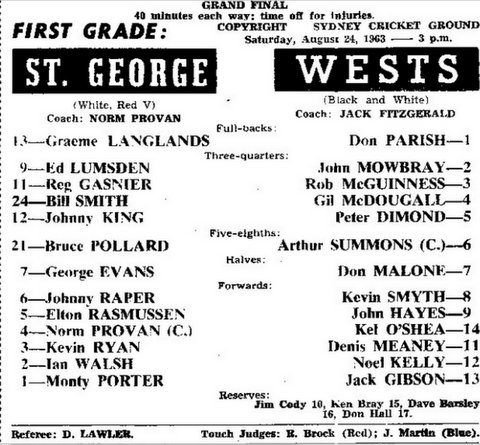 St George 8 beat Wests 3
Below are some famous photos from that muddy day back in 1963.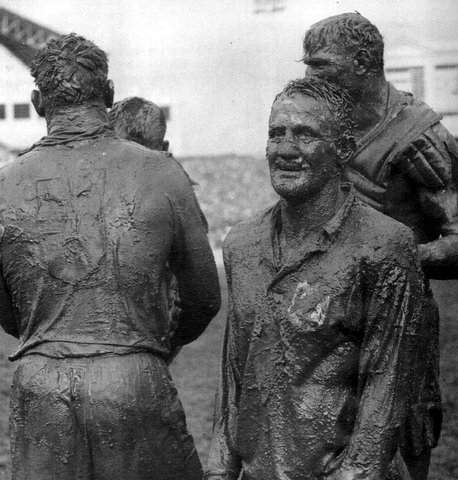 This photo of Arthur was taken only seconds after the famous one.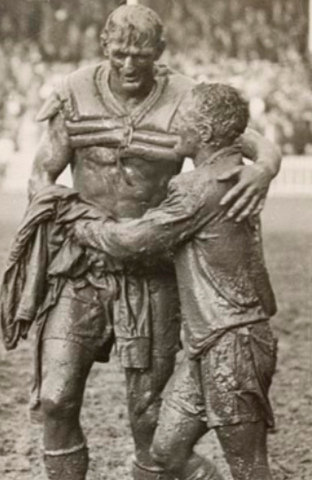 The famous photo from 1963. "The Gladiators"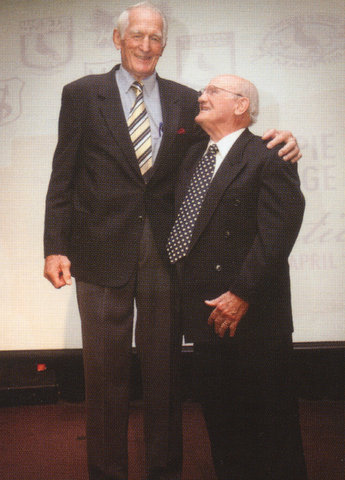 A recent photo of the two great warriors.
At the end of the 1963 Grand Final, rival captains Norm Provan & Arthur Summons embraced, & the moment was captured by photographer John O'Gready. This award-winning photograph has become known as "The Gladiators", & since it was first published, has been appreciated by Rugby League fans as capturing an essence of the game wherein a little man can fairly compete against the bigger man, & where sporting respect & camaraderie follow an epic struggle.
Since 1982 a bronze replica of the Provan & Summons embrace has adorned the various incarnations of the NRL premiership trophy. In 2013, on the eve of the game which marked 50 years of "The Gladiators", the announcement was made that Rugby League's premiership trophy was being renamed the Provan Summons Trophy.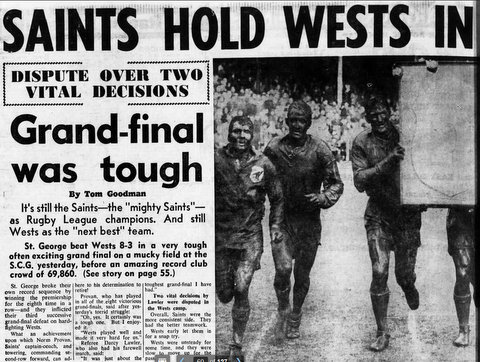 At the end of the 1963 season a Kangaroo Tour of England and France happened.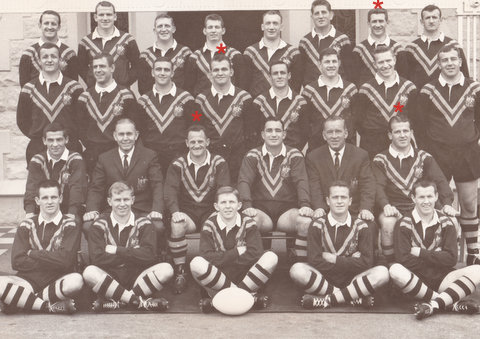 * The Four Magpies who toured in 1963.
Arthur was chosen the Australian Captain / Coach for this Tour.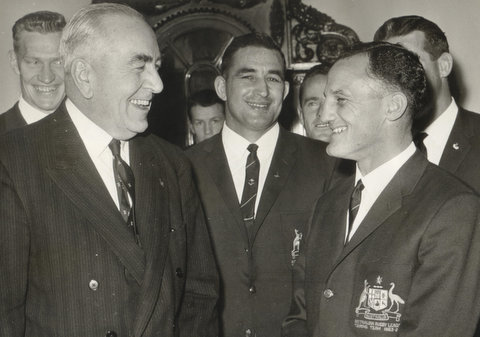 Arthur at a function as Australian captain.
Unfortunately Arthur was hurt early in the tour and did not play in any of the Tests against England .
Australia won back the Ashes winning the First and Second Test.
Arthur did play in the last two Tests against France.
And Australia was victorious in both Tests.
The Kangaroos became the first Australian touring team in over fifty years to win the Ashes in England with a 50-12 win in the Second Test at Swinton (now referred to as "The Swinton Massacre").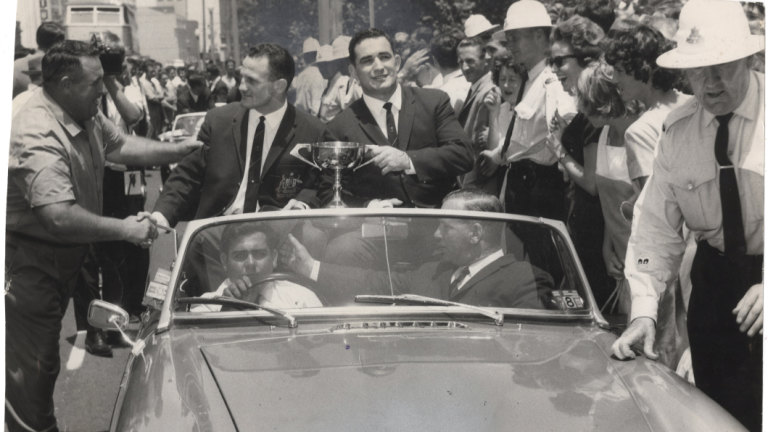 Arthur with Vice Captain Ian Walsh in Sydney .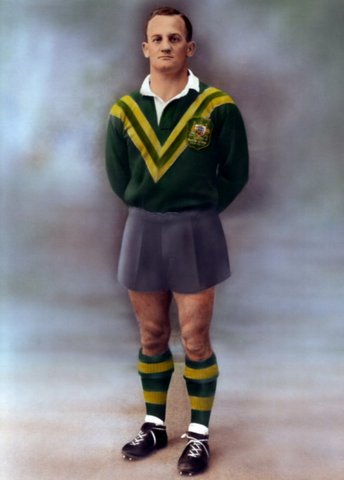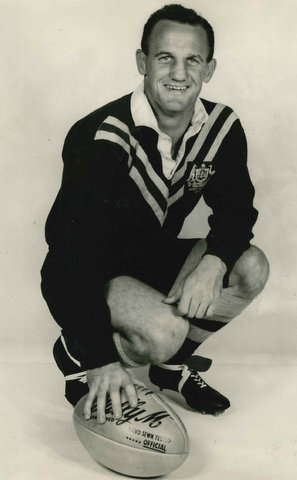 Arthur was also named as Rugby League Player of 1963 by E.E. Christensen.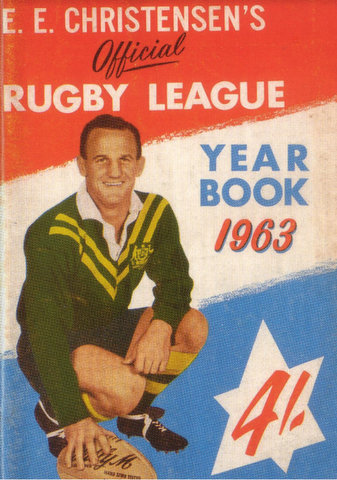 1964 – 1969
Wagga Wagga years.
Arthur played three First Grade games for Wests in 1964 before he left for greener pastures at Wagga.
In 1964 Arthur was lured to Wagga Wagga to take up the role of Secretary Manager of the Wagga Wagga Leagues Club.  
He was also Captain-Coach of the Wagga Magpies for five years from 1965 to 1969.  
Arthur playing for the Wagga Magpies.
His impact on the local game was immeasurable. Under his leadership the Magpies enjoyed five consecutive Grand Final appearances and three Premierships.
After finishing with the Leagues Club, Arthur became the proprietor of the Tolland Hotel in Wagga Wagga.
1970 -1975
Arthur coached Australia in 1970 against Great Britain as well as Country 1970, 71, 72, 73 and 1975.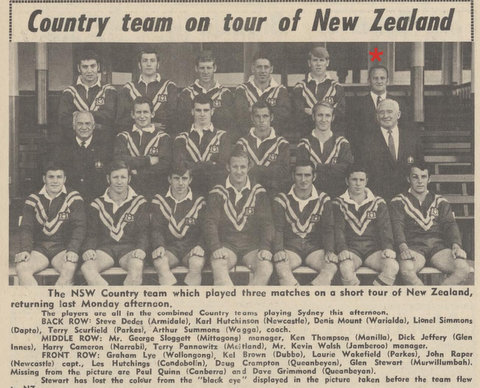 Arthur was coach of the touring Country team to NZ
Arthur having a game of golf  before the City v Country game.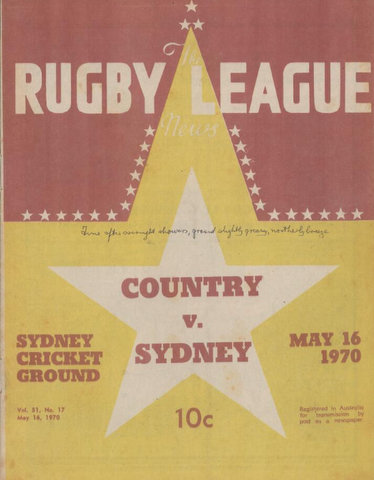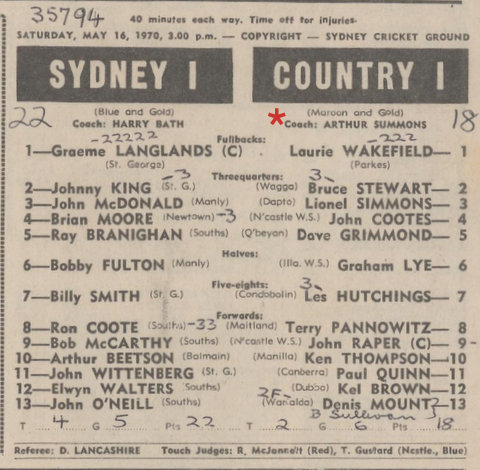 Sydney 22 beat Country 18.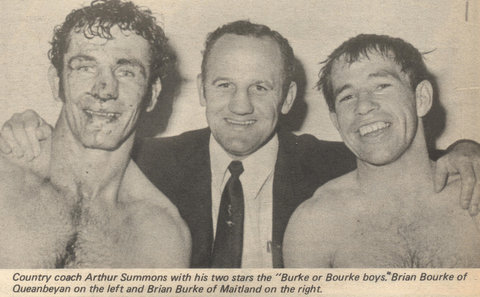 Arthur helped many young country players over the years.
1970 Three Tests against Great Britain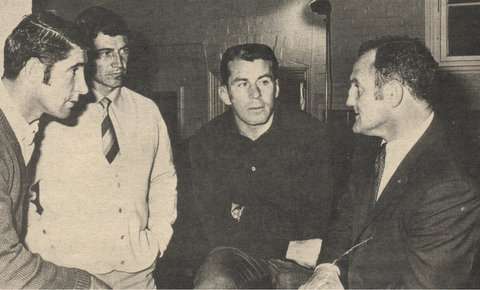 Ron Lynch, Johnny King and Billy Smith listen to Arthur before the 1970 First Test.
Australia 37  beat GB 15 in the First Test in Brisbane.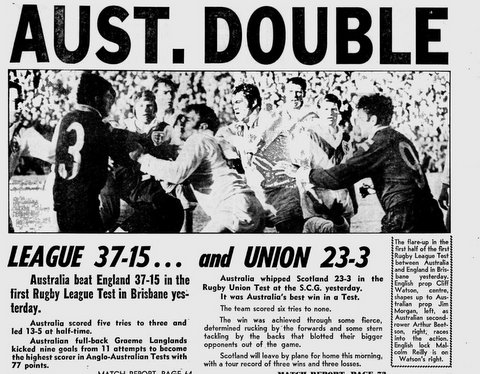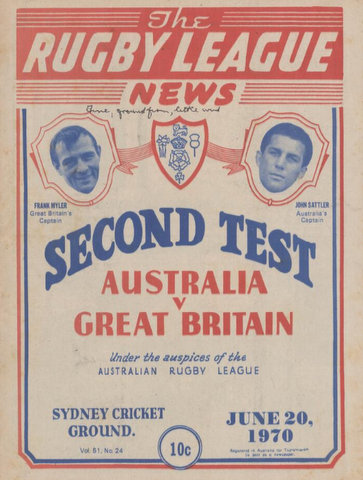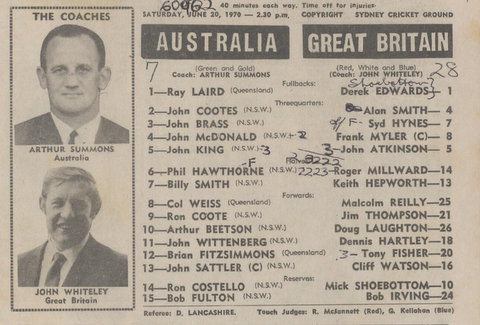 Second Test Great Britain 28 Australia 7
Third Test played at the SCG.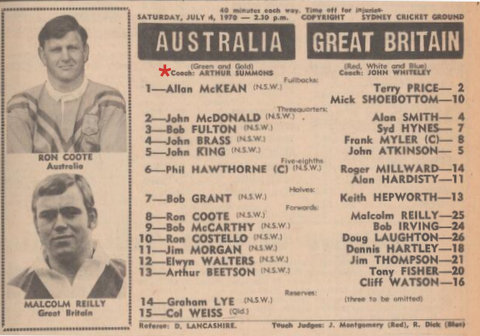 Great Britain 21 beat Australia 17.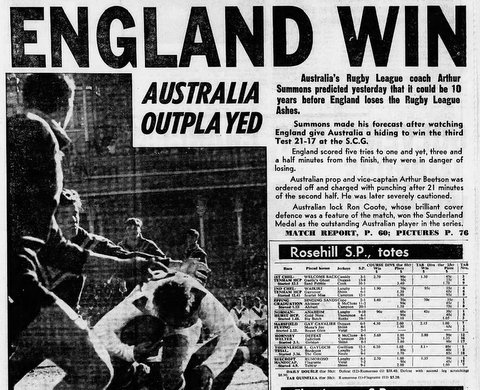 Arthur would often attend Wests functions such as the Pratten Park Magpies Reunion,
Wests Heritage Nights and was always happy to chat and have his photo taken.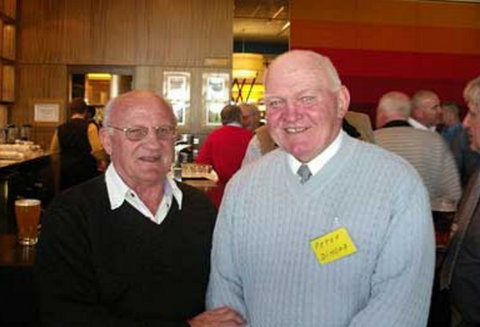 Arthur and Peter Dimond.
Arthur with the Magpie.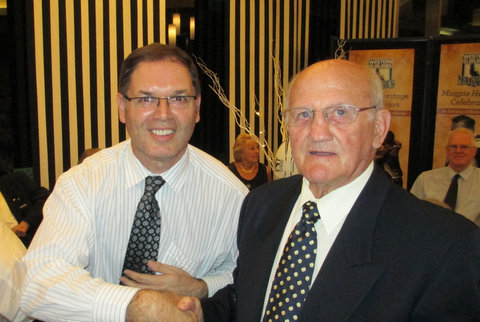 Arthur with Steven Lalich at a Wests Heritage Night.
Thanks also to Steven for the use of photos from his private collection.
 A few words from Roy Masters about Arthur Summons.
Always understated, the little Western Suburbs half-back nicknamed 'Stumpy', acknowledged he was in fact only one third of the trophy, given the mountainous height of St George's captain, "Sticks" Provan.
Yet Summons was a giant in the game, coaching Australia to success over Great Britain on the 1963-64 Kangaroo tour, the first time the national rugby league team had beaten the old enemy in 52 years.
Summons' success signalled the end of captain-coaches, although Graeme Langlands led the Dragons to an infamous grand final in 1975 and Bob Fulton held the dual role at the Roosters in 1979. But in 1963, when Summons, who was selected on the tour as captain-coach, suffered a leg injury, he opted to concentrate on coaching the team.
Given the deep rivalry between Sydney's teams in an era when most players were one-club men, an off-field coach was a more accommodating option on a three-month Kangaroo tour. In any case, Summons was a master tactician and, free of the stresses of playing, helped craft the strategies to defeat the Lions.
The passage below is from A Centenary of Rugby League 1908-2008, Ian Heads & David Middelton. "The 100 Greatest"
"Articulate & passionate, Arthur Summons was an outstanding leader. He captained Australia on five occasions in Tests & won the lot, most famously of all the final game of the 1962 Ashes battle in which he scored a dazzling 60 metre try. He was a gutsy, intelligent & quick-footed player, beautifully equipped to steer his team around the park. When leg injuries forced him out of Sydney football in 1964, Arthur moved to Wagga Wagga where he continued to 'put in' for rugby league season after season. As well, he would return inevitably for each Sydney grand final, where he & Norm Provan, his fellow gladiator, were always in demand at countless functions."
RIP Arthur Summons.