Sometimes the most obvious Wests stories are right in front of you.
While reading the "Clouds of Dust Buckets of Blood"  book (again) I noticed a small story on Sidney Gordon Daisley.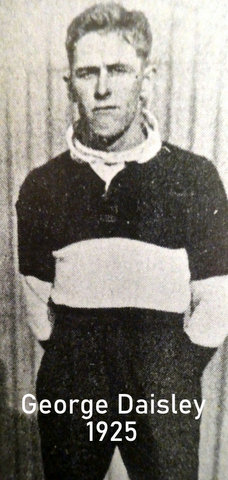 The story gave a brief history of Gordon and his time at Wests also unfortunately the fact that he had drowned in 1927
in tragic circumstances at Cattai on the outskirts of Sydney in the Hawkesbury River.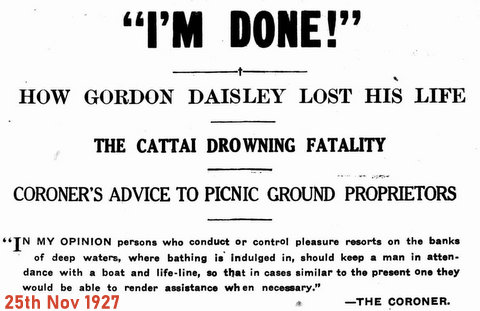 He played under the name of Gordon Daisley, as was the custom of players to use their middle name,
although up until recently he was known as George Daisley in all Wests official records.
One good thing that has come out of this story is to give Gordon his correct name.
Gordon was a Wests junior who played for the Ashfield United club.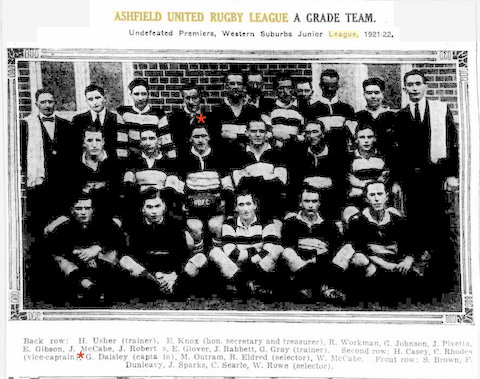 Gordon was in the A Grade team that were the Undefeated Premiers for two seasons 1921 – 22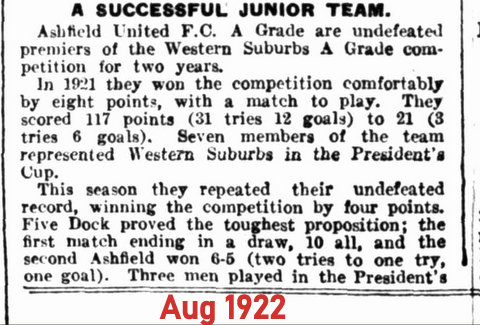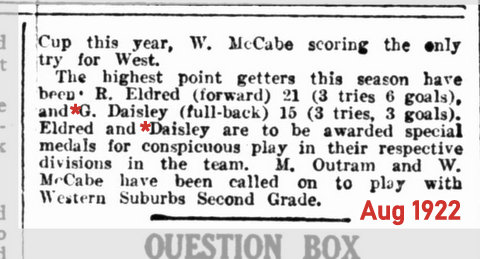 In 1920 Gordon played in the Wests Reserve Grade team at the age of 19.

Wests 8 V Easts 21.
Gordon scored 2 tries in the losing side.
From all reports Gordon was a very good cricketer and played for many years for Burwood United CC.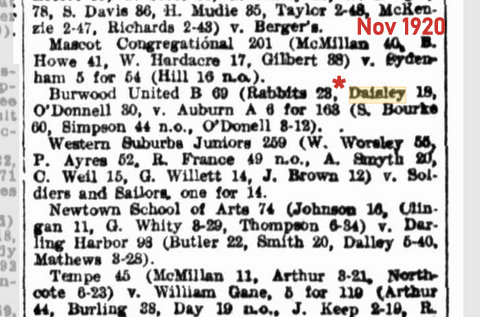 From my research it appears Gordon mainly played A Grade for Ashfield United FC for the years 1920, 21 and 22.
Being called up occasionally to play Reserve Grade for Wests.
Gordon bypassed the Wests Presidents Cup team and went straight from A grade to play for Wests.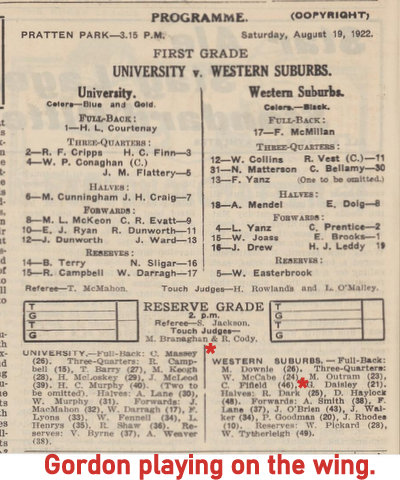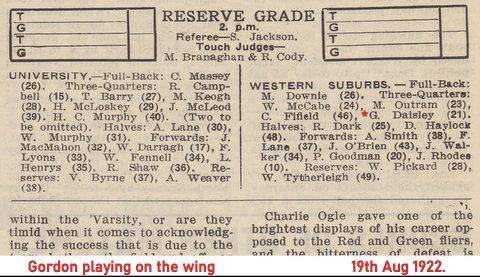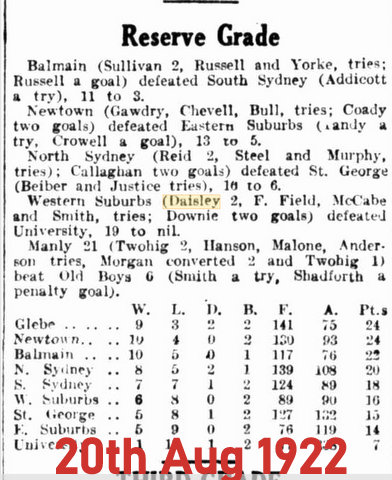 Gordons first game in Reserve Grade was against Uni in late 1922.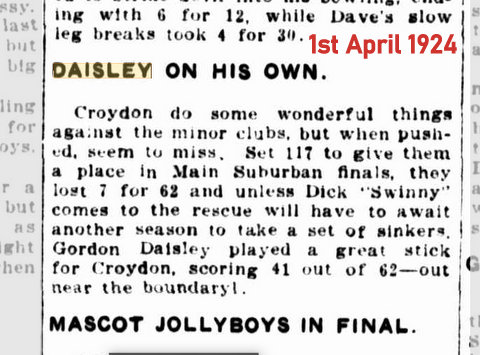 Not sure what Gordon was up to in the 1923 and 1924 Rugby League seasons but he had changed clubs in his cricket career.
1925.
1925 would turn out to be Gordons best season playing Rugby League.
A couple of reasons: Frank "Skinny" McMillan had moved from Wests to Balmain and Gordon played two games for NSW.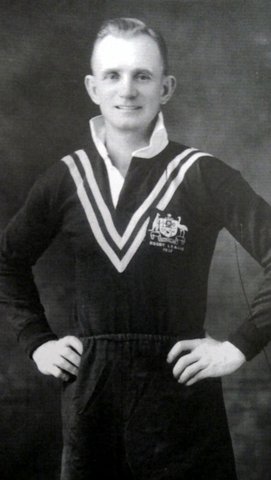 Frank "Skinny" McMillan in his Australian jumper.
With Frank moving to Balmain it freed up the Fullback spot at Wests and Gordon took this opportunity with both hands.
In 1925 Gordon played 11 First Grade games at Wests and 2 games for NSW.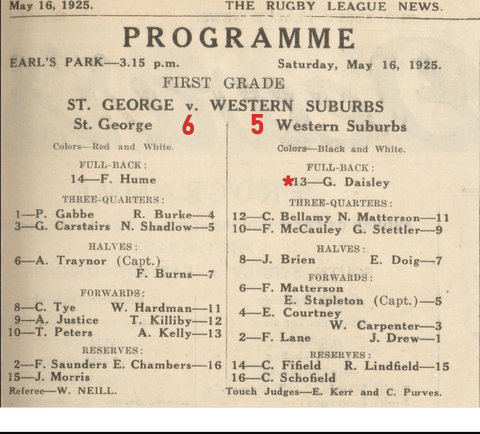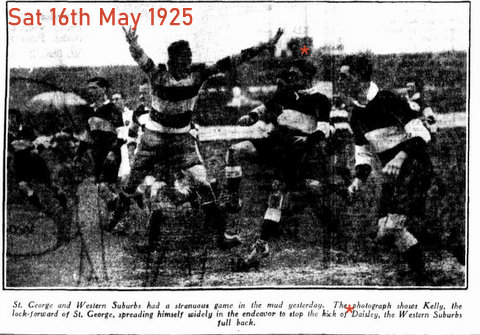 * Thats Gordon kicking the ball V St George.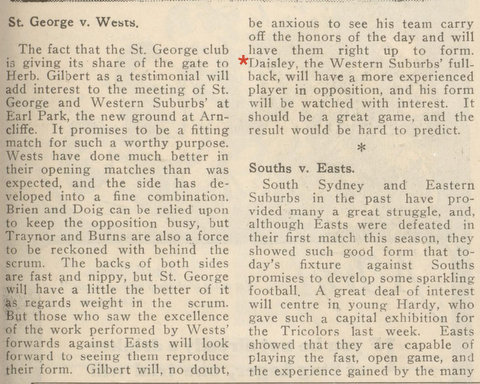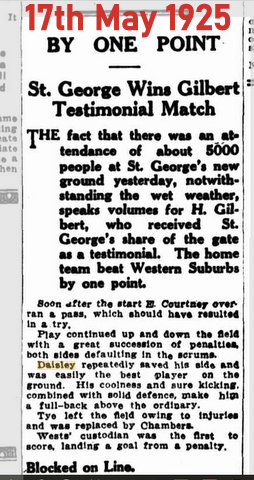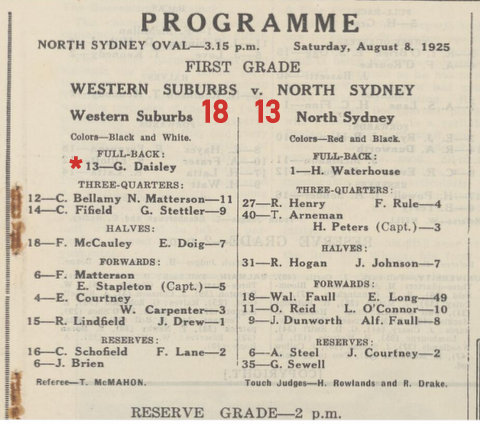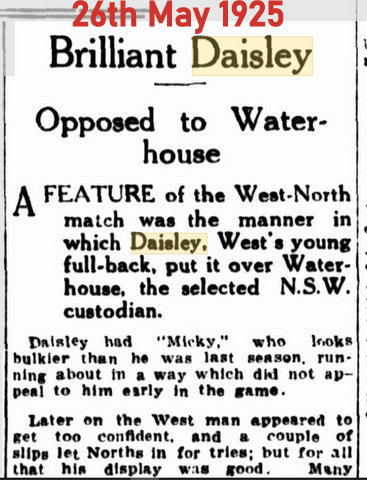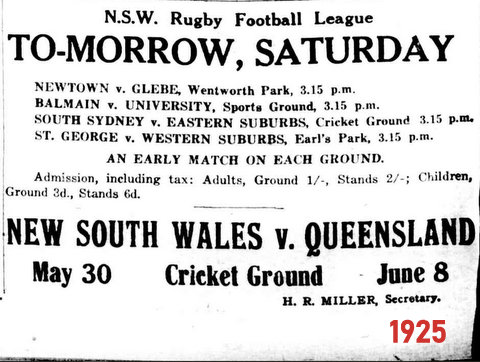 Advert from the SMH about the interstate game at the SCG.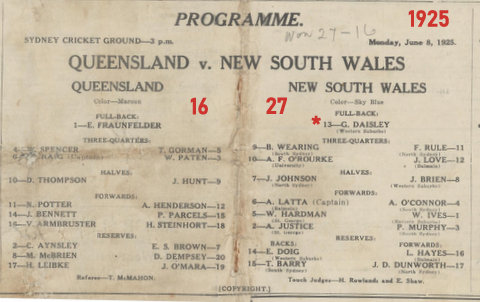 Good win by NSW.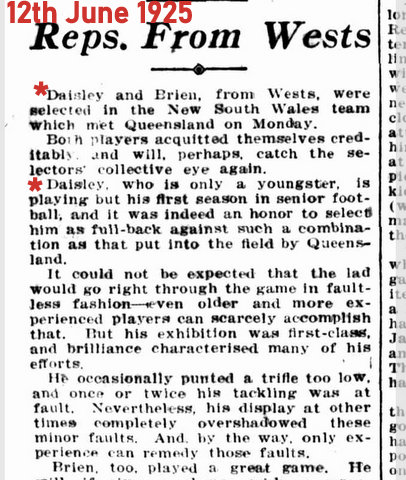 Game report about how the two Wests players went.
Gordon was 26 years of age.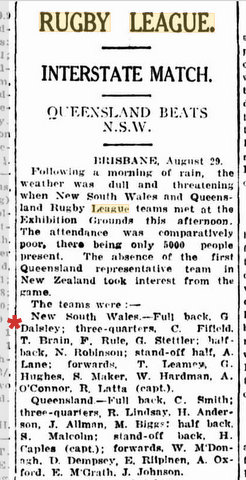 NSW 18 V QLD 23.
The only report I could find on this game played in Brisbane.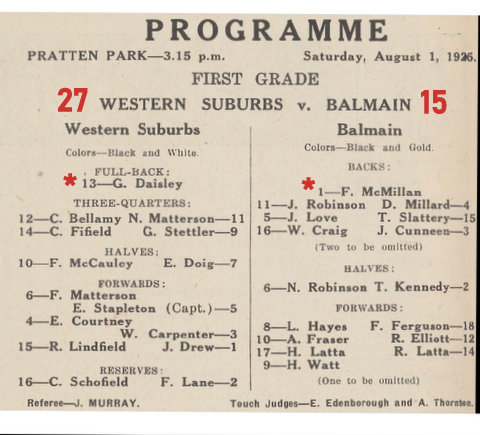 The BIG game was against Balmain and Skinny McMillan.
Frank "Skinny" McMillan.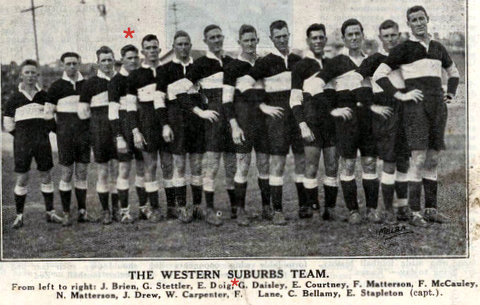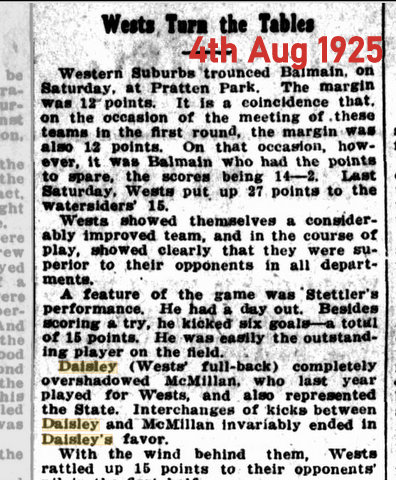 In this report Gordon won this battle.
This time!!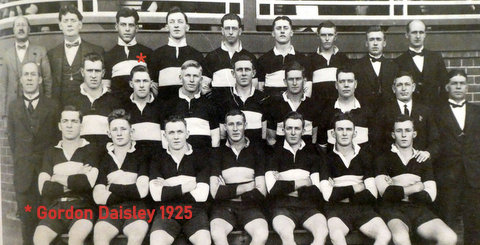 Wests were runners – up in the 1925 Premiership.
Souths won by a country mile. They won all 12 games.
This was the start of the Famous Souths era. Souths won the next 5 Premierships before Wests won the 1930 Premiership.
1926.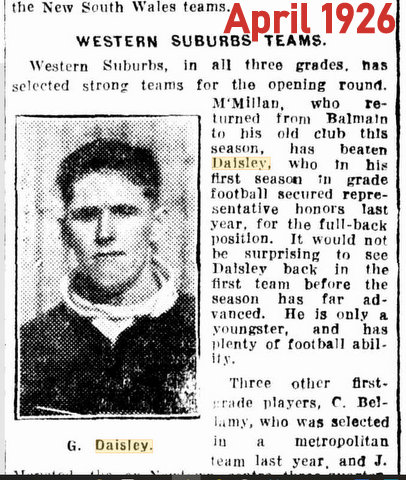 Franks back at Wests . Not good news for Gordon.
Gordon played only 5 games in 1926 all in Reserve Grade.
1927.
In 1927 Gordon only played 2 First Grade games.
This was only possible because Frank McMillan was away playing for NSW.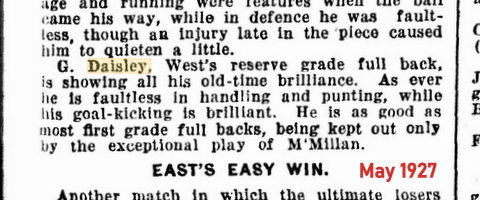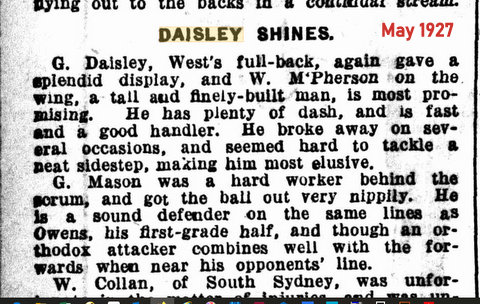 Gordon gets some good reports from Reserve Grade.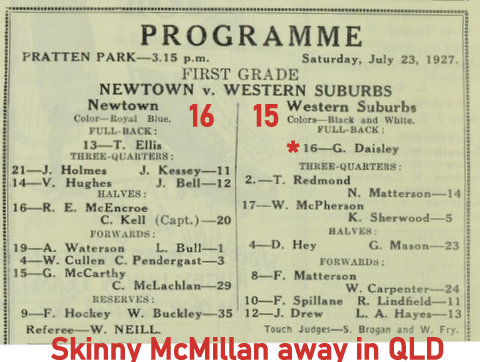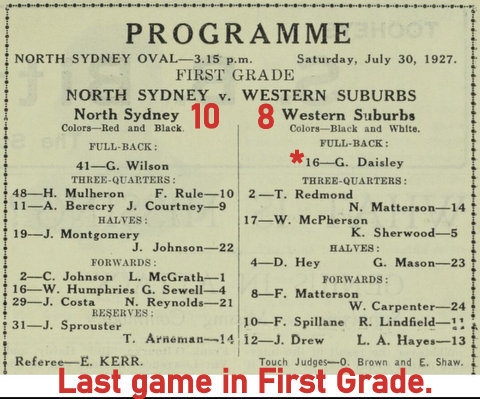 Little did Gordon know that this would be his last First Grade game for Wests.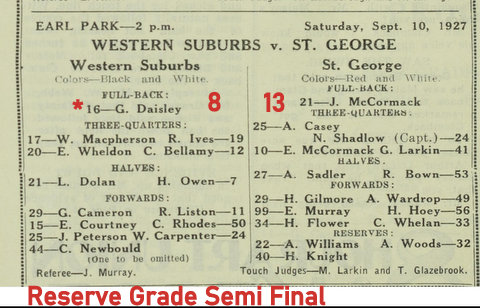 Gordons last game for Wests played at Earl Park.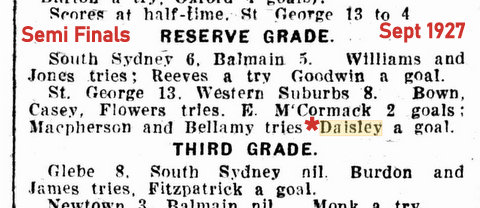 Sidney Gordon Daisley kicked a goal in his last game of Rugby League.
*
November of 1927.
Below are a few newspaper articles about Gordons drowning at Cattai.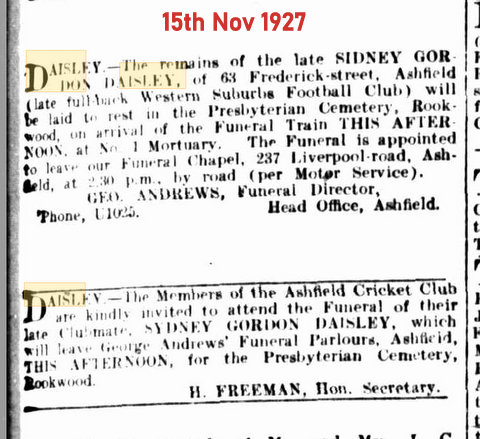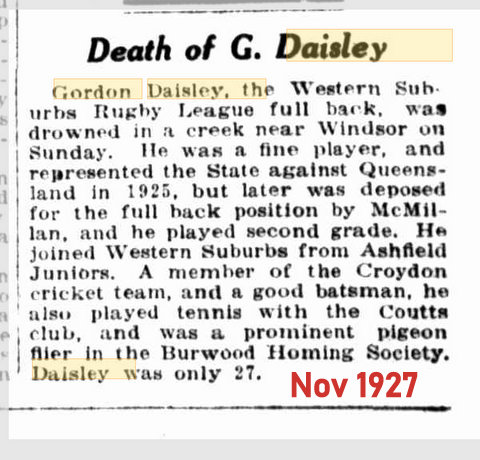 "Think where mans' glory most begins and ends
And say my glory was I had such friends" – Yeats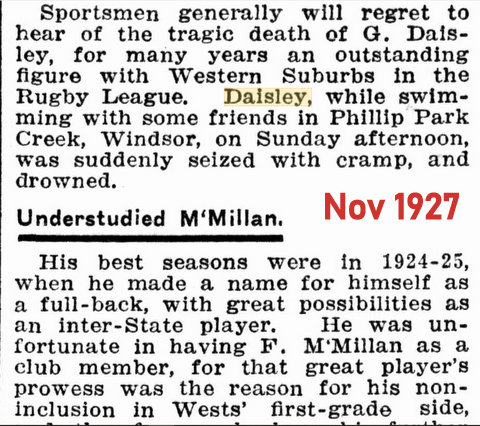 A very sad end to a young life.
*
*While writing this story I noticed that Gordons Wests Players Medal number 234 (1925) was still sitting in the Wests Archives.
With some research and a lot of luck I was able to contact Leigh McCarthy whose Grandmother Ilma was Gordons sister.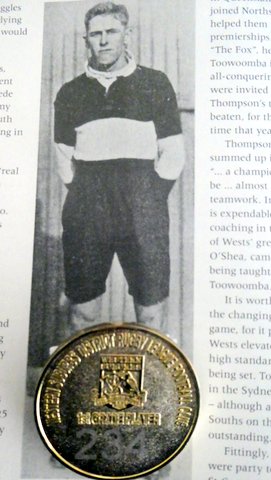 Sidney Gordon Daisley with his Medal Number 234.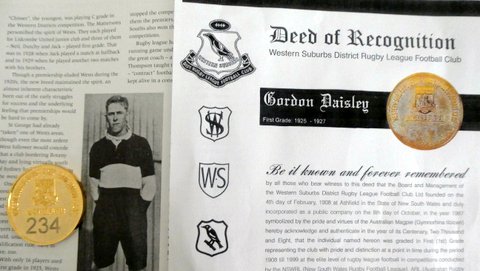 Medal and Deed of Recognition.
Both have been posted to Leigh.