Vale Doug Page.
* Western Suburbs Rugby League Player Number 612 (1964)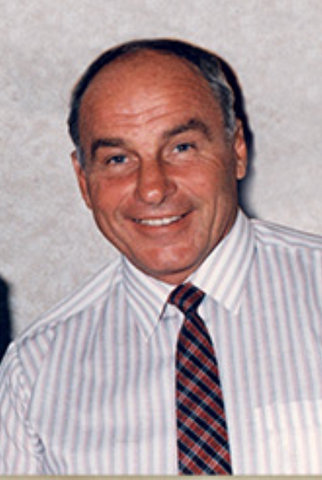 19th February 1942 – 24th March 2020.
Doug Page played for Wests between 1962 and 1970.
During Dougs time at Wests he played 28 First Grade games.
Doug was unlucky to have two major injuries which kept his First Grade appearances down .
One in 1964 a broken collar bone which saw Doug sidelined for several weeks and in 1966 a broken foot that had Doug out of football for over 6 weeks.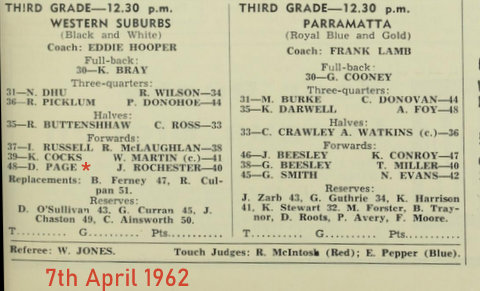 Dougs first game in grade in 1962.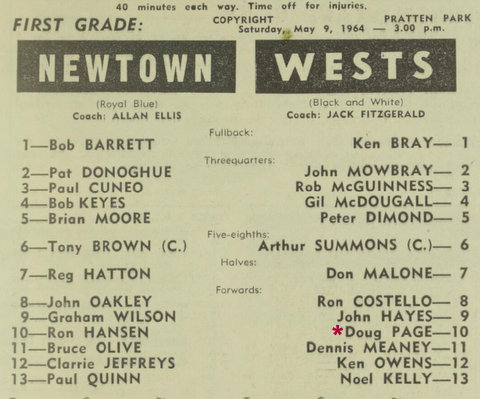 Dougs official first First Grade game.
Doug kicked 4 goals on debut.
Unfortunately Wests 13 were beaten by Newtown 21.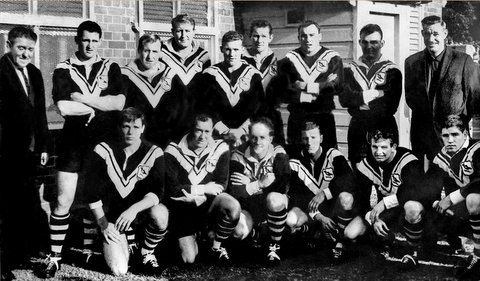 1964 Wests Team photo taken at Pratten Park.
Doug is third from the right standing next to Peter Dimond.
1965 was Dougs best year at Wests he played 12 First Grade games as well as playing in 2 State Cup games.
Wests won the State Cup that year.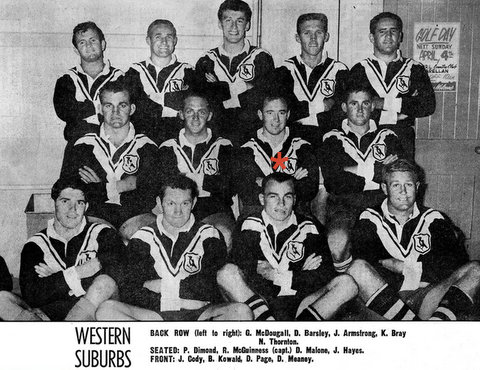 The 1965 Wests Team photo taken inside the Pratten Park dressing room.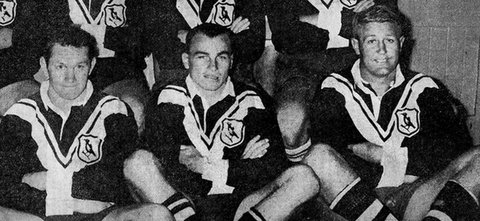 Doug between two Wests greats. John Elford and Denis Meaney.
A moment in time.
Its amazing how many older Wests players and fans remember Dougs winning kick.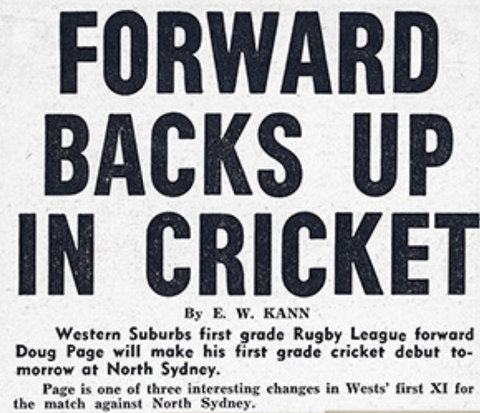 In 1965 Doug debut for Wests Cricket team.
Doug is one of a very select few who have played First Grade for Wests in both Rugby League and Cricket.
His *Wests Cricket number is 409 (1965)
*
In 1966 Doug was involved with one of Wests great wins….Wests 12  beat St George 9 at Kogarah Jubilee Oval.
This was the first time Saints had been beaten at Jubilee Oval in 12 seasons.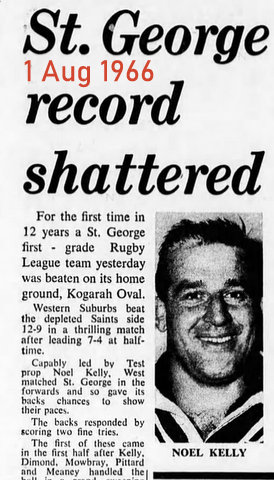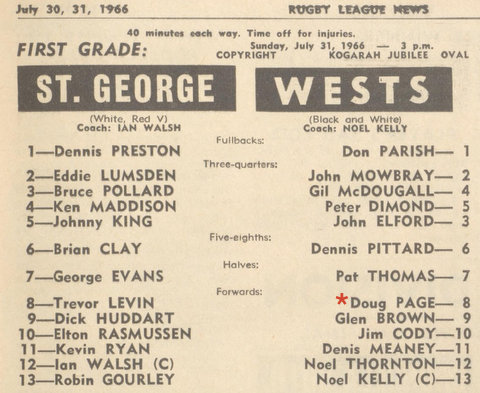 Doug with one of his fellow forwards from that famous game Jim Cody at a Pratten Park Reunion.
At the end of the 1966 season Doug with his wife Jan went overseas to teach in Buenos Aires for one year and two years at Private schools in England.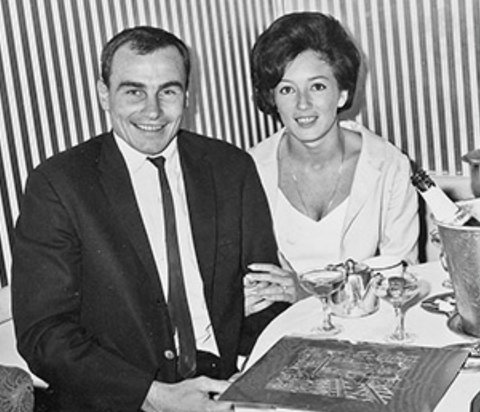 Doug and Jan Page.
In 1970 Doug returned to Wests and played 20 Reserve grade games.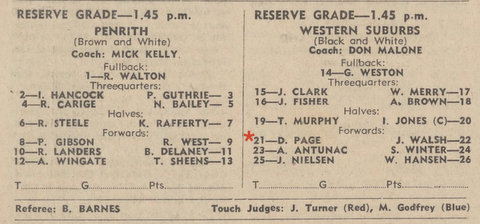 Dougs last game for Wests on the 23rd of August 1970 at Penrith Park.
*
In 1971 and 1972 Doug played for the Campbelltown RSL Warriors.
Season 1972 saw Doug and the Warriors win the Group 6 comp.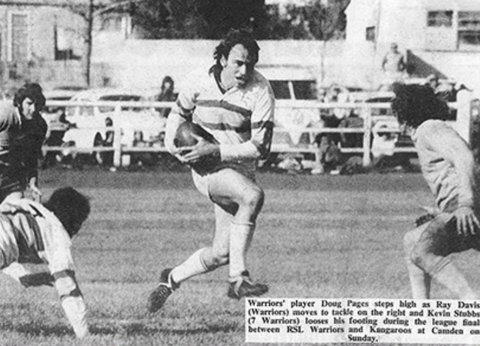 Doug on the burst in 1972.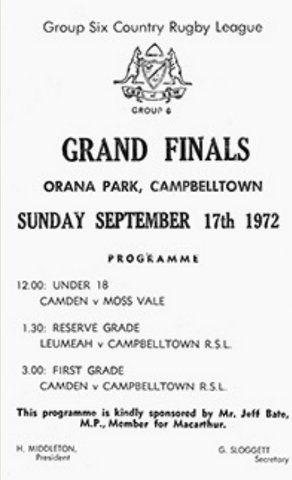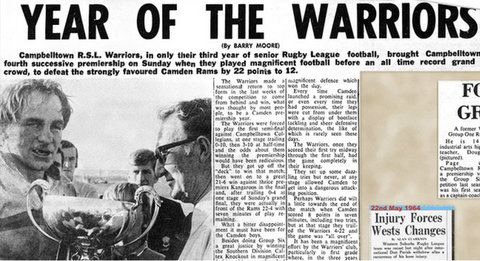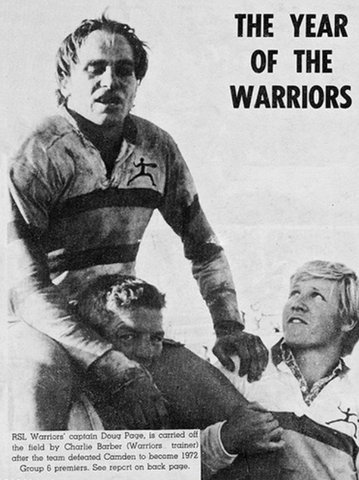 Warriors Captain/ Coach Doug Page being carried off after the Grand Final win over Red Hot favourites Camden Rams.
Warriors 22 beat the Camden Rams 12.
After transferring to South Grafton High School in 1973 Doug became the Capt/Coach of Marist Brothers Lismore in Group 1.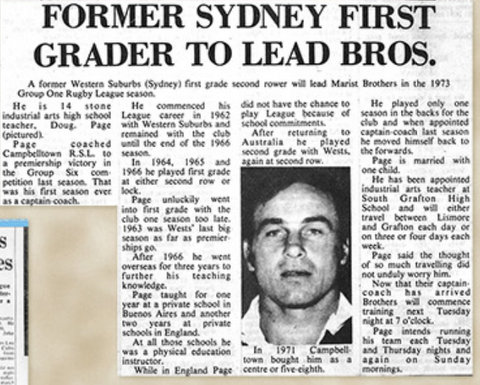 In 2012 Doug was joined by his two sons Craig and Michael at the Pratten Park Magpies Reunion.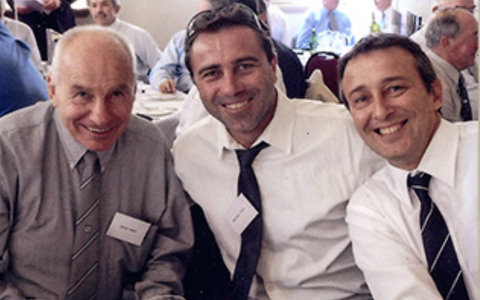 Doug, Craig and Michael Page.

A very proud dad.
RIP Doug Page.