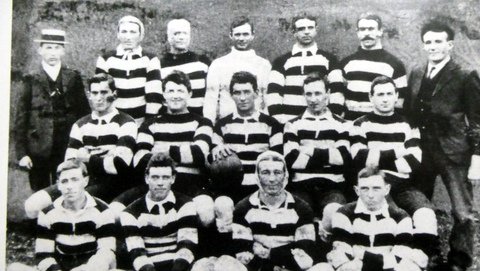 This photo is of the very first Western Suburbs Rugby League First grade Team.
Two of the players were brothers Ted and Ray Gormley or to give them their full names
Edward Lucien (1876-1958) and Raymond John Gormley (1887-1944).
With the combined help of the Wests Archives, Ted Greenaway and a lot of luck we were able to present
Medals 9 and 10 to Ted and Rays Great grand nephews.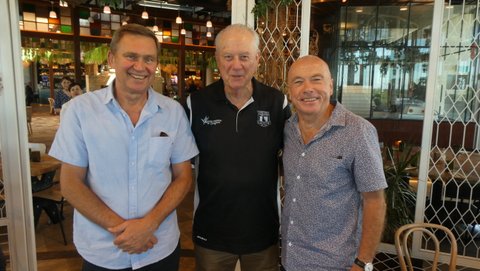 Ian Cutcliffe (Ted), Rick Wayde and John Burford (Ray)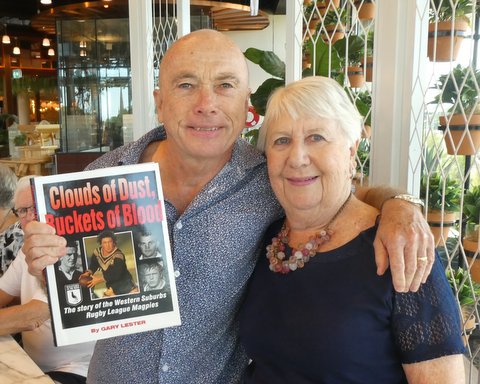 John and his sister Clare Grant (Great grand niece of Ray)

A little history about Ted and Ray Gormley….
Ted came over from Wests Metropolitan Rugby Union first grade team in 1908 and was a very good half back.

Ted playing for Wests Rugby Union in 1907.
Luckily for Ted and Wests Dally Messenger was not playing in this game!!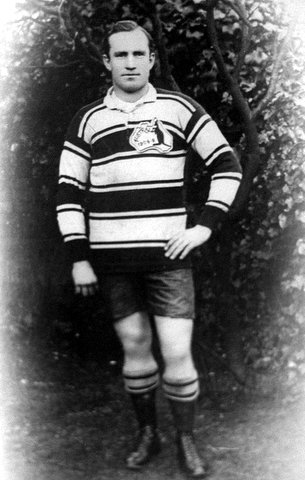 The Master.
Ted only played 1 game for Wests Rugby League and that was the very first game against Balmain on the 21st April 1908.
He was half back in the game and his much younger brother was five eight.
Ted was 33 years of age when he ran out onto Birchgrove Oval on that historic day.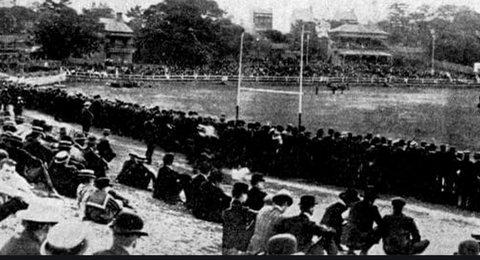 Birchgrove Oval on the first day Rugby League was played in Sydney.
Unfortunately little is known of Ted after 1908 .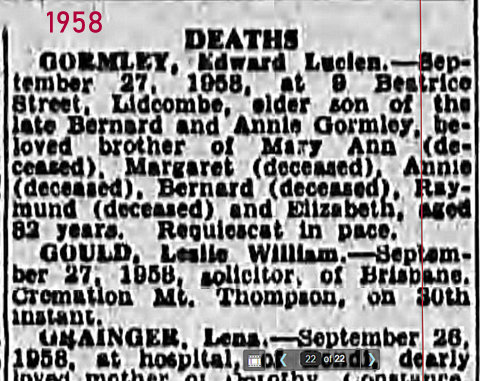 *Teds father Bernard owned the Railway Hotel at Lidcombe long before it became the Wests drinking hole.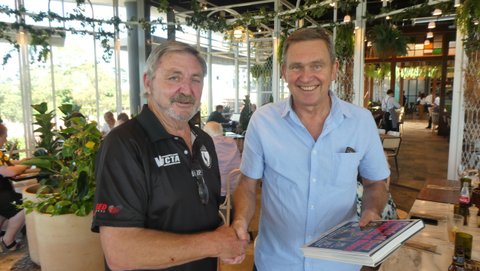 Neil Bennett from Wests Archives and Ian Cutcliffe .
Ian the Great grand nephew with Teds Medal number 9.
*
Raymond John Gormley was only 21 when he played in that first game.
We believe Ray played some lower grades games for Wests Rugby Union before like his brother he came across to play for the Wests Rugby League club.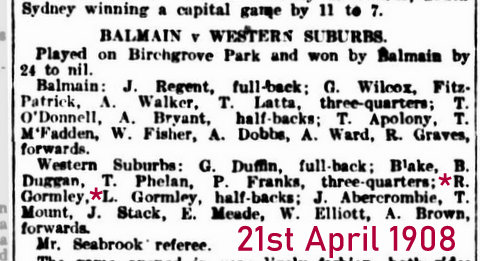 Ray and his brother in the first Wests team.
The L.Gormley is Ted…his second name was Lucien.
Ray had three seasons at Wests 1908, 1909 and 1910.
In the second game of the season Wests V Souths played at the Royal Agricultural Society Showground Ray was the first Wests player to score a try.
Unfortunately Souths 42 beat Wests 7.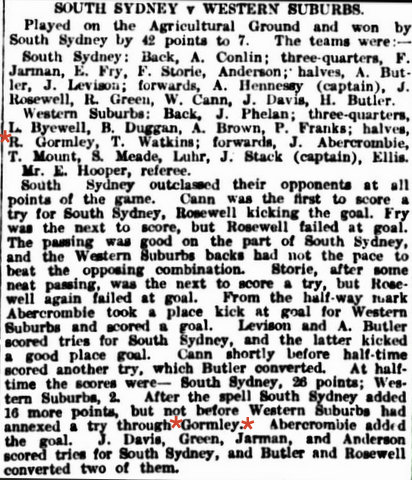 Ray Gormley has the honor of scoring Wests first try.
Below is an program from 1908 round 8 a double header played at Birchgrove Oval.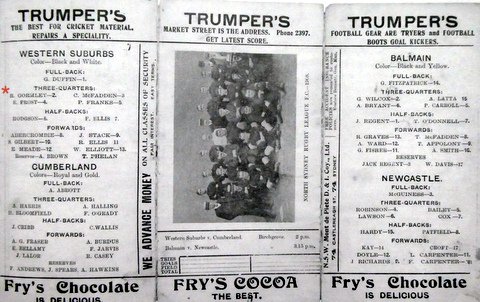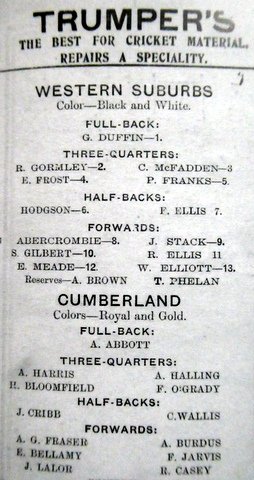 Ray playing on the wing for Wests V Cumberland.
Score Wests 6 Cumberland 14.
* It was not all doom and gloom for Ray and Wests they had 1 win in 1908.
Wests 6 beat Newtown 5.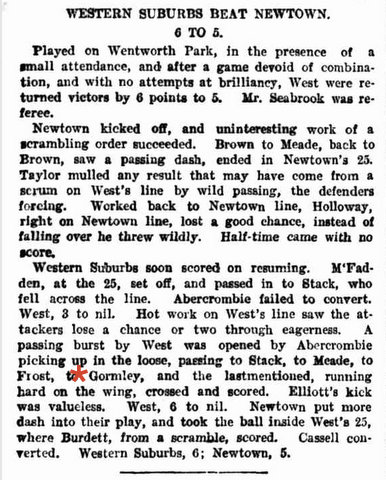 Ray scored a try in this first ever Wests win.
Ray played 9 First Grade games in 1909 and only one First Grade game in 1910.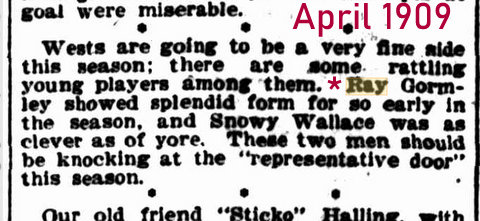 Below possibly Rays last game due to injury.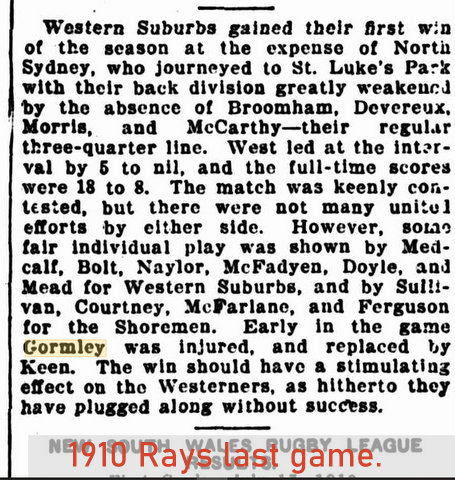 In March of 1915 Ray joined the Australian Army.
Ray did not live to be an old man (56) and the family think the reason being Ray was gassed in World War 1.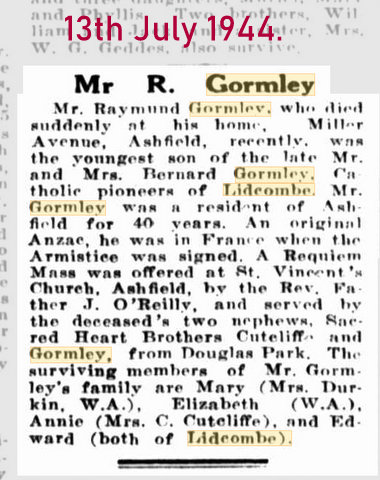 The death notices gives an insight into the life and times Raymond John Gormley.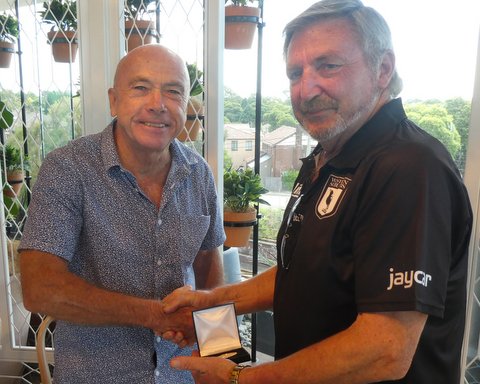 John and Neil Bennett.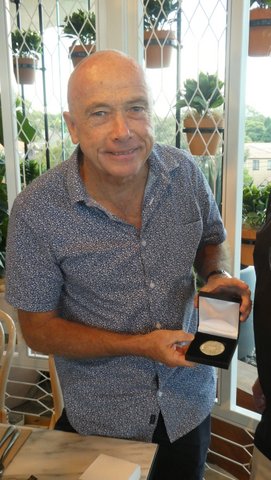 John the Great grand nephew with Rays Medal number 10.
After the official presenting of the Medals a brilliant lunch was provided by the GARDEN restaurant.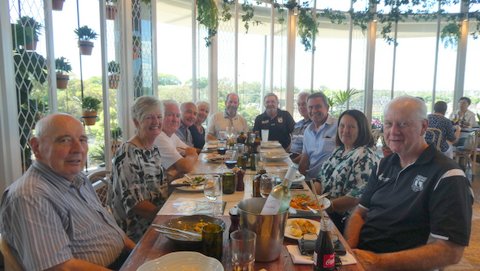 Everyone enjoying a great meal.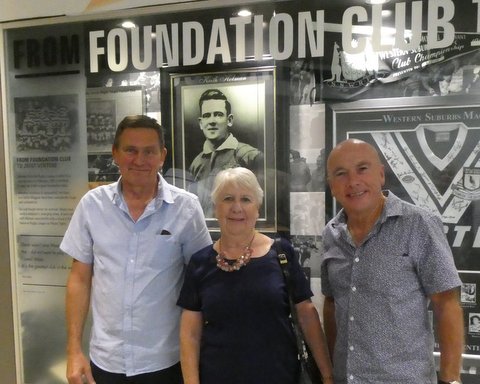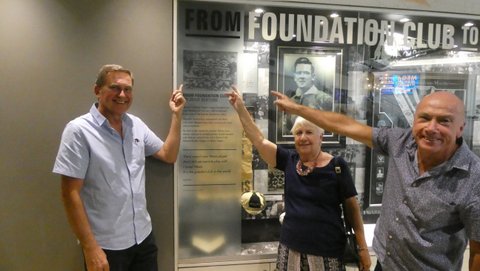 Ian, Clare and John pointing at the 1908 photo of Wests first team.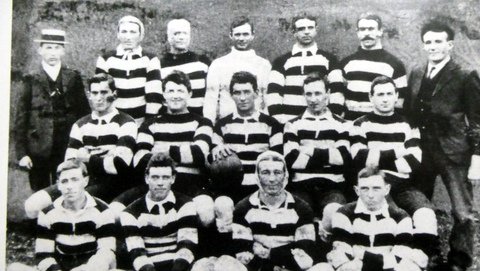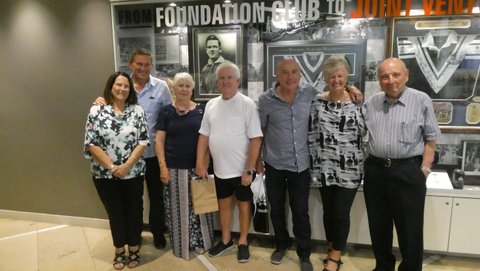 We all agreed an excellent day was had by all.